Article
Infopulse Team Develops Chatbot Assistant during AI Spring Hackathon
Originally published: May 17, 2017
Updated: December 30, 2022
7 min. read
Innovations
On April 21-23, 2017, Infopulse team took part in
AI Spring Hackathon
, a 48-hour contest dedicated to Data Analysis, Chatbots, AI, Machine Learning, NLP and other related areas. We are very happy with the results of our project as just in 48 hours, Infopulse team created a working Chatbot Assistant PoC to solve requests from enterprise customers.
Read on to learn how AI and Chatbots can transform and accelerate your business.
Chatbots as Your Next-Gen Service Desk
One of the coolest new things for IT self-service innovations is a Chatbot assistant.
Imagine you are on a business trip and have a hard time reaching your service desk to reset your corporate password. Meanwhile, your customers are waiting for your fabulous presentation, which you can't deliver as your account is locked. Such moments can easily damage your company's reputation. Here's where Chabot could help you out.
Chatbots can save you time, resources and millions of dollars! The Chatbot technology is booming these days, with lots of world leading companies (e.g., Microsoft, Facebook, IBM or Amazon) offering exciting tools for chatbot development. PrivatBank, one of the largest Ukrainian banks, saved UAH 46 million in just 1 year upon introducing chatbot service. And this is just the beginning.
How Do Chatbots Work?
Using the latest natural language processing technology, these "humanlike" agents act as AI-powered surrogates for low-level support staff, so the customers can get more engaging support without waiting or using tier one resources.
An end user simply provides details about an incident or issue they're having in a natural way. Artificial Intelligence immediately processes their request, fetching helpful resources or knowledge articles that are related to their problem. If the incident hasn't been resolved, the Chatbot can automatically create a ticket based on the details (keywords) from the conversation.
The opportunities to apply Chatbots are huge! Here's a quick example: a large EU Telecom service provider, a client of Infopulse, receives 4,000 service desk requests per day. At least 15% of requests can be easily processed by a chatbot.
Another example: a Ukrainian client of Infopulse spends UAH 4 million/year on the L1 service desk. Long waiting times resulted in high attrition rates and reputation losses, as even a simple question could take up to 4-5 hours to be answered. With Chatbots, we'll be able to automate up to 40% of trivial service desk requests, saving at least UAH 2 million/year! All this makes Chatbots a very interesting solution for businesses.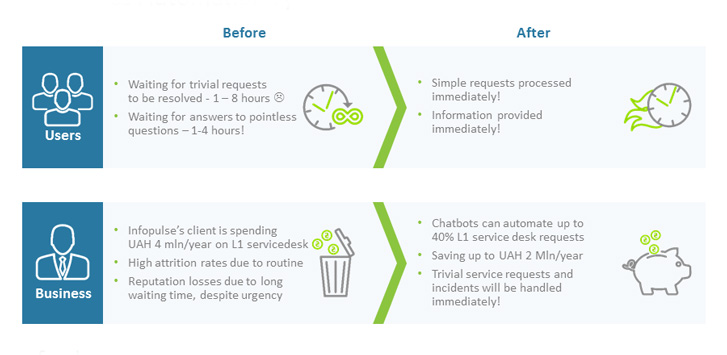 Pic 1. The Benefits of ITSM Automation with Chatbots.
Infopulse Chatbot Assistant Concept
During the hackathon, Infopulse Team worked on a Chatbot project for IT Service Management, dealing with inquiries from enterprise customers. We've built a faster and simpler service desk alternative. Our chatbot assistant is capable of solving IT issues immediately. You don't need to setup mobile application, visit support website or call your service desk. Just send "unlock my account" message to the Chatbot Assistant to have your account unlocked in 3 seconds!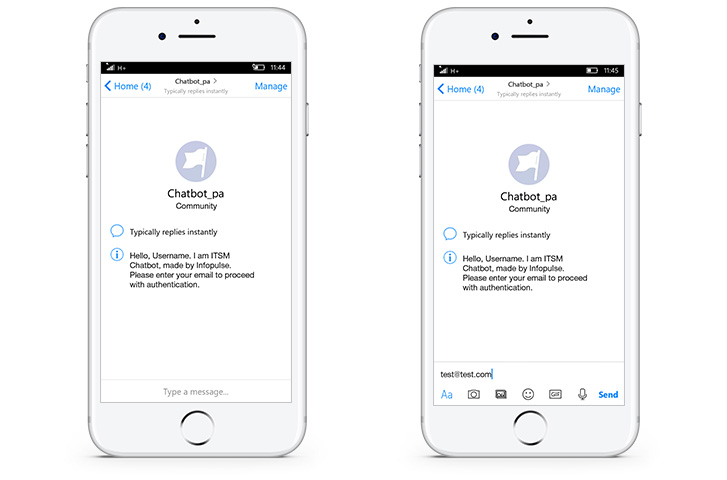 Pic 2. Infopulse ITSM Chatbot – Introductory Screen.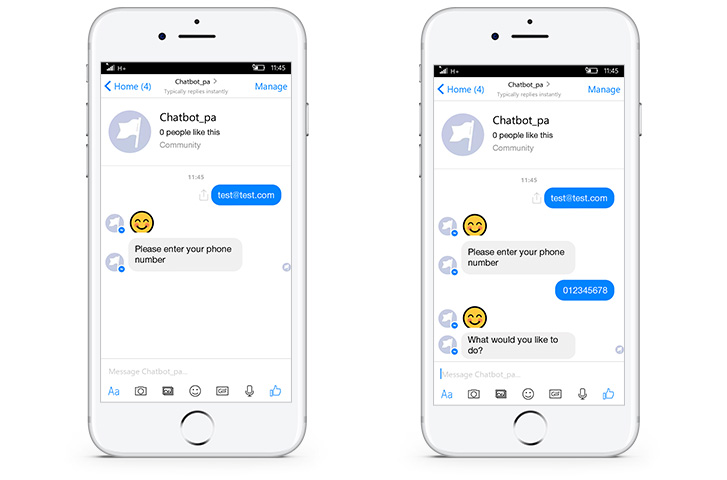 Pic 3. Infopulse ITSM Chatbot – Identifying User and His Needs.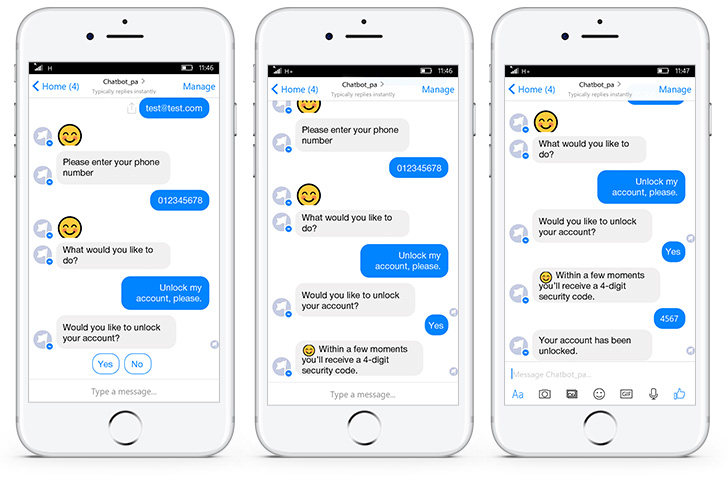 Pic 4. Infopulse ITSM Chatbot – Unlocking User's Account.
In the first phase of our project, we've implemented some basic Chatbot features: detecting users' intention to unlock their accounts, user's authentication and unlocking his/her account, sharing access to different folders, corporate network, VPN, etc. Our Chatbot can work via Facebook, Telegram, Viber, Skype or any other messenger.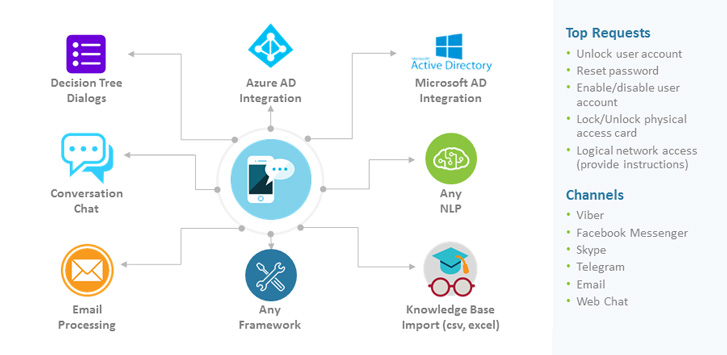 Pic 5. Infopulse ITSM Chatbot Architecture.
Technologies used:
NLP (UA and RU)
Cognitive cloud services (IBM Watson)
Bot frameworks (Facebook Chatbot, API.AI, wit.ai)
ML Frameworks & Toolkits (TensorFlow, NLTK)
Python and .NET
The first stage of this project was finished in just under 48 hours. Our work on this project continues, as we aim to transform it into a real product for businesses. We'll keep you posted on our developments in this area!
Infopulse offers a full cycle of chatbot development services for enterprises of all sizes. If you're interested in the technology or if you have any questions, feel free to contact us!