Article
The Main Benefits and Challenges of Industry 4.0 Adoption in Manufacturing
Originally published: February 12, 2019
Updated: January 17, 2023
7 min. read
Innovations
Technology has become more advanced than ever before. Businesses can now create products and internal solutions that were hard to imagine a decade ago. The industrial sectors may have been slow to catch up with all those innovations. However, their leaders can no longer ignore the fourth industrial revolution, heading their way. Just like Ford's assembly line contributed to huge industry growth back in the day, IoT, Big Data and AI are poised to transform the entire value chain within the manufacturing sector. Is your business ready to respond to those changes?
What is Industry 4.0? Main Characteristics and Challenges
Let's start with a simple Industry 4.0 definition. The Fourth Industrial Revolution or Industry 4.0 is an umbrella term that refers to changes happening in the industrial value chain process. Those changes are powered by emerging technologies, offering a better way to organize and manage all standard processes (prototyping, development, production, logistics, supply etc.) within the manufacturing industry.
In short, it encompasses all the further automation and computerization companies now deploy to improve their production cycles and "connect" all the different works aspects into a unified digital ecosystem.
To get a better understanding of how this evolution it happening, let's take a quick look at the characteristics of the industrial revolutions that took place before: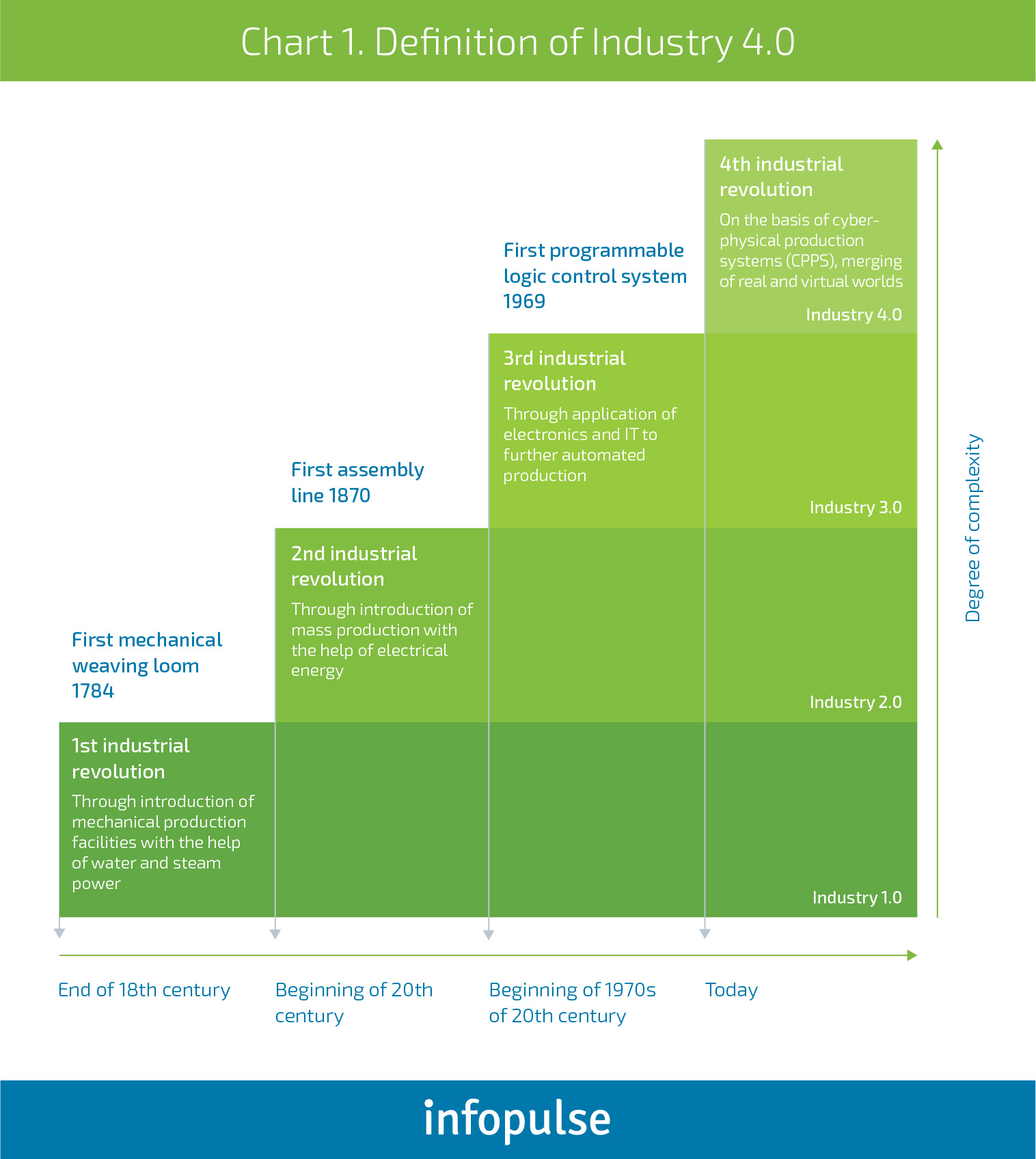 Source: Deloitte
The new digital systems, emerging as part of Industry 4.0, gauge data from both physical and digital sources including:
Industrial IoT devices;
Robotics tools and autonomous robots;
Big Data analytics systems;
AI and Cognitive systems;
Augmented Reality.
The main difference from the previous stage is that these digital technologies power the physical act of development, manufacturing, distribution and performance within one ongoing cycle – physical-digital-physical (PDP) loop.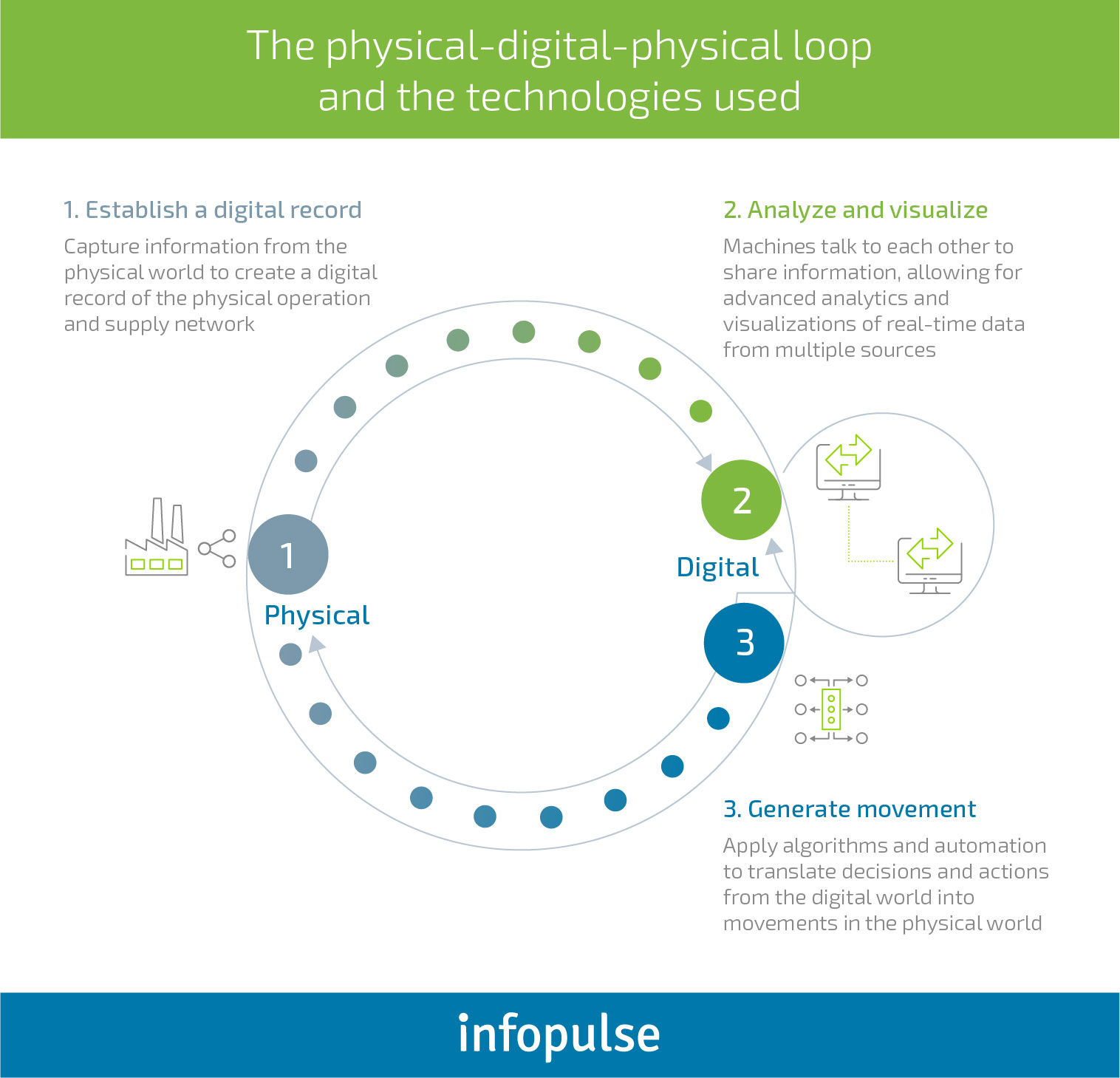 Source: Deloitte
Within this loop, real-time information and intelligence flow between physical and digital aspects of your manufacturing process. This connection between digital technologies fostering action in the real world constitutes the essence of Industry 4.0.
Four Main Characteristics of Industry 4.0
1. Vertical Networking.
Digital-to-physical processes enable manufacturers to rapidly respond to various changes that come as result of shifting demands, stock levels or unexpected equipment faults. Smart factories are highly connected entities, with different systems being able to interact with one another and adjust their performance.
2. Horizontal integration via a new generation of global value chain networks.
The physical-digital-physical (PDP) loops enable a higher level of transparency. Companies can locate and respond to problems faster. Such organization-wide networks can record information from all the operations including intralogistics and warehousing, to prototyping and production, to marketing and sales to downstream services. Every aspect of every process is logged and can be assessed and analyzed at any time.
3. Through-engineering across the entire value chain.
All the product development and manufacturing activities are integrated and coordinated with the product life cycles. New synergies emerge between product development and production systems.
4. Acceleration through exponential technologies.
One of the pillars of Industry 4.0 is creating an increasingly autonomous and highly cognitive ecosystem. It relies on technologies such as machine learning, deep learning, advanced robotics and industrial IoT to further accelerate efficiency.
These defining characteristics further translate into several vectors companies decided to pursue as their first step towards Industry 4.0: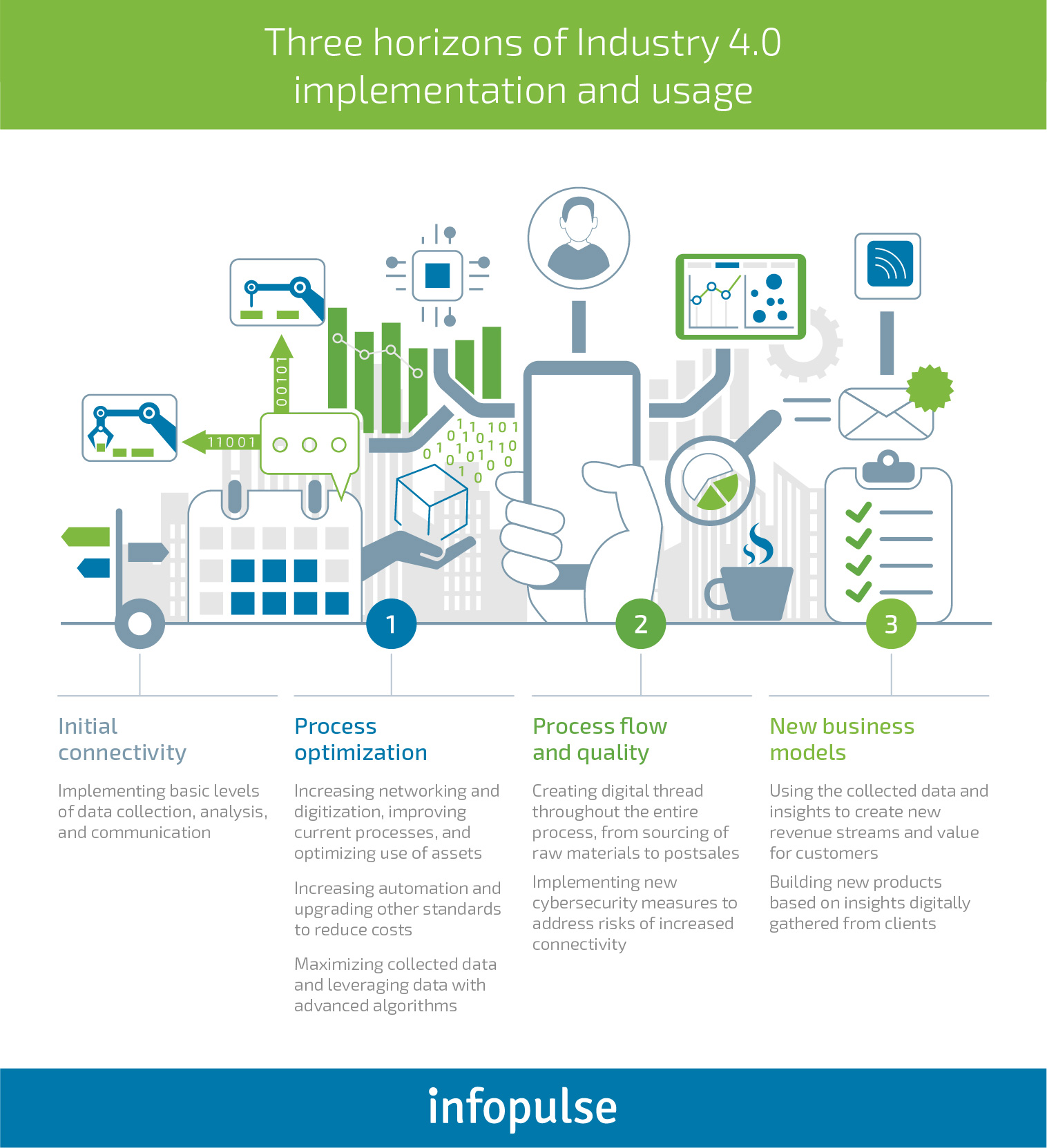 Source: Deloitte
Challenges That Hold Manufacturing Aback from Industry 4.0 Adoption
Driving organization-wide innovation is tough. At the current stage of the Industry 4.0 development, 6 out of 10 manufacturers admit the implementation barriers to be so strong, that they managed to achieve only limited progress with their industry 4.0 initiatives during the past year.
Among the top cited challenges are:
Lack of unified leadership that makes cross-unit coordination difficult within the company.

Data ownership concerns when choosing third-party vendors for hosting and operationalizing company data.

Lack of courage to launch the radical digitalization plan.

Lack of in-house talent to support the development and deployment of Industry 4.0 initiatives.

Difficulties with integrating data from various sources to enable initial connectivity.

Lack of knowledge about technologies, vendors and IT outsourcing partners that could help execute the core initiative.

While there's no "one-fits-it-all" approach to bringing an Industry 4.0 program to life, there are several things every company can do to diminish those adoption barriers. The first step to becoming an Industry 4.0 company is to clearly estimate the ROI different digital solutions can generate for your business.
The Business Benefits of Industry 4.0 Adoption
The emerging Industry 4.0 technologies can entirely transform the manufacturing value chain. From increased production efficiency to innovative product and services deployment – the benefits of digitalization are significant.
Revenue gains
In the European industry, digitized products and services already create €110 billion of additional revenues per year according to a PwC report. Trailblazing companies with digitized product portfolios have seen an above-average growth in the past 3 years. Nearly, 50% of business with industry 4.0. projects underway expect to see double-digit growth in the next 5 years. One in five businesses also expects a 20% sales rise.
With the help of big data analytics, companies can also gain a deeper understanding of customer needs. The new insights can be applied to product development and used to strengthen customer interactions.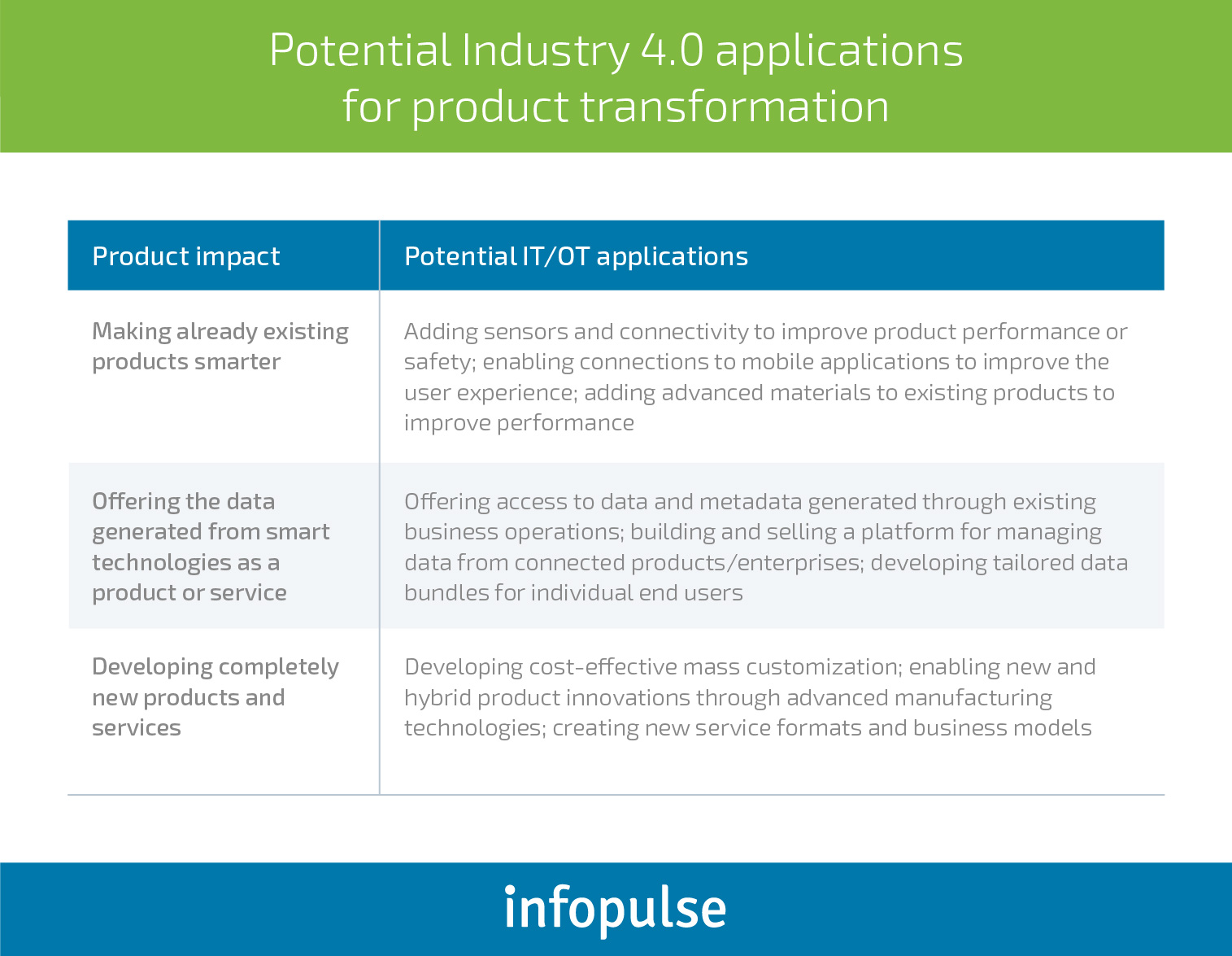 Source: Deloitte
Increased efficiency and productivity
McKinsey estimates that switching to automated production 4.0. can boost productivity in technical professions by 45%-55%. IoT assisted production has already been deployed by companies like Airbus, Cisco, Siemens and a number of other leaders in the Industry 4.0 space. Thanks to the wider adoption of OPC UA protocol, businesses can now create more advanced IoT ecosystems of gadgets developed by different vendors, as the protocol enables seamless, fast and secure cross-platform connectivity and data exchanges between different IIoT systems.
Human-robot teams are also emerging on the factory floor. New-gen robots can help manufacturers automate low-value parts of the production processes and speed up time-to-market. MIT estimates that collaboration with robots can reduce workers' idle time by 85%.
Infopulse helped its customer, a global software provider, develop and implement a Manufacturing Execution System, which automated up to 25% of the company's processes. As a result, the customer's clients experienced 5 times better productivity and 8 times better performing applications.
Australia's Drake Trailers, a company who recently added a welding robot to its production line, reported a 60% increase in productivity among their staff. Cornell Dubilier, one of the largest power capacitor manufacturers in North America, managed to double their speed of labelling process from 125 parts an hour to 250 parts an hour by employing a robot to work alongside the human team. Baxter took over the tedious tasks of labeling and inspections, which used to be a manual, time-consuming task. The company received a positive ROI in just 12 months after "hiring" Baxter.
Machine downtime reductions
Predictive maintenance in Industry 4.0 means that equipment failure will be identified before it occurs. ML-powered systems can spot repetitive patterns that precede failures, notify your teams and have them schedule an inspection. Such systems also learn over time, becoming capable to spot even more granular changes and help you continuously optimize your production process.
In addition, modern Industry 4.0 solutions can be adjusted and perfected for each particular scenario. Infopulse Anomaly Detection Solution uses engineers' feedback and real-time data intelligence to constantly improve its algorithm and, as a result, increase manufacturing efficiency.
Deloitte estimates that predictive maintenance can:
Reduce the maintenance planning time by 20-50%.
Diminish total maintenance costs by 5–10%.
Increase equipment uptime and availability by 10–20%.
MRO (Maintenance, Repair and Operations) can be largely improved with AR (Augmented Reality), embedded in industrial IoT applications. For instance, technicians can conduct inspects in smart glasses, streamlining real-time data about necessary service or repair points. The same device can deliver instant instructions, checklists and 3D models to compare to actual equipment.
AR-powered MRO has already gained traction in the aviation industry:
Boeing reduced the time required for wiring by 25% and slashed error rates to zero.
GE Aviation improved MRO efficiency by nearly 10%.
Improved supply/demand matching
Cloud-based inventory management solutions enable better interactions with suppliers. Instead of operating in "individual silo", you can create seamless exchanges and ensure that you have:
High service-parts fill rates;
High levels of product uptime with minimal risk;
Higher customer service levels.
By pairing your inventory management system with a big data analytics solution, you can improve your demand forecasts by at least 85%. Complex platforms, such as SAP S/4HANA, allow for taking advantage of Industry 4.0 and data analytics and adjust the supply to the market demand in the shortest possible period. You can also perform real-time supply chain optimization and gain more visibility into the possible bottlenecks, protruding your growth.
Learn more about SAP S/4HANA implemention and how Delta Wilmar utilized it to manage its supply chain.
The manufacturing sector is on the edge of great digital transformations. Early entrants, who have already embraced the innovation, are seeing tangible ROI from their investment. To get one step closer to Industry 4.0, consider deepening your knowledge about the new technologies and use cases driving the most value – an explore how they can fit your new strategic initiatives.