RPA in Action: Automating Business Processes with RPA
Webinar
October 20,2020
Innovations
Business leaders across all industries are exploring new technologies that can amplify business productivity, improve cost-efficiency, and facilitate their digital transformation journey. The adoption of Robotic Process Automation (RPA) can address these challenges by enabling full-scale automation of various business processes. Intelligent RPA bots can eliminate repetitive tasks, provide accurate analytics, ensure the safety of data with a reduced number of errors, and foster operational excellence across the entire organization. Infopulse aims to help you transform your organization with advanced RPA solutions.
Register to watch our free webinar "RPA in Action: Automating Business Processes with RPA" to discover how RPA solutions can empower your business.
With almost 30 years of experience in developing innovative software, Infopulse aims to accelerate your business performance with advanced RPA solutions. In our webinar, you can explore the applications and benefits of RPA, learn how to utilize RPA tools, and hear a real customer case of a successful RPA-powered business transformation.
Watch the webinar to learn more about:
What is Robotic Process Automation (RPA)?
What is it used for?
How can your business benefit from RPA adoption?
An in-depth overview of two popular RPA tools – UiPath and Microsoft Power Automate. Their capabilities, advantages, and disadvantages;
Live DEMO: Automating invoice generation and reading with RPA;
Case Study: Automation of customer inquiry processing and financial management for Restoration & Construction Company.
Expert speaker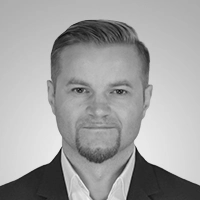 Viktor Antonenko
RPA Team Leader / Certified RPA Engineer, Cognitive Computing Department, Infopulse
Register to watch the recording
Thank You!
Please follow the link to watch the on-demand webinar