News
The 2022 CSR Project of Infopulse "Shoulder-to-Shoulder" Provided Charitable Assistance of UAH 8Mln
December 01, 2022
General
Sustainability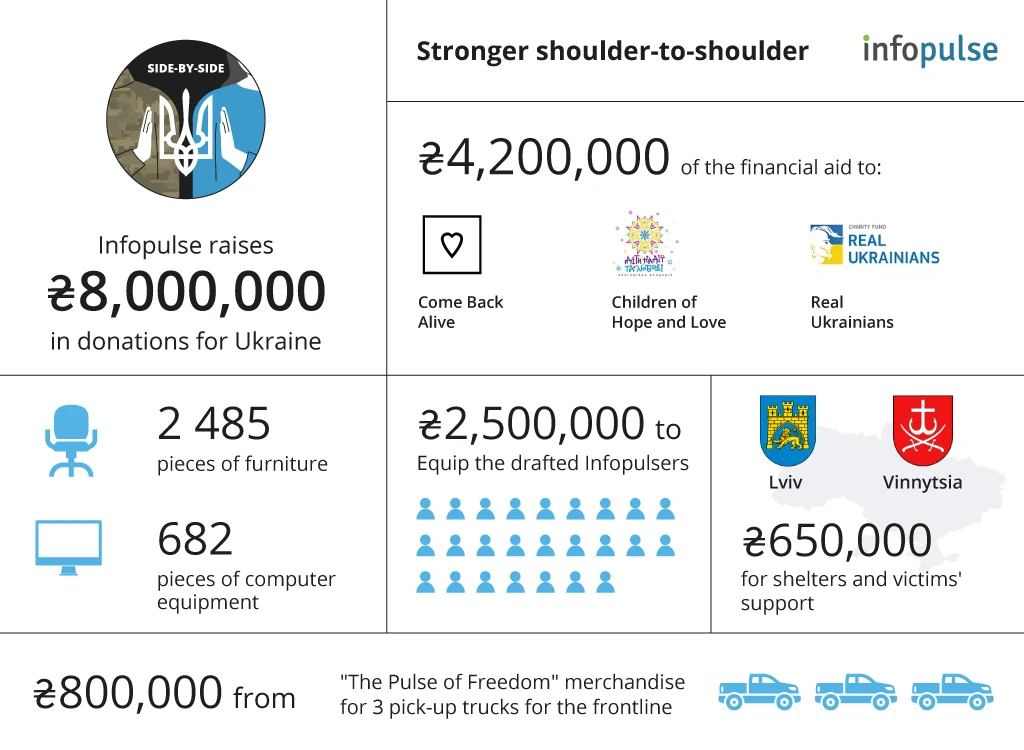 On December 6, Ukraine marks the Day of its Armed Forces. In 2022, the whole country and its citizens rely on the army's success on the battlefield as Ukrainian superheroes do everything in their power and beyond to protect the motherland from barbaric russian invaders.
Since the start of the full-scale russian invasion of Ukraine in February 2022, Infopulse and our community have demonstrated an active social position. The company responds to the urgent needs of Ukrainian charitable organizations and local society, while our specialists unite to cover volunteer initiatives.
About 95% of Infopulse's CSR initiatives in 2022 are related to fighting russia's illegitimate and vile war against Ukraine. To address relevant challenges, we created the "Shoulder-to-Shoulder" social responsibility project, which aims to take both proactive and reactive actions:
Proactive actions are our support for the brave Ukrainian military to keep them protected, warm, and able to destroy the russian enemies.
With Reactive actions, we aim to contribute to eliminating the consequences of the attacks of russia, the aggressor country.
We have come up with different approaches to provide help, both at the company level and within the Infopulse community. They are united by a single mission – to stand shoulder-to-shoulder with our defenders and society.
As a company, Infopulse donated 682 pieces of computer equipment and 2,485 pieces of furniture to the military, as well as provided financial support in the amount of UAH 4.2 million through the funds "Come Back Alive", "Children of Hope and Love", and "Real Ukrainians". We also provided financial support in the amount of UAH 650,000 to the communities of Vinnytsia and Lviv to equip shelters and eliminate the consequences of the destruction caused by russian rockets.
As a community, we have chosen two directions within the project:
Fundraising from our specialists for the military needs of the mobilized Infopulsers. In over 9 months of the project, we have raised UAH 2.5 million to purchase protective equipment, first aid kits, tourniquets, sleeping bags, thermal underwear, winter clothing, 3 cars, an inflatable boat, and other necessary equipment for our mobilized specialists.
Design and sale of the exclusive goodies collection "The Pulse of Freedom", the funds from which go to the purchase of pickup trucks for the front line. "The Pulse of Freedom" has already raised UAH 800,000, making it possible to purchase 3 pick-up trucks for the frontline. The sale continues, so we do not stop there.
The total sum raised by the Infopulse CSR project "Shoulder-to-Shoulder" is over UAH 8 million and 3,167 items of equipment and furniture – and we keep working for Ukraine's victory!
You can help with Ukrainian humanitarian crisis relief too. Join the cause by helping our trusted non-profit – the 'Children of Hope and Love' charitable organization.