Article
7 Tech-Centric Ways to Improve Fleet and Asset Management and Digitally Transform Logistics
Originally published: March 26, 2019
Updated: February 21, 2023
7 min. read
Innovations
Fleet management and logistics are the two industries at the verge of major transformations.
65% of executives
in the niche say that "there are tectonic shifts in logistics, supply chain and transportation processes". Under two-thirds (62%) also state that their business is already undergoing a profound transformation.
More change has taken place in the last two years alone than within the preceding decade. Several factors contribute to this:
Massive proliferation of business data – fleet and logistics analytics is now powered by telematics, sensor and IoT technology, allowing businesses to gather more comprehensive insights.
Major increases in computing power, cloud storage and connectivity, accommodating large volume data exchanges in real-time.
AI and ML technologies are taking over analytics, process optimization and management.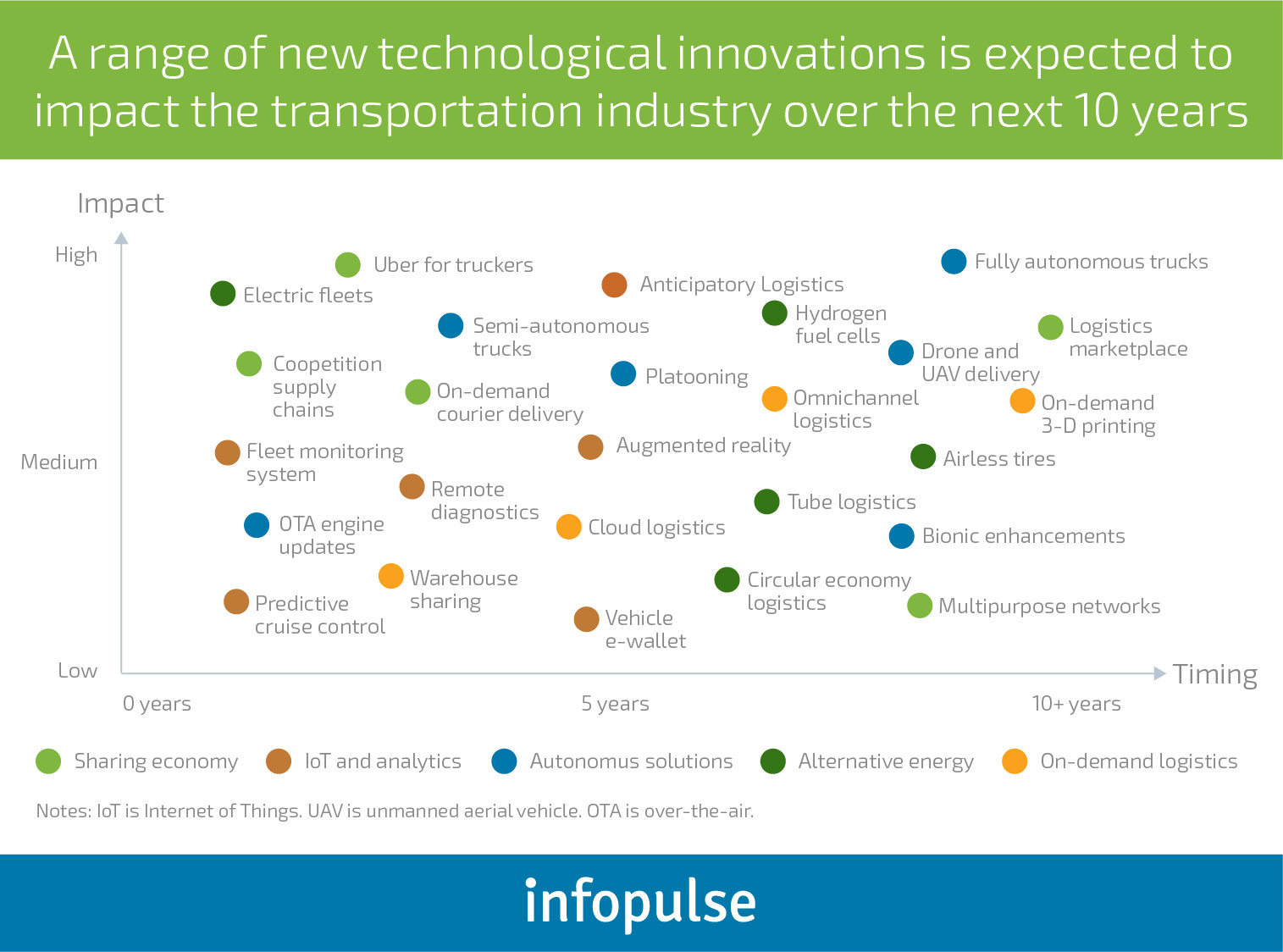 In this post, we have lined up the key transformative, and more importantly already accessible, technologies capable to bring major improvements to fleet and asset management.
1. IoT and Sensor Technology.
IoT technology has already made a significant impact on the manufacturing sector, including automotive OEMs. IoT-equipped machinery is heavily present on the production floors, resulting in faster, better and safer production. But IoT and sensor technology also have a bright future beyond the production facilities.
In just one year, over 250 million cars will be "connected". Within the next two years, 67% of connectivity units will be installed to vehicles and consumer spending on connected cars will double within the same period.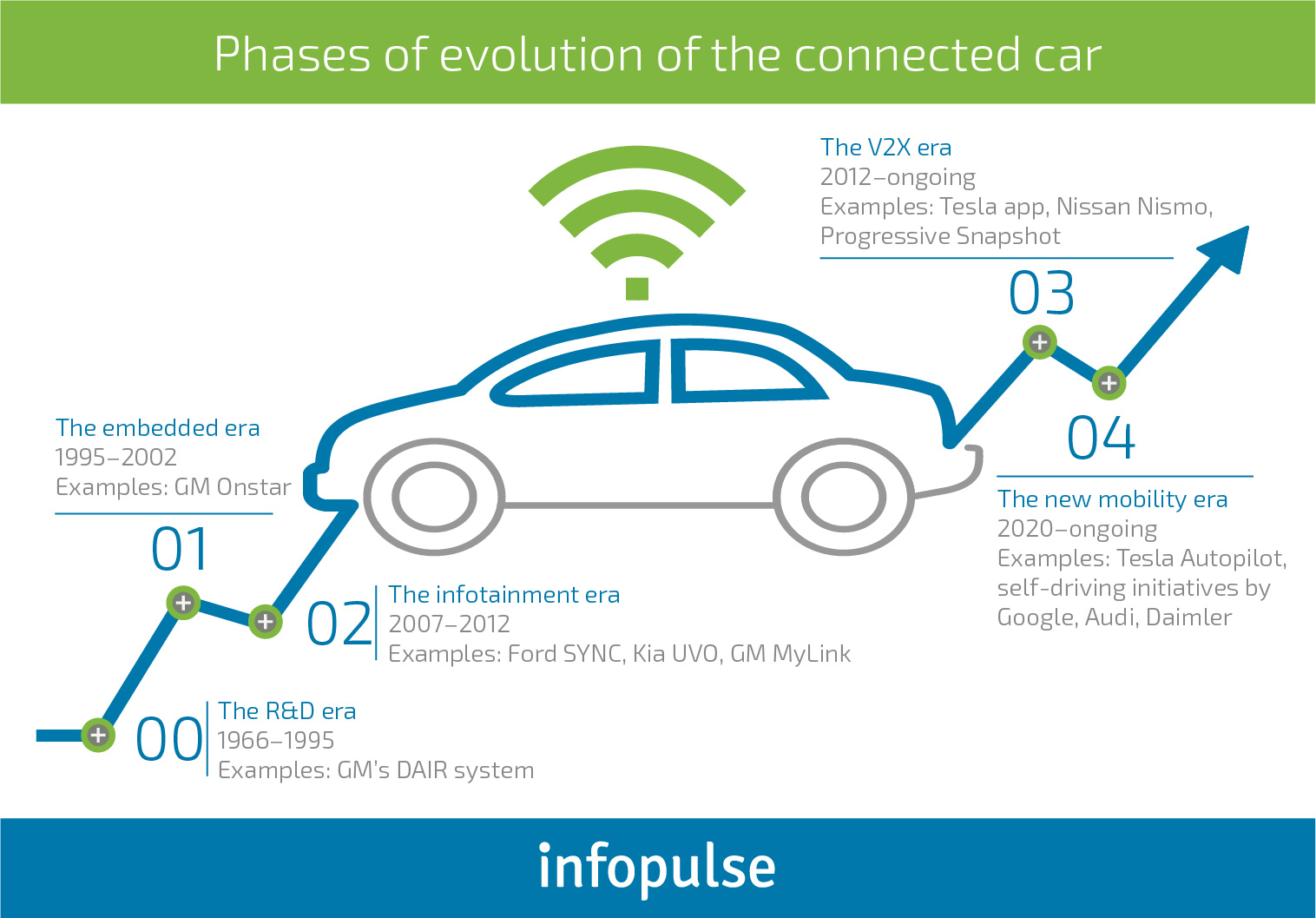 In fact, consumers are commanding the demand for "smarter" driving experience. They want to remain productive on the go and expect their interactions with the vehicle to become similar to a smartphone – a trend automotive leaders should pay attention to. Sensors and connected units can largely facilitate the driving experience in several ways:
Improve routing to optimize fuel usage and prepare for adopting of new fuel types (bio/electric vehicles).
Automate the maintenance process and reduce diagnostic costs (predictive maintenance).
Enhance safety: 80% of accidents can be prevented with the help of connected technologies.
Improve in-city driving and parking: an ecosystem of smart packing stations and connected cars can lead to an 8% reduction in traffic and a 30% reduction in miles traveled to find a free lot.
For fleet managers, this titanic shift towards connected, and potentially autonomous, vehicles presents an additional host of benefits and opportunities:
Real-time routing and data-driven fleet management strategies.
Higher visibility into transport logistics that leads to reduced administrative costs and better asset/inventory management.
Improved fleet planning to anticipate future demand and deliver higher service levels.
With the help of sensor technology and big data analytics, fleet managers can gain a unified view of their entire ecosystem and optimize multiple operational facets including:
Fuel costs and usage per route;
Idle time;
Compliance violations;
Driving time due to traffic, road or weather conditions;
Driving behavior;
Security;
Maintenance schedule and delivery of required parts.
Case in point: Saia LTL Freight Inc. has recently installed sensors and cellular service on 3,000 trucks in their fleet. In the first year of adopting this new fleet management system, the company managed to increase its fuel efficiency by 6% and obtained $15 million in savings. Per McKinsey, adoption of new routing software powered by connectivity and analytics can improve logistics efficiencies by 25%.
2. Predictive Maintenance, Powered by IoT and Big Data.
Insights obtained from sensors can reduce operational costs and improve your fleet efficiency. By knowing exactly when a certain part is due for replacement and when a vehicle should be routed for an inspection, you can streamline your maintenance supply chain and schedule. A predictive maintenance system can improve asset availability by 10%-30% and significantly trim inventory management costs. Beyond optimizing the repairs, predictive maintenance systems can also mitigate the risks of unplanned breakdowns.
To understand how predictive maintenance functions, let's take a waste management truck as an example. Sensors can be installed to capture the following data:
Tire pressure;
Lift and body scale;
Engine performance;
Hydraulics;
Rear, front and hopper cameras.
Data collected from these sensors can be instantly dispatched for analysis using over-the-air (OTA) technology and the driver can be immediately notified if any potential failure is detected. So the general predictive maintenance algorithm operates the following way:
An onboard unit collects real-time data from the sensors.
The data is transmitted to a cloud server, connected to the proprietary vehicle management system.
Real-time analytics is deployed to detect and predict an issue.
Recommendations are delivered to the driver or in case of a critical failure (e.g. imminent engine overheating) straight to the connected vehicle, which will immediately shut down.
Such predictive analytics for logistics and fleet management industries enable the following benefits:
Less vehicle downtime and higher service levels.
Lower maintenance costs – create a custom maintenance schedule that matches individual vehicle type and usage. Identify potential failures before they become imminent and proactively repair specific parts before the damage spreads further.
Optimize inventory management for spare parts – being equipped with data means that you can order spare parts "just-in-time" to a specific garage, rather than stock massive inventories in multiple locations.
Reduce labor costs – knowing exactly when an asset is due for maintenance means that you can better manage the availability of technicians and assign specialists to different locations on a "per need" basis.
Improved safety – having a granular view of your vehicle's health means that critical issues (such as accidents) can be mitigated.
3. Advanced Fleet Telematics, RTLS and Vehicle Tracking Systems.
Telematics (telecommunications + informatics) systems are becoming increasingly present in vehicles. Per McKinsey, 15% of cars now come with telematics units installed and 100 million telematics systems are now in operation around the world.
A telematics system is a connected onboard hardware unit, consisting of an IoT sensor(s) or a "black-box" computer with GPS, capable of sharing data in real-time or within pre-programmed intervals of time. They are a major shift from the standard GPS vehicle trackers that only provide visibility into the assets geolocation.
There are several popular use cases of telematics in vehicle fleet management:
Gain a holistic view of all your assets and their location in real-time;
Obtain regular data on asset utilization;
Track and optimize fuel usage;
Monitor drivers' to make sure they are compliant with schedules, route plans and operating/safety standards;
Accumulate day-to-day data to develop a preventive maintenance schedule.
Today's advanced telematics systems also support two-way communication, meaning that drivers can receive instant updates on route plan changes (e.g. due to congestion) and schedules. As well, they can be used to provide feedback and training to drivers based on their common driving patterns and behaviors. Such new-gen vehicle tracking systems can reduce preventable accidents by 20%-30% by enabling companies to proactively manage the risk behavior among staff.
By having a better understanding of fuel consumption, businesses can accurately forecast fuel costs (and even slash those). Telematics, especially when paired with real-time location systems, can help achieve greater route optimization, map out better fueling strategies and improve the overall vehicle operations.
RTLS tags – compact devices capturing location data – are another tech add-on worth considering to ensure smoother logistics management on-site and en-route. By capturing location data alone you can unlock the following benefits:
Automatically locate assets in your garage or maintenance facilities and program certain actions based on vehicle location e.g. display the vehicle history when it's stationed at the maintenance bay.
Achieve greater efficiency by optimizing asset parking in preparation for service.
Improve security by adding special tags to equipment that should not leave the facility.
Enable geofencing to receive updates whenever your vehicle whenever reaches an important destination – garage, customer sight etc.
Beyond collecting on-site data, advanced telematics systems now support the collection and analysis of the following geo/location data points:
Vehicle geo position, moving trajectory and speed – can be used to optimize route planning and fuel usage.
Real-time traffic information – to issue updates to the routes and deliver instructions to the driver and ETA updates to the customers.
Local weather data – road temperature, wind speed, humidity etc. insights can be also applied towards real-time route optimization.
Finally, by having a 360-degree view of your operations and asset locations at all times you can effectively match your fleet size to the current (and future demand). By knowing your numbers, you can proactively manage seasonal variations in demand and optimize staffing levels. The use of telematics is said to reduce the overtime costs and boost drivers' productivity by 10% or more.
4. NFC-enabled Access Control and Management.
Near field communication (NFC) technology has been popularized by the financial industry. But this type of short-range wireless connectivity can be also effectively applied towards security and access management in the automotive industry.
An NFC-powered vehicle entry system relies on a wireless connection and onboard sensors to identify the security key, stored on the driver's personal device (a smartphone). The car door unlocks automatically when the driver approaches the vehicle and activates the pre-programmed individual settings e.g. seat or rear-view mirror position.
By opting for a smart key for cars in your fleet, you immediately solve several problems:
Auto theft risks. Nearly half of all thefts occur due to the fact that the driver left the keys inside the car or forgot to lock the door. For logistics companies, this scenario is especially frequent as couriers tend to step out just for a second to hand over the delivery and often forget about property security measures.
Streaming key handovers and access management. Time means money in the logistics industry. Even a few extra minutes saved on each job can bring significant savings across the board – especially for larger fleets. A digital car key can be managed remotely and instantly grant access to a certain vehicle to the driver nearby.
Fleet managers no longer need to coordinate face-to-face key handovers or manually adjust settings to accommodate a last-moment alliteration. Digital key management can be further integrated into your dispatch and scheduling system, and new keys can be automatically generated for drivers based on their ID cards and planned routes.
Apart from fleet management companies, the following businesses can largely improve their operations with this technology:
Car rental companies;
Car dealerships;
Car sharing startups;
Overnight delivery and CEP (Courier, Express and Parcel) service providers.
Infopulse team has recently helped a German automotive company to develop and implement a secure and efficient NFC-based Digital Key Solution. This new add-on to their system enabled the following:
Locking/unlocking vehicle and starting the engine when the driver is less than 2 meters from the car.
Streamlined key provisioning and management including key revoking at any time.
Sharing access to the vehicle with another driver or maintenance personnel.
Setting max speed restrictions using the digital key.
Lending access to the trunk of the car, but not the car itself.
To learn more about the exact technologies we have used, read the complete case study.
5. Blockchain for Logistics: Secure Assets Sharing and Tracking.
The distributed ledger technology has already found solid grounds beyond the financial industry. Due to its immutable nature, blockchain became an "excellent" candidate for data recording, storage, and exchanges. Supply chain management, in particular, benefits as blockchain can streamline and secure transaction flow, as well as increase the visibility into operations.
A single ledger can be used to store and exchange all the information related to the origin, authenticity, certifications, transportation conditions and real-time locations of your products and assets. This way digital logistics data becomes more comprehensive and allows you to make more informed decisions.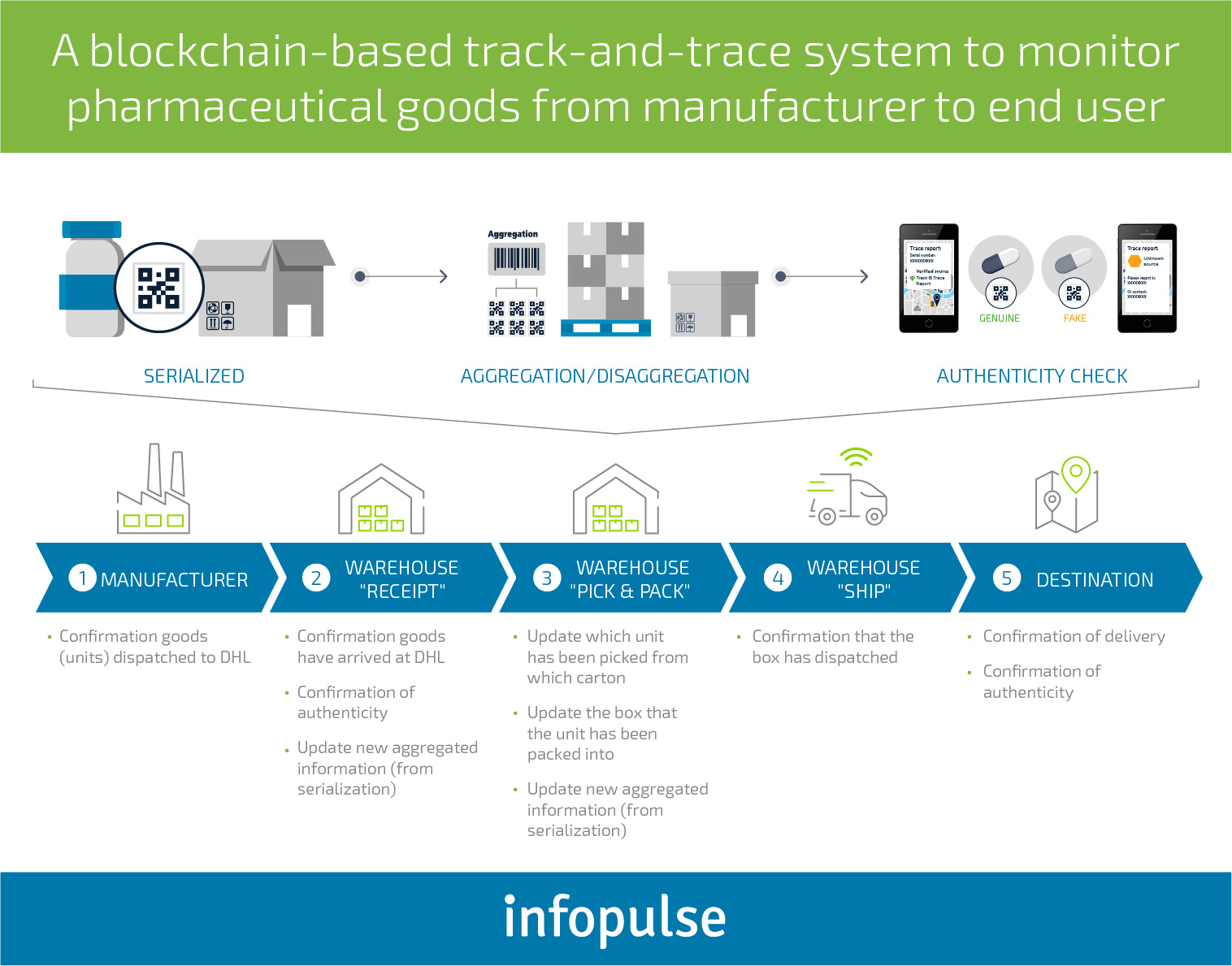 Beyond improving the supply chain, logistics and automotive industries can also leverage blockchain for predictive maintenance. Recently, Groupe Renault, in collaboration with Microsoft and VISEO, experimented with creating a digital twin of its vehicles, backed by a blockchain system. The solution aggregates data about all the vehicle's maintenance events to the vehicle's digital twin. This way the data becomes fully traceable, and can be viewed by any authorized party – a technician in the dealership, insurance company, OEM, current or future owner. Such a system can be further adapted for predictive maintenance. Smart contracts can be used to automatically condition a vehicle for immediate maintenance after a certain event occurs, further automating the process.
Fleet management solutions can also incorporate blockchain to improve asset sharing. The technology allows granting ultra secure, yet temporary access to a vehicle in a particular area or distance. The controlling body (chief manager) can instantly trace who, when and where used a certain asset and automatically revoke the access key when the usage time expires or if the car leaves the designated geofence.
6. ADAS for Platooning and Semi-Autonomous Driving.
The global automotive advanced driver assistant (ADAS) market is expected to grow at a CAGR close to 22% between 2017-2022. New government safety regulations clearly contribute to that growth, but more importantly, OEMs and fleet managers are preparing for the arrival of semi-autonomous and ultimately driverless trucks.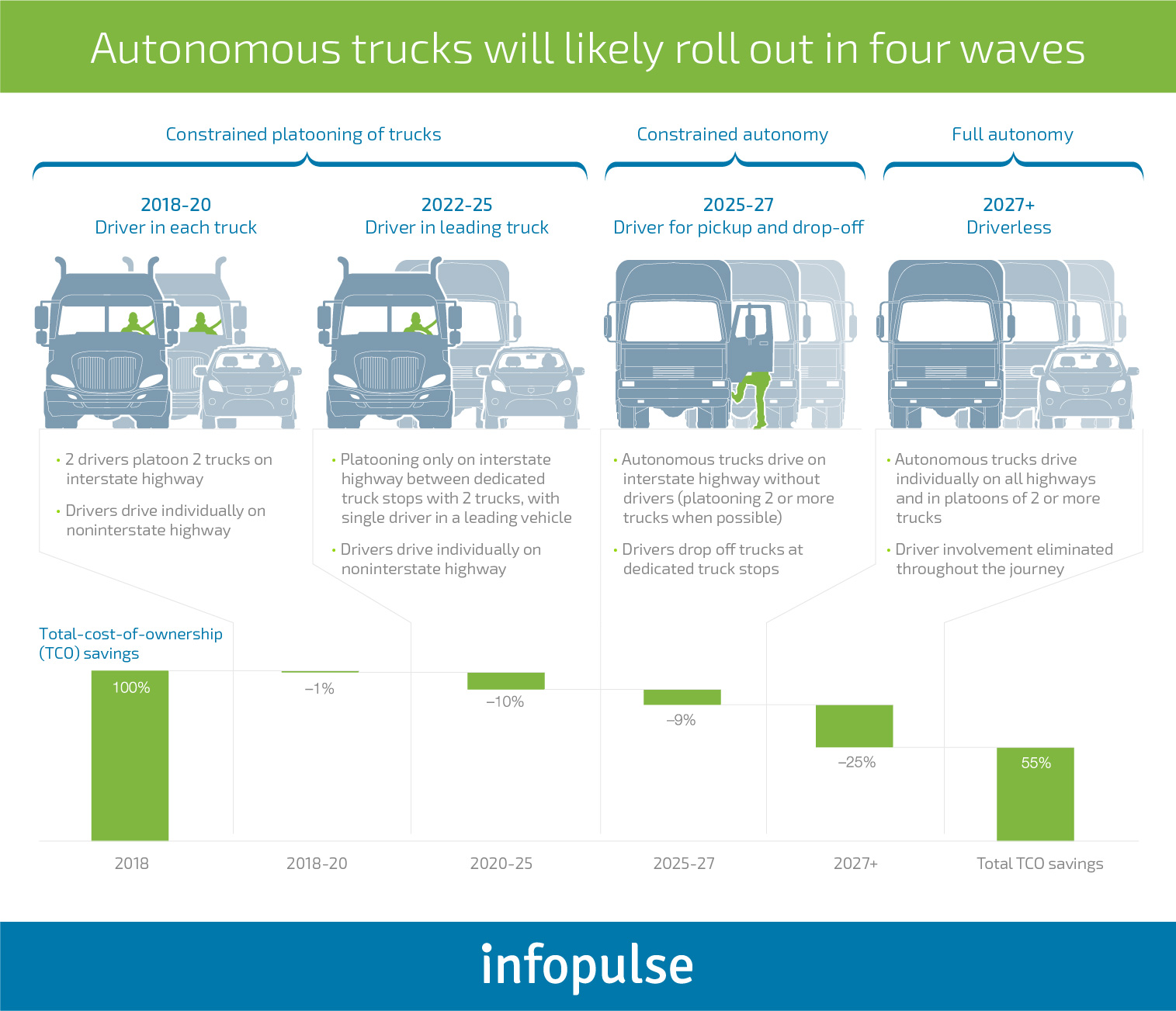 "Platooning" is a technique of linking convoy of trucks to into one entity using connectivity technology. A platoon of trucks can safely drive at a high speed with reduced fuel usage and CO2 emissions. Volvo Trucks and FedEx recently conducted a pilot platoon run on a stretch of North Carolina 540 known as the Triangle Expressway. Volvo estimated that platooning technique can significantly optimize truck fleet management operational costs and achieve up to 10% of savings in fuel.
ADAS software is a central component enabling platooning and semi-autonomous driving.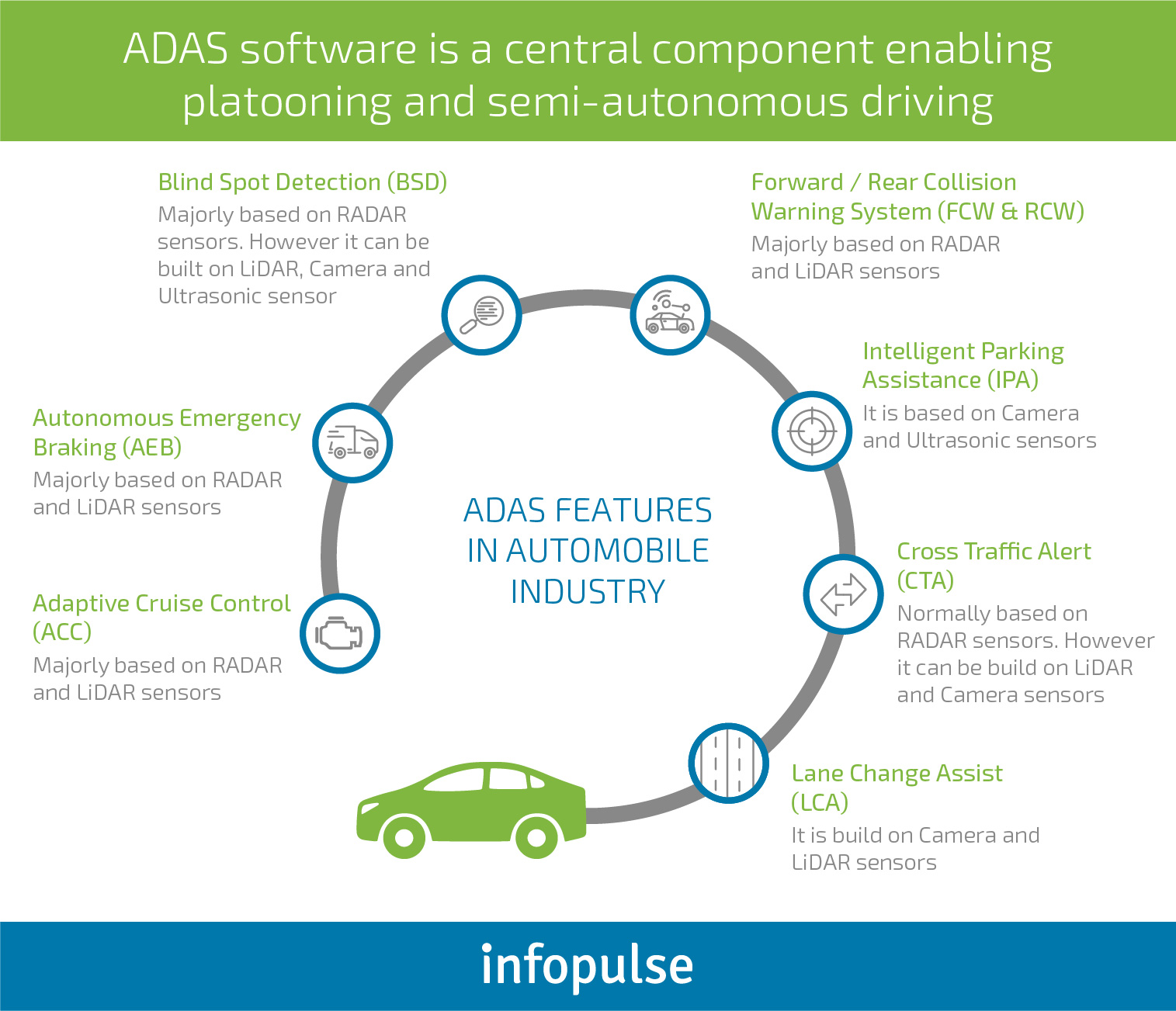 ADAS enables effective grouping of vehicles so that they could travel at a short distance and accelerate/brake simultaneously per the commands from a lead truck. Sensor technology is integral as well for developing new gen solutions. IoT devices, attached to the vehicle, can collect additional information from the environment (road conditions, weather, obstacles, traffic etc.) to further assist with driving.
McKinsey predicts that in two years, the industry will switch to driverless platooning. Fleet control will be performed by the driver sitting in the lead truck, while connected vehicles will be unmanned. Driverless platooning can reduce the TCO for a fleet manager for another 10% and trim the labor costs.
7. AI and Machine Learning.
AI and machine learning help making sense of big data in logistics and fleet management. Beyond powering all sorts of analytics and fleet management services, AI is also taking a new role as the drivers' safety assistant.
The connected vehicles, equipped with engine electronics, cameras, sensors and IoT devices, already "tell" you how the driver is performing. ML algorithms can decipher the different cues collected by those systems and identify the common patterns of fatigue or otherwise risky driver behavior.
The collected patterns are sent to the cloud fleet management system for analysis, and send updates to the driver's smartphone and onboard computer. Some of the latest in-cabin devices also come equipped with teraflop processors (similar to those present in the Xbox). Such gadgets support computer vision and allow managers to capture more complex patterns and risks from streamed HD video. For instance, the system can instantly detect frequent yawning, obvious distraction and other behaviors like failing to maintain a proper safe distance considering the road conditions.
On an operational level, AI and ML are helping logistics and transportation companies to overcome the "Amazon effect". 44% of industry leaders state that they are feeling increased operational pressure due to heightened consumer expectations when it comes to the speed of delivery. For logistics companies the "final mile is being redefined almost every day", forcing businesses to get more creative with their operations – freights, pick-ups and deliveries need to be scheduled more frequently and effectively to minimize the time.
By relying on AI, businesses can dramatically advance their logistics operations. DHL recently developed and deployed an ML-based tool for predicting air freight transit time delays and enabling proactive action. By analyzing 58 different data points, the system can predict the average daily transit time for any given lane up to a week in advance. Additionally, the solution can circle out the major factors affecting shipment delays, both temporal (e.g. departure day) or operational (e.g. airline on-time performance). Such insights allow you to plan ahead your operations and ensure smooth and timely deliveries despite the obstacles.
Looking ahead, digital transformation in automotive, logistics and transportation industries will only accelerate. Favorable legislation for semi-autonomous driving is now under approval in the US and EU markets. The falling costs of sensor technology and the rising commoditization of AI, ML and blockchain technologies are prompting more businesses to innovate.
To learn how to apply the new technologies to your business, schedule a discovery session with Infopulse. Our company has been a trusted automotive partner for several major automotive brands and has hands-on experience with developing and deploying both pilot and production-ready blockchain, AI and IoT projects.