Article
Business and Remote: How to Operate Efficiently and Securely
Originally published: June 15, 2020
Updated: September 07, 2022
5 min. read
Software Engineering
Moving to Work-from-Home Model: Infopulse Experience
The COVID-19 pandemic and the mass transition to the remote work mode have changed our perception of the way to organize business processes. One should not expect that with a work-from-home model (WFH) employees will show the same level of performance in the long term as they usually do in the office. However, reconsidering existing approaches to operations will help adopt the new paradigm and may even result in improved productivity. Many companies around the globe have already recognized the benefits of remote work and intend to
scale back on real estate for offices
in the future.
During March 2020, Infopulse managed to transition more than 2,000 specialists to remote work in a matter of weeks. Based on our own successful experience, we would like to share the key approaches and tools that allowed for a seamless shift and enabled efficient and secure business operations under new conditions.
How to mitigate security risks
A data breach costs a company $3.92 million on average, according to IBM's research. System malfunction and cybersecurity threats can destabilize the company and lead to significant financial and reputational losses. With remote work, enterprises face more challenges and risks as their employees use personal devices and work with sensitive data outside of the corporate network. Infopulse pays great attention to data protection and has undertaken a series of actions to eliminate possible risks.
Information Security Management
A high level of informational security is enabled by a holistic approach to the issue. A broad variety of tools allows for minimizing possible risks on multiple levels, from user devices to cloud infrastructures. At Infopulse, we take extra precautions to enable a secure workspace without limiting our experts' convenience.
For example, the combination of VPN, RMS and role-based models restricts access to confidential information, allowing the users to work with the required minimum of data according to their role and position. An enterprise-scale cloud security solution, such as Azure Sentinel, can accelerate threat detection and response to ensure a comprehensive approach to security. A combination of various tools can help achieve the desired level of protection.
Data Protection
In the digital age, data protection becomes one of the crucial factors of successful business operation. To ensure business continuity and secure data storage, more and more companies embrace cloud technologies. In 2019, 84% of companies trusted their data to the cloud and utilized it as backups and data storage. Cloud technologies can enable system reliability and high operational performance even with a support team working remotely. To eliminate negative consequences in case of system failure, companies can adopt cloud solutions, like Azure Backup & Disaster Recovery. Such solutions are designed specifically to guarantee fail-tolerant system performance and data security.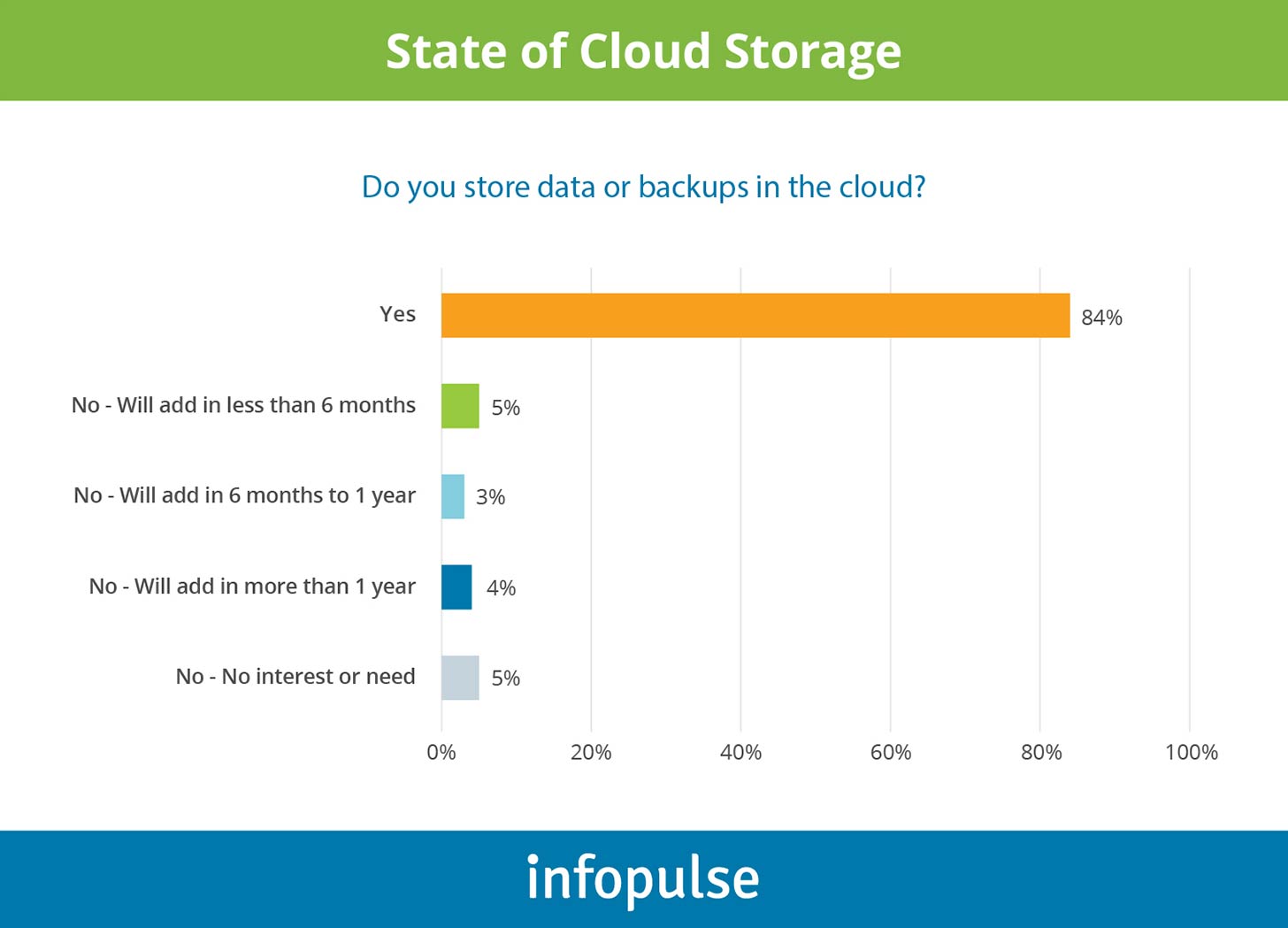 Cybersecurity Essentials
At Infopulse, every specialist follows the company's information security policy, as well as universal cybersecurity principles. However, as, according to Verizon, 15% of breaches are based on misuse by authorized users, cybersecurity training should be an ongoing process to sustain a high level of security awareness. It is especially important considering the gradual merge of work and personal spaces due to the usage of own devices and public clouds.
To avoid associated risks, the companies should pay extra attention to individuals contributing to corporate information security and increase awareness with regular cybersecurity workshops. Reminding employees about using protected communication channels for sensitive data, two-factor authentication, and following security policies significantly increases the overall level of information security. Besides, regular security audits and penetration tests are very efficient methods to manage and reduce risks.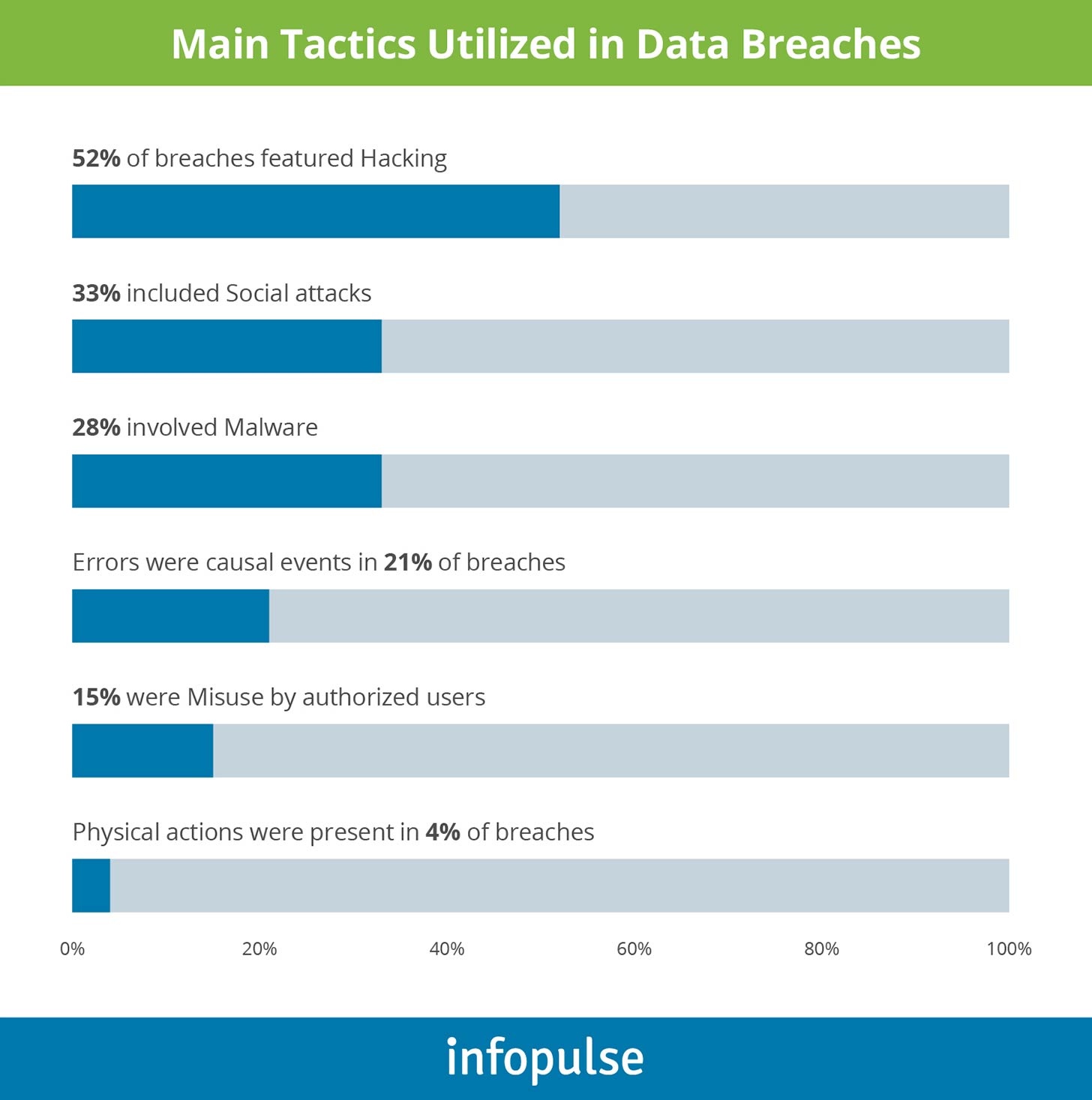 How to ensure business continuity
A medium-sized company loses up to $75,000 per hour of downtime. In today's conditions, businesses cannot afford operations outages and financial losses. Seamless, uninterrupted business processes lay the foundation for excellent performance, high quality of delivered results, and better efficiency. At Infopulse, we understand the importance of business continuity and have provided our specialists with an environment that ensures a steady workflow.
IT infrastructure readiness
With more than 2,000 specialists working from home, Infopulse faced the risk of system overload once everyone connected to the corporate network. Infopulse IT support service conducted a series of preliminary works to test and stabilize system capacities under heavy load to prevent downtimes. As of late March, all internal systems were ready to support the remote work model.
In addition to careful preparations before the transition, Infopulse support service regularly performs tests and maintains internal IT infrastructure to minimize undesirable outcomes. One of the approaches suggests using cloud platforms or granting access to specific solutions without a VPN, which can help reduce the workload on internal systems. At the same time, if the workload is expected to change in the future, the scalability of the integrated solutions allows for adjusting the existing infrastructure to keep up with the demand.
Cloud solutions for faster and reliable operations
While working remotely, Infopulse greatly benefits from cloud solutions that sustains our internal operations and allows for increased productivity. Thanks to the ease of access and high level of security, cloud platforms has become an integral part of the Infopulse infrastructure.
For example, virtual networks, such as Windows Virtual Desktop, proved to be very effective in case a specialist works with sensitive data. Remote access to required information allows employees to work safely from home without compromising the project with potential risk.
Cloud solutions for business productivity, namely Microsoft Teams, empowers Infopulse specialists with collaboration tools. Thanks to a high level of engagement and interaction, it allows to preserve the teamwork atmosphere and ensure clear and concise communication.
Equipment and workspace for remote work
As the remote mode is likely to become a long-term and more applicable approach now, one should consider equipping their workplace properly. The office environment is created specifically to sustain productive work in comfortable conditions, as opposed to someone's home. To help our specialists adapt to a new workspace without sacrificing the convenience of a well-equipped office, Infopulse provided experts with the devices necessary.
Having initiated the transition to remote, Infopulse introduced much simpler procedures that allowed for avoiding bureaucracy where possible and accelerating the shift. Such an approach resulted in the prompt setup of home workspaces for our specialists without interfering with ongoing business processes, which was also highlighted by Infopulse clients.
More on this topic – in our special first-hand experience blog post.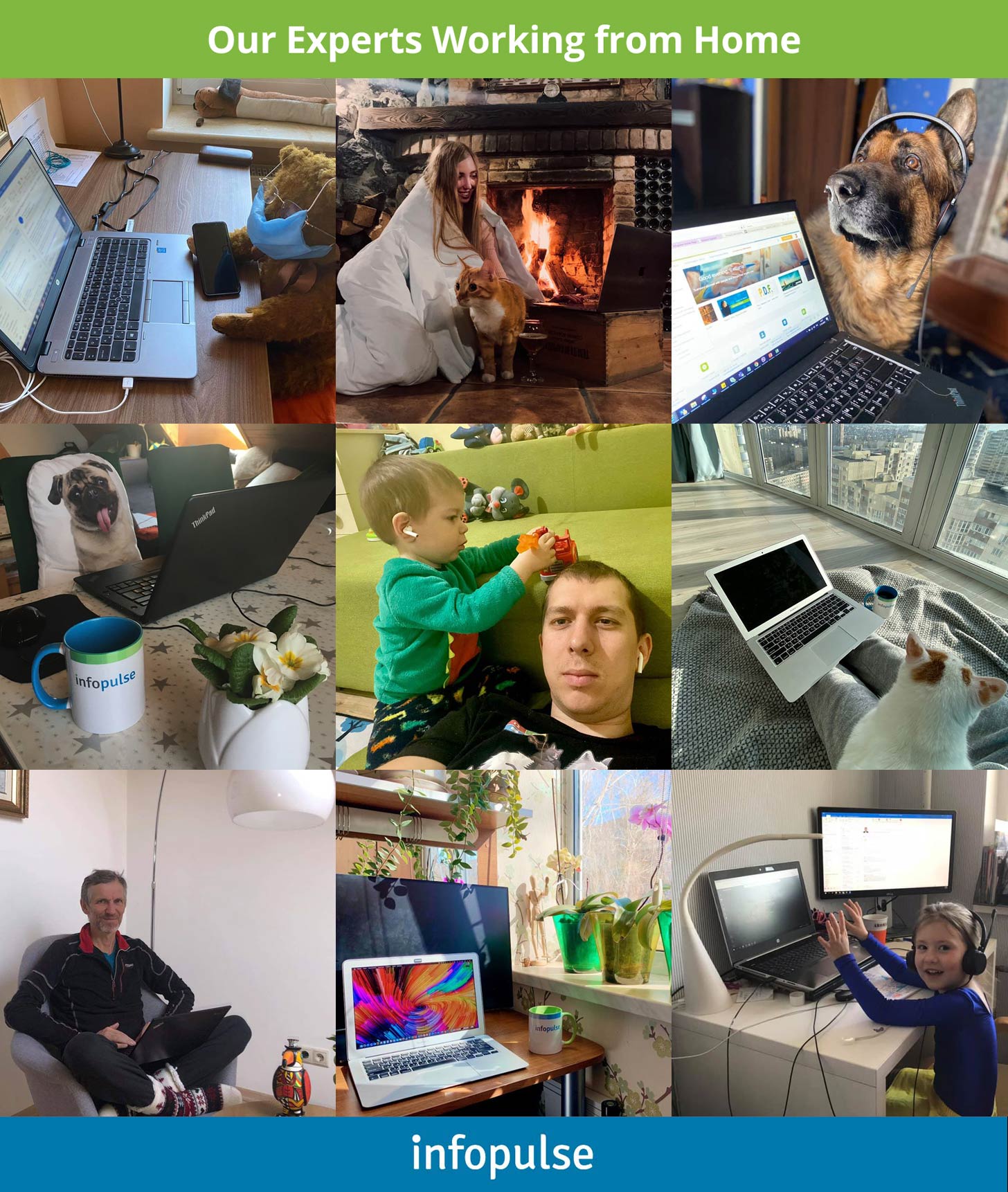 To conclude
The COVID-19 pandemic and the global quarantine have stimulated the development of the remote work culture. According to the surveys, 98% of employees want to continue working remotely, at least partially. This means that companies should not only address the issue of temporary readiness for remote working but also consider the current conditions as a new working paradigm. Today, businesses must adapt their processes, systems, and approaches to meet the demands of the transforming market and ensure high productivity in the future.
Contact our experts to receive an extensive consultation about services and solutions that can help your business embrace the remote work model.