Cross-Industry Expansion of Smart Wearable Technology
Originally published: October 04, 2019
Updated: January 27, 2022
11 min. read
Innovations
Modern wearable electronics help people hear better, calm down, relieve pain, and monitor their overall health. What started as an accessory, soon developed into tiny wearable computers that allow for answering calls, viewing notifications, sending short messages, and even monitoring health indicators.
The market share of smart wearables is impressive. Their total volume of sales is expected to reach $42 billion by the end of 2019. Currently, the most trending types of wearables are fitness trackers, smartwatches, kids' activity trackers with GPS, smart rings, and medical wearables. The shipment forecast by Statista predicts that 158 million units of wearables will be shipped worldwide in 2022. Surprisingly, ear-worn wearable devices will soon leave behind smartwatches in the number of shipments.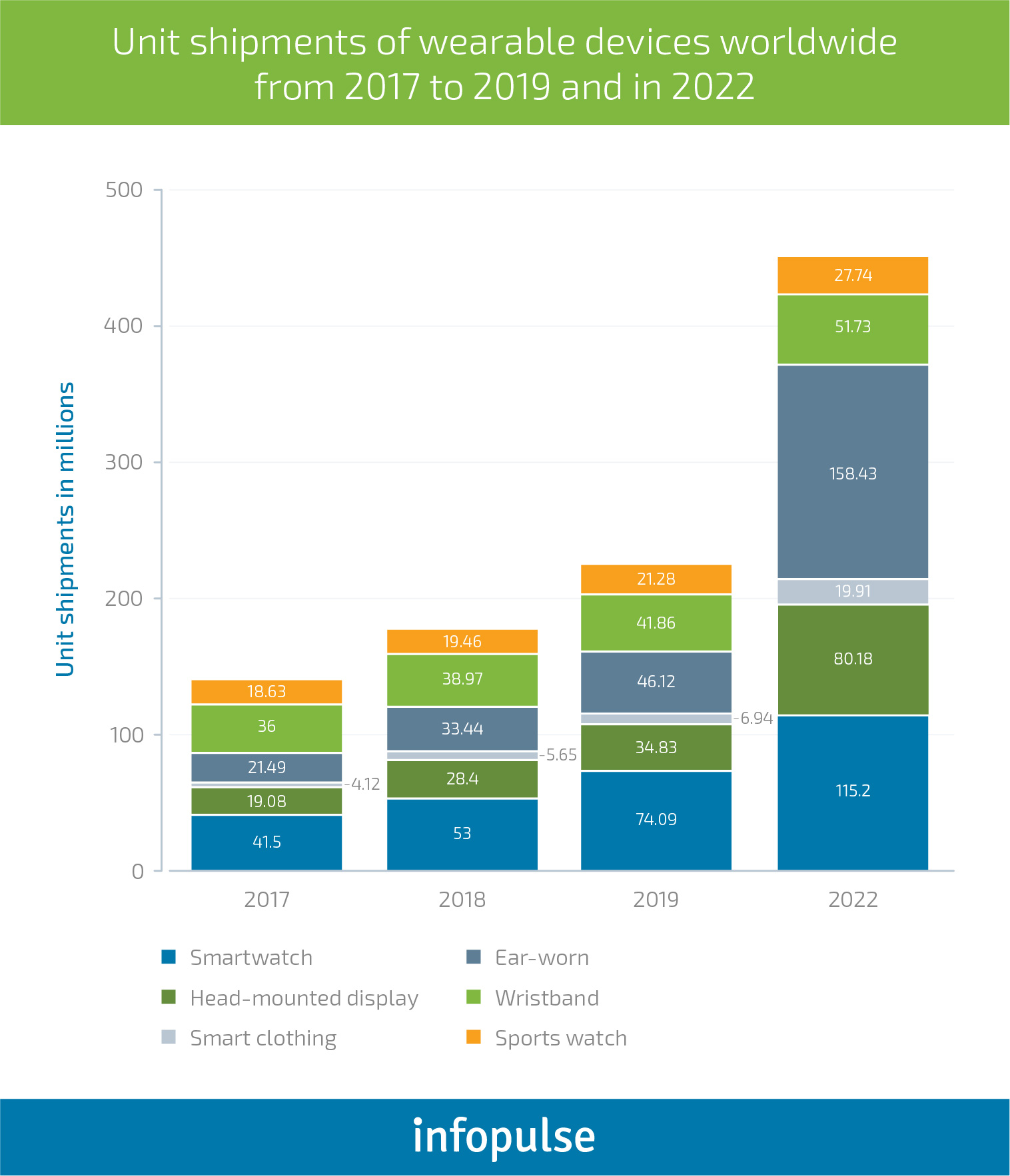 Some of the most advanced wearables can control chronic pain, check user stress level, and help the wearer prevent health issues. The growing market demand encourages manufacturers to come up with increasingly novel wearable devices and combine them with artificial intelligence. According to the Economist, even the clothes we wear will be AI-powered in the future:
Types of Modern Wearables
Based on their intended use, there are several types of wearables.
Activity tracking. Wearable tracking devices of this kind help users monitor their daily physical activities (walking, running, sleeping). The most popular ones track heart rate and count calorie loss. They are used for monitoring and correcting the lifestyle of the wearer.
Information and entertainment. These types of wearables transfer information like notifications, texts, or emails from users' smartphones to keep them entertained and updated.
Health monitoring. Wearable health trackers monitor the users' health conditions to support a possible diagnosis and assist with the necessary treatment. Such devices include wearable heart rate monitors, wearable body temperature monitors, wearable breathing monitors, and others.
Enterprise and industrial. Such wearables keep tabs on manufacturing data, warehouse stock, and operation safety.
Military. Wearables used for military objectives are not usually public. They are practical and lightweight means of communication to help soldiers always stay connected.
It seems like today there's a wearable device for every part of the body – immersive helmets, ear-worn trackers, smart eyewear, chest straps, arm- and wrist-worn trackers, smart footbeds, implantable sensors, etc. With so many types of wearable devices and the growing demand for them, the future of wearables looks bright. And when coupled with artificial intelligence, it looks even brighter.
AI, IoT, Connectivity, and New Types of Wearables
Modern IoT wearables can unlock a garage door remotely, turn the house security system on, or off, control the home thermostat, and more. Wearable solutions powered by AI can make their own decisions based on the data they receive and process. They can become personal assistants, coaches, and trainers, helping to improve your results.
Being a part of the IoT ecosystem, wearables hardly ever function on their own. Usually, it's all about connectivity. Newly invented wearables and those currently under development can provide better connectivity, more security, and robustness to their users. At the same time, the trend is to consume less power and occupy less space on a wearer's body.
CES 2019 AI-Powered Wearables
During CES 2019, world-famous International Consumer Electronics Show, innovative smart glasses, fitness trackers, smartwatches, wearable sensors, and other AI-driven gadgets were presented with a goal to disrupt healthcare, education, security, and entertainment. Though inventions like personal wearable air conditioners aren't likely to go viral anytime soon, others, like wearable biosensors and safety wristbands, have a better chance of becoming popular.
The winner of this year's CES Innovation Award for Accessibility is Livio AI, a wearable hearing aid that does more than helping people with hearing problems. Livio AI also leverages AI and machine learning to translate foreign languages. On top of that, the wearable device tracks the physical and mental states of the wearer. Starkey, the company behind Livio AI, also has a higher purpose in mind: to make hearing aid devices more fancy and stylish so that younger generations won't feel embarrassed wearing them.
ReSound is another company that showcased its hi-tech hearing aid at CES 2019. Their LiNX Quattro is one of the most advanced hearing aids on the market for two reasons: it can connect to Apple's Siri and its AI learning the wearer's preferences based on the daily habits. In addition, the hearing aid needs only three hours to fully charge and can then work for 30 hours straight.
Wearables can even help mitigate chronic health conditions like pain, sleep disorders, and diabetes. At CES 2019, NeuroMetrix introduced Quell 2.0, their latest version of an AI-powered wearable device capable of relieving people from chronic pain by using transcutaneous electrical nerve stimulation (TENS). NeuroMetrix has the largest chronic pain database in the world, and AI helps them make use of that data for treatment. The solution also comes with a personal assistant that guides people on their long journey to recovery.
Some might find wearable tech a passing whim while others see it as a lucrative industry. The global worth of IoT technology is expected to reach $6.2 trillion by 2025, with healthcare and manufacturing devices responsible for $2.5 trillion and $2.3 trillion respectively.
Wearable Technology in Healthcare
Thanks to advanced electronics, sensors, and batteries, state-of-the-art healthcare wearables keep attracting more users: their market share is forecasted to reach $27.49 billion by 2026. People expect wearables to assist them with healthcare needs and alert them about when to seek a medical professional. This kind of technology can help us define and control how, when, and where they can receive medical services.
Wearable healthcare monitoring devices are beneficial for:
Patients, who can regularly monitor their health conditions without external help, while the data about their wellbeing is automatically transferred to their healthcare provider.
Healthcare providers, who can rely on biometric wearables to collect the most accurate and up-to-date information about their patients and plan their schedules based on their patients' health conditions.
Insurance providers, who can use the data from the wearables to prevent insurance fraud and ensure healthcare providers take adequate measures in every case.
Unfortunately, wearables for medical use don't get adopted all that quickly. Every piece of technology that is responsible for people's health has to be well thought through, developed, and extensively tested, which takes a lot of time and investment. While some smart health watches and blood pressure or glucose trackers are already being used, most of the innovative healthcare-oriented wearables still have to prove their accuracy and dependability. Even though there are prototypes of emotion tracker wearables, such devices remain a thing of the future.
Nevertheless, over 80% of consumers are eager to wear fitness wearables, which shows how excited people are about monitoring their health. Increased demand will drive the development of personalized healthcare services, remote healthcare, smart hospitals, and IoT healthcare solutions.
Earlier in 2019, the FDA approved the first wearable for hospital use, an AI-powered solution by Current Health. This wearable device tracks the patient's health indicators with ICU-level accuracy and pinpoints threatening conditions. The device helps healthcare providers identify deteriorating states and provide them with the needed healthcare services sooner.
Wearable Technology in e-Commerce
Brand omnipresence is a must in the modern economy. E-commerce has already embraced the benefits of mobile devices: mobile e-commerce sales are expected to reach 54% of the total e-commerce sales by 2021. Next step: a wider adoption of wearable technology in e-commerce.
Wearables can help with e-commerce expansion and adoption while reducing the time and resources needed for promotion. Modern smart wearables like Apple Watch already allow users to pay with their watch, making the checkout more comfortable and faster.
Wearable devices are a great way of connecting with customers. Smartwatches and smart bands are already able to gather precise information on their users. E-commerce players can benefit from this data by enabling large-scale personalization to reach their target audience and potential buyers.
The role of artificial intelligence in e-commerce is also growing. Some companies are using this technology to get ahead of the competition. Starbucks embraced the technology by introducing "My Starbucks Barista", an AI-powered solution that allows users to place orders via voice or chat messages. The assistant, which is fully compatible with Apple Watch, helps customers place and customize orders, skip queues, and even identify the music playing in the coffee shop. The solution helped Starbucks boost its sales and customer loyalty without the need to increase the workforce.
Porsche Canada Oakville uses wearable technology to provide live video tours for clients. The brand partnered with Go Instore, a solution that makes the online in-store experience feel like you're visiting a brick-and-mortar store:
Go Instore comes with an engagement platform, a camera set, and a headphone set. Shop assistants can hold live sessions, record videos, and communicate with their prospect customers live as if they were in the store. This way, Porsche can deliver personalized tours to customers who cannot physically get to the auto dealer showroom.
Wearable Technology in Manufacturing
Wearable technology can help improve manufacturing in a variety of ways, including safety purposes and injury prevention via connected headwear, clothing, and wristbands. They can also make daily work more comfortable by reminding users to change their position or adjust the workplace. Wearables can help workers be more concentrated on the manufacturing process and avoid missing critical steps. Traditional hands-off training is highly theoretical. Wearable solutions can make onboarding training more efficient and practical for new employees.
Wearables can also improve staff productivity and facilitate the efficiency of daily warehouse processes. AR and VR wearables can help workers process products effectively without having to interact with them physically. For instance, Epson's Moverio BT-350 Smart Glasses allow overlapping digital information regarding the objects a wearer is looking at. This kind of smart safety eyewear solution helps workers do their jobs faster and safer.
Another example of AI-powered wearables is the Samsung smartwatch paired with the Samsung tablet and Samsung screens that have to be located all over the factory facilities:
They can help identify problems in the manufacturing process, and when an emergency occurs, the system notifies the people responsible for fixing the issue through their smartwatches. These people can then accept the task and notify their supervisor when they are finished.
Wearables can help ensure proper industrial security and staff identification. They can potentially track, allow, and even block some actions of the employees who are wearing them. In this way, production risks and security threats can be cut to the bare minimum. Romware is an excellent example of an all-in-one industrial safety and security wearable that can be used in manufacturing. This wearable can help avoid collisions, track blind spots, reduce accidents at hazard zones, and automatically notify workers in case of emergencies. What's more, this AI-powered solution can track the location of missing workers automatically, which makes the evacuation process simpler and faster.
Hitachi, the Japanese multinational conglomerate company, uses smart wearable technologies to take care of its factory workers. Together with the German Research Center for Artificial Intelligence GmbH (DFKI), Hitachi developed an AI-based physical load recognition system that improves manufacturing efficiency and safety. During their shifts, factory employees are wearing sensor-packed wearable devices that form a suit and gather data from more than 30 body parts. The sensors gather acceleration, terrestrial magnetism, angular velocity, and other motion data to quantify the physical load of various body parts in real-time. The AI models then identify high-load movements, and the system gives feedback to workers, preventing them from performing dangerous or harmful actions.
Conclusion
The future belongs to the customer-centric experience. Wearables acquiring accurate individual data can help e-commerce businesses offer personalized options, spark new brand interactions, and decrease the checkout time. IoT wearables make healthcare services more patient-oriented while saving the time and resources of healthcare providers. In manufacturing, wearables can help improve the workflow, eliminate redundant operations, and enhance occupational safety. Some wearables used at factories can even monitor emergencies or identify potentially harmful body movements.
Infopulse has extensive expertise in embedded software development for IoT devices and wearables. Contact our expert to discuss collaboration opportunities.