Article
What is ESG and How to Facilitate Your Sustainability Strategy with Digital Solutions?
Originally published: May 09, 2022
Updated: May 10, 2022
6 min. read
Innovations
Digital Transformation
Business Applications
Getting started with digital transformation and achieving better sustainability is the top way to deliver better value and get a competitive edge for modern companies. Following Environmental, Social, and Governance (ESG) standards is one of the best tactics for the long run that allows companies to switch to eco-aware business processes, strengthen their social impact, and make better leadership decisions.
In this article, we will explain the essence of ESG criteria, the benefits of being compliant with them, and the ways to improve your sustainability strategy with the help of ESG solutions.
What Is ESG?
ESG is the concept that covers three important criteria investors analyze when deciding on the risks and benefits of investing in a particular company. Sometimes, ESG is discussed in a single context with Corporate Social Responsibility (CSR). The latter, in turn, is a business model the company follows to make an intentional effort toward improving its positive social impact and reducing harmful environmental influence.
While CSR is a set of country-specific rules, ESG is a set of standards the business should meet to make the company more attractive and reasonable to invest in.
From the businesses' perspective, ESG is a framework covering the policies they should follow for reducing the environmental impact, building social relations, and governing the company.
Environmental criteria (E) are used to measure the energy and resources the company consumes, waste and emissions it produces, and the environmental consequences it creates, with a great emphasis on climate change.
Social criteria (S) address the social relations the company develops with the customers, partners, employees, and communities. When accessing this criterion, special attention is paid to the employer's brand and the overall social impact the company makes.
Governance criterion (G) covers the set of practices, regulations, and procedures the company follows to stay law-compliant, make effective business decisions, and meet the needs of stakeholders.
Why Is ESG Important for Modern Businesses?
What is the importance of ESG for modern companies? Following ESG standards is a way to meet the modern customers' preferences and keep pace with changing business requirements, triggered by climate change and a shift in a global thinking paradigm. Being led by Millennials, and to some extend Gen Z, the eco-aware generations of today that also stand for human rights and governmental transparency, modern customers expect the brands to be ESG-compliant in their business processes.
Potential employees, in turn, would also like the companies they work for to be ecologically and socially sustainable, led by honest and transparent management.
ESG Impact: Win-win Benefits for the Compliant Organizations
In addition to making an environmental and social impact which is a worth-following path for any business, being compliant with ESG regulations can drive the next benefits for the companies.
Reduce operational costs
Switching to ESG-compliant operations helps save up to 60% in operational costs, according to McKinsey research. However, achieving such a huge saving becomes possible when the company is focused on environmental sustainability along with using business process optimization solutions.
For example, reducing energy consumption becomes possible by equipping the production line with IoT sensors. Predictive and preventive maintenance solutions help reduce repair costs and spare parts waste. The company can optimize fuel costs by using AI-powered supply chain optimization solutions and portable vehicle tracking devices.
For example, Nike aims at 65% carbon reduction and 10% waste reduction per unit in manufacturing by 2025. They also strive for a tenfold increase in the amount of post-consumer waste collected and recycled. Microsoft also has a far-reaching vision of 100/100/0 which means that 100% of electricity 100% of the time will be generated by zero-carbon emissions sources by 2025.
Become more attractive for investors
As of February 2022, the value of ESG assets worldwide is $378 billion. Reuters called 2021 the year of ESG investing, and Bloomberg, in turn, states that global ESG assets are projected to exceed $53 trillion by 2025. As stated by Statista, a decreased investment risk and improved long-term ROI are among the main reasons to invest in ESG, along with reputational reasons and external stakeholders' requirements. Experts also agree that a higher ESG score equals a 10% lower cost of capital.
Leading Reasons for ESG Investing Worldwide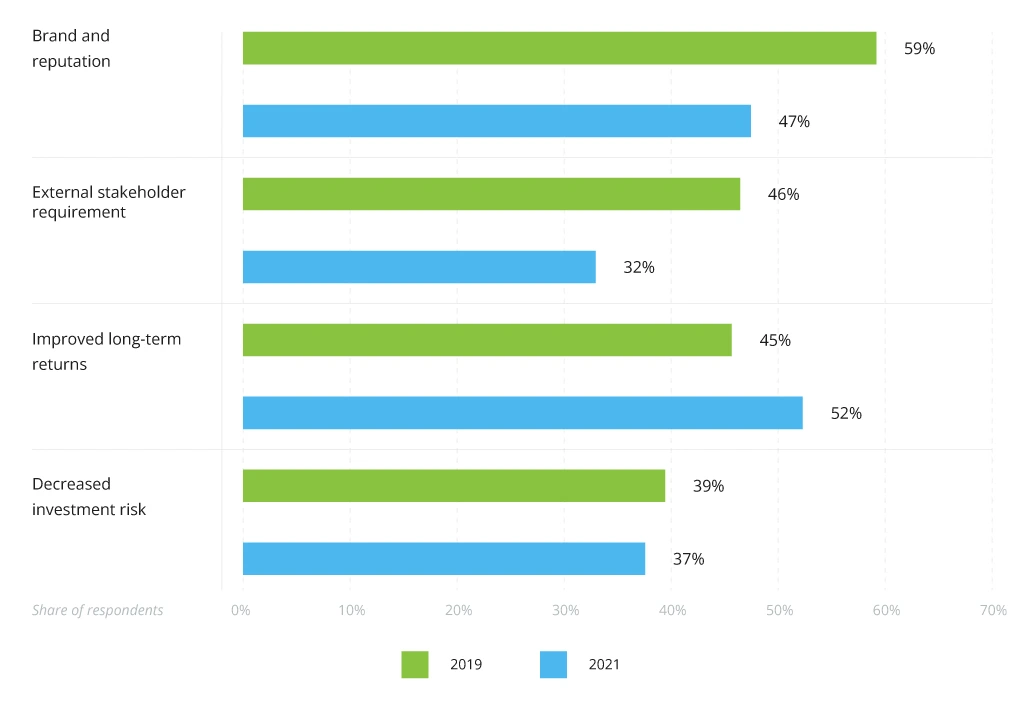 ESG-compliant companies can be a great investment choice because of multiple coinciding factors. The businesses with high ESG scores are likely to show stable growth because of the customers' loyalty and employee engagement (read more on these factors in the next paragraphs); they are using better sources of energy and produce less waste; they make a social impact and are overall less risky to invest in compared to businesses with no ESG practices in place.
Build long-lasting relations with loyal customers
Following ESG principles is also a way of building trusting and long-lasting relations with modern customers, especially with Millennials, which now represent the most solvent customer group. According to a PWC report, 76% of them are likely to abandon the brand if the company treats its employees and environment poorly.
And vice versa - GreenPrint's Business of Sustainability Index report states that 75% of Millennials prefer paying a higher price for eco-sustainable products, even if there are cheaper but less eco-conscious alternatives.
The importance of ESG is also growing for the companies targeting younger generations since young customers are twice more likely to consider ESG issues before making a purchasing decision. The "E" criterion is especially important for Gen Z, which is an even more environmentally conscious generation compared to Millennials. From this perspective, getting compliant with ESG criteria is also a way of building a future-proof business development strategy, ensuring stable profits.
Attract top talent, improve employee retention, and increase productivity
83-86% of employees are eager to work for an environmentally sustainable, socially-oriented, and well-governed company, as researched by PWC. According to the MarshMCLennan study, the companies with higher ESG scores are more attractive to top talents and have better employee engagement, retention, and productivity.
Driving Consumer Purchases and Emplyee Engagement with ESG Commitments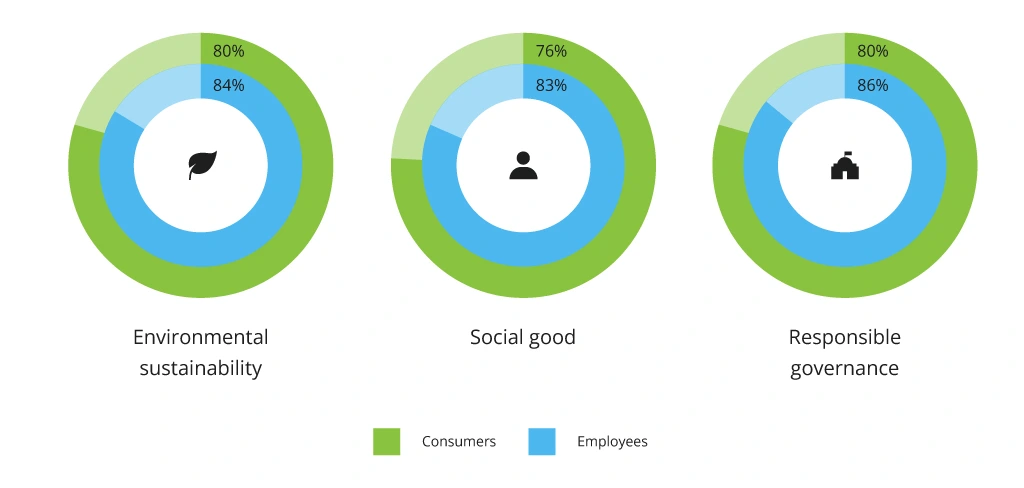 What's more, the representatives of Millennials and Gen Z are not only the potential customers – they are also the potential candidates. They place greater importance on social and environmental concerns not only when it comes to purchasing decisions but also when choosing the workplace. By 2029, they will make up 72% of the global workforce, so getting started with the best ESG practices now makes a lot of sense.
Why Do Companies Need ESG Technology Software?
Using ESG compliance-focused solutions is the best way to follow ESG practices by leveraging the power of data analysis, setting business goals and related metrics, reducing the sustainability risks, and improving resilience.
Below are three essential tasks ESG software helps with, driving the listed benefits for the companies following ESG principles.
1. Long-term performance monitoring. When investors analyze the potential profitability of investing in a particular company, they pay attention to the long-term company performance, analyzing a historical data set, revealing the performance trends, and making predictions for the long run. ESG technology software allows for monitoring the necessary performance indicators for a certain period of time and creating insightful reporting.
2. Reduced ESG risks. An ESG risk is a certain environmental, social or governmental event that may impact the company's performance, environment, and community in a harmful way, for example, the release of chemicals in production as a result of equipment overheating. In this case, using ESG software along with predictive maintenance solutions reduces such a risk.
3. Simplified sustainability data collection. Following ESG principles implies using the whole set of applications and devices that allow the company to make its activities greener. Sustainability data comes from different sources and needs to undergo clear classification and smart analysis to become valuable. AI-powered ESG software allows for data consolidation in a single place, improving transparency as well.
How to Facilitate Your Sustainability Strategy with Digital Solutions
There are several digital solutions to facilitate your sustainability strategy, and for the most part, their features overlap. Below are three getting-started steps, and Infopulse will support you throughout each of them.
1. Improve data collection practices
Sustainability data comes from multiple sources, so the first step is consolidating it in a single place with the goal of further reporting and analysis. For example, SAP has an all-in-one platform for ESG data integration. As an option, you can schedule an SAP consultation with a tech-savvy vendor to unlock all the benefits this solution can deliver to your business.
2. Embed sustainability metrics
As a rule, ESG-compliant businesses use such sustainability metrics as carbon footprints reduction, energy efficiency improvement, employee health and safety, product safety, and established business ethics.
ServiceNow ESG software is the solution that focuses on the metrics essential for your business, allowing the users to customize the platform as much as possible, automate data gathering, set up custom integrations, plus leverage machine learning for data-driven risk management. Consider ServiceNow migration and consulting services to find out more about this solution and the way it can improve your ESG scores.
3. Increase visibility and control of consumed resources and the environmental impact
The "E" criteria become even more important for investors in the background of climate change. That is why keeping a better track of consumed resources and evaluating your environmental impact becomes essential. Salesforce sustainability cloud is a dedicated product that allows for tracking carbon emissions during the production process and creating visual reports for KPI metrics analysis.
Conclusion
Becoming ESG-compliant is one of the winning ways to achieve better sustainability and resilience, develop a competitive edge, reduce operational costs, and become more attractive to potential investors.
Infopulse can help you with integrating an ESG solution from the leading vendors with your business processes, resulting in more value-adding decisions and higher ESG scores. Contact us now for instant tech support!