Article
Best Practices of Expanding Telecom NOC into Service Monitoring
Originally published: August 11, 2022
Updated: January 23, 2023
8 min. read
Digital Transformation
Infra & Operations
Traditionally, telecoms viewed a network operations center (NOC) as a supporting function, primarily responsible for all-matters network performance — monitoring, troubleshooting, uptime management, and network security (to an extent), However, the telecom NOC role grows more important as the business landscape evolves.
Broadscale 5G deployments, V2X connectivity, and multiplying IoT use cases across industries have already prompted significant NOC solutions transformations. Future 6G roll-out plans, connected road infrastructure, and quantum computing among other emerging technologies will further change the role of NOC in telecom — from a supporting to an enabling one.
At the same time, "improving customer experience" and "generating revenue" rank as the two prime objectives behind planned network updates global telecoms plan to implement in the short term. To achieve these goals, leaders are looking to add new network vendors to their ecosystem.
Products Most Likely to Procure in Engaging New Network Vendors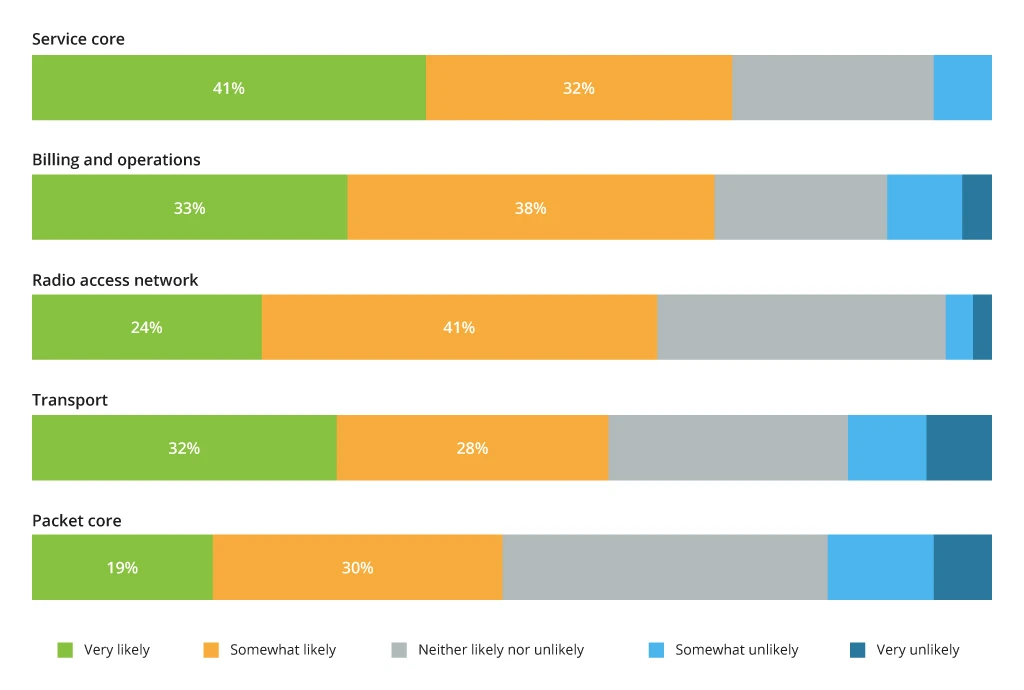 A larger portfolio of vendors and more complex network architectures can undeniably improve CX and generate new revenue streams. However, on the technology side, such decisions make NOC monitoring more complex.
To balance the gains vs. the risks, telecoms will have to adapt the current NOC management best practices.
Telecom NOC as a Strategic Business Function
To cope with consumers' demands, telecoms had to bring their networking capabilities to staunch benchmarks: rapid extra bandwidth provisioning, minimum latency, and 24/7 globally consistent performance across applications, locations, and architectures.
The above capabilities help improve customer experience (directly and indirectly). However, they also significantly change the NOC monitoring process. After all, you cannot improve service delivery and management when you can't see the issues. Yet, low visibility remains a nuance.
At present, many NOC monitoring tools are
Legacy, rule-based systems without dynamic automation or self-healing capabilities. Exceptions (which multiply in frequency) must be handled manually — and so must the growing volume of basic customer queries and support requests.
Missing real-time analytics capabilities — this delays the response to network performance issues and hinders the NOC's ability to proactively address issues before they affect service levels.
Fragmented, meaning they do not integrate well with other business systems, further limiting network visibility. Additionally, most only emphasize network-related metrics and fail to reconcile these with wider business metrics, such as those related to customer experience and revenue.
Moreover, telecom network architectures have become more complex due to:
Higher data processing volumes and variable data types
Application proliferation in terms of data exchanging and/or data consuming apps/devices
Extensive cloud service usage by telecom clients
Progressive virtualization activities such as NFV and SDN
To effectively monitor and enhance this conundrum of assets, you need more than just better NOC tools — you need better processes and organizational structures.
Telecom NOC Best Practices for Improved Service Monitoring and Management
A typical network manager spends 70% of their workday on troubleshooting – preventing, reacting, and firefighting with ongoing disruptions. Only 30% of their time is allocated to business-driving activities such as revenue enablement or assistance with the adoption of new service offerings.
This comes in stark contrast with self-reported telecom priorities — CX improvements and profit generation. The disparity comes from the fact that the existing NOC operational setup cannot fully cope with the new business objectives.
To resolve this issue, telecoms will have to make changes at operational, technology, and people levels. We formalized these as the following five Telecom NOC best practices:
Establish Better Network Visibility
Apply NetOps Processes for Better Efficiency
Implement Intelligent Automation for Network Monitoring
Integrate NOC Deeper into Your Business Landscape
Nurture Well-Rounded NOC Experts Rather Than Narrow-Focused Domain Specialists.
1. Establish Better Network Visibility
Telecom NOC is now in charge of complex network architecture featuring:
Traditional networks (telecom, transmission, etc.)
Software-defined networks (SDNs)
Network function virtualization (NFV)
Legacy and off-the-shelf NOC monitoring software often provide a limited view into such hybrid environments. This leaves telecoms vulnerable to sudden faults in any of the "under-monitored" nodes, which, in turn, can have a bounded impact on customer experience or affect overall network availability.
To improve network monitoring in complex environments, Broadcom, a leading supplier of networking equipment, recommends a FITPAL framework (short for Fault, Inventory, Topology, Performance, Application, and Logs).
FITPAL is the convergence of all the data streams needed for advanced visibility and healthy operations across traditional and software-defined networks.
Such a setup requires establishing a continuous NOC monitoring process where networking tools constantly discover, map, and consolidate data from all network elements. Then deliver all the insights in a converged data stream of monitoring, topology, and log data.
The best NOC solutions also come with robust automation and predictive capabilities. These allow telecoms to implement zero-touch management of basic issues, network self-healing scenarios, and digital self-care tools for customers. Predictive analytics, in turn, can be configured to predict customer impact and service disruption levels of any network and enable your NOC team to take precautionary action.
2. Apply NetOps Processes for Better Efficiency
NetOps is an operational and technology framework that adapts the main DevOps principles of continuous integration and continuous delivery (CI/CD), and progressive automation to network management.
NetOps adoption assumes a broad spectrum of transformations across processes, people, and technology. The ultimate goal: progressively eliminate redundant, low-value, manual processes and establish proactive, data-driven, and predictive processes for network management and monitoring.
NOC Transformation Initiatives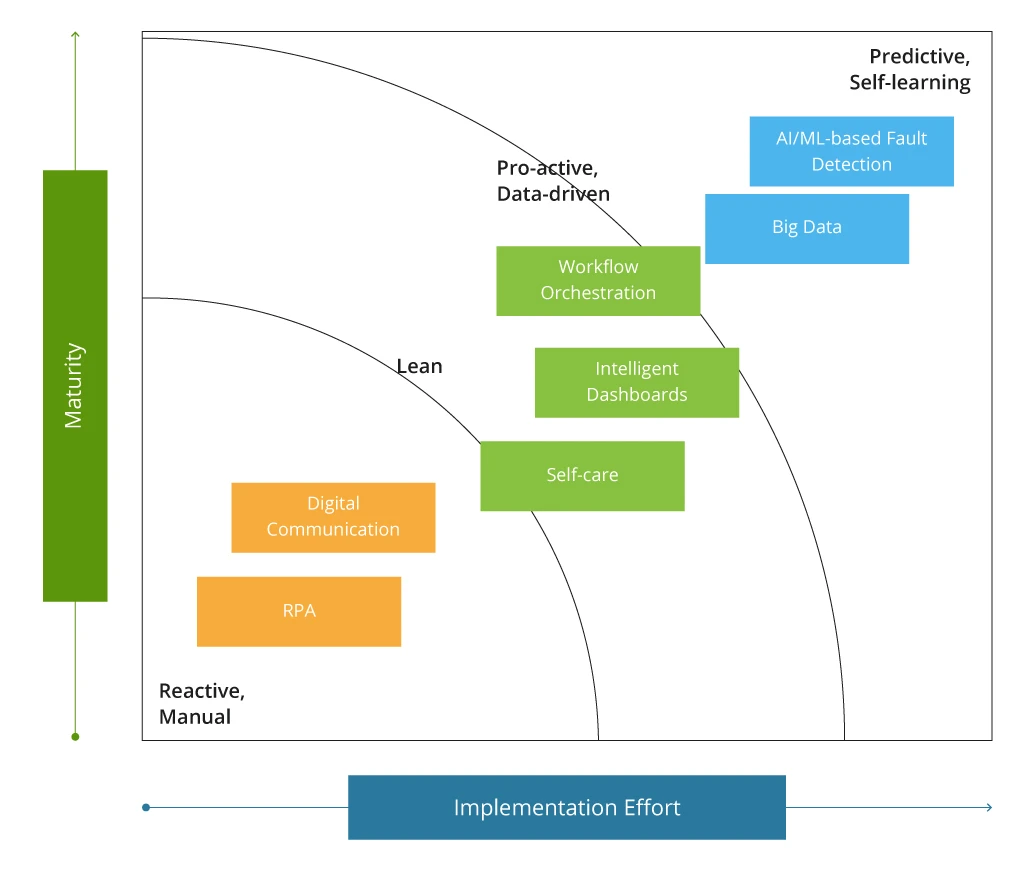 On the technology side, NetOps includes the following tools:
Orchestration platforms for zero-touch provisioning (ZTP) for automatic network and device configurations.
Infrastructure-as-code (IaaS) tools for storing network configurations in source control and deploying them with programmatic APIs.
Network functions virtualization (NFV) to deploy certain network node functions on virtual machines, instead of on-premises hardware.
Automatic network configuration management tools to reduce the cost, complexity, and error rates.
Combined with lean processes, these technologies create a better NOC setup, where many manual tasks are automated, simple issues get auto-resolved, and new deployments happen at high speed with minimal error rates.
Additionally, NetOps enables telecoms to deliver more profitable services such as "private networks" or "network slicing".
3. Implement Intelligent Automation for Network Monitoring
Complete visibility, paired with better data collection practices, establishes a base for proactive and predictive network monitoring — and subsequent intelligence automation. In fact, that is the technology vector leading telecoms actively pursue. According to a 2021 Anodot survey:
67% of respondents have already deployed AI for network monitoring (at least in some capacity)
53% mentioned that improving service experience was the primary reason for implementing AI-based network monitoring and issue detection
49% expect "predictive impairment detection" capability to deliver the largest cost savings for their organizations.
Other common intelligent automation use cases in telecom include automatic fault isolation, anomaly detection, and event co-relation to future fault prediction. Apart from improving the network availability rates, these use cases can also significantly boost NOC telecom workforce productivity.
The wrinkle, however, is that ML/AI-driven automation systems are challenging to establish. Integration with existing NOC management tools and other systems was cited as a top barrier to the adoption of AI-based network monitoring by 42% of the same survey respondents.
Indeed, intelligent network monitoring systems assume the development of a three-layer architecture with data operationalization, analysis, and visualization layers. Each of them also includes separate sub-systems.
Sample AI-based Network Monitoring System Architecture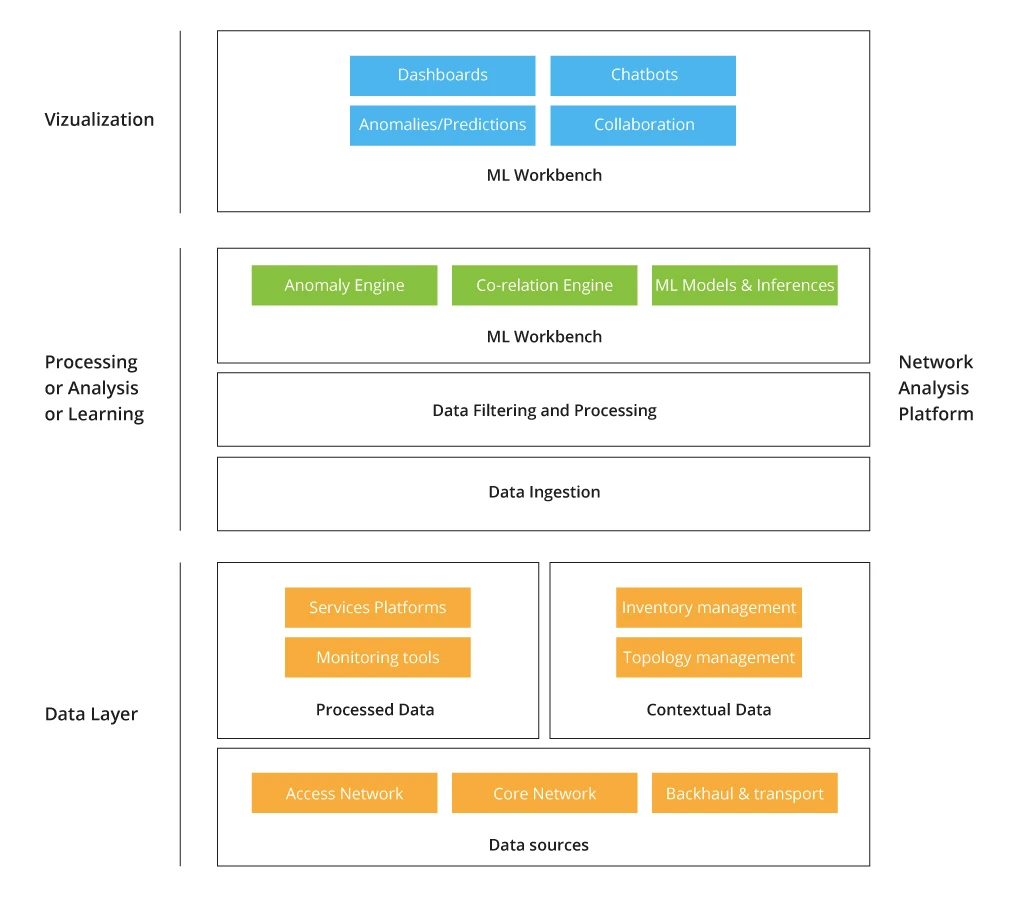 Yet, the initial setup complexities are largely offset by the subsequent operational gains. Intelligent network monitoring can improve network issue speed detection by 80% and reduce incident costs by as much as 70%.
4. Integrate NOC Deeper into Your Business Landscape
NOC in telecom has become an "enabling" function for new service models and operational transformations. As such, it can no longer exist in isolation from the wider business context and other operational units.
NOC teams can supply other business units with comprehensive data, going beyond baseline network metrics such as "traffic statistics", "average downtime", or "latency between selected endpoints".
Converged networking data can also inform your company about
Emerging security threats
Overlooked vulnerabilities
Customer satisfaction rates
Reaction time to common issues
All of this data can be used to improve your service offerings, customer support practices, and corporate security.
Integrating NOC and SOC operations can be particularly promising for telecoms. At the lowest level, SOC and NOC analysts already share similar duties – monitor events, analyze incidents, perform triage, and handle escalation. Telecom NOC and SOC toolkits are also similar. Yet, the two teams often end up investigating the same issues from different angles, which often proves to be redundant and extends the mean time to repair (MTTR).
By converging NOC with SOC, telecoms can achieve:
Better visibility into all monitored infrastructure
Tighter cybersecurity coverage
Faster response time to various incidents
Lower TCO for both units
Improved customer service levels
5. Nurture Well-Rounded NOC Experts Rather Than Narrow-Focused Domain Specialists
More applications and more complex network architectures require NOC professionals to develop new skills and get comfortable working in cross-functional environments.
At the same time, automation and predictive technologies release lower-level NOC analysts from mundane tasks — which raises the question of their re-assignment to more complex, service-oriented tasks.
The benefits of nurturing well-rounded NOC specialists:
End-to-end service delivery across several products that result in higher customer satisfaction levels.
Level 1 personnel can cover NOC/SOC tasks and processes to improve issue resolution time and minimize unplanned downtime.
Hands-on support with wider digital transformation initiatives such as network slicing or private network setup in conjunction with other units.
Overall higher workforce efficiency as multiple people are available to handle cross-service issues (which reduces the number of escalation requests and processing delays).
Given the current tech talent crunch, hiring more experienced NOC experts may prove to be challenging. At the same time, up to 64% of IT executives admit that insufficient skills are among the top barriers to emerging technology adoption.
Two paths exist to solving this issue:
Internal team transformations – upskilling current NOC staff and cultivating a knowledge-focused team that collaborates closely with other units and borrows best practices from them.
External NOC consultancy to help your organization improve the overall NOC maturity, as well as specific NOC monitoring services through process improvements and new technology adoption. In this case, you can opt for either an "advisory" scenario, where you receive a roadmap for necessary improvements, or "as a service" model that also comes with demand-based NOC services delivery.
In each case, your ultimate goal should be to gain a holistic view of your NOC landscape (and its secondary role within other functions – service management, security, service portfolio expansion) to ensure an all-round client service.
To Conclude
The data proliferation and rising bandwidth consumption tended to push network modernization higher up telecoms agendas. NOC was forced to play "catch-up" — and most teams yet trail behind in terms of operational and technology changes.
As the business environment continues to change, telecoms must re-think the role of NOC and take measurable steps to re-defining this function around new strategic tasks — faster service provisioning, better customer care, and innovative technology changes for revenue enablement. That is no small task, though one that can bring significant ROI when executed properly.