Article
Global IoT Trends that Impact the Telecom Sector
Originally published: March 11, 2020
Updated: February 23, 2023
8 min. read
Innovations
Digital Transformation
64 billion IoT devices
will be in use in 2026 by both consumers and businesses. Having matured to a cross-industry trend,
IoT
now is an integral part of such concepts as Industrial IoT, smart city, self-driving vehicles, etc. In this blog article, we'll focus on how IoT impacts telecom and favors the adoption of such sought-after technologies as AI, 5G, data analytics, edge computing, machine-to-machine communication, and others.
5G-enabled IoT Ecosystem
5G technology, still green but so aspired, is expected to affect all critical industries. Not only will it accelerate data transmission speed, but also bring forth new types of networks, modems, gadgets, etc. 5G is a missing element for other emerging telecom trends. Its cross-industry opportunities will help autonomous driving experience, Industry 4.0, and smart city concepts to fully mature. Such a breakthrough will be possible due to several advantages of 5G over previous generations of networks:
100Х higher network speed and throughput (maximum speed – 10 Gbps compared to 4G's 150 Mbps). For IoT, it means faster data transfer from sensors and other IoT connected devices.
Greatly reduced latency (5 milliseconds to transmit data), which is critical for machine-to-machine communication, real-time remote control and maintenance of devices.
1K times higher capacity, that translates into the growing number of connected devices seamlessly communicating and transferring data in real-time. Thus, the 5G-powered IoT ecosystem will be able to reach its full connectivity potential applied to different aspects of our lives.
Enhanced bandwidth (covering massive volumes of transferred data). Due to 5G RAN (Radio Access Network) architecture based on 3GPP specifications, telcos will be able to manage network traffic and sudden spikes more smoothly. All this results in a more stable connection at any time of the day.
At the moment, mobile network operators (MNOs) (Vodafone, T-Mobile, AT&T, Verizon, etc.) are blazing a trail to 5G mass adoption. To connect their IoT devices with the telecom network, MNOs rely on such 5G technologies as Narrowband IoT (NB-IoT) and CAT-M1 (aka LTE-M). These are technologies that empower massive IoT allowing to connect low-cost and low-complexity devices with longer battery life and rather low throughput. Here are all cellular IoT segments leveraging 5G capabilities: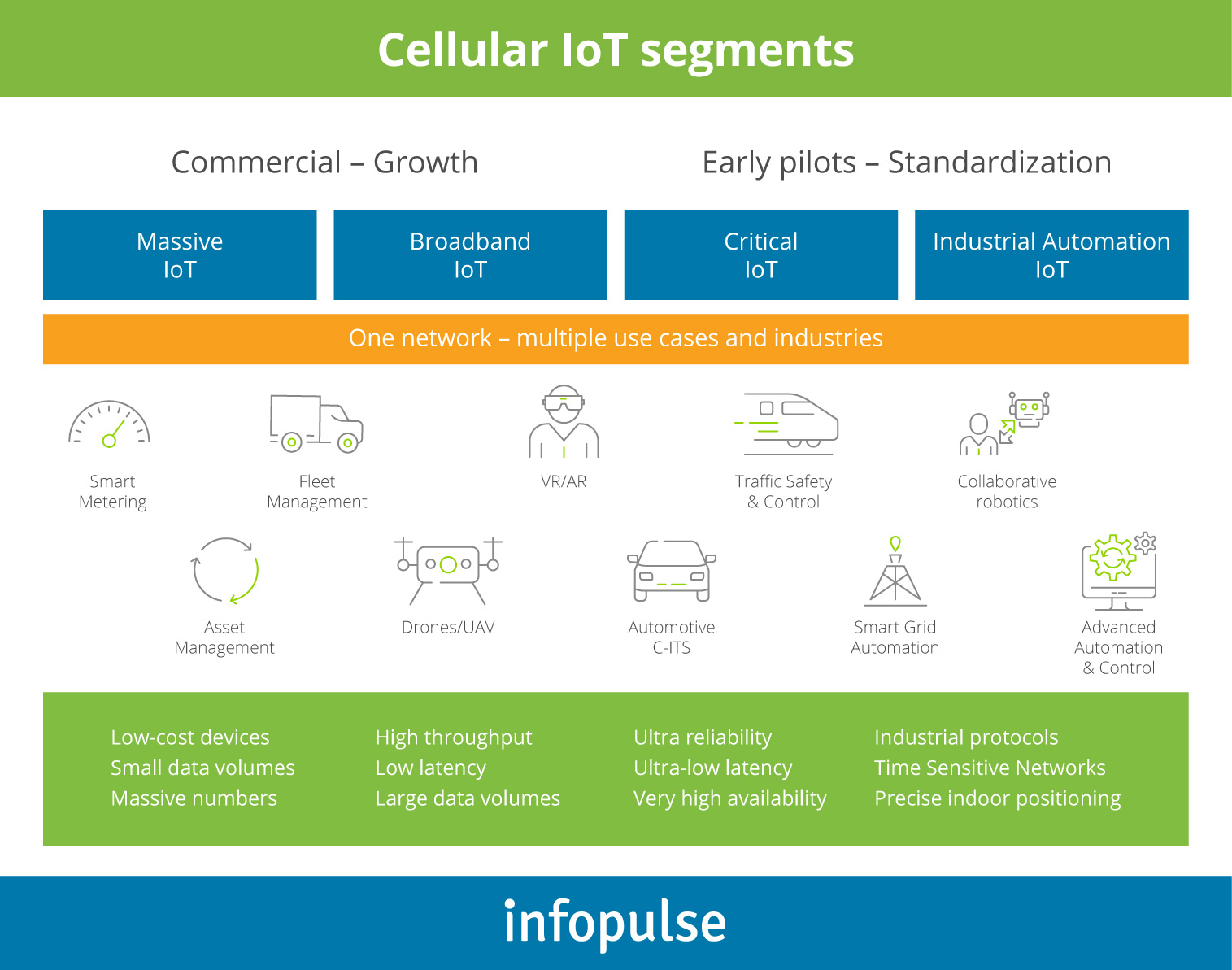 LTE-M is a sort of LTE upgrade offering enhanced battery life, broader coverage supporting low-complexity CAT-M devices. Unlike LTE-M, Narrowband IoT (NB-IoT) is a standalone IoT and M2M-focused radio access technology widely used to enable Massive IoT rollouts. The critical role of NB-IoT is ensuring last-mile connectivity thanks to its ability to reach long-range communications transmitting data at low power. Unlike 4G and 3G cellular modules, NB-IoT radio modules are more cost-efficient and do not require additional routers or gateways, thus facilitating IoT deployments. In terms of last-mile connectivity, NB-IoT addresses several use cases:
Smart metering (utilities such as gas and water consumption);
Smart cities management (remote parking, street lights and waste monitoring);
Smart home and buildings (remote monitoring of central heating, air conditioning, ventilation systems, alarm systems, etc.)
Environment (tracking of air, water, and land pollution, etc.) and other use cases.
According to the Ericsson study, 25% of 114 service providers have already rolled out both technologies (LTE-M and NB-IoT), forecasted to account for 52% of all cellular IoT connections by 2025.
In the next four years, 5G-enabled IoT connections will grow by 1,400% (from over 500 million in 2020 to a staggering 8 billion in 2024). 5G IoT will be one of the leading telecom industry trends this and the following years allowing Communications Service Providers (CSPs) to finally monetize their IoT connectivity programs. Another research showed that telcos could only receive 2% of their total revenue from implemented IoT initiatives. The problem with IoT connectivity monetization is high competition in the market and a pool of connectivity solutions available for much lower prices.
Hence, telcos should go beyond their current IoT monetization models, focusing not only on connectivity but other areas of influence as well. For example, network operators can provide solutions for analytics of massive volumes of data generated by IoT connected devices, IoT security, APIs for deployments of IoT applications, automation solutions for IoT ecosystem orchestration, etc.
For this, CSPs should reimagine their roles in the IoT value chain, broadening their 5G IoT capabilities. GSMA determined three key roles telcos must perform to become primary IoT services and solutions contractors.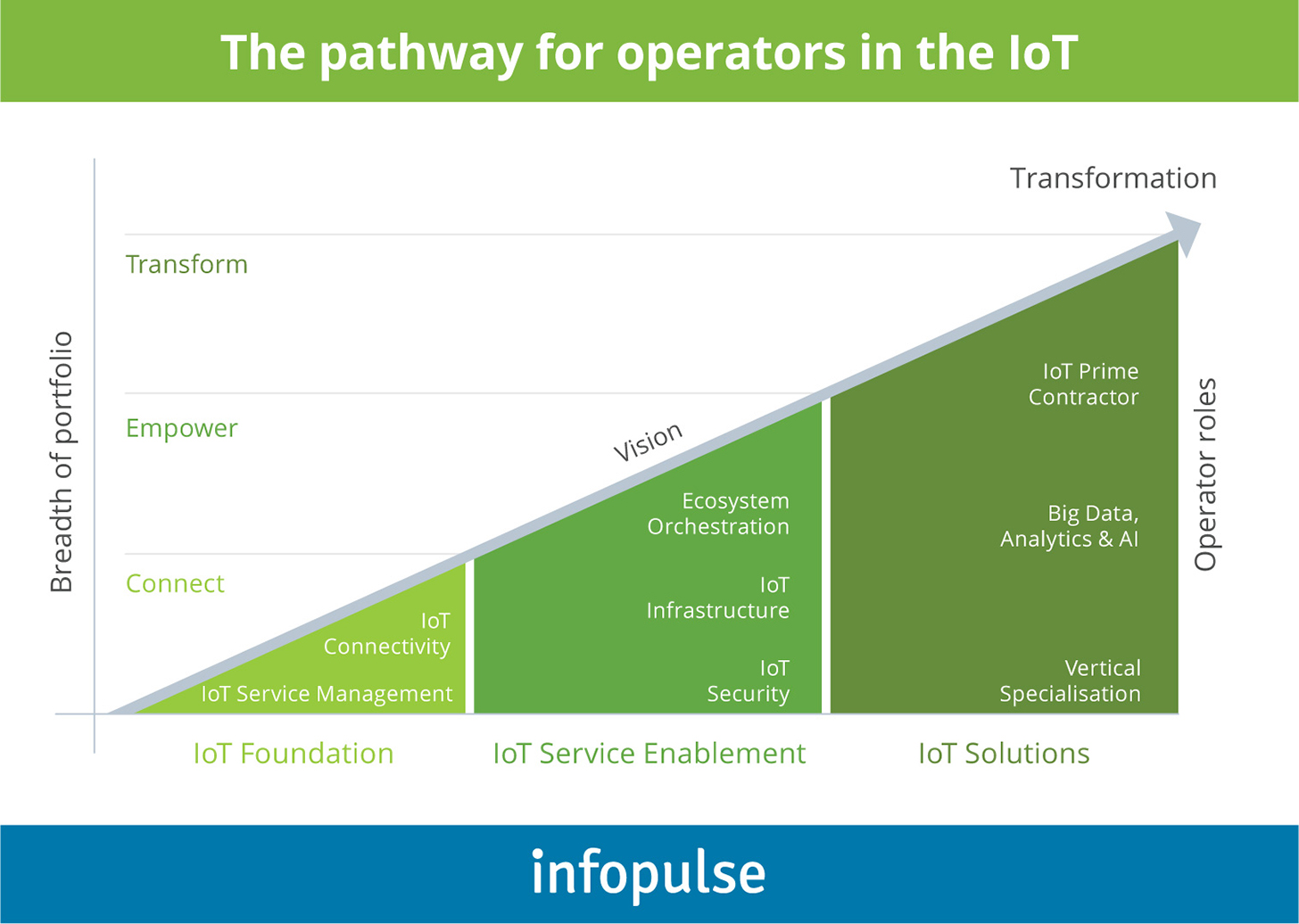 In this case, 5G hegemony will be crucial for CSPs to provide customers with considerable advantages over enterprise IoT. Network operators have been preparing themselves for 5G adoption by largely investing in the cellular IoT ecosystem and 4G LTE deployments.
At CES 2020, four carrier giants (Verizon, AT&T, Sprint, T-Mobile) officially shared their plans about 5G network rollout and upcoming gadgets supporting 5G. For example, Sprint has launched a platform IoT Factory 2.0 for mid- and small-sized businesses to build their custom solutions.
It means that telcos already realize the shift in their roles and head towards empowering their clients with advanced solutions.
IoT and Edge Computing
While cloud computing can no longer match the needs of a complex IoT ecosystem requiring real-time data processing, edge systems are seen as a perfect solution. Why so? Edge computing brings about many advances to boost connected devices communication:
reduced latency and costs to gather data from multiple sites,
greatly improved data processing efficiency,
higher security, network reliability, and scalability, etc.
Only by 2023, will there be 43 billion IoT-enabled devices according to Gartner. Imagine how data volumes will increase and what capacity will be needed to process them.
The uprise of 5G deployments will also make cloud computing insufficient with its considerable latency to respond and process data input. However, the arrival of edge data centers, applications, and devices will not cause the decline of the cloud.
Edge computing systems, easily deployed and managed at remote sites, will bridge up IoT infrastructure with the cloud by pre-processing data gathered from the edge. The communication capabilities and processing power of edge systems are pushed directly to devices where the data actually originates – sensors, programmable automation controllers, motors, etc.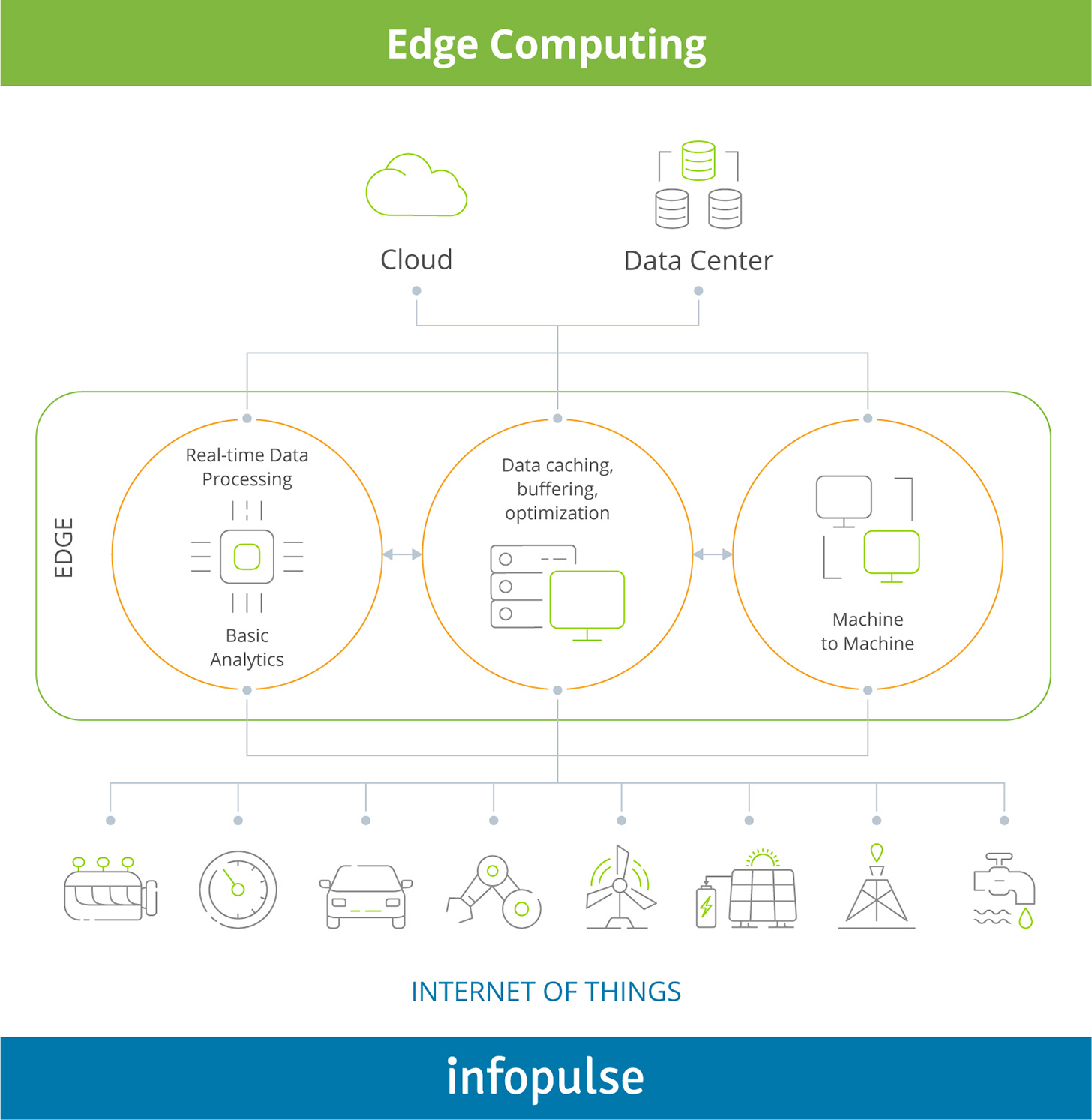 By leveraging edge computing and its added value, telcos can become both end-to-end providers of EC solutions and enablers of edge hosting, edge IaaS, Paas, NaaS models across different industries: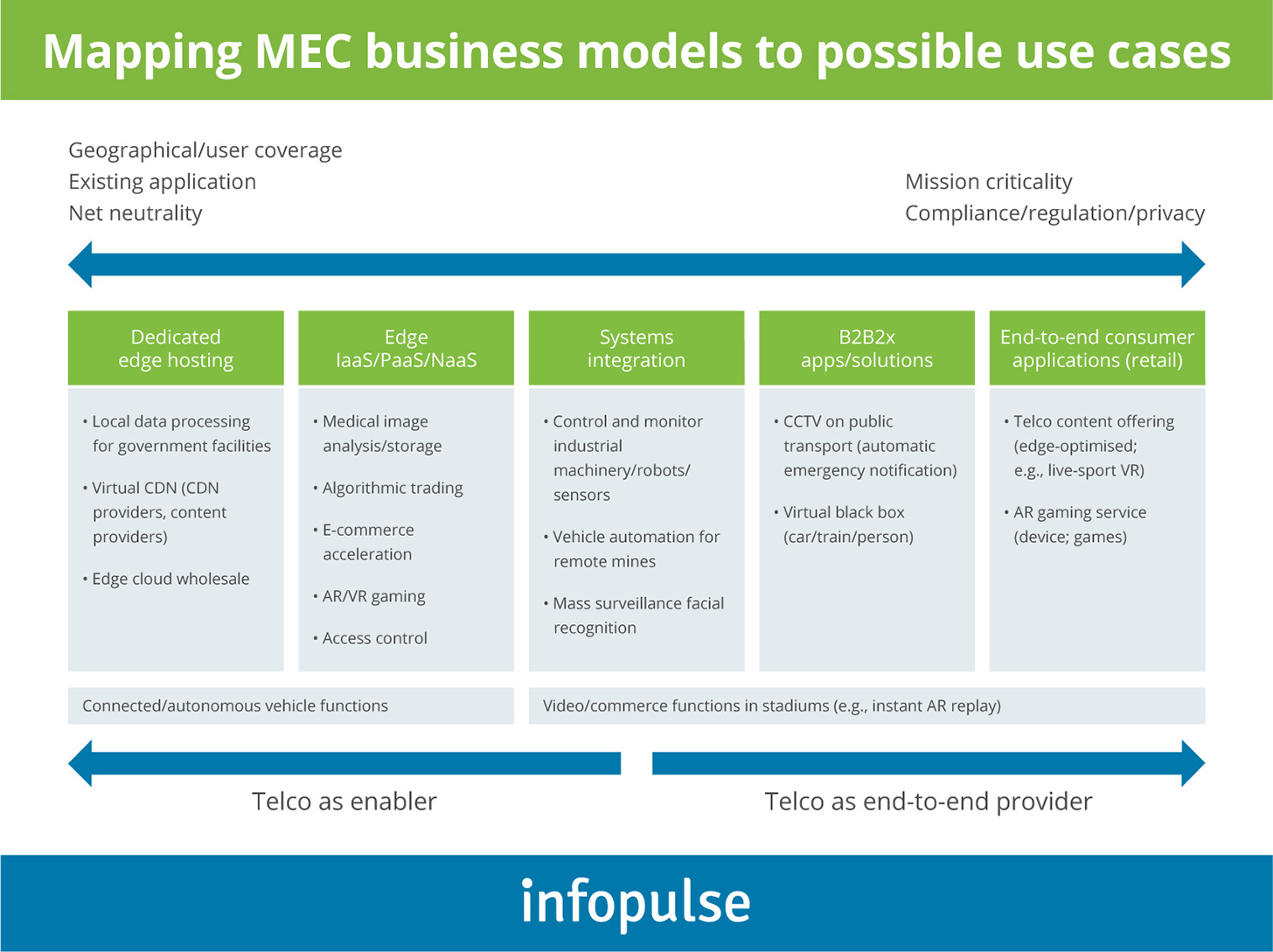 Find more information on benefits from implementing edge computing systems for businesses in our detailed blog article What is Edge Computing and What It Means for Enterprises.
Artificial IoT
The artificial intelligence of things will allow IoT systems and networks to become more cognitive. Therefore, decision-making will be more context- and experience-based relying on the processed data from sensors and connected devices. Furthermore, AIoT will further automate making decisions related to network issues by finding route causes and solutions faster.
Embedded in chipsets, platforms, devices, and even edge computing systems, artificial intelligence will be, thus, interconnected with the entire IoT network. As such, AIoT will allow overseeing 5G network operations, including siloed data centers and remote cell sites, whether they run properly or have anomalies based on early detected behavior patterns. There's a variety of Anomaly Detection solutions already powered by Machine Learning and Data Analytics.
For telcos, AIoT, coupled with Predictive Analytics, also translates into real-time data analytics and prediction models used to foresee faults of the network and enable remote asset management and monitoring. With AI deployed at the network edge, data processing can be performed in-stream, continuously without interrupting the data stream for its storing or analysis.
By deploying IoT solutions converged with AI, Machine Learning, 5G, edge computing, and data analytics, telcos can benefit from remote monitoring, access management, potential fraud, anomaly, or theft detection.
IoT Data Streams Integrated with Big Data
Although data analytics tools already provide operators with visually rich insights, analyzing data in motion before it is stored is quite a challenge. It is the part of streaming analytics that allows pre-processing data streams in real-time. A data stream is a continuous data flow, frequently updated, with a short period of data relevancy. For example, IoT data streams can be any transactional data, IoT devices or hardware sensors information, etc. To process large amounts of such data, complex algorithms of big data platforms are usually leveraged. They are also known as stream processing tools:
Apache tools: Kafka (open-source data stream processing platform allowing to integrate apps and data streams via API), which can be further connected with Hive (a warehouse solution), Hadoop (batch processing solution), Spark (big data processing engine), utilized for massive concurrent data streams processing. These tools are a part of Netflix and Uber big data platforms.
Amazon tools: Amazon Kinesis (a platform for loading and analyzing streaming data); Kinesis Streams (a scalable solution for custom applications); Kinesis Firehose (a tool for quick loading of streaming data into AWS);
So, why is it critical to apply Big Data analytics to IoT data streams? Pre-processing multiple data flows in real-time (filtering, mashing up, contrasting, inter- and extrapolating, etc.) allows keeping up-to-date data streams, speeding up data processing at the edge, and improving data quality further stored in the cloud. Most importantly, such analytics allows detecting possible anomalies or deviations in behavior patterns, gathered by IoT sensors, to reduce the negative impact of occurred events. Read about common anomaly detection techniques in our blog article.
In the 5G IoT ecosystem, the amounts of data generated by IoT devices and M2M communications will increase exponentially. Therefore, real-time processing of data streams based on big data platforms will be integral for automated decision-making. Such processing is normally executed at the edge and only then sent to the cloud to improve data quality and security. Here's how this approach is realized for enabling predictive analytics: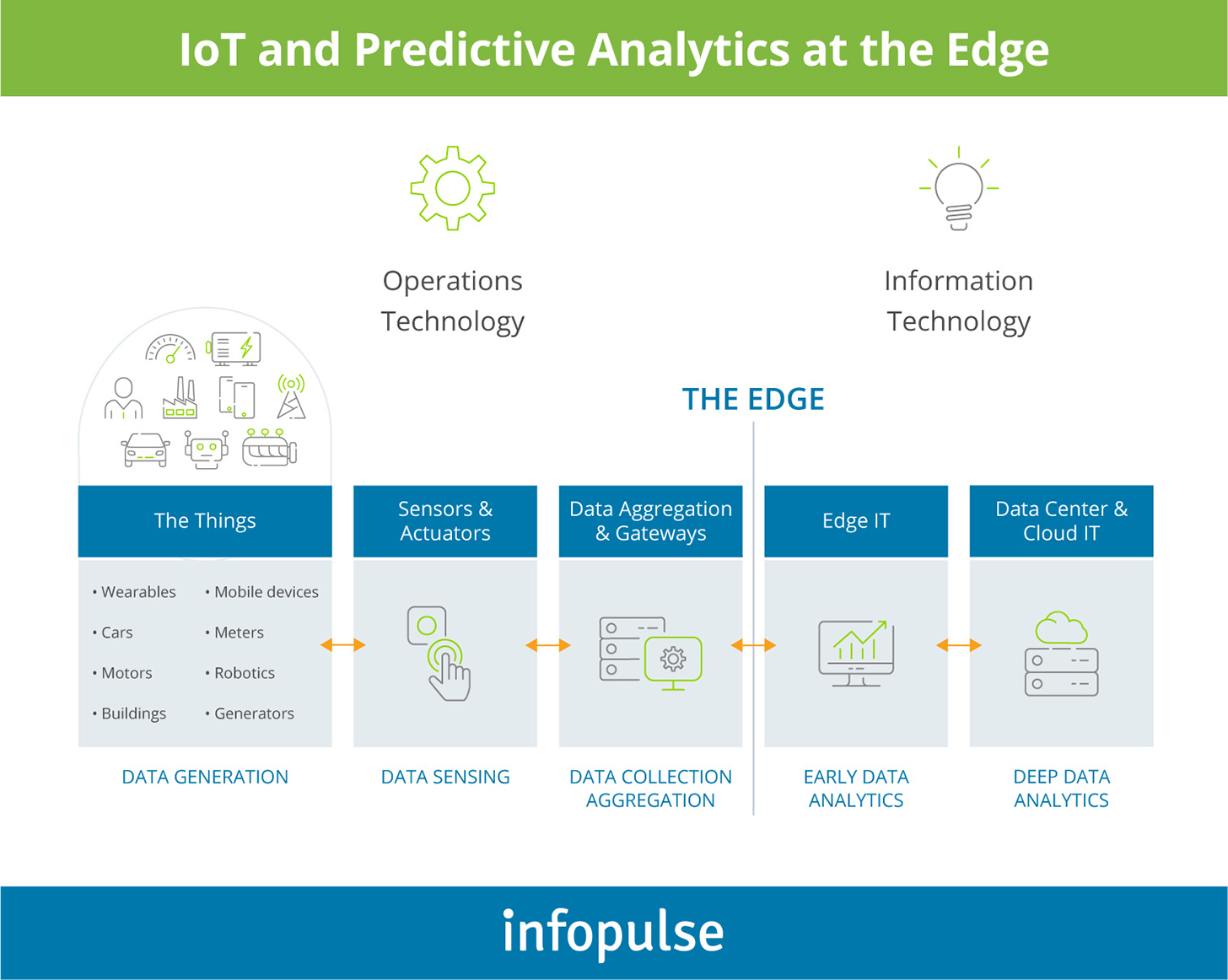 Final Thoughts
Convergence between IoT and 5G, AI, Big Data, and other emerging technologies allows telcos to tap into more benefits for the network upgrade. For CSPs, their adoption is the next logical step in business transformation. To become the primary IoT services and solutions providers, telcos will need broader tech expertise and new monetization scenarios.
Contact us if you need a reliable partner to transform your telecom services and solutions.