Article
Cloud Cost Optimization with FinOps: Key Principles and Benefits
Originally published: September 14, 2023
Updated: September 19, 2023
7 min. read
Cloud & DevOps
Digital Transformation
Infra & Operations
Organizations around the world are looking for solutions to better manage cloud costs since they continue going up. Moreover, in the next 12 months, costs are expected to grow by 29%, with 13% of the budget overrun. Another challenge is that the amount of waste remains quite high at about 32%. On top of that, cloud cost saving is among the primary cloud initiatives for most organizations for the sixth year in a row.
Top Cloud Initiatives Across Organizations in 2022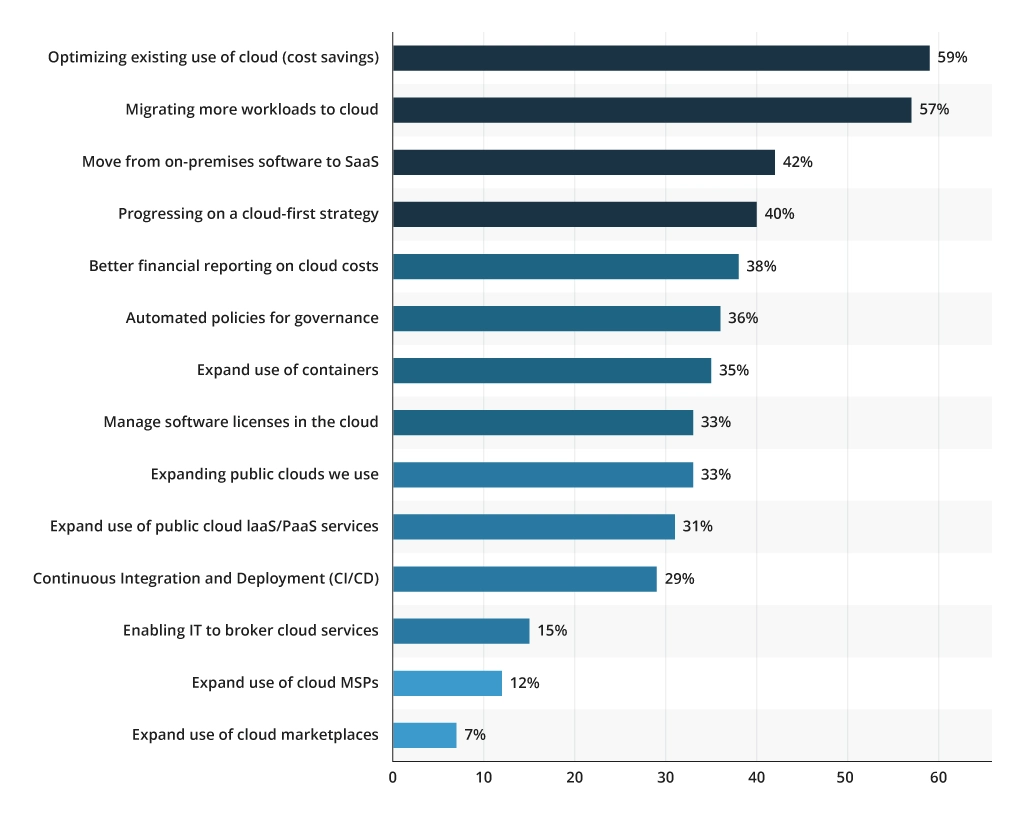 One of the most effective strategies in this regard that is gaining traction right now is FinOps. A combination of the words "Finance" and "DevOps", it is a framework used to optimize the financial performance of an enterprise's cloud computing infrastructure. Being a separate enterprise culture with its own values, principles, and practices, FinOps promotes sharing the responsibility for cloud expenditures across information technology (IT), DevOps, and other cross-functional teams. The key goals of this approach include:
Assisting companies in managing cloud costs effectively
Helping businesses make the most of their resources
Aligning cloud expenditure with specific business needs
Managing budgets wisely and optimizing financial operations
Continuously improving all financial workflows based on lessons learned
Enhancing decision-making
Driving greater business value.
Such a focus helps enterprises make more informed decisions on trade-offs between cost, speed, and quality.
FinOps Principles
Developed by FinOps Foundation members, the core principles of the FinOps approach will help to build a culture of shared accountability and transparency. Written primarily for AWS, these principles now cover multiple clouds, taking into account the quarterly changing cloud services.
Core Principles of FinOps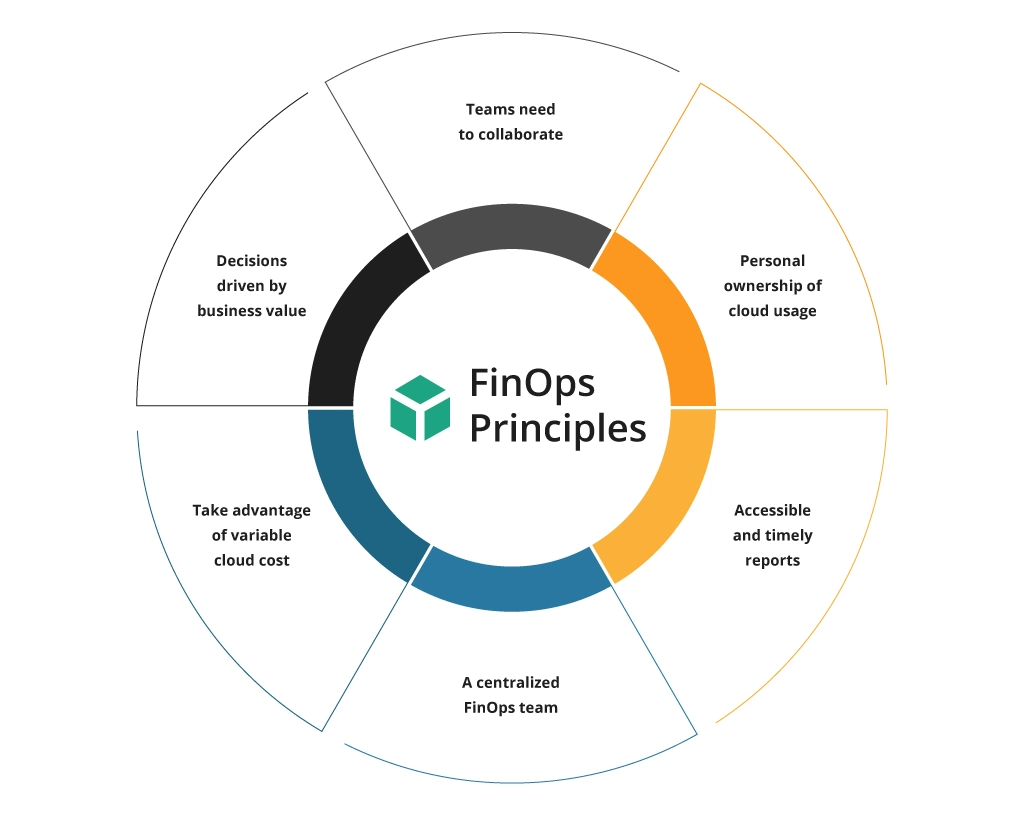 Need for Close Collaboration
With close real-time team collaboration at the core of your business processes, you can achieve the needed level of efficiency, innovation, and continuous improvement. Finance, IT, product development, marketing, business — FinOps promotes establishing a common focus on cost optimality across teams.
Business Value in the Heart of Decision Making
FinOps is not just about managing cloud costs, but also about making the most of cloud to increase business value. Factors that will positively impact it are:
Quick resource provisioning and scaling
Using cloud capabilities as innovation pillars
Leveraging value-based metrics to demonstrate business impact
Balancing decisions on cost, quality, and speed.
Everyone Is Accountable
FinOps presupposes that technical teams take full responsibility for cloud resource usage and optimization. Cost should be one of the primary efficiency metrics from the very start of the software development lifecycle. Usage and cost accountability should be a part of each stage of your project development — from architecture design to ongoing operations.
FinOps Team Should Deliver Accessible and Timely Reports
On top of creating, monitoring, and enhancing real-time FinOps reports, team members should provide consistent visibility into their cloud expenditure to all organization levels. This includes processing and sharing FinOps data as soon as possible for prompt decisions and forecasting.
FinOps Best Practices Are Driven by a Centralized Team
To ensure consistency, automation, and rate negotiations, there is a necessity for the centralized control of all cloud cost management practices. Mainly, this principle requires an executive buy-in for FinOps and a shared accountability model.
Leverage the Variable Cost Model
Continuous monitoring of the resource expenditures and timely adjustments in cloud usage are crucial for aligning costs with your current budget. Make sure you minimize expenditures through optimization practices such as purchasing reserved instances, rightsizing resources, and turning off resources when not in use.
FinOps Lifecycle: Key Phases
FinOps represents an iterative process, where every team contributes at their own pace throughout the lifecycle phases.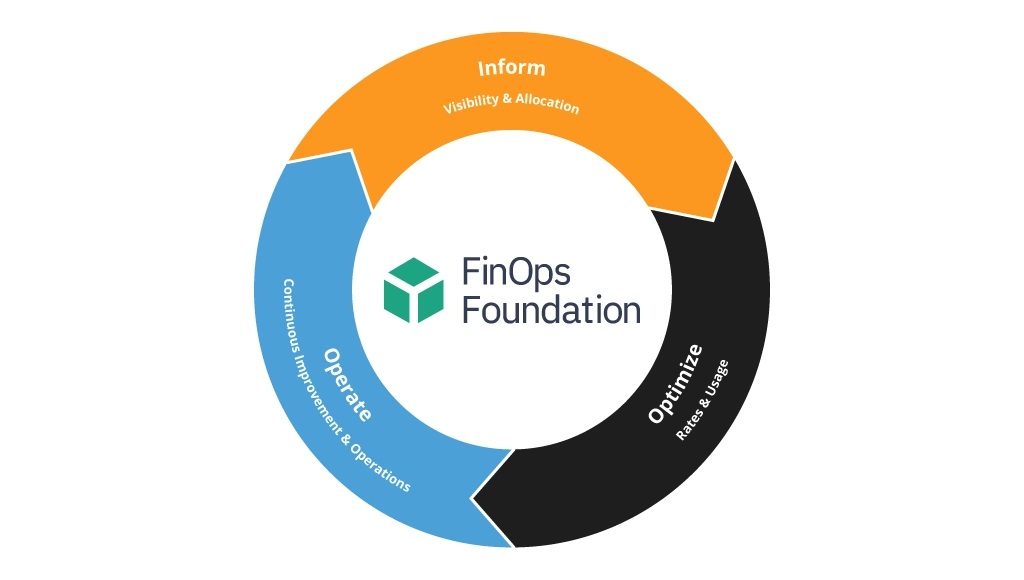 Inform
The inform phase is all about ensuring crystal-clear visibility into the cloud usage and cost. This is necessary to make more informed decisions on resource allocation, benchmarking, budgeting, and forecasting. As for particular actions, at this phase you should:
Gather and analyze data on cloud resource usage, rates and discounts, billing
Distribute cloud costs across different projects and applications, teams, business units, applications, etc.
Analyze cloud performance against industry standards and your specific business needs
Predict cloud spendings based on real-time and historical data
Report the obtained cloud financial metrics to relevant stakeholders.
Benefits you get
By completing these steps, you get full accountability that helps you to eliminate unexpected costs, increase your cloud ROI, create opportunities for improvements, and show the outstanding cloud value to stakeholders. Depending on your particular, industry-specific goals and cloud infrastructure complexity, you might need extra cloud advisory. An experienced development company will delve into your cloud business case, consult you on how to implement FinOps, and assist with business intelligence.
Optimize
This phase revolves around improving usage efficiency through an array of optimization practices:
Establish and continuously enforce cloud cost optimization policies across your enterprise
Analyze the entire usage of resources to identify areas for purchasing reserved instances
Use rightsizing: a continuous analysis of instance performance and usage patterns to turn off idle instances and optimize those that are overprovisioned or poorly matched to the workload — at the lowest possible cost
Create a savings plan to lower the overall long-term cost
Negotiate with cloud providers to optimize contracts and get Committed Use Discounts (CUD)
Provide a cost-benefit analysis and experiment with new cloud services and architectures to enhance performance and drive more cloud value
Leverage AI to detect unusual usage patterns and cost spikes and to generate cost anomaly alerts.
Benefits you get
The valuable data and insights received at this phase can be used to eliminate cloud waste, as well as avoid resource overspending or underutilizing. This also means considerable cost efficiency. To adopt these optimization mechanisms, you might need professional help. Experts in all things cloud, business intelligence, and AI, Infopulse will assist you with total cost optimization and intelligent AI-based monitoring.
Operate
The Operate phase is the right one for implementing all the findings obtained during the previous step. Make efforts to automate this process, so that cost optimization measures are performed flawlessly and repeatedly:
Track and gauge your cloud outcomes based on speed, quality, and cost — against your business objectives and priorities
Introduce a culture of FinOps with a Cloud Cost Center of Excellence that strictly defines the appropriate governance policies and models
Send regular and timely cost reports to relevant stakeholders
Adjust your cloud budget, forecast, and allocation plans according to constantly changing needs and conditions
Train all the teams to rapidly implement all optimization measures and recommended changes.
Benefits you get
This action-based phase enables the feedback loop minimization, resulting in faster and more accurate decision-making around the operational and financial effects of the cloud. You will better know where exactly to spend money to enhance business value — iteratively and continuously.
Where to Start with FinOps?
As you now understand FinOps principles, lifecycles, and benefits, you can proceed to key steps on its adoption. To seamlessly introduce the FinOps culture into your business landscape, use the Crawl-Walk-Run maturity approach. This model comprises six stages, following which you can start small and gradually extend your FinOps initiatives.
Where Are Organizations in Terms of Maturity?

Stage 1: Informal. Here, a company gets an understanding of the need for cloud financial management visibility and optimization
Stage 2: Foundational. This stage is about adopting basic cost management practices like cloud budget planning and cloud usage monitoring
Stage 3: Operational. At this stage, a company implements a robust cost management strategy, adopts the most effective tools, and sets up responsibilities
Stage 4: Scalable. Cost management automation, FinOps culture establishment — these are the key deliverables of the scalable stage
Stage 5: Strategic. Here, organizations obtain a full financial optimization maturity with tools such as predictive analytics and cost modeling
Stage 6: Innovative. Even when financial optimization excellence is achieved, enterprises continuously innovate and optimize their processes.
Details on the FinOps Maturity Model Guidelines can be found here.
To accelerate the FinOps adoption and make it seamless for your business landscape, you can team up with a cloud expert who will:
Assist you at every stage of the FinOps implementation, from maturity assessment to the very launch
Reinforce your efforts at every FinOps phase through automation and customization
Provide on-demand support and ensure business continuity.
A successful FinOps formation will not only foster a culture of collaboration and accountability, but will also help you maximize the ROI of your cloud spend.
On a Final Note
As any innovative process, FinOps implementation requires detailed planning, implementation, and maintenance. So, if you want to establish a robust FinOps culture, make sure to use all your in-house knowledge and leverage third-party competence. Such an investment will pay off in the form of business agility, improved performance, accountability, and financial efficiency.