Article
Innovative Projects from Blockchain Hackathon Kyiv 2016
Originally published: October 11, 2016
Updated: March 27, 2019
7 min. read
Innovations
Self-Claimed Flight Insurance, Cryptocurrency Index, File Storage Marketplace and Other Great Ideas from BHK2016
On September 24-25, 2016, Kyiv hosted
Blockchain Hackathon 2016
, a trend-setting event in Ukraine's Blockchain ecosphere. The Hackathon was organized, supported and sponsored by Infopulse,
Distributed Lab
, IDF Reforms Lab, and other Ukrainian and international companies. A Blockchain project by Infopulse specialist, Andriian Chestnykh, won the third place at the Hackathon.
The Concept behind the Blockchain
A new rising technology, Blockchain, yet still remains a mystery for many. As a reminder: Blockchain is a disrupted and decentralized database allowing to store any data (sales, deals, content etc.) with a focus on security and transparency. Although Blockchain movement is only starting, many companies already noticed unlimited possibilities behind the Blockchain technology. It allows creating innovative solutions for the banking and finance industries, audit and insurance companies, and many others.
The Great Chain Is Guided by Our Hand
In less than 48 hours, 16 teams of IT specialists, business analysts, and Blockchain/Bitcoin enthusiasts brainstormed and designed viable business ideas based on the Blockchain-distributed technology. A dozen of mentors – Blockchain industry supporters, IT professionals, business founders and others – helped and guided the hackathon teams, giving expert advice and ideas on how to design an effective and well-thought-out solution.
Blockchain technology already plays an important role in Digital Transformation. Ukraine has great minds and unlimited potential to become a Top Player of the Blockchain movement and Infopulse is very happy to contribute our part to its development! For sure, we will continue supporting and taking an active part in Blockchain-related events.– Jan Keil, Infopulse EVP of Marketing and Hackathon Mentor
Let's take a closer look at the best projects of the hackathon, as voted by the independent jury.
III place – World File Storage Marketplace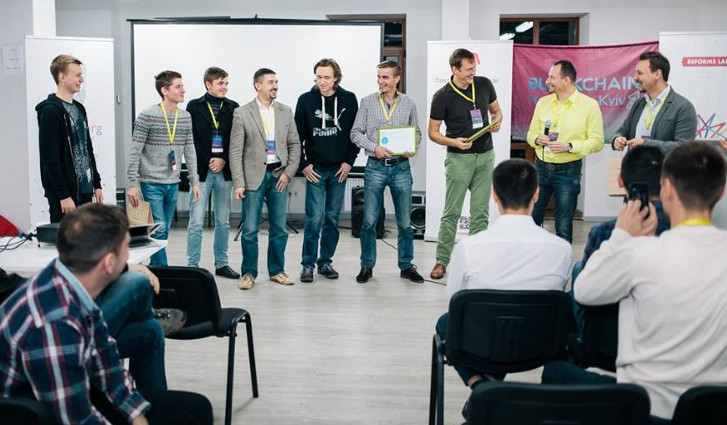 Initial idea by Andriian Chestnykh, Senior Software Engineer at Infopulse
Solution Concept. Despite all technological advances, existing online storage solutions still lack in terms of security. While the data volumes have grown dramatically over the last years, traffic can still be intercepted; data may be hacked or lost. File Storage Marketplace aims to solve these issues, allowing anyone to earn money by selling free HDD space on the open HDD-space market to store other users' data. The system allows users to select the number of nodes and copies encrypted user files to 5-10-15-etc. nodes. All relationships between the peers and users are recorded in a form of a smart contract. At the same time, the system ensures that the data remains private, secure and safe – all that for a relatively low price.
How It Works. The system will be distributed as an open-source solution, available to anyone. All user data will be encoded with OpenSSL to be accessed with a personal security key. The Ethereum Blockchain app platform will provide routing between client and server, and perform an escrow function, ensuring transparency of the deal. Server part can be based on either C++ or a Python File HTTP Server. A frontend concept was shown as well: the user will be able to check server location and tune some basic parameters of each peer.
Per the jury's review, "the team behind the project was one of the most technically experienced and well prepared". We sincerely congratulate Andriian Chestnykh with his victory!
II place – Cryptocurrency Index and Cryptocurrency Trading Tool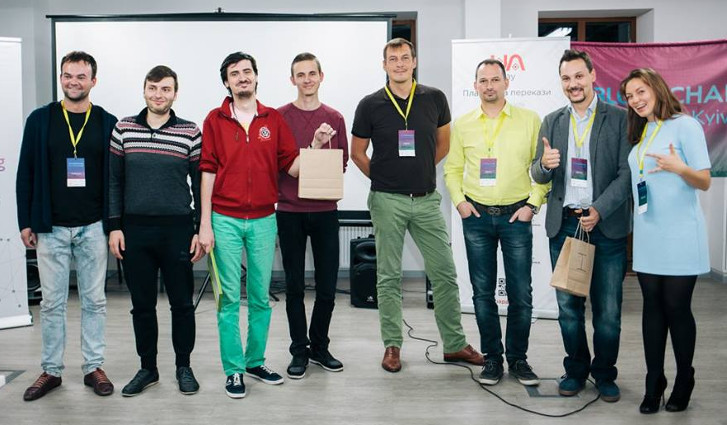 Solution Concept. Cryptocurrency market is growing fast; some cryptocurrency rates go up at least twice a year, while others are very much volatile and may unexpectedly go down. Each day the CC market attracts new traders. The Team behind the "Index" project has conducted a thorough research of Top-20 cryptocurrencies, aiming to create an everyday tool for the cryptocurrency traders.
How It Works. CC Index and Trade Tool is an investment platform and a functional resource for analytics and up-to-date information on cryptocurrency exchange rates and rates forecasts. Traders invest their money into the TOP-10 cryptocurrencies from the Index (e.g., $100 per cryptocurrency, making it $1000 of investments in total). If one of the cryptocurrencies drops out from the Top-10 List, the share for this CC is sold and another cryptocurrency with a higher rate is bought instead. When an investor wants to sell his Index, he receives the total amount of his investments according to the current CC rates. The Index allows creating personalized cryptocurrency indexes for those looking for the long-term investments into specific cryptocurrencies.
I place – Self-Claimed Flight Delay Insurance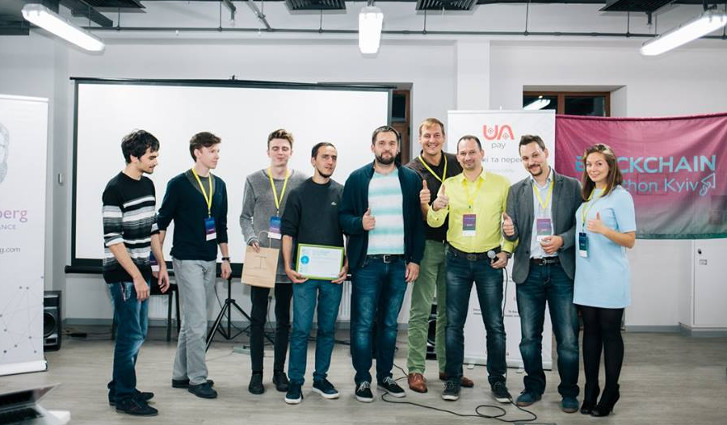 Initial idea by Vladimir Dubinin, Distributed Lab CEO and Co-Founder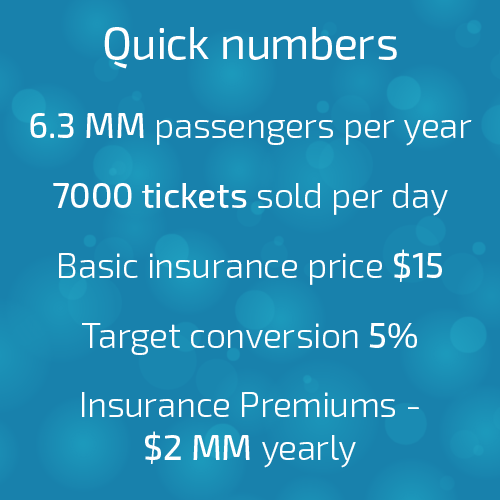 Solution Concept. An idea to insure your flight ticket is not new. Many companies offer compensations for the flight delays or cancellations. However, in most cases, you can only get a partial refund in case of a delay, while the full refund is issued in case of the flight cancellation only. Alas, time costs a lot. Still, the refund amount rarely exceeds the ticket price.
The main aim of the Self-Claimed Flight Insurance project is to remove the pain of dealing with an insurance company and waiting X days to claim compensation. Insurant will be able to receive his/her money almost instantaneously. The amount of the compensation is based on the length of the flight delay.
How it Works. The solution introduces a flight insurance as a standalone product, sold along with a flight ticket. The information about the flight (takeoff, duration, landing etc.), insurance rates and other related data is sent to the server, forming a Blockchain-based Smart Contract between the customer and an insurance company. From now on, everything's automated. The system is connected to the flight schedule, making it possible to verify flight data in real time. In case the flight is delayed, an insurance event occurs. A request is created for the payment processor to transfer money from the insurance company to the bank account of the customer in just 15 minutes – as simple as that!
The project might kick off in Ukraine within the next few months. But there's more! The core idea mechanics is very scalable and can be easily applied towards larger and much more complicated cases.
A special prize – Smart Trade: CC Market data aggregation tool
Right now, the cryptocurrency traders invest a lot of time into analytics, e.g., when manually checking marketplaces for the appropriate pricing. "Smart Trade" project is a multifunctional trading platform, meant to standardize and unify existing marketplaces. All orders and data will be aggregated from existing marketplaces and presented in a neat and user-friendly form. The project also provides tools and environment to create and sell trading algorithms. This project is an excellent example of elegant and highly sought for solution, very important for the Blockchain industry in general that may facilitate the everyday life of CC traders.
Besides, the following projects made it to the Top-10:
FreePe – Blockchain-based social network and knowledge base.
Unstoppable Blockchain – PR of the cryptocurrency ideas and movement.
Copyright Ledger – low-cost and reliable IPR verification tools.
Asset Management API – user-friendly and easy-to-use Blockchain instruments for business.
Proof of Delivery – tracking goods delivery through smart-contracts.
SUber – Blockchain-taxi service.
During the Blockchain Hackathon 2016, we've seen many exciting and promising ideas. We can only guess what other brilliant projects will shine during the next Blockchain events.
In the meantime, Infopulse and Distributed Lab invite you to the next big Blockchain event – Blockchain Conference, to be held in Kyiv, Ukraine in November 2016. More news on the upcoming Conference coming soon. Stay tuned!
Best Moments from Blockchain Hackathon Kyiv 2016 [PHOTO GALLERY]