Article
Top IT Service Management Trends for 2021 and Beyond
Originally published: November 13, 2020
Updated: February 24, 2023
8 min. read
Data & Analytics
Cloud & DevOps
Business Applications
With nearly every business becoming a tech-led business these days, streamlined and effective IT service management (ITSM) becomes a core priority. Between now and 2024, the global ITSM is expected to grow by 7.58% YoY and eventually reach
$3.29 billion
. But a far more interesting question is: what types of investment business leaders are prioritizing in 2021 and onward?
That's what our team has been asking as well. With rapid levels of digitization, we believe that one of the defining ITSM trends in 2021 and beyond would be: targeted process automation and acceleration-driven operational procedure changes. These two priority courses further manifest across all top-5 ITSM current trends impacting the nearest future.
1. RPA and Intelligent Automation (IA) Emerge as Driver for ITSM Productivity
Many of the traditional approaches to IT service management are powered by complex expert-based rule sets, created to ensure compliance, security, and timely service provisioning. However, with most companies now operating hybrid IT environments, compliance often becomes a costly nuance. Instead of focusing on effective service provisioning, ITSM teams get bogged down with menial work. So much so, that in 2019 an estimated 76% of IT managers couldn't allocate sufficient time to value-added business initiatives due to constant interruptions in day-to-day support-related issues.
RPA (robotic process automation) has already proven to serve well for other business functions when it comes to low-value process automation. The newer array of intelligent bots, powered by ML/AI algorithms, promises to usher a new era of productivity in ITSM as well. Forrester estimates that across industries and functions, RPA paired with AI can unlock $134 billion in trapped labor value by 2022.
Considering the figure above, it makes sense why 84% of ITSM leaders ranked priorities directed at "combining automation with AI/analytics" as high. To elaborate, these priorities assume adoption and effective scaling of Intelligent Automation solutions for the following processes:
Ticket routing automation based on pre-set criteria (e.g., location, language, etc.).
SecOps/security-related automation to ensure timely response to emerging threats.
Streamlined cross-IT change management procedures.
Standard workflow automation across an array of common support-related tasks.
Semi-automated service request management with auto-assignment of tickets and automated execution of simple tasks (e.g., password resets, patch installs, etc.).
Help desk automation aimed at the self-resolution of Level 1 incidents.
IA solutions and advanced analytics can majorly decrease the costs of IT services delivery across the organization by taking over low-value processes and empowering ITSM specialists to focus on more complex issues and value-added tasks, aimed at reducing downtime, enhancing release management, and speeding up critical problem resolution.
Infopulse has helped one of our clients implement an automated IT service management process, using ServiceNow software, as well as implement a self-service portal to ensure 24/7 user support. Post-implementation, the company increased the average time for resolving user technical issues by 50X – from days to several minutes. Learn more about this project from our case study.
2. Adoption of ITIL 4 Framework Is Strategic to Support Digital Transformations
When most organizations run on lean principles, the rigid ITIL method, conceptualized in 2007, can create major operational bottlenecks. That's why market leaders are gradually incorporating Agile methodology, scrum practices, and DevOps tools into their ITSM process.
To accommodate such operational shifts, the new ITIL 4 framework was released. Unlike its predecessor, ITIL V4 promotes the switch from waterfall to agile process management and places a greater emphasis on continuous value creation for the end-users. The new Service Value System (SVS), introduced within the V4 of the framework, set forth 34 managerial practices, aimed at ensuring a closer alignment between ITSM, Development, Operations, business relationships, and governance functions, so that organizations could run leaner digital service management.
In addition, ITIL 4 proposes a bevy of adaptations in ITSM and ITIL Lifecycle processes, required to accommodate the newer stack of technologies such as the cloud, IoT, advanced big data analytics solutions, AI, and machine learning.
Get to know more about adopting new ITSM practices and tools from our free eBook – Modernizing IT Services with ITSM.
3. Enhanced Customer and Employee Experience Is a Strategic Priority
The pandemic has majorly increased the reliance on digital services/products among both employees and customers. This, in turn, surged up the pressure on service desks as ticket volumes grew higher:
While B2B customers are mainly concerned with SLA levels, B2C folks storm service desks with a flurry of Level 1 questions and concerns regarding the usage of digital services. In both cases, 84% of consumers agree that the available levels of customer service are a determining factor for purchasing.
To deliver that superior level of service without placing a great toll on your teams, consider implementing an intelligent self-help/service system.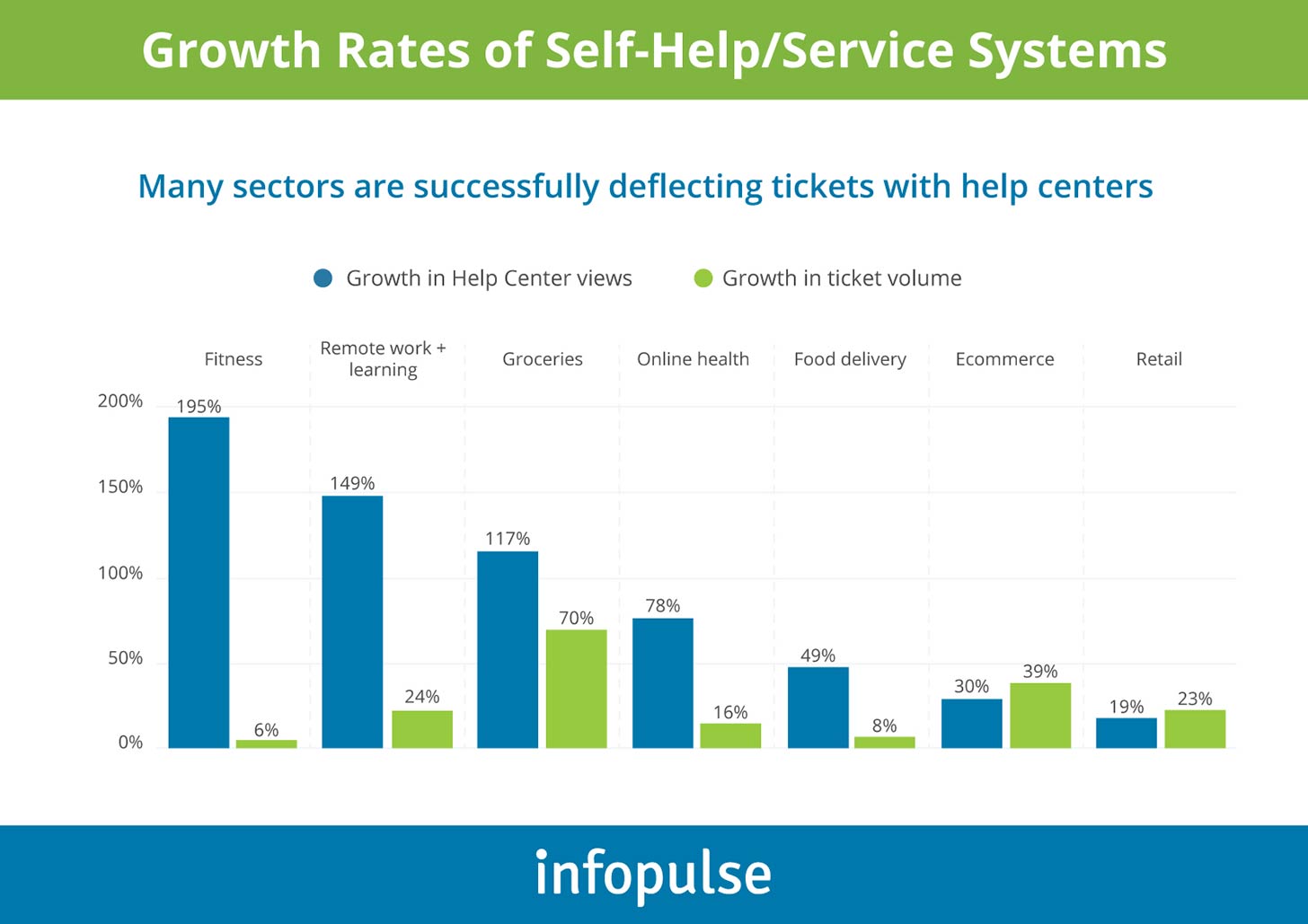 In fact, 91% of customers would prefer using a knowledge base if it's tailored to their needs. Granted, with advanced workflow automation solutions such as those provided by the ServiceNow platform, companies can rapidly assemble comprehensive and user-friendly IT self-service portals
A German business automation company used the ServiceNow platform to assemble a self-service portal for their B2B customers. The system automatically collects all the necessary information about the customer and suggests the best resources for resolving the issue. If no solution is found, customers can also submit a new incident to the support team, and the ticket will be auto-assigned to the most qualified technician. As a result, the company managed to route 80% of all customer queries to the self-help portal (instead of email/phone) and enabled faster issue resolution through intelligent ticket routing and workflow automation.
Employee experience is the second important part of the equation. With the rapid transition to remote work in 2020, IT service teams had to rapidly scale their core capabilities, such as incident management, user, and license management for new devices. Similar to the above, self-help IT portals can assist with organizing, streamlining, and automating the resolution of simple queries as was the case with one of our clients – a manufacturing company. To improve employee satisfaction with IT services delivery, we helped them implement a new self-service portal, built on ServiceNow.
4. Shift to Enterprise Service Management (ESM)
ESM is becoming a standard operational practice for organizations with mature ITSM processes and ITIL 4 aspirations who now wish to extend the same excellence standards across other departments.
In essence, ESM prompts companies to treat every asset at their disposal as a resource or work with a certain status. Such a mindset helps businesses improve the efficiency of service provisioning to employees across other departments. A 2019 EMA report identified that 45% of enterprises have already deployed ESM. Among them, the following verticals are the prime targets: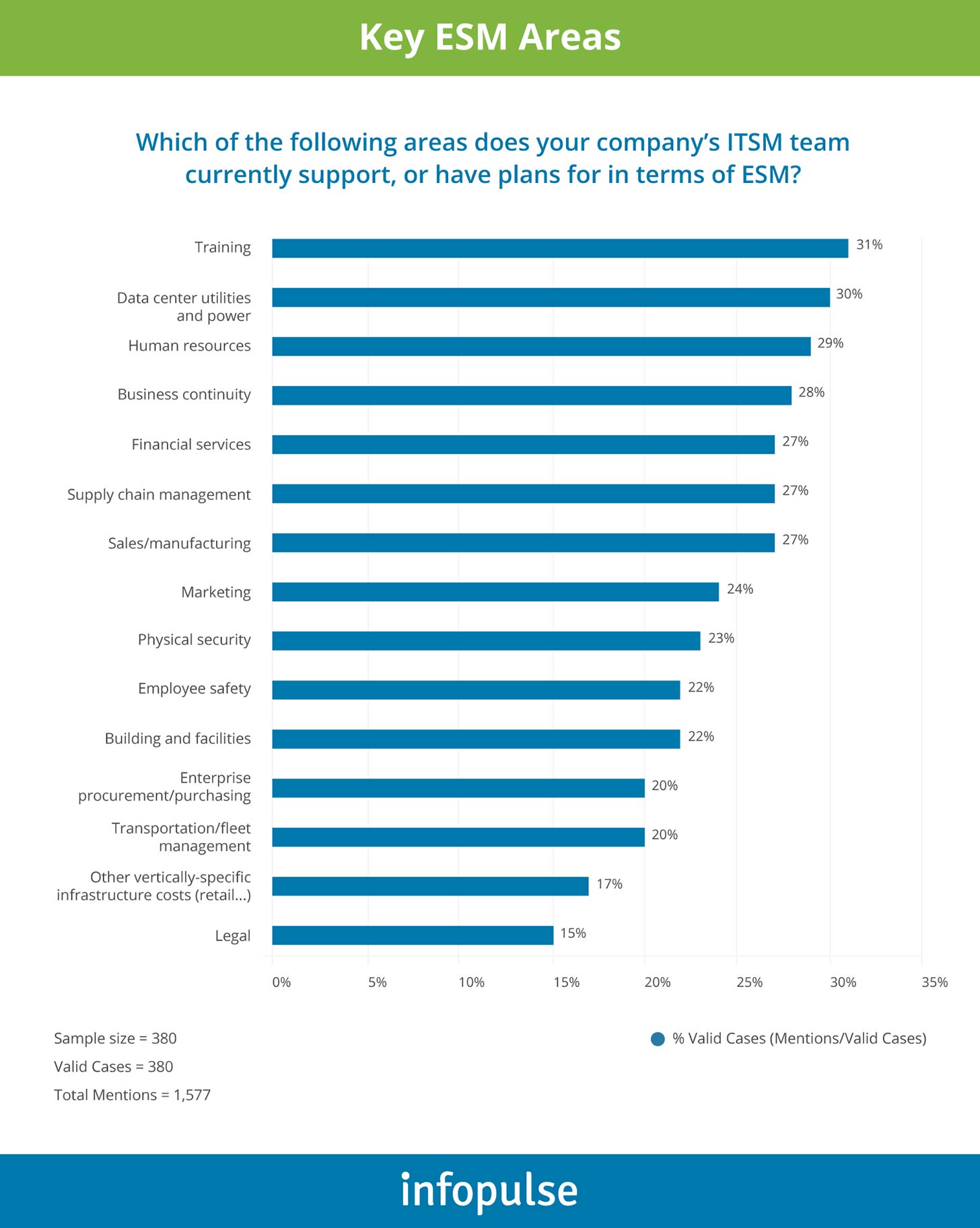 In 2021 and after, the ESM will likely remain one of the dominating ITSM market trends as this approach helps resolve some of the pressing organizational challenges, namely:
Decreasing mounting compliance pressure. By standardizing request types and channels, as well as types of data exchanges, businesses can establish better operational control over employee requests and ensure that none of them contradicts internal/external policies.
Improving resolution speed for common requests. From expense to holiday approvals, a lot of unstructured requests travel through corporate channels, often resulting in delays and miscommunication. A company-wide ESM solution can help create a more consistent process for filing, managing, and approving various queries, while enhancing operational visibility and control at the same time.
Consolidated cross-company risk management. ESM solutions can help you implement continuous monitoring, prioritization, and automation of company-wide risk controls.
5. AI-Powered Data Security Moves Closer to Mainstream
With a greater extent of corporate data residing in the cloud, information security moves to the front row of the present trends in ITSM.
New ITIL 4 proposes a set of dedicated management practices for information security and risk management, aimed at helping organizations curb cloud cybersecurity risks and ensure that both employees and external partners adhere to the baseline security practices. However, with an extended defense surface, rule-based policies alone may not suffice. Technical leaders are actively assessing how AI and ML can help manage emerging cyber risks.
According to Gartner, the adoption of a cybersecurity mesh is among the strategic tech priorities for business in 2021. A cybersecurity mesh is a distributed architectural approach, aimed at assembling a scalable and robust cybersecurity control mechanism that can rapidly adapt the levels of security for any user or device.
Such real-time plasticity can be achieved with the help of advanced ML models, gathering real-time data about the user/device and auto-adjusting security controls, based on their past and current behavioral patterns. Azure Sentinel is a nice example of a cloud-based SIEM solution that helps improve security infrastructure setup and maintenance with AI.
To Conclude
IT teams today are in a tough position: they need to balance the increased demand in support against the concurrent requests to accommodate emerging processes and digital services. To strike the optimal balance and deliver high levels of service to the end-users, traditional approaches to IT service management must be redrawn. That begins with a proactive investigation of low-value, menial processes and their RPA and IA solutions, greater reliance on self-service and intelligent self-help portals, as well as the adoption of newer managerial frameworks, ITSM tools, and ESM solutions.
Infopulse would be delighted to help you navigate the changing landscape of current trends in ITSM and determine which operational changes could drive measurable improvements for your business. Contact us!