Article
Evolution of ITSM: Combination of ITSM; Agile Methodologies
Originally published: March 02, 2021
Updated: February 24, 2023
7 min. read
Data & Analytics
Cloud & DevOps
Business Applications
Does your IT department handle service delivery at the rate your business requires? You are not alone if your ITSM aspirations are grander than the actual capabilities. In fact,
40% of leaders
believe that they lag when it comes to the IT's ability to meet the employees' expectations.
That may soon change, however, as new ITSM approaches come to the fore, driven by Agile and DevOps best practices.
What is ITSM and Agile ITSM?
IT service management (ITSM) stands for the management of the end-to-end delivery of IT services to customers. In short, it is a collection of repeatable processes IT departments rely on to effectively meet the needs of end-users.
Traditional ITSM at Level 1 and Level 2 maturity on ITIL Model is thus characterized by:
Weak standardization across processes/management activities.
Undocumented and uncoordinated processes and execution.
Fragmented ITSM tools and siloed access to data
Non-existent performance monitoring.
Understandably, such an approach no longer suffices to support the companies' expanded tech portfolios and emerging user needs, prompted by rapid digitization. Businesses digitized many activities 20 to 25 times faster than they considered possible. When it came to remote working solutions, businesses proceeded 43X times quicker.
Therefore, leaders are looking for a more continuous, homogeneous, and streamlined approach to ITSM implementation.
That is how Agile ITSM came to the fore.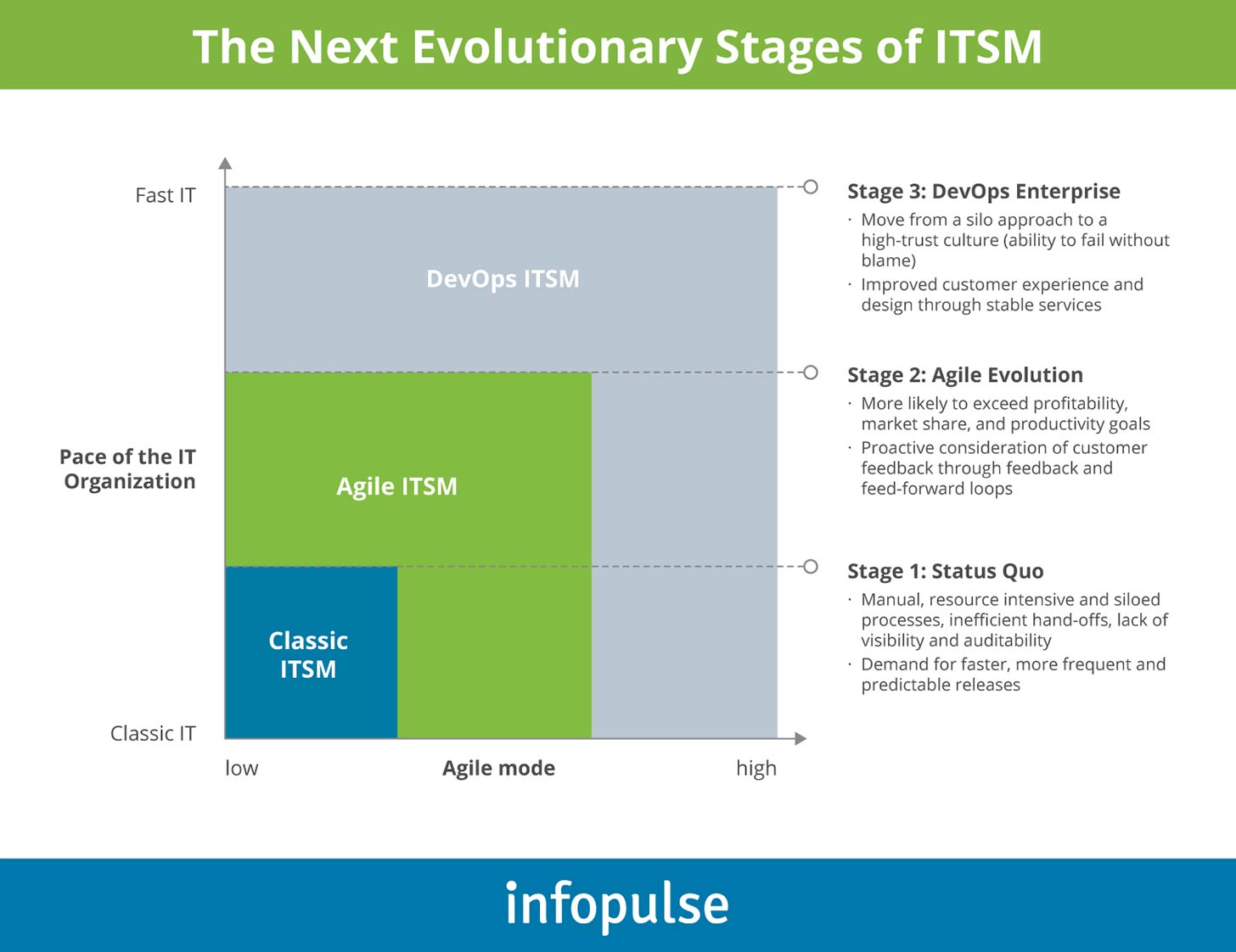 Agile ITSM borrows some of the key principles of Agile methodology for software development — frequent delivery, technology excellence, continuity, and simplicity.
The greater emphasis is placed on treating IT processes as "services" — scoped, documented, streamlined, and effectively executed.
Main Principles of Agile ITSM:
Alignment between people and processes. New ITSM solutions such as self-service help desk and supporting ITSM processes are implemented based on the users' needs and preferences.
Outcomes before standardization. Rather than implementing an ITSM process for the sake of having one, agile organizations focus on ensuring that a new IT service will drive measurable business outcomes and value.
Rapid response to change. Traditional ITSM is based on rigid processes, prompting clarity. However, in the current fast-paced environment, "best practices" need to be agile too. Agile ITSM framework introduces the ability to respond to emerging tech demands fast without disrupting other processes.
Proactive collaboration. ITSM teams are the prime point of contact for all types of technical assistance. Thus, service quality and availability are as important as repeatability. To ensure that all end-users receive the help they need, agile ITSM teams set customer-oriented SLAs and introduce automation and multi-tiered support to ensure timely and effective issue resolution.
The Benefits of Implementing DevOps for ITSM
The latest ITIL 4 edition also places a greater emphasis on the company's abilities to deliver consistent service levels "during industry disruptions, and when leadership changes occur". It also encourages leaders to shift focus to actions aimed at facilitating value creation across the entire organization.
The introduced concept of a "service value chain" — as a set of activities everyone pursues to create valuable products and services for customers — already strongly correlates with the principles of Agile and DevOps.
DevOps, as a cultural and operational shift, also promotes customer-centered actions and end-to-end responsibility. In that sense, DevOps also augments and complements the strengths ITIL has set for IT service management. Below you can see the comparison table of core principles of DevOps and the third edition of ITIL, currently one of the most wide-spread across organizations.
ITIL 3 vs DevOps Principles
Ensures that IT service requirements are bound by tested processes and well-defined metrics.
Enables continuous improvement in the realization of functional requirements aimed at optimizing speed, costs, and ease of delivery.
Encourages comprehensive documentation of all processes and their standardization into SOAPs.
Promotes automation for low-value processes. However, you cannot automate effectively without establishing a documented process first.
Promotes quality management aimed at learning from past successes and mistakes to form better processes and service delivery standards.
Emphasizes embedded experimentation and learning from past failures and successes to promote the adoption of better practices.
Prompts the creation of a Service Operation lifecycle stage that provides a set practice for fulfilling user requests, resolving issues, and performing operational routines.
Stimulates the creation of fast feedback loops for collecting end-user input and incorporating it into new interactions.
ITIL, especially ITIL 4, also encourages leaders to add extra flexibility into their operations to make them even more agile, automated, and customer-centric.
When organizations apply the tools and methods of DevOps to ITSM, they receive the following benefits:
More effective incident management. ITIL sets a strong processual base for incident management. DevOps methods such as — review process automation, cross-functional team ownership — can help ensure faster incident resolution times, plus a reduction in incident volume.
Effective process optimization. ITIL provides a solid starting point for establishing a process. DevOps provides supporting tools for enhancing its execution and effectiveness.
Increased service quality. Both ITSM and DevOps promote the establishment of greater end-to-end visibility into the services delivery lifecycle. Jointly, the two approaches encourage performance monitoring and meaningful KPI setup – one that promotes better value flows across the entire chain, rather than marginal improvements of minor issues (e.g., lower time to ticket resolution).
DevOps Tools That Enhance ITSM
DevOps enhances ITSM by introducing a greater degree of collaboration, unity, and effectiveness with the following tools:
Cross-functional KPIs: Cross-functional KPIs are aimed at breaking the silo between different teams and encouraging greater ownership of specific services.
Standardization and Automation: To enable faster service execution ITSM leaders are experimenting with emerging technologies for automation, such as robotic process automation (RPA) solutions, AI-driven ticket routing engines, or ML-powered SIEM solutions. The above are introduced at manual-labor heavy stages much like in DevOps where better software delivery is achieved through automated infrastructure provisioning, automated testing, and containerization among others.
Feedback Loops: DevOps promotes regular integration of customer feedback into service delivery as doing so ultimately improves business outcomes. In ITSM similar mechanisms should be set up to continuously enhance service level quality.
Dynamic & Interactive Monitoring: DevOps promotes the establishment of direct communication channels between Dev, Ops, and end-customers. Modern ITSM software such as ServiceNow promotes a similar approach for ITSM. Such platforms allow to set up a centralized control point for processing, prioritizing, and managing all the incoming requests and routing them to the correct executioner. In this way, so crucial issues get identified and resolved early and rapidly.
Infopulse has helped one of our clients automate their service desk operations with ServiceNow. We implemented a single point of contact for all business users to refer to whenever they require assistance. The most basic requests were automated via a self-service portal, using the platform's native functionality. We also introduced optimized ITIL processes for Asset Management, Procurement, License Management, and User Management that are executed using a combination of ITIL and agile best practices.
Creating Next-Gen ITSM with ServiceNow
ServiceNow is a 7-times in a row leader in Gartner's magic quadrant for ITSM solutions. The platform provides a solid range of cloud-based tools and capabilities for agile IT service management.
The main ServiceNow products include:
Incident Management and Problem Management application: Provides a toolkit for performing root cause analysis and investigations after major service disruptions. Also features trend analytics and regular service configuration reviews to identify issues at the onset.
Change Management application: Enables automation of standard changes with DevOps tools, as well as provides supporting tools for initiating and managing challenges that are more complex. A stellar tool for minimizing service disruption, consolidating governance practices for change management, and enabling a greater velocity of work.
Asset Management application: Automates tracking, provisioning, and management of all corporate hardware and software assets from ordering to disposal. Provides a consolidated view into all system configurations, access permissions, and costs among other parameters. Helps eliminate budget waste and optimize spending on IT.
Service Level Management suite: Allows the setup of cross-functional KPIs and organization-wide SLA levels for IT services delivery. Managers gain full visibility into the progress, delivery, and performance of different teams. Also, they can escalate tasks, review statuses, and re-assign ownership to ensure that end-users receive the best service levels.
Performance Analytics: Provides real-time analytics and data-insights into the operations via dashboards and data visualizations. A handy add-on to gain extra visibility into service delivery, anticipate emerging needs, and plan for them.
Continual Improvement Management: CMI application provides managers with the ability to align IT investments with end-users needs. It features a structured framework and workflow for enabling cross-team collaborations and promoting continuous improvement among different functions.
Another major strength of ServiceNow is the company's strategic course towards the adoption of AI- and ML-focused ITSM technologies. Through a series of acquisitions, the company added innovative functionality to its platform, plus acquired engineering expertise to support future product development.
ServiceNow is among few ITSM platforms offering:
Predictive intelligence — you can leverage machine learning algorithms to automatically categorize and route issues, plus obtain AI-generated insights for issue resolution.
Virtual agents — implement an intelligent conversational chatbot to handle the simplest IT requests and issues with high accuracy and efficiency.
With such a staunch set of ITSM features, it makes sense why enterprises attain major operational improvements post-adoption. An independent study by Forrester found that 7 surveyed companies achieved the following benefits with ServiceNow ITSM:
66% reduction in the volume of service/incident requests
$4 million saved in infrastructure costs over 3 years
$9.7 million in estimated IT productivity improvements
20% improvement in IT services delivery capacity
Read more about all the available ServiceNow ITSM tools.
Conclusion
ITIL has set a strong mortar for governing IT service delivery. However, today's pace of business operations requires more flexible processes, especially when it comes to IT services delivery.
As businesses focus on acquiring new technology and ensuring proper infrastructure optimization (which are both important), some also tend to overlook their ability to support those emerging digital structures in a way end-users demand. Augmenting ITSM with Agile and DevOps practices, as well as modern ITSM platforms such as ServiceNow, enables enterprises to refine their IT operating model — eliminate inefficiencies, reduce budget waste, and enhance IT service delivery efficiency and quality.
Infopulse is a premier ServiceNow technology partner, offering a wide range of consulting, implementation, and optimization services for ITSM management. Contact us today!