Article
Optimizing the Insurance Industry with Blockchain
Originally published: March 15, 2019
Updated: May 12, 2022
7 min. read
Innovations
The application of blockchain in the insurance industry creates the possibility to improve common operations. It may promote their security, decrease the administrative costs and develop other aspects of the industry. Currently, the demands of the customers are increasing, and they want insurance services to be delivered instantly. This creates issues for insurance companies that need to deliver new solutions to the clients while maintaining a reasonable price for their services. In its turn, blockchain has the potential to innovate insurance services while reducing their operational costs and maintaining affordable customer rates.
By Deloitte estimates, more than half of Dutch insurance companies have set their budget on blockchain projects. Moreover, blockchain is being actively supported by different financial institutions, for example, BNP Paribas has recently invested €8 million in Stratumn – a startup developing proof of process technology, which contributes to building a more protected, transparent and confidential decentralized information exchange system.
Concerning the insurance sector, blockchain use cases may be subdivided into two major groups:
Internal applications. These use cases improve internal processing, claim processing and reduce the operational costs for the company.
Industry use cases. They are linked to cross-industry transformations. An impressive example is the recent Blockchain Insurance Industry Initiative that was supported by 15 global insurance companies. It focuses on the development of a joint distributed ledger designed for reinsurance transactions.
Leveraging blockchain into the insurance industry will enhance data exchange and trust, improve financial inclusion and promote claim processing effectiveness.
Blockchain Applications in the Insurance Industry
Contract Lifecycle through Blockchain
Processing of insurance contracts is very time-consuming because it includes many participants who need to pass the contract through different stages before its ready. Furthermore, additional check-ups might be required during the process of contract adoption. Contract lifecycle might be very risky, as it may trigger such issues as:
Different types of processing errors that are hard to resolve;
Additional expenses for numerous participants;
Check-up delays;
Legal uncertainties and disputable points.
Blockchain allows storing and sharing contracts between different participants, like brokers, underwriters and claim agents. It ensures the sequence of contract deployment while excluding the need for check-ups from different participants. The result is that the parties will only need to review the latest part of the document. The transparent blockchain system provides free access to regulators and tax authorities, and by this, it simplifies not only the check-ups but also the reporting process. To guarantee security, blockchain encrypts and hashes certain documents that contain personal information, so there is no chance of data leakage.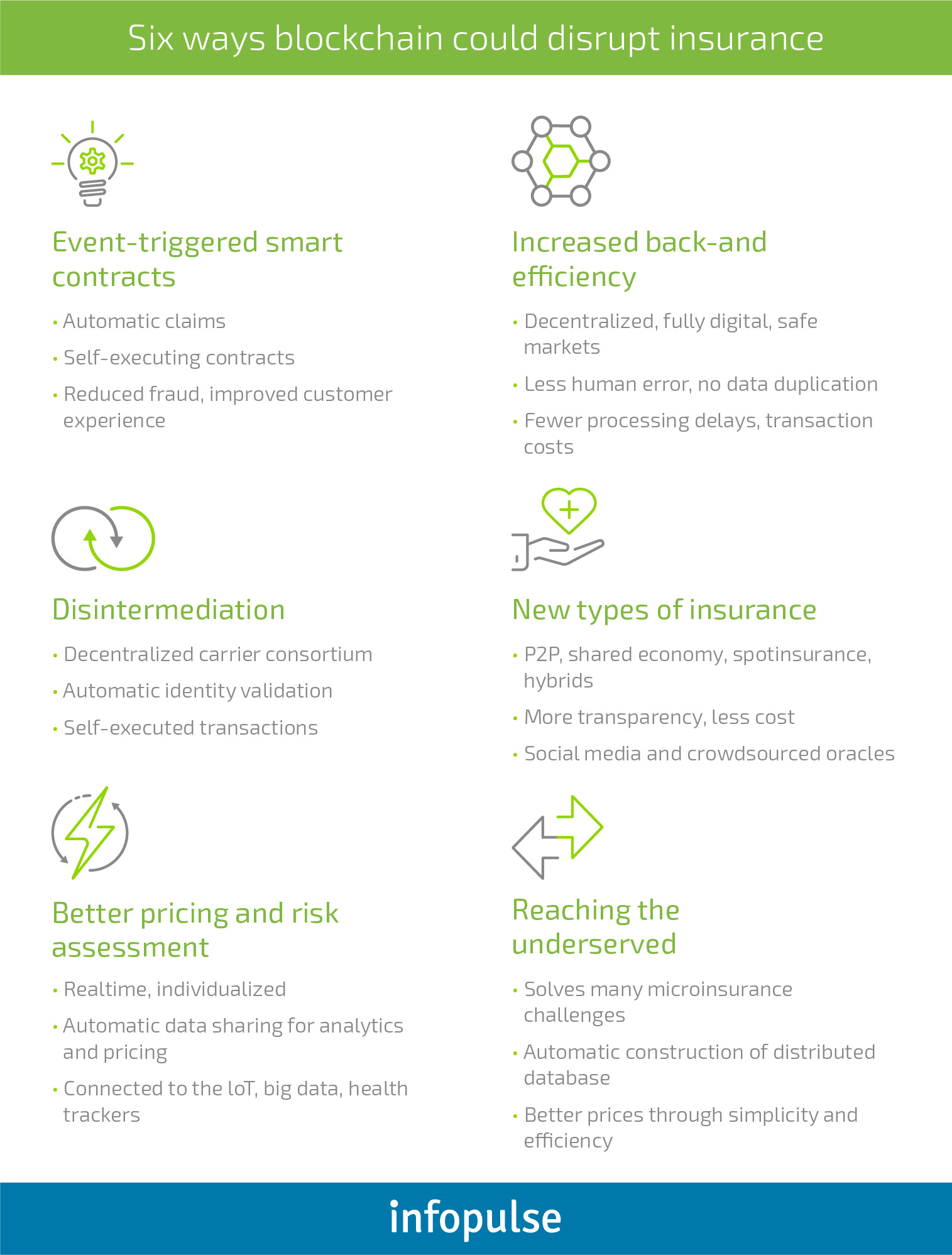 Smart Contracts in Insurance Industry
Blockchain may be useful when processing a larger inflow of data delivered for IoT or mobile gadgets. Here is a scenario that is quite possible in the nearest future. For example, if a customer gets in an accident on a rented vehicle, the car instantly sends a request to the insurance company to start a claim process. Simultaneously, it notifies the rental organization about the event and sends a message to the nearest hospital and police station if necessary. Such a situation is quite possible due to the forecast of 20.4 billion connected devices at our disposal by 2020. The data that is set on blockchain-based smart contracts cannot be manipulated in any way, because of the transparency between the insurance company and the customer.
Proof of Insurance
In today's insurance system, proving that a certain object is insured requires a lot of paperwork. The process of preparation is very complex, time-consuming, and there is always a risk of fraud. Moreover, the sorting of documents is quite slow and may cause delays or disruptions. Recently, the Institute launched RiskBlock, a new blockchain-based proof of insurance network in the US. Instead of using paper forms, RiskBock delivers real-time insurance verification and enables insurance companies to deliver proof of insurance to the clients in a cost-efficient manner. By placing the system on blockchain, the records will become more transparent, and this will dramatically decrease the rates of fraud on all levels.
Blockchain Property Insurance
Gathering data and evaluating process claims is still a difficult activity even in large insurance companies. The process is manual and inefficient due to poor cooperation between the parties involved. Blockchain may help both the insurer and the customer to manage all of the assets digitally. A smart contract may be programmed to confirm the coverage once the claim is submitted, and initiate a request for manual review for losses that comply with certain criteria. Allianz Insurance has launched a blockchain project, which was developed specifically for property insurance. The system records and stores data on all premium payments, policy renewals, and initiated claims.
The new Blockchain project shows that regular transactions between the insurers and the customers can be notably simplified. The automated processing can substitute thousands of e-mails and large data files. Each process is transparent and can be tracked, as a result, customers benefit from increased speed and auditability. —
Yann Krattiger, Principal at Allianz Risk Transfer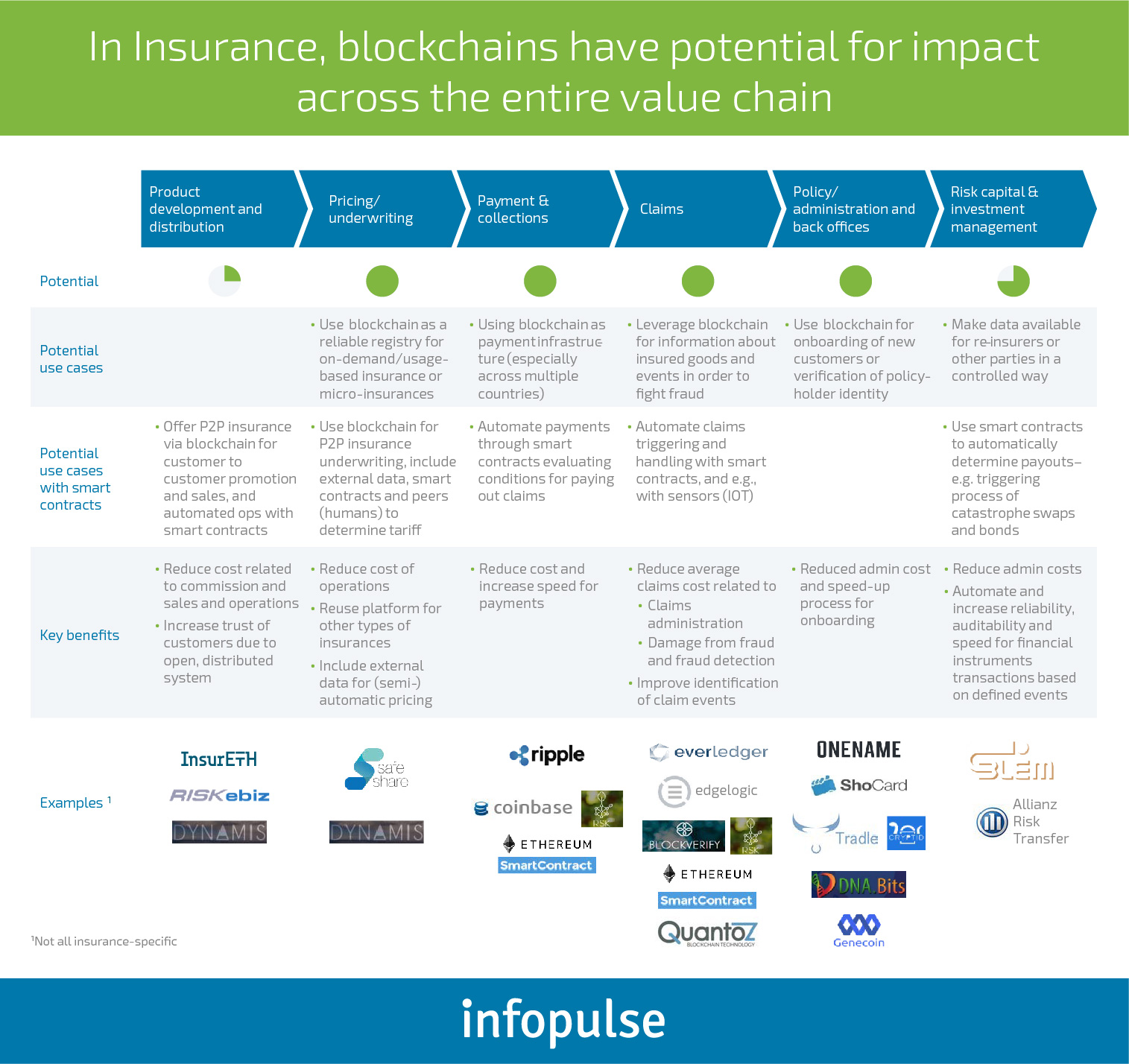 Blockchain & Life Insurance
Life insurance requires a lot of documentation before receiving a policy quote. With blockchain, the KYC process documentation may be obtained digitally from a respective body. The applicant will authorize the document exchange on blockchain and have a clear understanding of how his data is used. The effort of customers will be minimal, while the insurance companies will benefit from reduced administrative costs.
In combination with EHR systems or IoT wellness gadgets blockchain can remind the policyholders to take the required medication or schedule health checkups. In case of sudden increases in blood pressure or heart rate, the application may instantly inform the doctors. The blockchain-based applications can help insurers learn more about their clients; develop more personalized plans aimed at improving the person's lifestyle and strengthen the customer's loyalty to the insurance company.
New Blockchain Insurance Business Models
Today enterprises are creating the "insurance marketplaces" that are concentrated on matching the supply/demand sides and executing risk calculations rather than focusing on asset management. Blockchain may unify, store and record data that is needed for risk analysis used for premium calculations of the individual user. Then the investors will be invited to bid for the demanded insurance.
Parametric insurance business model are based exclusively on smart contracts. Instead of insuring pure loss, the clients would agree to pay a prearranged amount when a specific condition occurs. Therefore, if an earthquake occurs in your region, the smart contract will automatically pay 25% of the policy claim to the customer.
Blockchain can create links between two participants who live is separate countries without the need to engage a third party for small operations. Stratumn is now developing an insurance chatbot who would help the clients to indemnify valuable items. This application creates a trusted workflow based on blockchain where each participant can add certain information to the process. The information is then assembled and noted on blockchain, and it helps to ensure that each obligation is fulfilled in accordance with the contract.
Blockchain and Insurance Success Stories
Lemonade
Lemonade is a peer-to-peer insurance company that specializes in renters and property insurance. The company uses blockchain-based mechanisms to ensure swift claim processing and low fees. The platform uses smart contracts to connect a small group of policyholders who contribute their premiums into a shared claims pool. These claims are paid automatically after every term of the contract is met. If there are some funds left after the end of the policy period, users may either receive a refund or donate the funds to charity.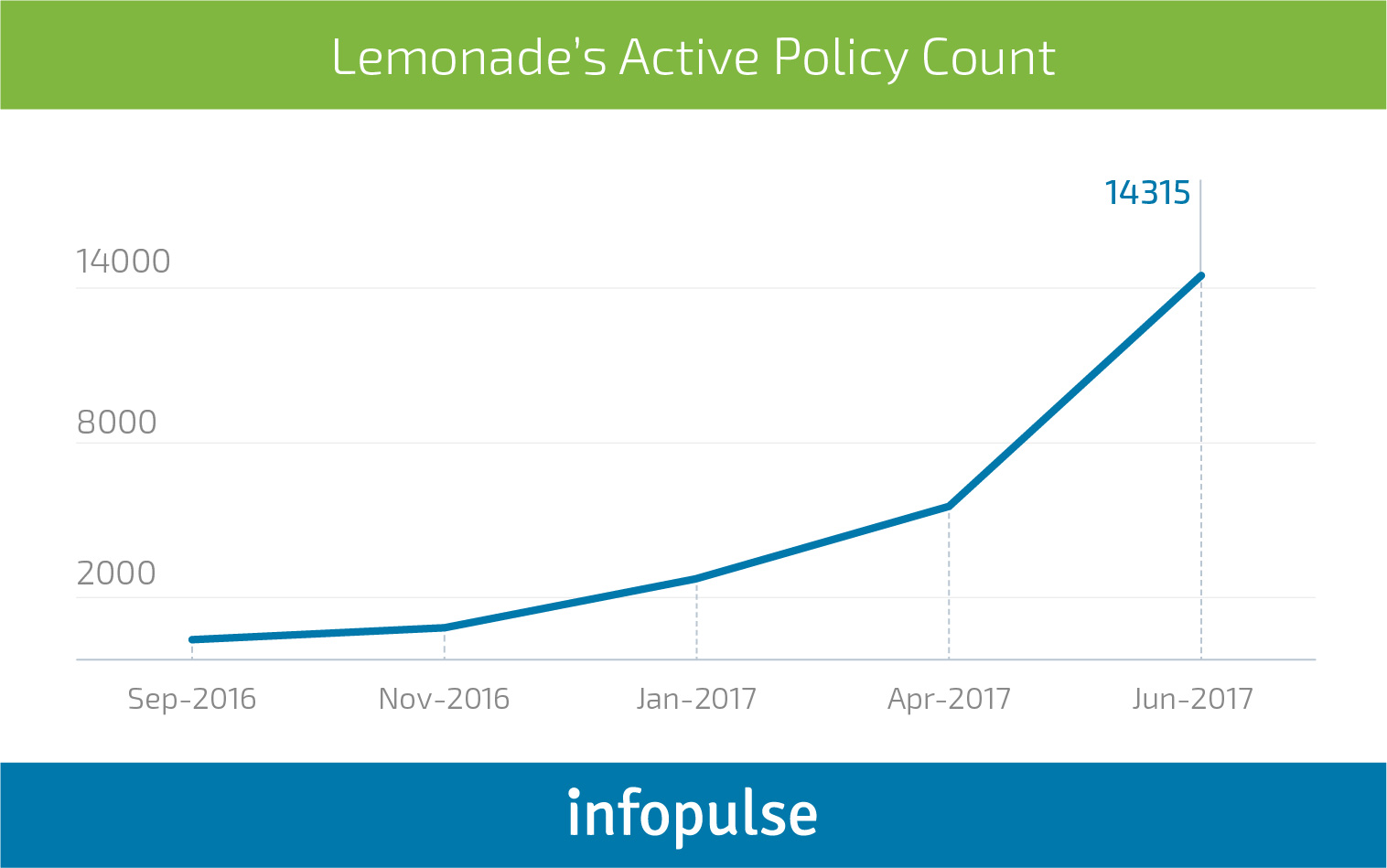 Lemonade has replaced brokers by smart algorithms that take care of the underwriting process. As a result, the processing time, paperwork and operational costs are dramatically reduced. Lemonade also uses risk intelligence algorithms that processes the gathered data about the user, make a premium calculation and subtract the margin before delivering the final price to the client. The company's AI "Jim" is a Jack-Of-All-Trades. In the shortest terms he reviews the claims, checks them with existing policies, runs 18 anti-fraud algorithms, approves or rejects the transactions and sends the information straight into the bank.
SafeShare
SafeShare is a newly developed English startup that provides insurance options for sharing economy startups. SafeShare leaped into the market and in 2016, and the British Insurance Awards nominated it as "Startup of the year". The insurance companies struggle with delivering flexible offers to those who use the sharing economy, but SafeShare has developed a blockchain-based solution to formalize the agreement between the two participants. The smart contracts are flexible and self-executing, which allows the customers to benefit from a custom product at a fair price.
The company uses timestamping, which is an open-source technology that delivers insurance services in real-time and at an affordable cost. Simultaneously, timestamping sets a clear timeline for the delivered insurance and ensures the contracts immutability. By implementing blockchain SafeShare manages to deliver flexible offers, and due to digital distribution, they keep their operational costs at a low rate.
FidentiaX
FidentiaX is a blockchain-based marketplace for tradable life insurance policies. The overwhelming majority of the policyholders do not know that their policy may be sold to an intermediary. The company plans to develop a global secure marketplace that will reduce the number of third parties involved in the trading process.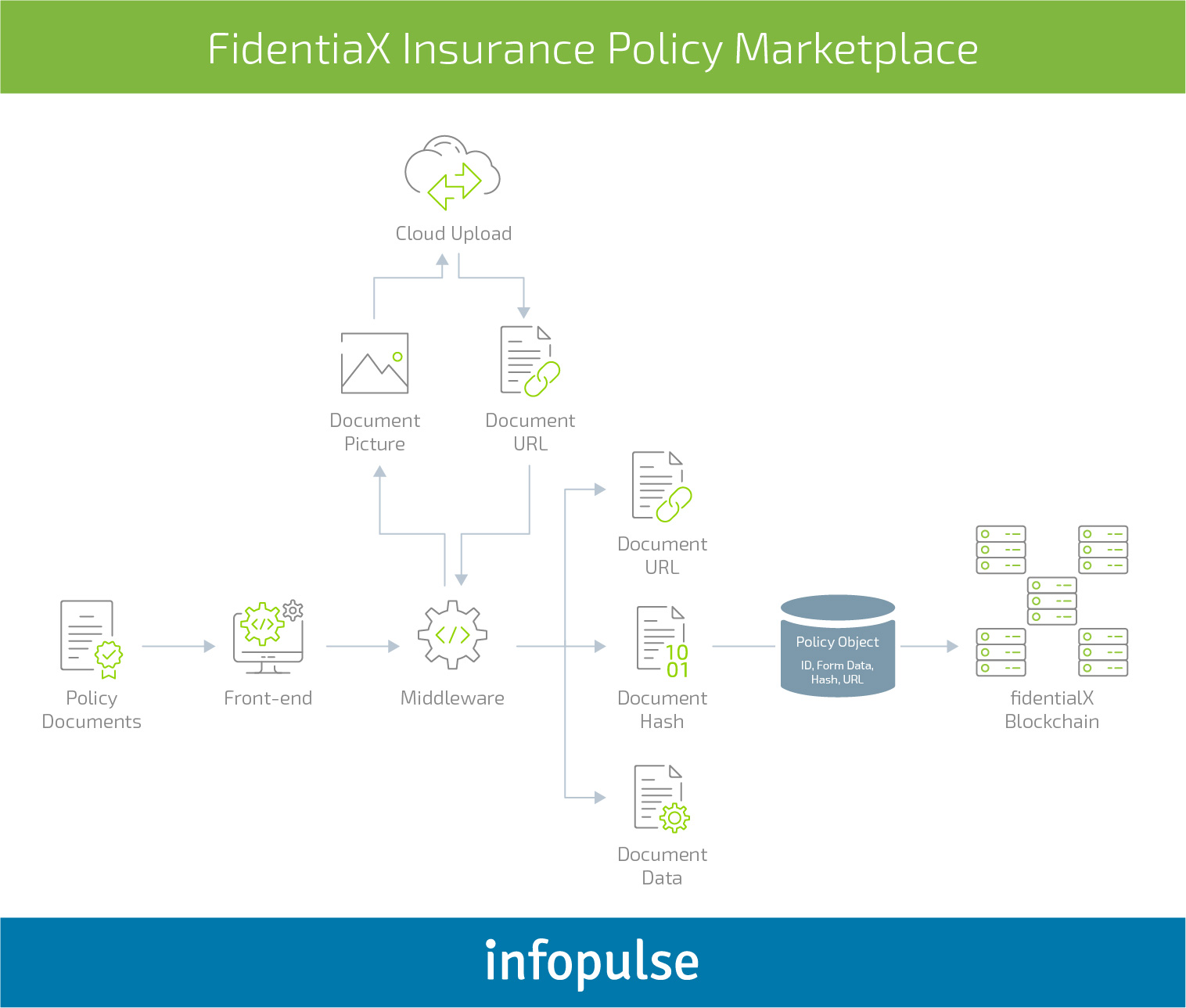 FidentiaX offers to tokenize the customer's life insurance so that it becomes a tradable financial unit, and others may buy it to expand their asset portfolio. After the due diligence, the insurance documents will be recorded and safely stored on blockchain. The company also plans to create multi-signature access to the accounts so that the beneficiaries could access them in case of unfortunate events.
With a blockchain-based system, FidentiaX excludes the need of third parties to overview the insurance process in case of a morality event. Moreover, the premium payments will be executed directly between the two parties, which will make the payments more fast and convenient.
Challenges of Blockchain Adoption in the Insurance Industry
The excitement around blockchain technologies in the insurance industry is running high. Currently, 56% of companies acknowledge the significance of leveraging Blockchain, while others do not have a clear understanding of this technology. According to Cognizant, business owners see three major obstacles when it comes to implementing blockchain, they are:
It's complicated to persuade the executives to start switching to blockchain platforms.
The adaption process is complicated due to the incomprehension of the technology.
Many entrepreneurs struggle to evaluate the cost-benefits of blockchain adoption.
One way to overcome these obstacles is to use a test trial approach. Before investing large funds into leveraging blockchain, insurance companies should run a series of pilot projects to understand in which spheres it may be implemented most efficiently.
Data privacy and security is another considerable issue when it comes to using blockchain-based platforms. The data recorded on the public chain can be assessed by anyone, and this may lead to fraud. Yet, the information in these blocks may be additionally encrypted with cutting-edge techniques such as zero-knowledge proofs or ring signatures. Moreover, permissioned blockchain networks limit the data accesses to a narrow group of selected individuals. In this case, unauthorized access is impossible, which makes blockchain a safer option in comparison with cloud storage.
Another important issue is that blockchain has some technical limitations, particularly its scalability. Extensive adoption will certainly lead to the emergence of immense amounts of data. Blockchain exists in a decentralized state, which means that all of the existing data will need to be duplicated on multiple devices. At some point in time, large amounts of data will become hard to manage.
Commercial use of blockchain will require a new verification method, as today's proof-of-stake is slow and expensive. The new protocol of verification proof-of-stake developed by Ethereum partially solves this issue, yet now it still needs a number of advancements.
Blockchain insurance regulations are somewhat controversial. While some governments take crucial steps to leverage blockchain and creating new compliance norms, still other authority entities will need to provide their final say to the matter. The insurance industry is strictly regulated, and the compliance processes will remain time-consuming because they require constant cooperation between different agencies and businesses.
Conclusion
Some insurance companies have doubts in terms of blockchain adoption. Implementing blockchain, even to a certain extent, will require to rebuild the existing legacy systems, which is a slow and expensive process. Yet, despite the challenges, blockchain adoption has an immense number of advantages that have the potential to make the insurance industry more efficient. Simplified transactions and decreased fraud rates, new cost-efficient peer-to-peer business models, and dramatically reduced administrative costs are just a few benefits of using blockchain in the insurance industry. Blockchain shows promise in optimizing the entire insurance industry and making it more convenient and profitable both for customers and for entrepreneurs.