Article
Supply Chain Management Digitization: Cloud Computing and Predictive Analytics
Originally published: July 19, 2019
Updated: December 29, 2022
7 min. read
Data & Analytics
Cloud & DevOps
Innovations
Supply chain management digitization is upon us. The main "selling point" of any digitalization, is that it enables superior data collection processes and allows breaking down the silos in the supply chain. As a result, every participant gains common access to all data sources in near real-time.
A fully integrated global supply chain, in this case, will effectively connect suppliers, manufacturing, warehousing, logistics, and customers into a single "pool," governed through a centralized cloud-based command center.
Such a state of integration comes with several hard-to-beat benefits:
Instant visibility into issues originating anywhere in the network and affecting supply or demand;
Improved responsiveness to any change in supply/demand;
Effective cross-organization collaboration on strategic, tactical, and operational levels;
Enhanced "day-to-day" planning and "what if" scenario modeling using predictive and prescriptive analytics.
But before you can realize those benefits, you will need to build a strong base for your integration. That means migrating your legacy infrastructure to cloud platforms.
How Cloud Computing is Reinventing Supply Chain Management
Shortening product and service life cycles are driving businesses across industries away from infrastructure-intensive supply chains towards cloud-based supply chain solutions. Migration to the cloud can majorly accelerate speed-to-market, enable the creation of new business models and open up access to new markets.
Yet the biggest appeal of cloud technology is that it enables seamless interoperability, breaking up the existing digital communication boundaries between different platforms and applications within your ecosystem. Thus, if your end goal is to build a fully digital, integrated supply chain, cloud migration is the first step towards reaching it.
Beyond improving integration, cloud computing also enables a host of other benefits spanning across four dimensions.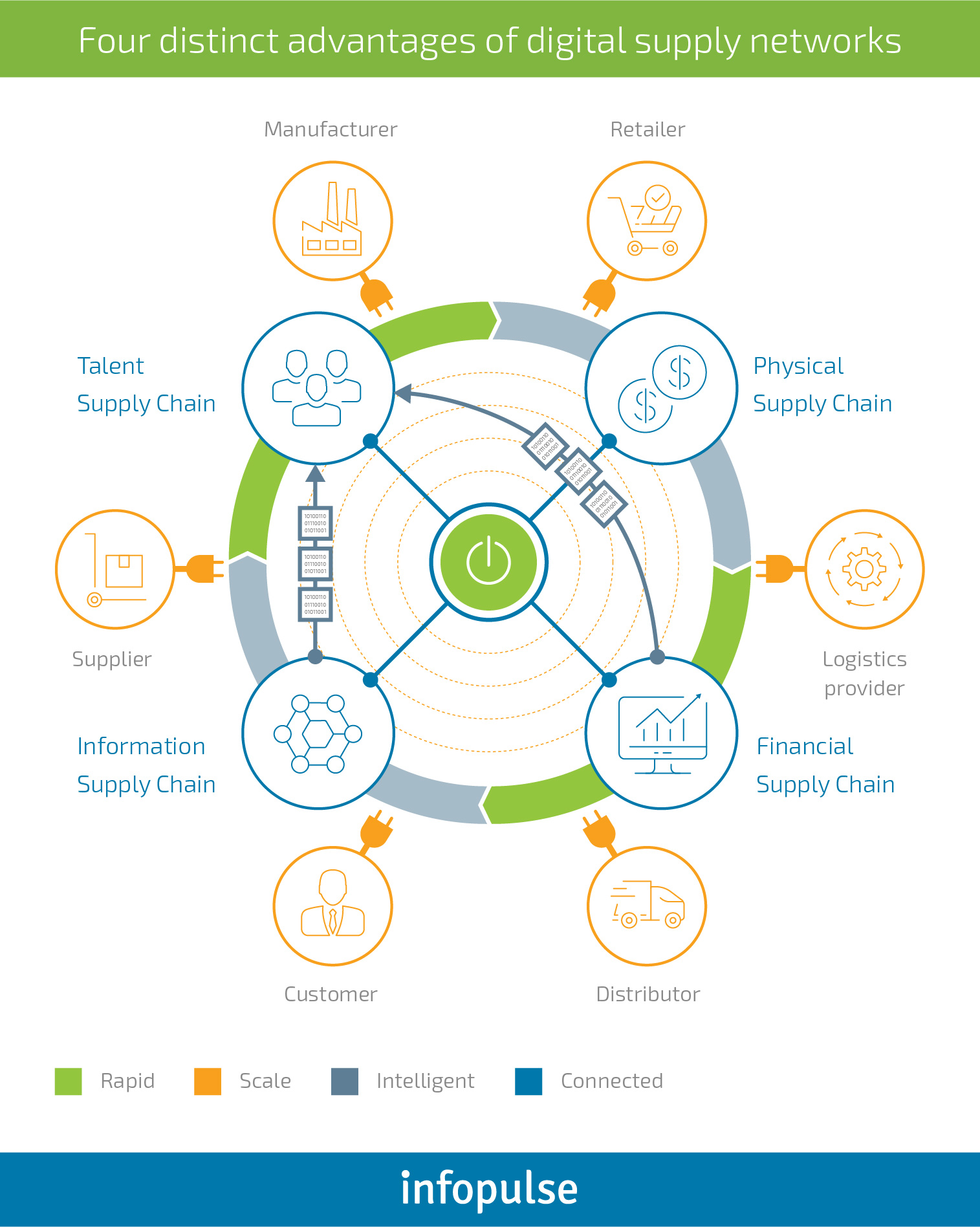 Enhanced connectivity: Cloud-based supply chains provide better visibility into all processes and enable supply chain managers to influence those in real-time. Specifically, supply chains become more dynamic and enable seamless collaboration between all entities.
Connectivity also provides major IT infrastructure advantages such as dynamic resource provisioning, improved server utilization, higher SLAs and reduced TOCs.
Improved intelligence: Once all the elements of the supply chain are "linked together", advanced analytics can be deployed to supply decision-makers with better insights, at the right time.
For instance, predictive analytics in demand planning will allow processing vast data sets with the help of advanced statistical algorithms and machine learning techniques to predict the likelihood of a future outcome. Such systems can parse hundreds of thousands of variables gathered from both internal and external sources (e.g., weather reports, sensor data from logistics vehicle, sentiment analysis from social media) to come up with accurate scenarios and actionable insights you can use to derive an accurate demand plan.
Rapid scalability: Hosting your supply chain in the cloud means that you can seamlessly "plug in" different suppliers and partners on an as-needed basis to adapt your operations. Furthermore, the provisions of computing resources can be adjusted in near real-time to account for the volatility of market conditions and customer demands. The digital supply chain can be easily reconfigured to meet your changing needs.
Break-neck speed: cloud computing enables faster planning and execution capabilities, supported by in-memory computing and advanced Big Data analytics solutions. As a result, you can accelerate time-to-market, improve your responsiveness to market conditions and rapidly shift resources within the company to where they are needed most. As well, you can scale up and down your cloud computing infrastructure at a fast speed to meet various business demands.
What Supply Chain Processes are Best Suited for the Cloud?
Sourcing & Procurement: SaaS tools are more collaborative and accessible in their nature, creating a cutting-edge advantage for companies who deal with thousands of suppliers. Digitizing the procurement process can help you dramatically improve contract management lifecycles, invoice payments and other data-heavy processes, requiring inputs from more than one party.
Logistics: Inventory management, asset and fleet management, warehousing, replenishment planning, order processing, global trade compliance are just several functions that could be effectively cloudified.
Manufacturing: All the manufacturing management processes in the Industry 4.0. will fully reside in the cloud.
Planning and Forecasting: As few traditional ERP systems come with these capabilities, SaaS tools are emerging to address the need for better planning and forecasting. Predictive analytics, in particular, is a strong contender for these needs.
The Role of Predictive Analytics in Supply Chain Management
Since 2017, the number of supply chain managers, who say that they are now using predictive analytics, has increased by 76%. In 2019, 30% of industry leaders are already using this technology to improve their decision-making capabilities.
What's even more important is that 90% of companies say that predictive analytics is one of the most important technologies that will have an impact on the supply chain in the next 10 years.
Predictive analytics allows businesses to transform all the scattered knowledge siloed in the systems into mathematical models, suggesting further best actions. By leveraging various tools and techniques such as machine learning, data mining and modeling, predictive analytics tools can transform the data you have into actionable business intel. Apart from operationalizing internal data, such systems can also take into account external data points (e.g., currency rates fluctuations, changes in weather conditions impacting delivery etc.) to make your forecasts even more accurate.
Thus, predictive analytics can be effectively applied to a number of supply chain planning and management processes such as:
Dynamic demand analytics
Finished inventory optimization
Replenishment planning analytics
Transportation analytics and fleet + asset management
Procurement analytics
Network planning and optimization
Production and sourcing optimizations
Predictive-pricing and more.
Below are several quick case studies demonstrating the benefits of predictive analytics in supply chain management.
Inventory Optimization: Qantas, an Australian airline, has recently rolled out a new real-time supply chain inventory and parts forecasting system. The company was going through a rough patch and was desperate to find a way to increase its profit margins, while also cutting operational costs by at least $2 billion. In the search for savings, the company discovered that its spare parts supply chain, spanning over 70 locations, was plagued with costly inefficiency. Obtaining real-time visibility into those operations and improving inventory forecasts could save them up to 30% in costs – a ballpark goal they had set.
Within their new system, they wanted to improve aircraft dispatch reliability and parts availability, as well as reduce the total cost of ownership. Gaining access to highly accurate inventory forecasts was critical to meeting these goals.
The newly implemented predictive system has given Quantas team just that. Apart from creating highly detailed forecasts, the new system can also create product configurations, model probabilistic maintenance bills of materials, and rebalance materials across the company's maintenance sites to reduce costs and enhance parts availability. One year post-adoption, the company has witnessed the best financial performance in its 95-year history.
Demand Forecasting: Products in fashion retail tend to come with short shelf lives. One Fortune 500 UK-Based fashion retailer was struggling to accurately estimate the demand for their products online and devise proper replenishments. As a result, they experienced some major financial losses, especially during sales seasons.
Specifically, the company had two major needs:
A better ability to accurately forecast seasonal demand (planned 9 months in advance) at product level
A new way of estimating order quantities during the first three weeks of each season.
What made things more complicated is that most of the fast fashion products the company sold had no previous sales trend data. Thus, more advanced modelling tools were needed to accurately gauge the demand. After implementing the new analytical process, the retailer realized the following benefits:
An 8% improvement in product availability during the sales season resulting in a £1 million increase in annual revenue.
Improved collaboration between different teams responsible for the replenishment, trading, merchandising and operations development.
Conclusions
Cloud computing is the first step towards digitizing your supply chain. It's a firm base that will help you enable better collaboration and end-to-end visibility across all the processes. Once you lay it as a foundation, you can move on to adopt more advanced solutions, such as predictive and prescriptive analytics, IoT and robotics, to further enhance the effectiveness of your chain.
Infopulse team has significant experience in cloud migration, and have already helped several industry leaders in manufacturing, automotive and telecom transform their legacy systems. Schedule a free consulting session with one of our specialists today!