Article
Top 4 Integrations for Enterprise-Grade E-Commerce Platforms
Originally published: September 03, 2020
Updated: January 31, 2023
7 min. read
Cloud & DevOps
Innovations
Business Applications
Digital Experience
Shifting customer preferences and the global pandemic have majorly accelerated e-commerce transaction volumes. In March 2020, e-commerce sales grew across most retail sectors
by 74%
, compared to March 2019. What's more important though is that the newly found consumer affinity towards online shopping remains strong even post-reopenings in Europe, the UK, Asian markets, and the US.
Shopping at brick-and-mortar locations has dropped by 28.3% after the stores opened their doors once again, while online shopping keeps growing. With such a state of affairs, most retailers are forced to play catch-up and scale their operations to meet the surge in demand for digital commerce.
However, instead of entering this digital battle alone, most companies have chosen to consolidate forces and extend their e-commerce presence via integrations, partnerships, and marketplace deals with other players. Walmart, for instance, decided to launch an Amazon-style marketplace via Shopify e-commerce website integration and onboard external suppliers to meet the new levels of customer demands. As of June 2020, they already have over 1 million small businesses transacting under their brand.
BCG indicates that in the 2020s, the inner competition will move onto the new quality level — instead of competing with monoline offerings, companies will attempt to capture a larger market share by accelerating cross-industry collaborations on the ecosystem level. That is consolidating forces and aligning operations with businesses from the same or other industries. According to BCG estimates, 83% of current successful ecosystems already involve partners from more than three industries, and 53% from more than five. For instance, to scale their operations, an e-commerce company may build tighter integrations with two different logistics providers, a payment gateway service, an ERP provider, and a company providing predictive analytics solutions for analyzing the voice of customer data.
For e-commerce companies wishing to master this new logic of competition (and benefit from the growth levels it can generate), we've lined up four groups of advanced e-commerce integrations and platform extensions that are worth implementing during the transition from offline to online commerce.
Top 4 Groups of Integrations for Advanced E-commerce Solutions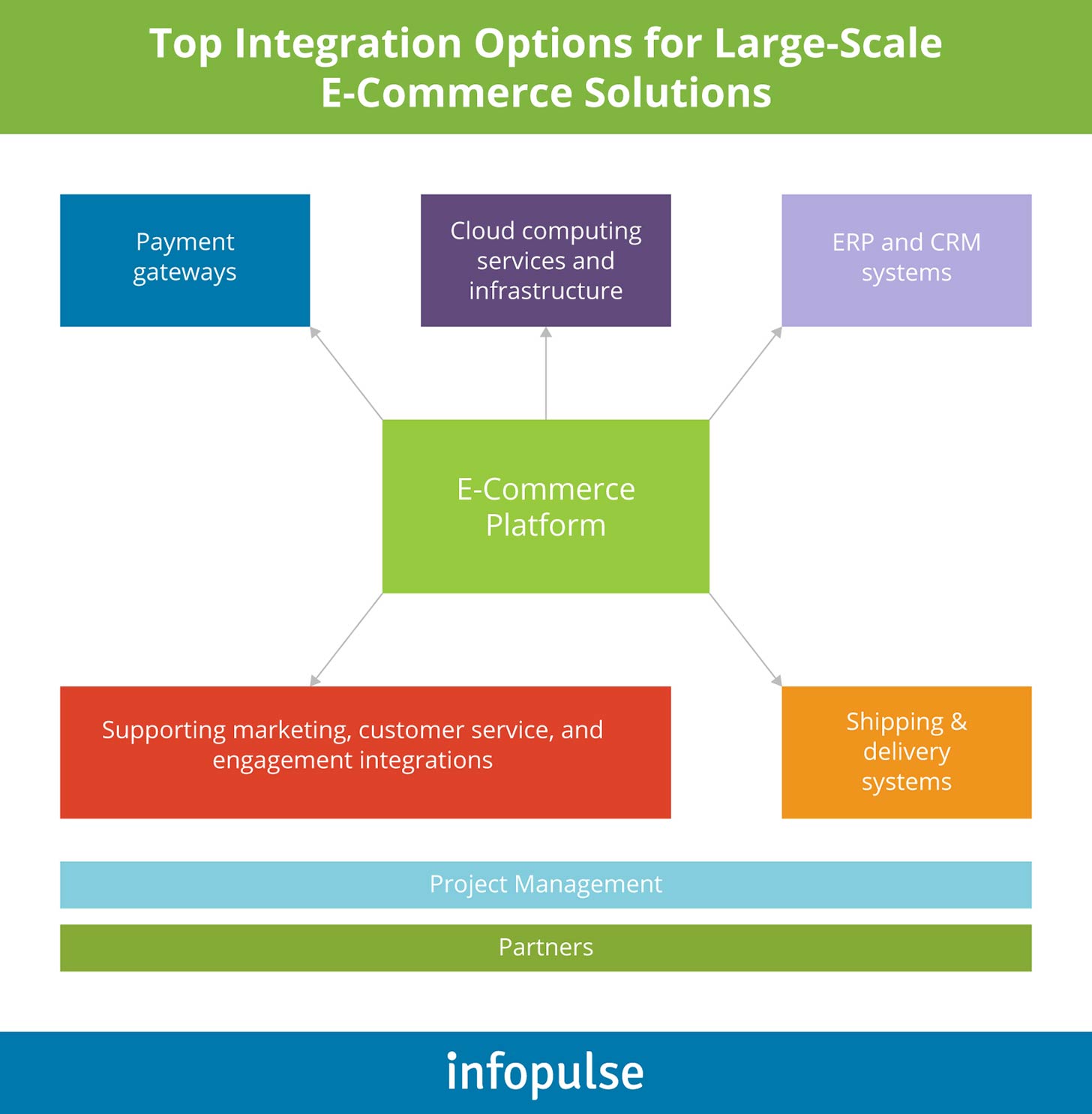 Your e-commerce website should act as an enabler for increasing sales volumes and profits, not merely represent an emulation of the physical shopping experience.
That's why the best e-commerce websites, on a technical level, operate as a tightly-intercoupled ecosystem of additional applications, extensions, and data exchange layers that together constitute a brand new quality level of online customer experience.
Stellar customer service levels can be achieved by establishing a cooperative effort between:
Your e-commerce platform;
Payment gateways;
Cloud computing services and infrastructure;
ERP and CRM systems;
Shipping and delivery systems;
Supporting marketing, customer service, and engagement integrations.
Together, these blocks help enable seamless information availability, high data accuracy, undisrupted service levels, and effective customer after-service. Let's take a closer look at the most integral components.
1. Cloud Services
The transformational benefits of cloud technologies are rather well-known by now – instant scalability, rapid elasticity, broad network access, and rapid resource pooling. For larger e-commerce platforms, being in the cloud is synonymous with having undisrupted operations, especially during busy seasons when every minor glitch translates into significant profit losses. Gremlin runs a real-time dashboard that estimates how much revenue large e-commerce platforms can lose per minute of unplanned downtime:
Amazon – $220,000+
Walmart – $40,000+
HomeDepot.com – $14,000+
Properly configured cloud architecture is essential to ensure that all elements of your microservices architecture, powering integrations with payment processors, fulfillment centers, and so on, can accommodate increased traffic load. Our cloud computing experts would be delighted to further advise you on this matter.
2. CRM and ERP Integrations
CRM and ERP are the two main 'bricks' operationalizing all the customers' 'clicks'. Ensuring that your digital storefront directly feeds data to your CRM platform is essential for delivering stellar customer experience and personalized marketing offers. CRM data is also a goldmine for advanced predictive analytics solutions such as:
Product recommendation engines;
Cross-sales/up-sells offers;
Personalized email marketing campaigns;
Demand forecasting;
Customer Lifetime Value management.
ERP systems, on the other hand, are the key to ensuring streamlined customer-centered supply chain management, augmented by real-time market data. Considering that most retailers now operate in the omnichannel environment, ensuring real-time connectivity between your e-commerce operations, brick and mortar locations, and ERP system is also integral for accurate accounting, financial reporting, and compliance.
Infopulse recently helped an e-commerce platform with integrating SAP ERP in their operations. Post-roll-out, the company majorly improved its operational efficiency by automating reporting processes, tax planning, and compliance. Get more details from the full case study.
3. AR and VR solutions
AR and VR technologies have moved up the ranks of disruptive technologies in retail during COVID-19. At current levels of maturity, both technologies can be effectively scaled to closely mimic the in-store experience for consumers. The general public, in fact, already has a positive feeling about the prospects of AR in retail:
Vertebrae, a Facebook AR partner, catering to brands such as Toyota, Adidas, and Coach among others, also noted that during COVID-19, customer engagement with AR solutions increased by 20% and the conversion rates for AR-active consumers grew by 90%, compared to those who didn't engage with AR.
With VR, matters are a bit more complicated since consumer gear remains quite expensive and the price factor slows down the adoption. Some VR hardware manufacturers also experienced supply chain disruptions due to the pandemic and had to slow down their production. Considering these factors, most retailers are acting cautiously when it comes to VR adoption in the current market climate. However, the industry analysts remain certain that the augmented reality market can still reach $65 billion in revenue by 2024.
To some extent, these growth figures will be driven by retailers who have the capacity to take on moonshot projects and experiment with the following AR/VR extensions in their e-commerce operations:
Photorealistic 3D assets creation;
AR/VR product demonstrations;
AR-powered clothes/products try-ons;
Fully virtual mobile shopping experience;
Virtual product demos.
4. Cognitive Services and Chatbots
AI adoption in retail remains strong despite the uncertain business climate, especially when it comes to customer-facing solutions such as chatbots. Intelligent conversational assistants have already proven their viability across several scenarios:
Customer service – intelligent assistants can help resolve customer queries faster and independently manage 68.9% of chats from start to finish. The increase in speed and efficiency of resolution by chatbots is estimated to drive up to 30% in operational savings for businesses.
Conversational commerce – mobile-based conversational assistants are estimated to drive up to 4 times higher sales conversations, compared to traditional sales channels. Furthermore, AI-powered chatbots enhance customer experience through personalized deals, product recommendations, upsells/cross-sells that further ramp up the average customer lifetime value.
You can learn more about the growing impact of conversational AI solutions on business operations from our previous post.
How to Choose the Optimal Set of E-Commerce Integrations
E-commerce integrations and extensions come in three common types:
Custom-built: One-off, API-based integrations that are custom developed to link your system with an external service.
Middleware: An operational hub that leverages pre-built connectors to establish an e-integration with your endpoint systems.
Add-on (off-the-shelve) components: Pre-made SaaS solutions (apps, extensions, etc.) that provide a point-to-point integration with another system.
The most popular e-commerce platforms typically provide access to marketplaces with an array of pre-made integrations, extensions, and occasionally middleware solutions:
The advantages of using pre-made e-commerce integrations over custom-ones are faster time-to-market, in-built security, and on-demand scalability. The con is that the e-commerce platform you are using may not support or have certain integrations you need. That is when custom development makes the most sense.
On the other hand, e-commerce platforms, such as Optimizely, support both standard implementation scenarios for integrations – i.e. you can use the in-built Optimizely features for e-commerce functionality to link external systems – and customized integration scenarios where you can create fully custom solutions.
For instance, when using Optimizely e-commerce platfrom, you can leverage standard add-ons and e-commerce connectors for the following types of CRM/ERP/PIM implementations:
Consider the CRM/ERP system integrations require deep system knowledge, along with a comprehensive understanding of all the requirements for data flows.
When you choose to host your operations on an e-commerce platform that includes an array of pre-made connectors, you can majorly reduce the total development costs. That's why we always recommend our clients to assess all vendors from the perspective of e-commerce integration opportunities as well.
To Conclude
As e-commerce competition tightens and moves on to the ecosystem level, retailers should become more intentional with their technological choices. Installing basic (and affordable) app integrations is not always enough to gain the business functionality you need for operational excellence. What's more, interim integrations can end up being more expensive to replace in the long run as your systems will need to be reconfigured once again to accommodate a better solution.
That's why Infopulse always advises our clients to select and configure a strong e-commerce platform first – one that can be right-sized to their current level of operations and seamlessly scaled to accommodate future growth with the help of additional e-commerce extensions and third-party integrations.
Learn more about how Optimizely can help you create a better e-commerce experience for your partners. Or contact one of our e-commerce consultants directly to advise you on alternative e-commerce solutions that best match your current needs and can be adapted to your future growth targets!