Article
Top 5 Reasons Why Enterprise Ecommerce Businesses Need MACH Architecture
Originally published: November 18, 2020
Updated: September 26, 2023
8 min. read
Innovations
Digital Experience
The retail sector experienced a breadth of change in 2020 with leaders and laggers largely determined by technology stacks. Cloud-first companies experienced lower impacts of the crisis on their bottom lines. In fact, for some, 2020 even resulted in profitability growth.
What's certain is that in the new decade enterprise retailers, especially with omnichannel presence, can no longer compete based on old strategies and business models. As Gartner states in 2021 "anywhere operations model" will be essential for businesses to cope with the consequences of COVID-19. For retailers, that translates to two needs:
Introduce digital enhancements of physical stores and improve their connectivity with the HQ.
Double the efforts allocated towards a fully digital commerce experience.
To achieve that, most will need to seek new tech approaches to running their commerce operations. MACH has recently appeared as one of the strongest contenders.
What is MACH Architecture?
MACH stands for Microservices, API, Cloud, and Headless. The term was first coined in a speech by commercetools — a German startup that launched a serverless e-commerce platform offering, distributed as a set of APIs.
The ideas behind MACH are not novel per se. Serverless architecture is an already established technical framework for modernizing legacy architecture.
The core idea behind it is to decouple rigid platforms into a set of self-contained microservices, managed as standalone products and consumable via APIs, both by internal and external business applications.
The MACH movement took that idea further and spun it towards retail. With e-commerce and omnichannel commerce business models on the rise, many enterprise-level businesses started to outgrow traditional SaaS and PaaS offerings. At the same time, the competition from cloud-native retail businesses increased as their tech agility gave them an advantage in terms of product development speed, customer experience delivery, and multi-channel sales capabilities. In that sense, MACH architecture came to the fore as an alternative to fully custom e-commerce builds.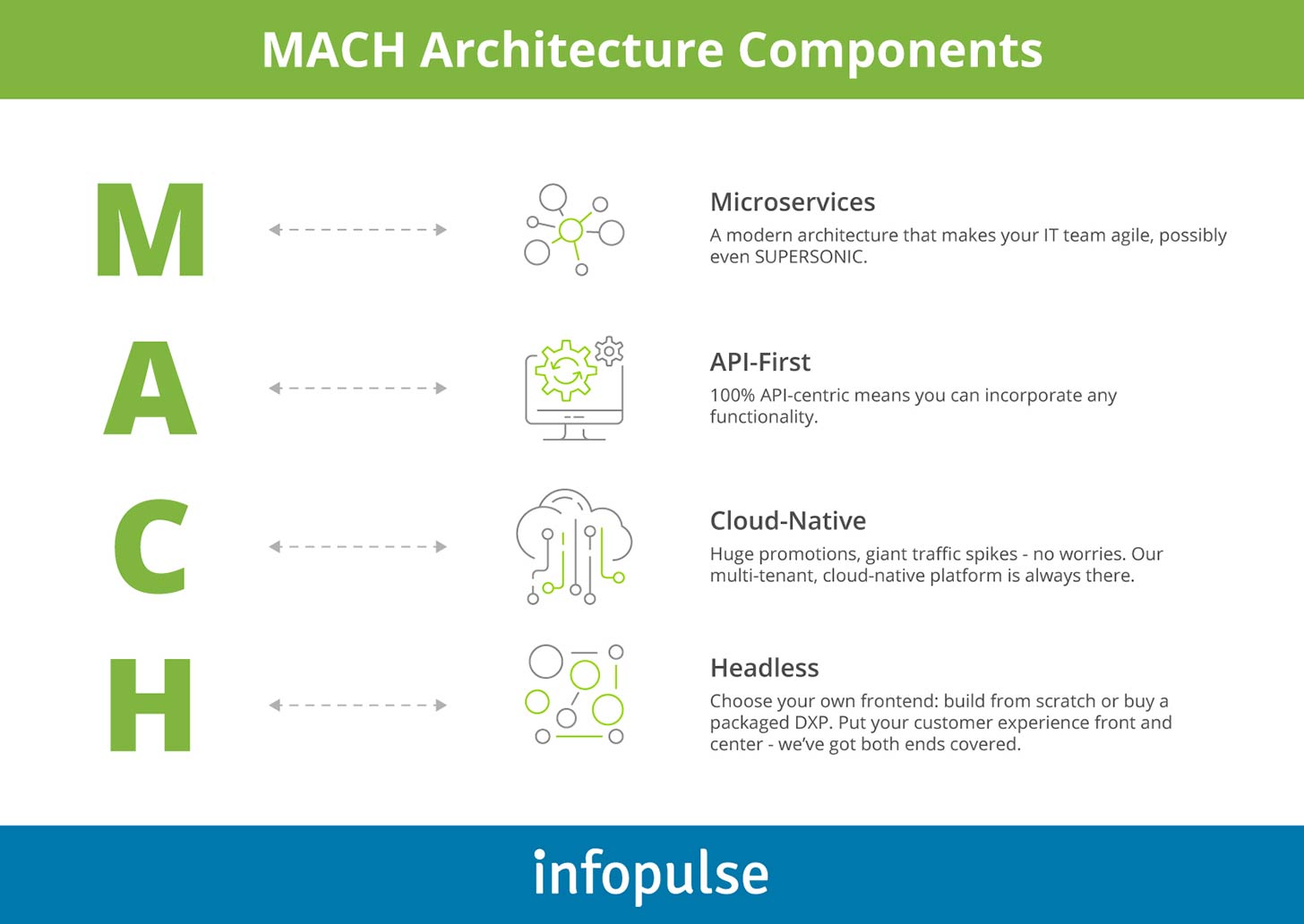 As MACH Alliance — a group of tech-led companies, jointly working on establishing the new technical framework for digital commerce — describes:
"MACH technologies support a composable enterprise in which every component is pluggable, scalable, replaceable, and can be continuously improved through agile development to meet evolving business requirements".
By placing MACH architecture in the core of their operations, global retailers can gain the agility of smaller tech competitors, without the need to invest in Amazon-grade technical infrastructure in-house or getting locked-in with a single e-commerce vendor.
Instead, they can:
"Rent" the necessary set of core commerce features, packaged as Microservices, from MACH solutions providers;
Connect extra integrations with other business systems such as ERP, CRM, WMS, and others via APIs;
Host all their e-commerce infrastructure in a scalable (multi-) Cloud environment to save on data center costs and minimize global latency;
Go Headless and connect different presentation layers to their buildable commerce core to deliver an array of innovative customer experiences across different channels.
Why Enterprises Should Consider MACH
The main selling point of MACH is the ability to assemble the best-in-class technical backbone for running retail operations without the need for regular re-platforming. As Giles Smith, Burberry's Director of Digital Technology, noted:
"Part of the reason we went for this architectural pattern is that we don't want to ever go through a major re-platforming again. If a few years down the line, something emerges that is far and above what we have, we want to be able to adopt it without the barriers of the past."
While the abilities to stave off technical debt, break away from technology lock-in, and gain unbeatable business flexibility are the main attractors, enterprise retail brands also gain several other staunch benefits as they embrace MACH.
1. Deliver Top-Grade Customer Experience, Across Channels and Markets
With retail moving from offline to online, CX, especially in the digital space, has become a core competitive differentiator for brands.
Market trendsetters such as Amazon have already set a high bar in terms of customer expectations regarding online shopping experience, payments, and delivery. Most consumers now transpose the same requirements towards all other e-tailers:
56% of consumers say that they won't shop again with a business after a subpar delivery experience.
75% of shoppers identify returns as the most inconvenient part of buying online.
55% of customers are willing to pay up to 20% more for simple experiences with retailers.
Companies that capitalize on the opportunity to deliver hassle-free, predictive, and delightful online shopping experiences see solid returns on their investment. Thanks to a recent investment in digital customer experience, Kroger improved its e-commerce sales by 58% in FY 2018, while their in-store sales growth was just 1.8%.
During and after the challenging months of lockdowns, CX retail leaders also experienced a faster route to recovery: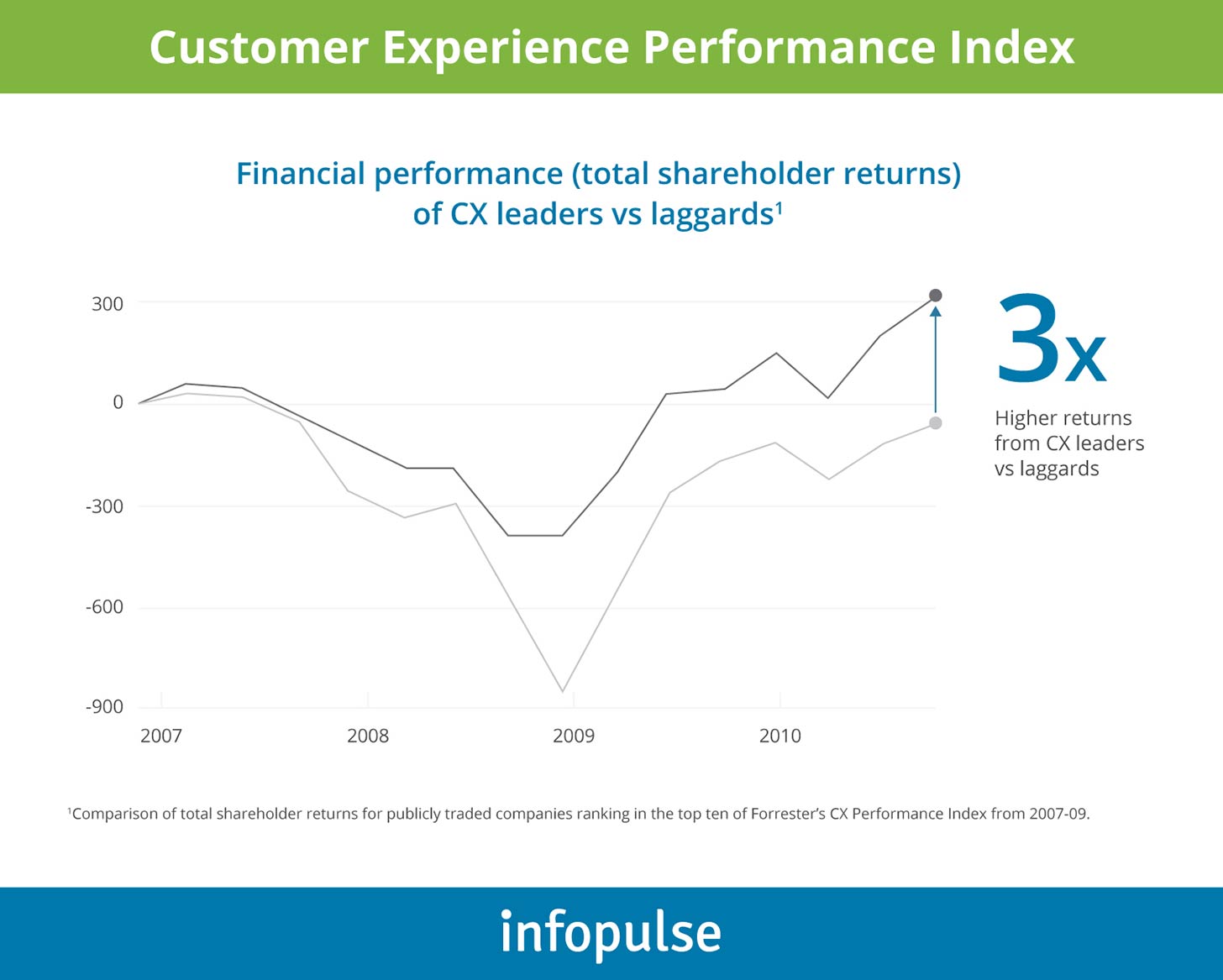 MACH architecture helps brands create a modern online commerce experience that consumers demand and extend it across different channels and even markets.
With the ability to choose any architecture, language, or off-the-shelf digital experience platform (DXP), SaaS, or open-source platforms, enterprises can stitch together a unique customer experience, aligned with their set of customer journeys and typical purchase cycles.
2. Minimize Operational Risks
Vendor lock-ins are not just taxing technology-wise when the select platform can no longer meet your needs. They also increase the scope of operational risks and disruptions if they fail to deliver on the SLAs, or worse — go out of business. In 2019, Volusion, a popular ecommerce platform, filed for bankruptcy after experiencing a major data breach. This forced many of their customers to orchestrate rapid migration to alternative e-commerce platforms, on top of doing emergency damage control and compliance investigations.
By opting for MACH, your company can diversify operational risks across the following factors:
Minimize the risks of unfavorable vendor lock-ins, both cost- and feature-wise.
Improve business continuity by setting up alternative sites and global back-ups for key services.
Minimize the impact of potential breaches by gaining the ability to rapidly 'cut the API cord' with a compromised service.
So instead of running a rigid core, potentially doubling as a central point of failure, your company can assemble a winning portfolio of commerce applications, pluggable and replaceable at a high speed, with minimal disruptions.
3. Increase Time-to-Market for New Digital Offerings
If there is one takeaway for retailers from the global pandemic, it would be this: companies that could bring new digital business models and products to the market ended up in the winning pack.
By design, MACH is a speed-oriented architecture, especially in comparison to monolith systems. Microservices architecture assumes that every 'service' is developed, managed, and packaged as an individual product, often built with re-usable API components and thus 'pluggable' to an array of other offerings.
Such a modular, cloud-based setup significantly increases the ability to bring new retail experiences to the market. According to Mulesoft 2020 API Connectivity Report, 46% of teams using API-led integrations gained greater agility through self-service IT.
Case in point: ASICS, a sports retailer, planned to launch a series of companion apps for marathon runners, to increase brand awareness across markets. To accomplish that, they connected Contentful — a headless CMS platform, partnering with commercetool — to their commerce core to automate content duplication in all markets. As a result, their development team could launch new apps 2-3X times faster by using repeatable architecture patterns and content models.
4. Launch Innovative Retail Experiences
With the current state of tech progress, any interface can be turned into an online storefront. Conversational commerce, voice payments, in-car commerce, smart vending machines, and unattended retail are among the emerging multi-million pockets of growth that market leaders actively explore.
Being present via channels that your customers prefer is particularly important in the current landscape as 28% more shoppers now prioritize cross-channel shopping, switching between shoppable social media posts and chatbot recommendations, mobile purchases, and buy-online-pay-in-store (BOPIS) channels.
MACH architecture is the gateway to connecting emerging technologies in retail with existing systems to deliver embedded commerce experiences. Apart from enabling fast time-to-market for new customer touchpoints, MACH can help standardize data, content, and overall logic flows across all channels (including in-store experiences) to achieve consistent on-brand CX.
For example, you can connect Optimizely digital experience platform via an API to deliver AI-driven personalization online and, at the same time, ensure that all the online content, product data, and customer behavior insights are shared with your existing infrastructure. Learn more about Optimizely for ecommerce development.
5. Improve Infrastructure Scalability
A minute of infrastructure downtime costs enterprise retailers over seven figures on average. High uptime becomes even more critical with the increased volume of ecommerce sales, projected to grow by 25% to 35% during the 2020-2021 holiday season.
Traditionally, to accommodate such spikes in demand, enterprise brands had to rapidly commission extra on-premises hardware or seek rapid scalability through public clouds — a choice that could end up being costly without proper planning and additional cost optimization.
The "Cloud" in MACH promotes greater reliance on diverse deployment scenarios for ecommerce platforms — on-premises, in public, private, and hybrid cloud environments — for brands to be able to achieve rapid auto-scaling and geo-redundancy for customer-facing applications while keeping sensitive and archival data within more secure and affordable storages.
To Conclude
In less than 3 months, the global retail sector made the equivalent of 10-year progress in terms of consumer and business digital penetration. However, the tide of digital commerce is far from passing. On the contrary, the share of consumers, preferring fully digital shopping experiences is growing. New consumer touchpoints come to the fore with the commoditization of once-novel experiences such as AR, voice virtual assistance, or smart vending kiosks. Retailers must keep up with the pace of change and MACH architecture provides a sustainable path to staged digital transformations.
Innovate your retail operations with Infopulse. Our team would be happy to advise you on how to combine cloud, API, and microservices technologies with best-in-class headless ecommerce solutions. Contact us!