Cloud
|
Written by Oleksii Masharov
Reading time: 8 minutes
These days cloud technology is one of the leading and vital technologies for supporting business operations, flexibility, and scalability.
When COVID-19 escalated, the majority of businesses with legacy IT infrastructure and core systems were cornered and unprepared to ensure an efficient remote work mode for their employees, resulting in massive shutdowns. For them, IT infrastructure modernization with cloud SaaS, IaaS, and PaaS solutions has become mission-critical, enabling online collaboration and business continuity. At the same time, those companies that already had a cloud strategy in place were able to respond to the looming crisis.
The New Strategic Role of Cloud Services
As per IDC, &nbsp plan an aggressive transition to the cloud as part of their long-term IT strategy. Only this fact demonstrates the pivotal role of cloud services that drive the development of new business models cross-industry.
The COVID-19 outburst and its implications have bolstered the cloud value and thus, redirected the focus of many businesses to the following areas for improvement: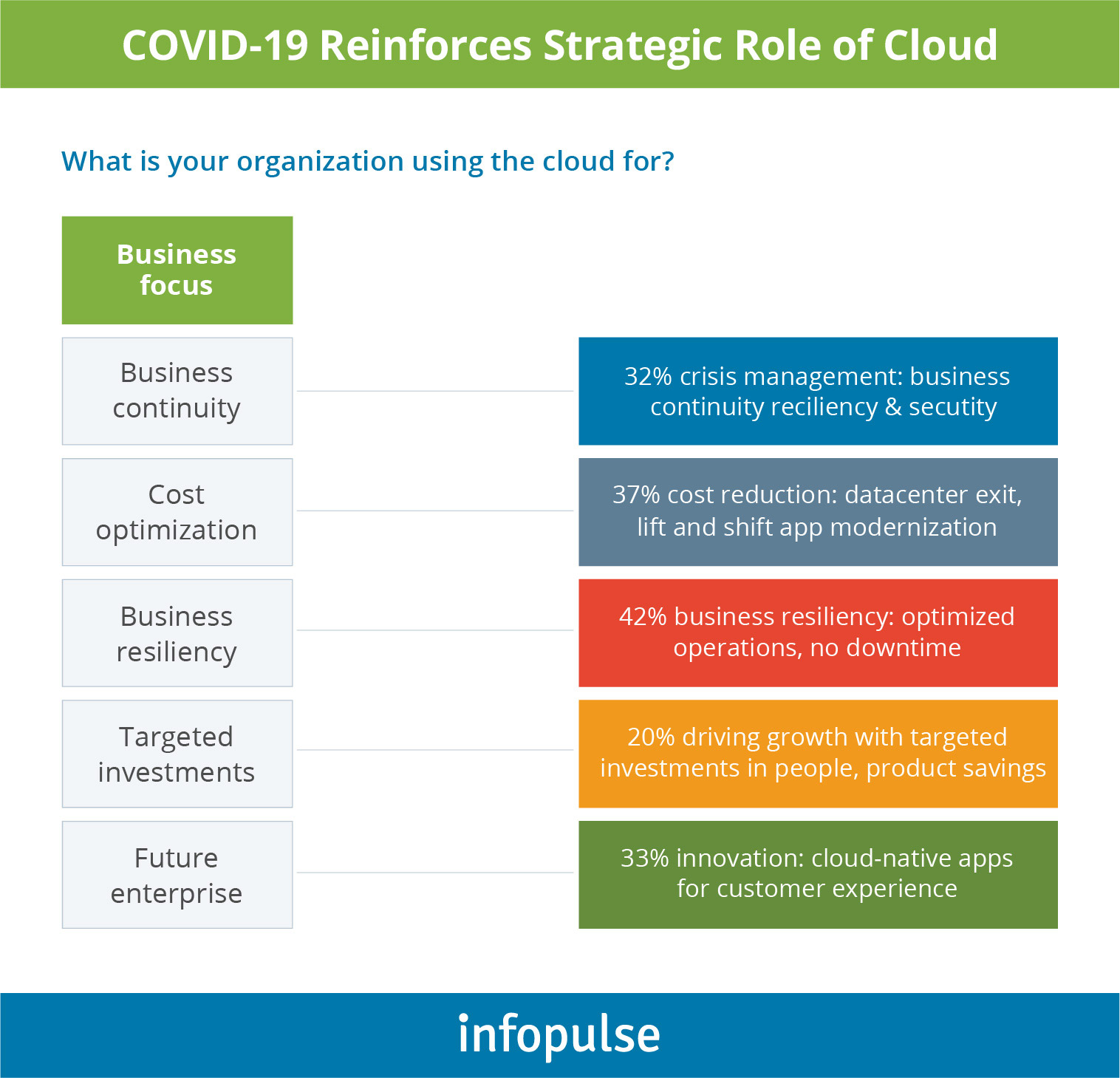 &nbsp
Data management in the cloud

to ensure business continuity and data-driven decision making.

Cloud-based backup and recovery

to enable business resilience, optimized operations, and zero downtime

Security in the cloud

. According to the IDC research, 33% of companies will move more applications to the cloud to ensure their higher security and availability.
36% of critical business applications will be migrated to the private cloud and 23% to the public cloud for their

modernization and costs optimization

.

Replacing monolithic enterprise applications

with SaaS-based solutions (25%) or re-architecting and refactoring such apps with PaaS (21%), or IaaS (18%) solutions.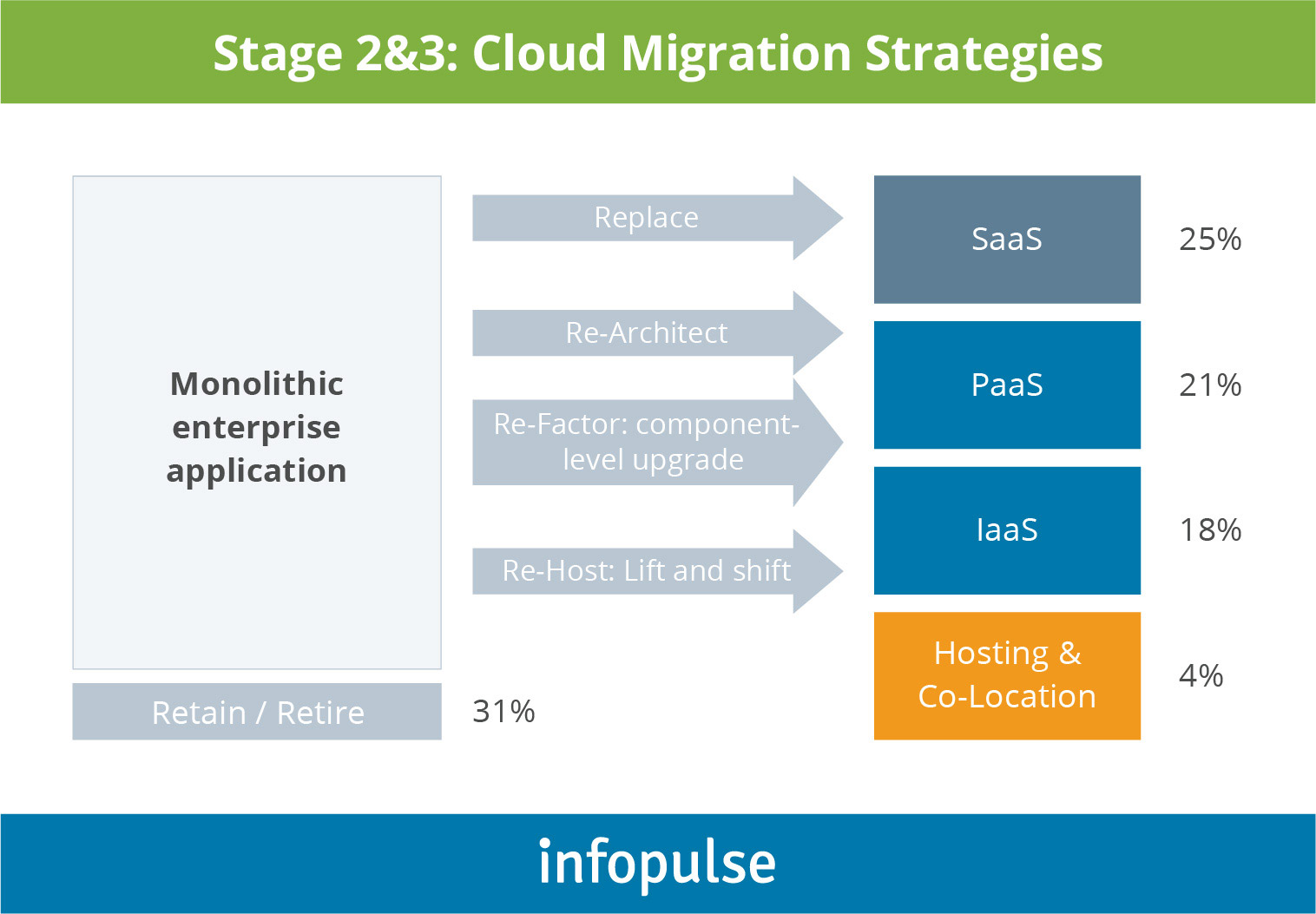 &nbsp
COVID-Related Demands Shaping the Cloud Services Market
As part of pandemic and post-pandemic measures, many companies increased their investments in the cloud technology – &nbsp said the COVID-19 outbreak has made them spend more on their cloud infrastructure (both public and private). In comparison, 55% reported they intensified the use of cloud-driven collaboration tools such as Microsoft Teams, Slack, Zoom, etc.
The public cloud has become one of the most requested deployment models during the pandemic. Enterprises, for example, already have almost &nbsp, and plan to increase this number by 10% within a year, while SMBs will have nearly 70%.
In the first quarter of 2020, spending on the public cloud infrastructure soared, showing &nbsp, according to IDC. In contrast, private cloud infrastructure deployments dropped by 6.3% YoY.
This sudden public cloud superiority, even over a hybrid cloud, can be explained with an unprecedented demand for computing resources, data storage, servers, and networking infrastructure. During the pandemic, businesses had to move their workloads to cloud-based services in less than a few days.
Both SaaS-based industry-specific applications and IaaS solutions took a hit from companies with a buoyant need for remote work and collaboration solutions. These were companies that had to close their offices, ensure social distancing and provide their workforce with safe ways to cooperate.
Remote work tools, such as VPN, WLAN, virtual desktops, video conferencing, and workforce management tools, were mission-critical to support their business operations and performance. Moreover,&nbsp that companies focused on expanding their remote work capabilities also set high priorities on mobile device management, security, infrastructure, collaboration, and distance learning solutions.
Social distancing and frantic online shopping also tried and tested many online commerce platforms and on-prem solutions. Specifically their PaaS and IaaS capability to sustain a sudden influx of panicky shoppers, buying in bulk groceries and goods of prime importance.
At the same time, the pandemic boosted mobile banking and instant payments, pressing banks' legacy IT infrastructures and driving the importance of scalable IaaS and SaaS offerings.
SaaS and IaaS Dominance and the Rising Use of PaaS Services
&nbsp see migration from on-premise software (license-based) to SaaS solutions (subscription-based) as one of their top cloud initiatives with 14% YoY growth in 2020. Although other cloud initiatives, such as the optimized cloud utilization, workloads migration to the cloud, and greater use of containers take first positions the second year-round, their YoY growth index has not been influenced as much as SaaS adoption. Perhaps, this is why &nbsp also expect to keep on budgeting or increase their spending on SaaS in 2020.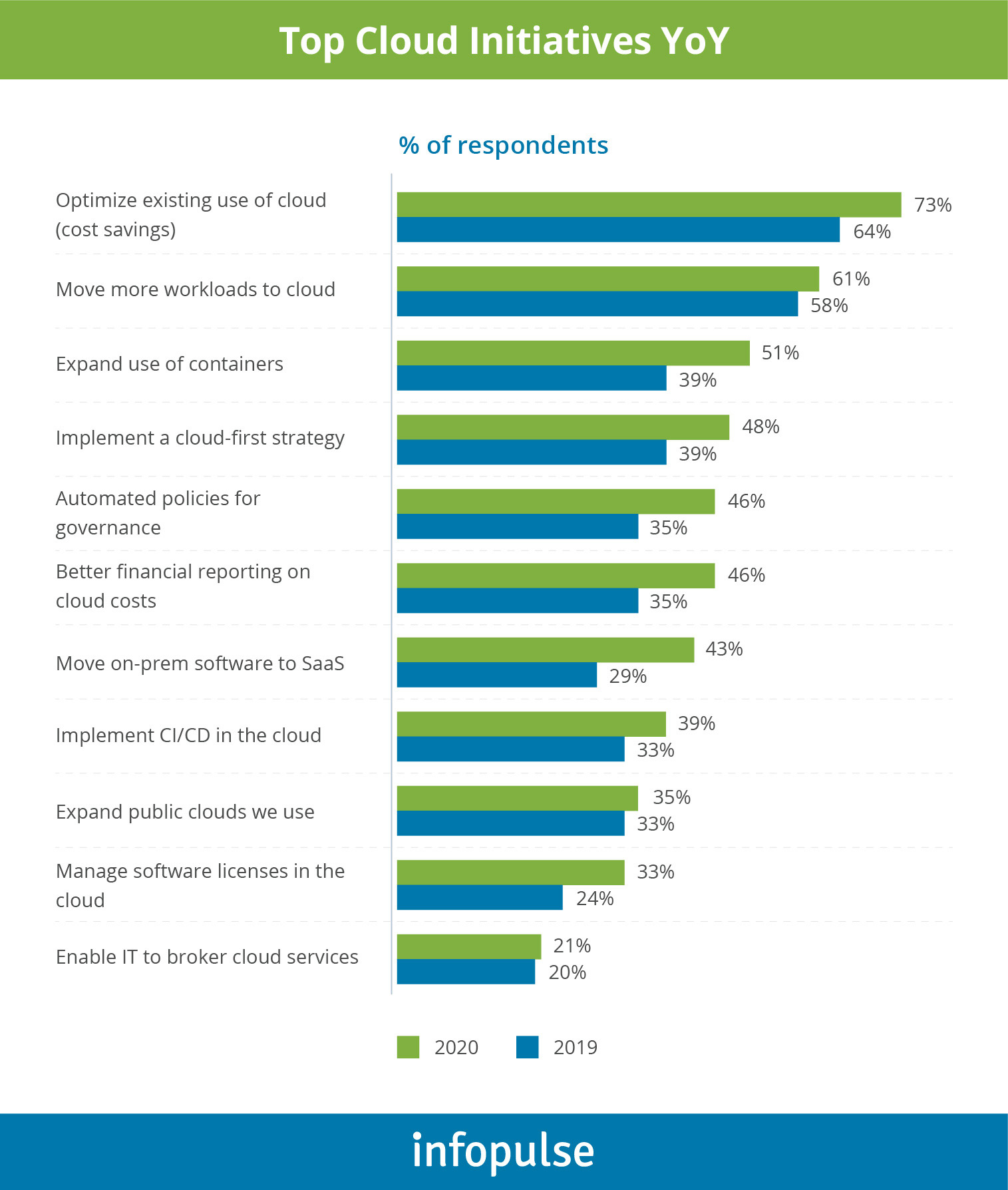 &nbsp
&nbsp also confirms the dominant role of public cloud services with an expected 6.3% market growth in 2020. Enterprise SaaS products are likely to leave behind on-prem solutions due to their flexible pricing, instant access to extended functionality, constant updates, minimum customization and support needed. All this leads to reduced resources and higher cost savings.
Case in point: Infopulse's client, a large pharmaceutical firm Darnitsa, moved their on-prem IT systems and legacy IT Infrastructure to Azure IaaS, PaaS services, and a modern SaaS cloud service Microsoft Office 365, thus achieving the highest value from managing documents, working with email and communication tools. This migration also allowed for dynamic scalability, optimized functionality, and internal systems operability.
IaaS cloud services follow SaaS success due to their greater scalability and cost-effective benefits for organizations. However, cloud providers are also experiencing a surprising &nbsp from both enterprises and SMBs, specifically for DBaaS, containers, and data warehouse services. It's worth noting that in 2020 the use of container-as-a-service has reached its peak as companies pursue faster deployment and scalability opportunities for their current operations and aim at more dynamic workloads in the cloud.
Moreover, the transition to IaaS can greatly benefit IT infrastructure manageability, flexibility, transperancy and cybersecurity. Infopulse, for example, helped its customer Metinvest, a steel and mining group, to migrate their on-premise infrastructure, including servers, VMs, and services, to a comprehensive cloud infrastructure of MS Azure. This complex move resulted in better reliability and productivity of the client's systems, and greatly reduced TCO of their IT infrastructure. At the same time, an additionally implemented PaaS solution allowed for lower operational support costs.
The optimization of current operations in the cloud is one of the most valued use cases of PaaS solutions for enterprise. That is why spending on PaaS implementation is projected to grow by 30%, thus positively impacted by COVID-19.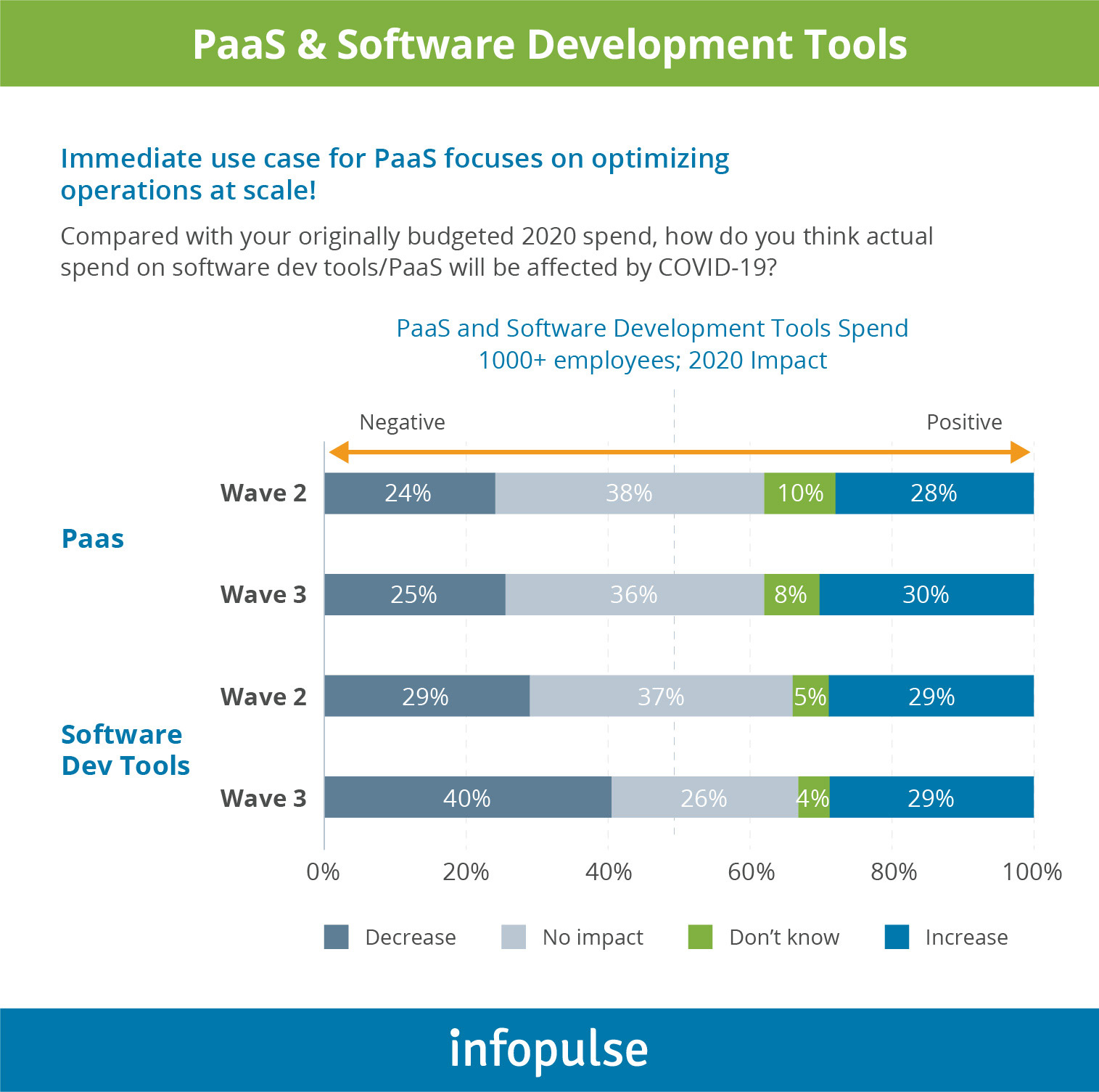 &nbsp
How Cloud Addresses Industry-Specific Use Cases in a Crisis
Healthcare, consumer goods, retail, e-commerce, and banking industries have been at the forefront of the coronavirus outbreak. The need to optimize, upgrade, or adapt IT infrastructures cross-industry can be explained with specific use cases, to which most sectors were directing their investments.
Healthcare Transformation
The most affected sector, healthcare, will experience &nbsp in 2020, according to the Technavio report. The following use cases will mostly drive investments in the cloud-based products:
Digital healthcare record

allows for a more unified approach to the patients' data, also improving interaction between them, a hospital, and medical personnel.

&nbsp

have already invested in cloud-powered platforms enabling real-time data collection, critical for keeping all records up-to-date.

Remote patient monitoring systems

also benefit from cloud-based solutions, which ensure remote doctor-patient communication and consulting.

Clinical research programs

focused on drug development require high cloud computational power to collect, store, and analyze a high volume of clinical trial data. Moreover, cloud-based applications can assist in gathering insights from the connected global healthcare ecosystem and organizing the collaborative work of geographically dispersed teams of researchers.
Cloud-driven systems can also enable more accurate clinical risk management,

сoupled with machine learning

.
Retail and Consumer Goods
Moving most operations online, retailers with physical presence only had to adapt to new cloud-based e-commerce platforms quickly. However, many online stores were unprepared to scale their capacity and adapt to the skyrocketing demand for products of primary importance overnight. At the same time, non-grocery retailers ended up closing their facilities due to the decreased customer flow and slow turnover of their inventory systems. The coronavirus outbreak hit the industry hard while also creating several use cases for the cloud services:
Cloud-based deployment of e-commerce platforms allows scaling up/down on demand to adjust to concurrent traffic spikes and manage a flood of online orders without any downtime.
Virtual chatbots in the cloud can help retailers enhance their customer service responsiveness and cut costs on human resources, redirecting their efforts to more complicated inquiries.
Limited logistics and transportation capacity can be addressed with

cloud-based warehouse planning and management systems

, boosting the visibility of the entire supply chain, enhancing order management, and inventory planning. IDC expects that the retail sector will invest almost

&nbsp

for transportation optimization and extended supply chain management.
Infopulse, as an Optimizely partner, also supports its clients in their shift from offline to online commerce, providing them with robust PaaS-based e-commerce tools and services.
Core Banking Transformation and Digital Banking Experience
Until recently, many banks were wary of replacing their legacy core banking systems with modern solutions, as it was difficult to predict their short-term ROI and risk-free migration. Some banking systems function on almost legacy mainframes based on, for example, COBOL (by the way, &nbsp rely on this 1959 programming language). Such legacy banking systems do not allow for new functionality, data aggregation from different digital channels, extended integration options, and, most importantly, digital-only experience. In a time of crisis, banks realized the sense of urgency of cloud services by focusing on the following use cases:
Migration to the cloud-native platforms

that come with better flexibility, on-demand availability, and scalability. Such features can improve the efficiency of core banking operations, decrease costs for IT infrastructure maintenance and support, and strengthen data security.
COVID-19 has become a catalyst for undertaking initiatives focused on core banking transformation and

enabling digital experience only

. Therefore, banks and financial services companies in Western Europe plan to capitalize on cloud solutions, allocating

&nbsp

to their core systems modernization in 2020. At the same time, $185 million will be directed to the digitization of banking experience.

With cloud-native solutions

, banks can provide seamless interaction with their customers through any digital channel (mobile, web, desktop, social media). And by leveraging new cloud-based CRM systems with real-time data collection and analytics, banks will have a comprehensive view of their customers' needs and thus, bring about more personalized offers.

Cloud-based risk management platforms

, paired with predictive analytics, can assist banks with foreseeing and mitigating security-related, compliance, treasury, and operational risks.
Conclusion
Soon the range of IaaS, SaaS, and PaaS use cases will only expand due to the fusion of cloud with other digital transformation technologies such as RPA, AI, IoT, etc. However, to effectively respond to the COVID-19 implications, you may need the help of Infopulse cloud transformation experts, who can support and implement your cloud strategy. Contact us!
Originally published August 13, 2020 Updated September 08, 2021