3 Industries with the Most Edge Computing Use Cases in 2020
Originally published: May 13, 2020
Updated: January 31, 2023
6 min. read
Data & Analytics
Cloud & DevOps
Innovations
With IoT devices coming to the mainstream, edge computing is becoming the technology of choice for supporting the emerging infrastructure of connected devices. According to
Analysys Mason
, the majority of business cross-industry can expect a 10%-30% reduction in costs from using edge computing and an average operational cost-saving of 10%-20%.
This data clearly emphasizes the significance of edge computing, but what should companies know about this technology's full potential and use cases? In our first post on edge computing, we explained what this technology entails and what benefits enterprises can obtain post-adoption. So, if you are wondering just what cloud-based edge computing applications are, check it out first!
In this second installment, we'll dwell more on the practical side of things and provide a list of applications suitable for edge computing across three business verticals – automotive, manufacturing, and AR/VR – along with several case studies and early pilots.
Leading Edge Computing Use Cases Overview
1. Automotive
For connected, and later self-driving vehicles, to go mainstream latency poses a major challenge. To function effectively and securely, autonomous cars will need to engage in a high-volume of data transmission in real-time. However, even with the arrival of 5G connectivity, the reliability and speed of such exchanges may not be on par with the ecosystem needs.
The emerging C-V2X communication protocol solves this conundrum to some extent. Still, it is the edge computing that could ultimately help scale its adoption and multiply the variety of V2X services for connected cars and autonomous driving.
Nokia, for example, already launched a proprietary MEC (Multi-access Edge Computing) platform, designed specifically for C-V2X protocol. The company promises that this tech could deliver latency below 20ms, along with a flexible deployment model.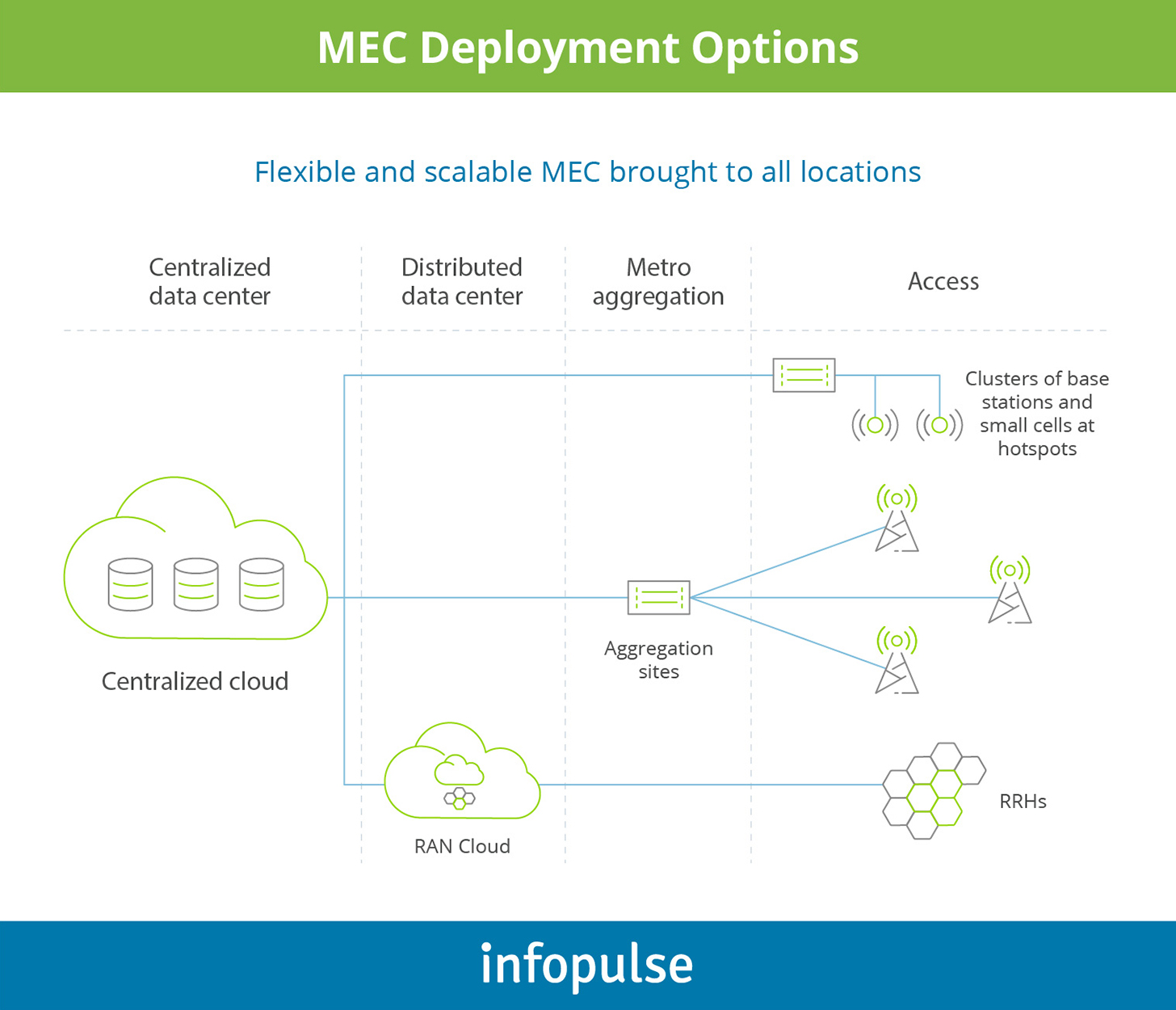 In 2018, Nokia, together with Telefonica Spain, Seat, Ficosa, and SICE, conducted a pilot C-V2X use case demonstration, backed by Nokia's MEC in Segovia, Spain. During the pilot, a connected car received a real-time alert from a connected traffic light about signal change, plus sent real-time alerts to the vehicle about pedestrians in the driver's line of sight.
Beyond that, Nokia also:
Conducted a 5G teleoperated driving pilot in China, together with FAW. The OEM's first EV HS3 all-electric SUV, pre-furnished with 5G remote control unit, 360-degree VR panoramic live video unit, and HD cameras performed a successful remote driving run in 2019.
Demonstrated how MEC technology can save lives during a 5GAA Connected and Automated Driving Workshop in Berlin. A connected car, equipped with MEC, received emergency warnings about obstacles and other road events in near real-time, and HD geospatial data and sensor data were transmitted in milliseconds, further enhancing driving safety.
Some of the additional edge computing applications, currently being explored by OEMs and Tier 1 suppliers are as follows:
Improved battery usage, monitoring, and predictive maintenance for connected vehicles.
Enhanced fleet management, including remote driving/control.
Multi-level vehicle authentication, using sensor data for enhanced security.
Ultra-personalized infotainment systems, powered by real-time analytics for superior user experience.
To get a better sense of how to deliver an integrated, modern infotainment experience, read our case study, showcasing how our team has created a new embedded system with 3D/2D navigation, advanced HMI with voice control and personalization.
2. Manufacturing
With Industry 4.0 initiatives moving from the pilot stages to mass deployments, industrial leaders are starting to experience speed limitations in data transmissions. Indeed, to support more advanced networks of Industrial IoT devices, and ultimately – fully automated factories, a greater level of resilience, speed and bandwidth is required. Again, edge architecture could deliver that.
Similarly to the automotive sector, edge computing use cases in manufacturing also span across several verticals such as:
Quality testing and inspections: Intelligent defect inspection, powered by AI and neural networks, can ramp up productivity by 50% and improve detection of defects by 90%, compared to human-led inspections. However, network reliability and data processing speed are crucial for such algorithms to work. Edge solutions could deliver just that.
Case in point: Dell recently helped a Japanese electronics manufacturer Daihen Corporation, scale their IoT-powered monitoring with an edge analytics solution. Prior to the deployment, their production process required over 200 manual inspections, occupying 30% of the total production time. After equipping their factory with additional sensors and rolling out a real-time analytics platform, powered by the edge, they saved over 5,000 hours on manual data entry per year.
Compliance: Manual data collection methods are error-prone. Standard compliance solutions do not always have strong enforcement mechanisms, resulting in major financial losses. As manufacturing setups become more sensor-driven and intelligent, edge computing can be used to automatically collect, monitor, and subsequently program unified standards for all devices, connected to the edge grid.
IMS Evolve, together with Dell, recently deployed a new IoT-connected platform powered by edge computing that helps retailers collect and manage data from their refrigeration systems and building management systems to auto-adjust temperature in line with the standards for food quality, minimize waste and optimize refrigeration costs.
Performance optimization: Equipment downtime is a pervasive manufacturing problem. However, ensuring continuous production is hardly attainable for most companies unless they can gain a real-time view of the equipment performance.
A winning combination of Industrial IoT gadgets and edge computing enables a new level of predictive maintenance capabilities for manufacturers as a recent case study from Intel and GE Digital illustrates.
Intel wanted to boost the performance of its fan filter units (FFUs) – a critical piece of equipment for preventing contamination in the cleanrooms. To accomplish that, the two companies worked on a new predictive maintenance solution, based on Intel's IoT Gateways and GE's Predix Asset Performance Management (Predix APM) platform:
The installed sensors measured variations in the fan's function, creating a baseline for future comparison across the fleet.
Using edge architecture, Intel integrated the sensors with IoT gateways Predix platform. Afterward, they deployed a machine-learning algorithm to measure the performance of all FFUs, detect anomalies, and send timely alerts to engineers.
Cloud-based visualization: as a result, users can now view baseline performance and long-term trend reports for all the connected equipment and devise better maintenance schedules. This resulted in an FFU uptime increase by 97%.
Infopulse also recently deployed a comprehensive platform for anomaly detection, capable of providing real-time intelligence and proactive alerts on equipment performance.
3. Augmented Reality (AR) and Virtual Reality (VR)
Edge computing gaming applications also multiplied in recent years due to the rising demand for AR/VR gaming experiences. The current roadblock to wider adoption, however, is high gaming hardware costs. As VR apps require significant computational power and storage for visualizations, gamers need to purchase expensive head-mounted displays, consoles, and PC rigs. Edge computing could majorly democratize the costs of VR and spur its adoption in other industries such as education, hospitality, or travel.
There's a win for all the interested parties:
AR/VR users: lower device costs, exceptional quality, and immersive experience thanks to the edge cloud.
Device manufacturers: lower hardware prerequisite for AR/VR gear and subsequently lower manufacturing costs, but higher adoption and simplified deployments.
AR/VR app developers: less fragmentation and refactoring since it would become possible to deploy apps on any device, supporting lightweight client/streaming codec. This results in a higher market reach with lower development costs.
Telecoms can either become edge computing enablers, supporting such deployments with 5G connectivity. Or they can embrace the role of content providers/aggregators and distribute AR/VR content to the subscribers.
Case in point: Ericsson recently joined forces with Qualcomm Technologies and NVIDIA to bring a new VR solution to the market. It includes three key components:
A head-mounted device, equipped with Qualcomm® Snapdragon™ XR2 5G reference design that enables boundless XR over 5G.
RTX graphics processing unit (GPU) from NVIDIA, plus CloudXR and GPU virtualization software to support streaming.
High-performance 5G network from Ericsson, connecting the gadget with the edge cloud at high speed with low latency.
While the solution is still in the labs, early pilots indicate that such a setup could deliver a brand-new quality level of AR/VR experiences.
To Conclude
By no means is this list of secure edge computing applications exhaustive. Not only smart cities and connected homes gain an "edge" in performance with this new approach to computations, but various AI-powered assistants, providing advice based on real-time data, do as well. As the edge computing market continues to expand, we'll likely see a rising cohort of other cloud and mobile edge computing use cases coming to the fore.
Ready to usher the era of edge? Get in touch with Infopulse team for a more detailed consultation on the potential use cases and benefits your company could attain post-adoption.