Article
Key Challenges in Enterprise Application Management to Tackle with Service Mapping
Originally published: November 10, 2020
Updated: May 12, 2022
8 min. read
Data & Analytics
Cloud & DevOps
Business Applications
Infra & Operations
The last decade was marked by a rapid cross-industry shift to enterprise modernization and digitization. Since 2014, the average number of deployed applications has reached
129 apps per company
, having increased by 68%. The COVID-19 pandemic further boosted the process, with
SaaS being on the rise
.
With every round of technological upgrades, companies embrace new services, solutions, and technologies that pile up into a complex system of interdependent applications. What was initially designed to make business processes and operations faster, simpler, and more effective, eventually became an obstacle for seamless functionality.
To turn a multitude of applications in their favor, businesses can utilize Configuration Management Database (CMDB) – to consolidate information about the IT infrastructure – and a Service Mapping solution — to achieve the visibility corporate IT teams needs for a complete, accurate, and up-to-date map of the IT infrastructure with all its components and relations.
A comprehensive cloud platform ServiceNow allows for tight integration between CMDB and Service Mapping solutions within its IT service management platform that helps streamline business operations by creating a single system of record.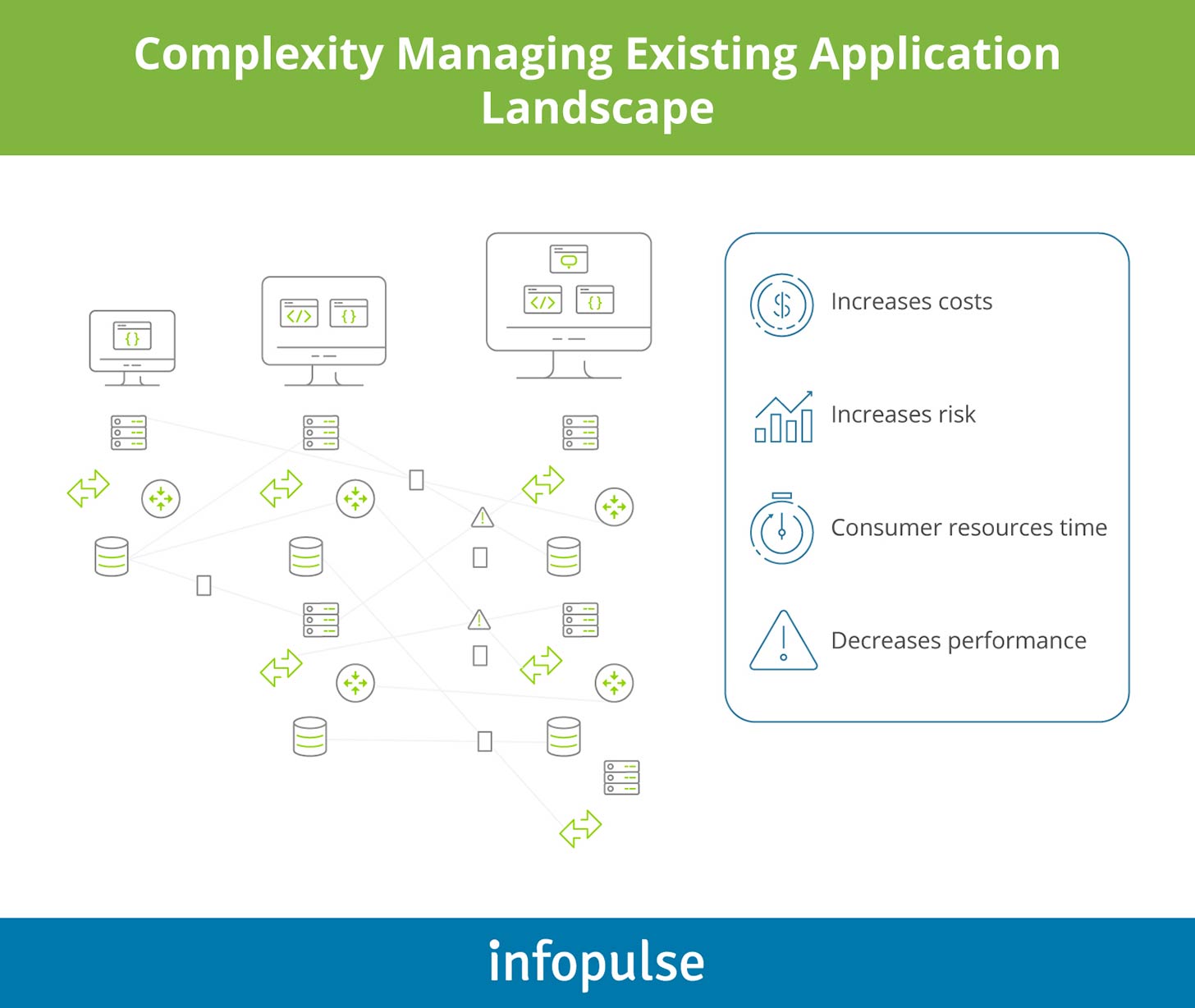 How Can Service Mapping Make Your Infrastructure More Visible?
The variety of IT solutions deployed in any company ranges from hardware, such as computers, servers, and network equipment, to multiple software types, including cloud solutions, enterprise applications, web services, etc.
The bigger the company, the more complicated becomes the interconnection of all the infrastructure components, application owners, and users. Thus, while a small or medium company can have up to 4,400 app-to-person connections, at the enterprise level this number shoots to about 21,500 application connections per single person.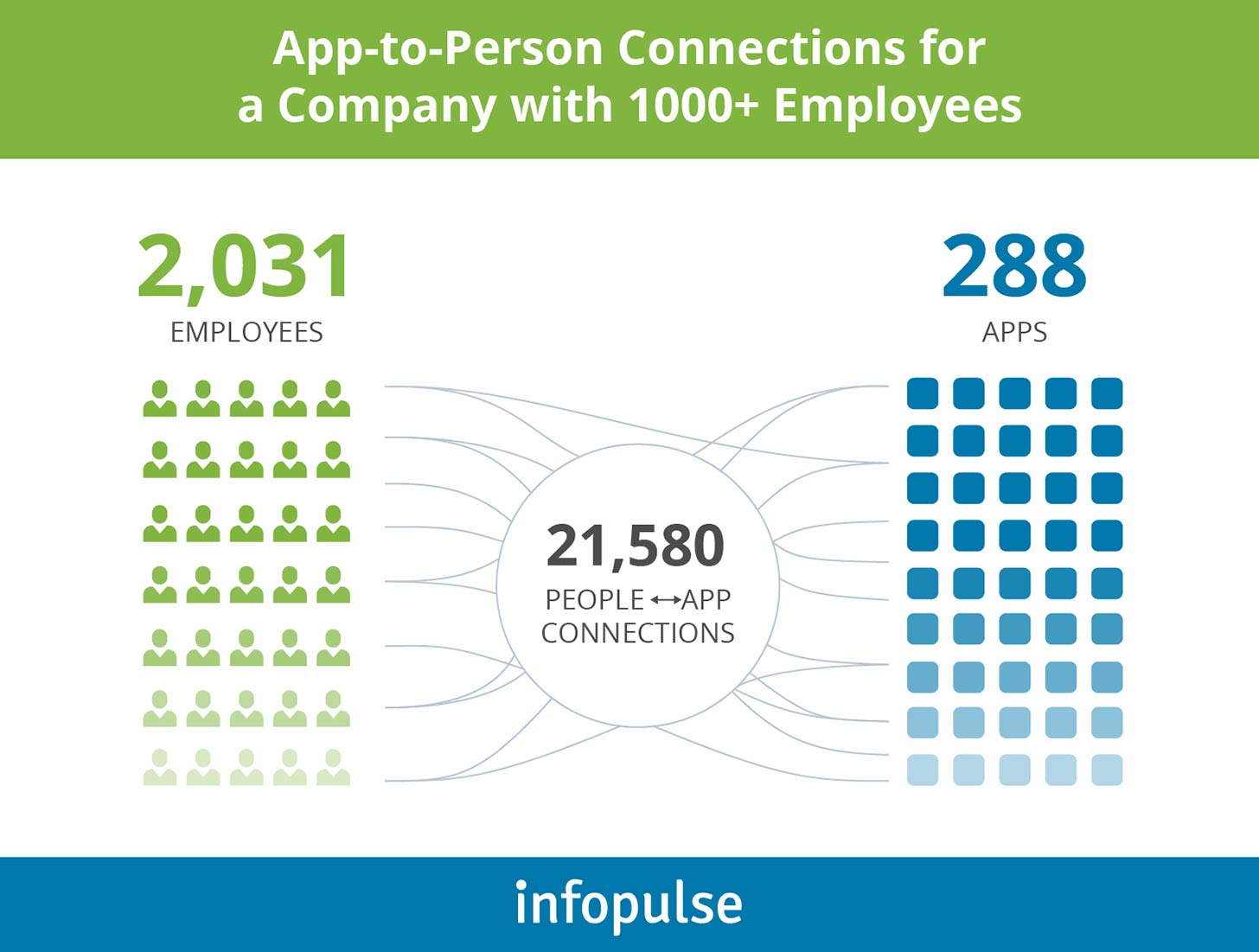 To keep track of the enormous number of objects within the company's IT infrastructure, IT departments typically create an inventory that lists devices, services, and applications as standalone articles. While applicable, this method, known as horizontal discovery, does not address the challenge of a nonhomogeneous system since it does not represent the relations and dependencies between the objects.
Service Mapping discovers all application services in the organization and builds a comprehensive map of all devices, applications, and configuration profiles used in these application services. To complete the end-to-end visibility of the IT infrastructure, Service Mapping also includes dependencies based on the connection between devices and applications.
The top-down mapping utilized by ServiceNow creates a holistic view of the IT infrastructure to help see what impact a single object has on the application service. Thus, when detecting a problematic item, CMDB Service Mapping will show all its dependencies, related devices, and applications that may be affected.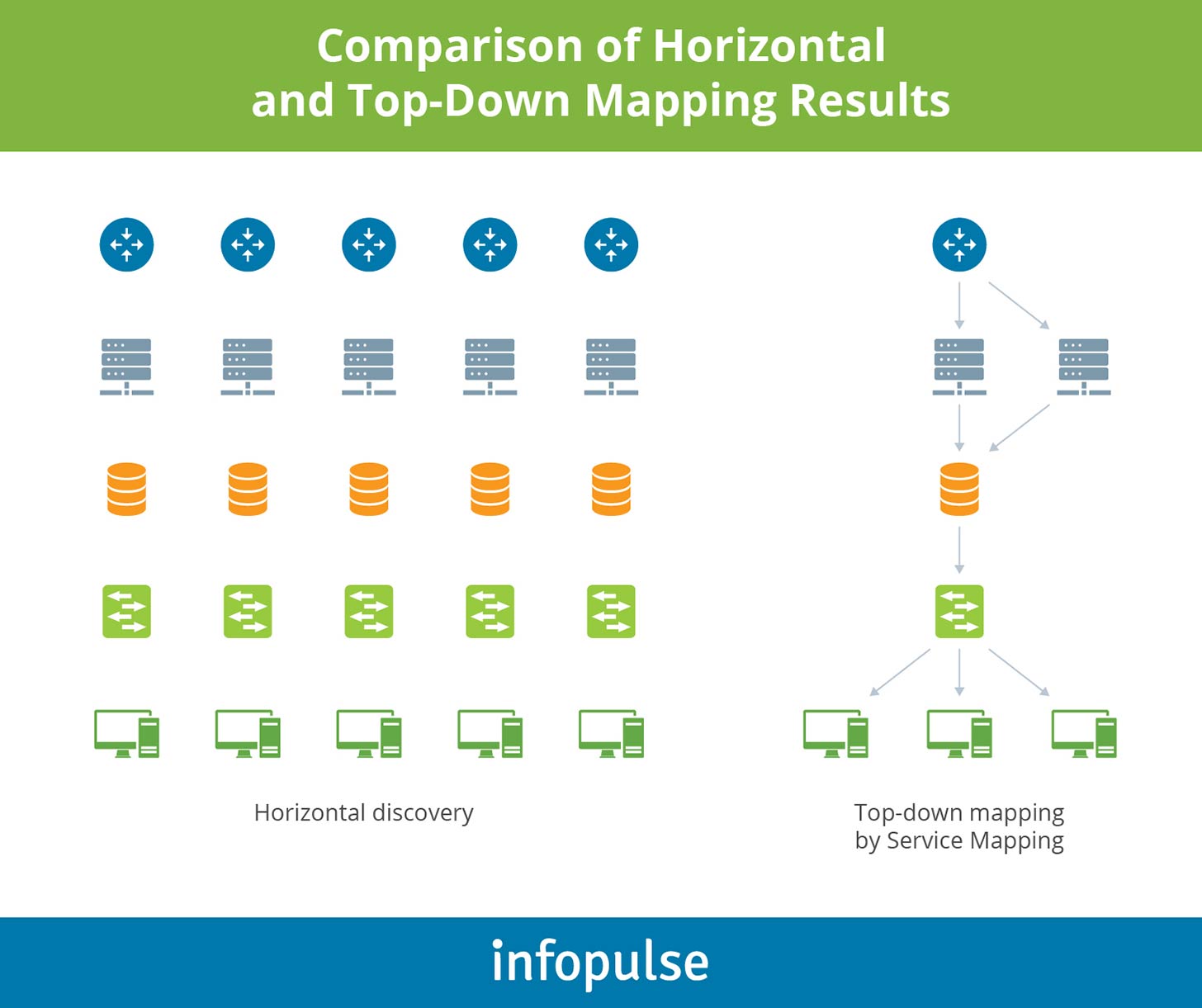 What ITSM Challenges Does Service Mapping Address?
Having a number of applications deployed, enterprises can find it difficult to achieve the desired visibility of their IT infrastructure without proper documentation that depicts system components and dependencies. Creating and updating such documentation often relies on cumbersome and resource-consuming manual work.
While requiring significant time and effort, this approach results in simplistic, one-dimensional application mapping, usually in the form of a spreadsheet with a list of inventories. One can also use topology diagrams for their applications to add extra information and show the relationships between the infrastructure components. Yet, it usually does not fully display the complexity of connections within application services.
Such an approach results in scattered, fragmented documentation that is unable to provide end-to-end visibility of the entire infrastructure. According to a 2020 survey, 7 out of 10 IT decision-makers claim to have a clear view over applications, networks, and end-users. However, it does not necessarily mean having full visibility over infrastructure.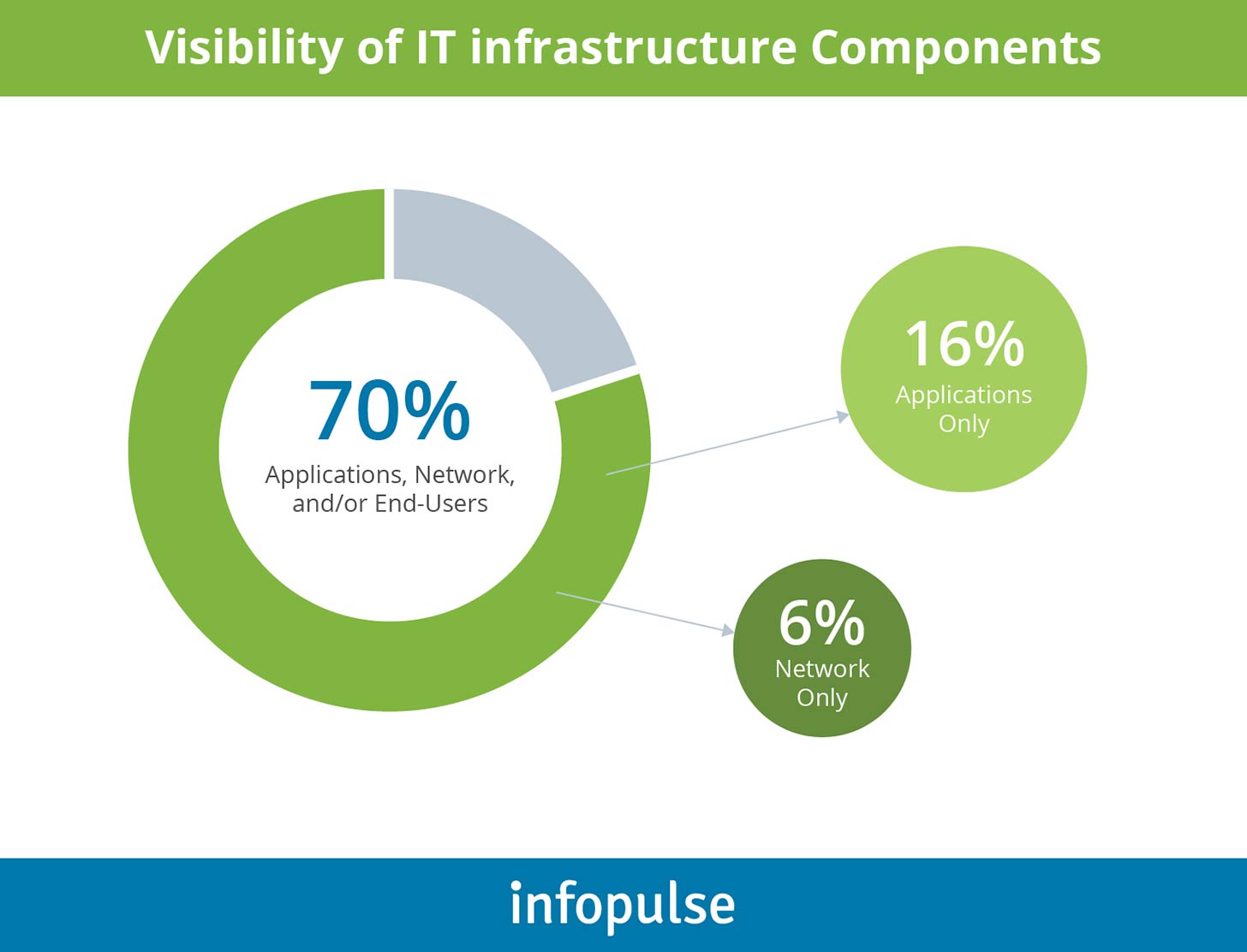 To achieve the level of detail that could streamline IT operations and enable a comprehensive view of an IT infrastructure, a company would require much more than an inventory spreadsheet. Moreover, creating, updating, and using a manually created artifact of such complexity could mitigate any benefits a company could get from it due to high chances of inaccurate data representation.
Many of these issues can be instantly solved by implementing Service Mapping. Retrieving data about the infrastructure from the company's configuration management database, Service Mapping launches precise automated application service mapping with little to no effort from the company's side.
Key Challenges to Tackle with Service Mapping
1. Create a Comprehensive Applications Inventory
The starting point of the Service Mapping implementation is creating an application inventory. As, at any moment, an organization may have applications that fall into different stages of a development cycle, creating a complete application inventory will help see the IT landscape in detail. Despite the current development state, all the applications will be included in the CMDB and Service Mapping by the time it is implemented.
On top of that, the mapping process will allow for a better understanding of the environments applications are running on, as well as process owners and their responsibilities.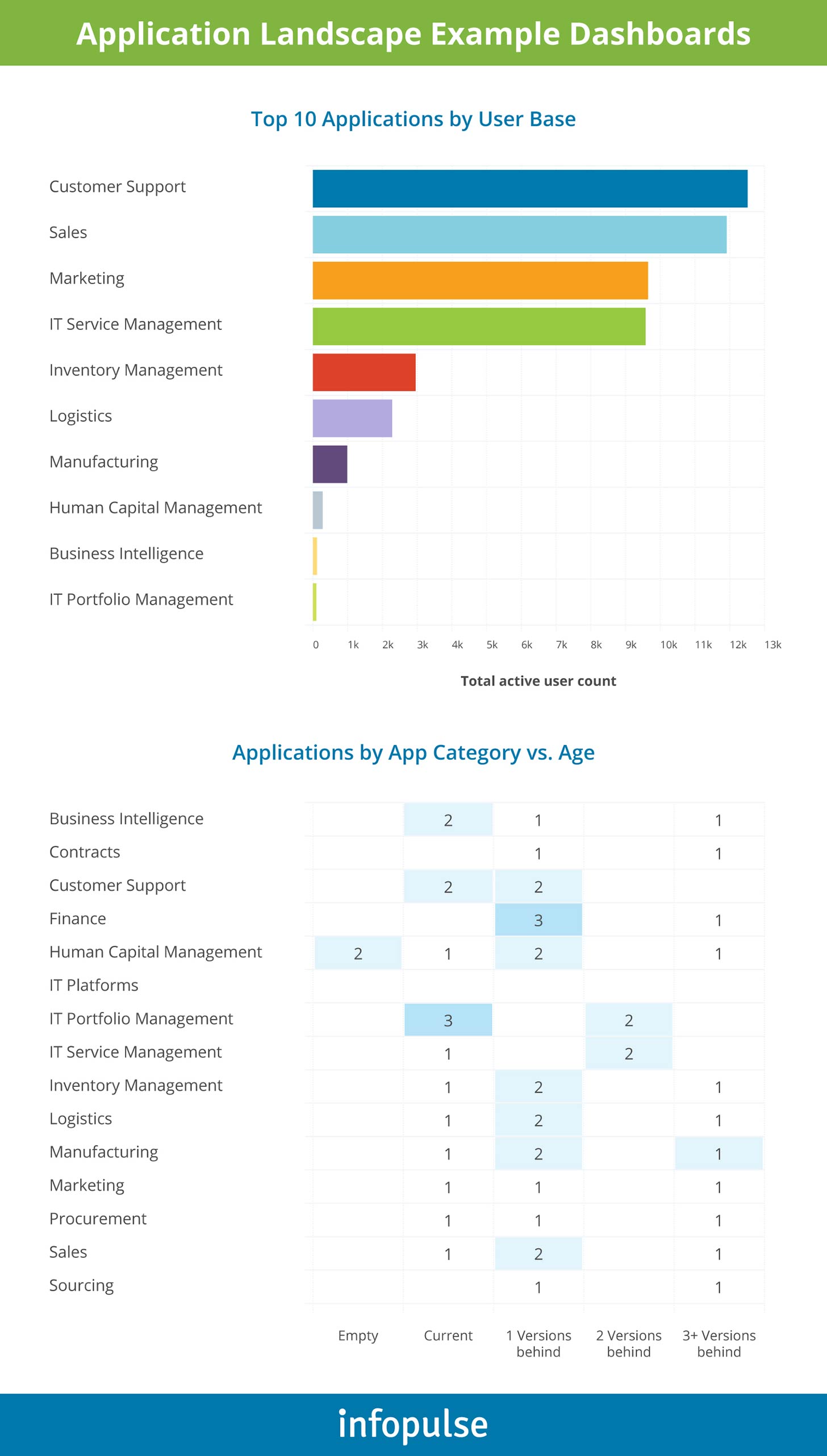 2. Keep CMDB Up to Date
CMDB is as good as the data stored there. According to Gartner, the average financial impact of low data quality on organizations is USD 9.7 million per year. However, while many companies understand the importance of CMDB as a part of their IT landscape and ServiceNow ecosystem, they find it challenging to keep it always updated due to the volumes of data. Inconsistent update along with cumbersome management turns CMDB, meant to improve IT operations, into a profitless investment – only 25% of organizations get meaningful value from it.
The Service Mapping solution is tightly integrated with CMDB and relies on the infrastructure data stored there. As a result, the Service Mapping implementation will affect the database. By the end of the mapping process, the CMDB update process will be implemented as well, providing you with current configuration data as a starting point for further improvements.
Read our case study to explore how Infopulse analyzed and enhanced the existing ServiceNow infrastructure for One of the Big Four Consulting Companies, which opened new possibilities for further scaling and upgrading of the system.
3. Improve Visibility of IT Services
Lack of a comprehensive view of the IT services components results in a variety of scenarios when the required data is not accessible on demand. For instance, in case of a server failure, it is sometimes impossible to instantly recognize the severity and depth of the impact and promptly react to the incident, which can result in drastic financial losses: while an average cost of server downtime is up to USD 400,000, the maximum can reach a few million.
Data on IT infrastructure and application usage can provide valuable insights on the cost of applications, their necessity, the required shifts, and changes that would improve the system. In fact, 73% of the C-level executives believe that a holistic view of their network and sufficient IT infrastructure visibility can boost business innovation.
Implementing Service Mapping enables companies with a visualization tool that, in a simple yet effective manner, presents relations and interconnections between businesses, services, and the infrastructure they use. This way, one can easily analyze any map, bulk dependency, or application usage, discover redundant solutions, eliminate outdated or duplicated applications, and cut maintenance and operational costs.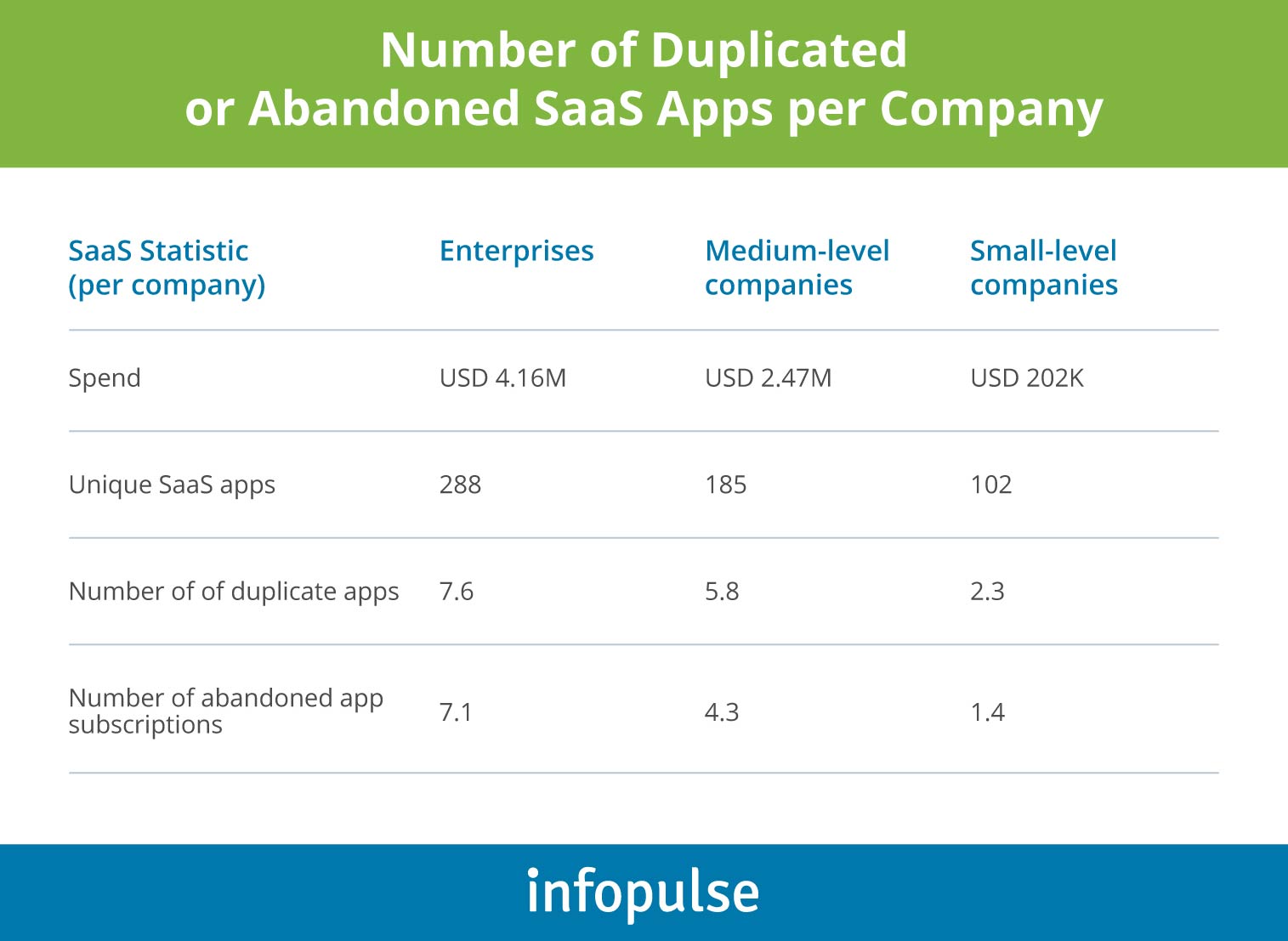 4. Reduce Efforts Documenting Application Topology
As already mentioned, manual documentation of the application topology requires significant time and effort. The more comprehensive the mapping is, the more resource-consuming it becomes. Moreover, the application team often does not have all the information about the infrastructure and requires the involvement of other teams for the mapping process implementation, thus multiplying the effort.
At the same time, the longer it takes to create the map, the less relevant it becomes by the time it is built. With every little change in the system, the map must be updated to reflect the current state. Even if it may involve several teams in the process, it is not always possible to do so within the shortest time.
Service Mapping allows overcoming these difficulties thanks to a built-in process around the map development and certification. Your team won't have to put in effort after completing the initial application mapping: automated updates will include all the later changes in the infrastructure.
5. Increase the Accuracy of Application Topology Documentation
In 7+ years of experience with ServiceNow, we encountered that more than half of application topology documentation does not depict the current state of the IT landscape. Common errors include elements missing from the inventory; information contradicting other documents; problematic entry points; etc. The level of inaccuracy in the documents tends to increase with every implemented change, eliminating the value of the created mapping.
Moreover, misconfiguration and inadequate change control got named Top #2 Threat to cloud computing, according to Cloud Security Alliance.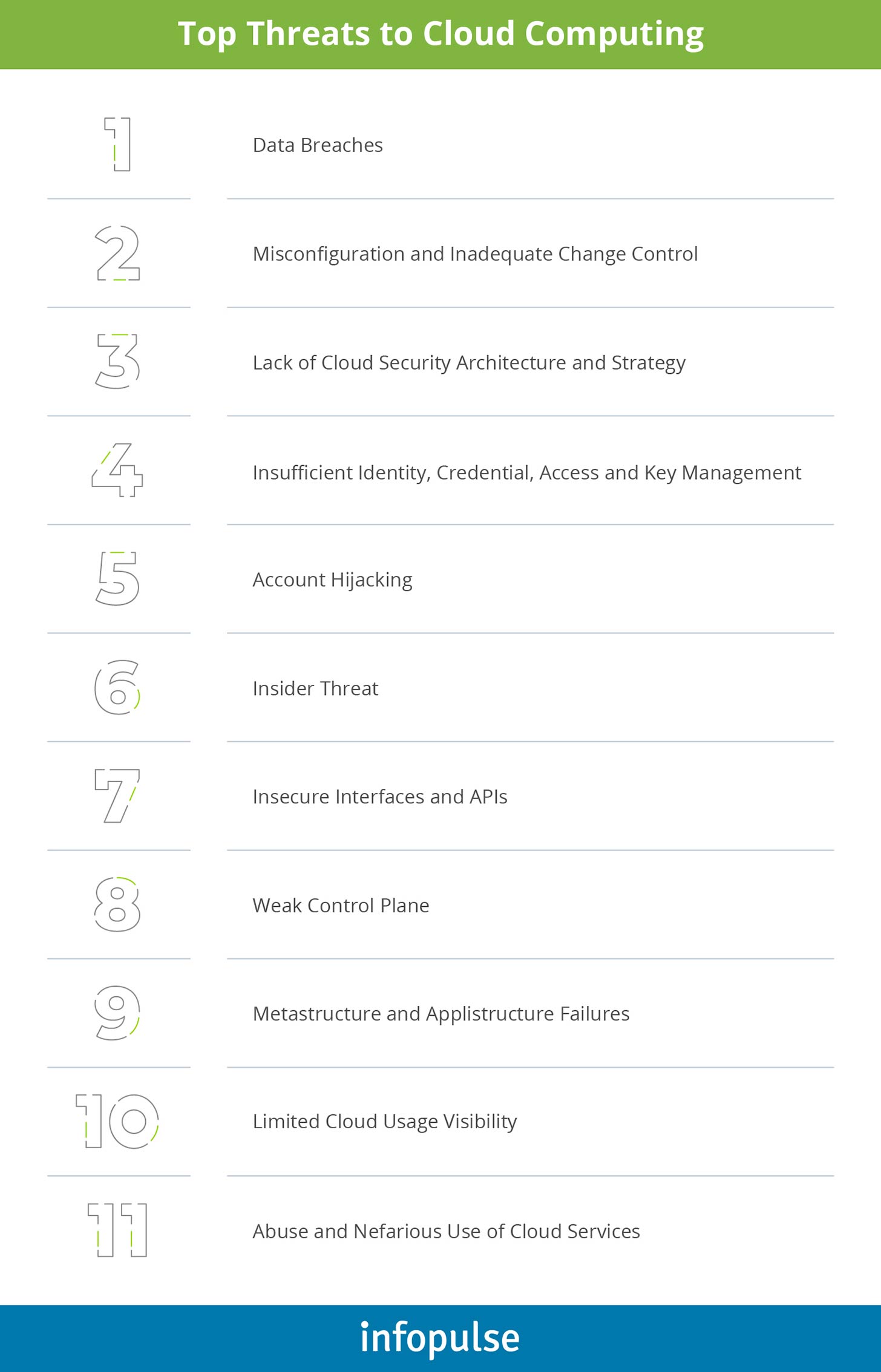 With ServiceNow Service Mapping, application maps are updated automatically to align with every infrastructure change. This way, you will never lose a new device, forget to map an application, or omit a certain document — all thanks to centralized data storage.
How Can Infopulse Help?
Scattered solutions and applications, while being the foundation of the IT landscape, now have been replaced with a holistic approach to IT service management that factors both services and applications and their interconnections. With today's complexity of infrastructures on the enterprise level, companies rely on solutions that can provide an overview of their infrastructure to boost operations, simplify management, and mitigate potential risks of poorly managed systems.
Being a long-term ServiceNow partner, Infopulse has built a strong competence in implementing solutions of the ServiceNow ecosystem, including its Service Mapping. We developed a systematic approach to service deployment to help companies achieve maximum benefit.
A successful project starts with a holistic evaluation of the business objectives, working environment, existing solutions, and task complexity to correctly estimate the work scope. During the Readiness Assessment stage, our experts will analyze the company's application and server inventory, classify the applications; gather and process the required information. As a result of the assessment, the business will receive a complete understanding of whether it is ready to embrace Service Mapping, along with recommendations on an implementation roadmap.
Based on the data from the Readiness Assessment stage, Infopulse experts will then implement the Service Mapping solution to help untangle the multitude of infrastructure interdependencies. The company's IT landscape will be thoroughly analyzed, mapped, and documented to ensure end-to-end visibility. Thanks to intelligent algorithms, Service Mapping can tackle tasks of different complexity delivering real value to its users: accelerated operations, improved system performance, and reduced costs.