Article
How Does Data-Driven Voice of Customer Reinvent CX and UX?
Originally published: June 07, 2019
Updated: January 26, 2022
15 min. read
Data & Analytics
Data is key to strengthening relationships with your customers. But merely collecting data isn't enough. There's a big gap between being a data-driven company and an insight-driven business. While most organizations have access to plenty of data, determining what matters the most is a true challenge.
When 89% of businesses say that they are already competing on customer experience (CX), it may be tempting to start tracking every metric existing. But being truly data-aware means that you are not just seeing your customers as entries on a spreadsheet. You are actually listening to them. And that is where the voice of customer analytics kicks in.
Just What is Voice of Customer (VOC)?
Voice of the Customer (VoC) is a research methodology used by businesses to collect necessary data for describing the needs and requirements of their customers. The process assumes collecting every piece of feedback, sentiment, review, etc., that the target audience expresses about a certain product, service, or experience. Afterwards, the data is used to close the gap between customer expectations and their actual experience with the brand.
[VOC provides] a common language for the team going forward in the product development processAbbie Griffin and John R. Hauser MIT scientists
VoC research allows gaining new insights for making informed product and business development decisions. And as this post will further show, the gathered intel can help your company massively overhaul the product's UX and overall customer experience.
Typically, all voice of customer programs consist of three stages:
Collection – different methods for gathering customer feedback are used to gain necessary data for analytics. These can be direct ones such as surveys/polls or in-direct ones like customer data mining from review platforms.
VoC data analysis – algorithms are deployed to examine the collected raw data and determine certain patterns, e.g., commonalities among customer expectations within a certain demographic.
Implementation – applying the obtained insight to improve relevant areas of the business.
Wondering whether your company needs to go to such lengths with customer feedback collection? The following voice of customer statistics should help you shape up your business case:
Finally, if you look at this year's top list of the most admired global companies, you'll see that the top spots are reserved by CX leaders such as Apple, Amazon, Walt Disney, Starbucks, Microsoft, Alphabet (Google), and Netflix.
To wrap it up, companies that excel at customer experience tend to:
Grow revenues faster than its competitors;
Generate higher customer lifecycle value;
Majorly improve client retention, reduce customer churn over time and boost loyalty.
What's even more interesting is that CX leaders can set up higher prices without any backlash as 86% of people are ready to pay more for great customer experience.
So, if your business is ready to capture those benefits, it's time to get started on your voice of customer strategy.
How to Collect Voice of Customer Data
Customer interviews
On-site and off-site customer surveys
Live chat data
Call center data (phone, email, support tickets)
Social media
Website analytics
Online customer reviews
Net Promoter Score (NPS)
Feedback forms
Focus groups
As you can see, there's a lot of data that could be gathered. However, operationalizing such volume of unstructured information is problematic without the right tools and technology in place.
How to Apply Data Science to VoC Analytics to Gain the Most Value
When information is aplenty, the voice of customer methods based on manual data analysis no longer bring the best results.
The VoC collection tools can produce a multitude of scattered data entries that won't tell you a comprehensive story. In fact, analyzing data from different angles can lead you to contrarian conclusions.
Data science can help you "weed out" exactly what kind of improvements are the most in-demand and how they can generate additional value for your business. Below we'll explain how to collect customer information that makes the most sense to your business, plus how to transform it into insights.
Step 1: Start with a Hypothesis.
VoC programs generate the most value when they are targeted at answering specific questions and exploring the outcomes that underpin value in your industry. For instance, as an auto manufacturer, you may be interested in reducing the number of recalls; and determining what car features generate more sales and lead to higher customer satisfaction. Telecom companies would want to know how to reduce customer churn, handle issue escalation calls and what upsells work best with a certain customer segment.
The hypothesis you develop will inform your choices regarding:
The voice of consumer data;
The voice of customer analysis tools you'll use;
The types of analysis you'll perform.
Step 2: Take an Inventory of Your Current VoC Sources.
Perhaps, your company has already been gathering some voice of the customer data or not. In any case, before performing any analysis, you will need to determine:
Which of the data sources are in place.
Which ones are no longer being used (or never were).
Where this data is collected and warehoused.
How you can access those data lakes.
Preparing your data for analysis may take some time and technological efforts as most sources like those can be "owned" by different departments including Customer Service, Sales, Marketing, PR, etc. All of the sources will need to be consolidated and cleansed before any VoC software can be installed.
To ease up the process, it's best to label each of the data sources using the following codes:
Globally used – the data is all over the place;
Partially used – data stashed in parts of the company;
Rarely used – the data is not collected frequently;
Formerly used;
Never used.
Step 3: Align Data Sources with Your Objectives.
Next, you'll want to label the VoC sources in terms of the value you can receive from those. You can create a global taxonomy across all 5 scores mentioned above and one or more of the following objectives:
Reduce operating costs;
Increase customer experience;
Reduce customer churn;
Boost revenues;
Improve issue resolution time.
This way you can determine if you have enough data sources to make comprehensive conclusions, plus determine where else you can gain the necessary data.
For those extra insights, you can try linking what customers say to what they do. Because, as David Ogilvy famously pointed out: "Consumers don't think how they feel. They don't say what they think and they don't do what they say."
Hence, you will also want to build a data set of past surveys' results that, for example, focus on the customer's willingness to recommend your product to others. You can link survey results back to your databases and pull down some data for each outcome measure for further analysis. For instance, you can match the self-reported customer satisfaction within a certain period with data on customer retention, revenues, product upgrades, referrals, etc.
Building this type of data link is integral for gaining comprehensive insights and measuring the ROI of your VoC program and CX initiatives.
Step 4: Perform an Analysis of the Historical Performance of Real Customer Cohorts.
Once you have consolidated all of the available VoC sources into a centralized database, you can start modeling and predicting how they will contribute to your objectives. Specifically, you can use the historical data at hand to determine:
How does the increase/decrease in customer satisfaction levels contribute to expensive contact center calls?
How do the churn rates drift depending on satisfaction levels?
What is the correlation between an improved feature release and customer churn?
Step 5: Tweak Your Analytics to Look Forward.
Historical data is truly important, but experience-driven companies also look forward, not just backward, when determining how their actions are linked to value. Modern text analytics and predictive analytics tools now allow analyzing the verbatim from surveys, automatically classify keywords and common patterns and transform that data into actionable insights.
VoC predictive analytics solutions can identify how various drivers will impact your stated objectives based on customer sentiment, real-time behavior on websites and other cues. More advanced systems, powered by machine learning, can even act as real-time recommendation engines to your teams, suggesting them how to generate more customers and what the best way to act is with a certain demographic. What's more, machine learning algorithms will learn progressively over time and become even better at spotting common trends, customer behavior and other patterns that are telling you something new about them.
Real-Life Use Cases of VoC Analytics
As mentioned earlier, the VoC data you choose to collect should match specific business objectives. This way you will be able to release product/services improvements that actually lead to tangible benefits. In fact, Gartner predicts that this year, 50% of businesses will redirect their investments in CX innovations.
But some market leaders are already actively using voice of the market to shape up their product vision and deliver better service. Below are several voice of customer examples in action worth exploring if you want to develop a winning VoC program and CX strategy.
Airbnb Uses Guest Feedback and Data Science to Improve On-Site Search Experience
Search experience is hugely important for Airbnb as their entire product vision is built upon the premises of "seamless and hassle-free renting experience around the world". But when you have hundreds of thousands of listings on the platform with different parameters, it's hard to provide users with just what they need.
To reduce the overwhelm and pitch customers with better suggestions, Airbnb team started working on a user-driven data search experience. The company leveraged rich datasets comprised of guest/host interactions and developed a predictive model estimating the probability of booking in a location, given where the person searched. To further refine their model, the team also encoded the relationship between the city people booked in and the cities they searched to get there.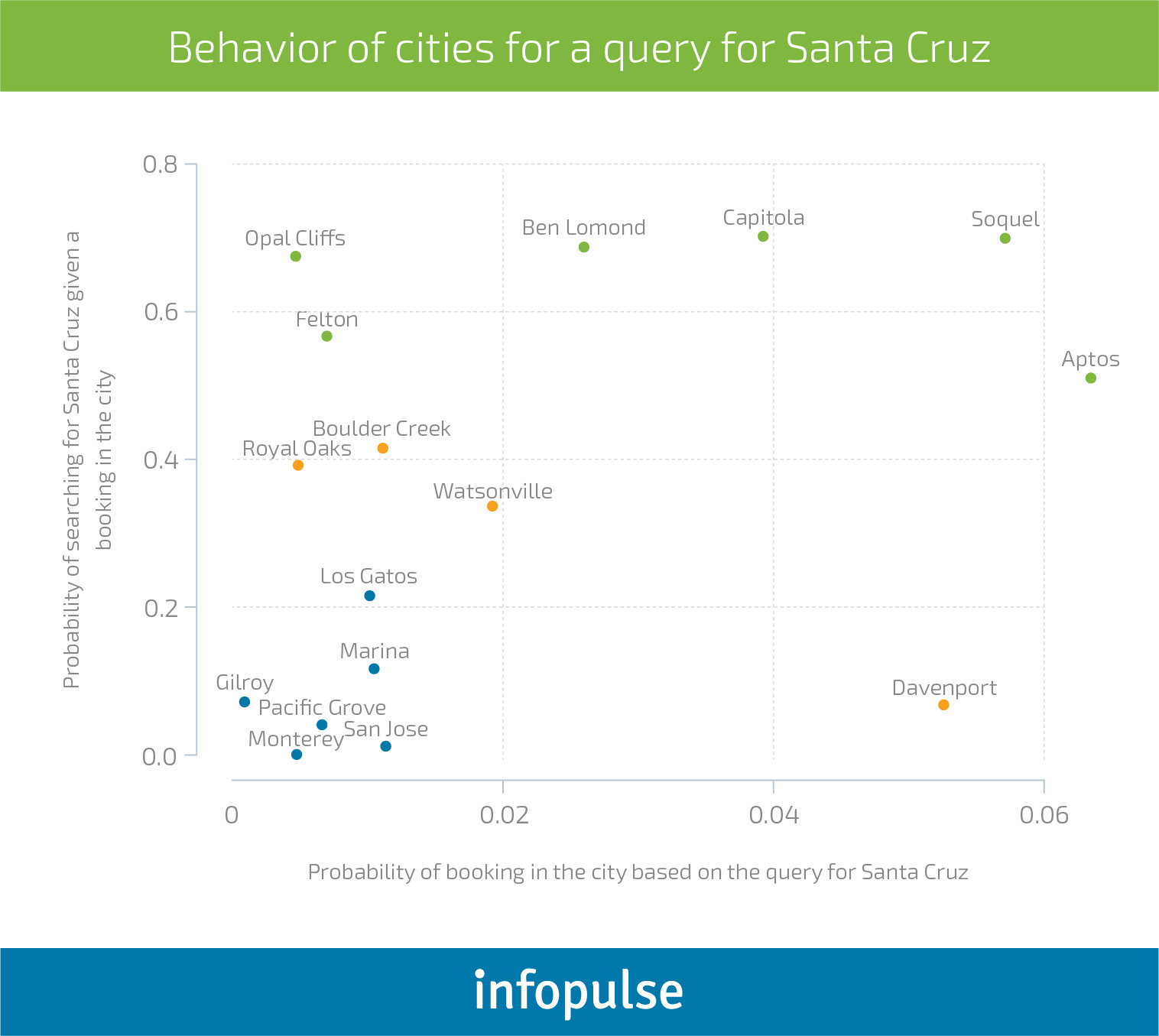 As a result, the platform would not eschew search results towards big cities only and offer users a more comprehensive way of finding a rental at the precise location they need.
Further, Airbnb also experimented with other consumer data collection methods and introduced a more personalized search experience based on demographic insights. By analyzing on-site analytics, they determined that Asian users typically had a high bounce rate when visiting the homepage. It turned out that this audience segment clicked the "Neighborhood" link, started browsing photos but then never returned to book a stay. Using these insights, the company rolled out a localized homepage version for users from the Asian regions replacing the Neighborhood links with the top traveling destinations in Japan, Korea, China, and Singapore. At the post-implementation stage, they saw a 10% lift in conversions.
Amadeus Achieves Real-Time Visibility with VoC Analytics
Amadeus – a global hospitality services provider – has grown to a point where the frontline employees were struggling to build and maintain rapport with a growing customer cohort. At that point, customer feedback was gathered manually and was largely ineffective. As a result, the rate of replies was low and the company could not fully understand what kind of improvement their audiences wanted.
They partnered with Confirmit Horizons to create a new streamline VoC program. At the post-implementation stage, the company could conduct various surveys in multiple languages and all the results were automatically analyzed and shared with relevant departments. Customer Support, Sales and Executive teams received access to live dashboards and monthly reports, summarizing the key findings.
Frontline representatives received access to live dashboards as well, and can now monitor service levels in real-time, make instant evaluations and changes when needed. At the post-adoption stage, Amadeus hospitality division exceeded their company-wide NPS goal of 50 and scored 76.4. The overall satisfaction score of their support reached 9.28 as of August 2017, with a goal of 8.6.
Stitch Fix Builds a Sales Experience Based on Customer Data
Stitch Fix is an innovative personal stylist service and clothes retailer. Within a relatively short time frame, the company managed to grow to 2 million active clients in the US alone and sell $977 million worth of clothing in 2017.
The startup's recipe to success was data science. Their team of 80 professionals is constantly collecting and analyzing customer data to offer an even better apparel shopping experience.
First, they analyzed the datasets coming from the customers', who had filled in an in-depth profile when signing up for the service. The company chose to collect the comprehensive VoC data in regards to customers' tastes and general preferences (e.g., what kind of sleeves do you prefer in blouses?) to more personal traits (e.g., are you a risk taker?), and lifestyle (are you a mom?). This way they obtained the necessary basics to offer better suggestions to their customers.
Next, the team had a separate data set for merchandise. Each garment sold by the company was tagged multiple times with various "match scores" obtained from client preferences, and then ranked accordingly. Finally, the company captured even more data from the customers' feedback, actively solicited every time a customer received their box of selected clothes. The algorithm then gained additional insights about how each item matched a person's style, fit and price preferences. Such cycles took place for every customer and helped the company continuously improve their suggestions.
As well, the company captured VoC to develop new designs for their in-house apparel brand. Their data science team noticed one afternoon that many female clients in their mid-40s asked for a specific style of blouses that were missing from their inventory set. A year later, the company actively used all the collected product gaps insights to develop new apparel items to meet some specific, previously unfilled needs of their clients.
Additionally, they applied data science to collect and analyze feedback about the clothes fit. Based on the experiences of 2 million customers, the company's system determined what type of a fit would make a customer purchase it outside their comfort zone. On a more granular level, using data science, the company adjusted the distance from the collar to the first button on shirts for men with large chests to delight the customers in this category.
Stitch Fix has placed the customer data analytics and data science at the heart of their organization and is now seeing major successes on multiple fronts thanks to such an approach.
If you are ready to become a VoC champion too and see how data science can be applied at your organization, Infopulse consultants would be glad to assist you with creating a set of clear objectives, establishing the right data sources and deploying algorithms that can translate the voice of the customer into better CX and UX experiences.