Article
Top 10 Use Cases for Application Packaging
Originally published: September 30, 2022
Updated: March 07, 2023
6 min. read
Business Applications
Infra & Operations
Managing applications for multiple devices and user accounts may become a severe challenge for companies outside the IT industry. Businesses strive to keep their digital infrastructures stable, secure, cost-efficient, and manageable. It is exactly what digital transformation has in its practical sense. How to minimize efforts while satisfying all these requirements? Application packaging addresses numerous challenges on the way to efficient digital transformation.
In this article, you will discover the top use cases for application packaging services that will give you an idea if it is a viable solution for your enterprise needs.
How Does Application Packaging Help in Practice?
Application packaging is a process of binding required files and components to deploy applications to the operating system and make them work as planned. Read more on how this process is implemented in our recent post.
It makes sense to adopt approaches for centralized app use control, considering that companies use more apps to fulfill their operational needs. According to Statista, in 2021, organizations worldwide used 110 SaaS apps on average, compared to 80 in 2020. Another report states that the total number of different applications used across all departments has reached 976 per organization in 2022 compared to 843 in 2021. To tackle this multitude of apps, more and more businesses use application packaging that helps streamline software management and reduce related costs.
The flexibility in packaging formats and technologies makes app packaging widely usable across various IT system configurations. There are multiple formats for physical and virtual Windows clients and server platforms, macOS environment, and mobile platforms, including iOS and Android:
Scope of Application Packaging Technologies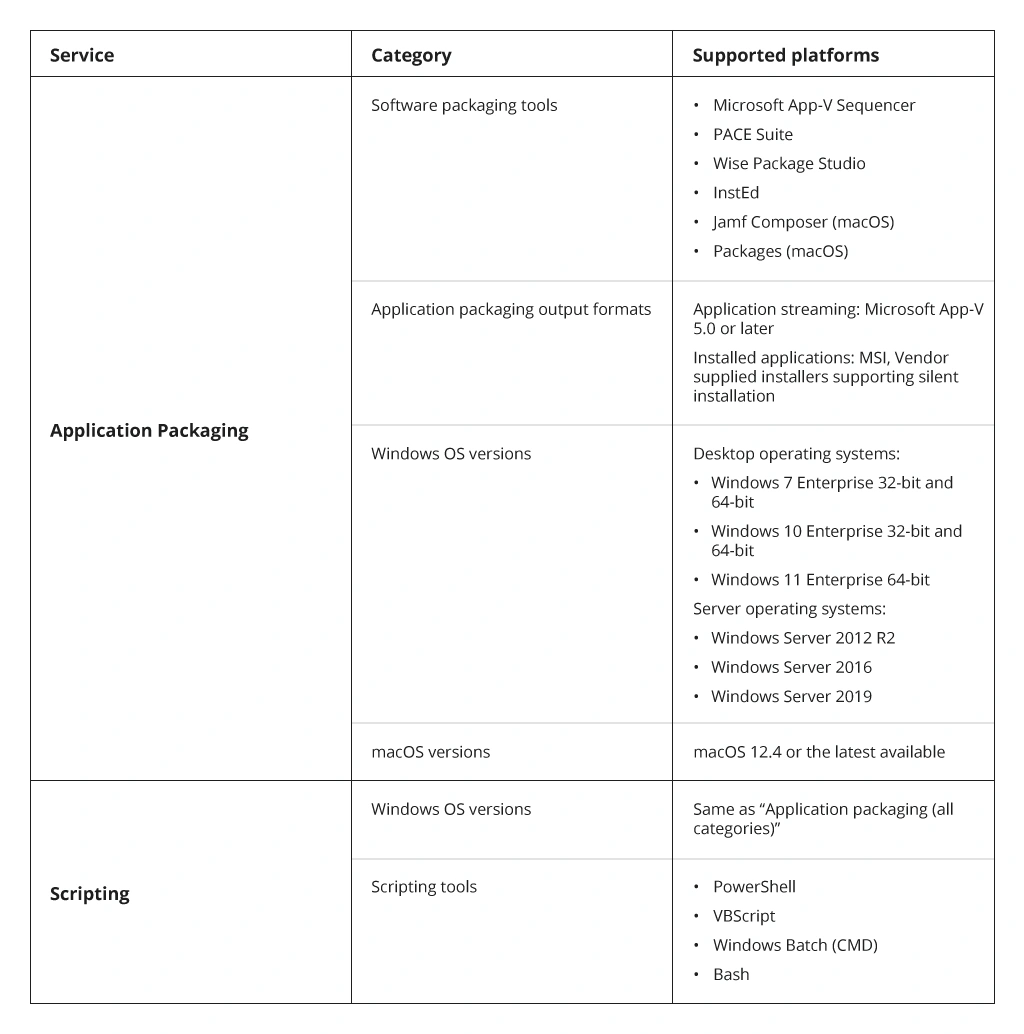 Application packaging helps solve different challenges, from automating the installation to managing end-user permissions and licenses.
Here are the top use cases when application packaging helps out.
1. Reducing the Internal IT Expenses
Application packaging reduces the time required for installing and updating the applications on each computer within the enterprise network.
Galorath reports that the costs for software maintenance typically form 75% of the total cost of ownership (TCO). The 20% of these expenses are related to Corrective Maintenance – the costs of modifying software to correct the issues discovered after initial deployment. With application packaging, the apps pass multiple testing rounds before they are rolled out to end-users. Therefore, various app-related issues are processed and resolved on a more global level. It minimizes the time, costs, and efforts of in-house app maintenance.
2. Making the Cost Stream Predictable
The application packaging services usually offer fixed pricing per package, based on the application package amount and complexity. Defined unit pricing and delivery terms for different software installation packages help predict the cost stream required for software management needs within an enterprise.
3. Centralizing App Management for Multi-Office Companies
The application packaging specialists can arrange and distribute application packaging from a single central point to all enterprise units. In other words, you do not have to keep dedicated AP technicians in each office. For instance, in our recent case, a global company, providing in-car navigation and digital mapping services, aimed to centralize and optimize software management across its units in 50 countries. As a result of implementing a customized version of our proprietary application packaging solution and Smart Update service, the company significantly reduced app deployment and support costs.
4. Improving Computer Network Security
This year, 82% of all data breaches were caused by end-user actions, such as stolen credentials or access misuse. Application packaging allows to set up and manage user permissions on each computer remotely. This way, you can create a more controlled environment in the enterprise computer network and reduce the security risks related to uncontrolled user actions. There is no need to grant additional elevated privileges to end-users that significantly reduces the risks of human errors, which is the second biggest security threat for enterprise IT systems:
Top Security Threats in Enterprise IT Ecosystem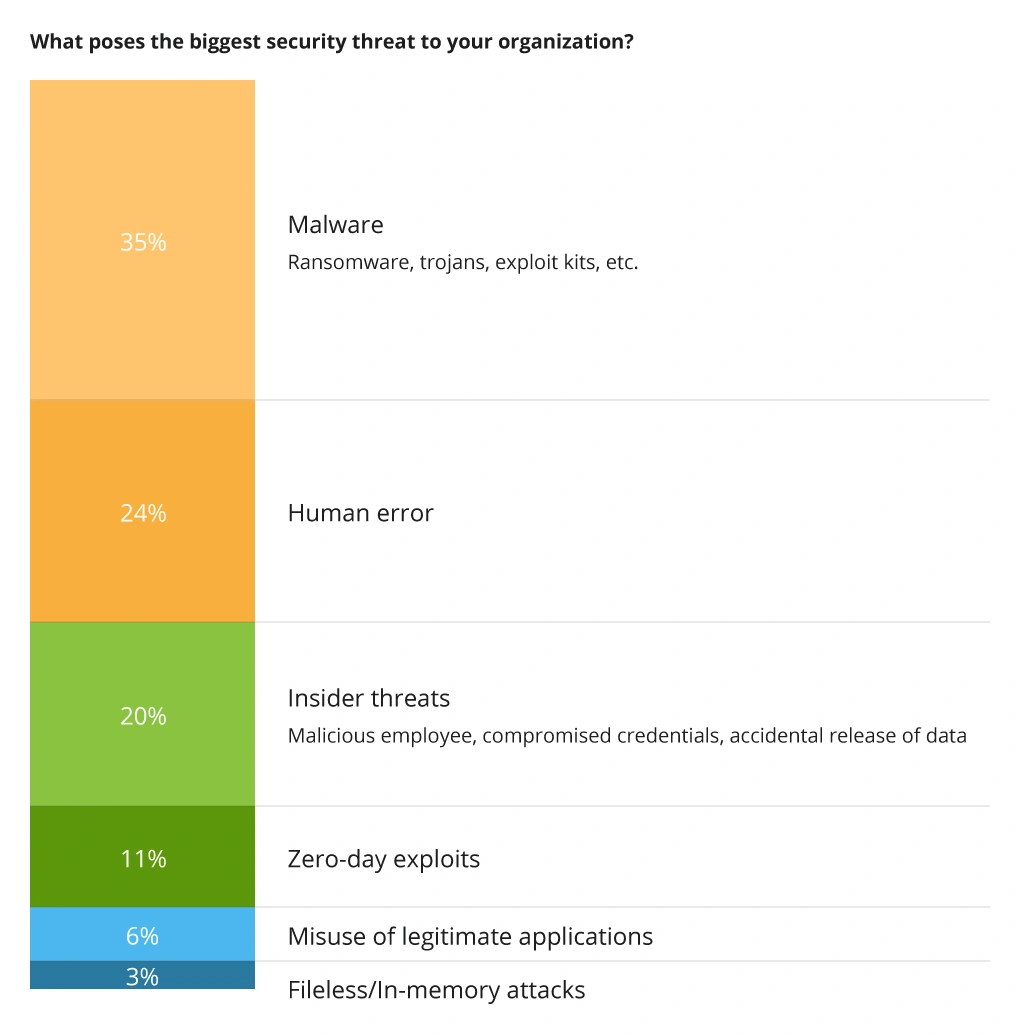 Additionally, IT technicians can mitigate security gaps during the packaging process. The applications will be updated with relevant security patches and extensions that protect your IT environment from unauthorized access.
5. Automating App Installation and Updates
The distribution of applications across corporate devices becomes significantly faster and easier as it is not required to install and set up software manually on each computer or mobile device.
Based on your deployment system, the application packaging service provider will help you automate software deployments, set up unattended updates and safe app installations. For example, we at Infopulse support today's popular deployment systems, including Microsoft SCCM, Microsoft Intune, VMware AirWatch, and VMware AppVolumes/AppStacks.
6. Improving the Reliability of Installed Applications
Putting applications management aside from the end-users eliminates breakages and different 'human-factor' issues. Centralized app management allows your IT technicians to ultimately control app settings, inventory, and customizations.
The set of applications for each company's department and location can be configured according to its specific needs and automatically deployed to the connected devices. You will not have to send instructions on how to set up each application to end-users. All the apps will be deployed with the predefined default settings, according to your requirements.
7. Application Inventory Version Control
With the help of application packages, businesses can maintain complete control over their application library, versions, and all the software installed on the enterprise network devices. It helps address the software sprawl – the second biggest IT assets concern among organizations, according to the State of IT Visibility Report by Flexera:
Greatest Concerns Regarding Enterprise IT Assets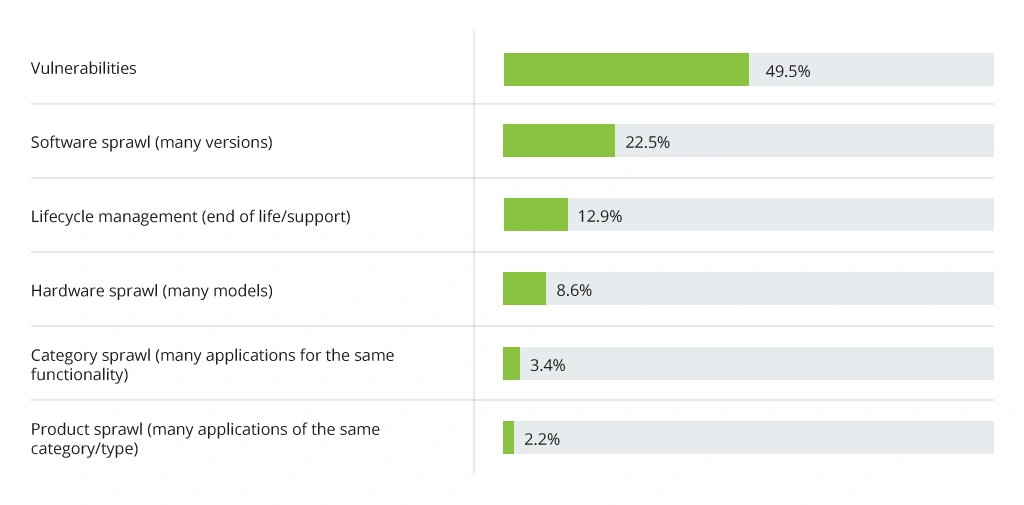 With application packaging, end-users receive only the app versions that have been well-tested and approved by the client's test users. As a result, your employees will always deal with stable versions and auto-updates will not affect the operation stability.
8. Setting Up Apps in Line with Corporate Branding
Branding is essential for translating corporate identity. With application packaging, the apps can be customized according to the company's brandbook and corporate standards. For example, when working with documents in Microsoft Word, staff must maintain specific font parameters and colors, insert corporate headers and footers, etc. Another popular example is setting up the default page URL (to a corporate website or a CRM system) and other interface settings in a web browser. Such styling and layout parameters can be preset within the application package, ensuring both consistency with the company's corporate identity standards and no extra time spent on manual setup.
9. Simplifying License Management
The first step in the application packaging process is an in-depth analysis of software used across the enterprise. Based on that, the required app licenses are automatically distributed to users according to corporate needs, saving costs on redundant licenses. Taking into account that 28% of desktop software spend is considered wasted, effective license management helps significantly reduce unnecessary expenses.
Often, application packaging service provider offers license consulting regarding licensing challenges and procurement. Choosing the optimal software product editions based on the application usage in a specific enterprise also helps optimize the overall software cost.
10. Streamlining the Company's Continuous Integration Process
Integrating automated packaging helps significantly reduce human errors and streamline software delivery in product companies. If a company produces software in-house, the application packaging service provider can help streamline the creation of automated installation packages using the client's continuous integration tools.
Clearly, you can get multiple improvements for your enterprise digital infrastructure with application packaging by integrating it with your in-house technicians or applying for the assistance of a third-party service provider.
Internal vs. Delegated App Packaging
In recent years, most medium-to-large companies have preferred delegating application packaging services to third-party providers. The main reason behind this move is cost-efficiency. Another decisive factor is the enterprise scale and infrastructure complexity.
Internal application packaging suits companies that have one or two offices within the same location. One dedicated administrator is enough to cover all the application packaging needs.
Delegation of application packaging services is suitable for bigger companies with units in different cities and/or countries. Such enterprises may require a number of dedicated software packaging specialists per office. Ordering the same service from the outside usually costs significantly cheaper. The dedicated service provider can also eliminate the hassle of implementing and maintaining the package distribution system.
There are also cases when delegated application packaging becomes more preferable regardless of the company size:
When small-to-medium companies have no qualified technicians on board yet are willing to train ones to manage the growing company's demands internally. If that is your case, consider hiring external experts to perform initial software packaging, automate the technical routine, and train your in-house specialists to manage all processes by themselves.
If you would like to extend your company's services with application packaging, you can hire a third-party team instead of keeping dedicated in-house specialists. This approach helped our client Revacom significantly increase their capacities and reduce the software delivery time and costs.
If you decide to delegate application packaging services, the business value will depend directly on the reliability and experience of the chosen vendor. Discover the critical aspects to consider when choosing the right application packaging service provider in our previous post.
What's next?
The benefits of application packaging go way beyond reducing IT expenses. If adequately arranged and deployed, it is advantageous for enterprises on all layers:
Better security and reduced downtimes.
IT administrators spend significantly less time on the app management routine.
End-users do not waste time installing and updating applications on their computers, focusing solely on their work tasks.
Application packaging may become the core component of your software management strategy that will allow you to make a powerful step forward in enterprise digital transformation, addressing the needs for effective business growth and reducing overall IT costs and risks.
Infopulse is ready to provide expert assistance in implementing application packaging for your IT infrastructure. We have 30+ skilled dedicated engineers and 15+ years of experience in providing application packaging services for enterprises in various industries. We propose flexibility in supported technologies, timely and cost-efficient delivery, 8/5 or 24/7 support, and an individual approach to each client.