How to Choose the Most Optimal Application Packaging Service Provider
Originally published: May 19, 2020
Updated: March 07, 2023
7 min. read
Software Engineering
Infra & Operations
Sustaining an efficient IT environment is becoming more complex and expensive due to the growing volumes of software for desktop and server systems. This creates the need for an alternative approach to application management that excludes business disruptions and improves cost-efficiency. Application packaging and virtualization are advanced methods of app management that streamline software configuration and deployment, minimize software failure risks, and significantly improve IT infrastructure administration.
In this article, we'll have a closer look at what application packaging is, its key business benefits, and how to choose the right application packaging service provider.
How Does Application Packaging & Virtualization Work?
So what is application packaging? An application package is a set of system resources, like files or registry keys, related to a specific application, which is already assembled and ready for deployment. It simplifies the installation of these resources to the operating system so that the application can work as planned. In essence, application packaging is a process of binding relevant files and components to create a customized application. To function successfully, the application package must be wrapped up in a specific format, either MSI (Windows Installer), macOS or Linux, and comply with corporate IT standards and security restrictions.
Application virtualization creates virtual layers that partially replace the runtime environment of the operating system. The applications are stored in the virtual environment with a single file, which allows running applications on different systems, for example, Microsoft Windows apps on Linux. This technology eliminates application conflicts and reduces system integration and administration costs.
Traditional vs Virtual Architecture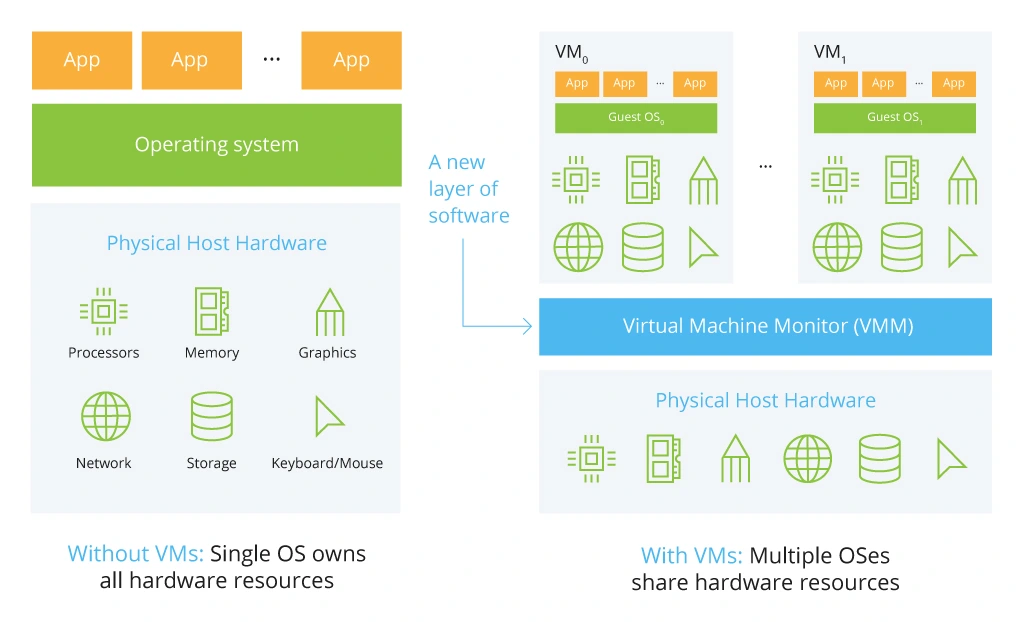 How Application Packaging Improves Software Management
By streamlining software installation, uninstallation, repair, and patching processes, application packaging benefits every phase of the application deployment and support lifecycle. It improves the efficiency of the pre- and post-deployment phases by providing a stable environment that automatically distributes the packages across multiple client machines. Fast and standardized installations substantially reduce the risks of software failures and decrease IT support expenses. Moreover, packaging technology can simplify the application request and approval process, which excludes unnecessary deployments, and helps the user to receive the needed app version faster.
Application packaging tools have numerous valuable features like self-healing and rollback. If an important file like DLL or .EXE is corrupted or deleted, the application packaging tools trigger the self-repair option, which swiftly resolves the issue. The rollback feature creates a copy of every file that is located in a hidden directory, and if the installation is unsuccessful, the rollback script automatically returns the system to its original state.
By utilizing applications packaging, enterprises may preserve business continuity with swift, unattended, and risk-free software installations and updates, and reduce costs of software management and support.
Aspects to Consider When Choosing an Application Packaging Service Provider
A reliable application packaging service provider works in accordance with the best practices and guarantees full transparency across all stages of the packaging process. The main feature to look for in the application packaging provider is technological competence. Experienced packaging engineers must accurately analyze the software and provide a holistic view of its compatibility by conducting application shimming (infrastructure/framework compatibility). After the analysis, packages must be reconfigured into a specific format, tested on targeted platforms to avoid possible application conflicts, and be prepared for deployment.
Highly qualified application packaging service providers utilize the following tools and technologies:
Windows Installer (MSI packaging format);
App-V, VMware ThinApp, MSIX, and Citrix XenApp for application virtualization;
Mac OS/ Linux packaging tools;
MS SCCM, Empirum Matrix42, Ivanti FrontRange DSM, IBM Tivoli, and IBM BigFix deployment platforms.
Another important aspect to look for in the application packaging provider is the license management offering. Integrated license management ensures continuous license compliance of your business, which increases visibility over your IT infrastructure and reduces software costs. In addition, it's essential to understand what types of application packaging support services are offered by the provider. Depending on the project scope, providers may offer various support options, ranging from part-time services of an expert coordinator up to full-scale 24/7 support.
Lastly, a credible application packaging service provider should offer flexible delivery options that suit both SMEs and large enterprises. SMEs may require smaller volumes of software packages, while large enterprises may request to set up a full-cycle application packaging factory to cope with the required software volumes. Highly competent application packaging providers offer service packages with a predefined scope of deliverables. Such service packages are tailored to suit projects of different volume and complexity, and can significantly save time and costs for the customer.
To summarize, the perfect application packaging service provider:
Has a strong competence in application packaging;
Guarantees transparency across all packaging stages;
Utilizes advanced software packaging tools and technologies;
Offers diverse service packages that suit your project;
Conducts precise compatibility assessment and package testing;
Ensures swift and risk-free application deployment;
Offers support and license management services;
Complies with the required IT and security standards;
Supplies all necessary technical documentation;
Offers flexible delivery options that suit your business needs.
Top Application Packaging Solutions on the Market
There are numerous comprehensive application packaging solutions available on the market today. These solutions are tailored to further improve the package customization, run complex packaging scenarios, update applications, and optimize packaging workflow. Let's review the functionalities and benefits of these solutions in detail.
PACE Suite – a High-end Application Packaging Tool
PACE Suite is an innovative tool designed to improve application packaging and virtualization. It enables the creation, repackaging, and customization of MSI, App-V, AppX, MSIX, and VMWare ThinApp packages. The solution features advanced control options that include the ability to review and alter virtualization levels and modify virtual file systems. Moreover, the tool is accessible from any physical or virtual machine, both locally or from a network share.
PACE Suite utilizes intelligent software wizards that automate quality, safety, and deployment readiness checks. It automatically creates package documentation with installation instructions in a user-friendly form of screenshots and annotations. The tool is sold with a perpetual user-based licensing model.
Smart Update – a Catalog of 100+ Business Apps
Smart Update is an application packaging solution that offers a comprehensive library of standardized and deployment-ready packages for the top 100+ most frequently used business apps. All application packages come in up-to-date versions and architectures, are available in multiple languages and may be customized to meet the customer's requirements regardless of their business scale. The most important features of Smart Update are rapid and secure update rollout and full-scale 24/7 support.
PACE Packager Hub – a Workflow Tool for Application Packaging Teams
PACE Packager Hub is an all-in-one solution entirely dedicated to customer servicing, teamwork, and management of packaging tasks in teams of any size. It operates as a joining link between customers, supervisors, packaging engineers, and their tools. It can be fully integrated with PACE Suite or application packaging software.
The primary benefits of PACE Packager Hub are:
Flexible workflows tailored to the customer's requirements;
Full-scale management of the complete lifecycle of orders and packages in one place;
A broad spectrum of advanced controlling and monitoring features;
The central place for communication within the teams and the customers.
Optimized Packaging Workflow with PACE Packager Hub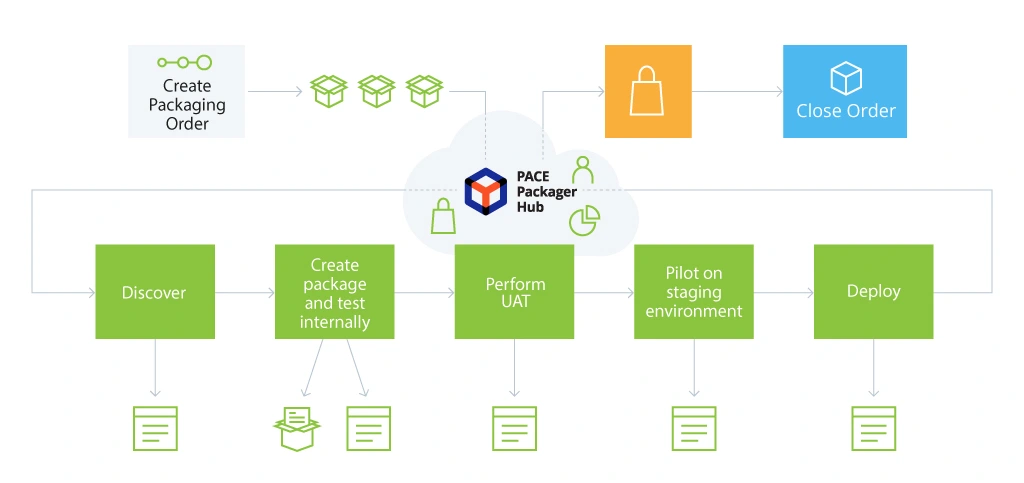 MSIX Packaging Tool – an Advanced Solution from Microsoft
MSIX Packaging Tool enables users to repackage their existing desktop applications to the MSIX format. It features an interactive UI with an option to convert applications without having the source code. MSIX software development kit features all of the required APIs to validate and unpack MSIX packages on any platform. Package installation and updates are available either locally, or on various content distribution networks. MSIX is a versatile and modern tool that optimizes disk space, network bandwidth and ensures swift and secure package installations.
Conclusion
By implementing the application packaging technology, you can establish an effective software environment, enhance application management processes, exclude system failures, and reduce support expenses. To receive full advantage and create added business value from application packaging, you should choose a reliable packaging provider. The most important aspects to consider when selecting an application packaging service provider are – strong technological competence, their solution portfolio, and flexibility of delivery models.
With 100+ domain experts, Infopulse has 15+ years of experience in application packaging and 50,000+ successful installations completed. We have developed three advanced proprietary application packaging solutions – PACE Suite – the fastest packaging tool for building MSI packages, Smart Update – a catalog of 100+ software packages, and PACE Packager Hub – a high-end packaging workflow tool. The benefits of working with us are – minimal ramp-up time, 24/7 support, flexible delivery options, included license costs, and availability of diverse service packages.