Business Continuity Operations during Wartime: Infopulse Timeline and Experience
Originally published: June 08, 2022
Updated: November 16, 2023
9 min. read
Cybersecurity
Infra & Operations
In light of the current warfare situation unfolding in Ukraine, we decided to compile an article with a detailed account of our company's response to the Russian invasion on February 24th, 2022.
Infopulse, an international IT provider that was established in 1991 in Kyiv by Alexey Sigov and Andrey Anissimov, operates offices in 6 Ukrainian cities: Kyiv, Kharkiv, Lviv, Odesa, Vinnytsia, and Zhytomyr. Ongoing military hostilities have triggered the emergency implementation of the Business Continuity Processes and Procedures established by the Infopulse BCP Committee to safeguard specialists, protect assets, and mitigate business operation risks.
Contingency Planning Proves its Efficacy
As we continue to monitor the escalation of the Russian invasion closely, we can state that more than 90% of Infopulse specialists are now in safe locations and continue working as usual under these shocking circumstances for our country. Such an efficient functioning mode of the company would be impossible without solid and timely Business Continuity Planning.
Business Continuity Planning (BCP) is a crucial methodology and a set of risk management processes that every company must have at its disposal to maintain mission-critical operations. The first severe contingency the company faced since 2014 (the beginning of the Russian invasion) was the Coronavirus pandemic. The Crisis Management Team, alongside the Infopulse BCP Committee, has been in running order since the start of 2022.
The internal company structure with specialists involved in BCP was expanded and transformed to enable dynamic risk management. During this period, we successfully tested the capacities of our backup data center. While swift migration of nearly 2000+ specialists to digital workplaces allowed Infopulse to refine its methodology of emergency response and recovery planning.
Risk Management Procedures for Military Threat
Pavlo Moiseiev was among the first members of the BCP committee to notice an increasing tension between Ukraine and Russia in 2020, long before the full-blown invasion. Those political sentiments were taken into account but were not closely analyzed. In the spring of 2021, Pavlo Moiseiev took the role of Business Continuity Manager to arrange a massive shift of Ukrainian professionals living in six cities to the remote mode of work and home offices.
April 2021
The situation changed in April 2021, when Russia started concentrating heavy weapons and military personnel on the Ukrainian borders. The Infopulse BCP Committee implemented a continuous monitoring and extensive analysis of the developing situation from that time on. After a close investigation of the current events and their possible impact on the company's operating activities, BCP developed an emergency response roadmap approved by the EMT (Executive Management Team).
November 2021
In November, we devised a new methodology for assessing the military threat for the company and its specialists. Designated members of the BCP Committee started studying and visiting various enterprise forums. Among them was the workshop 'Winter Military Invasion in Ukraine: Realistic or Not?' organized by ASIS Ukraine, the Ukrainian branch of the world's largest association for security professionals.
A valuable knowledge transfer helped us formalize the procedure of threat monitoring and relevant response scenarios. To develop effective mitigation measures, we built our business continuity plan based on the threat levels defining sets of risks and mitigations instead of numerous hard-to-predict scenarios.
Threat Levels and Mitigation Measures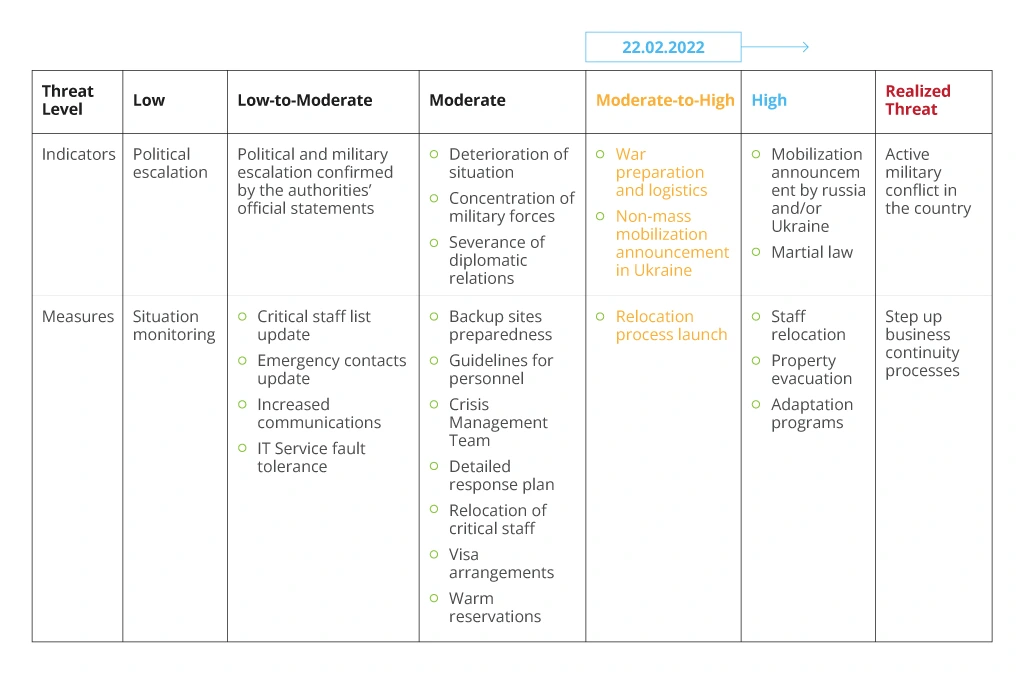 It's important to note that only close and continuous internal communications within the Infopulse community made BCP activities successful. The Infopulse Internal Communications Team keeps all specialists informed and updated about the present and upcoming company's actions and their impact.
January 2022
A growing concentration of the Russian military forces prompted Infopulse to expand the company's response capacities. We understood that the capacities and allocated resources of the BCP Committee were not enough to respond promptly to a conflict escalation.
Following the best practices from international professional organizations specializing in business continuity as well as guidelines from our parent company Tietoevry, a Nordic IT software and service provider, we created a specialized internal Crisis Management Team comprised of Top Managers and critical specialists.
The CMT was created to coordinate the preparation and response to the moderate threat level of the Russian-Ukrainian conflict. While all decision-making power was transferred to CMT, the following teams were created to deal with tactical planning and operations:
BCP Operational – a team of approximately 15 specialists involved in developing and implementing emergency response procedures.
BCP SPOC (Single Point of Contact) – a department that started with 3 and grew up to 40 dedicated members serving as coordinators for evacuation and relocation activities.
Mitigation Strategy in Action
In December - January 2022, the BCP Committee headed by Pavlo Moiseiev created an outline of a general response plan (see the scheme below). As of April, all of its points were successfully realized. Preventive relocation was the only exception – many specialists declined to relocate beforehand due to the strong belief that the war was unlikely to happen.
A General Response Plan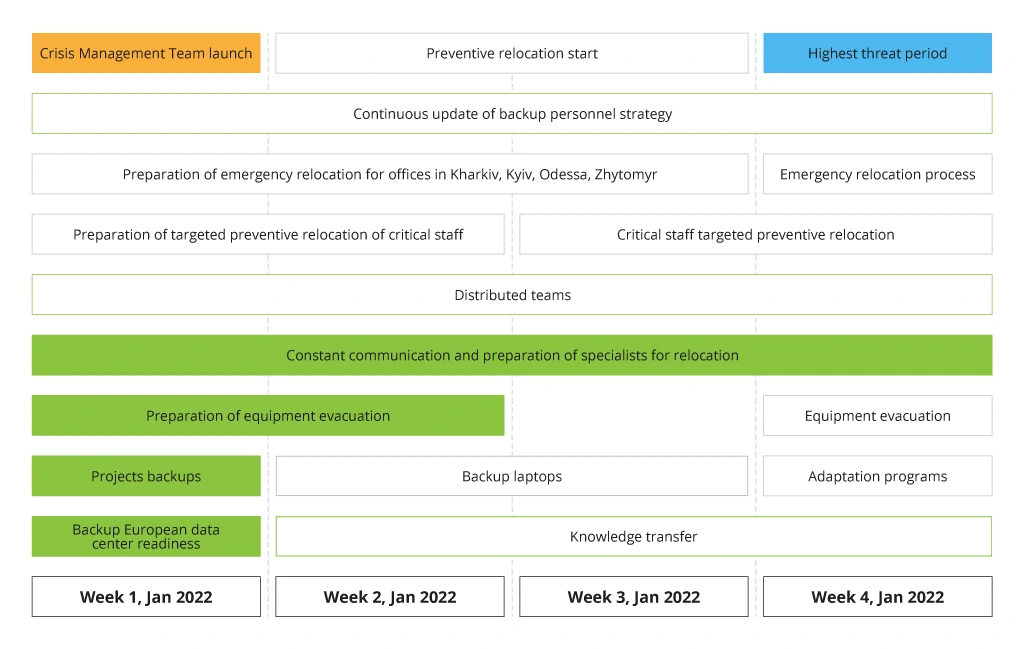 To build a functioning and quick-to-react support system for the whole company, we tried to consider all details: from social relocation packages, accommodation reservations, and transportation means to close coordination with our European delivery centers in Poland and Bulgaria.
Let's walk through various business continuity processes to see how the synced operation of the parts is crucial to the whole.
Resource Management
In January 2022, we started a gradual implementation of the approved and tested measures.
Team distribution and backup specialists is a regular activity for maintaining business continuity of service deliveries. With an already established process, it was easier for us to ensure regular and continuous deliveries across all projects.
Project and data center backups were tested beforehand and successfully migrated and realized without any data loss or service disruption.
IT infrastructure and 2 archives of physical documentation were successfully evacuated from the Kyiv office in March.
Our response plan also involved negotiations with Polish authorities regarding legal matters. CEO of Infopulse Poland Łukasz Olechnowicz, together with other company members, were closely cooperating with the Council officials of the Lodz and Gdansk cities to simplify the legalization process for professionals relocating from Ukraine.
Infopulse Offices and Coworking Spaces In Poland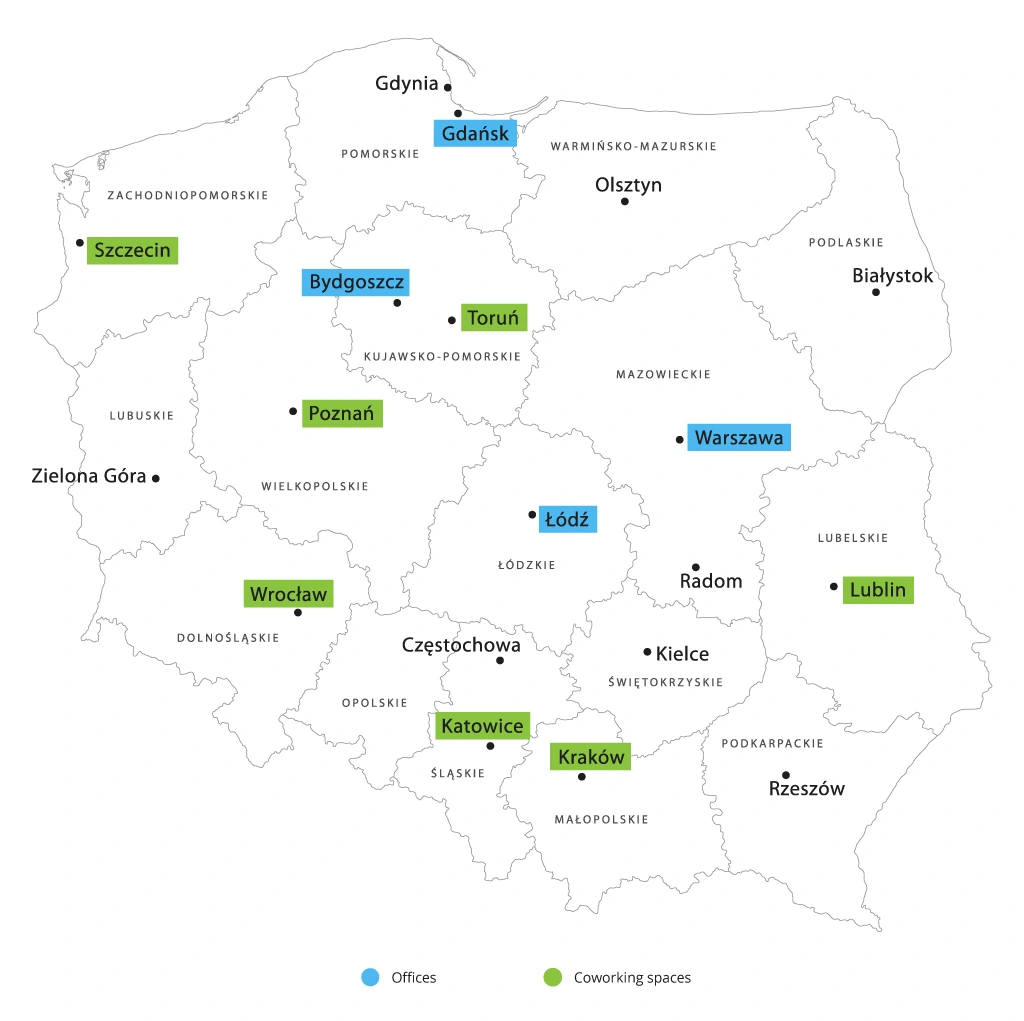 Relocation and Evacuation
Before February, we had a preventive relocation measure in place. However, only a small number of Infopulsers had used this opportunity, hoping it would be unnecessary.
As a result, in April 2022, more than 90% of Infopulse professionals are now in safe locations and continue to work in a "business as usual" mode. As for the financial aspects, Infopulse continues to compensate relocation expenses for all specialists in Ukraine and abroad.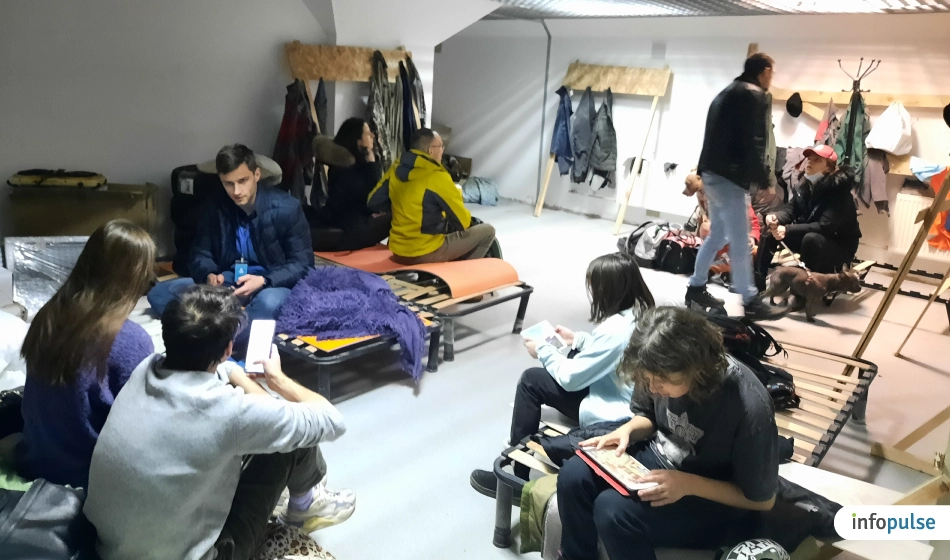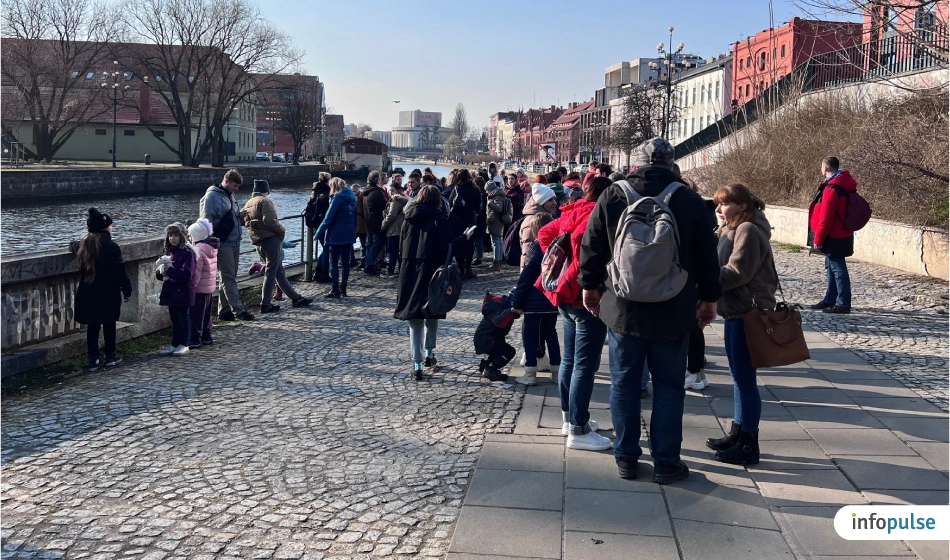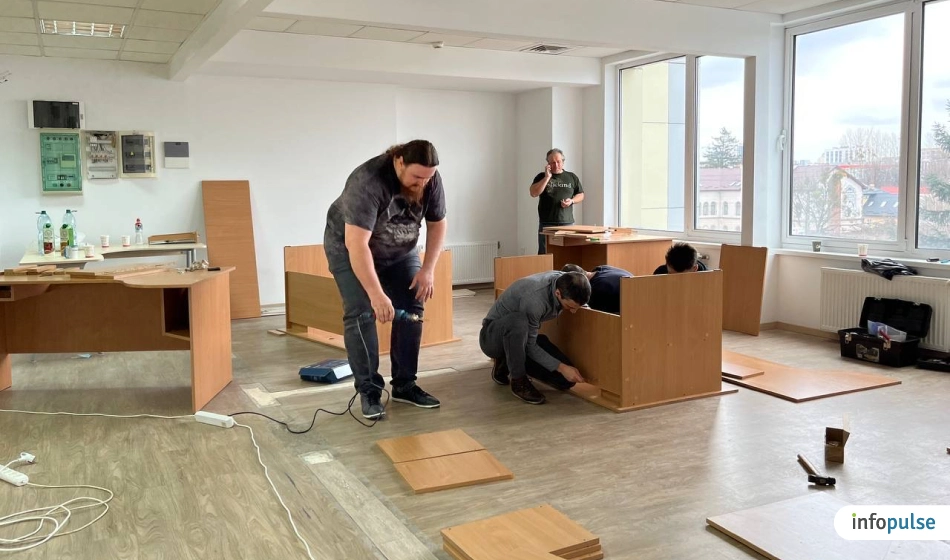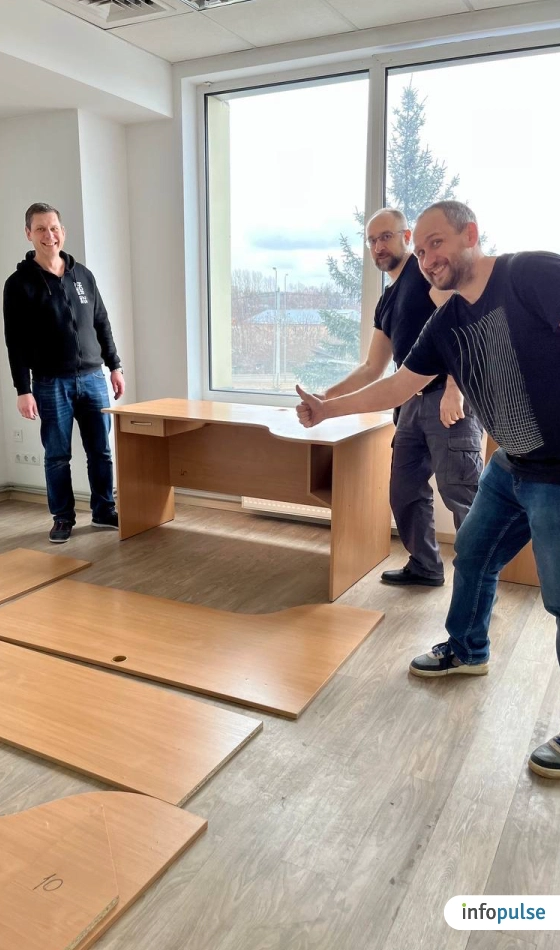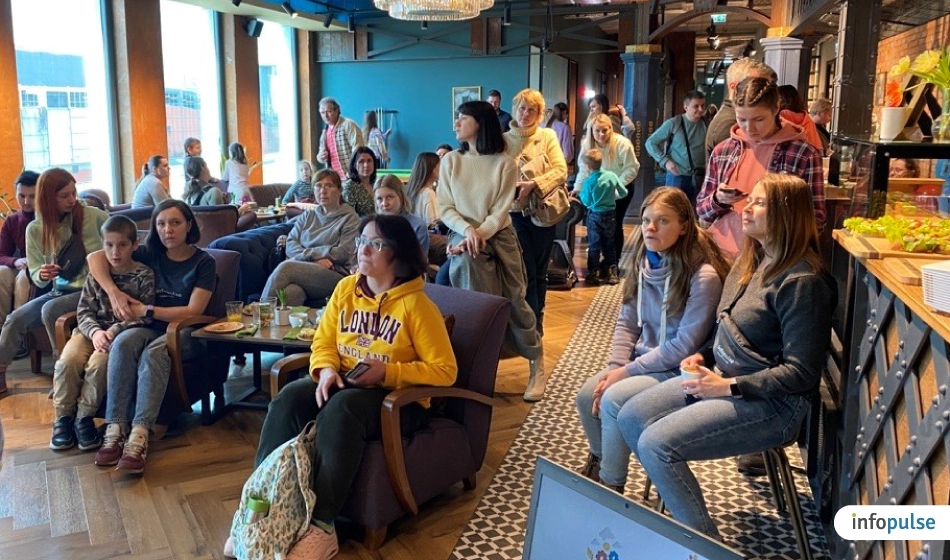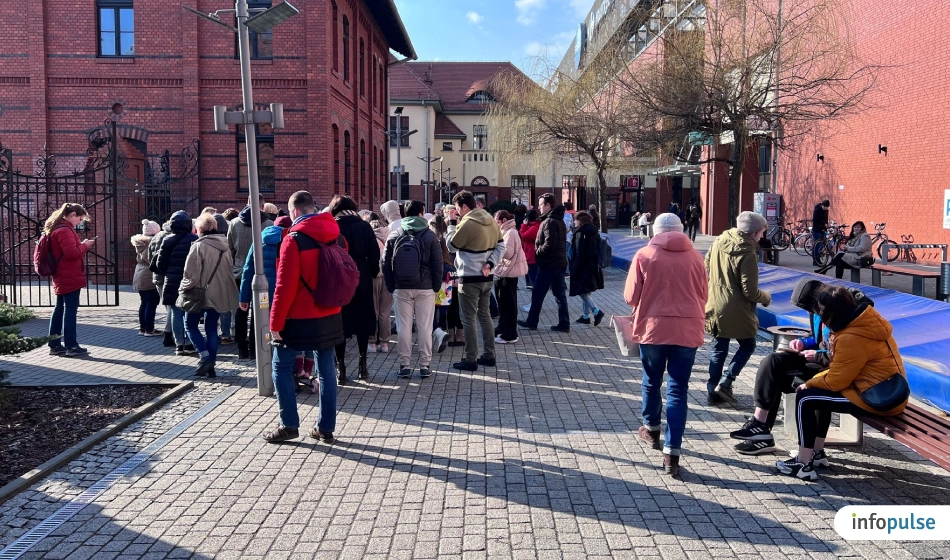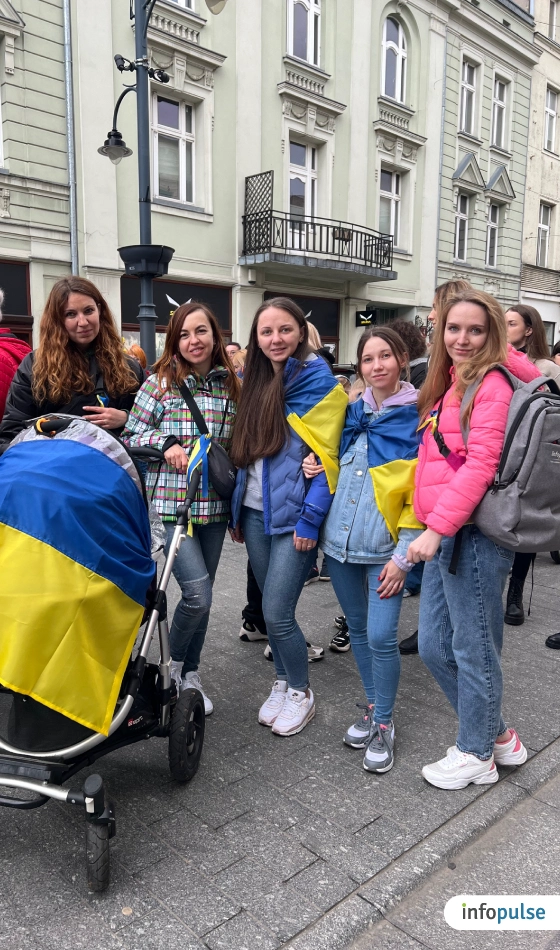 Key Assembly Hubs: Vinnytsia and Lviv
The west-central city of Vinnytsia became one of our evacuation points, which served as a temporary hub for further relocation to Lviv, Poland, or other foreign destinations. For some, it became a safe place to live and work. From Vinnytsia, we also organized buses heading to the Polish and Romanian borders. From there, our volunteers helped Infopulsers reach one of our Polish or Bulgarian offices or continue their trip further.
Our Lviv office in Western Ukraine served as another transit point for Infopulsers and their loved ones. The company's workplaces were expanded in all operational locations to admit professionals who were forced to leave dangerous regions. Ivan Korzhov, Infopulse Regional Manager and CMT member, shared his experience of repurposing the Lviv office premises into a transit hub and overnight accommodation for our specialists.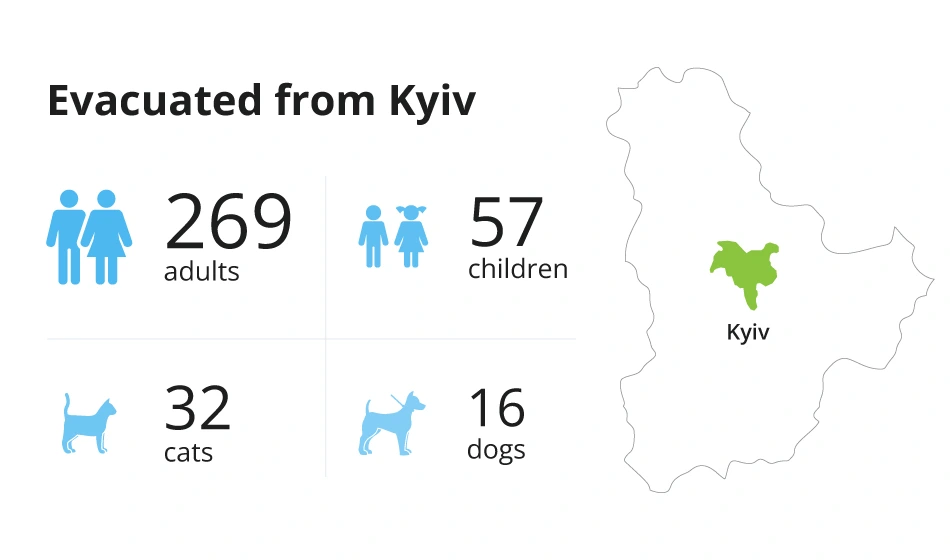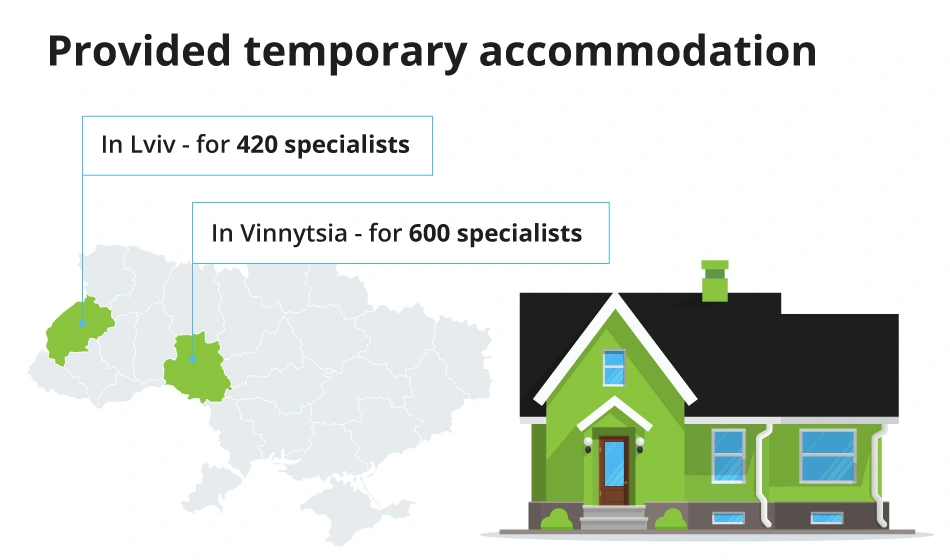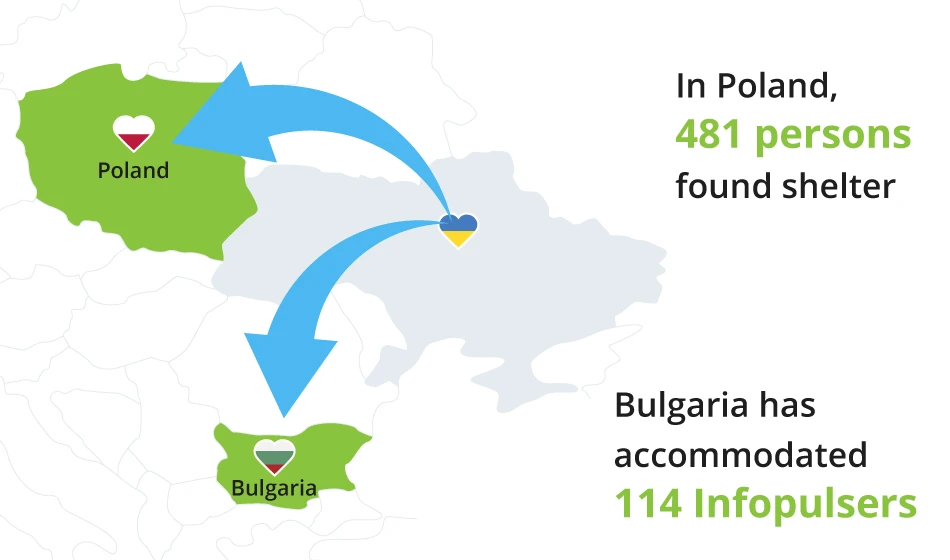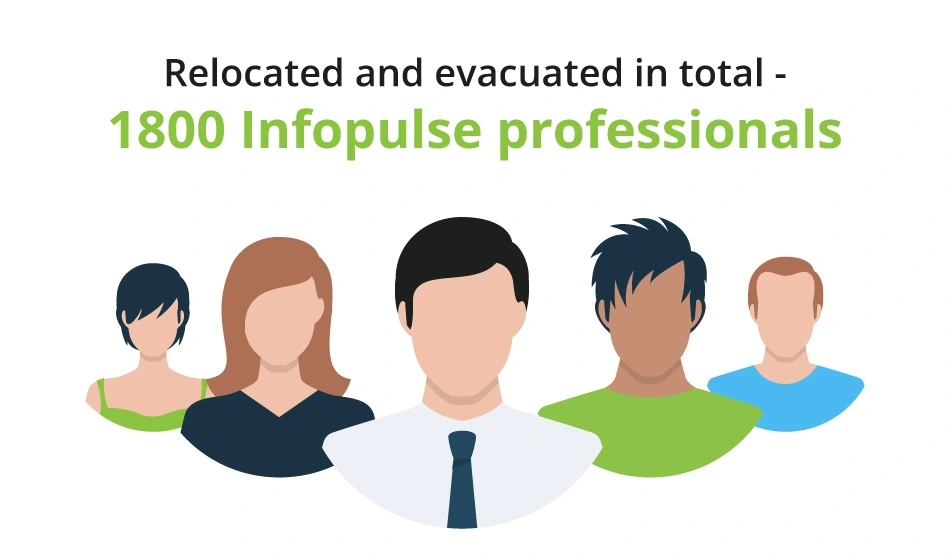 Specialist and Client Security
During the first days of the war, we used simple forms to gather emergency data from our specialists regarding their whereabouts and relevant contacts. Later on, we devised a mobile application "Infopulse Connect" for continuous communication and data collection built on Power Apps. It allows us to gather and analyze specialists information for security purposes. Also, Infopulse specialists can use this application to submit their location or request for help.
Starting November 2021, we have delivered 40+ communiques and informational materials regarding BCP and cybersecurity activities to our clients, and 130+ specialized memos to our experts. However, it is difficult to put into numbers the amount of support provided and received inside our community.
Nataliya Velykodna, Operations Team Lead and Chief Coordinator for evacuation in Kyiv, was not just guiding professionals through the carefully staged process of relocation but also provided 24/7 mental health support. Nataliya's expert communication skills helped Infopulsers overcome paralyzing anxiety and safely leave dangerous locations.
Recruitment
Another vital aspect of our BCP plan is the continuous process of recruiting new professionals. Infopulse has 150+ open positions available in all the countries where we are present (Poland, Bulgaria, Germany, and Brazil).
Attracting new talent to our company has always been a continuous process that hasn't been interrupted, not even in the wartime. For example, one of the Infopulse specialists, who was to start on February 24, showed up for work and received their equipment in our head office. In total, there were 60 new recruits who successfully joined Infopulse during the February-March period, some were even evacuated before their 1st workday.
Concluding Thoughts
Having surpassed the 100th day of the Russian invasion, Infopulse continues to deliver services in the 'business as usual' mode. The forward-thinking approach and consistent execution of the security and BCP strategies have allowed our company to lead through the crisis by providing uninterrupted service and ensuring the safety of our experts.
If you need help with making your security practices are all set and future-proofed, you can always contact us to get expert advice or a custom solution.