Fintech
|
Written by Oleksandr Nikolaienko
Reading time: 7 minutes
Financial technologies are on the rise and conversational banking is one of the most promising directions for their development. The use of advanced virtual assistants was featured by &nbsp as one of the most impactful tech trends. This is an opportunity to greatly improve customer service, enable brand omnipresence, increase security, cut costs, stay trendy, and better meet customers' demands. Leading financial brands are on their way to adopting conversational technology, making it an essential part of their business processes and customer experience.
What Is Conversational Banking?
Conversational banking refers to the set of tools and technologies that allow customers to interact with the financial institution using voice, chat, and text messages, instead of using a mobile app or built-in website interface.
This is a newer approach to performing basic financial operations. The opportunity to manage finances in this way is quite in-demand by the modern generation of users.
&nbsp
Technologies behind Conversational Banking
Powered by artificial intelligence, conversational banking implies a set of modern tools and technologies. Below are specific features and capabilities that make banking experience more innovative, effective, and engaging:
Machine learning algorithms.

Chatbots that are already an integral part of the customer experience across different industries are at the core of conversational banking. They are powered by machine learning. In this case, a chatbot can handle basic operations and standard questions.
They can also be driven by deep learning, which is more promising for delivering a truly engaging customer experience. In this case, chatbots learn from customer's feedback and behavior to make each subsequent interaction more personalized and tailored to customers' needs.

Natural language processing.

This is another core technology of conversational banking. The ability of artificial intelligence to recognize human speech, understand it, and provide meaningful responses makes a conversational approach work. For example, the

&nbsp

perfectly understands human speech and enables human-like conversation.

Object recognition.

Data safety and user authentication come first in the financial sphere. Object recognition features are essential for securing and authorizing financial transactions with the help of fingertip scanning or user face identification.

Optical character recognition.

With the help of this feature, an artificial intelligence algorithm may recognize printed and handwritten text and transfer it into one the machine understands. For instance, with the help of this technology, the user may scan a handwritten check, transform it into a digital one, and receive their money with 100% accuracy.

Data analysis.

Data analysis is one of the strongest capabilities of artificial intelligence. When used as a part of conversational banking, it opens up a lot of opportunities for understanding the customers better and personalizing their journeys. For example, Dori, a

&nbsp

, based on the analyzed preferences of its customers, searches for the best deals and personalized options for.

Predictions and suggestions.

Accurate predictions and smart suggestions based on the users' behavior patterns and previously made requests are some features that conversational and AI-powered banking promises. This is how

&nbsp

, a self-learning chatbot from USAA works.

Types of Conversational Banking
There are several types of conversational banking:
Messaging apps.

In this case, a bank's chatbot is embedded into an instant messenger like Facebook Messenger or Telegram. Using such platforms is one of the most common approaches to chatbot development.

Voice assistants.

Such an option gives the user the opportunity to perform financial operations using voice and familiar tools like Siri, Alexa, and Cortana. Voice payments and voice commands are one of the current mobile banking trends.

Mobile banking app assistants.

These are built-in chatbots that come as a part of a mobile banking app. There are onboarding bots that help users get started with the app. Payment bots schedule and make payments as they were specified by the customer, such as,

&nbsp

, a chatbot created by Bank of America. There are also account bots that are always ready to update the users on their balance and other account details like

&nbsp

. By 2022, the use of chatbots is predicted to automatize

&nbsp

, so they are expected to evolve as well. For example, Amy, a

&nbsp

is a neural network algorithm that self-learns from each interaction to evolve and be even more useful with any subsequent request resolution.

IoT.

The use of the Internet of Things is the future of conversational banking and instrumental for financial management. To date, this approach is not that widely adopted, mainly because of data security concerns. Still,

&nbsp

have already integrated Alexa with their mobile banking opportunities. The customers of these banks may use Alexa to check an account's balance or make a payment via voice commands.
Capabilities & Business Benefits of Conversational Banking
The above types of conversational banking can streamline the following tasks of financial organizations and their customers: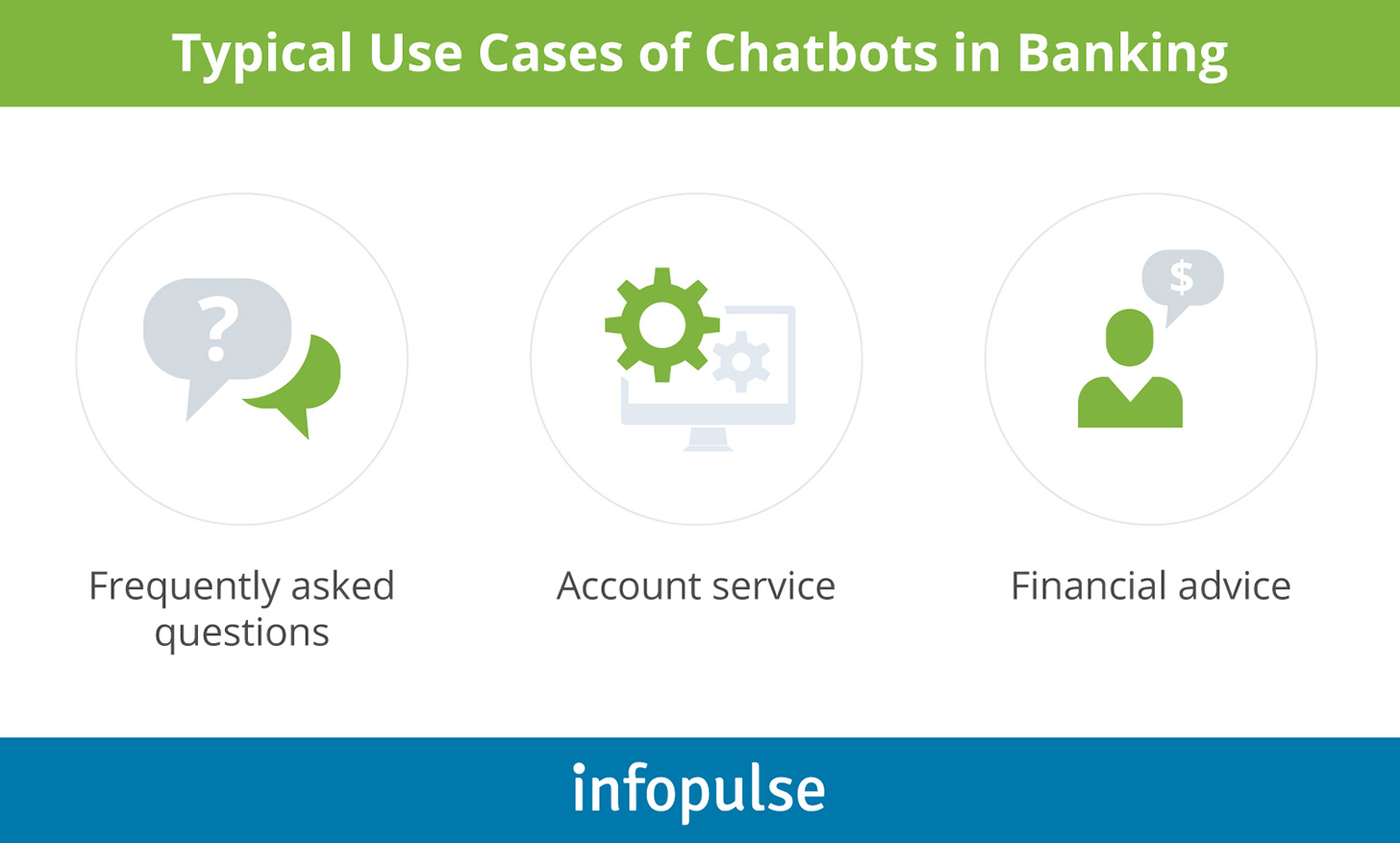 &nbsp
Account management.

This is the basic task conversational banking is intended for. Users may manage their financial accounts in a faster, more effective, and more engaging way with this capability.
In addition to standard tasks like money transfers or the scheduling of recurring payments, more advanced chatbots may also work like risk managers and smart assistants when making investments, setting financial goals, and developing personal budgets. The latter task is perfectly handled by

&nbsp

, a smart budget manager.

Fraud management.

While online and contactless payments are on the rise, financial organizations are turning their eye to the opportunities of artificial intelligence for fraud prevention and detection. Smart algorithms at the core of modern fraud detection solutions are quite capable of identifying invisible anomalies and accurately concluding if a transaction is lawful or illegal. For instance, fraud prevention is one of the features embedded in

&nbsp

, a smart chatbot developed by Capital One.

Using conversational AI in banking is an opportunity to improve financial security, especially when the user's voice is used as an additional authentication factor.

Service requests.

Instead of getting in touch with usual customer support, the users of conversational banking may seamlessly solve their issues. They can get their request fulfilled with the help of voice commands or text messages, without the necessity to pay for mobile communication nor wait for the beginning of the business day when abroad.
These capabilities of conversational banking promise the following advantages for banks and their customers.
Instant and Accurate Query Resolution
Fast response time is one of the main expectations of modern customers. The use of virtual assistants may improve response time &nbsp. In the financial sphere, the speed of response and issue resolution comes first, especially when the request of the customer is urgent. The opportunity to make an instant and urgent payment to avoid fines or the opportunity to promptly block a compromised credit card are ways to make the interactions with the bank effective.
High Self-Service Rate and First Call Resolution Rate
The use of conversational banking also allows for resolving the customer's issue from the first try since the smart algorithms are quite unlikely to make wrong decisions or mislead the users. They are also the top-notch tools for solving users' requests on their own in a way that is perfectly aligned with the customers' demand for self-service opportunities (&nbsp consider a self-service tool a must-have on a company's website/app).
Round-the-Clock Availability
Artificial intelligence is tireless. As a part of conversational banking, it allows the customers to stay in touch with the financial organization around the clock without being limited to the time zone in which the bank's staff operates.
Huge Cost Savings
The recent study on chatbots and AI for automation adoption revealed that the use of these tools may help financial companies save up to &nbsp in operational costs by 2023. The use of conversational AI and chatbots can increase ROI with minimal effort, according to the opinion of &nbsp, as stated by Accenture.
Greater Employee Efficiency
Routine tasks automation is one of the most frequent use cases for AI in different industries. While the standard issues are handled by the smart algorithms, the bank's employees may focus on data analysis results, business strategy development, and other more creative tasks that require human participation.
Better Opportunities for Data Analysis
Providing the customers with conversational banking features also means providing them with better opportunities to show their behavior patterns and specifics. Careful data analysis will help bring these insights to the fore and develop better user journeys with great personalization potential. One of such features is enabled by &nbsp, an AI-powered platform for personalizing banking experience.
Smarter Upselling
For example, if the customer buys a ticket with the help of a chatbot, the chatbot may find the best deal or notify the customer when there is an option that suits their travel time and budget. The bank may also offer and sell additional services like travel insurance, hotel booking, or a new suitcase. When conversational banking is paired with open banking, it opens up a lot of promising opportunities for fruitful partnerships with retailers, healthcare providers, hospitality businesses, and others.
Brand Awareness and Loyalty
Digital transformation is a path modern customers expect most businesses to follow. From this perspective, conversational banking is one more cutting-edge opportunity that promises a huge competitive advantage — better brand recognition, awareness, and loyalty.
Conclusion
Conversational banking is expected to evolve. Getting started with this technology now may promise huge benefits in the long run. The Infopulse FinTech team may help you with conversational banking solutions and their seamless integration into your business processes. Reach out to us to start your journey towards conversational banking with our experts in chatbot development!
Originally published June 07, 2021 Updated June 14, 2021