Article
Empowering Telecom Industry with Artificial Intelligence
Originally published: September 06, 2019
Updated: October 25, 2022
6 min. read
Innovations
Digital Transformation
In the age of rapid technological advancement, the time has come for telecom entrepreneurs to determine their role in the contemporary digitized hyper-connected world.
To stay afloat in the fiercely competitive environment and meet the ever-increasing customer demands, telecom operators must embrace new emerging technologies. Artificial Intelligence is one of such technologies that have the potential to fundamentally transform and empower the telecom industry. Optimized networks, exceptional customer experience, and efficient fraud protection are just some of the benefits that AI offers to telecom business owners.
Let's explore the opportunities and advantages that artificial intelligence may bring into telecommunications in the nearest future.
Swift and Secure Network Performance with Artificial Intelligence
Modern networks are becoming more sophisticated, while their management systems are still comprised of manual and repetitive tasks. Artificial Intelligence can significantly optimize the key aspects of telecom network management by making them more swift and efficient. AI is able to accurately monitor the network performance and instantly disclose errors, detect their root cause and inform the operators of them.
Furthermore, advanced AI algorithms can safeguard the telecom network from traffic overload and immediately respond to it. To avert the needless overload, AI may be amped up with another emerging technology – Network Function Virtualization (NFV). The latter technology eliminates the need for custom hardware, using virtual machines to run network services on top of standard servers. Besides traffic overload detection, AI will be able to funnel traffic through virtual machines by means of NFV without any human engagement. Such automation can accelerate network performance and prominently simplify its management.
Increased network efficiency is another major aspect making telecom entrepreneurs invest more funds into leveraging artificial intelligence for their enterprises. By 2025, the global telecommunications industry investment into AI software is expected to reach $36.7 billion annually. The graph below shows that the key area of AI deployment will be network operations monitoring and management.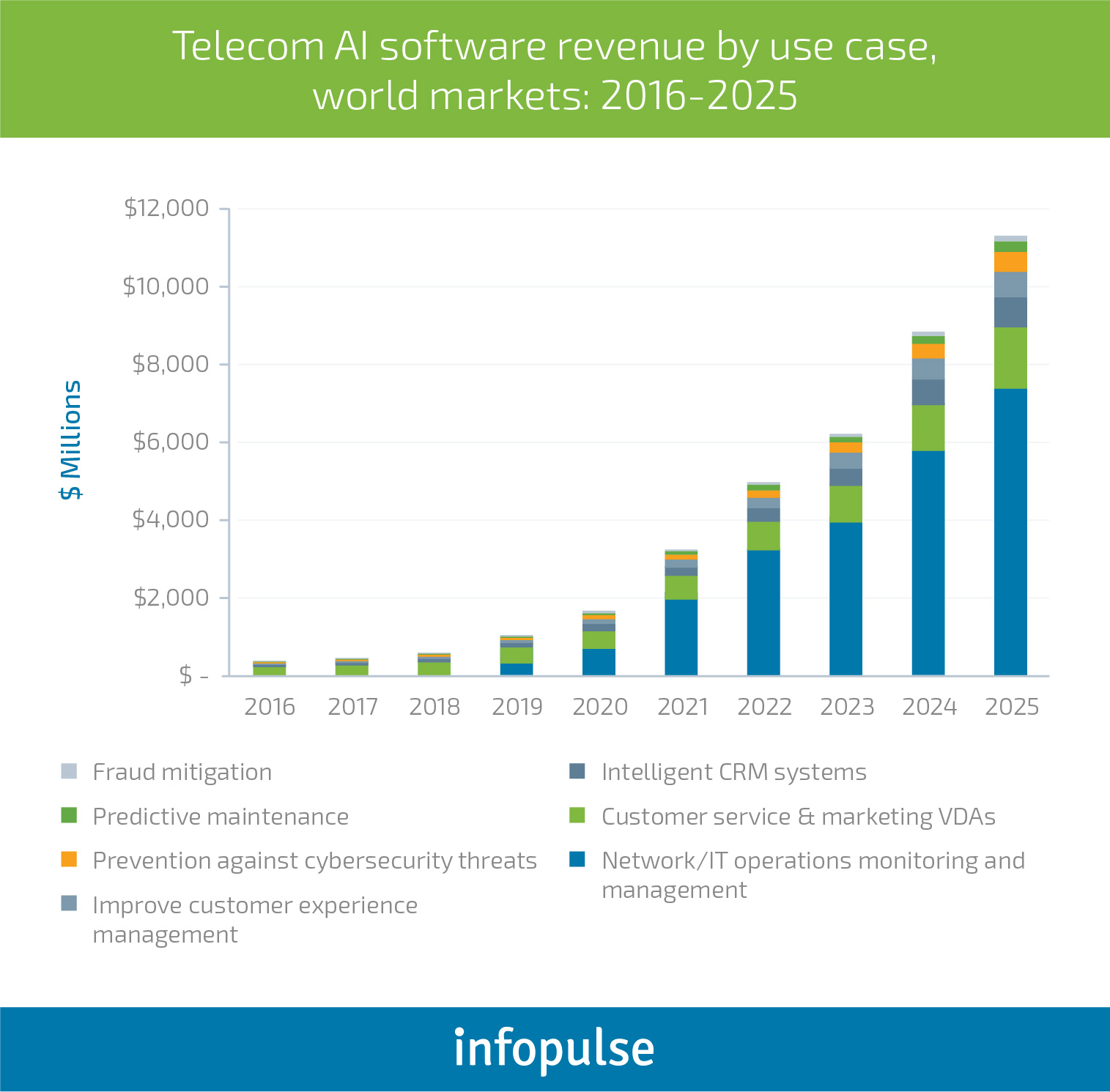 Benefits of AI-Driven Predictive Maintenance in Telecommunications
The overwhelming majority of contemporary telecom enterprises use two common maintenance approaches for their telecom infrastructure maintenance:
Preventive maintenance uses statistical process control based on the pre-established criteria to identify the appropriate time for maintenance. Yet, such an approach has a very low probability of detecting unexpected risks, which may result in system unavailability and significant revenue losses.
Corrective maintenance comes into action only after the equipment has stopped working. Consequently, utilizing this maintenance method results in high operating expenses.
Predictive maintenance driven by artificial intelligence is exponentially more efficient in comparison with the conventional maintenance approaches. Advanced AI algorithms are able to process historical data patterns and accurately predict even the most unexpected faults. Furthermore, AI systems can monitor the state of the equipment and instantly inform the operators if an error is about to occur, making predictive maintenance much more cost- and time-efficient in contrast to corrective maintenance. Most importantly, artificial intelligence is versatile and can be used as a powerful and precise maintenance tool for any type of telecom equipment, including cell towers, generators, power lines, and data centers.
Enhancing Telecom Customer Experience with AI Chatbots and Virtual Assistants
The majority of telecommunication companies have extensive user bases, which generate dense volumes of incoming calls and written inquiries from the customers. For this reason, telecom enterprises maintain 24/7 customer support. However, human support may be slow and not as efficient due to the ever-growing customer base and an even greater rise in customer expectations. When it comes to internet connection or mobile communications, customers demand instant resolution of their issues.
Implementing AI-based chatbots is an efficient solution for telecom enterprises since chatbots can cope with an immense flow of diverse customer complaints and inquiries quicker and using fewer resources. Chatbots can be programmed to generate human-like responses to customer inquiries and undertake a significant part of customer support department tasks, offering a wide range of functional capabilities:
Swift redirection of customers to relevant departments;
Instant resolution of simple and repetitive inquiries;
Processing and handling issues related to service failures;
Collection of feedback and customer's sentiment data.
Tireless and ready to serve 24/7, chatbots help businesses by automating up to 75% of 1st line support. However, they should not be confused with a more sophisticated piece of technology – Virtual Assistants.
Virtual Assistants (VA) are more complex AI-based systems that emulate human interaction and can execute a considerably wider range of tasks in comparison with AI chatbots.
VA's are designed on the basis of advanced AI technologies – deep learning and neural networks. Compared to chatbots, virtual assistants have a more robust natural language processing (NLP) and natural language understanding (NLU) engines, which allows them to preserve the context of the conversation, resulting in more efficient and flexible interactions with the customers. Telecom entrepreneurs can implement VAs to resolve a wide range of customers' issues, including account inquiries, device settings, SIM purchases, and connectivity troubleshooting. Most importantly, VAs are able to adapt to individual user needs and preferences, offering relevant personalized services that improve customer satisfaction and loyalty.
Applying chatbots and VAs can optimize the work of customer support departments, and create precisely personalized services, thus forming an innovative and valuable customer-centric approach that provides a prominent competitive edge for telecom entrepreneurs.
Reinforcing Telecom Cybersecurity with AI
With the rapid expansion of telecommunication services, fraud rates within the telecom industry are surging. Currently, the telecom industry suffers €29 billion in fraud losses annually. Most importantly, cyber fraud schemes continue to evolve, becoming more sophisticated and harder to detect. According to the Capgemini Research Institute cybersecurity report, telecom is the most vulnerable among other listed industries, suffering the largest financial losses due to breaches in their cybersecurity systems.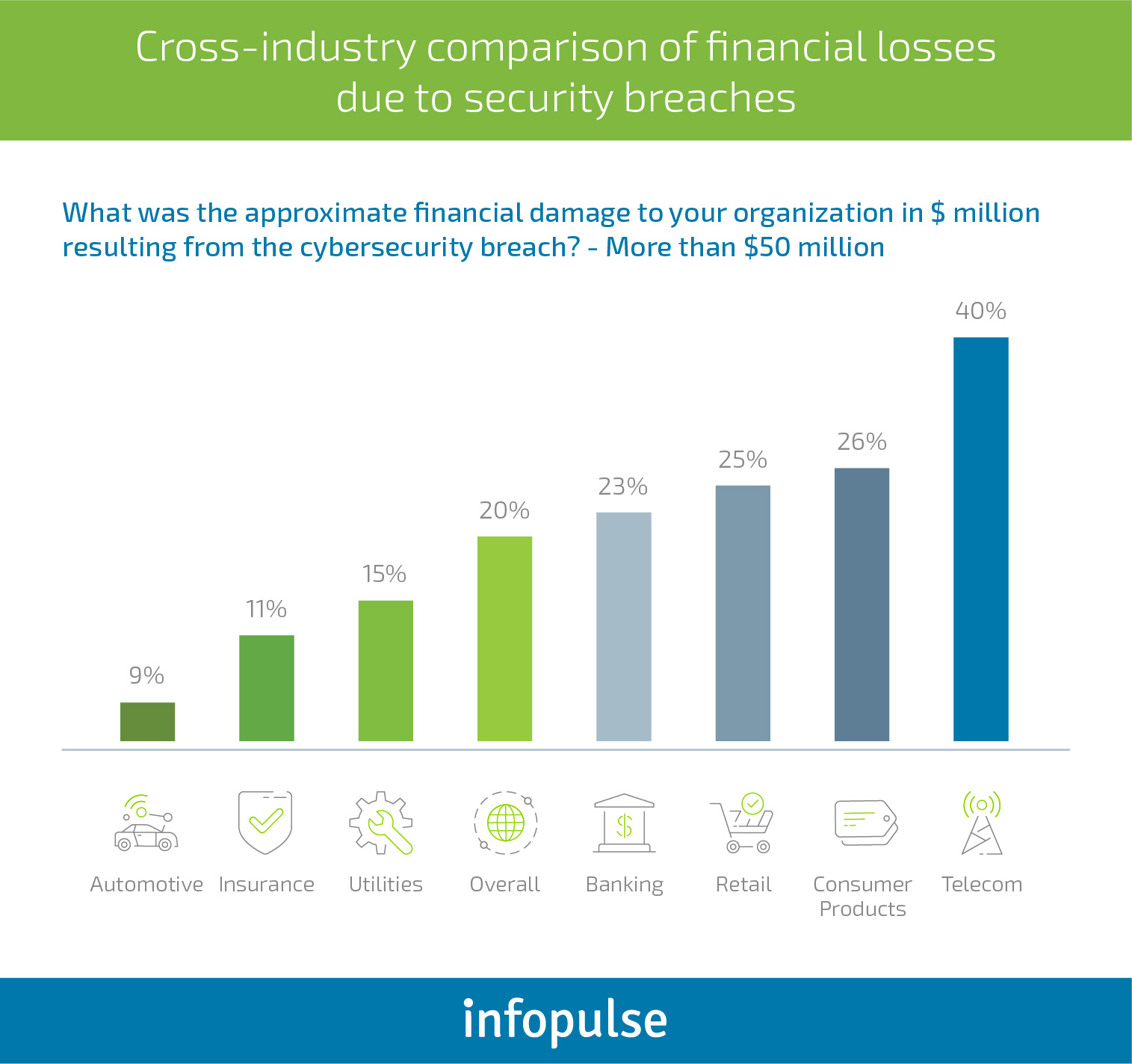 Amidst the swift development of 5G networks and the skyrocketing growth of worldwide connectivity, telecom network security is becoming of primal importance. With the network traffic upsurge, pattern deviations are much harder to identify. Machine learning can determine unknown network traffic patterns and blind spots, indicate potential bad actors that may disrupt the network and cause data breaches. AI significantly improves network transparency and allows detecting potentially dangerous anomalies in advance.
Besides, it's critically important for telecom entrepreneurs to focus their effort on adopting such emerging technologies that can decrease or utterly eliminate various types of cyber fraud. Conventional telecom cybersecurity systems can spot occurring issues but lack the capacity to detect potential emerging threats. Traditional fraud detection methods also have certain blind spots, like delayed response time and high rate of false positives, making it hard to track possible cybercrimes in the long term. Fortunately, artificial intelligence may be used as a powerful tool to monitor and instantly identify anomalies, which will most likely end up as cyber scams. Artificial intelligence is capable to mitigate cybercrimes that are the most damaging for telecom carriers, accurately predicting the probability of the potential telecom fraud schemes.
Advanced AI systems have the potential to analyze millions of customer and network data points, precisely identify the network trends, and instantly spot and inform the operators about suspicious traffic patterns, preventing cyber fraud before it actually occurs. Moreover, AI allows data analysts avoiding abundant false alerts, both empowering the cybersecurity system and benefiting the time and cost-efficiency of the telecom enterprise.
Conclusion
Artificial intelligence holds the potential to reshape the telecommunications industry and provide a myriad of advantages for telecom entrepreneurs. AI can exclude repetitiveness out of the network management, eliminate traffic overload and efficiently cope with an endless flow of customer inquiries. Moreover, intelligent AI-driven virtual assistants can create convenient and personalized services, significantly improving customer satisfaction. Most importantly, AI can empower telecom cybersecurity systems and avert critical cyber-attacks in advance. By leveraging AI telecom companies will be able to maximize the efficiency of their enterprises and networks.
Infopulse has a strong competence in the development of cutting-edge data science solutions for various business sectors. Our experts have designed and developed advanced virtual assistants, chatbots, financial forecasting tools, and support solutions. We would be glad to provide further guidance concerning the adoption of AI for your telecom enterprise.