Article
Cross-Industry Benefits of Robotic Process Automation (RPA)
Originally published: May 28, 2019
Updated: June 27, 2023
8 min. read
Innovations
Eliminating low-value, repetitive processes has always been a major goal for businesses across industries. Thanks to new technologies like robotic process automation, working smarter today has become easier than ever. While physical robots are still scarcely present in the real world, their software counterparts are already helping businesses optimize operational costs and boost productivity. In fact, up to
45% of common tasks
people are paid to perform can be effectively automated by adapting the current technologies.
To recap, robotic process automation (RPA) stands for the new technology, governed by business logic and structured input, to configure a "robot" that can mimic human actions during interactions with digital systems. In short, it's an automated way of executing different business processes.
A simple RPA example would be scraping data from websites. For instance, software can be programmed to collect specific news based on keywords for curation or collect Voice of Customer on social media. Yet new gen robotic process automation tools now enable businesses to capture, interact and manipulate with data at an advanced scale – previously non-achievable due to tech constraints. Thanks to rapid advances in machine learning and deep learning, more complex RPA scenarios can be executed. For instance, RPA tools can now perform tasks that constitute more than 600 actions in a given sequence.
How RPA is Different from Other Enterprise Automation Tools?
Unlike traditional automation technology, robotic process automation software is non-intrusive in nature and can be introduced without major changes to the existing infrastructure.
It aims at streamlining the common processes without altering, replacing or adding additional maintenance requirements to existing applications. The developed software bots are infused with capabilities similar to the regular users, meaning that no additional system testing is required, plus the costs of introducing RPA are often less steep when compared to traditional business process automation solutions.
RPA vs. BPM
Robotic process automation (RPA)
Business process management (BPM)
RPA uses software robots or cognitive/AI robots for performing process operations instead of human operators.
BPM is an approach to process operations management which focuses on improving process performance by streamlining business processes, removing bottlenecks and adding value.
Its primary focus is to replace human manual labor with software robots.
Its key focus is to streamline processes, identify and remove bottlenecks to obtain shorter cycle times.
RPA is a surface level fix, which doesn't optimize the process, but tries to make it faster by replacing human manual effort
BPM is a deeper insight to process management which helps optimize the process itself. BPM can offer RPA as a solution under its wing.
RPA is a software technology concept.
BPM can adopt RPA as one of its approaches to remove bottlenecks.
RPA is a quick, less expensive fix compared to BPM; it doesn't require invasive integration, changes to underlying systems or extensive employee training.
Enterprises can achieve any beneficial outcome of RPA by implementing a BPM platform.
In this context, businesses can gain the following benefits:
Low implementation risk due to the non-invasive nature of RPA.
Major cost savings – by 2025, businesses will save between $5-$7 trillion thanks to RPA.
Solid ROI – different industries can obtain an ROI of 30% and as much as 200% in the first year per McKinsey.
Fast implementation time due to no disruptions to legacy systems.
In this post, we'll dwell on the most viable robotic process automation use cases that any industry can successfully implement, as well as a few specific cases for the finance, healthcare, and retail sectors.
Automated Procure-To-Pay
Today, 50% of businesses spend $5 to $25 for manually processing an invoice. Beyond bearing the execution costs, manual invoicing also tends to take more time, resulting in extended sales cycles and occasionally even cash flow issues.
Primarily this is due to the reason that the procure-to-pay process involves a lot of multiple (manual) data extraction steps from various systems (ERP, CRM, vendor management software, etc). RPA tools can patch the lack of interoperability between these systems and incorporate automation without disrupting the existing solutions.
Automating the procure-to-pay and invoicing processes results in numerous benefits for businesses:
Reduced invoice processing time. One case study from a beverage company mentions that their specialists needed 2 minutes for processing each invoice before the implementation of robotic process automation in SAP. Post-adoption the invoice processing time decreased to 30 seconds.
Invoice error reduction as fewer humans are involved in the process.
Effort reduction and increased employee productivity. HP realized 85% reduction in effort and approximately $100,000 in cost savings after automating invoice tax accounting and reporting sub-processes.
Automated Data Management Process
With Big Data growing really big, most businesses are now in desperate need of automating the process of data extraction, entry, migration, reconciliation and dissemination. The problem, however, is that the necessary data often gets stuck in the wrong places. In fact, most businesses only operationalize 12% of the data they have.
To break down those silos, having a streamlined process for collecting and structuring big data is essential. RPA can help businesses achieve just that. Here are robotic process automation examples showing what exactly can be attained.
RPA in Finance for Data Management
The financial function in most companies is the area where most tedious work needs to be performed. Most of the times processes such as reporting, account reconciliation and transaction verification happen manually.
Take, for instance, one bank, who receives between 400 and 500 transaction requests daily in the form of unstructured data. An operations team relies on a master document, which refers to 20 different sub-documents, in order to process every application. Additionally, each request needs to hit the mark on 45 compliance checks due to regulatory requirements. This is a huge volume of data that needs to be verified.
The bank decided to upgrade this process with RPA. Bots were developed to capture data in a suitable format, verify compliance and provide traceability. Post-adoption, the banking team's productivity increased by 55% and 5% of manual errors were eliminated by merely formalizing this process in automation.
Beyond that robotics in banking can be effectively applied towards the following data-heavy processes:
Extraction of relevant general ledgers by the RPA bot;
Preparation of bank reconciliation statements on a predefined format;
Financial, regulatory and statutory reporting;
Cross-checking between documents to verify the accuracy of payments;
Compilation of payables listings;
Tax accounting and tax data management.
The benefits of RPA in the banking industry are as follows: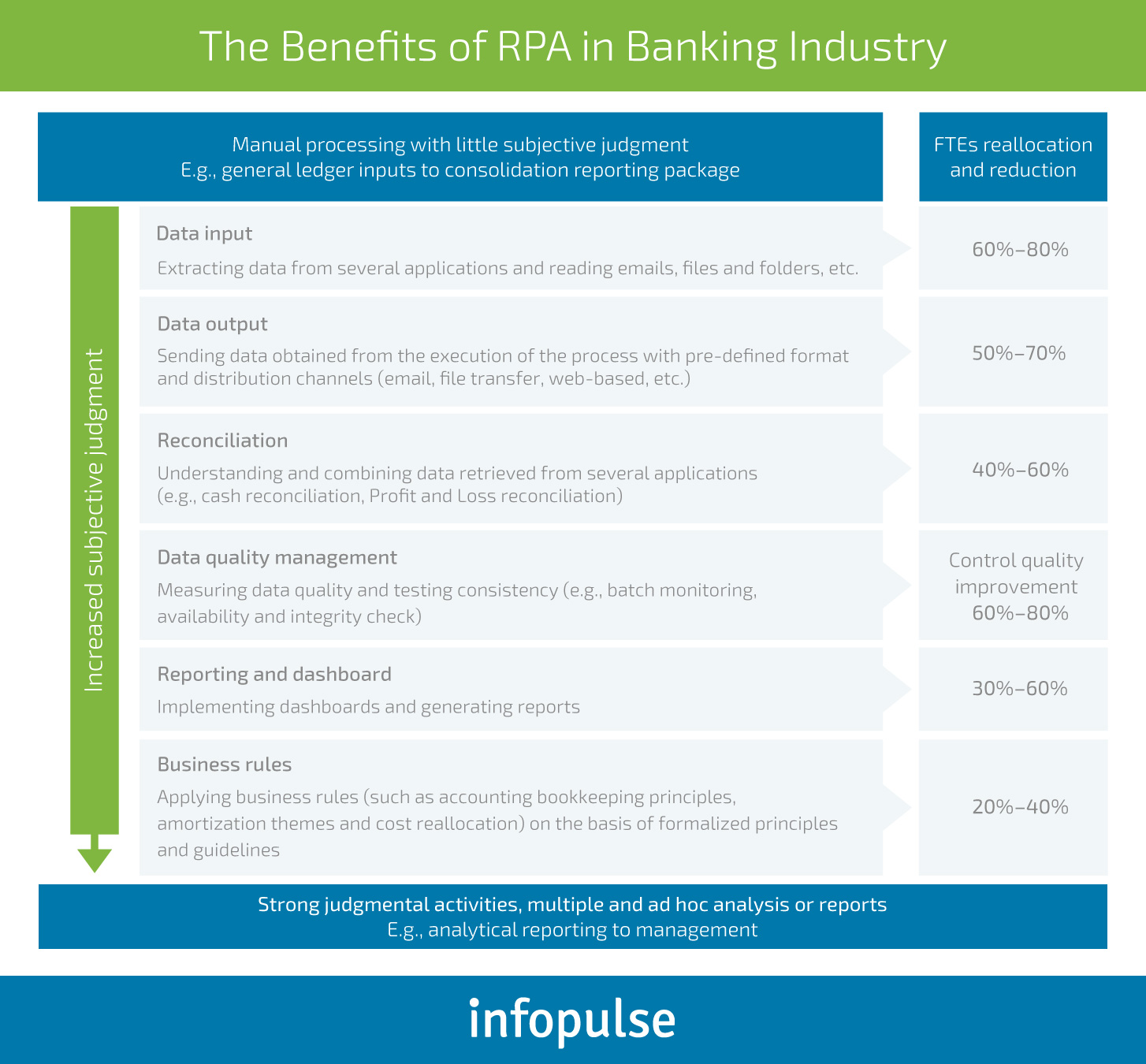 Data Management Application of RPA in Healthcare
Healthcare is another industry where existing data management processes can be largely improved. With increased digitization and vast adoption of EHR/EMR systems, healthcare institutions now produce a lot of data that needs to be properly stored and seamlessly exchanged with other institutions (for instance insurance companies). Thus, admin personnel can waste a lot of time on reconciling all the records.
For example, typically when someone submits a policy complaint wants to appeal a decision, several teams are assigned to review the case. The appeals can come via email, phone, fax or via the website. So the admin staff needs to accurately capture and enter the required information into the system to begin the appeal process. Clearly, that is a time- and money-intensive process.
Deploying an RPA tool helped one institution automate up to 85% of this workflow, reduce human error rates and ultimately improve customer experience. The right data can be captured with higher accuracy and dispatched to the right queue faster, resulting in a routing time decrease from 15 minutes to 3 minutes.
Beyond claims management, robotic process automation can be applied to other healthcare processes to drive higher efficiency and cost reductions:
Enrollment and patient eligibility;
Appointment scheduling;
Clinical documentation processing;
Medical billing and compliance;
Accounts receivable and denial recovery.
Healthcare institutions can then realize the following benefits of RPA:
Improve employee productivity. Clinical and supporting staff will no longer need to waste time on repetitive, low-value tasks and can instead focus on improving the quality of healthcare services delivery.
Vastly improve revenue cycle management. RPA allows roughly 8 times the amount of work to be done per minute compared to manual performance.
Improve adherence to compliance by automating the search for gaps and possible non-compliance issues.
Reduced error costs.
Upgraded clinical support for doctors and nurses, who'll gain access to patient data and healthcare records.
Case in point: HSN, the largest national healthcare institution in Iceland, revamped their RPA solution and achieved reduction in annual total cost expenses by 10+ million Icelandic krónur. Thanks to streamlined, error-free data handling via 20+ automated processes, HSN significantly improved operational performance and patient experience. Learn more about how Infopulse helped HSN leverage the power of RPA.
Data Management RPA in Human Resources: Use Case and Benefits
The HR operations can easily get clogged with an incoming stream of data emerging from various internal and external sources. HR automation tools are not a new concept, but most fail to operationalize complex unstructured data and get the necessary content out of it. Additionally, many HR processes involve multiple steps, performed on different platforms that lack interoperability. As a result, a lot of HR teams experience a disconnect between tasks and data. Robotic process automation helps reconcile this issue.
Below are the common HR processes that can be automated with RPA:
Resume screening and candidate shortlisting;
New hire onboarding;
Monthly payroll administration;
Travel and expense management;
Overall employee data management;
Employee experience management.
Per Deloitte, RPA can deliver between 10%-20% in savings to the company's HR departments. Beyond that, a deeper level of smart automation can lead to significant productivity improvements.
Automated Supply Chain Management
According to the EY report, material requirement planning, order management and procurement are some of the areas where RPA can be successfully applied. Beyond that, the additional use cases of RPA in supply chain management include:
Inventory management;
Freight management;
Supply and demand planning;
Returns processing.
Using RPA tools in these instances can dramatically improve cycle time, capacity, speed and asset efficiency, ultimately leading to the increased customer, employee and supplier satisfaction levels. As well, RPA helps reduce the number of human errors and brings significant cost savings to the table. A study conducted by the Chartered Institute of Procurement and Supply indicates that RPA technology can help businesses attain:
A 43% reduction in resources needed for order-to-cash processes;
A 34% decreases in invoicing costs;
A 32% reduction in vendor and talent management operational costs.
RPA use cases in retail, in particular, are swelling in this regard. According to the Accenture report, 43% of CPG executives already deploy some form of RPA to cut costs and increase employee efficiency.
For example, RPA can be applied to product categorization – the dull but necessary process of ensuring that products in different markets are properly defined and described. Bots can seamlessly process data from retailers and vendors in multiple formats (e.g. texts, images, PDFs, etc.) and match the local datasets to global brand standards. This type of RPA database automation can generate up to 98.5% accuracy in product categorization.
UiPath also mentions another example of RPA in regard to order shipment. One food producer had an entirely manual shipment status communication process that ate up a lot of productive time. After introducing RPA, the company managed to reduce human intervention to just 40-60% of the manual effort required in answering customer status queries.
Beyond that, retailers and manufacturers can largely improve the following processes with RPA:
Bots can be used to create, update and manage data in any SCM software.
RPA tools can be used to update CRM records and ensure that the retailer maintains the right inventory levels to meet consumer demands.
RPA software can be effectively deployed to gather data and respond to price quotes or RFPs in a timely manner.
Fine-grained data gathered by RPA tools can be used for store planning purposes and automate the merchandising process to a certain extent.
Delivery tracking and updates process can be streamlined with RPA as well.
Improved Software Testing Process
Automated software testing is gradually overtaking manual testing due to being faster, more cost-efficient and oftentimes is more comprehensive and allows wider coverage of all the application elements. However, not every type of testing can be effectively automated.
Software can not accurately assess the overall UX experience or properly cross-test graphical UI elements, the convenience of navigation or app logic within more complex products.
Take game development for example. To ensure the delivery of a thrilling, interactive and most importantly correct product, game testers have to spend hours on playing the developed game to fully understand the whole gaming hardware. Automated test cases cannot effectively mimic human interactions with GUIs and evaluate the gaming experience from a player perspective. But RPA algorithms can.
They can be programmed to handle major unusual testing scenarios in gaming such as:
Validate the controls at different stages of the game and test overall game logic.
Change keystroke options to verify that every change is reflected properly.
Ensure that game sub-screens appear when they should, and validate all the content.
RPA software can perform such assessments with higher accuracy than human testers do, and at a fraction of the time. Additionally, such bots can be trained to extract the necessary information from front-end and back-end without hampering with existing infrastructure. As a result, testers will not have to waste time managing various APIs and integrations.
Also think about this: your robotic tester workforce can be scaled almost instantly prior to product launches or update releases.
Streamlined KYC and Improved Customer Relationship Management
For companies in certain sectors ensuring the creditworthiness of prospective or existing customers is paramount. Yet, different aspects of the KYC (Know Your Customer) process are still performed manually. For example:
The process of reviewing D&B reports and other credit bureau services when creating new accounts in Dynamics 365 or Salesforce.
Manual routing of acceptance, rejection or escalation to the appropriate parties including the sales and accounting organizations.
Credit score and other background checks for onboarding banking customers and processing loan applications.
Periodical re-validation of existing accounts to ensure the creditworthiness of some customers.
RPA bots can be deployed to achieve a greater level of business functions described above:
Software can be programmed to automatically generate credit reports during the account creation stage or on a periodic basis for existing customers.
Specific business rules can be created to auto-approve, reject or escalate an account issue.
Specific rules can be developed to automate rejections or suspension to both CRM and downstream systems such as AR (Accounts Receivable) for special handling.
Case in point: One full-service bank had to deal with a large volume of daily requests for opening new accounts across multiple channels – the average daily requests volume was 8,000 but could spike to 40,000. The bank decided to develop an automated workflow that could receive, validate, and extract customer data for new account openings by analyzing 10 document types, verifying accuracy and checking the data against 100 rules and regulations.
As a result, the bank reported the next benefits:
A 70% increase in staff productivity;
Account opening time reduced from 48 hours to 3 hours;
A projected $5 million in savings.
Beyond KYC, robotic process automation can generate a number of other benefits across the entire customer relationships management ecosystem. Bots can be used by sales and customer support teams to gather, synch and record data across systems at a speed never attainable by humans. Administering data in CRM systems will require way less time and effort.
As well, RPA can be applied towards the Quote-to-Cash process and effectively break down the silos between the proprietary CRM and ERP systems. Specifically, RPA can vastly streamline the price quote process and make your sales teams' more productive:
Custom price quotes and additional data for proposals can be automatically added to the CRM system.
All the relevant information about the quote is automatically delivered to the related sales and marketing systems, increasing cross-department visibility.
Once accepted, software bots can further add the order data into the order-processing module and other downstream platforms.
In a similar fashion, RPA can be applied to automate the Order-to-Cash (O2C) process including data entry for order registration, fulfillment, billing and payment processing. Other RPA sample projects worth executing for CRM include:
Automated customer support. Empowering your CS team with new tools can lead up to faster query resolution, higher staff productivity and boosted customer satisfaction rates. One contact center reported an 83% reduction in time for executing a task and over €1M in annual productivity savings post-adoption.
Lead nurturing. RPA algorithms can be configured to dispatch automated promo messages to different customer segments, collect feedback and add new insights about the company's consumer base to CRM systems.
Improved upselling. Specific rules can be codified into your CRM to suggest your team the best upsell and cross-sell opportunities to existing customers, based on that data you already have.
Ultimately, RPA is a universal solution that can be applied to patch problematic business processes at a relatively affordable cost. Due to being a front-end, non-invasive solution, RPA tools can be developed and deployed within a few weeks and start bringing positive ROI in a few months. Moreover, the training costs of adopting them will be low as well. Finally, think about RPA investment in terms of hiring costs. Per the Institute for Robotic Process Automation, a software robot "overhead" cost equals to approx. one-third the price of an offshore full-time employee.