Article
Digital Transformation – Top Priority for Telecom Industry
Originally published: November 18, 2019
Updated: October 25, 2022
8 min. read
Cloud & DevOps
Innovations
Digital Transformation
Modern telecom industry is facing a broad landscape of significant business challenges. A heavy decline of revenue streams in core areas like voice and text messaging, severe competition with Over-the-Top (OTT) service providers, and the need for network transformation due to the swift emergence of IoT and 5G. These are the key challenges that the telecom industry has to address.
To resolve these issues and sustain business growth, telecom entrepreneurs must begin the digital transformation of their businesses. Fostering advanced digital solutions can result in strong competitive performance, the ability to meet contemporary customer demands, and drive new revenue streams. Let's examine in-depth how digital transformation and the adoption of new technologies can benefit the telecom industry.
Cloud-Based Networks of the Future
The swift growth of data utilization and the upsurge of connected devices will soon require a significant increase in network capacity. Moreover, end-to-end network latency will have to be substantially reduced in order to guarantee a seamless browsing experience for the customers. To cope with the steadily expanding bandwidth demand, telecom vendors need to focus on creating scalable networks that can handle immense data capacities during usage peaks. This imperative telecom business issue can be resolved with the adoption of cloud solutions. Cloud computing in telecom enables the implementation of Software Defined Networks (SDN), Network Function Virtualization (NFV) and Zero-Touch Networks, which can create prominent business value for telecom entrepreneurs.
Scalable On-Demand SDN
SDN is the cutting-edge approach to network management. SDN technology disintegrates the data and control planes. This allows controlling the network modules from a central location or device, while significantly enhancing network traffic management. Furthermore, SDN improves network transparency by enabling real-time access to the network components, which allows identifying and excluding network faults effortlessly. Most importantly, SDN is scalable and provides the ability to tailor the network "on-demand" based on the customer's needs, resulting in a considerable reduction of CAPEX and OPEX.
Agile and Flexible NFV
Modern telecom networks are congested with proprietary hardware appliances. Their installation and maintenance require heavy expenses in energy costs and the recruitment of the technical workforce. Moreover, these appliances are hard to design and operate, and some of them have short service durability periods, which make their utilization even more cost-prohibitive. NFV is an advanced technology for the management of networking services, which replaces hardware-centric devices with software functioning on virtual machines. NFV enables the implementation of network functions in software that can be moved or replicated on-demand, without the need to enhance physical infrastructure. By separating the network functions from physical assets on which they run, NFV can cut operational expenses, decrease power consumption and improve the network's flexibility.
SDN and NFV are two independent technologies, yet they complement each other, and their use can create tangible business benefits for the telecom industry. The major drivers for SDN and NFV adoption are improved network agility and efficiency, alongside with significant cost savings.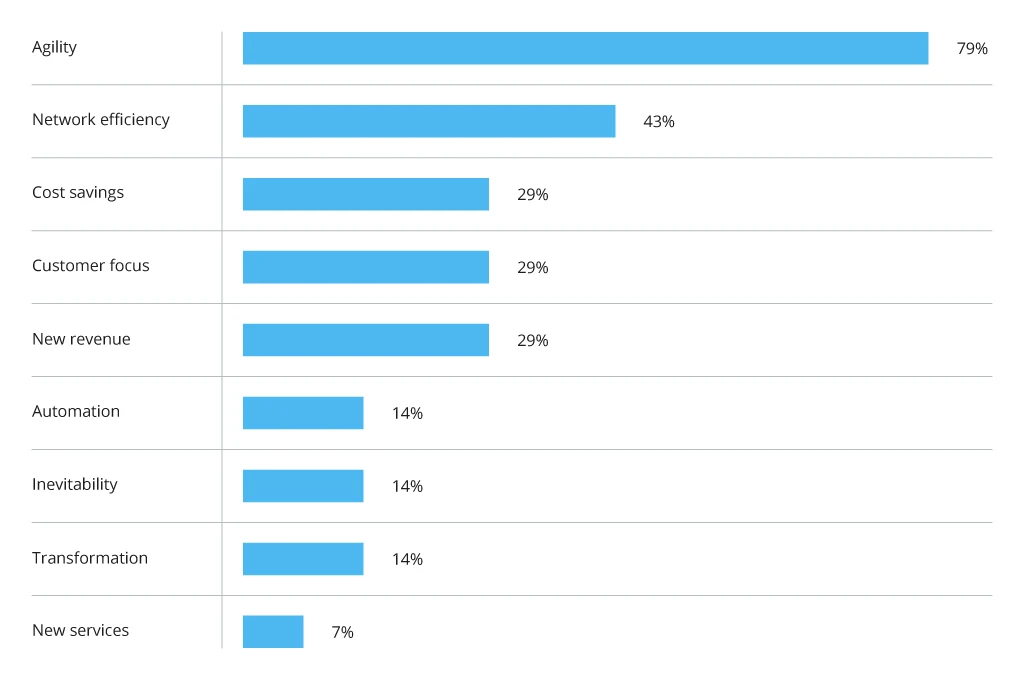 Advanced Zero-Touch Network Architecture
The Zero-Touch Network is a system that implements Artificial Intelligence (AI) and the functions of NFV and SDN to ensure the reliability and efficiency of the network's performance. The key feature of the zero-touch network is automation, which simplifies and accelerates the execution of a broad spectrum of processes, like network configuration and maintenance. Furthermore, it significantly reduces the risk of human errors, improving the network's reliability. Another prominent benefit of implementing zero-touch networks is advanced network resilience. The demand for ultra-high network capacity and exceptionally low latency creates the need for real-time network adaptation in case of workload errors or faults. Zero-touch technology is able to automate the network configuration alongside with automated scaling and network healing capabilities.
By leveraging automation through the whole telecom network, zero-touch network technology ensures error-free performance and high quality of the services delivered to the user. Moreover, it removes the need for time-consuming manual configuration, which allows network engineers to redirect their efforts into creating other efficient solutions and frameworks with added business value.
IoT & 5G: Driving the Digital Disruption of Telecom
Benefits of Leveraging IoT into Telecom
The Internet of Things (IoT) is growing rapidly and disrupting numerous industries, including healthcare, retail, transportation, agriculture, and it is bound to become an inevitable part of our future. The number of connected devices is expected to exceed 34 billion by 2025.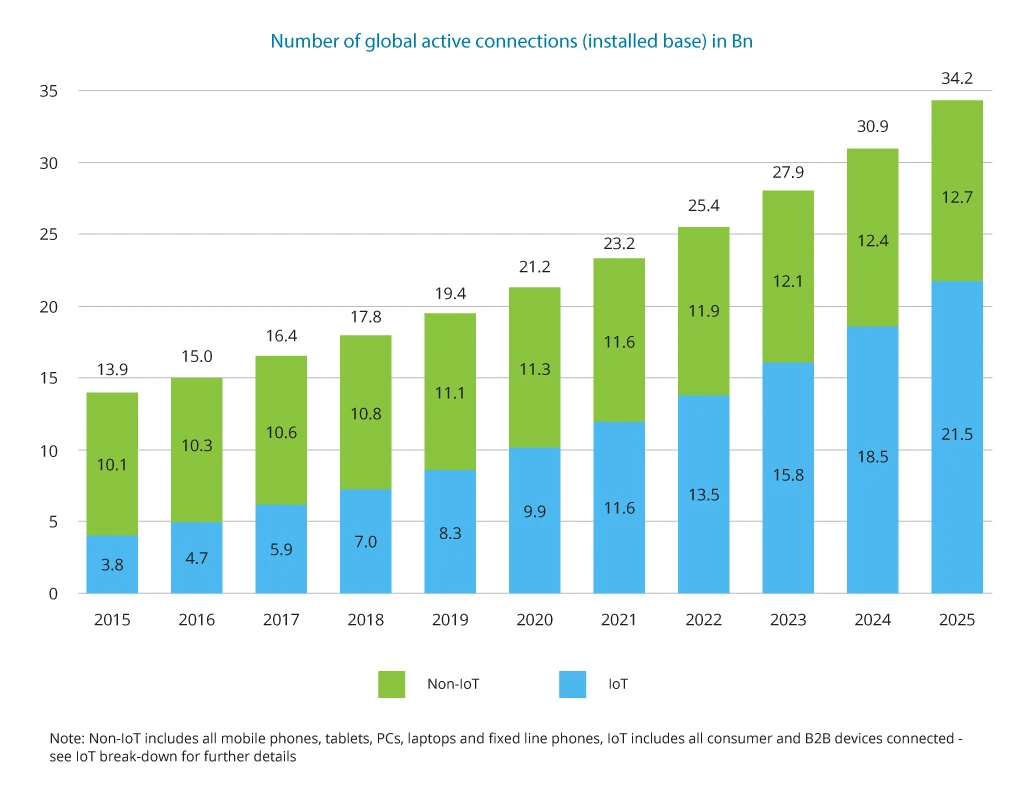 IoT is coming to the telecommunications sector as well. Despite being an emerging technology for now, IoT can produce more than $1.8 trillion in revenue for mobile network operators by 2026 and a broad spectrum of business benefits for telecom companies. Let's review some of the most stellar examples.
IoT & Big Data Predictive Analytics
By leveraging IoT solutions, telecom companies can acquire massive volumes of business-critical data. By applying the Big Data analytics process to the information gathered from the IoT sensors, telcos can gain valuable insights about the client's behavior patterns, which can be further used to benefit customer engagement and CX. Moreover, the collected data can be used to build predictive models that can anticipate the upcoming trends within the telecom market.
Cost-Efficient IoT WAN
By utilizing IoT solutions in telecom, enterprises can improve the cost-efficiency of machine-to-machine (M2M) communications. Conventional M2M systems are interconnected via GSM or Wi-Fi networks, both of which have high energy consumption. Moving to IoT devices, based on Wide Area Networks (WAN), will allow telecoms to save substantial amounts of energy and costs. Furthermore, telcos can develop their own IoT-based products or services that function on financially profitable WAN to generate new revenue streams.
Precise IoT-based Equipment Monitoring
Cellular towers consist of a wide range of equipment to ensure smooth network functioning. This equipment needs a strong backup to guarantee 24/7 functioning, and constant maintenance to exclude possible outages and downtimes, and, consequently, revenue losses. Telecom companies can create an IoT-powered operational control center that will integrate local IoT devices with Big Data analytics to gather and process large volumes of data from cellular towers. By using this approach, network engineers can monitor KPI's of the equipment, and use data to decrease maintenance costs and constitute effective electric power management.
To conclude our quick review of IoT, apart from providing significant business benefits, IoT technology also creates a great number of business opportunities for telecoms. With the extreme growth of IoT devices, telcos can take the role of connectivity and infrastructure providers to the IoT service vendors. By delivering IoT ecosystem lifecycle management services, telcos can generate more revenue and forge mutually beneficial business partnerships.
Now, let's review another important technology that, aside from its numerous benefits, will also be a powerhouse behind the IoT.
The Importance of 5G Readiness
The world is slowly switching towards advanced 5G cellular networks that will soon replace the current 4G LTE. 5G has a much higher network capacity and is significantly faster in comparison with 4G LTE, with the download speed reaching up to 20GB/s. Most importantly, 5G network latency will be immensely reduced, up to 1 millisecond compared to the current 200 milliseconds in 4G. 5G adoption promises an outstanding competitive advantage. Enhanced mobile services, real-time data exchange options, and extremely fast download speed will attract more customers to the telecom companies that offer 5G network services.
Moreover, 5G technology is an integral part of the abovementioned IoT technology, since 5G will drive communication between the IoT devices. The data exchange options and network capacity of 5G will enhance the functions of the following IoT-based technologies:
Smart cities, homes, and offices;
Autonomous and semi-autonomous vehicles;
Smart manufacturing and healthcare equipment, and much more.
The highest peaks of efficiency can be achieved if manufacturers establish advanced 5G-based campus networks. A campus network is a type of network, which is designed for a specific location, like a factory premise. The low latency and high bandwidth of 5G will enable faster data transfer and processing within the network, which will significantly accelerate the production and logistics conducted by on-site IoT-powered machines.
5G networks can create prominent business value for telecom entrepreneurs, yet its adoption includes certain challenges. The technology is able to function on multiple spectrums, and telecom vendors must choose the most optimal combination to ensure seamless network functioning. Moreover, the technology requires significant investments, thus telcos need to create strong business cases to ensure positive ROI.
Conclusion
To beat the fierce competition, meet the customer demand and drive new revenue streams, telecom enterprises need to begin their digital transformation journey within the shortest possible terms. Switching from conventional business models and legacy systems to the adoption of scalable and agile SDN and NFV architecture, innovative IoT solutions, and high-end 5G networks can create unparalleled business opportunities for telecom companies.
Infopulse is a trusted software development partner of numerous internationally recognized telecom vendors. We have broad experience in the development of innovative Cloud and IoT solutions and offer expert 5G adoption services. Infopulse would be delighted to guide you through each step of your digital transformation journey. Contact our experts today.