Article
How the Digital Workplace Strategy Helps Businesses Overcome Today's Challenges
Originally published: July 01, 2021
Updated: July 10, 2023
8 min. read
Innovations
Business Applications
A digital workplace is not a recent buzzword. However, its popularity and adoption have grown recently due to the pressing need to go beyond just remote work, transforming immediate and far-reaching operational business practices.
Synchronizing the tools employees use including e-mail, messengers, and social media instruments as well as HR apps and online conference calls tools is just one layer of digital workplace strategy.
Beyond that, businesses can use the insights generated by the instruments staff uses daily. Such information can help senior management refine business processes, enhance employees' performance, and redefine customer experience, creating more personal, highly individual offerings.
The core concept includes all the technologies workforce uses to get work done nowadays plus methodologies employed to orchestrate the whole ecosystem. The latter includes already existing instruments and those that businesses are yet to incorporate to suit the needs of remote employees.
3 Pillars and 1 Key to Embracing Digital Workplace
Close to 70% of responders of Gartner's survey noted that more and more C-suite managers expressed interest in the digital shift due to the pandemic. At the same time, Deloitte emphasizes three pillars critical to embrace digital workplace experience fully:
Collaborating: the cornerstone of seamless collaboration is knowledge-sharing that any organization shall enable through accessible on-demand easy-to-use online tools.
Connecting: instant messaging and online meetings shall come as a substitute to usual meeting rooms and peer-to-peer discussions on-site.
Communicating: that is where personalization matters the most. Working away from the office already has plenty of distractions. Enabling employee-tailored content can boost productivity and sharpen the focus of associates.
Altogether, Deloitte's trio requires a number of enablers, including crowdsourcing, connectivity, technology, productivity, mobility, messaging, and business applications, among others – as seen in the infographics below.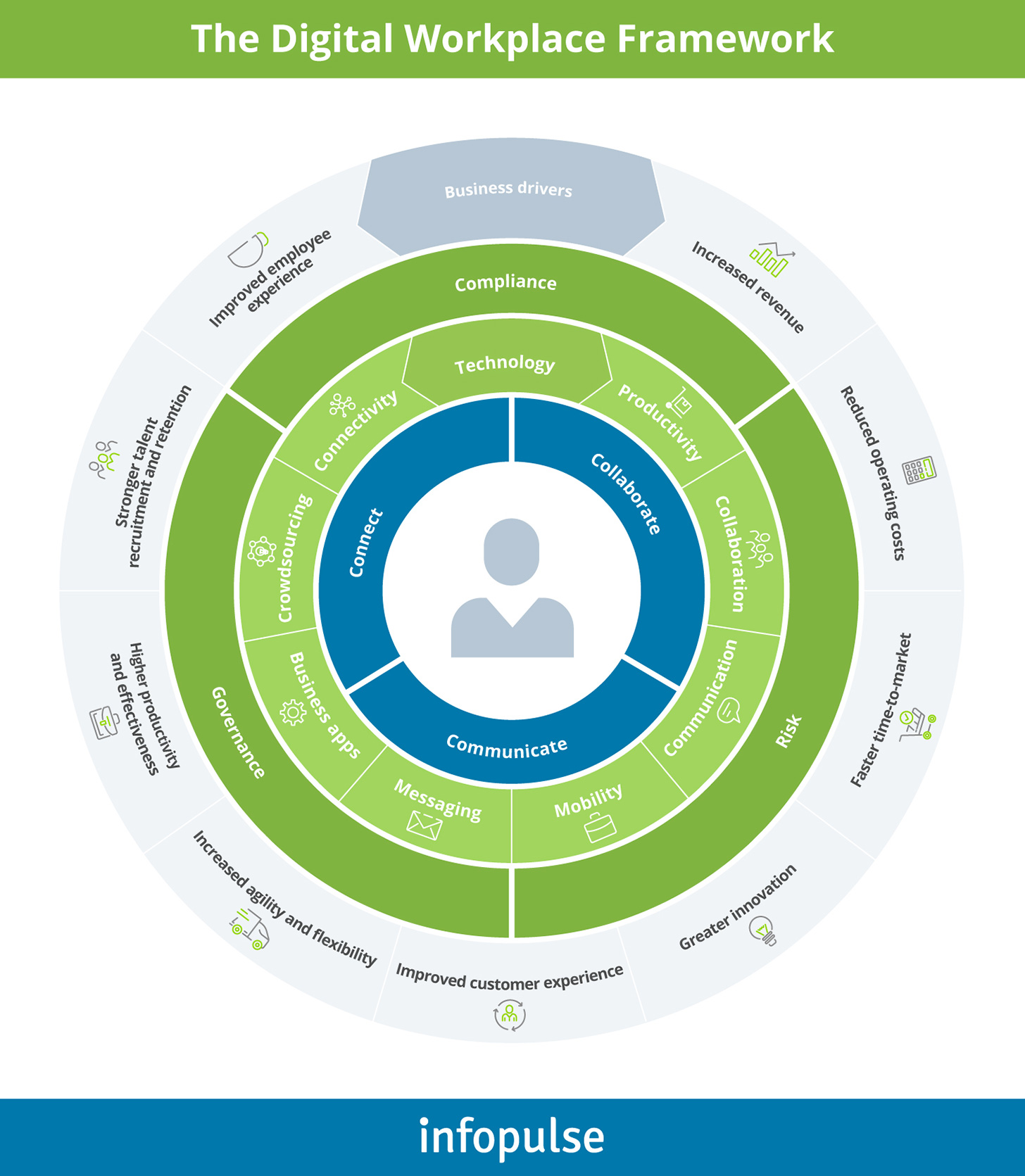 In addition to the essential elements defined by Deloitte, there is another key component that can greatly enhance digital workplace adoption – Human Capital Management & Learning Management System (HCM & LMS). Nurturing talents is crucial. Therefore, investing in your workforce through continuous education is a must-have prerequisite for a strong corporate culture that equally appreciates general knowledge and domain expertise.
Microsoft, for instance, has recognized an opportunity to enhance the experience of distributed teams, equipping them with Microsoft Viva Learning. The tool redefines employee experience and changes the way the workforce communicates and acquires knowledge.
From a management standpoint, COVID-19 has fueled the necessity of using algorithms. So-called robo-bosses are likely to put managerial duties on autopilot. Such routine operations as task allocation, gathering feedback, and performance evaluation will be automated.
Gartner forecasts that close to 70% of typical managerial work will be entrusted to algorithms by 2024. The experts admit that there will be few responsibilities left in human hands: strategy development, requiring creativity, and effective team management that presupposes social aptitude.
7 Business Concerns to Tackle with Digital Workplace
1. Synchronizing offline and online communications
Businesses need to connect employees using mobile devices to offer 24/7 access to work instruments and corporate knowledge base no matter where they work from. The main point here is employers have to treat mobile as they do their desktop apps. A digital workplace can help find mobile and desktop equilibrium: using digital workplace infrastructure, employers can remotely support, monitor, and enhance associates' performance while offering the workforce the comfort and flexibility they require.
A use case to consider. A healthcare provider created robust mobile apps to enable its personnel working at the forefront of operations to gather patients' information quickly and effortlessly. This data was further stored in the cloud and could be accessed anytime from anywhere not only by those in the actual facility. Patient pre-screening became seamless and quick after the introduction of iOS apps and tablets.
Overall, the need for aligning online and offline communications exists across multiple industries. For instance, in pharma, numerous firstline workers have most of their job responsibilities at production facilities. Thus, they have no permanent office place. However, at times, there is a necessity for this category of the workforce to access digital tools, e.g., to see their salary calculations or apply for leaves. In total, there are 2.5 billion first-line workers that constitute approximately 1/3 of the world's population.
In addition, the HBR survey found that close to 90% of the responders believed their field workforce required extra digital tools, while only slightly more than 40% of this employee category admitted they felt the necessary IT support.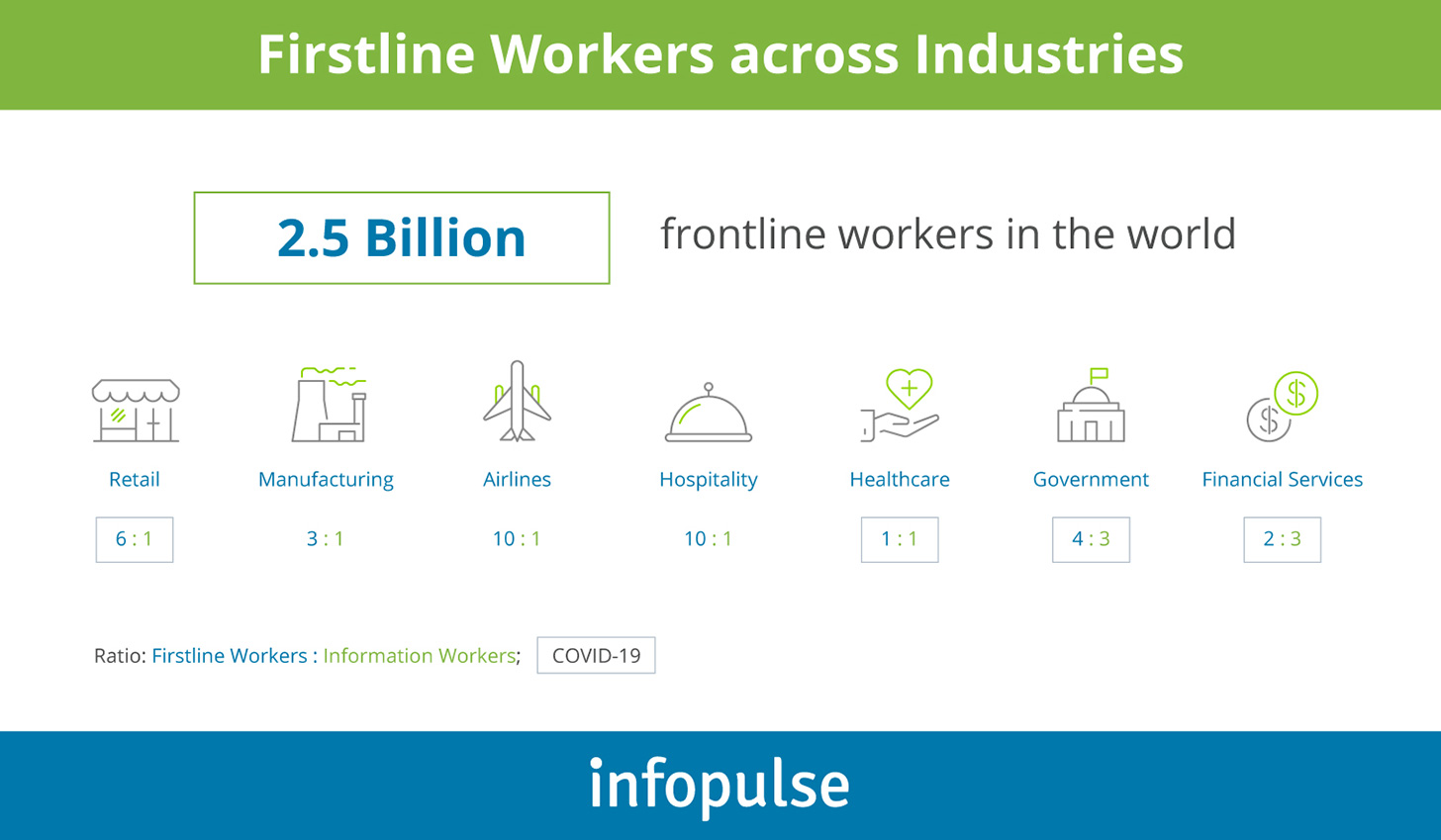 A digital workplace can help bridge the gap between online and offline tasks, eliminating legacy processes that no longer work.
For instance, Microsoft is determined to empower businesses in turbulent times nowadays. The company has products specifically tailored for the frontline workforce that is an essential pillar of operations and a driving force in many industries, including manufacturing.
2. Adopting cloud-based solutions
This is another determinant when it comes to a coherent digital workplace strategy. These apps offer on-demand access for both managers and their subordinates, working from any screen either at the comfort of their home office, co-working, or an actual company's premises. Future-ready work environments such as digital workplaces help distributed teams connect while allowing enterprises to maintain customers' privacy and mitigate operational business risks.
A use case to consider. Implementing its digital transformation strategy, a telecom company decided to replace its legacy IT infrastructure with Microsoft Azure Cloud. This helped to add an edge to the company's operations, lower maintenance costs, eliminate risks related to business continuity, and enhance internal workflows, while ensuring secure omnichannel access to employees' workplaces.
Many businesses already felt and appreciated the unprecedented benefits of cloud solutions: from the start of the pandemic till the end of 2021, the cloud market will only grow further: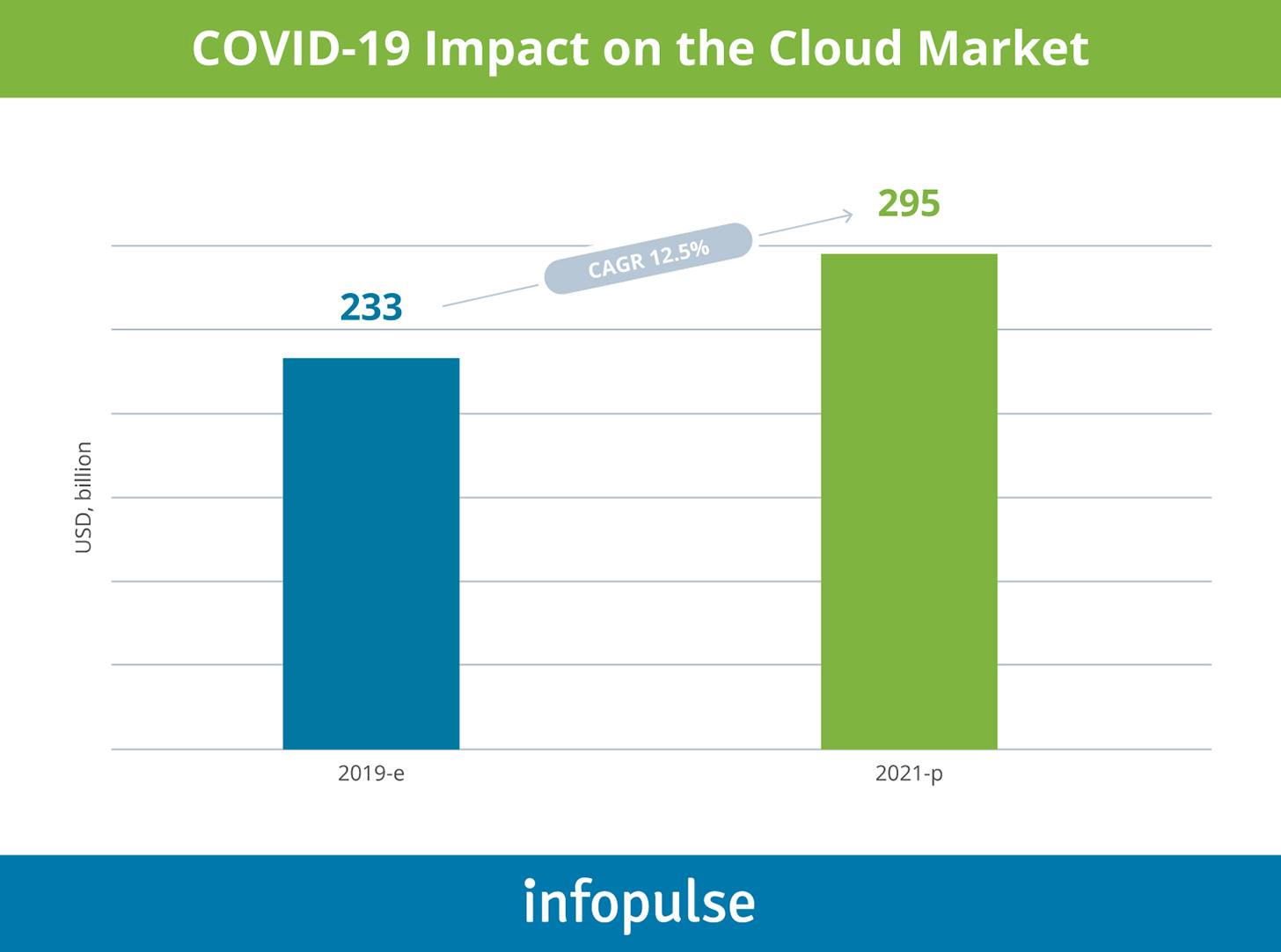 3. Security challenges
Tackling security concerns in the tech-enabled digital realm becomes essential when transitioning to a remote setup. In a digital workplace, smart devices are all over the place, bridging employees in distant locations and different time zones. This pressing need for broader connectivity translates into the requirement to safeguard the virtual network better. Those, who are building offices of the future, shall treat each user, requesting network access with the utmost due diligence, putting identity verification to the top, and practicing holistic threat prevention.
A use case to consider. Cloud cybersecurity might seem challenging since there are a few bottlenecks to overcome along the way. They are access control, data protection, and data privacy. Let us not forget about stale data that might be an additional concern. There is a suite of tools that might greatly enhance business continuity practices when more and more associates share their personal data. Enterprises can opt for Microsoft Azure, Office 365, Amazon Web Services, and Google Cloud Platform to improve security practices.
4. Enhancing employee experience
Observing the workforce and spotting patterns might greatly contribute to informed decisions made by line and top management alike. Understanding data and actions of employees, as well as triggers that encourage them to take a certain step, can lead to a successful and frictionless digital workplace transformation.
A use case to consider. Planning to boost collaboration among its subsidiaries, a leading European provider of industrial and architectural lighting turned to Microsoft cloud technologies. The family-managed enterprise succeeded in improving the productivity of its associates, building a robust hybrid Exchange Online infrastructure (SaaS). The company used a set of Microsoft products – Azure, Exchange Online, and Office 365 – to enhance the collaboration of close to 200 employees scattered across 3 different locations in the EU.
5. Reinventing employee engagement
Businesses catering to the individual needs of their staff are likely to build a good rapport and solicit greater engagement. The latter again depends on the data gathered through digital workplace solutions that might serve as indicators of burnout or idling, for example. Such red flags can help spot the fragile situation early and resolve the issues before they snowball into something bigger.
A use case to consider. One of the largest manufacturers of medicinal products in Ukraine chose to tackle the challenges with public transportation caused by the pandemic. The company turned to Azure cloud environment to connect car-owners with those employees who didn't have personal vehicles and thus, had trouble reaching the office. The transfer advisor solution was integrated with Microsoft SharePoint Online to access the HR system of the client and enable automated data updates including home addresses and working schedules of the associates. The project solved the matter of secure employee transfer and supplemented the existing business continuity plan of the company.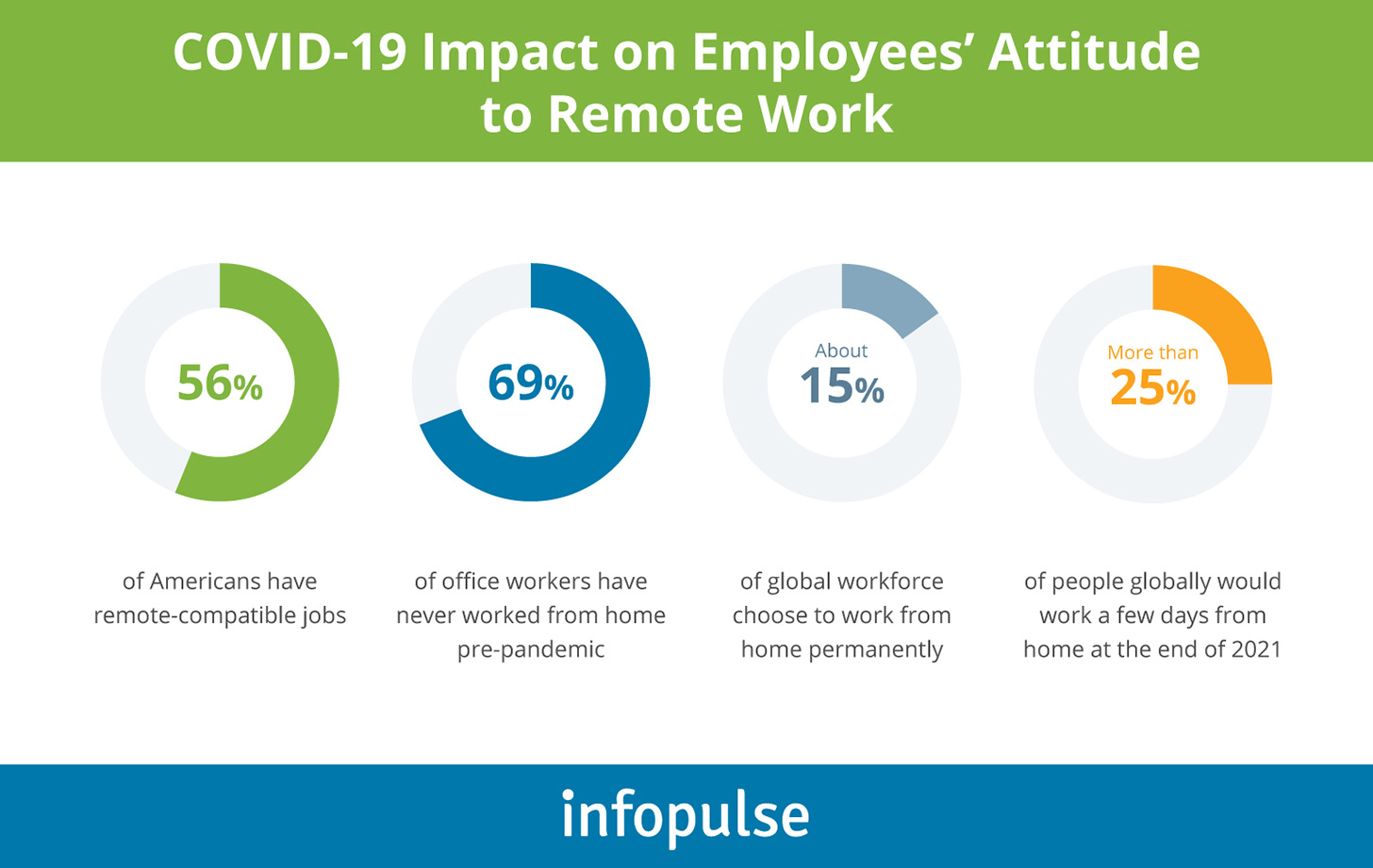 6. Reviving a physical workplace
Digital Workplace is not a counterpart of the actual office we are all used to. The digital workplace offered by Microsoft, for example, is a blend of physical capabilities and top-notch devices on the one hand, and robust cloud infrastructure on the other. Because of the pandemic, organizational leaders are already thinking about how to connect the two worlds together, where both onsite and remote staff will be in sync.
Such a scenario is not as drastic as a 100% remote setup that many businesses are simply not ready for. Gartner found out that around 4/5 of senior leadership considers offering a benefit of remote work to associates post COVID-19. Furthermore, about 50% of C-level executives plan to give the green light to 100% remote work.
A use case to consider. To enhance everyday efficiency and business productivity, a pharmaceutical company decided to create a hybrid exchange ecosystem and shifted its legacy system to a contemporary cloud platform. Employing Office 365 E3, Skype for Business, Exchange Online, Microsoft Teams, and Microsoft Intune, the pharma business successfully took a step closer to digital standards without interrupting the existing business processes.
7. Optimizing expenses
Creating a digital workplace offers businesses an opportunity to foster collaboration while reducing IT infrastructure costs. While fewer working stations at the office means less money spent to pay those bills, the cloud platform adds an edge to existing operations, enabling enterprises to deal with problems on an ad-hoc basis.
An infrastructure upgrade necessary to comfortably shift to remote mode is rather an investment that is likely to bring some handsome ROIs in the short run. In its Defense of remote work, Forbes admits that a year of remote work of an associate can save an organization around 22K USD. Full flexibility through business-focused innovation offers associates desirable work-life balance, at the same time boosting productivity and operational efficiency for an employer.
A use case to consider. A comprehensive analysis of the technical and economic indicators of a large mining corporation indicated that its shift to Microsoft Azure will generate 3 million USD of savings in 10 years. Migrating to the cloud powers new Industry 4.0 capabilities, as well as Big Data computing and management functions, which would not be possible with the existing on-premises infrastructure the company had.
Final Thoughts
While the usual arrangement of working from the office can still be a cup of tea for some employees, others would definitely like to save the time they would otherwise spend commuting and stuck in traffic jams. Sourcing cream of the crop professionals becomes harder if you are not prepared to meet the demands for flexibility and work-life balance many talents have these days.
More than 60% of the workforce acknowledge they would accept smaller paychecks if given an option to work remotely. Businesses understanding this pain-point could create more attractive, employee-centric fringe benefits. In such a way, they could enhance the commitment and determination of associates to bring more value to the company in return.
Infopulse can help you to thoroughly plan your digital workplace strategy and further implement it. With similar projects across multiple business verticals, we have helped many companies build a solid base for a tech-powered future and meet the challenges of tomorrow. Drop us a line to discuss the next steps towards digital transformation and business continuity options best suited for your organization.