Set Up a Collaboration Hub with Microsoft Teams
As digital transformation is disrupting the analog world, creating an online collaboration environment is key to successful business performance. With Microsoft Teams platform's capabilities, millions of users benefit from seamless co-operation and co-innovation on a daily basis. Infopulse experts will help you to enable better team-work and remote collaboration with Microsoft Teams adoption, with services ranging from implementation to consulting and education.
Boosting Remote Work with Microsoft Teams
With the help of automated workflows, integrated bots, user-friendly dashboards, and custom Microsoft and third-party apps and services, Microsoft Teams offers an all-in-one hub for messaging, calling, video meetings, file sharing, and real-time collaborative editing of documents and files, with application integration features securely stored in the cloud. Infopulse will help you to design, manage, and deploy the Microsoft Teams platform to fit your business needs.
Microsoft Teams Features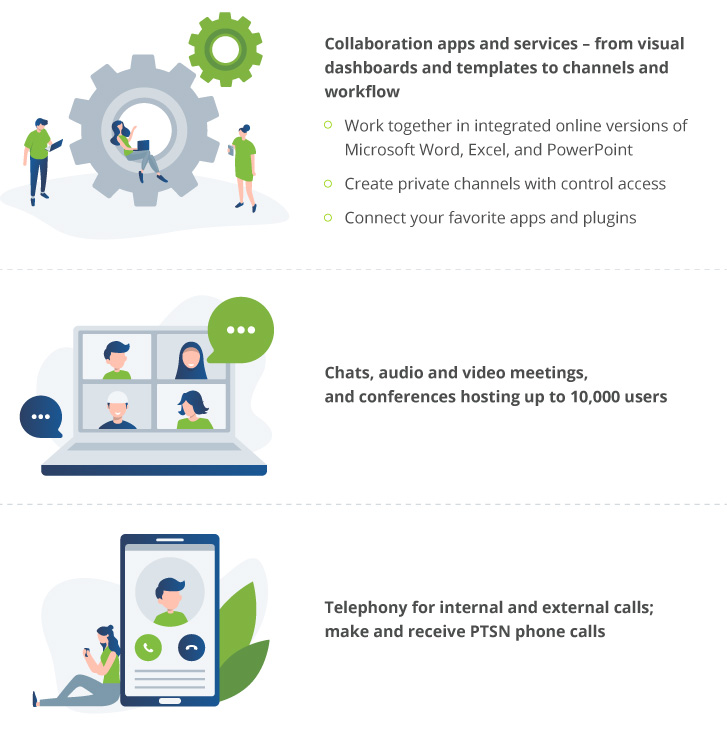 Infopulse Service Offerings
Migration and system design
Hybrid architecture design
Microsoft Teams and Exchange on-premises integration (shared cal-endars, user presence status)
User migration from Skype for Business to Microsoft Teams
Integration with external systems (SAP and 1C)
Corporate portals migration to Microsoft Teams: company news, birthdays, office map, emergency contacts, IT desk inquiries, etc.
Digital workplace setup
Building Virtual Desktop infrastructure on Azure from scratch
A secure virtual workplace for more productivity and agility
Passwordless authentication for employees without a fixed workplace, salary statements, sick leaves, and hours worked
Process automation
Business process optimization customized for remote work
SharePoint and OneDrive integration for easy file storing and sharing
Common tasks automation with chatbots – from onboarding to request submission: vacation and business trip request forms, corporate transport schedule, public transport tracking
Employee experience integration
Setting up the employee experience platform Microsoft Viva
Customizing tools for employee engagement, learning, wellbeing and knowledge discovery integrated in Microsoft 365 and Microsoft Teams
Telephony configuration
Configuring Microsoft Teams direct routing with AudioCodes' SBC
Setting up cloud-based phone system for voice calling
Setting up audio conferencing and dial-in for joining conference calls using a mobile phone
Configuring routing of incoming calls
Security
Staff workshops
Expert-guided adoption workshops for end-users from 1-hour sessions to 2-day crash courses
Microsoft Teams Benefits
Microsoft Teams &nbsp of enhanced productivity, amplified collaboration, and boosted innovation.
Collaboration is integral to any business. Whether you manage a team of 10 or 1,000 employees, fostering teamwork in the digital environment is a top priority and commercial success factor.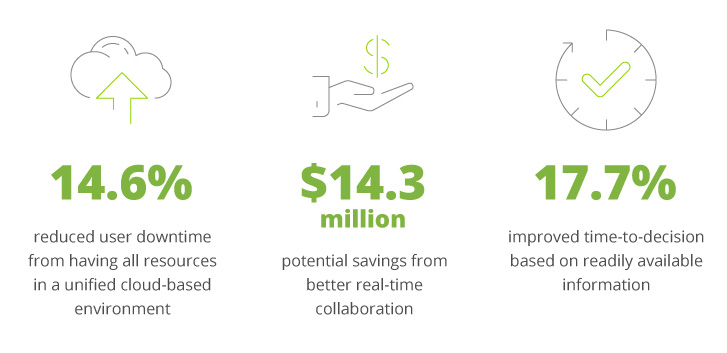 Contact us today for more details about Microsoft Teams services for your organization.