How Does Artificial Intelligence Disrupt the Manufacturing Industry?
Originally published: July 25, 2019
Updated: January 24, 2023
11 min. read
Innovations
The manufacturing industry plays a primary role in the global economy and has always been the frontier of technological innovation. The current technology trends that are unfolding within the manufacturing sector have been called
Industry 4.0
. The coined term represents the spectrum of cutting-edge technologies that are now transforming the manufacturing industry, including IoT, Robotics, Big Data, and Cloud technologies. Yet, these are artificial intelligence and machine learning that are regarded as a backbone of digital disruption. AI and ML have the potential to advance every crucial aspect of manufacturing, including inventory and supply chain management, predictive maintenance and production.
Let's have a closer look at how exactly AI transforms contemporary manufacturing, and how entrepreneurs may benefit from adopting this technology.
Optimizing Supply Chain Management with Artificial Intelligence
The key objective of manufacturing supply chains is to have a ready product available in the appropriate place at a specific time. Today this objective is challenged by numerous factors like volatility of the markets, fierce competition, ever-changing regulations, and geopolitical issues. However, the major challenge would be growing customer expectations.
Modern customers' demands include hyper-personalized experience with the possibility to purchase, receive and return the products anywhere at their convenience. As a result, manufacturers struggle to manage efficient execution within the supply chain, while simultaneously increasing commercial viability. Entrepreneurs may resolve these issues by leveraging artificial intelligence for their manufacturing businesses. One of the key areas of manufacturing, where AI is currently implemented, would be supply chain management, since AI improves transparency, excludes operational friction, accelerates decision-making and produces accurate demand forecasting.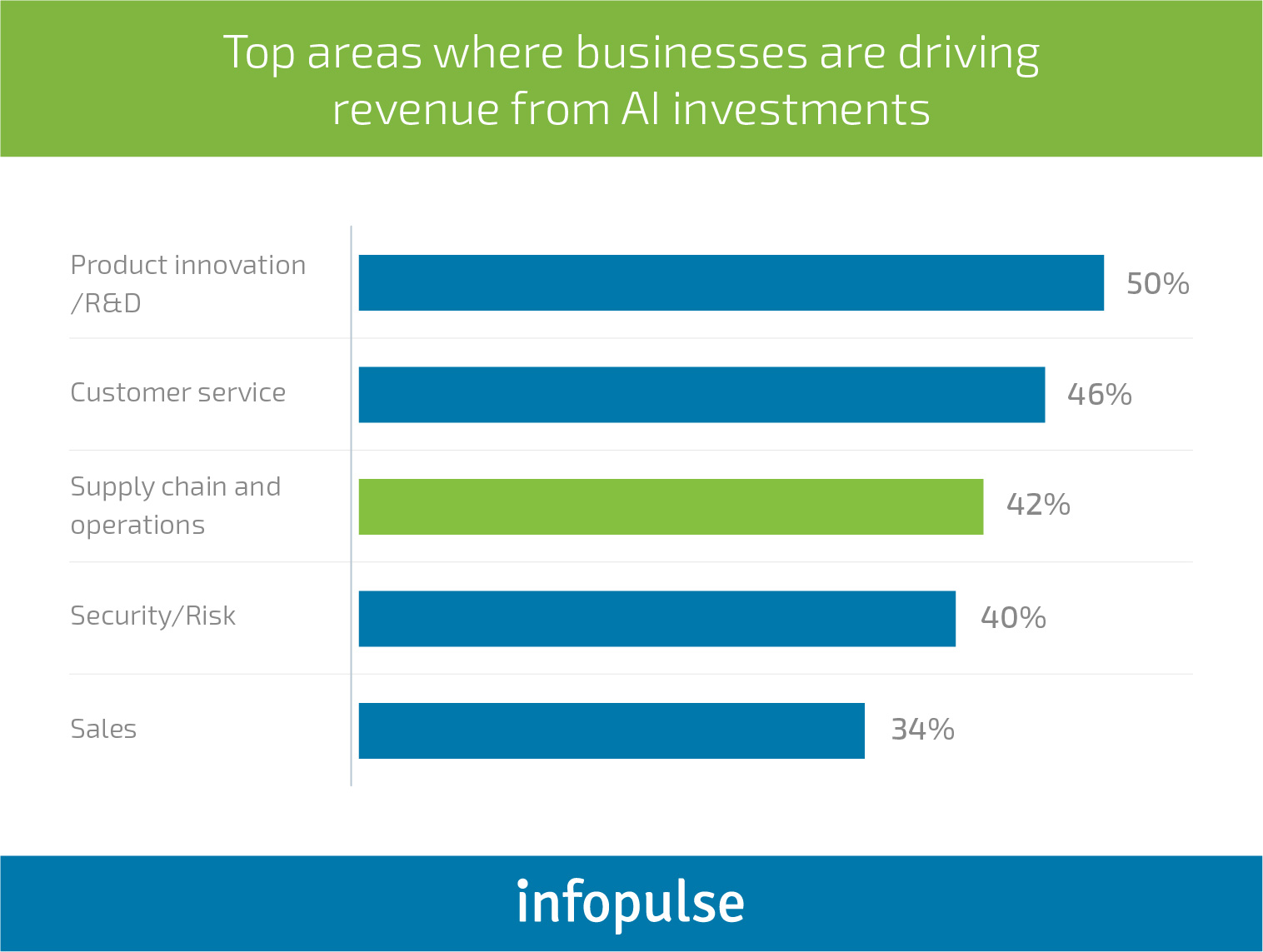 Rapid AI-Based Decision-Making and Management
Artificial intelligence is able to process large volumes of data and perform real-time analysis that will optimize the work of various supply chain operations. Having instant access to supply chain systems data, employees may evaluate and analyze it faster. This accelerates the decision-making process and benefits the entire supply chain management model.
AI is also able to save the exchanged sales and operational planning data, resulting in more efficient and collaborative supply management. Most importantly, enhanced data visibility creates better insights and benefits the understanding of customer demands and requirements.
AI and Advanced Demand Forecasting
Precise demand forecasting is one of the most significant aspects of the manufacturing business. If customer demands are measured inefficiently, this leads either to product shortage or to overstocking, which results in considerable financial losses. The implementation of artificial intelligence may resolve this issue. AI analyzes customer insights, their loyalty, general market specifics and a number of other factors to generate accurate demand predictions. These forecasts are centered in five major areas:
Trade promotions. This type of AI-based forecasting analyzes the multitude of interrelations between the elements of trade promotion and historical data to create clear-cut demand predictions for future campaigns. AI allows identifying specific trade promotion types that are capable to uplift sales and achieve maximum ROI.
Product launching. AI is able to process the results of past launches, select the most preferable aspects of the product, outline them, and precisely predict the future customer demands and preferences.
Social Media. Artificial intelligence can conduct a thorough analysis of social media comments and feedback, and provide relevant brand-related insights that are beneficial for supply chain planning.
Seasonality. Artificial intelligence can efficiently track and evaluate the seasonality trends and patterns within various time periods, which is crucial for future demand forecasting.
Weather conditions. Demand forecasting depends on geographical factors. AI enables manufacturers to analyze weather parameters and determine the demand for a certain product during a specific time span.
Modernizing Procurement with AI Chatbots
An AI-powered Chatbot has the potential to become the right-hand man for procurement specialists by assisting them in daily activities and providing better services for both suppliers and internal customers. AI-powered procurement software can significantly improve contract management by highlighting key data and distinguishing possible issues. Moreover, chatbots may efficiently process both internal and external queries relating to invoices or order purchasing. With AI Chatbot assistance, procurement experts won't have to look through the endless databases for the information they need. This will significantly accelerate the speed of the procurement branch.
Enhancing Quality Control with Artificial Intelligence
The manufacturing industry is fraught with errors and defects. The main challenge is to recognize the early signs of potential production failures within the shortest terms in order to save resources and sustain operational efficiency. Unfortunately, manual tracking of possible faults is inefficient and error-prone. By leveraging artificial intelligence into enterprise, manufacturers can reduce the probability of errors and significantly improve many aspects of quality control.
In essence, artificial intelligence in manufacturing transforms the assembly lines into interconnected networks, which are guided by the set of specific parameters and algorithms. AI identifies the slightest deviations from the initial parameters in real-time and instantly sends a notification about the occurring faults. This improves the response time and allows eliminating possible failures much faster in comparison with manual quality control. Moreover, advanced AI systems may be constituted into convolutional neural networks that are able to further accelerate data processing and provide exceptional benefits for quality control.
Efficient AI-based Predictive Maintenance
Not only is AI able to detect production failures in real-time, but it may also be used as a powerful tool for precise predictive maintenance. By analyzing various production attributes and parameters during specific timeframes, AI detects possible production malfunctions that may cause product quality issues in the future. By collecting and processing information from different sources, like previous maintenance records, current sensor data or even meteorological reports, AI creates accurate forecasts as to when the machinery must be repaired. The insights generated by AI analytics are critical for business of any manufacturer, because they allow diminishing expensive unplanned downtime, while sparing a considerable amount of resources.
Smart Production and Design with Artificial Intelligence
Digital Twin Technology in Manufacturing
Digital Twin is a technology powered by the Internet of Things (IoT) and artificial intelligence, creating unparalleled opportunities for manufacturers. Implementation of the Digital Twins allows recreating an accurate virtual representation of a physical product during any period of its lifecycle. The technology lets the user view the manufactured products in terms of design, embedded software, flow mechanics, and other important production aspects. These digital simulations allow inspecting how well the product is made for manufacturing, and creating a feedback loop showing all aspects of the developed product that may be optimized. The operations stage becomes swifter due to the digital twin technology, because different kinds of adoptions and improvements may be applied in real-time. Most importantly, precise digital simulations substitute time-consuming and costly prototyping, which allows finding optimal solutions for product redesign much faster, while spending fewer resources.
For more information, read our expert's article Manufacturers Aspire to Digital Twinning and Virtual Commissioning on ReadWrite. Jan Keil, VP of Marketing at Infopulse, explains key differences between Digital Twin, 3D CAD model and Digital Thread, also covering Digital Twin types, use cases and technologies that influence its development.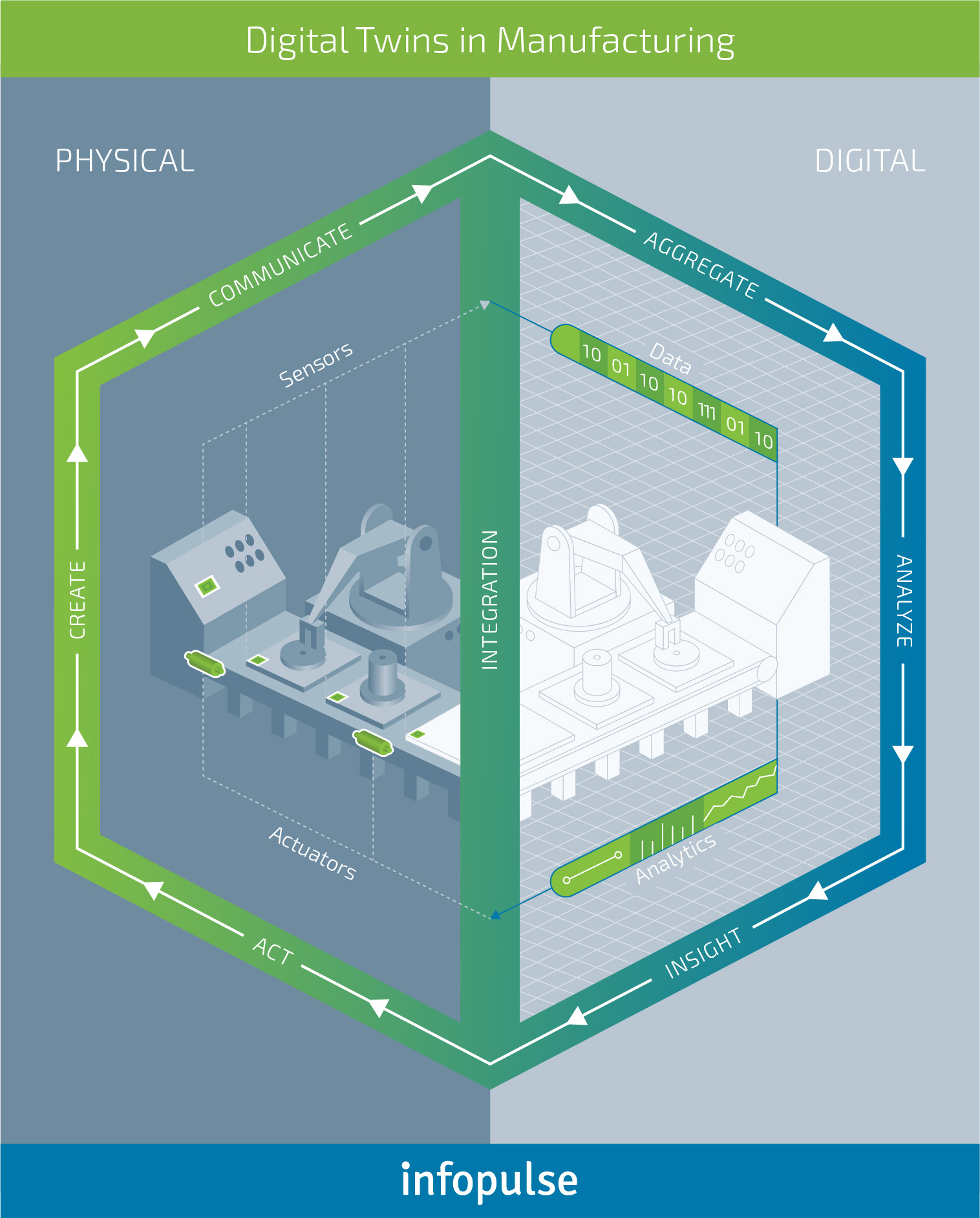 Artificial Intelligence and Generative Design
Generative design is an AI-powered software that processes specific product parameters and generates various design options. It's important to understand that it does not improve the pre-existing design, but creates a wide range of new possible design options. The technology analyzes a brief that includes different criteria, e.g., material type, weight, size, budget constraints and manufacturing methods, such as CNC, lathes, injection molding, and others. The AI algorithms generate hundreds of feasible design options, allowing to select the most optimal solution. The design choice may then be tested across various manufacturing scenarios and conditions to achieve supreme product quality. A good example is Autodesk's Dreamcatcher AI system that allows inserting a wide range of criteria into the system, and then quickly generates unique design options.
The AI-based generative design offers a multitude of benefits for the manufacturing industry. By rapidly offering numerous design options, it improves enterprise productivity and allows shifting the designer's focus into other primary tasks. With the newly-developed design combinations, manufacturers can significantly reduce production costs, decrease material waste, prevent costly reworks and meet the ever-growing customer requirements.
AI and the "Missing Middle" in Manufacturing
The majority of people perceive artificial intelligence and human workforce in terms of competition, but not collaboration. Currently, the leading adopters of AI in the manufacturing industry do not have the dualistic view of smart machines competing against people, but they look into the middle ground – an area of human and machine collaboration, termed as the "missing middle". This median area has the ability to shape outcomes that neither humans nor machines can create alone. These outcomes are the new types of jobs and advanced collaborative business models that will disrupt the current manufacturing sector, making it more efficient while benefiting the safety of the working environment.
The future working opportunities of the AI and human dyad include:
Trainers. AI systems must be taught how to perform the tasks they were designed for, and how to properly interact with human employees. Trainers will manage the proper learning of the AI systems.
Explainers. AI draws conclusions through complex algorithms that are incomprehensible for laymen. The "explainers" will clarify the necessary work details to non-experts.
Sustainers. These employees will ensure seamless, safe and efficient work of the AI systems.
Artificial intelligence in manufacturing will also augment the human workforce in three ways. AI systems will be able to amplify human cognitive capabilities, effectively interact with the customers and employees, and embody human skills, which will allow enhancing the physical capacities of manufacturing workers:
Amplification. This way of AI-assistance will allow receiving real-time insights, thus empowering analytics and decision-making.
Interaction. Modern AI agents like Microsoft's Cortana or SEB's virtual assistant Aida can facilitate both internal and external communications by using natural language processing. Such AI systems may interact with thousands of customers simultaneously, while also being used by internal departments to execute different tasks.
Embodiment. AI systems may be embodied in robots with advanced sensors. Such "cobots" will work alongside humans and create a more safe, efficient and intelligent manufacturing working environment.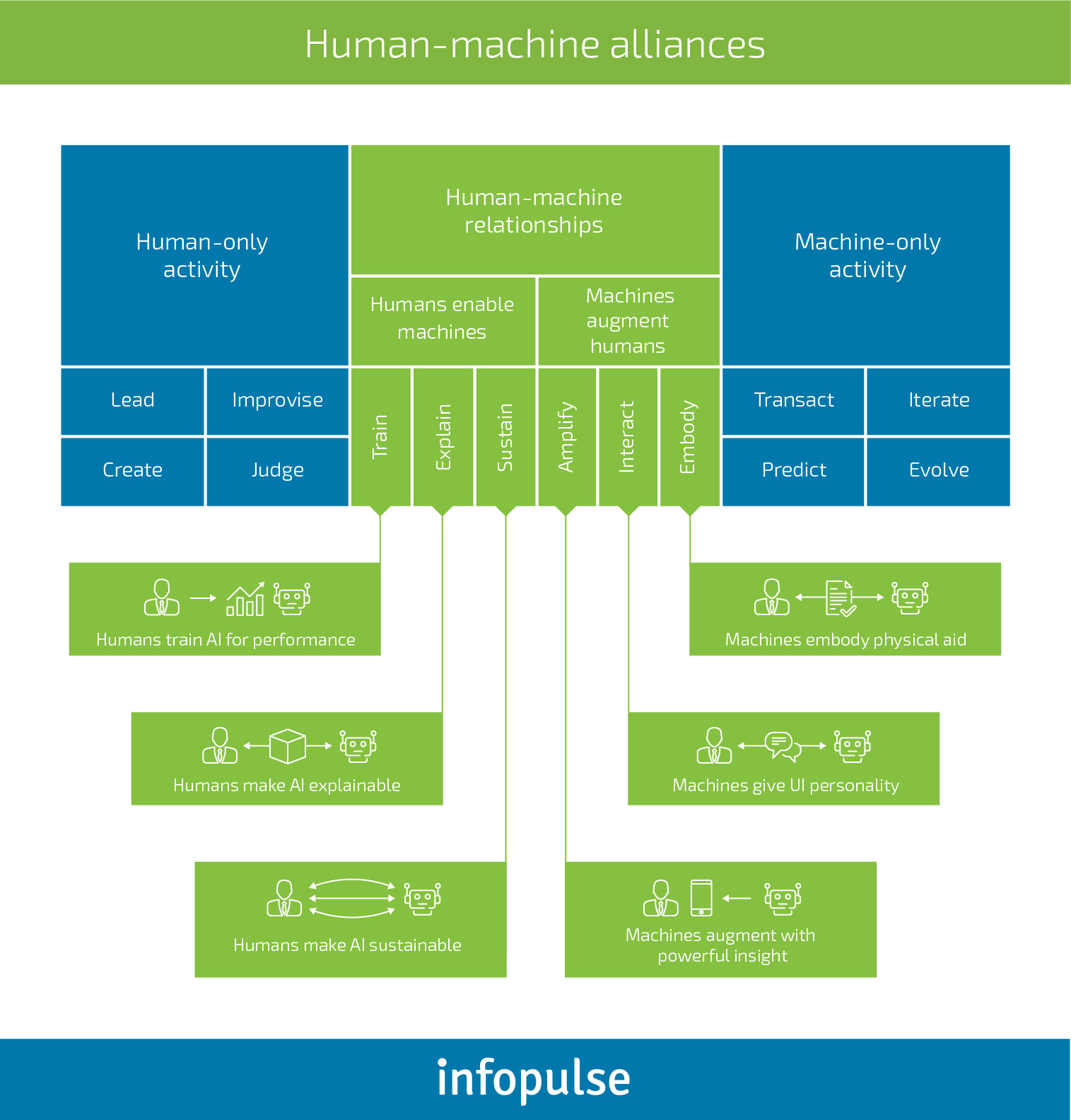 Shaping Sustainable Manufacturing with Artificial Intelligence
The manufacturing sector is responsible for a significant part of the worldwide energy consumption. According to the International Energy Agency, energy demands keep rising. Yet, the latest report of Microsoft in association with PwC shows that artificial intelligence has an enormous potential to benefit environmental sustainability and pave the way to a more eco-friendly and energy-efficient manufacturing sector.
Artificial intelligence can solve a number of issues that are critical for sustainable manufacturing. This includes excessive use of certain materials, redundant production scrap waste, inefficient supply chain management, logistics and unequal distribution of energy resources. Most importantly, manufacturing entrepreneurs won't have to invest in numerous solutions, because AI alone can eradicate all of the aforementioned difficulties. AI is able to analyze specific data and accurately predict the expected output, thus eliminating exorbitant material use or waste. Additionally, AI algorithms may be set to make precise recommendations that will strike a balance in energy use. Lastly, artificial intelligence can be used to benefit the supply chain management and logistics with demand forecasting, improved communications, and real-time decision-making solutions.
Conclusion
Artificial intelligence is an advanced technology that has the potential to fundamentally transform the manufacturing industry. Leveraging AI can create an efficient and transparent supply chain with significantly decreased operational friction. Moreover, AI is the backbone of efficient quality control systems that instantly identify even the slightest deviations and inform of possible failures in advance. By implementing AI-based technologies like digital twins or generative design, manufacturers are able to avoid expensive product prototyping and generate hundreds of feasible product design options. Most importantly, artificial intelligence will soon create unparalleled working opportunities within the "missing middle" and forge the path towards smart, efficient and sustainable manufacturing.
Infopulse has solid experience in the development of advanced AI and data science solutions for a broad range of business domains. The developed solutions include financial forecasting tools, sophisticated virtual assistants, chatbots and effective support solutions. Our team would be honored to provide further counseling services in regards to the adoption of AI for your manufacturing enterprise. Feel free to contact us for more details.