Article
How the Transition from CSP to DSP Can Help Telcos Recover Lost Ground
Originally published: September 20, 2019
Updated: December 29, 2022
11 min. read
Digital Transformation
"Transform, update, and innovate" should be the motto of Communications Service Providers (CSP) in the digital economy. CSPs have to transform to become DSPs – digital service providers; otherwise, they risk not managing to cope with the increasing demand for their networks. CSPs, who failed to keep up, will be gradually squeezed out by their competitors that are already leveraging IoT, 5G, big data, and multi-edge computing (MEC) among other technological advancements.
Transitioning from CSP to DSP is critical. However, before looking at the steps CSPs should take in terms of digital transformation, we must first understand how matters stand in this industry.
Software solutions penetrate communication networks and networking gears. Over the past decade, CSPs and telecommunication companies have been witnessing the fall of the average revenue and fierce competition on the part of the over-the-top (OTT) service providers. Disruptive competition, lack of organizational agility, lack of ROI, changing customer needs, and an uncertain regulatory environment are in the top five challenges, faced by the telecommunications industry today.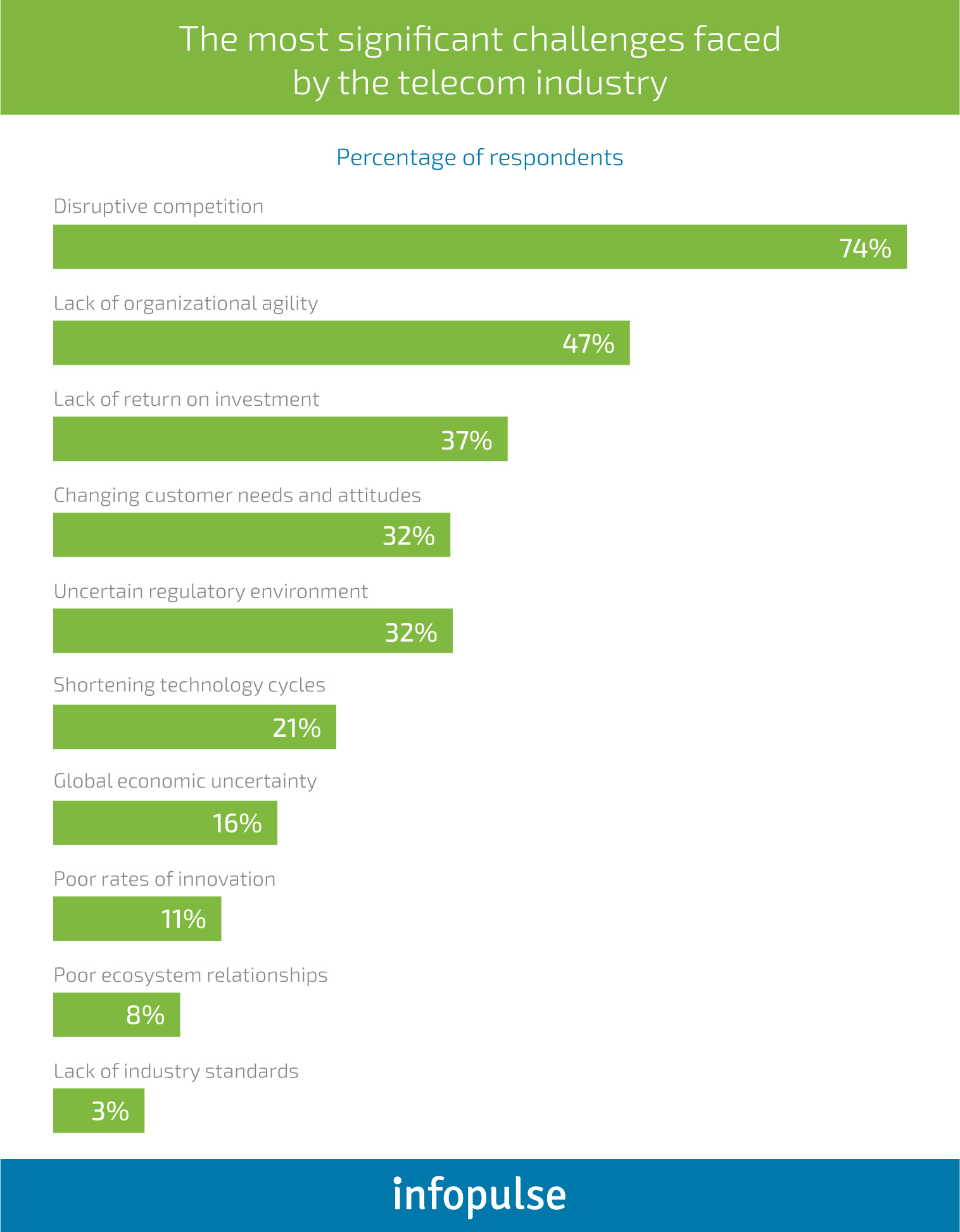 Why Transition from CSP to DSP is a Necessary Step
To take the power back, CSPs must find their place in the software-defined networking environment, by providing new types of services and securing their customers with personalized offers. Here's why this transformation is so crucial.
Competition
Well-known digital services providers like WhatsApp, Skype, FB Messenger, Viber, WeChat, Telegram, and Hangouts, to name a few, have already managed to snatch their market share. OTT players had considerable business advantages from the very start since they had no need to transform. Instead, they were the ones to transform the industry, by replacing stale services with more attractive and easy-to-use communication offerings. Take a look at the messaging apps that are replacing text messages. Statistics suggest that with 1.6 bln active users, WhatsApp is number one among messaging apps, closely followed by FB Messenger, with 1.3 bln users, and the Chinese messaging app WeChat, with 1.1 bln users. The fourth and fifth places go to Instagram, with 1 bln users, and Chinese QQ, with over 800 mln active users, respectively. Figures speak for themselves.
The financial counterpart
Recent findings show that voice and messaging revenues are expected to fall to $197 bln by 2023, with an average annual decline of 10%. While voice and messaging used to be telcos' core services, digital offerings must become a new growth opportunity for them. In this respect, Accenture claims that $2 trillion are at stake for the industry, and society to implement the digitalization potential by 2025.
The spin of tech development
To catch up with established digital service providers like Google, Amazon or Facebook, CSPs need to go beyond fine-tuning some of their modern services or implementing restricted productivity improvements. Getting into the swing of digital transformation means embracing new infrastructure to support the advanced types of new services. CSPs need to take steps in network evolution. Network Function Virtualization (NFV) seems to be the right candidate for that move, as explained in IBM's executive report entitled Re-envisioning the CSP network:
"NFV replaces single physical network appliances with virtualized network functions (VNFs) linked together across virtual machines. VNFs help to use resources rationally and run more software on a given amount of physical infrastructure. A VNF is more flexible and scalable when enabled with a software-defined network (SDN) layer that allows it to be connected and reconnected in ways a hardware design can't."
Steps for Making the CSP to DSP Transition
The digital era we're living in is a kind of a technocratic renaissance: it places humans at the center of everything. Customer demand is the key to the CSP to DSP transition. Hence, innovative services that offer personalized interaction should be the primary concern of CSPs. Customer acquisition, customer relations, and customer value management must become the best competitive assets of DSPs within the quickly evolving digital services market.
Paving the way to a new business model brings about the new essences that service providers will need to embrace, adapt to or even make out. Here are some of our suggestions.
Derive data insights for an improved customer experience
Even though CSPs struggle to fight against the onslaught of competitors, they have a substantial competitive asset – data. CSPs often monopolize networks together with the customer-related and network-generated treasure trove of data, which can become the basis for new services, business, and operation modes.
Communication service providers have every opportunity to turn this data into insights. Powerful Big Data and Analytics solutions, powered by real-time in-memory computing technologies, may become a valuable addition to your company's business productivity. Making use of all the data sources, internal and external, can help telcos picture a realistic portrait of users and their needs. Only a data-driven approach will help them fight competition with more targeted, personalized, and high-value services.
The digital path starts from the office
The ability to transform is fostered within corporations. First of all, it's the company management that has to reflect the desire to adapt to changes. Corporate changes fuel organizational changes, and the latter often means increased productivity and efficiency. Rational incentives, a talent acquisition strategy, and corresponding metrics will help CSPs complete the transformation with as little stress as possible.
By the way, it's not only the customer base that can be improved upon thanks to data. Internal challenges can also be tackled successfully with almighty data insights. They will allow you to find out more about your employees, define bottlenecks in different processes and streamline operations. The digital transformation that starts from the office is the most rational one.
Revised OSS/BSS solutions
The biggest issue with OSS/BSS platforms is their lack of adaptability to shifting subscriber demands. Instead of driving and managing revenue, communication service providers report that operation and business support systems restrict their service offerings. Before becoming the true providers of digital services, CSPs should think about the digital transformation of their BSS and OSS first.
Year after year, CSPs have been growing functionality over their business operations systems. It's hard to imagine the exact number of legacy elements they have managed to accumulate throughout the decades. Even though it seems complicated, the models, through which CSP operate, can and should be revised. With short-term goals in mind, new delivery models, and modern technologies, change is possible. Consider the softwarization of communication services and embrace the best practices of software development like open APIs, DevOps, and the Lean methodology. They can boost your innovation rate and shake up employees who have been working with legacy protocols for ages.
Work on the segmentation strategy
We'll say this again for emphasis: CSPs have infinite data-driven capacities, and appropriate user segmentation is yet another area where data insights make a difference. Utilize user feedback, device statistics, data consumption types, and other data to cluster customers effectively. But don't forget about data privacy and GDPR. The General Data Protection Regulation imposes certain restrictions on the use of personal data. So, make sure that you act on legal grounds and your purposes for data collection and processing aren't perceived unlawful.
The Differentiation between corporate and private segments has always been a wise decision on the part of communication providers. Consumer demand is the biggest driver in the market, while B2B digital services are the second-most common factor shaping the landscape of digital offers.
For instance, СSPs can create separate digital divisions that are focused on enterprises and aim at two birds with one stone. We all know that telcos leverage their consumers' data for marketing purposes of advertisers from various verticals. What if this data-driven approach could help CSPs find out which data could be of interest to their enterprise clients and not just the sly advertisers who offer no benefits to consumers? Trying to monetize subscriber data without breaching their trust is a tough hill to climb, but data analytics can help CSPs provide customer information only to the right kinds of businesses – the ones that can offer some value to their customers in return.
Look at partnerships as the right move
CSPs got used to dominating the industry with their services. However, since the rules of the game have changed, they can try partnering with competitors to gain a larger market share. Even though a CSP might be unable to provide a certain scope of services on their own, the right approach for them would be to target their customers with services they really want.
By using available resources and access to the data pool, CSPs can find out what kind of services can satisfy particular user needs and when. Next, they can establish a partnership with a reputable OTT or other service providers outside the CSP competence area. For example, a CSP can agree on a discount with a provider of hardware for smart home systems if some of their customers are planning to use that particular system.
Powerful Technologies that Help CSP Evolve into Digital Service Providers
Assets in possession of communication service providers are almost impossible to substitute in the present business environment. This advantage becomes critical as soon as the concept of IoT comes into mind. A multitude of connected devices is manufactured every day. All they need is connectivity, and CSPs can provide it using various protocols.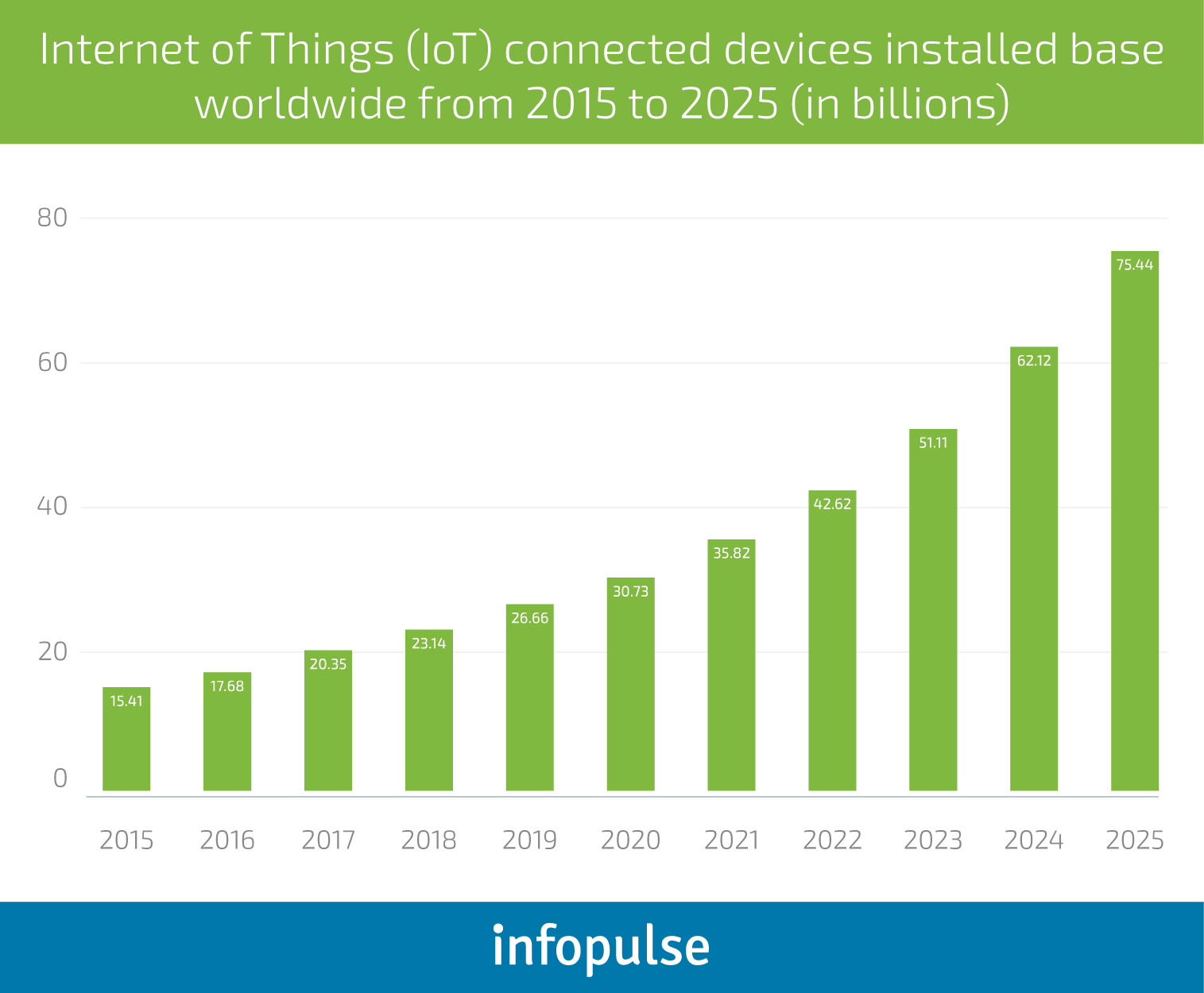 The most encouraging thing about IoT technology is that it can assist CSPs with both internal and external tasks. Within their organizations and networks, IoT is a powerful tool for improving operational efficiency, as it provides great support of asset management and monitoring, physical security, and environmental protection. The significance of IoT for customer-related activities of CSPs lies in its ability to boost and stand behind smart or connected ideas. From smart homes to smart cities, IoT can change people's daily lives.
One more pressing need, faced by CSPs on their DSP transformation journey, is network performance optimization. In this respect, the Multi-access Edge Computing (MEC) could be the right technology to improve user experience. The cloud network architecture behind MEC (formerly known as Mobile Edge Computing) enables distribution of services, functions, and content through a network. In this way, the CSP services are rendered closer to the customer. Moreover, MEC reduces network congestion and improves application performance.
With IoT and MEC, CSPs can build novel user experiences and services. Take dedicated small cell services, for example. CSPs can deploy small cells to improve coverage at large venues for a conference. Using small cell deployments, communication service providers can offer personalized content that will supplement the live event, making the experience of hundreds of attendees enjoyable and unforgettable.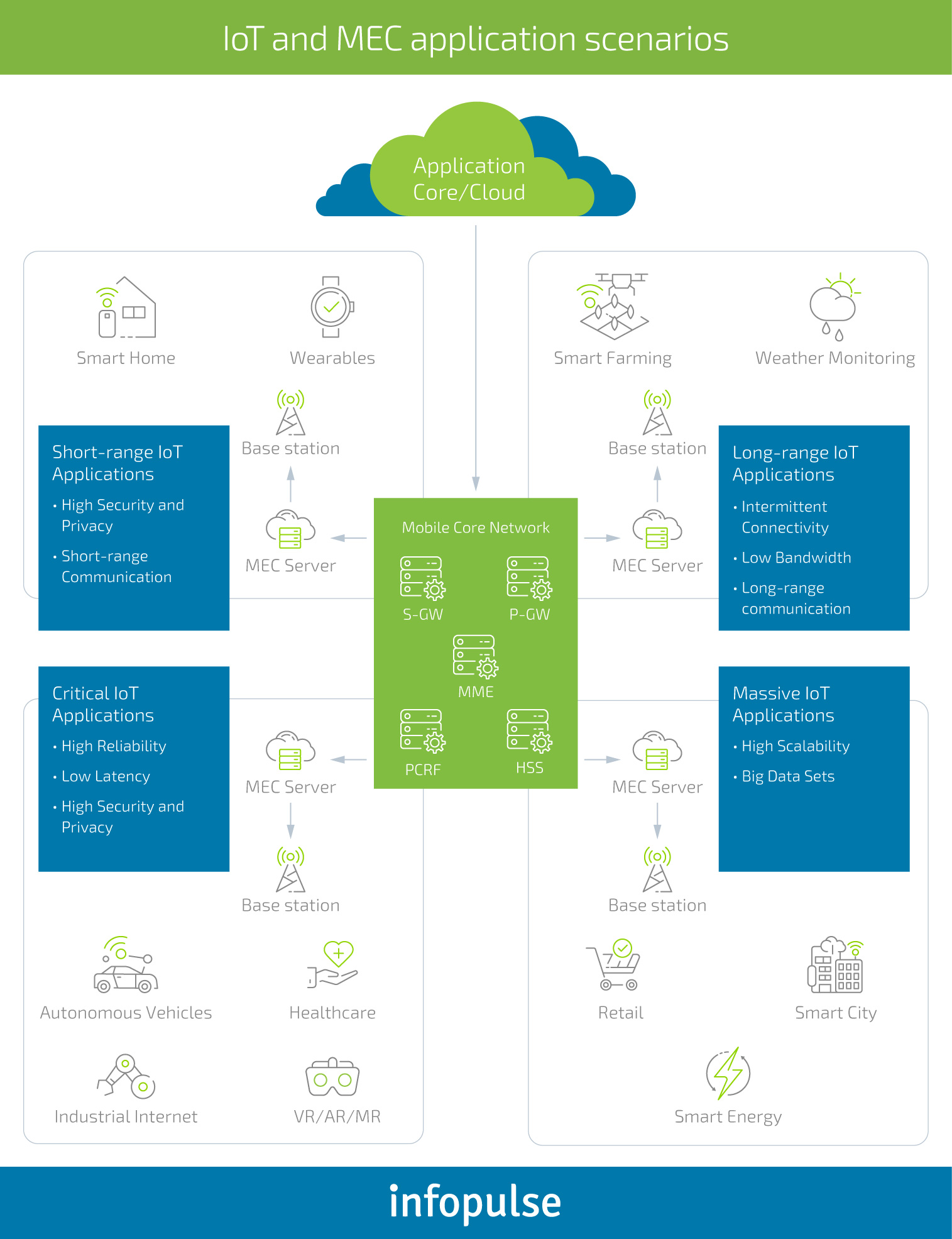 5G and MEC, alongside IoT, will undoubtedly bring about a wealth of applications from which operators can benefit. The next fifth generation of mobile communication is anticipated as the most significant trend related to communication services. With high speed, rapid service deployment, low latency, and high availability, 5G networks have the potential to become the digital force to support changes in communications. 5G networks are essential for mobile computing as they boost the speed and coverage of wireless networks. 5G can run between 10 and 100 times faster than other cellular connection to satisfy the needs of 1.9 bln discerning consumers already in 2024.
The Bottom Line
Ever since advanced technologies, including cloud computing, have made their public debut in the early 2000s, communication service providers have witnessed remarkable business growth. However, as we head into the digital transformation era, the focus has changed drastically. With emerging technologies like MEC, 5G, SDN/VNF, and IoT coming to the market more aggressively, telcos need to expand, accepting the software-enabled changes in their formerly exclusively network- and hardware-related business.
Becoming a digital service provider means placing customers at the center of all initiatives. DSPs should be more responsive to the consumers' needs around connectivity services. Personalization, contextual offers with uncompromised quality, and memorable user experience should accompany your shift from a CSP to a DSP.
With an extensive experience in developing advanced Big Data and Business Analytics systems, secure IoT and cloud-based solutions for numerous industries, including telecom, Infopulse is pleased to offer our assistance in digital transformation of your business. Contact our experts today to get started.