Article
Introducing Super App: a Better Approach to All-in-One Experience
Originally published: April 23, 2023
Updated: June 06, 2023
11 min. read
Innovations
Digital Transformation
Software Engineering
Business Applications
Digital Experience
The platform-based business model is taking a stronger grip on the digital economies. In fact,
six out of ten
of the world's most valuable companies today are platforms. Most recently, this trend has accelerated even further as companies cross-industry have started to shift away from single-purpose to multipurpose apps, resulting in faster adoption of super apps.
What is a Super App?
Originally, the term 'super app' was coined by BlackBerry founder Mike Lazaridis back in 2010. He defined it as "a closed ecosystem of many apps" that people would use every day because they offer such a seamless, integrated, contextualized and efficient experience."
In short, a super app is a marketplace of services and offerings, delivered via in-house technology and through 3rd party integrations.
Today, however, super apps have become synonymous with the rising array of Chinese super products, namely WeChat and Alipay. Here is a detailed super app review for Alipay:
Super App Example

WeChat was launched in 2011 as a messaging app. Almost a decade later it has morphed into an ecosystem, hosting 3.5 million "mini-programs" that allow users to do a lot of things – order a taxi, apply for a loan, transact with local businesses, government service providers or even celebrities. The best part is that all these transactions (including payments) happen within the WeChat ecosystem. As a result, WeChat annual revenue reached almost 17.5 $bn in 2021.
Alipay, part of Alibaba, has an even more tightly knit ecosystem of services. First, it's the main payment method on popular e-commerce platforms Taobao and Tmall (owned by Alibaba). The company collects social and transactional data from these three services and sends it to Ant Financial, its financial services arm. Ant Financial, in turn, uses it to build a credit-rating system for merchants and consumers and provide personal and business loans. The secured funding will then return to one of Alibaba's e-commerce platforms as merchants will purchase more inventory.
Furthermore, the benefits of the super app approach extend to:
Faster and less risky product launches: You already have an audience to market to, as well as a wealth of data that will help you shape the right offering and pitch it to the right people at the right time.
Lower product ownership and development costs: Most of the 'mini-apps' on WeChat were not developed in-house, but created through integration by companies who wanted to conduct business with WeChat's immense user base. Most 'super apps' follow the platform-based approach to scale their products.
Minimized KYC costs and effective onboarding: Most KYC data is automatically synced from the customer's all-encompassing social and financial profile. By leveraging existing user data to streamline the verification process and by offering a range of services within a single app, making it easier for users to sign up and use new services. Onboarding new users for new services becomes simpler as well.
Cross-Industry Super App Examples – from the East to the West
WeChat isn't the only super app taking over the East in one massive swipe. Grab, a ride-hailing company headquartered in Singapore and with heavy market presence across the SEA region acquired the local sub-division of Uber and UberEats. Later the same year, Grab started paving its way towards payments. The company invested in OVO, a popular payment platform in Indonesia.
Super App Examples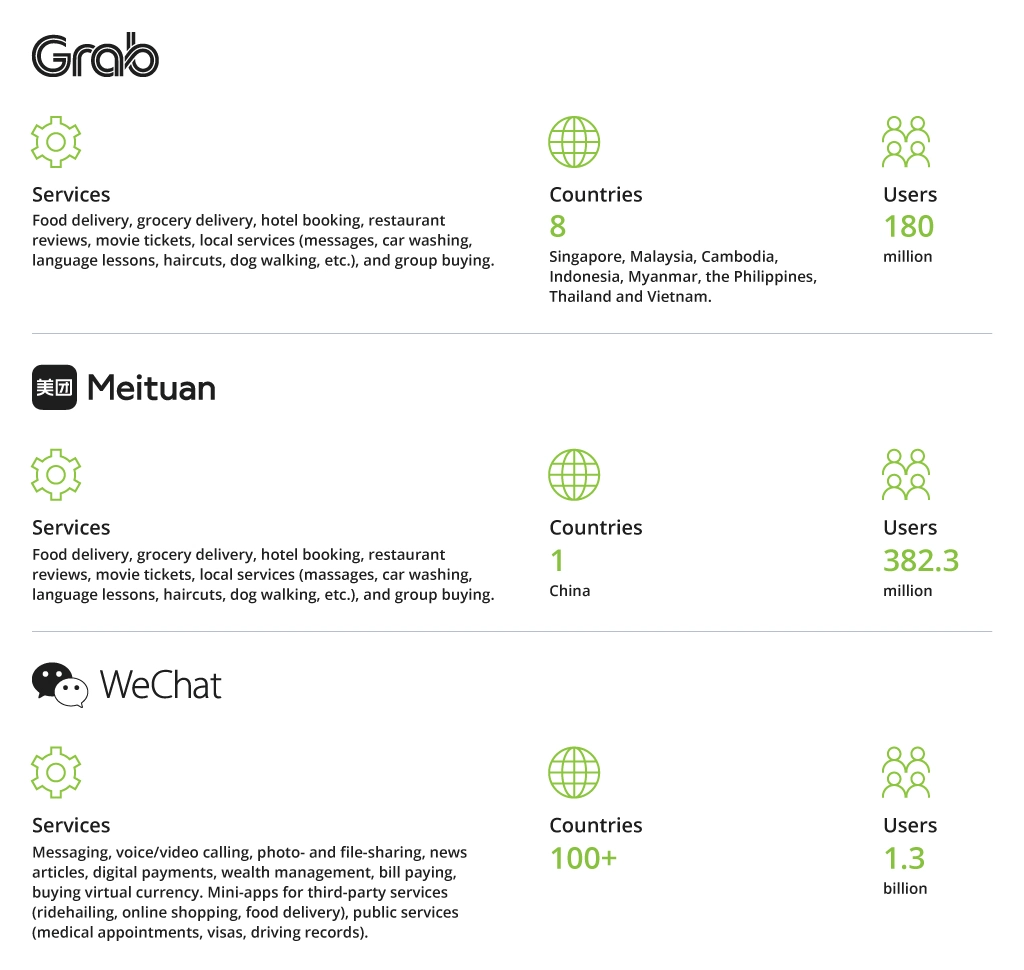 In 2021, Grab became a publicly traded company through a merger with a special purpose acquisition company (SPAC). The merger valued Grab at over $39 billion, making it one of the largest technology companies in Southeast Asia.
Furthermore, Grab will likely continue onboarding even more partners as part of their new, open-platform strategy allowing 3rd parties to effortlessly leverage the company's APIs. In September 2022, Grab made the announcement that it was accelerating its route to profitability by setting a goal to achieve breakeven on a Group Adjusted EBITDA basis by the second half of 2024.
LINE Corporation, a Japanese messaging app boasting 44 million users, has a wide range of categories, from news and social feeds to banking and healthcare services., Recently, it unveiled its major partnerships plans. Line NEXT Inc., a subsidiary of Line Corporation, devoted to building out the global NFT ecosystem, has announced 26 new partnerships with industry heavyweights. This was made to develop NFTs based on their popular intellectual property (IP) content and to facilitate the purchase and sale of NFTs with conventional payment methods.
Other 'superpower' apps hailing from the East also include:
Gojek: Indonesian ride-sharing service, the biggest regional competitor to Grab.
Meituan: Chinese app offering a range of "travel-life" ranging from food, travel essentials, and leisure/lifestyle products.
Alipay: Alibaba's payment system offering a multitude of additional services via mini apps such as retail, bookings, utility bill payments and more.
Fave: Singapore-based mobile payment and deals platform that recently acquired two local food delivery startups and plans forays into finance through micro-loans.
Paytm: Indian mobile wallet service that recently added merchant transaction functionality allowing users to book airfare and train tickets; and buy goods from its e-commerce sub-division Paytm Mall.
PhonePe: Flipkart-owned Indian payment app hosts a number of mini-apps from popular local providers such as Ola (ride-hailing), Oyo (hotel booking) and MakeMyTrip (travel booking service).
Reliance Jio: an Indian telecom player that has amassed a major user base thanks to affordable data plans to launch a new super app. Packed with over 100 services in one platform, it can become the world's largest offline-to-online platform, rivaling WeChat.
In the meantime, the West is yet to see the rise of the local super apps. Some experts even say that a WeChat scenario will never be possible in the European markets. Indeed, due to the different regulatory environment and market conditions, it's hard to imagine the exact super app scenarios, which we are seeing now in the East.
However, it does not mean that local players aren't pursuing platformization and marketplace routes. Quite the opposite. Take Google Maps for example. While the company's executives never stated that they want to pursue the 'super app' route, over the last several years they have continuously expanded the scope of features, so you can:
Search and book hotels, tours, and tickets to popular attractions and local events.
Receive navigation and plan your daily commute.
Make a restaurant reservation via OpenTable, Resy and other similar services.
Organize food delivery via DoorDash and other popular delivery services.
Book a flight via Google Flights.
Find and contact a variety of services operating nearby and make direct appointments.
Use integration with Google Pay for easy payment and transactions.
Leverage real-time traffic updates and public transit information to navigate the commutes.
Save and share favorite locations and directions with other users.
Use Google Assistant for hands-free navigation and search.
Arguably, the most prominent example of super apps in the West is Rappi, Latin American tech company.
Rappi offers a range of services, including food delivery, grocery delivery, pharmacy delivery, and more. The company has also launched RappiPay, a digital payments platform that allows users to pay for services and transfer money to other Rappi users.
In 2021, Rappi announced that it had raised $500 million in a funding round led by T. Rowe Price, which valued the company at $5.25 billion. Currently, Rappi has plans to continue expanding its services and reach, including launching a new e-commerce platform and expanding into new markets in Latin America.
However, despite increased interest from tech players, it is the financial sector that strongly gravitates towards the super app approach. In particular, the newly emerged digital banks and FinTech players are at full speed ahead into transforming their ecosystem of services into open banking marketplaces.
The notable example of fintech super app is Revolut, a UK company. Revolut's mobile app offers a wide range of features and services that go beyond traditional banking services. Here are some of them: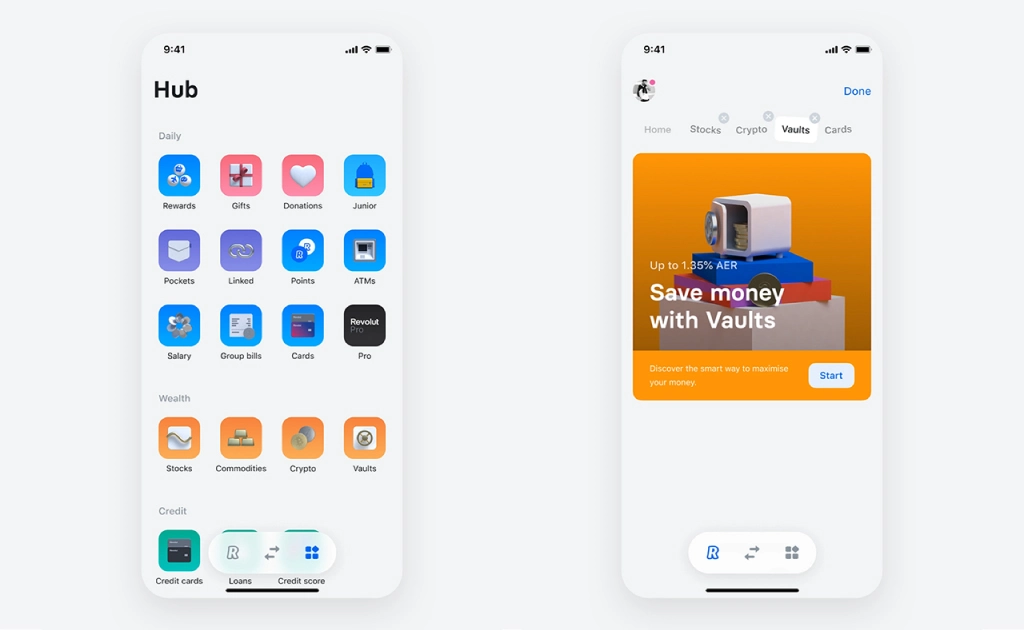 Revolut Personal. Revolut Personal is the company's flagship product, which includes a digital bank account, debit card, and a range of other features, such as budgeting tools, currency exchange, and international money transfers. Users can manage their accounts and make transactions through the Revolut mobile app.
Revolut Business. Revolut Business is a business account that includes a range of features designed to help businesses manage their finances. These features include corporate cards, online payments, expense management, and international money transfers.
Revolut Junior. Revolut Junior is a bank account designed for children aged 7 to 17 years old. The account includes a debit card and allows parents to set spending limits and monitor their children's transactions.
Revolut Savings Vaults. Revolut Savings Vaults is a feature that allows users to set aside money for savings goals. Users can create multiple savings vaults, set savings targets, and track their progress towards their goals.
Revolut Crypto. Revolut Crypto is a feature that allows users to buy, sell, and hold cryptocurrencies such as Bitcoin, Ethereum, and Litecoin. Users can also set up price alerts and receive news and analysis on the cryptocurrency markets.
Why Marketplace Banking is a Major Trend to Watch in the Financial Sector
Marketplace Banking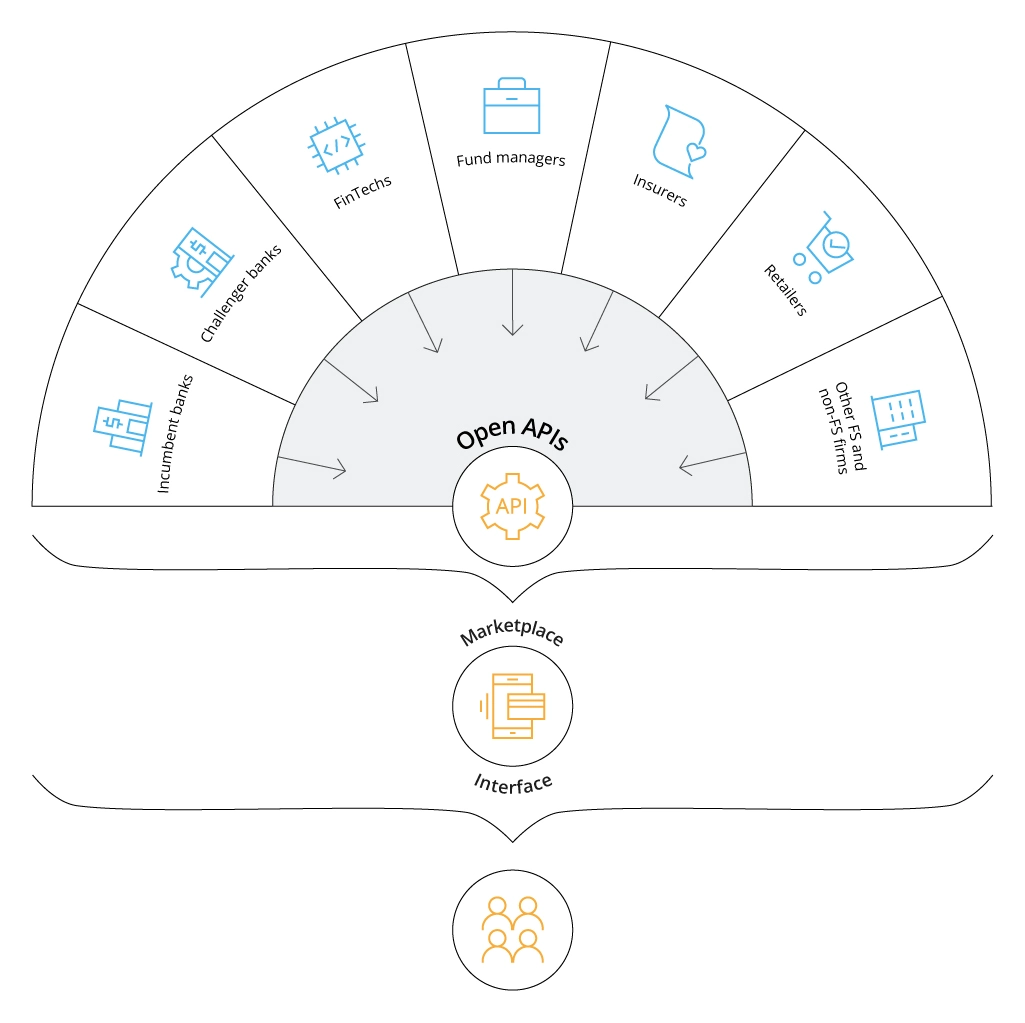 In established markets, banking consumers are demonstrating an increased affinity towards all-encompassing banking solutions. Consumers have a high need for products that facilitate the management of their financial ties. More than half of consumers (55%) are interested in using an app or service that provides a unified overview of all their financial products and services from several sources.
In addition, 60% of respondents in Accenture's Payments Survey said they would use a single app to monitor transactions across all payment systems. Nearly half of those surveyed in January 2022 in four of the top global markets (Australia, Germany, the United Kingdom, and the United States) expressed some level of interest in downloading a super app:
The Worldwide Interest in Super Apps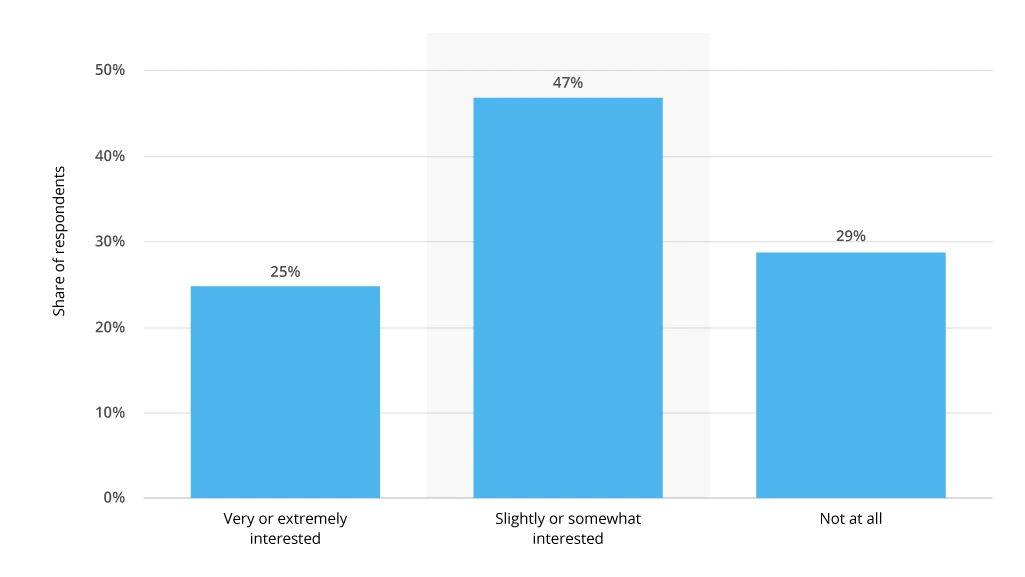 According to Plaid's 2021 study, 80% of Americans think it's crucial to be able to connect their bank account to fintech apps, and 69% would switch banks if they couldn't. Therefore, building fintech ecosystems is a smart business strategy for digital banks. By creating a one-stop-shop for their customers, they can offer a more comprehensive and seamless experience. This approach also allows to quickly adapt to shifting consumer preferences and provide innovative new offerings.
For example, Starling Bank has built an ecosystem that includes features such as savings and investment products, as well as integrations with third-party providers like PensionBee and CreditLadder. Monzo, on the other hand, has partnered with a range of third-party providers to offer products such as loans, insurance, and energy switching.
SoFi, the 8th largest FinTech company in the world, which started as an online student loan refinancing platform, organically branched into robo-investing and wealth management, mortgages and life insurance – a host of products customers may be highly interested in after paying out their education debt. Most recently, they expanded their product offerings by launching SoFi Checking and Savings. This move is part of SoFi's strategy to become a one-stop-shop for all its customers' financial needs.
Overall, building fintech ecosystems is a trend that we are seeing among many agile digital banks. The European Open Banking strategy, backed by Payment Services Directive 2 (PSD2), will further accelerate the development of marketplace banking and solidify the platformization trend.
Conclusions
The trend towards super apps and marketplace approach to scaling will remain strong within the next decade. The benefits of following this lead are rather clear: by connecting different types of services into one ecosystem, businesses can create valuable synergies resulting in higher user satisfaction, sustainable business growth and higher revenues.
Consolidating an array of services under one brand reduces the 'multi-homing' effect when users try to leverage several financial services at once to secure a better deal. Customers form stronger relationships with a single provider, resulting in higher levels of satisfaction. Service providers, on the other hand, strengthen their market position and prevent external players from siphoning their customers away.