Article
HR in the Cloud: Introduction to the SAP SuccessFactors Solution
Originally published: August 09, 2022
Updated: August 19, 2022
6 min. read
Data & Analytics
Business Applications
Digital Experience
We are living through the greatest labor disruption ever, which resonates on all levels and across all industries. Remote work, all-time high resignation rates, and massive battles for talent have shifted well-established rules of the work culture.
Employers are scratching their heads not just for the new engagement models to appeal to their customers but also for the completely novel engagement models to retain and attract ever-demanding specialists. No opportunities for advancement (63%) and feeling disrespected at work (57%) were the decisive factors for respondents and the reasons for quitting in 2021.
However, the answer to the human capital problem is hidden in the very problem. Employee turnover caused by the massive move online can be approached with the power of data-driven solutions that translate information into actionable insights. SAP SuccessFactors is exactly the solution that integrates numerous HR solutions and AI-enabled analytics into a single employee management and administration suite to help businesses face today's challenges.
In the experience economy, personal experiences carry substantial value in a business strategy, regarding both employees and customers. Evolving expectations of the modern knowledge workers demand a more engaging and stimulating organizational culture from their companies. A revamp of a high-performance culture can't be realized without a solid digital workplace strategy in place.
Connecting specialists with their teams, managers, and the entire organization is no easy task when everybody is scattered around the world. However, next-generation HR services like SAP SuccessFactors integrate a rich set of talent management solutions in a unified platform to simplify the collaboration of professionals working at different times and in different places.
So, What is SAP SuccessFactors?
SAP SuccessFactors is an employee experience platform that puts workers' needs and motivation at the heart of your talent management strategy and acts as a single source of HR data.
Because SAP SuccessFactors is a Software as a service (SaaS) product, it can be easily deployed in the cloud, integrated with existing personnel management systems, and even accessed from a mobile application for extra convenience.
With 12,000 customers in 200 countries, SAP SuccessFactors is the world's most widely adopted HCM software. No surprise here, as it offers 360-degree flexibility in all aspects, especially its pricing model. Starting from less than $10 per user per month, a license can be scaled depending on what modules and functionality you add to your suite.
The beauty of this Human Experience Management (HXM) suite lies in its flexible architecture that allows for modularity and personalization. It consists of four different SAP SuccessFactors modules that can be implemented together or separately, depending on your needs:
Employee experience management
Core HR and payroll
Talent management
HR analytics and workforce planning
The modules' implementation is performed according to the SAP Activate methodology for time- and resource-effective deployment. Consisting of Discover → Prepare → Explore → Realize → Deploy → Run stages, this methodology represents a set of tools, templates, and processes required for the easy SAP SuccessFactors implementation.
Let's take a closer look at the modules and their features.
SAP SuccessFactors Suite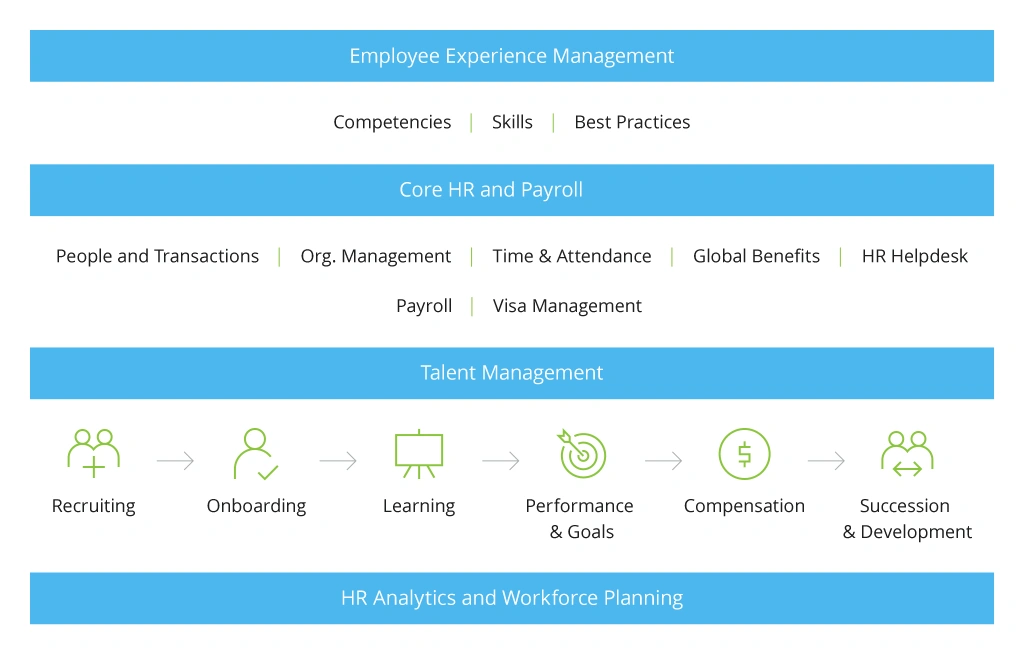 1. Employee Experience Management Module
Hybrid working environments added more weight to the manager-specialist-HR relationship. Staying in close contact with a manager is often the only way a remote worker connects with their employer. So, it is of utmost importance to make those daily collaborations efficient and provide employees with personalized access to their data.
What is SAP SuccessFactors used for? To collect feedback from every employee experience and close the gap between engagement and productivity with features like:
Role-based dashboards and reporting
Tailored data reports
360-degree feedback
Rich insights across the entire candidate lifecycle
Enhanced rewards programs
Keeping track of employee satisfaction, which is vital for getting motivated and productive at work, helps you optimize the specialist's experience with targeted HR changes. With personalized surveys and data analysis you can pinpoint the factors hindering workers' performance that can be anything from interpersonal conflict to lacking competence in specific areas. Experience Management module provides your organization with intelligent tools to make collaboration beneficial for both employer and employee.
An Example of Employee Engagement Productivity Metrics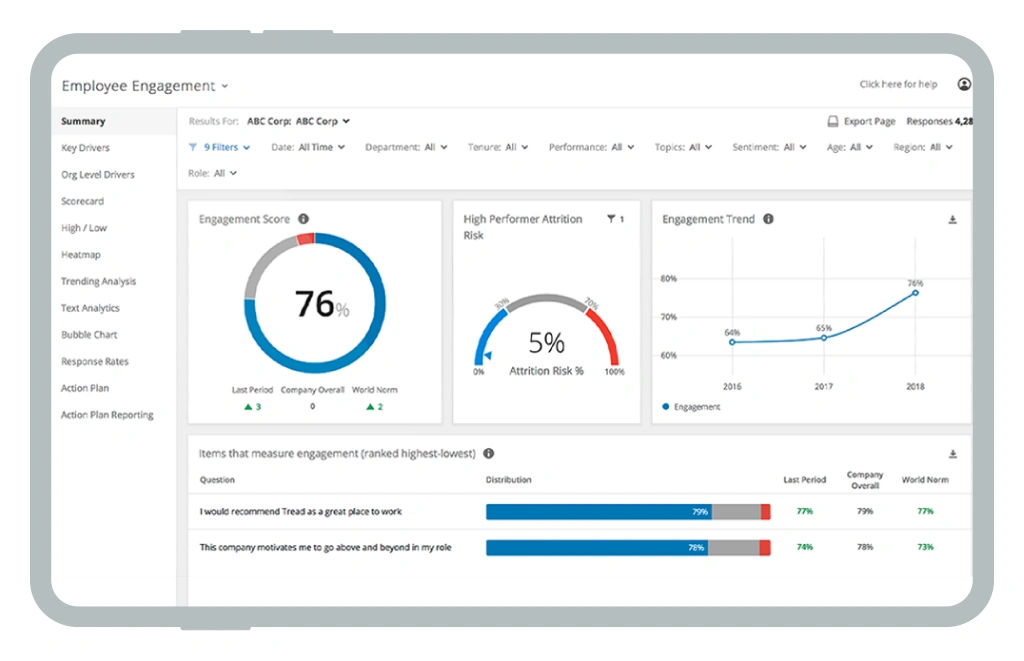 "Covid has not been all doom and gloom for me. It forced me to dig deep and reevaluate what is important," shared a self-employed education professional from Canada in the 2021 Microsoft Work Trend Index Report. A changed work attitude has become a new global phenomenon that should be properly addressed with new digital tools.
2. Core HR and Payroll Module
SAP SucessFactors offers a broad set of human-resources-focused solutions to improve payroll management, employee self-service, and compliance.
Localization is an integral part of the whole suite which automates and simplifies a lot of compliance aspects. It includes not just country-specific IDs, address or bank formats, but also diverse payroll and legal reporting processes. SAP SuccessFactors capabilities are built around common business processes of a given country. For example, the process of an annual Income Tax relief in India and the heavy-volume process of visa management in the Middle East are available in different localizations.
You can choose a designated software for each of these processes:
Automated HR operations with Employee Central solutions
Global payroll management
Time and attendance management
HR services (knowledge base, ticketing, SLA compliance)
Centralized document management
3. Talent Management Module
As for the talent management module, it's comprised of the solutions that allow you to hire, onboard, and engage specialists from one platform.
The following platform's components can be mixed and matched:
1. Recruiting – to automate job distribution with smart resource planning and reduced overheads.
Nurture and remarket for passive candidates
Create talent pools
Build email marketing campaigns
Access advanced analytics for all your initiatives
2. Onboarding – to individualize candidate's digital experience with intuitive interface and involvement in the process.
Digital onboarding, offboarding, and cross-boarding
Present policies and processes in an engaging format
Information sharing about HR services
Provision of easy access to company news
An Example of Onboarding Experience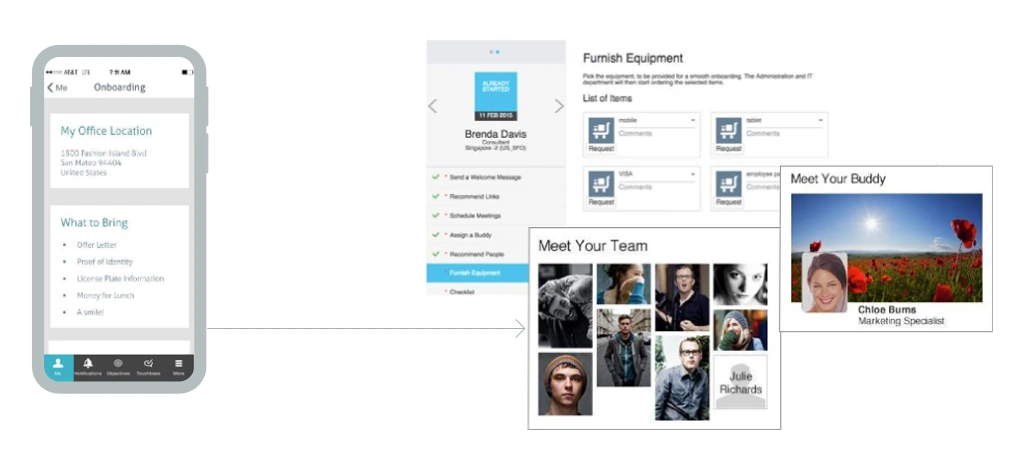 If you were wondering how the most popular modules (recruiting and onboarding) can be integrated with your existing personnel management system, check out our detailed case study of an automotive dealer and its legacy HR system upgrade.
3. Learning – to integrate a culture of continuous learning through comprehensible processes and personalized professional development.
Modern learner experiences
Connected people, information, and experts
Automated compliance training
4. Performance and Goals – to align personal and corporate aims through engaging objectives and rewards.
Performance assessments (reviews, calibration, team rater)
Continuous performance management (tracker, coaching, achievements)
Goal management (goal library 500+, goal status tracker, goal cascading)
Performance Review Sample Screen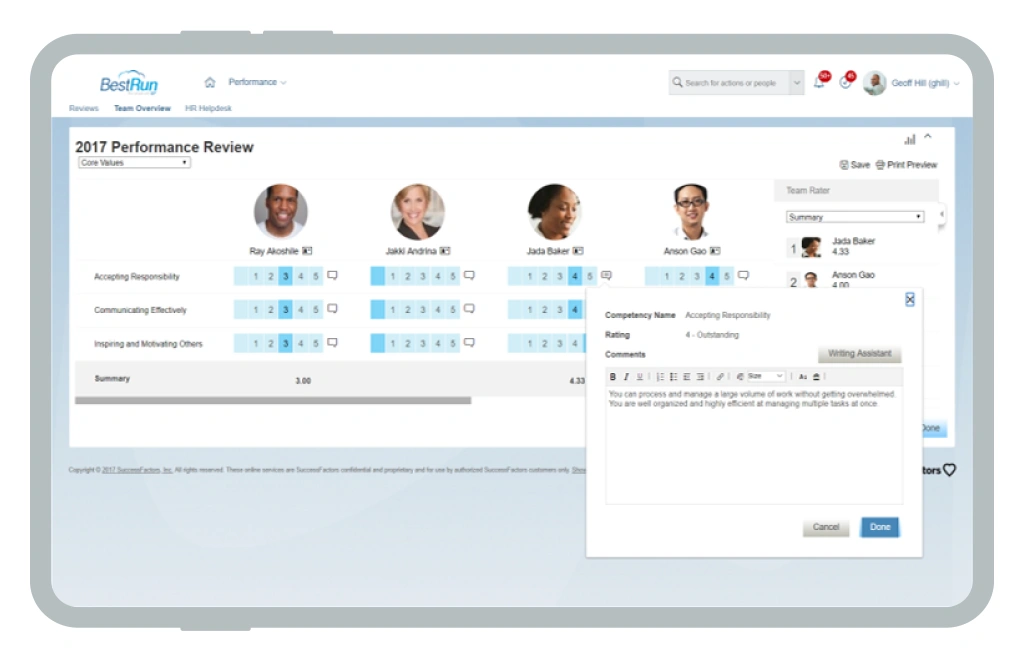 5. Compensation – to increase payments visibility and enhance compensation calibration.
Automated compensation planning
Personalized recognition programs
Data-informed rewards programs
Compensation Module Demo Screen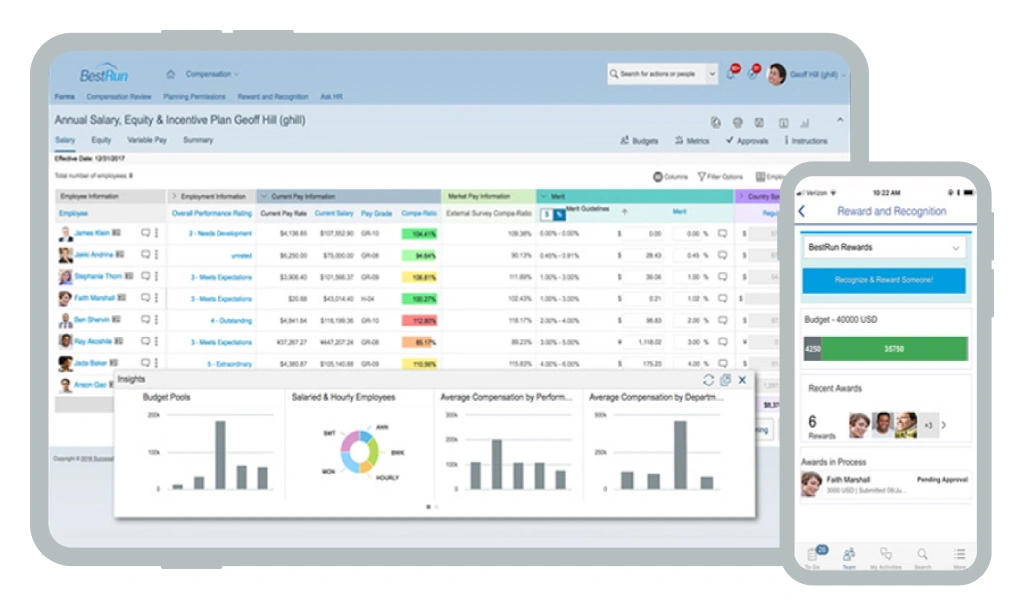 6. Succession and Development – to better detect talent gaps and retain high performers with advanced analytics capabilities.
Skills-based development planning
Company-wide mentoring programs
Talent gaps visualization
Employee performance trends
4. HR Analytics and Workforce Planning
SAP SuccessFactors solutions in this module are built to fortify collaboration between HR, finance, and other business departments. Implementing next-gen analytics capabilities into your organization's ecosystem makes it more agile and resilient to external stressors.
The modern recruiting trend of utilizing social media platforms as neutral ground for meeting candidates can be amplified with the data-driven approach of the Human Experience Management suite. It equips you with smart and powerful tools for transforming your data into dashboards and visuals and discover unnoticed patterns.
You can create inventories of strategic and operational decisions across an organization. Whether it is the analytical report on the efficiency of a mental wellness program or the number of monthly hires for each department.
With a workforce planning software, you can:
Analyze and plan talent demand
Create action plans for interventions
Build an optimal workforce blend
With a workforce analytics software, you can:
Resolve workforce-related inquiries faster
Implement evidence-based decision-making
Detect workforce trends
What Business Value SAP SuccessFactors Has to Offer?
When it comes to SAP SuccessFactors benefits for businesses, they are plentiful. Enabling digital transformation of HR with the help of a cloud-native HCM suite can transform your company into a people-centric organization that leverages intelligent technologies and employee productivity.
Let's see the solution benefits in more detail:
1. Automated and standardized HR operations
Storing and managing HR data from one source allows you to automate and standardize routine processes with intelligent capabilities and analytics. Smart HR automation translates into manifold benefits concerning employee productivity linked to quicker and more accurate data processing and reduced compliance risks associated with policy violations.
2. Enhanced employee experience
An easy-to-navigate environment coupled with consumer-style applications helps workers stay efficient and productive in the remote/hybrid mode. Personalized and consistent experiences empower employees to produce better results and stay committed to the tasks at hand, proven by the 4% increase in revenue in organizations that provide strong EX.
3. Powerful SAP SuccessFactors integration
Centralize employee data from distributed platforms into one source for clear visibility and control that prompts better decision-making. Easy integration of various data points allows connecting HR reps, managers, and employees through intuitive self-services creating better alignment and amplified collaboration.
4. 360-degree flexibility
Whether it be deployment, pricing, or personalization, SAP SuccessFactors can easily be scaled and customized to fit your organization's evolving needs. When opting for an HXM cloud solution, your company cuts unnecessary maintenance costs and pays only for modules catering to its current requirements.
5. Agility and adaptability
The HXM suite matches the needs and objectives of fluid organization models where self-management and project-based businesses become the new norm. Giving employees access to comprehensible learning tools motivates them to develop their professional skills and take on more challenges.
6. Resilience to changing workforce trends
Implementing digital and tailored work experiences helps companies align their goals with new models of leadership and younger leaders. A new workforce breed blooms in a digitally-savvy environment, a trend confirmed by 77% of HR leaders who pointed out employee experience initiatives as one of the major drivers behind increased revenue.
7. Intelligent talent management
End-to-end solutions built with AI technologies provide accurate insights and clear workforce trends. They add an extra layer of value to your candidate database and talent acquisition strategies, accelerating HR workflow processes with upgraded efficiency.
8. Peace of mind
SAP SuccessFactors is a market leader acknowledged by industry experts and numerous customers. Infopulse, as a recognized provider of SAP projects, has over ten years of experience that makes us a reliable partner to fulfill your needs by adhering to the highest quality standards.
Closing Thoughts
When the business world is going through massive shifts, and the workforce is entering the "Great Resignation" stage, with 41% of employees looking into leaving their jobs, it's time to make changes.
Modernize your employee engagement strategy with advanced cloud HCM solutions. You can always start small – by getting SAP SuccessFactors consulting and expert advice on your HR strategy or start big – by opting for a holistic digital transformation of your Human Experience Management approach.
Infopulse will support your enhancement aspirations and help you solve pressing challenges with diverse SAP SuccessFactors offerings. Contact us to discuss the details.