Article
Microsoft Teams Review: Features and Benefits for Remote Work
Originally published: April 23, 2020
Updated: May 12, 2022
6 min. read
Business Applications
Over the past few weeks, many organizations have joined forces to combat the global pandemic. One of the most important methods of countering the spread of the
COVID-19
virus is maintaining compliance with the quarantine regime, which is applied nationwide across many countries. Due to the quarantine, companies are now transforming their usual ways of organizing daily work by
switching to remote operations
.
Working from home is a common practice for some companies. However, transferring every employee to remote mode while preserving business continuity is a rather challenging task. Therefore, selecting efficient tools that ensure quick and effective online interaction between employees is a business-critical mission for both SMEs and large enterprises.
Microsoft Teams is a powerful tool that ensures effective collaboration and offers a broad spectrum of valuable features that facilitate remote work. In the following article, we provide an in-depth overview of the Microsoft Teams platform, focusing on its main capabilities and benefits.
Real-time User Presence Information in Microsoft Teams
Microsoft Teams features a presence information indicator, which displays the current availability status of your colleagues. This feature is part of built-in Office 365 products – it does not only indicate whether your colleague is online or not but also changes automatically in accordance with the Outlook Calendar appointments and participation in conference calls. The availability statuses can be set to 'available', 'busy', 'do not disturb' and 'away', conveniently prompting the last seen online time.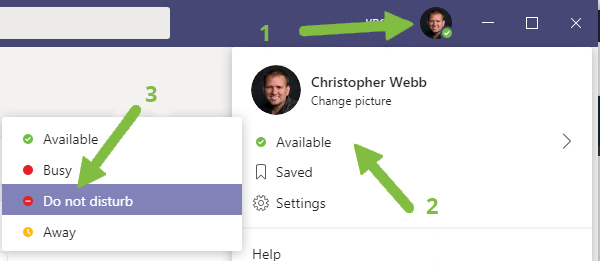 Most importantly, the presence information is displayed in other Microsoft Office 365 applications, like Outlook and SharePoint, which allows you to instantly learn your colleague's availability and contact them in the most convenient way.
Facilitating Communication with Instant Messaging
Unlike formal e-mails, instant messaging is a more convenient method of communication, which enables users to resolve business issues in real-time. Microsoft Teams features both personal chats and group chats with up to 100 participants. Microsoft Teams includes a wide range of advanced chat options, specifically:
Microsoft Word formatting and editing features;
Marking messages as important or urgent;
Hide, mute, and pin chats;
Share your screen in group chats;
Send code snippets to personal or group chats;
Fast and precise message search;
Built-in text translation with a large variety of available languages;
Immersive Reader that reads the text messages aloud;
Moreover, employees can share the chat content in Outlook or send it directly to Skype for Business, and transfer the communication to Microsoft Teams from Viber, Telegram, or WhatsApp.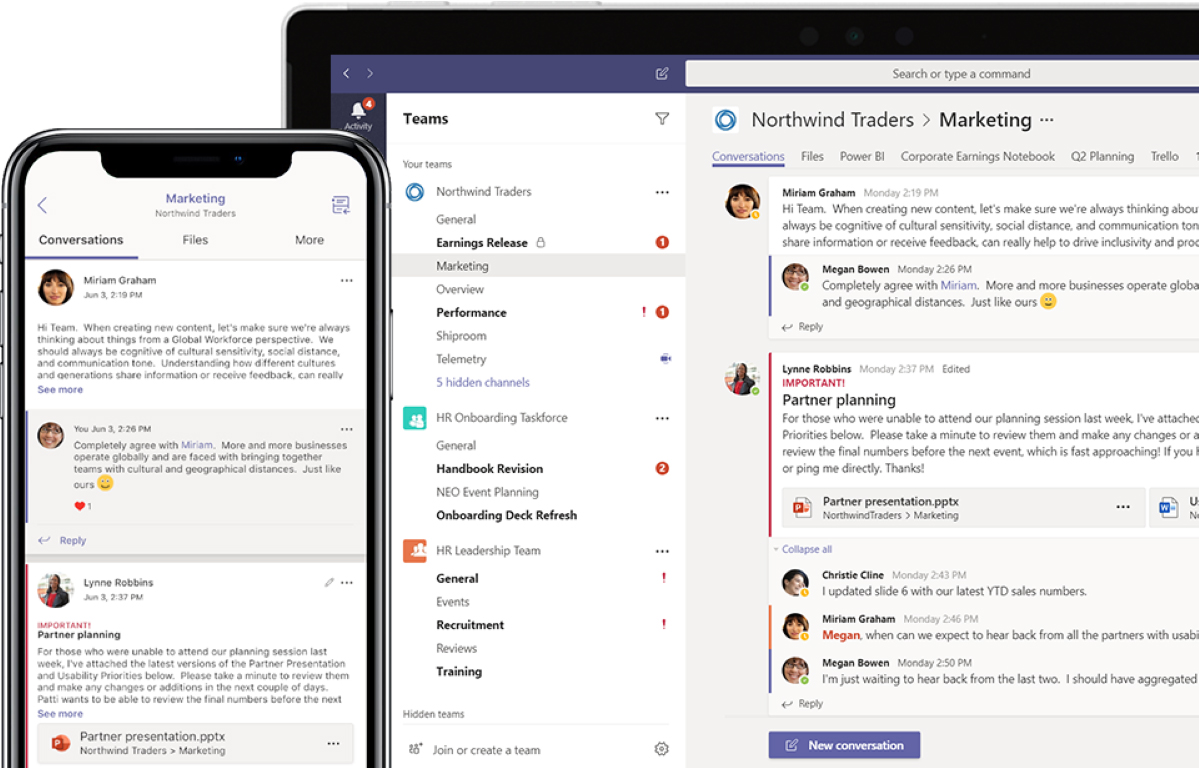 Effective Collaboration with Microsoft Teams Web Conferencing
One of the key ways to collaborate in Microsoft Teams is audio-, video-, and web conferencing. Users can schedule online meetings that range from 1:1 communication mode to large-scale discussions with up to 250 participants. Moreover, the Live Events feature enables online communication with up to 10,000 participants. During conferencing, users can use chat, exchange content, and share their screen with other meeting participants. Other useful features include:
Conference recording and transcript editing in Microsoft Stream;
Taking meeting notes in real-time and sharing them with other participants;
Pinning videos and reframing them for a better view;
The ability to blur the speaker's background;
Sketching whiteboard for one or multiple users.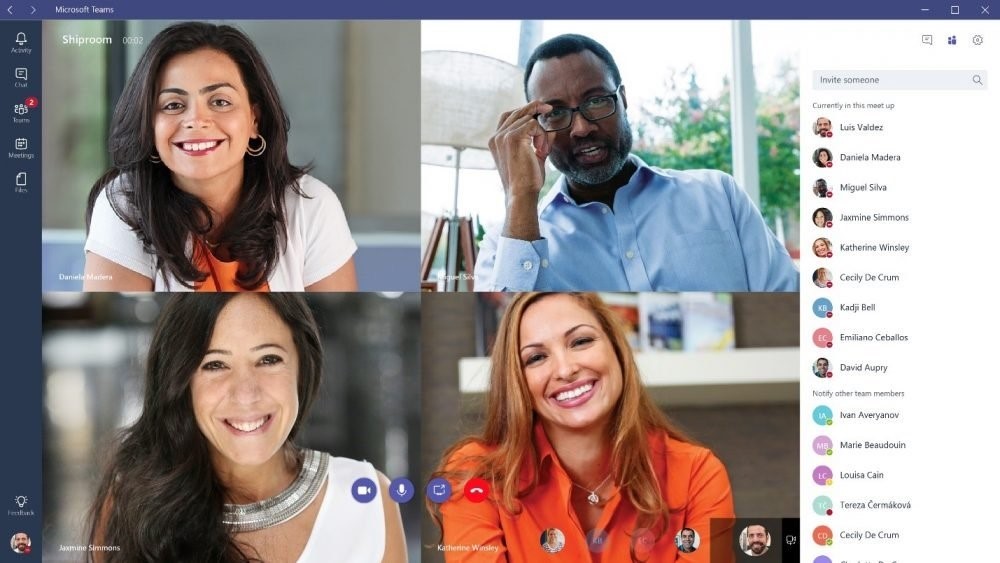 Agile Task Management and Productive Teamwork
Microsoft Teams is not just another platform for real-time communication via chats or video conferencing. It is also an advanced tool for task planning and management. Users can easily assign tasks and track their status in Microsoft Teams. The built-in planner visually represents tasks as cards. Each created task has a respective start and due date, which can be changed to set new deadlines. Tasks also feature a progress status such as 'not started', 'in progress', and 'completed'. If the task's due date is approaching, or it was completed, each user receives an e-mail notification with the relevant task status update in their Outlook client.
Furthermore, task cards include a field for relevant notes, comments, attachments, and an option to create checklists that help to monitor the task progress. Tasks can be flagged with a priority status, which ranges from 'low' and 'medium' to 'important' and 'urgent'.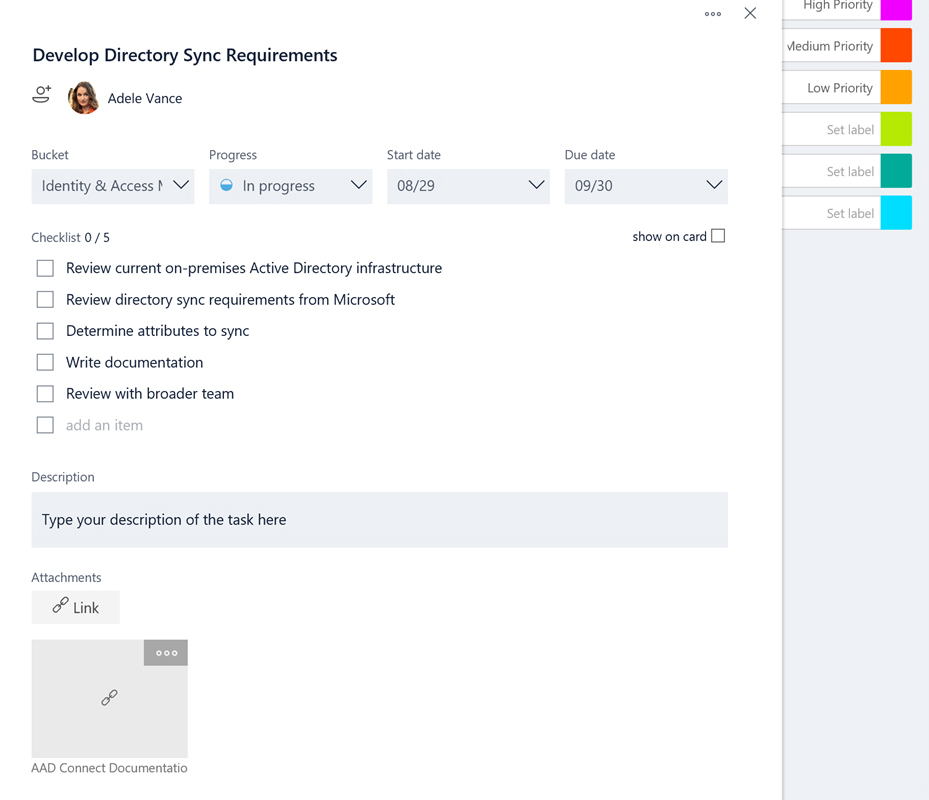 All of the team tasks are organized in a visually transparent and convenient board view that displays each team member and their tasks, including their deadline and priority status. MS Teams offers multiple task grouping options such as 'bucket', 'assigned to', 'progress status', 'due date', 'labels', and 'priority'. Users also have an option to access a more comprehensive task management view with charts that indicate the overall team progress by showing the number of late, ongoing, and completed tasks.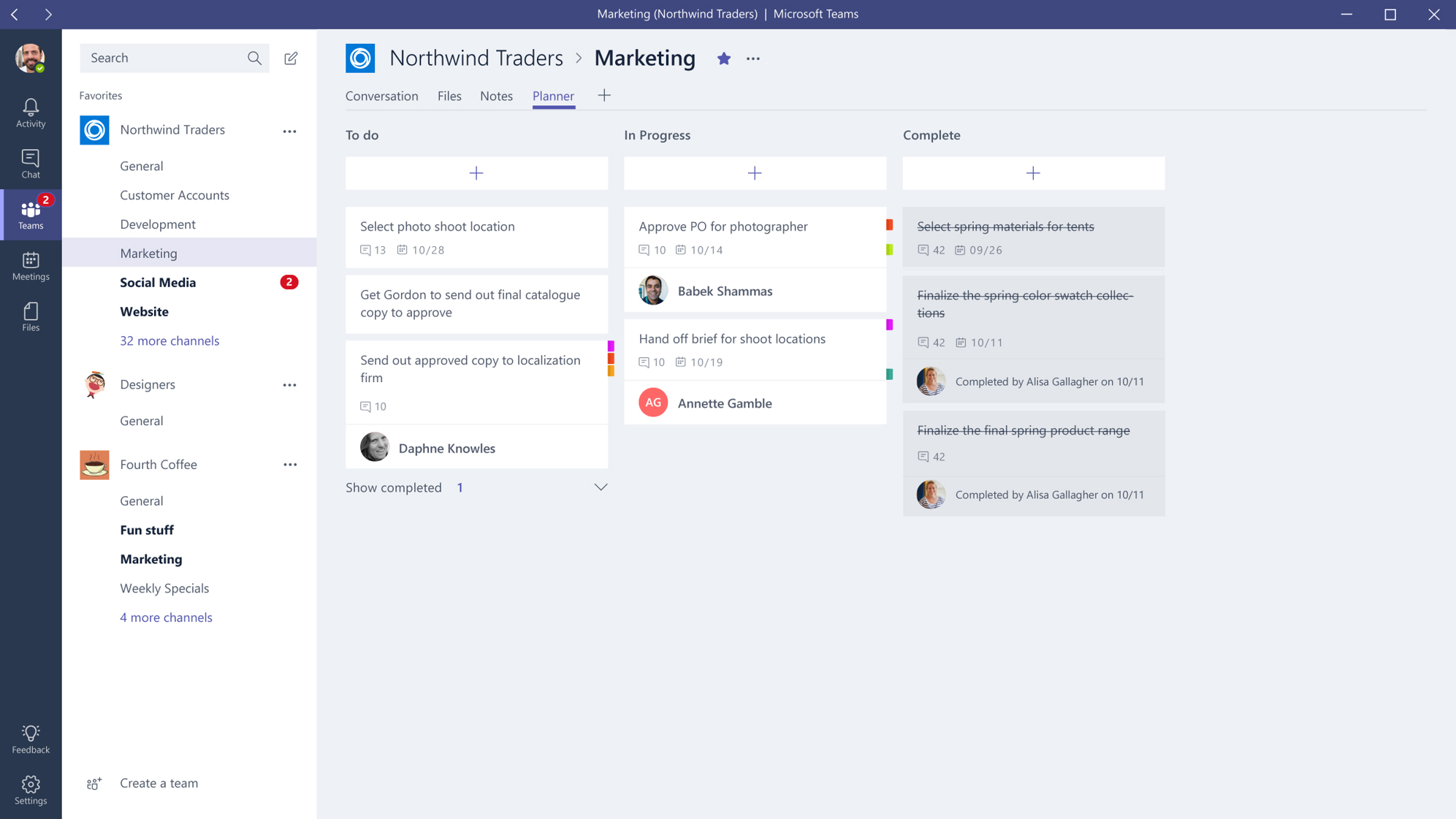 Ensuring Security During Remote Work
Microsoft Teams is built on the Office 365 hyper-scale cloud that delivers advanced security capabilities to its end-users. The platform features an organization-wide two-factor authentication, single sign-on through Active Directory, and encryption of data in transit and at rest. The shared files are stored in SharePoint and are backed by SharePoint encryption, which ensures robust data security.
Advanced Threat Protection (ATP) is available for Microsoft Teams, along with SharePoint and OneDrive, the applications that are integrated with Teams for content management. ATP allows you to determine if the content in these applications is malicious, and enforce access restrictions or block the content if necessary. Furthermore, MS Teams Data Loss Prevention (DLP) safeguards sensitive documents and significantly reduces the possibility of data leaks or breaches.
Conclusion
Microsoft Teams is an advanced and secure platform that ensures effective remote work. It includes a wide range of valuable features and benefits like instant messaging, online conferencing, and agile task management – all integrated into one comprehensive solution. Users can access the platform anytime and anywhere from Windows, macOS and Linux operating systems, iOS and Android mobile platforms, or use a web version. The combination of high-end features and universal accessibility of MS Teams enables its users and businesses to create a productive environment for remote work.
As a long-term Gold Microsoft Partner, Infopulse offers expert consultation and support services regarding the Microsoft Teams platform. Want to empower your remote work with Microsoft Teams? Contact us for more details.