Fine-tune your enterprise with productivity tools for effective collaboration
When it comes to bringing value to your business, Microsoft 365 cloud-based productivity suite (former Office 365) is second to none in elevating your enterprise growth and optimizing IT management. It allows organizations to create their own customized value bundle to increase personal and business efficiency and turn data into insights. As a Microsoft authorized Cloud Solution Provider (CSP) Direct partner with advanced specializations, Infopulse team will help you transform your business operations with a wide range of Microsoft 365 migration and adoption services.
Microsoft 365 Services to Drive Your Business Growth:
Microsoft 365 configuration:

Setting up Microsoft 365 suite: installing apps, adding and connecting domain, adding users, assigning licenses

Exchange Hybrid environment configuration:

Setting up Hybrid Exchange environment for the migration of mailboxes from on-premise Exchange to Exchange Online

Mailbox migration:

Migration to Microsoft 365 from other platforms: POP3/IMAP, Exchange, G Suite, Lotus Notes, AWS Workmail, Zimbra, and others

Legacy system migration:

Seamlessly migrating legacy systems to a unified cloud platform without disrupting current business processes
SharePoint review & migration: Reviewing and analyzing the existing content to be removed, archived, or migrated

Directory synchronization:

Setting up a secure multi-platform (between on-premise and cloud) access to data
OneDrive, Microsoft Teams, and SharePoint governance: Setting up intelligent business solutions for effective collaboration

Advanced security management and threat protection:

Setting up threat-protection policies, reports, and automated investigation

Licensing support and user training:

Licensing, technical support, and staff training on Microsoft 365 capabilities

Seamless adoption strategy:

Expert guidance on a successful Microsoft 365 deployment
Download our Micrsoft 365 Brochure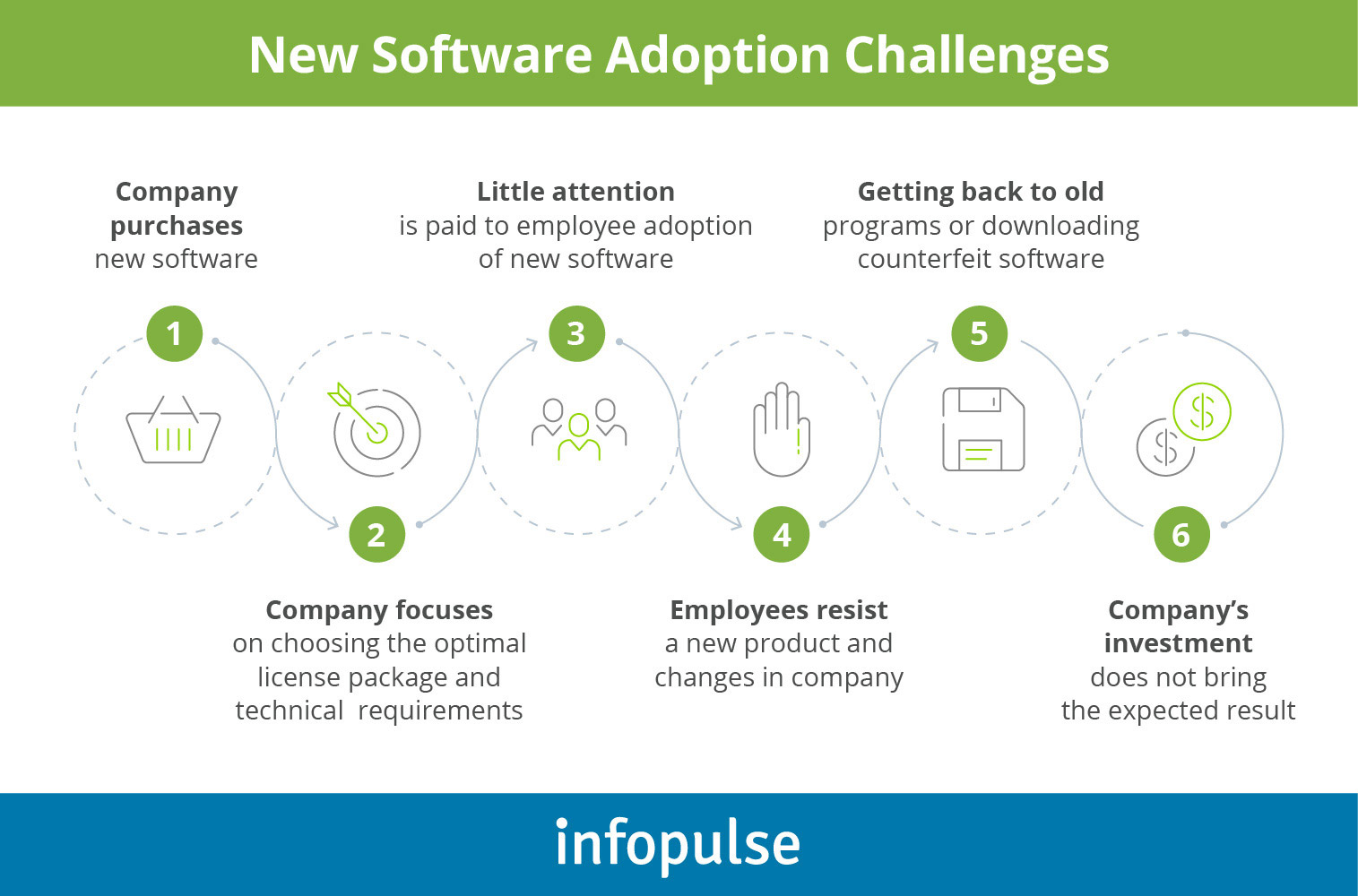 Microsoft 365 Suite in Detail
Microsoft 365 offers an optimized mix of cloud-based productivity applications and intelligent services with advanced security, compliance, and analytical capabilities.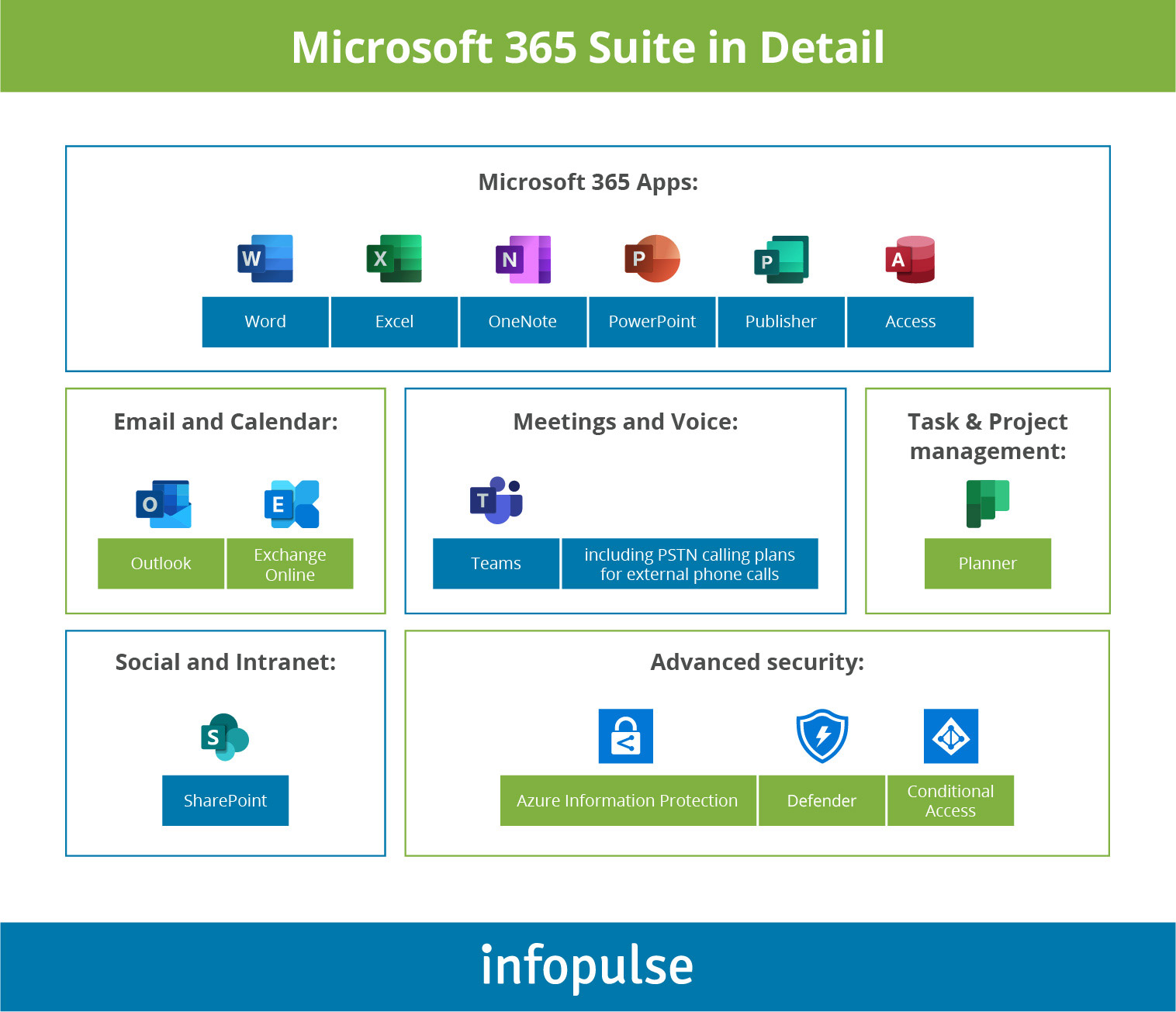 Microsoft 365 Apps

: Word, Excel, OneNote, PowerPoint, Publisher, Access

Email and Calendar

: Outlook, Exchange Online

Meetings and Voice

: Teams, including PSTN calling plans for external phone calls
Task & Project management

: Planner

Social and Intranet

: SharePoint

Advanced security

: Azure Information Protection, Defender, Conditional Access
Microsoft 365 Value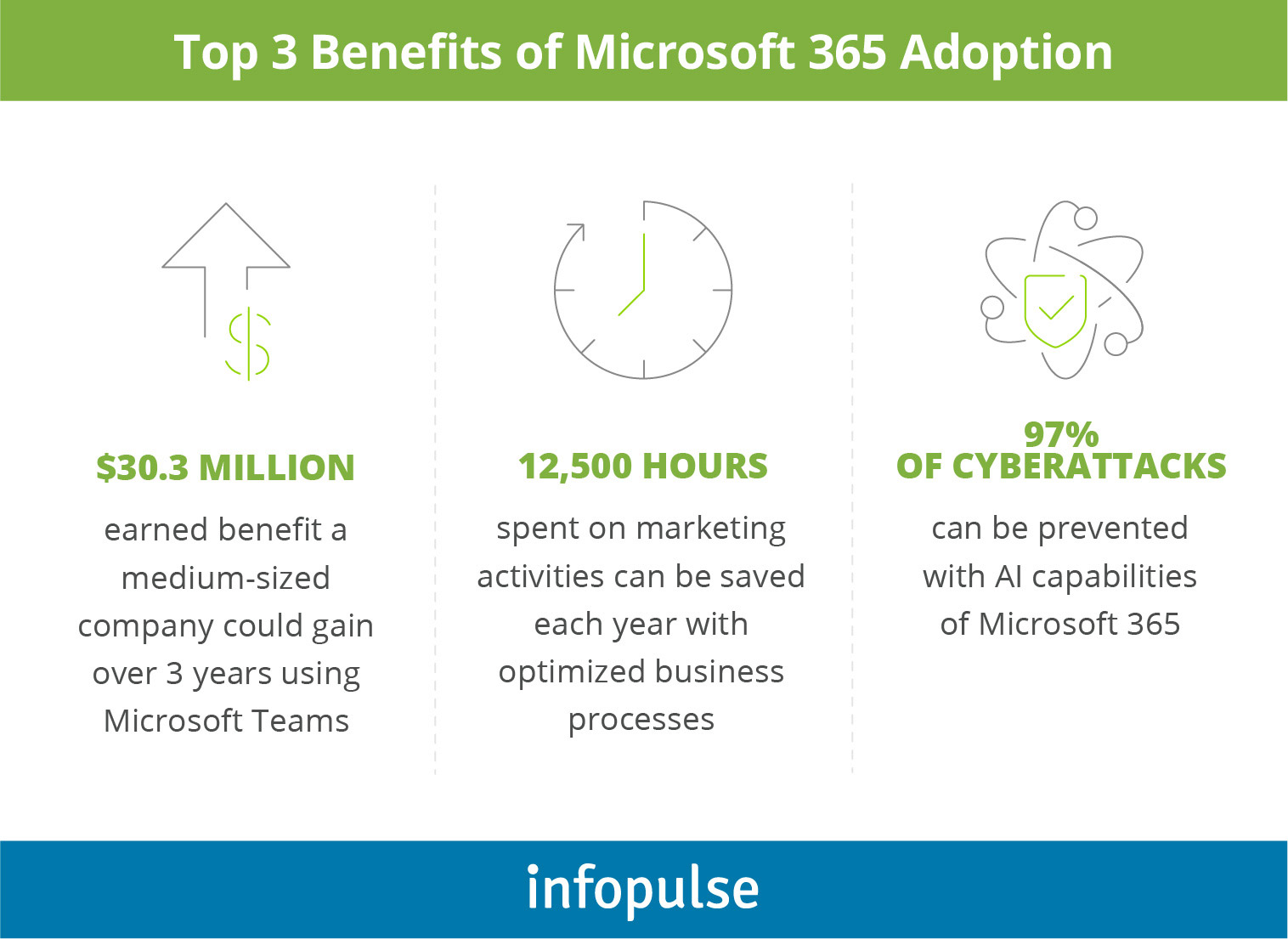 However, a rush to switch to Microsoft 365 can be overwhelming and lead to unpleasant results if done wrongly. Leave it to Infopulse experts who will realize the seamless migration and adoption process to help you get the most of its potential.