Article
Mobile Banking in 2020: Voice Commands and Voice Payments
Originally published: August 19, 2020
Updated: December 29, 2022
8 min. read
Innovations
Voice is the emerging payment avenue that traditional financial institutions and payment services providers (PSPs) need to be prepared to harness. Or else they risk losing to technical players that are already making their way into the financial turf.
Siri, Google Home, and Google Voice assistant can seamlessly initiate P2P and business payments with a quick command. Alexa has a tight integration with Amazon Pay and a host of other payment features users can set up in a matter of minutes. At the same time, traditional banks offer only a fraction of similar voice-based functionality.
In the new installment of our mobile banking trends series, we'd like to dive deeper into why the voice transactions space is an emerging new battlefield for banks and other financial players.
The State of Voice Payments Adoption in 2020
Voice-enabled payments are far from being mainstream yet. Though the consumer, as well as the business, interest in this payment method has been rising steadily for the past three years. In 2018, over $2 billion worth of transactions were settled by voice, as per the OC&C Strategy report. By 2022, the annual volume of voice-based payments is expected to increase by 95% and reach $40 billion.
So where does this traction come from? According to a Mercado Group, younger consumer demographics enjoy using voice commands in mobile banking for the following types of transactions:
12% use voice to initiate bill payments.
10% send P2P payments with mobile voice control.
6% lookup for general account/banking information.
11% conduct other types of transactions.
In addition, 17% of consumers issue voice commands to order food for pickup (and confirm payments), as well as to do other types of shopping, especially via smart speaker devices. Emarketer estimated that in 2019 over 31.0 million US consumers shopped via a smart speaker and by 2021 the figure is expected to reach 38 million as smart speaker sales accelerate.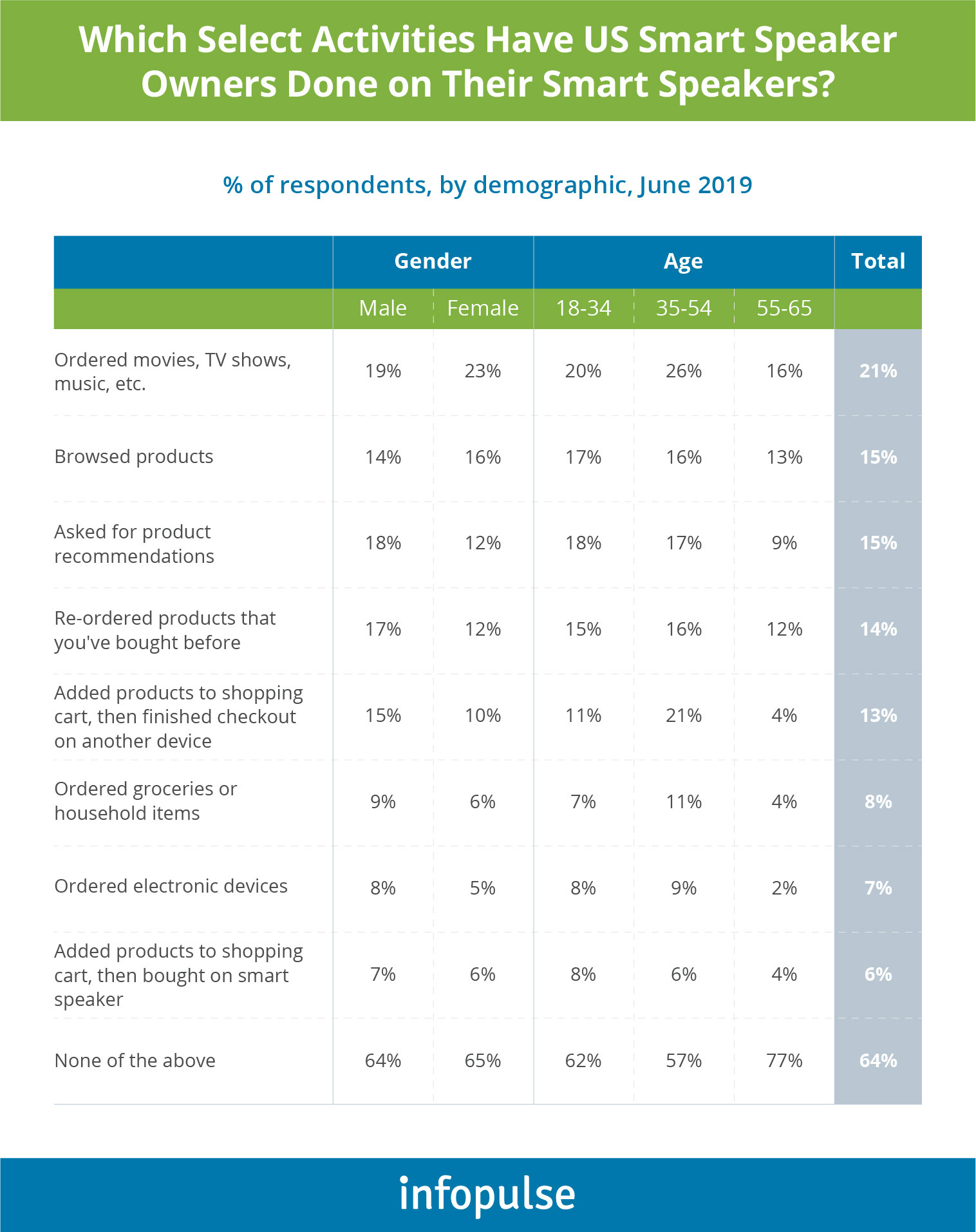 The global pandemic, in fact, further accelerated the rate of smart speaker adoption and voice commerce. A Voxly Digital survey found that the percentage of people using voice assistants for daily shopping in the UK increased to 33% from 23% during the confinement months as people minimized their trips to the outside world.
The general affinity towards contactless payment options has grown significantly as a direct consequence of the COVID-19 pandemic. According to PYMNTS data, 59% of consumers want to see more contactless payment options before they return to brick-and-mortar operations, while 58% are also open to alternative payment methods that do not require touching a card reader. Voice-based payments can positively contribute to the reshaped retail sector, emerging post-COVID.
Considering that voice payment experience is largely invisible, financial institutions were initially slow to explore this route. However, further reluctance to venture into the 'voice space' can cost banks a hefty volume of revenues that will fully migrate to technological players whose voice assistants live in the customers' phones and homes.
The Main Use Cases of Voice Technology in Banking
P2P Payments
Personal payments to listed contacts were one of the earliest use cases of voice in banking. Most consumers opt for voice commands as they save time, are easier than typing, and can be done with your hands tied.
For long enough, legacy banks have been losing the battle in the P2P transfers space to
FinTech players (PayPal, Venmo, Cash App, etc), that offer a cheaper, more convenient experience for 'sending money back and forth'.
Digital banks (Revolut, Monzo, Chime) that entice users with low-to-no fee SEPA/ACH transfers and the ability to split bills in one tap.
To recuperate some of those lost transactions, banks can try to win over their existing customers by offering a smooth voice-activated P2P payment experience. Or else, they risk losing this battle too to the likes of Google Assistant, Apple Siri, and Amazon Alexa.
Royal Bank of Canada, Barclays, and Santander were among the earliest banking players to introduce voice recognition payments via Siri. Garanti Bank and Westpac Banking Corporation have been integrating Siri, Alexa, Google Assistant, and other voice-enabled home devices into their banking ecosystems so that customers can use the app via voice commands and make different financial transactions. BBVA's recently deployed MIA (Mobile Interactive Assistant) goes a step further and relies on NLP (natural language processing) to send payments, settle bills, or do other financial transactions.
Voice shopping
As mentioned earlier, consumers have a dire desire for contactless commerce in the post-pandemic world. Tech players are quick to act upon this emerging (and ongoing) trend.
Google, for instance, recently signed up with Carrefour to launch a voice-activated grocery shopping service in France, and afterward, 30 more countries where the food retailer operates. The newly launched service is part of a larger digital transformation initiative the two companies have been developing for the past three years. It will allow Carrefour shoppers to tie their account with a Google assistant and then just dictate the products (coffee, Coca-Cola, green apples) they want to add to the cart. The checkout and payment experience will be voice-based too.
In-car payments and commerce is another promising area of interest for financial players as avid drivers already favor voice over tapping when they commute. Last year, 53.3% of drivers in the US connected to a voice assistant while driving and spent some $212 billion on in-vehicle purchasing, spanning over drive-thru orders, gas, grocery shopping, and in-car entertainment. Banks and financial service providers have a great opportunity to team up with OEMs to create a smoother voice payment experience for their customers.
IoT payments
Last year, contactless, cashier-less stores seemed more like a fun fad, rather than a long-term feature. However, as COVID-19 struck, multiple retailers are assessing the feasibility of creating a fully unattended retail experience using the IoT technology. Voice-enabled payments can be part of that new experience or used as another method for authenticating transactions.
Smart pumps, connected parking, smart vending machines, or fully self-serviced hotel premises are among other promising use cases for voice in IoT payment space. As the manufacturing space is moving towards servicized offerings and pay-as-you-use service models, the voice may soon become the key payment enabler and connector within the M2M interactivity space.
What is Impeding Wider Voice Payment Adoption in Finance?
Despite the initial rapid advances in the development and prompt consumer adoption, voice payments still stay on the financial industry margin. There are several reasons for that.
Cybersecurity Concerns
While biometrics is an inherently better security mechanism than PINs and even 2FA, leaders in the voice payment sphere are still mid-way into figuring out how to fully secure voice-activated payment flows from hacking and fraud. On top of that, banks need to improve their voice recognition for payments, and other types of transactions, as its
current level of accuracy does not impress most consumers: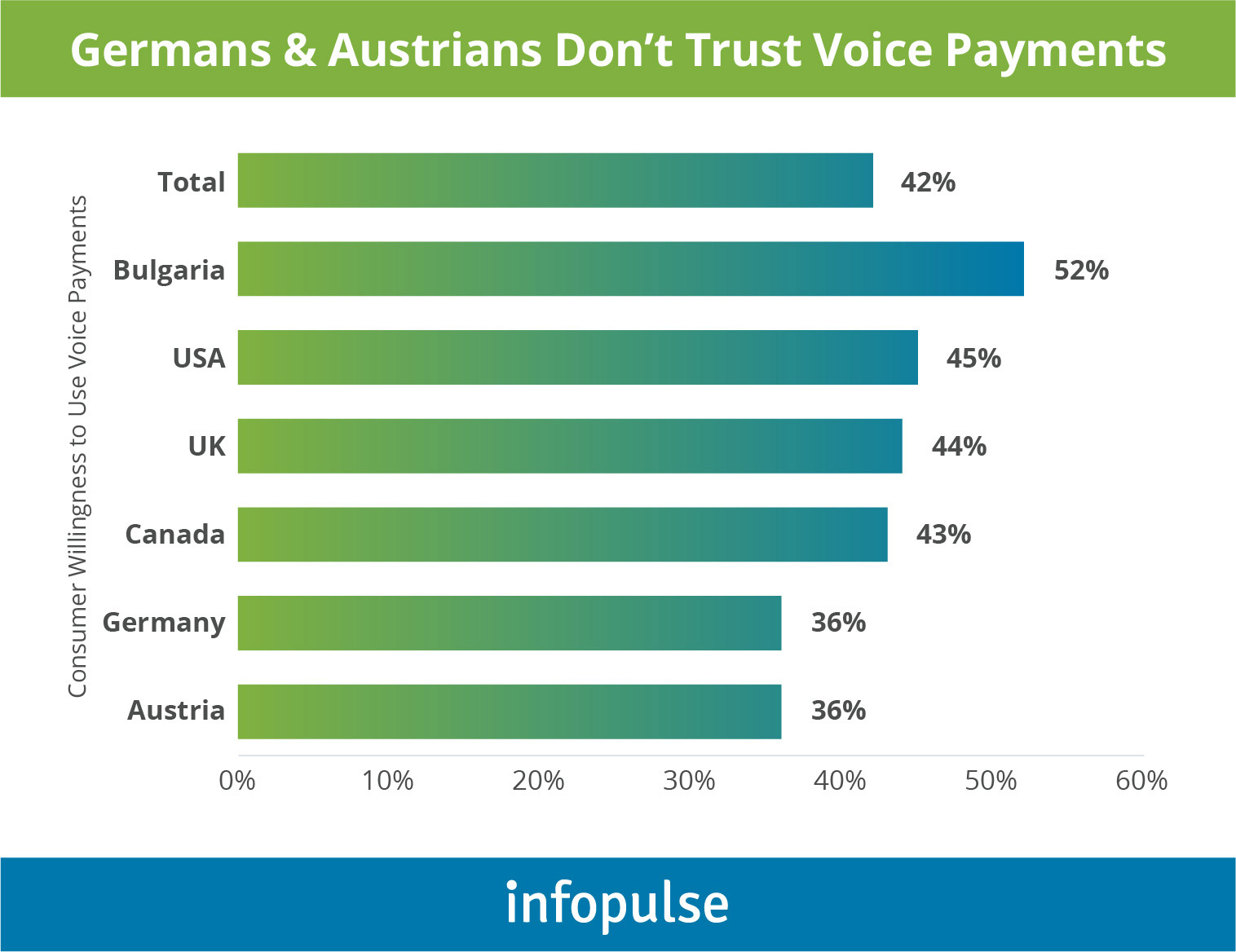 To address the lack of trust and improve the algorithms' accuracy levels, Google has recently piloted a new voice matching service that will secure transactions made via smart speakers and smart displays, as well as in-app purchases and restaurant orders.
Limited Contextual Understanding of Voice Commands
Consumers do not mind paying for low-value items with voice, but most are reluctant to shop for higher value items through this channel. Only 18% of smart speaker owners said that they are ready to book a holiday or pay for their flat via this device, according to a Lost in Translation 2019 Report.
Security is one concern. Lack of effective customer experience and high accuracy is another. The abovementioned report also indicates that customers rank voice recognition customer experience for payments lower than those for facial and fingerprint authentication. To a large extent, this is due to the fact that most assistants (especially the in-app ones) often have a limited contextual understanding of different voice commands. Voice recognition algorithms need to be properly trained to engage in meaningful conversations with customers to prevent annoying accidents such as money being sent by accident to the wrong contact.
Challenges in Scaling Voice Payment Experience
Despite rapid technological advances in deep learning and neural networks, voice recognition still remains a complex process that is hard to scale effectively. Modern state-of-the-art algorithms are already capable of recognizing simple, straightforward commands and synthesize natural responses to them, like Siri, Google Assistant, Alexa do. This way they teach the software to perform more complex, sequential campaigns not technologically feasible on scale. More research and data are required to create fully-voiced guided financial interfaces for complex matters such as portfolio management, tax preparation, or personal accounting.
To Conclude
Voice presents an interesting new opportunity for banks to pursue, especially if they want to reclaim lost revenues from tech and FinTech players already on board. At present, it is hard to anticipate how widespread voice interfaces will become in a 5-to-10-year perspective.
However, one thing is certain: voice authenticated and guided payments will likely pick up speed as other industries digitize their shopping experience and venture into new service models and payment devices. Thus, banks that want to be part of that brand-new world and prevent profit erosion steered by other players, should not underestimate the potential of voice payments in banking and beyond!
Contact Infopulse, a trusted partner to leading financial institutions, to learn more about how nascent technological trends can augment your core banking operations and drive new value!