Article
3 Operational Imperatives Retailers Need to Consider When Transitioning from Offline to Online
Originally published: October 27, 2020
Updated: July 10, 2023
7 min. read
Cloud & DevOps
Digital Experience
The COVID pandemic has resulted in dramatic shifts in consumer behavior. The retail sector was among the first to experience the full scale of swings as e-commerce transactions soared by
72% in Q2 of 2020
across all markets. Despite the reopenings, digital sales are still poised to grow at a high rate.
Unplanned, but much welcomed, the growth of online commerce has prompted many retailers to reassess their operating models and:
As we highlighted in our first post on transitioning from offline to online commerce, something as simple as adopting a new commerce channel (social commerce) can lead to significant pay-offs both in the short- and long-term perspectives.
In the second installment, we'd like to draw attention to three more operational areas, requiring upgrades and orchestration en route to omnichannel commerce.
1. IT Infrastructure Resilience
Retailers need to adapt their IT infrastructure to meet the increased load coming from three distinct vectors:
Remote employees
New digital partners
Online customers
Each party has a unique host of needs that can be met with cloud computing. Migrating core business applications, customer-facing products, and communications to the cloud can majorly increase the speed and scope of your retail operations.
Remote Workforce
Empowering your teams with access to self-service business analytics, cloud-based ERP software (e.g. SAP HANA), and remote work solutions are the top-of-mind-priority for retailers, who are now restarting their operations both online and offline. Improved collaboration, a lower total cost of ownership, higher levels of business continuity, and streamlined disaster recovery are among the benefits one of our clients, a large grocery chain, has reported after migrating SAP S4/HANA to Azure.
While remote collaboration and distributed data storage majorly increase your operational agility, such setups are also more prone to security risks. First of all, your cybersecurity policies and security mechanisms must be adapted to protect a larger number of endpoints, network connections, and devices, accessing the core systems and storing sensitive data.
In our eBook "Innovative Security Approaches to Enable Digital Transformations", we are discussing how to extend your cybersecurity defense perimeter to accommodate a wider range of people, devices, and technologies.
Your employee security policies need to be adapted as well to better mitigate grassroots risks. According to the Wrike survey, 41% of remote workers access confidential corporate information from unsecured personal applications. Also, the volume of phishing attacks has spiked up to 40% with some companies since the start of the pandemic. In an attempt to break into digital operations, hackers are now using a mixture of social engineering and technical tricks to lure information from unsuspecting users.
One of the approaches our security specialists recommend is limiting the number of accounts and associated passwords for different business apps. Modern SSO (single sign-on) solutions, such as Azure Active Directory (AD), reduce the hassle of password management and, at the same time, increase individual user security levels through access controls and advanced monitoring happening in the background.
The implementation of real-time security monitoring solutions (SIEM) can also help you effectively trace security events and respond to potential vulnerabilities before they turn into major breaches. For example, with Azure Sentinel, you can run 24/7 ecosystem scans (covering all business apps, VMs, and databases, hosted on Azure). The service uses AI-powered algorithms to identify anomalies in user/system behavior, conduct a preliminary investigation, and deliver smart alerts to the security team.
Digital Partners
Extending your e-commerce platform to accommodate new business partners is another strategy vector for development worth considering. Decoupling your legacy infrastructure into a set of loosely connected microservices and individual APIs can provide your business with the ability to integrate new digital partners into your ecosystem at a lower cost and a faster rate. Already, approximately 50% of all B2B collaboration occurs via APIs. Among 54% of companies, greater reliance on APIs leads to increased productivity, and another 47% claim that APIs helped them unlock innovations, according to the 2020 Connectivity benchmark report by Mulesoft.
However, to effectively support and maintain an ecosystem of connected partners, most retailers will need to invest in better data management tools and platform orchestration solutions.
Service orchestration and automation platforms (SOAPs) can help retailers implement event-driven application workflows for various processes — procurement, logistics, payments, invoicing, customer relationship management — automate resource provisioning across hybrid digital infrastructures and streamline management of data pipelines. In essence, SOAPs act as a single control panel for various assets in the company's digital infrastructure.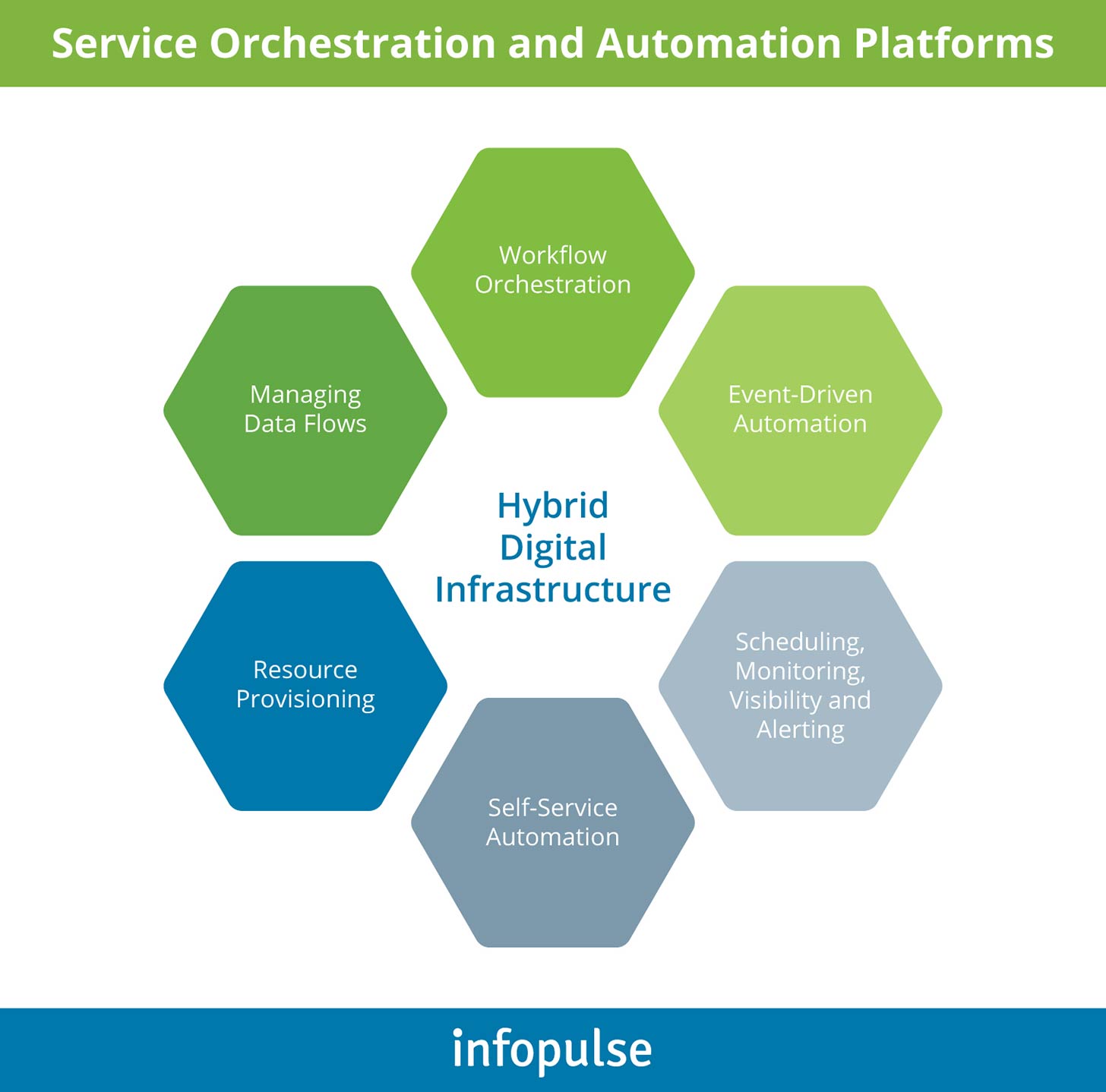 According to Gartner, 80% of enterprises that already use workload automation tools plan to upgrade to SOAPs to orchestrate cloud-based workloads by 2024 since such platforms can drive major operational cost savings.
Online Consumers
As much as 80% of consumers will stop doing business with a brand after just one poor customer experience. Retailers are in a particularly tough position here as they have several critical areas to address:
Overall website performance, speed, and availability;
On-site experience — navigation, personalization, and product information availability.
After-sales experience — delivery/logistics and customer retention.
Your choice of the underlying e-commerce platform will largely determine the rates of on-site CX your business can deliver. Besides, pre- and after-sales customer experience can be augmented with the help of extra e-commerce integrations. In either case, however, your baseline IT infrastructure will need to be adapted to accommodate new technologies and partners. Because, as McKinsey analysis suggests, retailers offering superior CX are recovering faster than their less customer-oriented peers: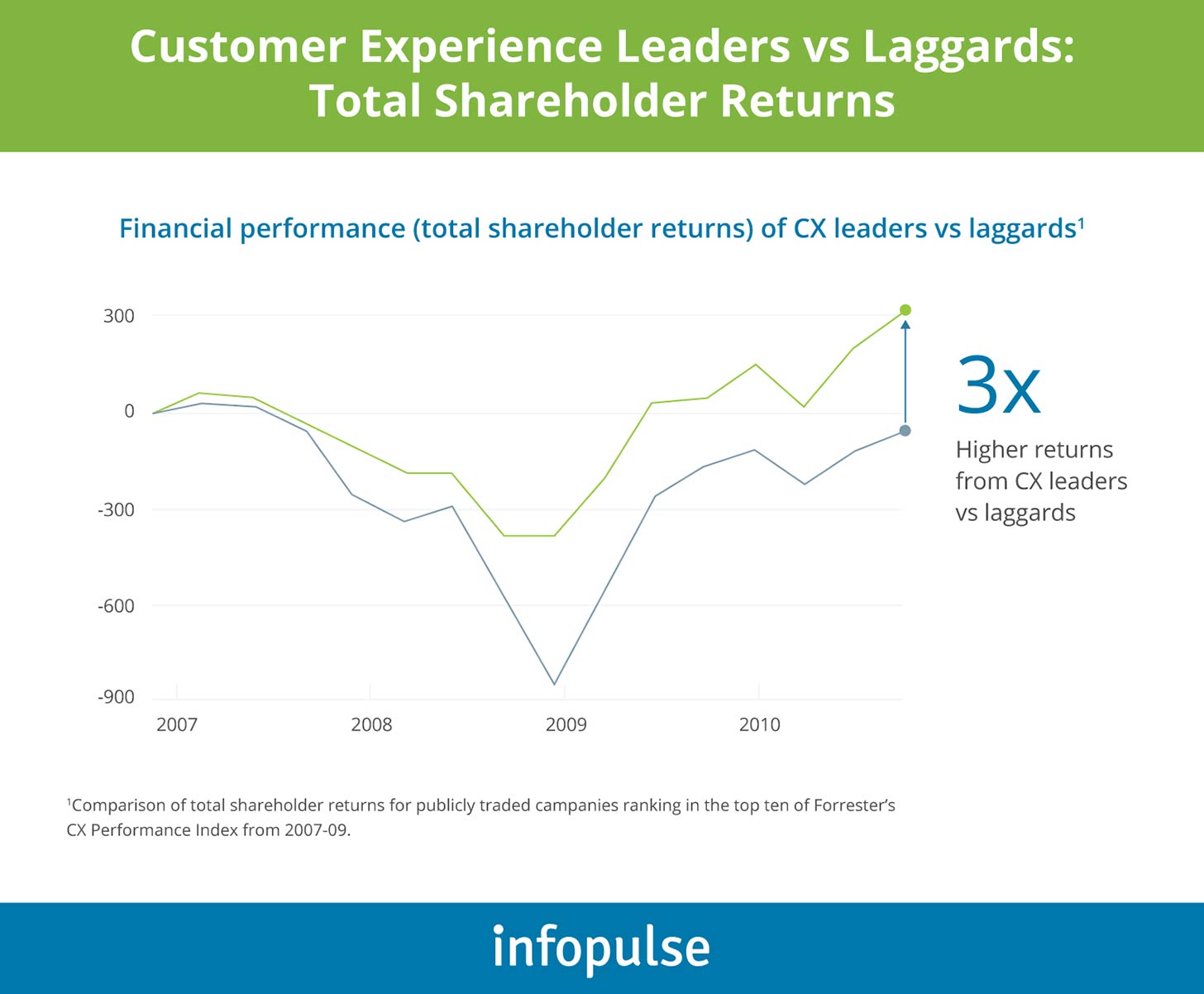 2. Scalability of Online Operations
According to McKinsey, the retail sector experienced the equivalent of 10 years consumer and business digital penetration in less than three months.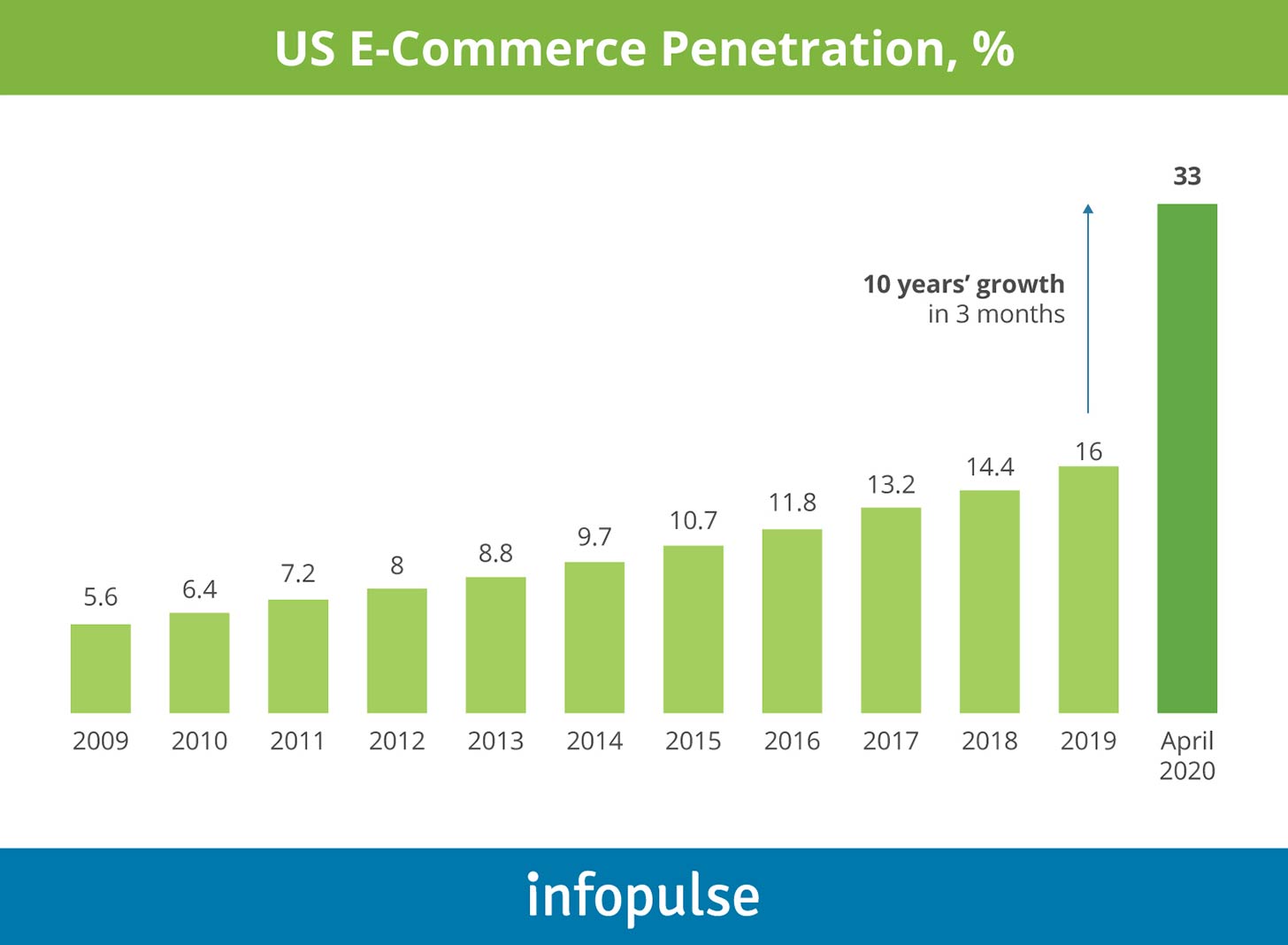 The unprecedented changes in the markets and operations have forced retailers to rapidly assemble digital storefronts for their business to remain operational (and profitable). With the immediate needs fulfilled, it's time to dwell more on ensuring that your new infrastructure can accommodate higher loads since online shopping volumes are expected to grow by 55% YoY.
The first step to ensure that your business can accommodate sudden (or continuous) spikes in demand to enable cloud auto-scaling.
Auto-scaling enables you to add extra VM (virtual machine) instances to your cloud infrastructure when the load increases/decreases. This feature can be configured for an array of your cloud assets — sets of VMs, cloud services, web apps/app services, and API management services. When optimally configured, auto-scaling can help you drive tangible cloud TCO reductions without any compromises in services' performance.
Assembling a cloud data warehousing is the second essential step for mature e-commerce businesses. The goal of a cloud data warehouse is to act as a single source of truth for all the connected business intelligence and analytics solutions. For instance, if your goal is to bridge the gap between offline to online marketing campaigns, you can tap into aggregated data regarding in-store inventory levels at each location and use those insights to run local inventory ads for shoppers, who recently browsed the same product online.
3. Innovative Sales Channels and Strategies
Online shopping is no longer limited to e-commerce websites alone. Video streams, social media posts, AR/VR apps, and online virtual assistants emerged as new shopping avenues for merchants.
Live-stream shopping in China is estimated to be worth $170 billion by the end of 2020. Amazon was among the first Western retailers to jump on this trend with Amazon Live — a live streaming platform, popularizing various products sold on the platform. As one e-commerce business reports, participation in the Live event and sale helped them increase their sales by 9%-16% during the week it took place. In the times of social distancing, video shopping and virtual shopping tours can help businesses drive engagement around their brand and generate extra sales.
Virtual assistants and e-commerce chatbots are also helping retailers to move reluctant customers further down the sales funnel. Through personalized recommendations, pre-sales assistance, and even virtual try-on, AI chatbots are effectively replacing sales assistants in the digital realm. With the improved state of conversational AI and increased shoppers' affinity towards chatbots, the retail sector is en route to generating over $112 billion in annual sales from this channel by 2023.
Extending your digital presence to new channels — those that your customers prioritize during the research and awareness stages of their journey — can help retailers solidify emotional ties with current and new customers. In such uncertain times, customer brand loyalty can be a powerful tool for offsetting mishaps in other operational areas. After all, as Deloitte suggests, 63% of consumers are more willing to forgive a mistake from a 'favorite' brand and four out of five are more likely to promote it to their personal network.
Restarting an Online Business in the 'New Normal'
The success rate of recovery within the retail sector directly correlates with the company's ability to start and scale digital operations. Despite gradual re-openings, consumers still feel reluctant to shop and prioritize online channels over brick and mortar locations in almost every sector. To win in the new era of the digital-first shopping experience, brands will need to ensure that their IT infrastructure is up for the challenge.
Infopulse provides an array of end-to-end consulting and software development services for retailers. From e-commerce platform development to large-scale cloud migrations, and information security assessments, our team is here to support your transition from offline to online commerce. Contact us!