Article
Low-code Development in Banking: Benefits & Use Cases (+Video Demos)
Originally published: August 17, 2022
Updated: February 03, 2023
8 min. read
Digital Transformation
Software Engineering
Business Applications
Digital Experience
Modern-day banks and financial services companies have come to realize that pursuing digital transformation initiatives is imperative for them to meet the future as competitive market players. Application development is among the key pillars of digital transformation, which can become a game-changing endeavor for banks.
Swift and frictionless operations, improved customer experience, access to business intelligence, and optimized costs are only a part of the immense benefits that banks can receive from developing an application. Bearing this in mind, banks are either adopting out-of-the-box (OOTB) solutions, engineering custom apps from scratch, or choosing low-code development – an approach that is steadily becoming mainstream in the banking, financial services and insurance (BFSI) industry.
In this article, we examine the benefits and drawbacks of each approach to application engineering, outline the key benefits of low-code development for banks, and demonstrate valuable use cases of financial apps developed on the most comprehensive low-code platform – Microsoft Power Apps.
OOTB vs. Custom Development vs. Low-code
Out-of-the-box solutions are ready-made commercial products with predesigned workflows and fixed functionality that is developed to meet the needs of specific business entities or entire industries. Such solutions are typically feature-rich, constantly updated, and supported by the vendor. Other OOTB benefits include rapid deployment, unrequired technical expertise, and affordable pricing. However, banks that adopt OOTB solutions may struggle with functionality gaps, vendor lock-in, and security or compliance misalignment.
Custom development involves the design, engineering, and support of an application that is tailored to serve the needs of a particular organization. Custom applications are highly efficient, scalable, and resilient. Moreover, custom software is ultimately flexible, as it can be based on the preferred tech stack, and any feature can be added, removed, or adjusted. Nevertheless, custom apps are costly and time-consuming to create, as the process covers the entire SDLC and requires the efforts of developers, QA experts, UX/UI designers, project managers, and other specialists.
Low code development is an approach that utilizes visual modeling tools, drag-and-drop editors, code generation features, and model-driven engineering to rapidly create custom apps. This approach democratizes app development for business users with little to no coding experience (also known as citizen developers). The key benefits of low-code for banking include swift time-to-market, significantly optimized costs, vast integration capabilities, and support of cross-platform development. Yet, the functionality of low-code platforms is limited. It is best suited to develop internal process automation apps or CRM, ERP solutions and will not handle the development of complex enterprise systems with a large pool of end-users.
Global Low-code Market Overview and Growth in the BFSI Sector
According to this research, the global low-code platform market was valued at $12,500.6 million in 2020 and is expected to reach $190,792.6 million by 2030, at a 31.3% CAGR. The growing need for business digitization, smart workflow automation, less dependency on IT experts, and reduction of shadow IT are the key factors that drive the growth of the low-code market. Another research by Gartner indicates that the use of low-code technologies will nearly triple by 2025, namely 70% of new applications developed by organizations will use low-code, in comparison to less than 25% in 2020.
Anticipated Growth of the Global Low-code Platform Market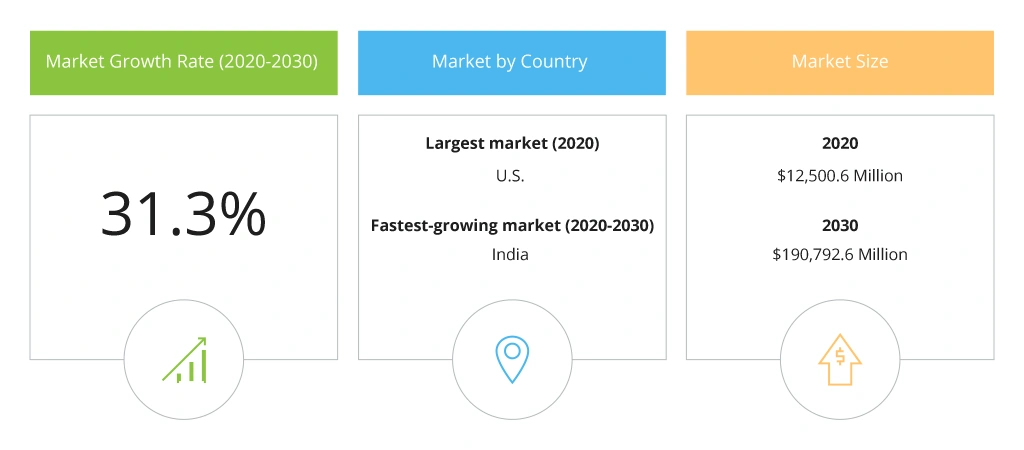 The BFSI segment accounts to approximately 30% of the entire low-code market and is anticipated to grow at the highest rates. Such significant market share and growth are attributed to the inclination of banks to implement low-code platforms (Power Apps, ServiceNow, Salesforce, Mendix) for the rapid and cost-efficient development of custom financial apps.
A Comprehensive Low-code Platform – Microsoft Power Apps
Microsoft Power Apps is one of the most holistic and advanced low-code platform that is currently available on the market. The platform was marked in the "Leaders" category in the 2021 Gartner Magic Quadrant for Enterprise Low-code Application Platforms – an in-depth research that evaluates low-code platforms against a wide range of business criteria. In addition to responsive design and drag-and-drop simplicity, the platform has rich business logic and workflow capabilities that can be used by both citizen developers and professional software engineers. Furthermore, the platform includes a secure and scalable data storage (Microsoft Dataverse), 450+ built-in integrations, and it can be connected to the Microsoft Power Platform to drive enterprise-wide innovation with the core Microsoft products.
Features & Capabilities of Microsoft Power Apps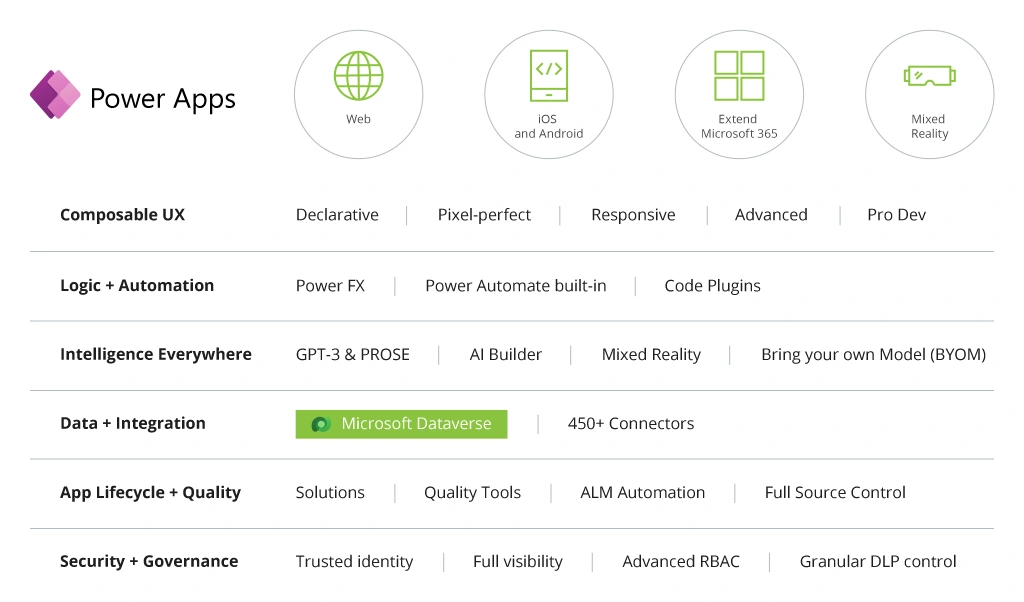 Financial institutions can utilize Power Apps to rapidly build and deploy custom apps that automate internal workflows, facilitate collaboration, manage financial tasks, streamline customer onboarding, support, and enable self-service.
Benefits of Implementing Microsoft Power Apps for Banks
Accelerated Application Development
Based on our own experience, a custom software project takes approximately from 3 to 6 months or longer. Certainly, the timeframes depend on the project requirements and the size of the IT team. However, building a custom financial app is always a matter of months, as the project has to pass numerous phases, including technical assessment, prototyping, engineering, testing, and deployment. By implementing Power Apps, BFSI companies can build a first app PoC or MVP in just 1-2 weeks. Such pace is possible due to Microsoft Dataverse, Canvas, and Model-Driven UI – the core tools of Power Apps that are specifically designed to help users quickly create custom data models, process flows, and app features without writing code.
Reduced Costs & Technology Lock-in Risks
Power Apps is an intuitive low-code platform that can be easily mastered by citizen developers. The lowered threshold for obtaining application development and support skills allows optimizing costs for hiring professional software engineers. Moreover, Power Apps can be seamlessly integrated into the bank's IT system and used to alleviate legacy software constraints and reduce the dependence on IT experts with specific domain knowledge.
Access to a Hybrid Development Model
After implementing Power Apps, banks can form a dedicated low-code competence center to nurture in-house app developers. Their efforts can be combined with IT outsourcing specialists, which creates a cost-efficient and productive hybrid development model. For example, complex financial solutions can be delegated to an IT partner, while in-house low-code developers continuously engineer new business apps, and support or improve the existing ones.
Cross-platform Readiness
Financial institutions that develop custom apps often end up with a web or desktop version and lack the budget and resources for a mobile app project. Web and desktop applications developed via Microsoft Power Apps are platform- and device-agnostic, which means that they can be easily converted into custom-branded iOS, Android, or Windows-based mobile solutions. The cross-platform readiness along with the rapid and effortless development can help banks significantly optimize costs for their business app project.
Improved ROI on Microsoft Licenses
Microsoft 365 subscription includes a license for the users to utilize Power Apps to build Canvas applications. This significantly improves ROI on Microsoft 365, as in addition to the Office Suite, Microsoft Teams, SharePoint, and other software products, banks also receive access to the low-code development platform. Although this scenario limits certain capabilities of Power Apps, banks can still build a wide range of business apps without spending extra costs on Microsoft licenses.
Use cases of Microsoft Power Apps for Banking & Financial Services
Collateral Audit App – Back-end Automation
Infopulse developed a custom app that performs data reconciliation checks of movable and immovable property, and facilitates control over the pledged property, its storage conditions, and legal affiliation. Users can instantly access the app via a tablet or mobile phone and conduct a collateral audit. The app provides a holistic view of each collateral item, and allows the user to compare the relevant and customer-supplied data, check the property availability, and confirm its ownership status. Users can view and filter the planned/ongoing/complete audit orders, as well as place their comments and attach files to any item. To summarize, the app helps banks to easily carry out swift, precise, and paperless collateral audits.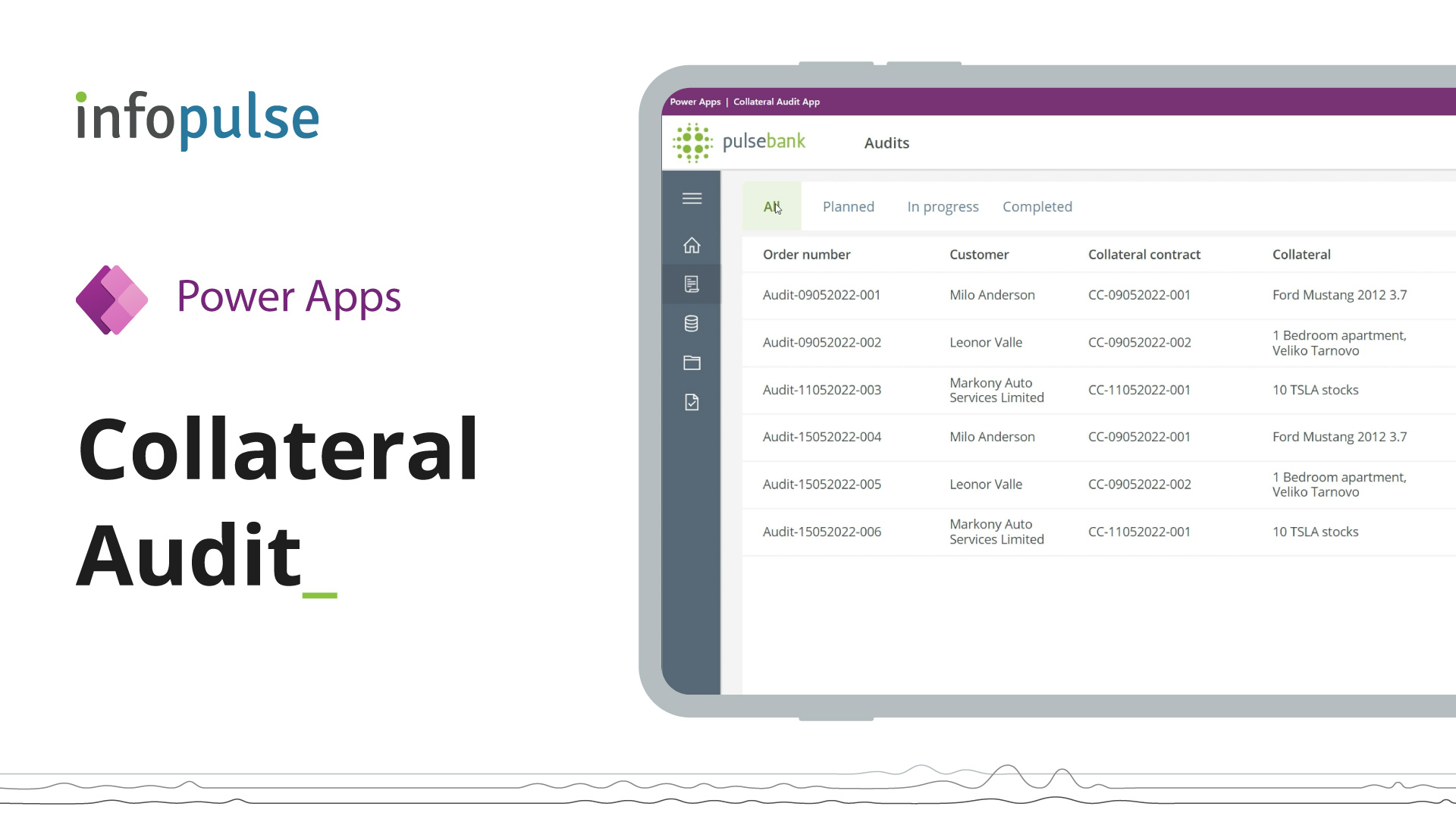 Credit Calculator – Front-end Automation
Our experts developed an intuitive business app that facilitates credit and cash management processes and automates loan calculations. The users can access a convenient calculation scheme and enter a range of parameters (amount financed/tenor/one-time insurance). Subsequently, the app calculates the loan and demonstrates the result to the potential client. The application can be extended to calculate loans against more complex parameters, as well as perform deposit, insurance, and annuity lending calculations.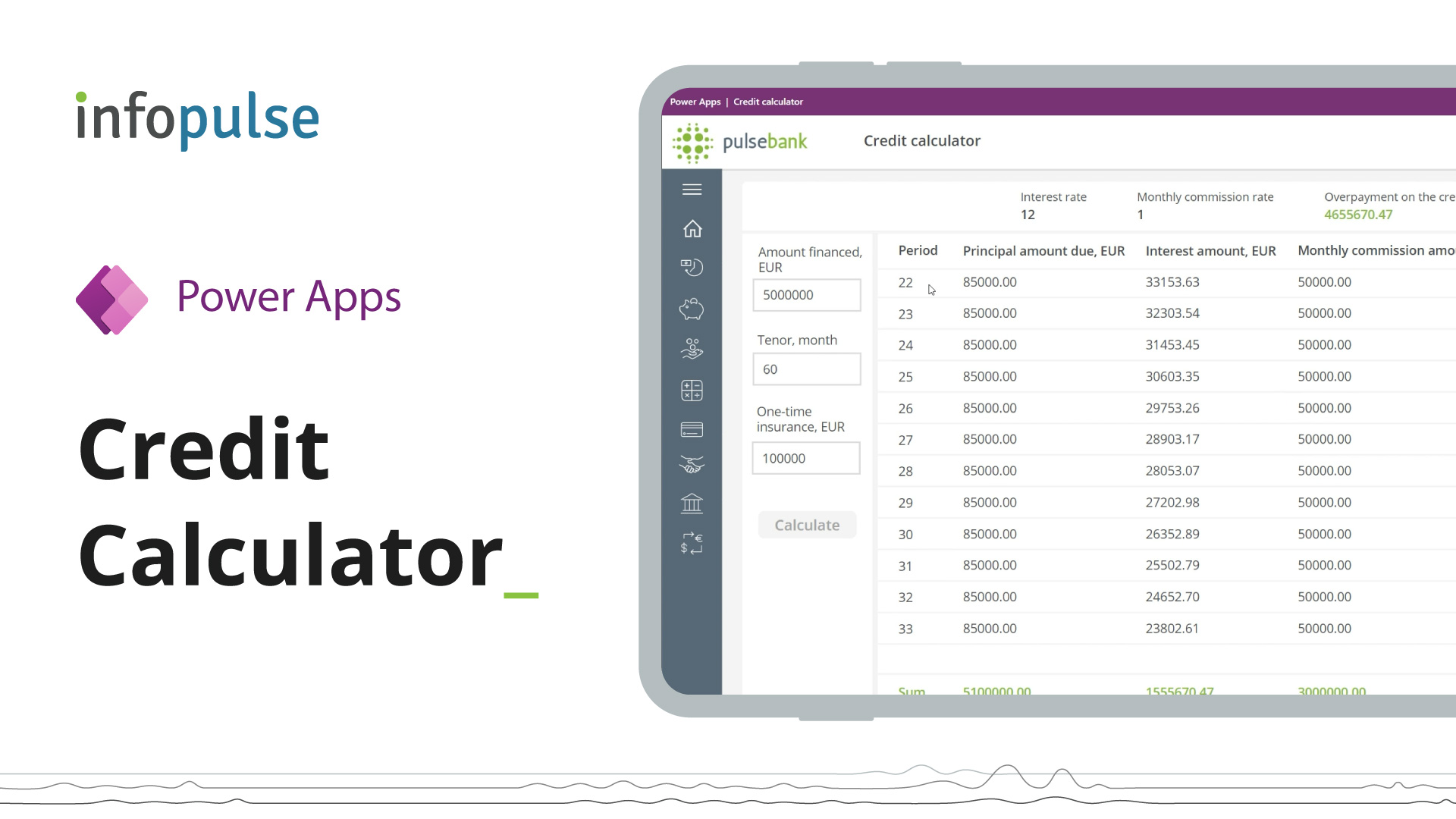 Credit Committee App – Management Process Automation
Infopulse developed a custom mobile application that streamlines the management of loan applications, credit committee meetings, and the voting process. The users can access a consolidated list of loan applications that includes all of the required financial data (loan type, duration, currency, and interest rate) as well as the applicant's credit score and solvency ratio. The credit committee can vote for, against or abstain, view the loan application status, and prioritize it in real-time. Furthermore, the app can be used to plan and manage committee meetings, specifically form an agenda, add or remove participants, and access the relevant loan application details. The solution can help banks accelerate loan applications management, improve collaboration and decision-making.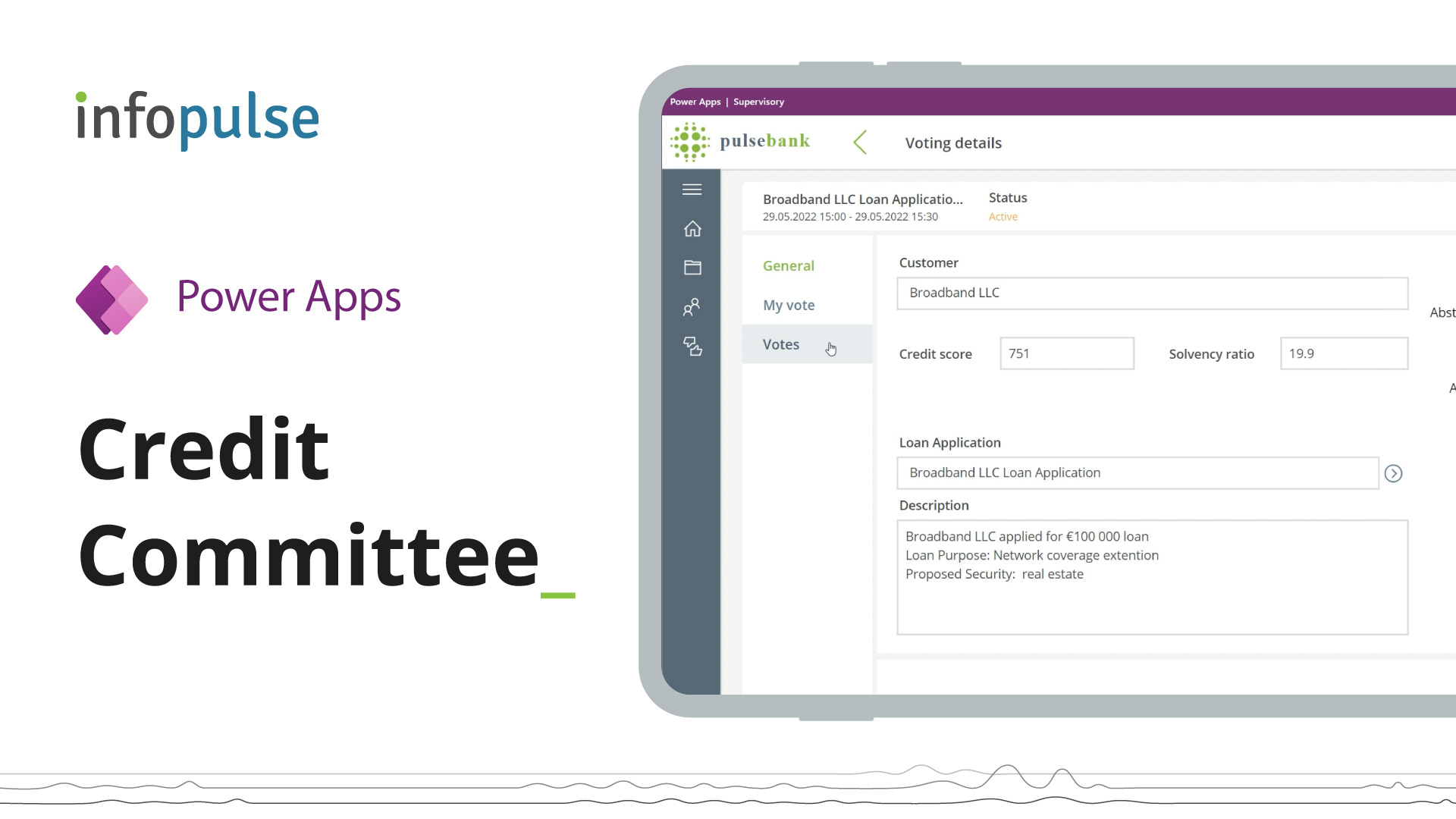 The Best-case Scenario for Implementing Microsoft Power Apps
Financial institutions have distinctive business objectives – some aim to create a simple process automation app, while others require an intuitive mobile banking solution or a sophisticated transaction processing system.
Although Power Apps may be used to build transaction processing solutions, it should be made clear that low-code apps are inherently not powerful enough to process millions of transactions and customer records on a daily basis. Moreover, large-scale financial institutions often require applications with complex business logic and extensive integrations, which can only be built by purchasing additional Microsoft licenses. When a bank has 10,000+ employees, extending the license scope leads to notable expenses. For these reasons, conventional custom app development is a better option for large banks.
The most advantageous scenario for banks to use Microsoft Power Apps is to build custom B2B applications for internal use. The platform is a perfect fit for SME banks that aim to rapidly develop business-class CRM or ERP solutions or create custom apps tailored to optimize operations and automate workflows.
Conclusion
Low-code development is rapidly gaining traction across the BFSI industry, as it provides unparalleled opportunities for financial institutions to enhance their digital maturity and create a formidable competitive advantage. By harnessing the capabilities of Microsoft Power Apps, banks can rapidly develop diverse back/front-end and management applications, significantly optimize costs, and improve ROI.
As a trusted IT service provider for the BFSI sector, Infopulse helps banks and financial services companies leverage the capabilities of Microsoft Power Apps. We offer an all-encompassing suite of services that includes Power Apps consulting, as well as low-code application design, development, customization, integration, and lifecycle management. Our team also delivers training sessions and workshops to help banks set up and expand low-code competence centers that nurture in-house Power Apps developers.