Article
The Role of Smart Grid, IoT, and Big Data in Renewable Energy
Originally published: June 17, 2020
Updated: November 17, 2022
7 min. read
Digital Transformation
Over the past decade, renewable energy has proven its immense value in the utility sector. More and more countries are leaning towards sustainable electricity, and by 2025 the renewable energy market is
expected
to reach 2.15 trillion U.S. dollars. With the steadily increasing demand, energy providers are facing new challenges as they seek better ways to manage the expanding infrastructure.
As the world becomes more aware of energy consumption and production, the share of renewable sources in the market continuously increases. In April 2019, U.S. Energy Information Administration reported renewable sources to have exceeded coal-fired ones in monthly electricity generation. A total of 23% of green power has established the significance of renewable energy for the industry and marked energy providers and consumers are drifting away from limited and unsustainable resources.
However, while renewable energy sources have the capacity to meet the market demand and supply inexhaustible energy, the inconsistency of those complicates infrastructure operations and challenges both utility companies and consumers. Thus, California wind and power plants can generate surplus energy during the summer months, followed by low-performing fall and winter seasons. To stabilize the supply of green energy and make renewables a reliable and future-proof resource, the energy industry embraces the smart grid technology.
What is Smart Grid and How it Benefits the Renewables
The architecture of a traditional energy distribution system is designed to support unidirectional energy flow from suppliers to users. With several large production points as the only energy source, the grid used to be a one-way electrical interconnection infrastructure to transmit and distribute energy.
With the growing number of smaller power renewable generation plants, the industry faces the necessity to integrate a multitude of additional production points into the infrastructure. The traditional approach that relies on the electric system governed by the system operator could not sustain the new paradigm and is being substituted by a smart grid solution to allow for more flexible operation management.
As defined by the Electric Power Research Institute, a smart grid is one that incorporates information and communications technology into every aspect of electricity generation, delivery, and consumption in order to minimize environmental impact, enhance markets, improve reliability and service, and reduce costs and improve efficiency.
A smart grid allows for the seamless integration of inconsistent renewable sources and has the ability to distribute and deliver power highly efficiently. A significant role in this new approach to energy management is allotted to consumers, who now take an active position in a two-way interaction with utility companies. User engagement in consumption control contributes to a more stable, predictable, and efficient grid. The Smart Energy Consumer Collaborative survey confirms end-users' readiness to shift to a smart grid as 61% showed interest in programs that help save money by using home appliances at different times of the day.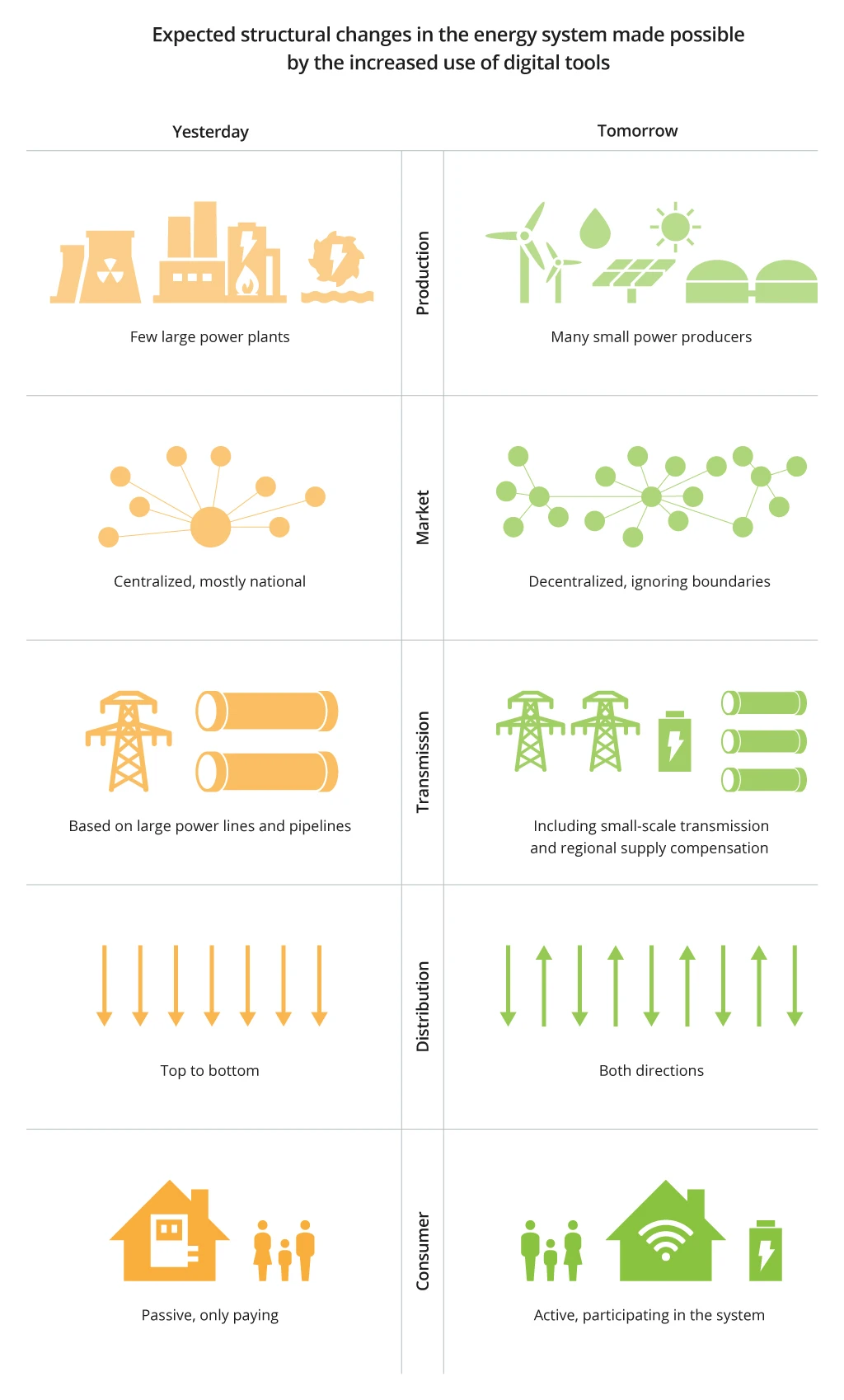 The successful integration of renewable energy into the energy sector will depend on the scale of the smart grid adoption and will be driven by accompanying technologies, such as IoT, smart meters, and big data.
Managing Sustainable Energy with a Smart Grid and the Internet of Things
Control is a critical enabling aspect of the deployment of renewable energy systems. Solar and wind power require advanced control techniques for high-performance and reliable operation. Implementing a smart grid as a network powered by digital technology, like IoT, will provide energy suppliers and consumers with efficient tools to monitor and regulate the electric grid performance by managing numerous devices at households and production points.
Adopting smart grid devices can contribute to an extensive IoT infrastructure and help leverage the capabilities of a demand-responsive system. As compared to a traditional model, with grid-connected devices, the network is able to adapt to oversupplies or electricity shortfalls, which are common for renewable sources. Thanks to smart technologies, smart devices can communicate with the resource computer and collect the required information to adjust electricity consumption and help stabilize the entire grid.
Case studies in focus:
A Smart Energy Island project came in operation on the Isles of Scilly, UK. With the Internet of Things and smart devices, the islanders leveraged the capabilities of solar power and reduced their energy bills by controlling energy consumption.
From the supplier perspective, IoT and smart grid can ensure efficient control of the systems. Thus, E.ON collaborated with SSE Enterprise Telecoms to connect their distant wind farms to the national power network. Besides joining the large-scale network, this project enabled E.ON to monitor the availability and performance of each of its energy sites.
Smart Home Energy Management
Intelligent home energy management utilizes the capabilities of the connected devices and allows consumers and energy providers to control their power consumption jointly. The Hybridized Intelligent Home Renewable Energy model depicts the role of smart devices in distributing energy consumption around the most advantageous periods of the day. According to the research, scheduling energy can minimize use by 48% and maximize the consumed renewable energy by up to 65%.
Case study in focus::
The German energy provider Shine offers its consumers an advanced cooperation model, which enables a high level of independence for every user. Shine customers can easily manage the home energy system to optimize their use of solar energy and monitor daily consumption. Users are also able to connect with others to share green energy.
Smart Meters for Real-Time Performance Monitoring
Among various grid-connected devices, smart meters are considered one of the most successful applications of the IoT technology. In 2019, 14% of all the global meters were intelligent devices.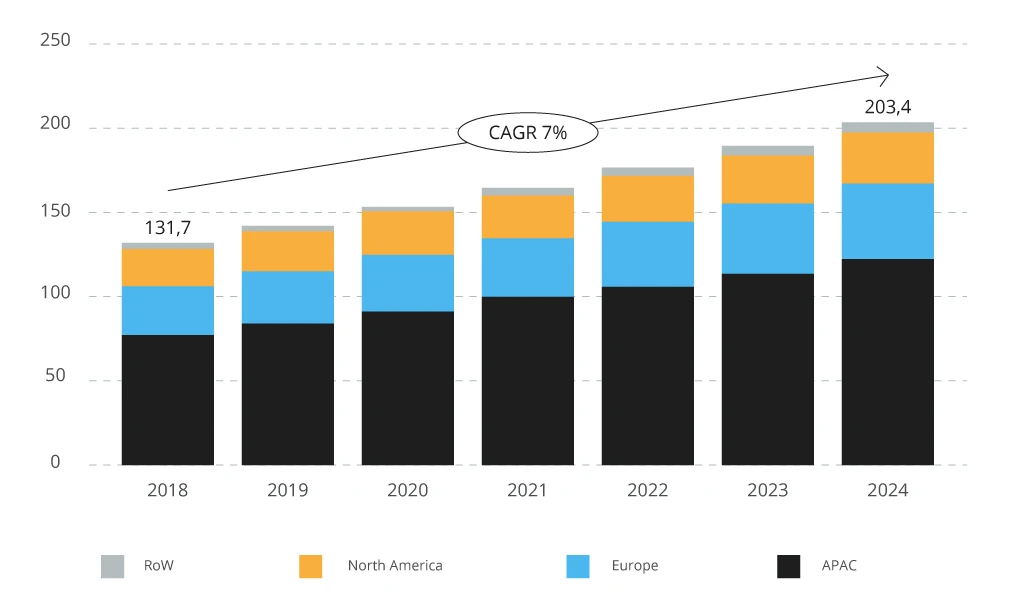 Case study in focus:
35% of households in the U.K. have a smart meter installed that allows them to benefit from the newly effective Smart Export Guarantee (SEG) plan. The latter was created to support smaller suppliers of renewable energy and help balance the grid load in case of excessive energy generation: consumers with smart meters are paid to use surplus energy.
With the growing number of smart meters and related devices, the industry relies on data in its everyday operations. However, besides real-time performance monitoring and control, the data can empower suppliers with valuable insights and data-driven decisions based on massive volumes of data.
Gaining Insights with a Smart Grid and Big Data
Data gathered in the smart grid network requires a thorough analysis to provide utility companies with the necessary information to drive their businesses forward. Advanced metering infrastructure collects data related to the consumption level, power quality, self-diagnostics, smart meter and device operational statuses.
While some of the data can be processed in real-time, thanks to edge computing and 5G adoption, big data is imperative for the in-depth understanding of consumer behavior, performance capabilities, and improving performance. With data analytics, energy providers can improve smart grid optimization and increase customer engagement.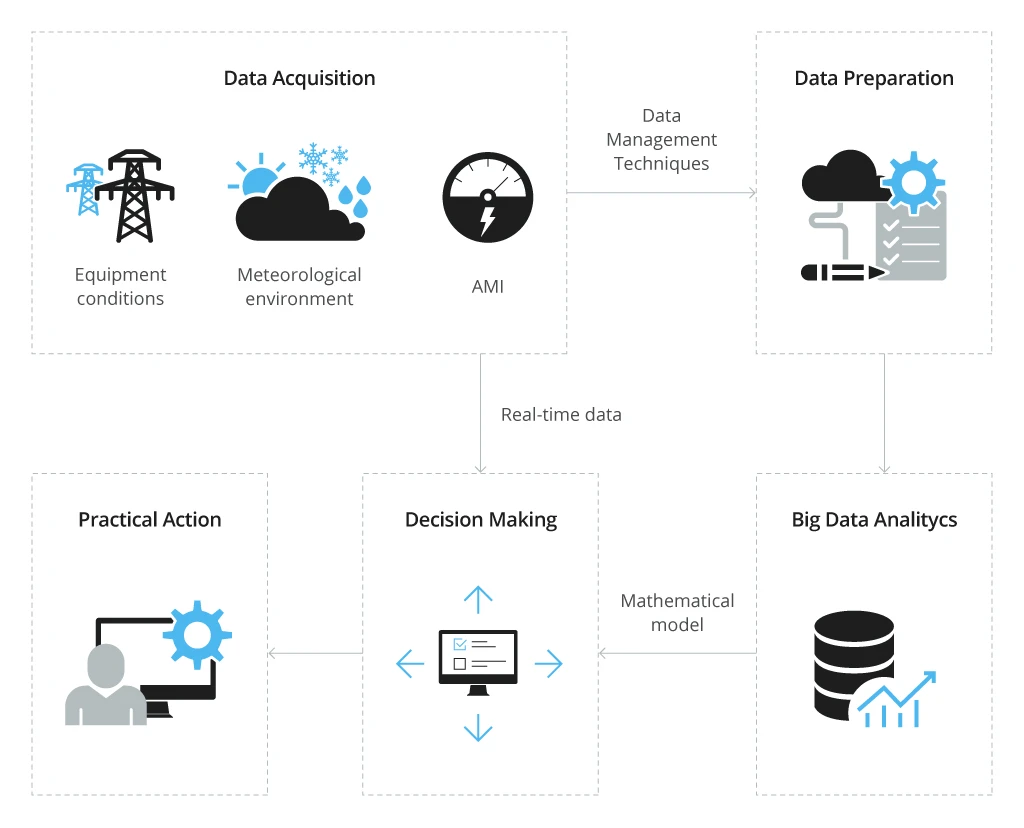 Big data and predictive analytics are especially applicable to renewable sources. The inconsistenсу of the sustainable electricity demands considerable effort to integrate it into the homogeneous fuel-based energy network. Based on the processed data, suppliers can make informed decisions, predict the energy generation and consumption rates, and reduce possible risks.
Case study in focus:
kWh Analytics, for example, offers solar investors Heliostats: a risk management platform that provides data integration and analytics. As expected, this platform allows for taking a more intelligent approach to investing in renewable energy.
With extensive data analytics, utility companies receive an opportunity to enhance the grid efficiency, based on real-time consumption data or previously collected relevant information. For example, historical weather and GPS data can be used to improve the forecasting of renewable energy power generation. At the same time, ongoing monitoring of systems allows addressing current issues and improve energy production and distribution.
Case study in focus:
A smart grid project by Texas Advanced Computing Center enhanced its understanding of sustainable energy with intelligent analytics from Intel. A combination of real-life data processing and big data provides valuable insights on the energy consumption for the suppliers and the users.
Predictive maintenance is another significant benefit of introducing big data to renewables. A forced outage can lead to a further shift of balance of the grid and require additional resources to cover the demand. A network of sensors, smart meters, and grid-connected devices can provide the supplier with a variety of information to minimize undesirable outcomes. A smart grid introduction can enable isolating faults in the distribution system thanks to data-powered automation. As a result, the malfunction is eliminated with a reduced restoration time and improved customer satisfaction.
Case study in focus:
A supervision-diagnosis model, put to the test on solar energy production points in Romania and Greece, has demonstrated extensive capabilities of big data. The system successfully predicted high-frequency inverter failures with a sensitivity of up to 95% and specificity of almost 80%, seven days prior to the forecasted incident. Besides anticipating failures, the tested model also provided prompt notifications on the unpredictable malfunctions.
To conclude
As a rapidly developing sphere, sustainable energy relies on the latest technologies to strengthen its market positions. A smart grid technology that has already proved its effectiveness in multiple cases for fuel-based energy networks has the capacity to sustain the development of the renewables. A close interaction between energy suppliers and consumers enabled by a smart grid will contribute to a seamless shift to green energy, sustainable consumption, and a cleaner planet.
Ready to make your energy network intelligent? Contact our experts to learn more about state-of-the-art technologies to boost your business.