Article
How to Enable Invoicing Automation with RPA
Originally published: January 19, 2023
Updated: March 03, 2023
7 min. read
Innovations
Business Applications
Infra & Operations
Paying and receiving payments on time is critical for any business. Typically, invoicing business processes are highly time-consuming and rely on manual work. According to a recent survey by Levvel Research, the top five payable challenges include:
Manual data entry
Lost or missing invoices
Invoice-to-payment mismatches
Duplicate invoices
Inconsistent accounts payable (AP) processing throughout the organization.
With invoice process automation, enterprises can address those issues, streamline the invoicing workflow, and reduce operational costs.
In this article, you will explore the capabilities of robotic process automation (RPA) for optimizing the invoicing workflow. We will analyze RPA applications in accounting, business benefits from their adoption, and review a few invoice automation process cases.
What Is RPA Invoicing Automation?
Invoice processing automation is used by businesses to ultimately streamline AP processes. It involves scanning and extracting invoice data, validating it, and seamlessly inputting into an ERP or accounts payable system. The result is the ability to complete payments in minutes.
The invoice process automation helps address critical challenges in manual AP processes. As you can see from the statistics below, the complexity of invoice handling significantly increased during the COVID-19 pandemic.
Key Challenges in Account Payable Processes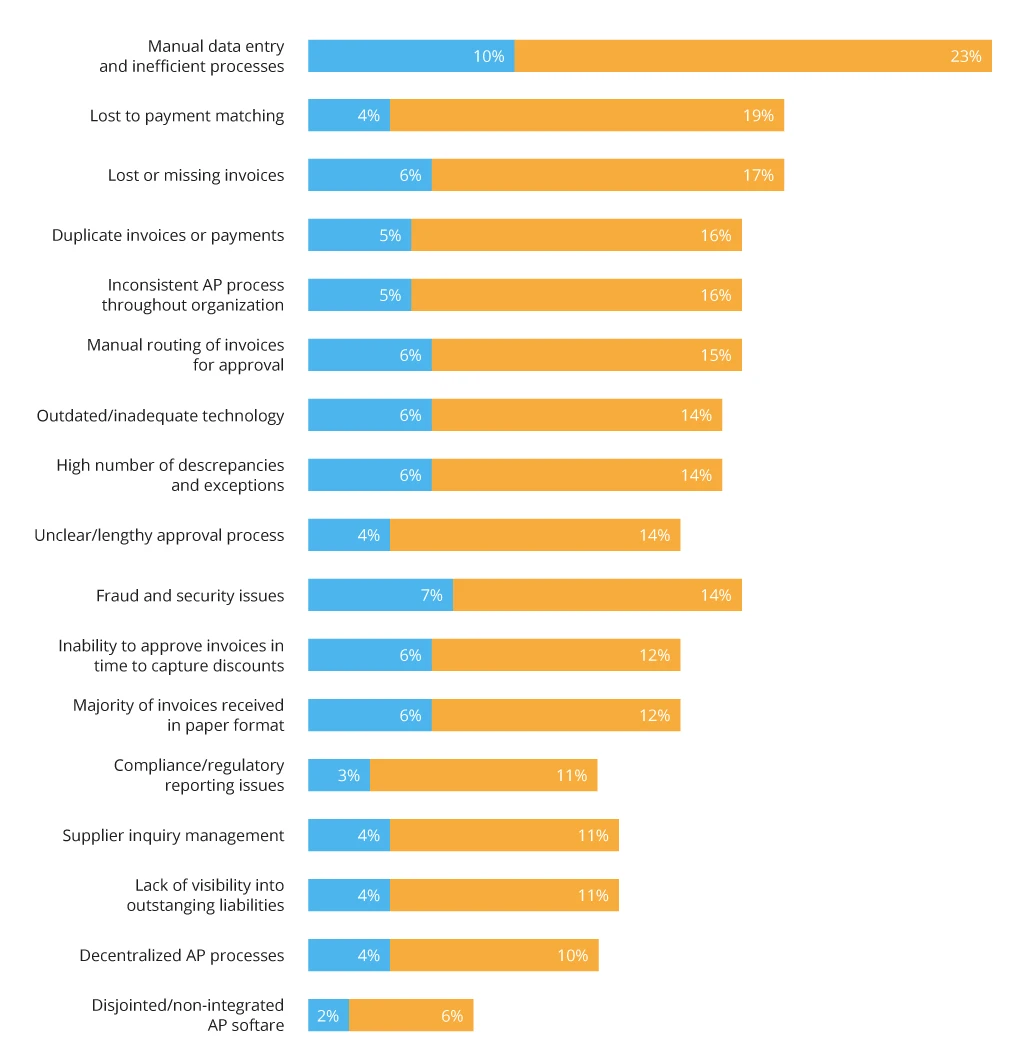 Companies actively adopt various invoicing automation tools during and after the pandemic, including Robotic Process Automation (RPA). It is a dedicated solution for automating rule-based processes, that utilizes a user interface and can run on any other software, like web applications or ERP systems. Compared to other technologies like Business Process Management (BPM), RPA can provide financial and operational benefits quicker and cheaper. Companies apply RPA to automate the following areas of finance operations:
Accounts payable: extracting invoice data, vendor invoice processing, vendor verification.
Accounts receivable: customer data setup, management, extraction, monitoring customer's credit status, generating and distributing invoices.
Intercompany reconciliation: retrieving and validating data from files, exception monitoring and handling, logging, and validating journal entries.
Financial reporting: generating balance sheets, profit and loss reports, income statements, and regulatory reports.
RPA has a strategic role in transforming finance functions in the middle- and back-office operations. Here are the key drivers of adopting RPA invoice automation services:
The need for high-level consistency and accuracy;
Repetitive and manual nature of the vast number of processes that can be effectively automated;
High dependency on data entry, data manipulations, and generating reports;
The need to collect information from various sources and systems;
The need to operate under strict regulatory requirements.
Depending on the automation purposes and complexity of the accounting process , RPA can be used solely or together with the AI, NLP, machine learning, and Intelligent Document Processing (IDP) technologies. Every combination provides its unique benefits, but first of all, invoicing automation allows employees to dedicate time to high-level tasks, delivering more value to the company.
Benefits of Invoice Process Automation
The adoption of automation in invoicing grows significantly from year to year. In 2022, AP automation rates increased by 61% as compared to a previous year. Currently, about 52% of companies automate their AP team processes.
The State of AP Automation Adoption
RPA provides multiple cross-industry benefits. When it comes to invoicing, it specifically brings the following advantages:
Paper expenditures are no longer an issue: There is no need to collect and archive paper records. Looking for and extracting required historical data also speeds up significantly.
Increased Accuracy: Invoices are cross-matched to points of sale (POs) and shipping papers. It helps significantly reduce errors due to missing or incorrect information. Automating accounts payable and receivable with RPA minimizes the time for detecting and correcting data discrepancies.
Exceptional Productivity: The invoice automation process greatly speeds up extracting invoice data, exporting it into a system, matching it with purchase orders, and approving the final payments.
All-time Availability: Robotic Process Automation ensures 24/7 service availability, providing non-stop performance and eliminating peak-time queues efficiently. It allows companies to offer enhanced services, gain competitive advantage through better customer experience and higher customer satisfaction, and actively scale their operations.
Reduce Fraud Risk: As invoice and check exposure is decreased with built-in verification, the risk of fraud is reduced dramatically. It also eliminates human errors that occur in manual invoice verification, significantly improving early fraud detection efficacy.
Compliance: RPA services can be programmed to confront all compliance rules and audit trails. They provide access to entirely maintained logs, with each step of a specific process being recorded for historical audits. In case of any standards and regulations updates, invoice processing bots can be re-programmed to operate on up-to-date rules, ensuring financial reporting is always in compliance.
Return on Investment: Companies who implement RPA services should expect a substantial return on their investment. Savings justify the cost of implementation thanks to minimizing the manual effort of employees, invoice processing time decrease, and new capabilities to scale business operations.
Within the invoice process automation, organizations accelerate approval cycles, lower invoice processing costs, improve supplier relationships, and significantly improve audit and reporting accuracy. That is why automation has become one of the key drivers in the technological and operational upgrades of financial departments across industries.
The RPA-based Invoice Automation Process Implementation
Infopulse provides RPA invoice automation services to help businesses achieve immaculate accuracy, improve their customer experience, and reap other benefits from automation. Successful RPA adoption relies on in-depth business analysis of specific business goals, and designing a solution that streamlines achieving them. Here are two interesting use cases of RPA for invoicing from our practice.
Case#1: Basic RPA Solution for an IT company
The company has an inner time tracking system where each specialist reports the time spent on each project/task. An hour is a unit used to calculate payments, invoice clients, and pay specialists' salaries. There are different hour categories, types, indexes, and costs. The solution performs the following steps:
At the end of each month, the robot automatically exports data for each project.
All resources spent are categorized by separate projects, appropriate indexes and rates are applied to calculate the payments.
All projects are summarized per client into a separate file, and the software generates a separate invoice that includes all provided services per client.
All generated invoices are saved into a specified folder.
Each specialist receives a notification for approving the invoice.
After invoice approval, a specialist enables a robot to upload information into the inner ERP system.
The robot enters data into ERP and sends an invoice to a client.
Technologies used: classic RPA automation (UI Path)
Deliverables: The invoicing process is 98% automated. Personnel is only responsible for data approval and making short-notice corrections if any occur.
Case #2: Advanced Invoice Process Automating using AI and IDP
In certain cases, more than standard RPA implementation is required to automate invoicing. Based on the workflow, a solution may require additional technologies for extracting invoicing data from different document types (Intelligent Document Processing) and enabling artificial intelligence to process information correctly from various sources and unify that data under a single format. In our client's case, handling invoices was a multi-step workflow, where employees received invoices via mail, categorized and then processed them according to internal standards. Our intelligent automation solution for the client minimized employees' involvement, while retaining the high level of accuracy:
The robot constantly checks the mailbox for incoming invoices.
It retrieves newly arrived invoices and populates them into the database.
All invoices from the database are redirected into a queue for recognition by the Document Understanding algorithm. The files are divided into separate documents based on the file type and the number of invoices it contains.
At this stage, all invoices are classified into ten types. Two of the ten types require different tax imputations.
A user receives a notification about the need to verify data. We developed a custom mechanism for data approval. A user validates the amount and category through a user-friendly interface, can make corrections and change the invoice category.
After approving the readiness of the invoice, a robot either enters data into the inner ERP system or performs tax imputation with a preset formula and then enters data into an ERP system.
A robot assigns barcodes to all entered invoices.
Technologies: UI Path, Action Center - for approval, Document understanding, Data Service.
Deliverables: the invoicing process is 90% automated. Personnel is only responsible for data validation and making corrections. The accuracy of data recognition is more than 90%.
Invoicing automation is one of the top priorities in any sphere. Yet, the invoice processing workflow is individual for each separate business. While some can be upgraded solely with RPA automation , others require intelligent automation or hyperautomation where RPA is combined with AI, ML, and other cognitive technologies. At Infopulse, we define the suitable combination of technologies for each specific case based on the required level of automation and data processing speed our clients' request.
Key Takeaways
Robotic Process Automation streamlines numerous time-consuming business workflows. It brings tangible benefits for accounting operations, supply chain management, and feeding business decisions with real-time error-free data. The popularity of RPA-based invoice process automation grew during the pandemic, and now businesses have time-proven, effective solutions to address all the pain points of legacy invoice processing workflow.
Each business requires an individual approach to design an automation solution with all the specific pain points addressed. At Infopulse, we provide RPA invoice automation services for enterprises across industries, empowering businesses of any scale with an advanced level of automation, using up-to-date RPA, AI, and machine learning technologies for intelligent document processing and data management. We are ready to bring exceptional operational efficiency to your invoice processing routine to optimize the company resources and add value to your business growth.