Article
Next-Level of Enterprise Automation: How to Combine RPA, AI, and BPM to Achieve Hyperautomation
Originally published: April 05, 2021
Updated: February 27, 2023
7 min. read
Innovations
Hyperautomation was proclaimed among the top 10 strategic technology trends for 2020 by Gartner. However, unlike many 'visionary' trends, hyperautomation is already actively deployed by enterprises cross-industry. So much so that by 2022,
over 65%
of early robotic process automation (RPA) adopters will move on to incorporating machine learning (ML), natural language processing (NLP), and AI-led business management scenarios.
If your organization also wants to improve effectiveness and trim operational costs, it's high time to shape your business case for adopting enterprise automation software.
What is Hyperautomation
Hyperautomation is an umbrella term for a group of intelligent automation solutions — powered by RPA, AI, ML, and NLP among other technologies — that augment repeatable processes and amplify employee performance.
The new breed of enterprise automation extends over different standard processes — from analysis to quality assurance — and incorporates a range of enterprise automation tools, both custom-built and off-the-shelf.
Popular enterprise automation tools include:
UIPath: RPA and intelligent automation (IA) platform.
ServiceNow Workflow: Point and click solution for automating business processes. ServiceNow also provides robust ITSM automation capabilities.
Microsoft Power Automate: An upgraded version of Microsoft Flow with general-purpose RPA capabilities. Integrates well with other MS products.
SAP Intelligent Robotic Process Automation: A robust solution for ERP-automation and custom application integrations.
Salesforce Flow: Business process automation solution for Salesforce.
Workfusion: Cloud-based and AI-powered process automation for enterprises.
The "hyperautomation" trend takes the current platforms' capabilities a notch further, by replacing rule-based automation with data-driven decisions. The new breed of IA and AI-based solutions can perform multi-step tasks requiring actual decisions, which are made based on the analyzed corporate data.
Hyperautomation of enterprise processes keeps your people in the process loop, but does the mundane 'heavy-lifting' for them. Specifically it provides pre-written prompts for customer support agents, performs sentiment analysis to improve marketing collateral, scores, and prioritizes incoming leads or effectively reconciles accounts. Such tools empower your staff to create advanced automated workflows powered by AI-generated insights, procured from an array of connected data sources.
Intelligent automation also enables seamless interoperability and a greater degree of integration between corporate apps (and users). AI algorithms running in the background, can:
Collect and present data from connected sources to facilitate decision-making;
Perform centralized execution of repetitive actions across connected apps;
Cooperate with other automation and analytics tools used by the company.
The above can not only improve business users' operational efficiency but also help minimize the ever-growing conundrum of managing app-to-person connection requests: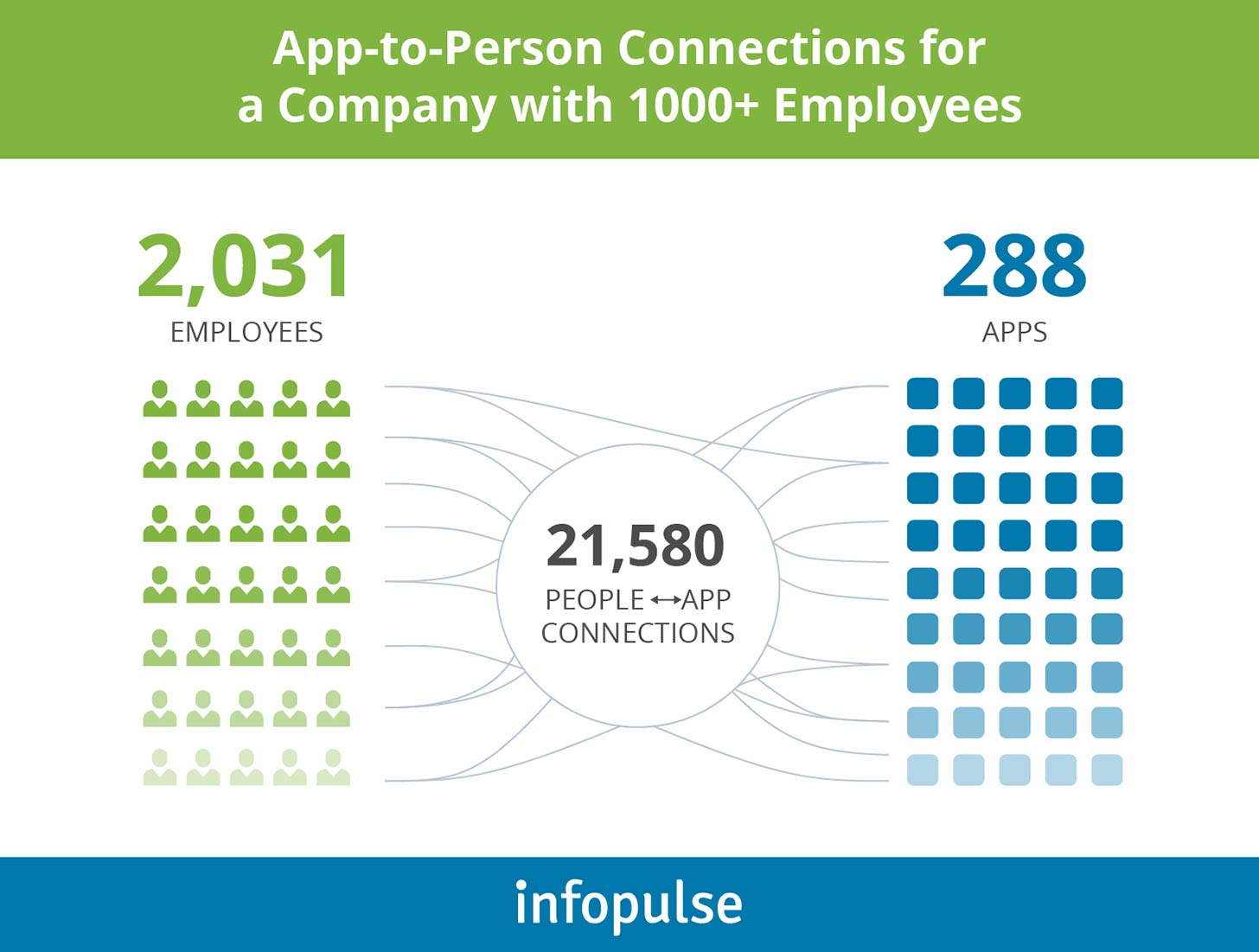 Four Key Components of Hyperautomation
Next-gen hyperautomation solutions are powered by a host of emerging technologies such as:
AI/ML/NLP/OCR
AI is the most frequently used term for defining the new breed of 'intelligent' solutions — those powered by machine learning and deep learning algorithms (neural networks). These algorithms act as the technical backbone for executing different types of operations such as:
Speech and text analytics (NLP). Natural language processing (NLP) is a sub-branch of AI focused on teaching algorithms to understand, interpret, and interact with spoken or written language.
Intelligent optical character recognition (OCR). OCR systems are trained to recognize and process written characters.
Computer vision. Such solutions are programmed to process and interpret digital images or videos: recognize and identify repeating patterns in real-time. Computer vision systems are often deployed for industrial automation projects.
RPA
Robotic process automation enables business users to automate standard sequential processes by replacing manual execution with one-click code snippets.
RPA algorithms have already proven to drive significant operational savings and increased operational effectiveness across industries. Some of the popular RPA use cases include:
Procure-to-pay automation
Financial data management
Business process automation in healthcare
Automated inventory management
Freight and fleet management
ERP-data management automation
For a more in-depth overview of how enterprise RPA works, sign up for our on-demand webinar.
Intelligent Automation (IA)
Intelligent Automation meshes together RPA and AI to enable a greater extent of enterprise workflow automation. Such solutions can provide end-to-end workflow automation and handle non-sequential tasks with high accuracy.
An IA-based enterprise automation system continuously improves over time based on the collected data and user-feedback provided during the adoption stage. After gathering sufficient intel, AI-enabled automation tools can propose better process automation paths, alternative workflows, and predictive insights.
Unlike traditional RPA and Business Process Management (BPM) tools, IA systems can process unstructured data inputs (voice, texts, emails, etc.), as well as multimedia data — images, real-time time video streams, and audio.
The ultimate 'promise' of IA is providing organizations with the ability to automate any type of business processes and improve their performance through self-adjustment.
Intelligent Business Management
Intelligent business process management suite (iBPMS) is the pinnacle of hyperautomation — a self-adjusting, centralized system that automatically executes a set of tasks or even enables end-to-end workflows with little-to-no human intervention.
While few enterprises have already achieved such a state of intelligent performance, many more aspire to it due to the savings opportunities. Gartner predicts that by 2024, organizations that combine hyperautomation technologies with redesigned operational processes will lower operational costs by 30%.
Hyperautomation Business Benefits and Opportunities for Early Adopters
Since most industries significantly improved the levels of digitization in 2020, many leaders are now looking to further capitalize on their new technology investment. RPA has already proved the feasibility and value of business process automation.
However, with a growing portfolio of tech products, many adopters now struggle to determine the optimal scope of automation. The sheer breadth and depth of available scenarios and solutions, made possible by RPA, AI/ML and NLP, do not make the decision process any easier.
Hyperautomation, in turn, stands for a more targeted, intentional, and all-encompassing approach to building an intelligent business process management configured and controlled from one interface.
By pursuing a bottom-up approach to business process automation, adopters also often discover extra value-generating opportunities allowing to:
Improve data governance and management processes
Break down operational silos
Identify and eliminate redundant/low-value workflows
Re-asses and reduce the corporate app portfolio
Enable better process orchestration
Enhance process standardization and documentation
Digitally mature organizations in the manufacturing sector also view hyperautomation as a stepping stone to digital twin creation. A digital twin is a virtual replica of physical devices, systems, or the entire organization, powered by real-time data. Such twins can help identify correlations and dependencies between common processes, functions, and key performance indicators within the monitored access. The collected insights can be used to introduce further improvements.
However, even a lower extent of hyperautomation, for example, end-to-end automation of one workflow, can result in tangible benefits, especially during crisis mode operations. Case in point, during the early days of the pandemic, one bank had to rapidly update over 6 million loan records. Without intelligent automation, the project would have required two years and 100 people to complete.
In a broader sense, hyperautomation enables the following benefits:
Higher digital agility and operational resilience
Increased workforce productivity and empowerment
Improved system and process integration
Streamlined new process discovery and automation
Predictive insights for decision-making
Ability to deploy more advanced human augmentation solutions
Enhanced customer experience (CX) and satisfaction
Short-term, measurable ROI
Given the above, it makes sense why over 50% of business leaders have already laid plans for expanding their automation efforts from a single team/department to scale across departments.
Key Steps for Enabling Hyperautomation
As with any other technology investment, a strong business case is key to preventing your investment from becoming an expense. To develop a viable plan for progressive adoption of the technology, you should focus on the following steps:
1. Map the desired business outcomes. Intelligent automation solutions can be deployed to augment an array of processes: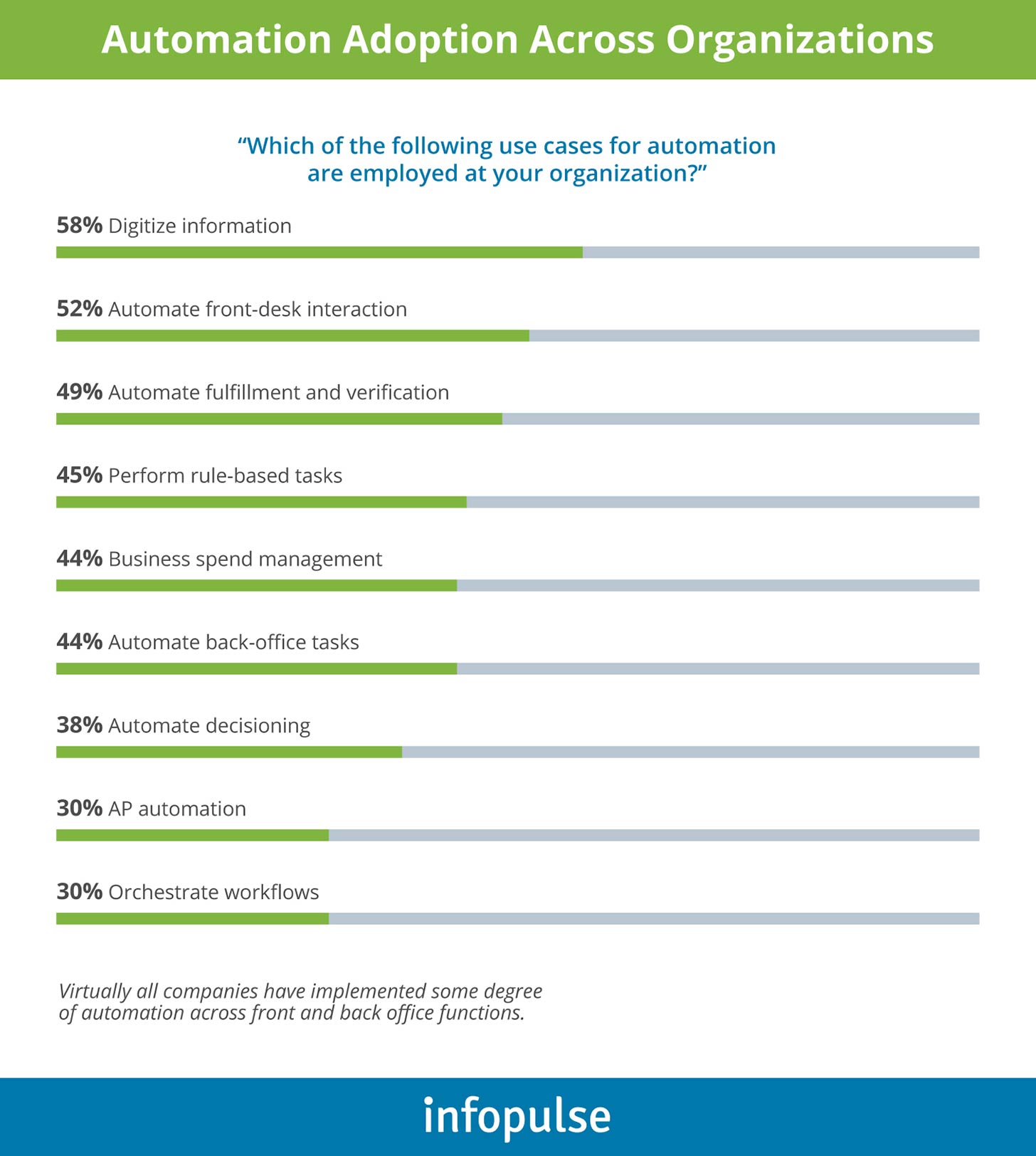 To identify the best candidates for automation, think in terms of:
Workforce needs: Can augmentation of this process make your team more productive?
Savings: Will it help reduce execution costs or generate savings in another way?
Feasibility: What are the technical prerequisites for automation? Can we attain end-to-end automation without disrupting other systems?
Compliance: Are there any regulatory constraints? Will automation help or hinder regulatory compliance?
ROI: Will automation positively influence our main drivers for revenue?
2. Estimate the total cost of ownership. To gain an accurate sense of the IA (and supporting tech) adoption costs, consider the following expenses:
Implementation costs: All the investments, associated with developing (or purchasing), installing, configuring, and deploying a new IA solution. The total will include CAPEX costs (development, deployment, testing) and OPEX costs (licensing, cloud infrastructure costs).
Governance costs: Hyperautomation thrives in data-mature companies. Estimate what changes will have to be made to your current data management and governance processes, as well as infrastructure governance.
Maintenance costs: Licenses, subscriptions, consulting, and labor costs will comprise the bulk of spending.
Training costs: To speed up adoption, training and staff upskilling will be required.
3. Preliminary process optimization. Not every business process or workflow will be a good contender for automation. To avoid budget waste, conduct a comprehensive assessment. Identify low-value business processes that could be optimized to increase staff performance (and revenue).
4. Evaluate iBPMS or standalone hyperautomation products. Evaluate different vendors based on the identified processes, use cases, and estimated budget. Factor in both direct and in-direct costs to peg down accurate TCO.
Look into vendors that provide a wider-spectrum of automation capabilities, rather than monoline offerings. Doing so will reduce the chances of entering into a growth-constraining agreement, where a licensed solution cannot be scaled across functions or departments.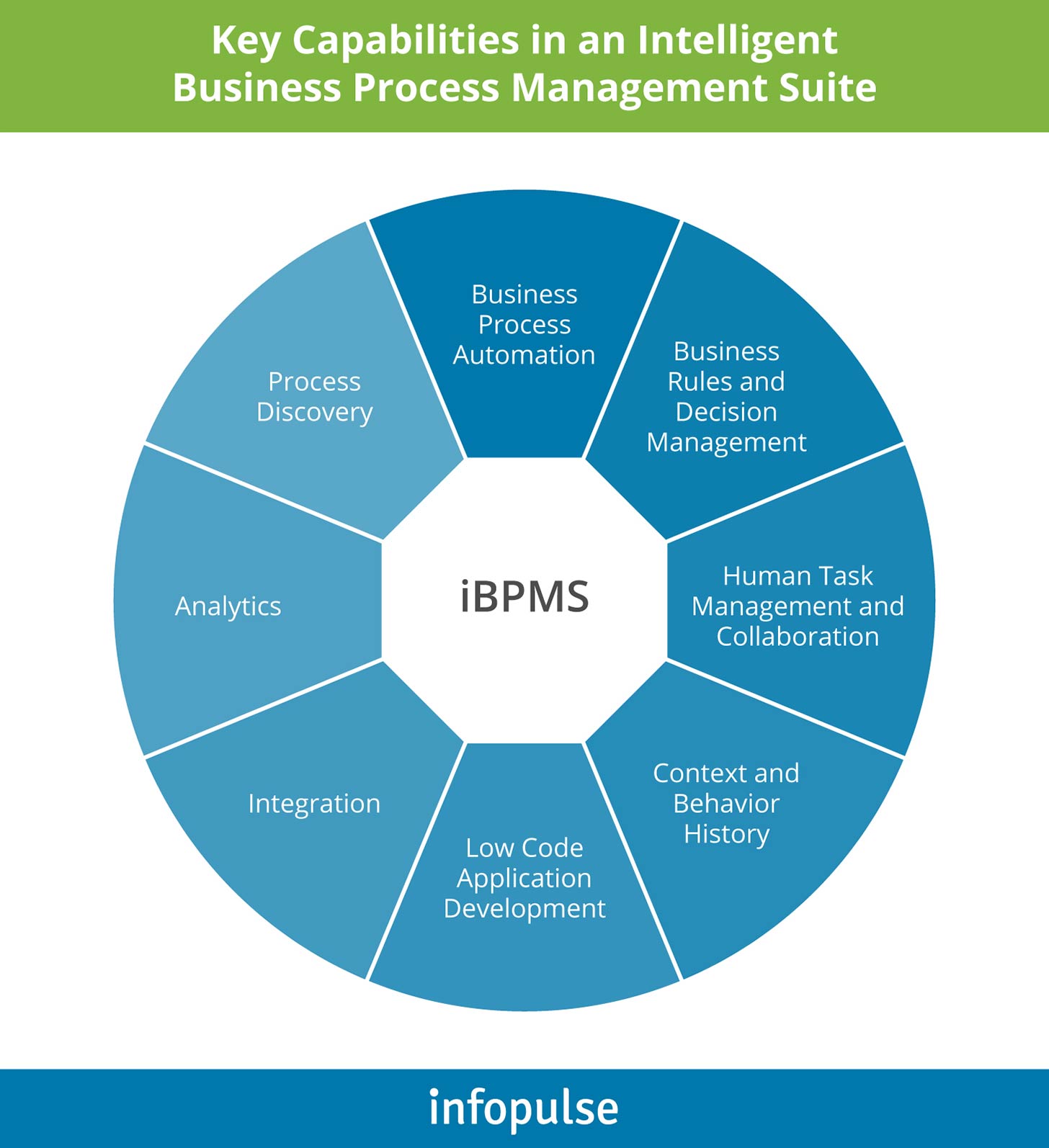 Conclusion
Enterprise hyperautomation is a logical evolutionary step towards expanding your company's process automation, analytics, and predictive intelligence capabilities. Best-in-class solutions can be configured to orchestrate multi-step workflows, involving both structured and unstructured data, so that. This would allow your business users to shift the focus from menial work to high-value tasks, while your IT teams could consolidate disparate systems and data streams into a centralized digital operations center of command, securely governed and continuously improved.
Contact Infopulse to discuss the emerging opportunities in hyperautomation and receive proactive guidance on RPA, IA, and intelligent business process management adoption.