Article
How Technology Reinvents Agriculture: Top 8 Software Solutions to Watch
Originally published: November 11, 2022
Updated: November 29, 2022
6 min. read
Innovations
Digital Transformation
Almost every industry has been positively affected by technology, and agriculture is no exception. There's even a specific concept to describe the way digital tools are reinventing this sector: precision agriculture (PA).
It is not just another buzzword. The value PA brings farmers in field and crop management is enormous. Increased profit, efficiency, safety, simplicity — this new normal is certain to drive things forward in the near future.
A report by Grand View Research is clear proof. To wit, the worldwide smart agriculture market was $14.44 billion in 2021, and over the next eight years it's projected to grow at a CAGR of 10.8%.
This will certainly lead to an even higher demand for agriculture software and hardware solutions like UAVs, water and soil sensors, yield monitoring systems, and more.
Estimated Range of Potential Global GDR Value by 2030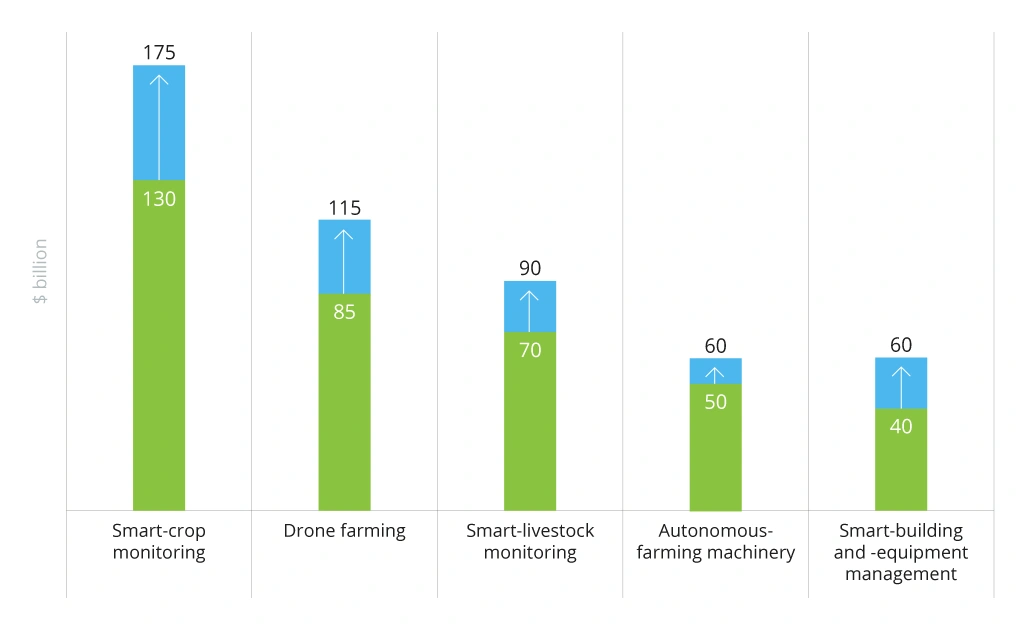 Infopulse, as an expert in custom agricultural software development, compiled a list of top-tier solutions able to improve operational efficiencies and notably solve other specific business needs.
Smart Land Monitoring and Management
Corteva's land management app is a robust solution that offers farmers and agronomists a 360-degree view of their farms, including field ownership status and land quality, as well as real-time and historical data on all farmed crops.
Built upon remote sensing and AI capabilities, this overarching data aggregator app empowers agrarians to control full-cycle farming throughout the year, from fertilizing fields to harvesting crops.
The Range of the Application Functionality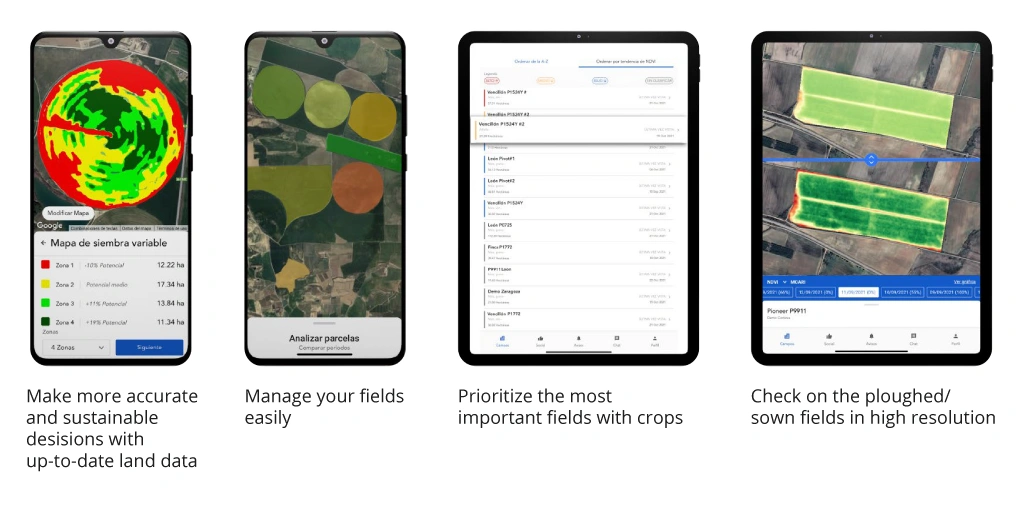 Its game-changing features like real-time checking of field status, monitoring hyperlocal weather forecasts, and accurate field irrigation planning allow stakeholders to revamp key workflows as needed, thereby increasing productivity and efficiency.
Autonomous Farm Technology and Data Analysis
Agricultural drones, self-driving tractors, robot seed planters, and other smart machines are set to drive the industry forward by automating key processes, eliminating human error, and decreasing labor shortages.
FJ Dynamics knows exactly how to boost productivity and sustainability in the agricultural sector by harnessing the power of smart machines and data.
Namely, its advanced cloud platform, which runs on Microsoft Azure and covers a wide range of IoT applications that help farmers make informed decisions, such as when to plant and harvest, what types of crops to feed, what and how many chemicals to use, how to irrigate, and more.
What does the whole process look like? The company creates a digital 3D model of a farm that is then used to guide autonomous vehicles. Apart from carrying out particular types of work, smart machines leverage the power of sensors to collect data. That data is further processed, analyzed, and used to boost productivity and increase yields, all while reducing waste. Which means more efficient and sustainable farms.
A case in point: similarly, MHP was able to boost its agricultural output thanks in part to a custom grain balance solution that provides access to more than hundred calculation scenarios covering the full breadth of grain-related processes.
The application allows users to control agricultural harvesting and optimize logistics route planning and management, enabling the discovery of the optimal business results by adjusting data processing parameters and comparing data from different calculation versions.
Moreover, the grain balancing app gives comprehensive Power BI reports that can be used for better decision-making.
Drone-based Field Analysis
Drones aren't new in agriculture. Remote control helicopters for crop spraying have already been used for a couple of decades. However, this technology doesn't stand still, and the new generation of drones is smarter and more feature-rich.
Planting seeds in remote locations, quickly surveying crops over vast areas, analyzing field conditions to deliver nutrients and pesticides where the crops most need them — the popularity of drones is increasingly growing in agriculture and the estimated value of their use could reach $85-$115 billion.
A leader among smart machines, DJI's P4 multispectral drone has been widely implemented in China for highly precise agricultural cotton production. Its capabilities allow farmers to enhance crop scouting efficiency, lower chemical usage, and increase yield.
A case in point: during a 25-minute flight, the multispectral drone is able to capture 45 hectares of imagery that is later processed in DJI Terra software to create an RGB map. With this map in place, workers can then divide fields into growth zones and strategically place sampling locations for further inspection. The drone leverages this map to execute spraying with utmost accuracy, while boosting the growth of weaker regions and improving the homogeneity of the field.
The results of implementing spraying drones are stunning: Farmers report having lowered chemical usage by 30% and increased cotton yield by 450 kg per hectare. The precision vs efficiency ratio significantly exceeded expectations.
Smart Silage Usage Optimization
Another solution owned by Corteva is aimed at digitizing the paper-based process of silage analysis performed by promoters and sales agents.
It's a robust mobile app that harnesses the power of data to generate hyper-personalized products and services for farmers — all based on their specific silage needs.
Agriculture promoters can use the app to access a list of preplanned farms with routes and maps as well as customize silage data like density, temperature, pH levels, and more. Such digitalization is set to significantly optimize promoters' workflows and increase data accuracy.
Corteva's app provides user-friendly data collection forms that can be filled even in offline mode, and includes separate field options for adding contact data and attaching photos.
Livestock Welfare Monitoring
Another aspect of digitized farming that is gaining traction right now is precision livestock farming (PLF). This term revolves around the development and usage of cutting-edge computer vision mechanisms to enhance animal production processes and redefine farm stewardship.
Computer Vision System for Monitoring Animals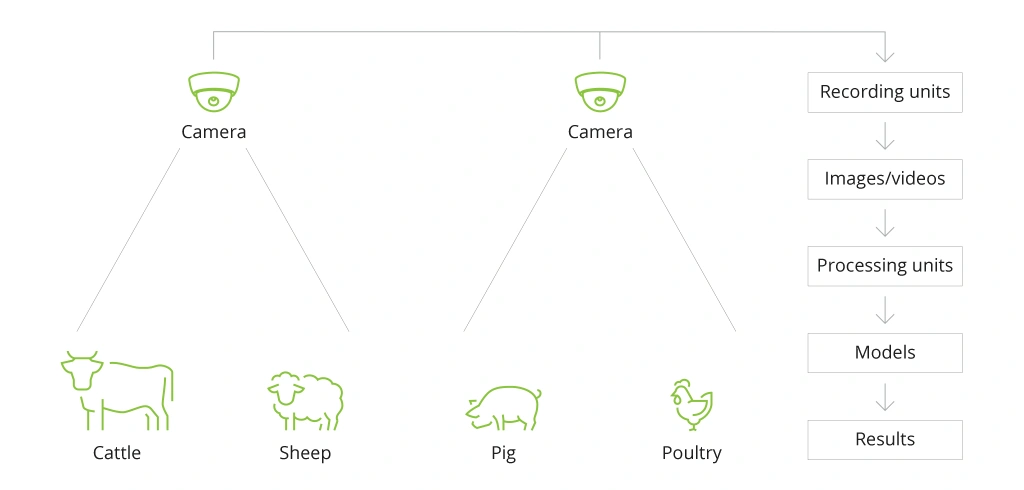 CattleEye is probably the most notable solution in cow welfare and performance monitoring. This system uses security cameras to capture animals in real time and send video footage for analysis to the cloud.
Underpinned by computer vision tools, CattleEye accurately identifies every cow on the farm, analyzes their appearance, gait, and behavior, and based upon that data helps select animals for hoof trimming — all to detect and quickly manage lameness in the herd.
The analysis results are delivered right to a farmer's phone or tablet, which allows for rapid intervention and significant cost and resource savings. Thus, the system is reported to save an average farmer $120 per cow per year and reduce 0.57 tons in carbon footprint per cow per year.
Smart Irrigation
Water consumption optimization has always been a challenge — no matter the industry. But as the technology has advanced, smart irrigation entered the arena as an optimal solution.
In 2021, the worldwide smart irrigation market was valued at $1.2 billion, and this number is projected to reach $2.3 billion by 2026.
As for agriculture, soil moisture controllers that automate key processes for farmers are estimated to grow at a 17% CAGR.
It's no secret that both water shortages and waste cause the destruction of crops. FarmConnect is a highly scalable smart irrigation solution developed to solve this problem. It brings together connected devices, smart sensors, and cloud-based analytics software to monitor soil conditions in real time and automatically start an optimal irrigation program in terms of time and water amount — all with minimal maintenance requirements.
Such an intelligent process allows farmers to maximize crop yield and enhance water-use efficiency.
Autonomous Harvesting
Crop harvesting is one the most labor-intensive activities of the season for farmers. It's not limited to fields, but also covers plantations, orchards, and vineyards. Automation in this aspect means resource optimization and higher efficiency in crop gathering.
Saga Robotics' modular platform, named Thorvald, is the solution that meets the challenge. It's an autonomous multi-purpose farm robot that performs an array of complicated tasks, including the harvesting of vegetables and fruits, as well as the protection of plants from powdery mildew.
Not only does the robot improve efficiency and optimize resources, but also provides advanced risk management, as it protects farmers from accidents like snake bites.
Thorvald has modular construction, which means it can be easily customized for a particular task across all farming environments and terrains, such as open fields, greenhouses, vineyards, or tunnels.
Having been tested over thousands of kilometers in challenging, real-world agricultural environments, Thorvald has proved to be efficient and reliable for any type of work, and any amount required.
Automatic Farmland Diagnostics
Another invention of smart farming, farmland diagnostics is increasingly implemented by agronomists to detect weeds and plant diseases early on in order to minimize crop losses. Gamaya's advanced solutions leverage remote sensing technologies to deliver this and more.
The company's smart system collects airborne and space-borne hyperspectral imaging data as well as historical climate and weather records to create detailed digital maps. These data-rich maps are further used to highlight and quickly solve the most daunting agronomic issues like nutrient deficiencies, disease infections, water stress, soil compaction, and pest infestations.
A Final Note
From data-fueled crops management and smart irrigation to real-time livestock monitoring and drone-powered field analysis, technology is reinventing agriculture right now, and showing no signs of slowing down.
We've named just a few agriculture solutions that are driving the industry forward, and doing so while providing sustainability. Considering the fact that new smart technologies are entering the market at a great pace, this list can (and will) be extended further.
Some agriculture software solutions can be implemented in a farming infrastructure as is, and others need customization, tailored to particular needs. Take this aspect into account when choosing which agricultural software firm to partner with.