5 Technologies to Help You Overcome COVID-19 Crisis
Originally published: July 07, 2020
Updated: February 28, 2023
6 min. read
Data & Analytics
Cloud & DevOps
Innovations
Cybersecurity
In times of turmoil, new investments in technology and business solutions may be hard to justify. However, current cash-rich businesses are at risk of becoming customer-poor as global markets prepare to restart post strict quarantine. New technologies – cloud computing, virtual workplaces, RPA, and big data analytics among others – will play a key role during the recovery period and beyond it.
Infopulse analysts lined up the latest technology and business data from IDC Global and Deloitte to determine how the technological portfolios have changed due to COVID-19.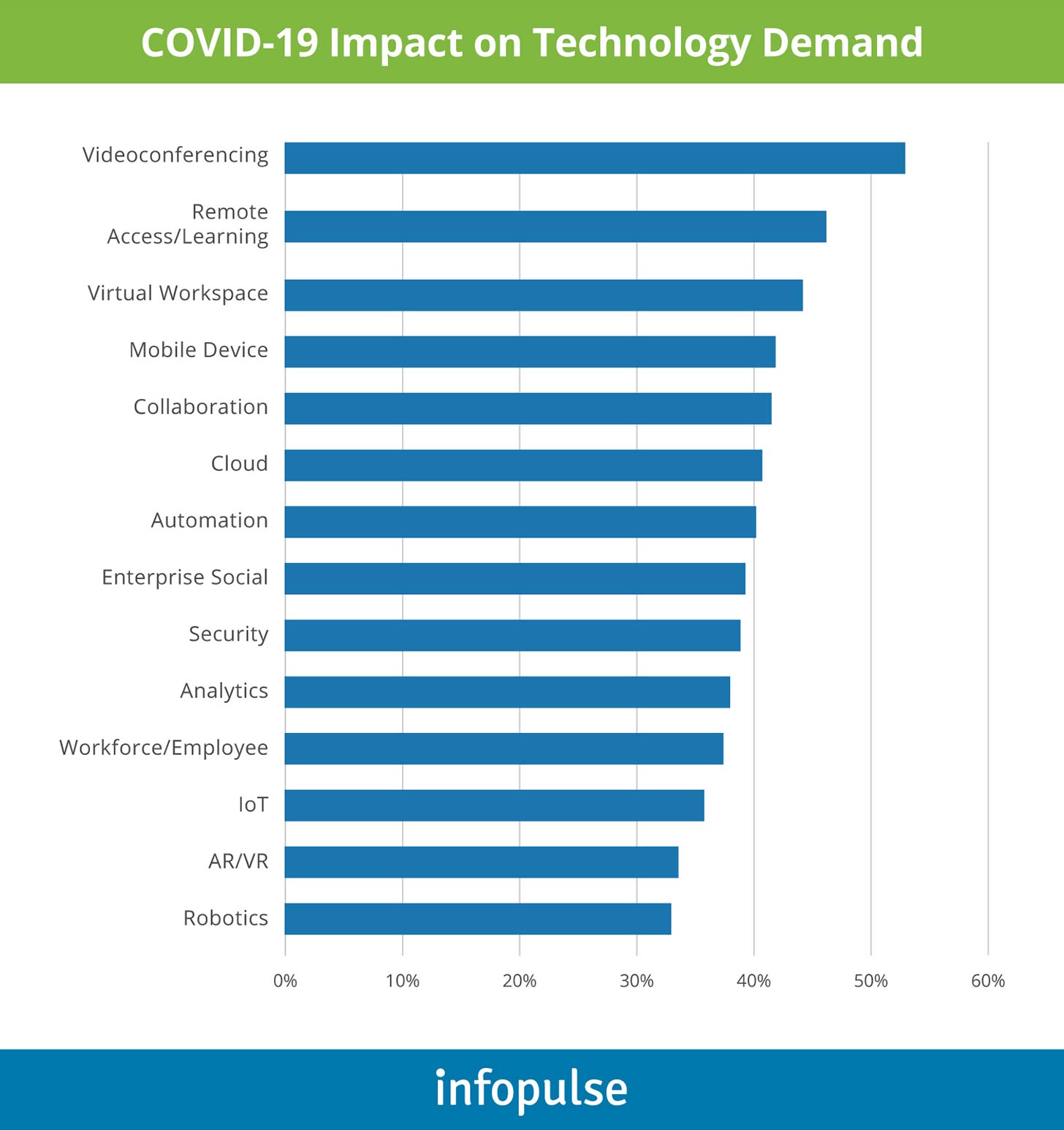 Below we present a summary of our findings, along with strategic advice on trending sustainably through the new reality of remote work and distributed operations.
1. Collaboration and Communication Tools
Remote work has been on the rise since the beginning of the pandemic. The telecommuting trend that started as an unplanned global "work-from-home experiment" now seems to be staying for the long-term. To optimize operational costs, a lot of enterprises are considering a permanent remote working model for some of their teams. Twitter, Facebook and Square were among the first to allow their employees to work remotely for as long as they wanted to. Larger enterprises are following suit. In fact, Global Workplace Analytics predicts that by the end of 2021, 25-30% of the US workforce will be working remotely multiple days per week.
The rapid rise in telecommuting also surged the demand for respective business and information technology applications:
Videoconferencing
Communication apps and platforms
Cloud storage
Remote access management tools
Remote learning and knowledge sharing apps
Comprehensive virtual workplace apps such as Microsoft 365 and Microsoft Teams
In March 2020, Microsoft Teams had a new daily record in usage – 2.7 billion meeting minutes. That should come as no surprise considering the company's major push towards upgrading Office 365 offerings and making them even more adaptable to fully remote operations. One of our clients, a major pharmaceutical company, further reports that Office 365 adoption for their team of 250+ people had a positive impact on their day-to-day productivity and profitability.
What's even better is that Microsoft now offers a free Microsoft Teams license, valid through January 21, 2021.
Claim your free Microsoft Teams copy from Infopulse and receive expert consultation on the best licensing option for your needs.
2. Cloud Technology
Cloud technologies are the second 'mortar' solution underpinning the new 'bricks' of remote operations. Microsoft Azure, AWS, and Google Cloud all reported a significant increase in usage patterns since the beginning of 2020.
The big boon of cloud computing is that this technology allows setting up a geography-agnostic, fully virtual, and secure space for data storage, exchanges, and seamless access. The aforementioned Office 365 and cloud-based ServiceNow are strategically replacing on-premises legacy applications to support more distributed, real-time operations.
Furthermore, SAP on Azure implementations are gaining faster traction in 2020 as enterprises recognize the increased need for real-time data access, collaboration, and remote management. Apart from innovating the legacy SAP installations, market leaders are also treating SAP cloud migration as an opportunity to innovate and pursue a host of digital transformations initiatives, aimed at improving teams' productivity, ensure business continuity and increase overall business resilience.
Learn more about the benefits of running SAP on Azure.
3. Automation (RPA)
RPA (robotic process automation) has proved to have multiple benefits across industries. Non-invasive in nature, RPA algorithms have relatively low implementational and learning curves, plus short-term return on investments – different industries report an ROI of 30% to 200% within the first year of adoption. Considering that most businesses are now under pressure to save on costs, the latter is particularly beneficial if you are building your COVID-19 business survival kit.
Such algorithms can take over repetitive, mundane tasks and help your remote teams hit a new plateau of productivity. Employees at New York Foundling, a social services provider, recently adopted a new RPA solution for automating data entry work that had previously been done manually by all employees. Post-adoption, the organization reclaimed some 100,000 work hours and reduced the employee churn by 40%.
The healthcare industry also capitalized on intelligent automation during the COVID-19 crisis. Mater Hospital in Dublin, Ireland, recognized early on that without automation their already overworked nurses and supporting personnel would simply drown in mounting admissions paperwork. At the beginning of the crisis, the hospital partnered with UiPath – an enterprise RPA platform – to develop a custom robot for augmenting the team's capabilities, especially in regards to conducting infections tests and receiving results on time. By switching to automation, the frontline nurses no longer had to spend hours on inputting data and could focus more on their core duties – delivering patient care. As WSJ reports, after the successful test run, more Irish hospitals are planning to adopt the same robot for automation.
RPA also had a revolutionary impact on the financial sector, both pre- and during COVID-19. Leading banks are relying on ML and AI-powered algorithms to:
Streamline loan applications and approvals
Augment the mortgage application process
Scale customer support
And, in general, ensure higher back-office efficiency.
Learn more about how Infopulse can help you augment your operations with RPA.
4. Security Solutions
Remote workplaces put a greater security toll on your operations. While the cloud technology, per se, is highly secure, negligence and lack of proper control mechanisms set at your end can lead to dire consequences.
Phishing attacks, in particular, have been on the rise since the beginning of the pandemic as Verizon reports. Additionally, remote work has increased the cybersecurity risks associated with the use of:
Unprotected home and public Wi-Fi networks
At-home devices that were not vetted by security specialists
Weak passwords for at-home router security
As a result, cybersecurity departments are now under higher pressure to protect larger, more distributed business and technology operations, spanning over multiple personal devices and networks.
Now the good news is that setting up a bullet-proof enterprise security fence is a manageable task, even remotely. Thanks to an array of innovative security approaches (that we covered extensively in our eBook), powered by real-time analytics and monitoring, proactive access management, predictive threat detection, and AI-driven anomaly detection, companies can launch new comprehensive security initiatives even on short notice.
When it comes to remote work, in particular, focus on:
Conducting regular data audits to ensure proper data processing, storage, and compliance;
Implementing remote access control and proper configurations for all cloud-based applications;
Assessing new RPA and AI/ML-powered solutions for threat modeling and prevention, rather than detection;
Deploying static code scanning (SAST) and dynamic binary scanning (DAST) at the development stage;
Adopting new vulnerability monitoring and security incident management solutions to provide a real-time view of the threats landscape.
Learn more about the four pillars of enterprise security from our whitepaper.
5. Big Data and Analytics
Data is the new bloodline for businesses, and at the same time – a crucial security responsibility. Distributed operations and cloud adoption are majorly changing the scope, volume, and regularity of sensitive data exchanges. Protecting those exchanges against cyber-breaches and non-compliance is mission-critical for enterprises.
Beyond that, big data analytics and real-time business intelligence, per se, have further gained operational prominence during the pandemic. According to a Burtch Works survey, 43% of organizations state that analytics has been the key enabler for decision-making during the COVID-19 crisis. Some of the common use cases of big data analytics included:
Assessing supply chain disruptions effects and rerouting planning
Speech, text and sentiment analysis to gauge customers' concerns regarding COVID-19
Using new COVID-related data points to marketing attribution models
Market simulation and based on the latest COVID-19 impact data
Assessment of the financial impact of the crisis
As we are gradually preparing for reopenings, real-time data intelligence will keep occupying the centerpiece spot in COVID-19 business continuity planning. After all, without viable insights, based on the latest market changes, few corporations will be able to form a realistic post-COVID-19 business strategy at least for the short-term.
Pre-pandemic, Infopulse helped several of our clients gain an upper hand in decision-making with new-gen analytics solutions. We helped a Big 4 consulting company implement a predictive finance planning solution on SAP HANA that drastically reduced the risks of non-compliance and improved staff efficiency. Also, we assisted Gorenje with the implementation of a real-time data analytics system for processing sales and marketing data.
Refer to our earlier blog posts to further assess how your company can benefit from real-time BI and predictive analytics solutions:
To Conclude
The impact of the COVID-19 crisis will be far-reaching and will vary at both the company- and industry-levels. While it's hard to predict how and when markets will recover, one thing is certain: every slowdown comes to an end. Companies, recognizing that we are not returning to the previous zero state, are already taking proactive steps towards adapting and reinventing their core operations with new technologies. The question is whether your company will emerge from this crisis at the foothold of innovation.
Get in touch with Infopulse to receive further strategic guidance on navigating the tech side of post-pandemic business transformations.