Article
Navigating the Landscape of Best ERP Systems: Microsoft, SAP, Oracle, Sage, and Salesforcee
Originally published: August 17, 2023
Updated: August 17, 2023
10 min. read
Data & Analytics
Digital Transformation
Business Applications
The advantages of enterprise resource planning (ERP) software are widely recognized. Having a centralized database, such a system provides an organization with an integrated and constantly updated picture of all core business processes. As information flows back and forth, data can be easily shared among all departments, making coordination far more efficient. The demand for ERP constantly grows – by 2027, the market for enterprise resource planning is anticipated to
exceed $49.5 billion
.
What Are ERP Systems?
What exactly is an ERP system, and why did it become integral to large enterprises and SMBs alike? An ERP originates from an MRP or material resource planning system that many manufacturers used back in the 1990s to balance supply and demand processes, such as managing and tracking orders, raw materials stock, etc.
With time MRP has evolved into a more sophisticated solution encompassing all facets of business, from procurement, finance, and warehouse management to human resources. Simply put, ERPs integrate many, if not all, business processes into a single system to provide a common workflow within the entire organization. It also enables a unified data set for more transparency, efficiency, and collaboration across multiple departments – which are the main benefits of ERP systems.
Typically, ERP systems run on a myriad of hardware and network configurations, via a database and repository. They allow integrating all these processes in one place. Basically, the key to an effective ERP system is the seamless integration of all the company's modules into a single structure. Among common ERP modules are:
Procurement: Supplier relationship management (SRM), when coordinated with production management, can result in greater efficiency and cost savings.
Production: ERP can help in planning the manufacturing process, having the right resources at the right time, and ensuring that the distribution process meets its goals.
Distribution: Controlling warehouse processes and the movement of goods to customers as efficiently as possible.
Accounting: Automating financial operations with other departments will allow real-time updates and insights, as well as ensuring regulatory compliance.
HR: Keeping a complete database of all employees, and coordinating departmental needs to best utilize current work force and determine where new needs may be. And all of this is coordinated with accounting as well.
CRM: A good ERP system will maintain all customer information and monitor relationships.
Sales: Coordinating all functions related to receiving orders, scheduling order fulfillment with production and distribution, as well as invoicing in coordination with accounting.
A recent research found that the most required modules by companies who adopt ERP are: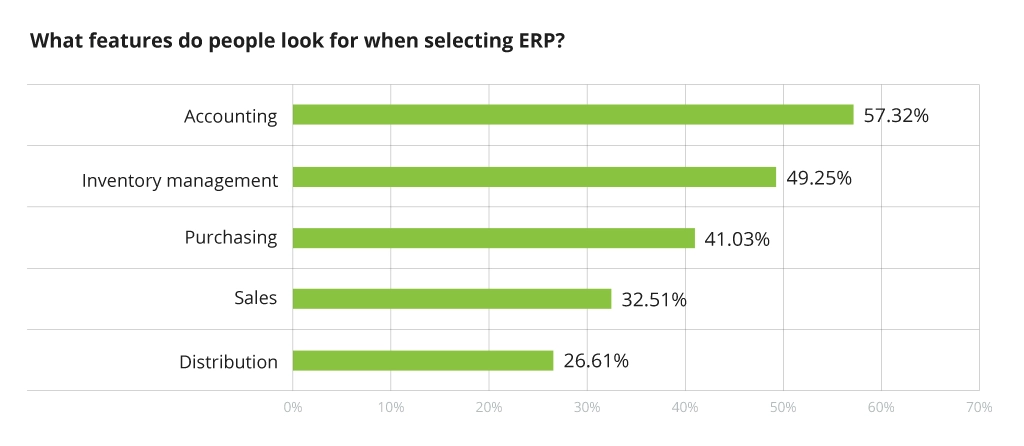 Obviously, there are other processes that are often placed within an ERP system, based upon unique organizational needs. For example, a healthcare enterprise will have a component that relates to regulations and HIPAA requirements. A bank will have far different components, based upon its regulatory environment. Among the top-tier ERP providers, there is room for that customization, depending on an organization's requirements and needs.
Top 5 ERP Systems: Microsoft Dynamics 365, SAP, Oracle, Sage, and Salesforce
Regarding ERP system types, today many large enterprises continue to maintain an in-house system, though that percentage is falling. The most recent report released by ERP consulting firm Panorama, shows that 65% of businesses and enterprises that have moved into ERP technologies, are using cloud solutions, and only 35% remain with an in-house system. The benefits of cloud ERP for small and mid-sized companies are obvious – cost and agility. Cloud versions typically cost less than on-premise systems because they require fewer resources from IT departments to maintain and update.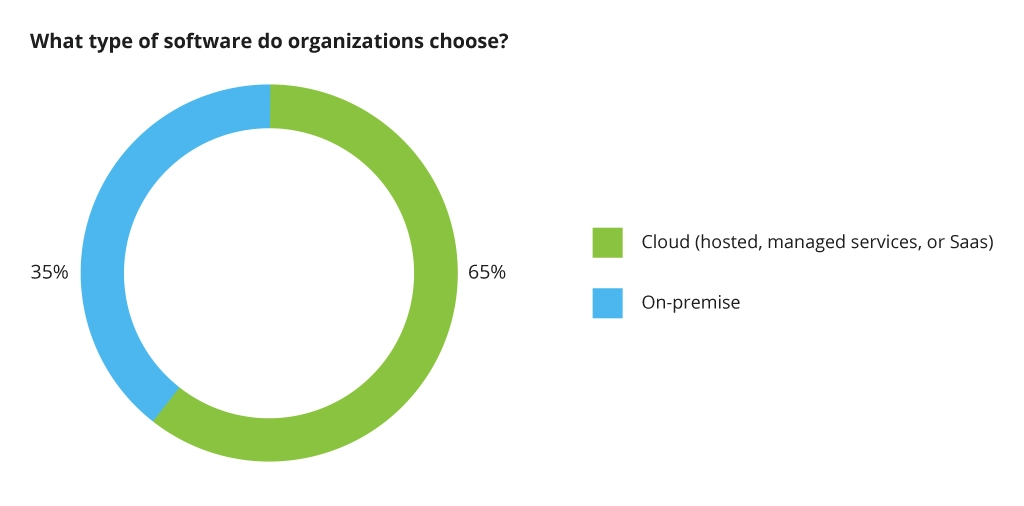 However, costs are not the only factor to consider when choosing the right ERP system for your business. Our team benchmarked the top five ERP providers based on the popular assessment criteria for software: functionality, cost of ownership, and ease of implementation and integration. We've considered the most popular cloud ERP systems examples, which are Microsoft Dynamics 365, SAP, Oracle, Sage, and Salesforce.
Microsoft Dynamics 365
Microsoft Dynamics 365 is a cloud-based business management and sales suite offering an integrated set of applications for companies of all sizes.
Dynamics 365 is a complete business suite that provides you with everything you need to run your business — from accounting and finance to HR and marketing, it has everything covered. Plus, it is backed by Microsoft's world-class support team so you can always get help when you need it most.
Functionality: In addition to ERP functions like sales tracking and inventory management, Microsoft Dynamics 365 also comes with a ready-made customer relationship management system that can be linked with your existing CRM software. It takes minutes for the setup process, and this will save you lots of time while making new acquaintances in the business world.
Cost of ownership: Dynamics 365 comes with an affordable price tag and offers high-end features at an a considerable price. This makes it one of the most cost-effective business solutions available in the market today. It is reported that using Dynamics 365 has resulted in a 7% savings in TCO.
Panorama's 2023 Clash of the Titans report, which compares the best ERP system solutions, gives the following figures of ERP implementation cost: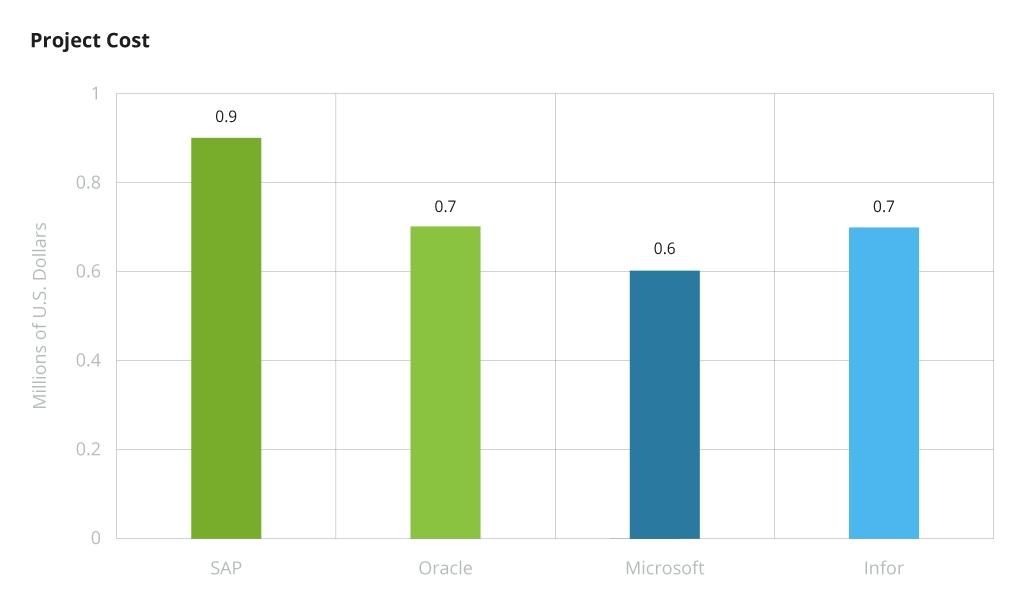 Ease of integration and implementation: Dynamics 365 has a robust set of APIs that allow you to integrate your existing systems with the platform seamlessly. Dynamics 365 works well with Microsoft Azure, which is used by over 90% of the Fortune 500 companies and thousands of smaller businesses around the world. Azure is a one-stop-shop cloud platform, offering not just superior encryption and security but also artificial intelligence and machine learning to help you run your cloud business.
Infopulse is a leading Microsoft services provider with deep expertise in both transformative solutions and Microsoft consulting services. As a recognition of the company's proficiency with Microsoft's cloud platform, Infopulse is a designated Microsoft Azure Expert Managed Service Provider (MSP) status.
SAP ERP System
SAP S/4HANA is a single, unified SAP ERP system that has been optimized for the cloud. It combines the power of SAP HANA with the flexibility of a cloud-based solution.
SAP has been a major player in enterprise software over the years and has gained much popularity with its ERP solution known as S/4HANA. It provides world-class software solutions that cover all business needs including business intelligence, customer relationship management, supply chain management, etc.
SAP ERP system is built on a high-performance, enterprise-wide architecture. The platform offers a comprehensive set of best practices that can be quickly adopted by companies of all sizes and industries. SAP solutions also offer customers access to thousands of industry-specific solutions developed by SAP and its partners, helping them grow their business faster.
Functionality: SAP ERP system offers a wide range of modules and submodules to facilitate different aspects of your organization's operations. Some commonly used modules in this software include Finance and Controlling (FICO), Supply Chain Management (SCM), Human Capital Management (HCM), Customer Relationship Management (CRM) and Product Lifecycle Management (PLM).
Cost of ownership: SAP, at first glance, seems to be in the middle of the road as far as initial cost. What brings the costs up are the customizations that are usually unavoidable.
Ease of integration and implementation: SAP implementations generally go smoothly. One of the biggest reasons for this is that SAP built its own system and added its own features and upgrades in-house. While the product is packed with great functionality, if your company wants to incorporate any custom third-party applications or customize the standard setup, you will have to proactively reach out to the company and pay extra for those.
Besides, since SAP is a huge system, its implementation can be lengthy. To ease this, companies need to carefully assess their needs for every module and perhaps eliminate those they do not need. Infopulse assisted one of the largest mining and energy companies in Central Asia in assessing their needs and implementing ERP at a reasonable cost, which improved the company's resource planning processes dramatically. Generally, With SAP S/4 HANA, businesses can implement far-reaching changes to their operational procedures and leverage cutting-edge technological advances to gain a competitive edge.
Case in point. Infopulse built an integrated SAP S/4HANA platform for a multinational agro-industrial conglomerate, giving its 300+ users access to a wide variety of resources for efficient business administration. The integrated solution enabled a swift re-engineering of the company's business processes while also facilitating a smooth transition away from outdated systems and the standardization of master data.
The significance of this migration achievement is amplified by the fact that this project has created the groundwork for the business transformation of the entire holding via the eventual adoption of the SAP S/4HANA platform.
Oracle ERP System
Oracle ERP is a comprehensive suite of enterprise-class software applications that can be integrated to meet the needs of cross-industry organizations.
Oracle's ERP solution is designed to meet the needs of large organizations with complex business processes. It provides an integrated approach to managing all aspects of your business operations. Currently, Oracle's ERP system continues to lead the market with a 5.78% market share.
Functionality: The software offers a wide range of functionality, such as financial management, supply chain management, customer relationship management (CRM), human resources management (HRM), manufacturing, project and portfolio management (PPM), and customer service. According to the Enterprise Resource Planning Data Quadrant report, 82% of users are highly satisfied with the breadth of features of Oracle solutions.
Cost of ownership: Oracle has grown its rich ERP functionality by also acquiring solutions from such high-end providers – NetSuite, MICROS, and PeopleSoft, just to name a few. While this has resulted in premier ERP software, it has also made it an expensive solution, but still affordable. For instance, the total cost of ownership for the average SAP client accounts for 4% of that company's annual revenue, while the comparable figure of TCO for the average Oracle client is only 1.7% of its revenue.
Ease of integration and implementation: The system allows for greater flexibility in integrating different modules and solutions (including third-party systems), as well as their implementation. Oracle Cloud ERP integration adapters allow enterprises to seamlessly integrate on-premises or third-party SaaS applications with Oracle Cloud ERP. Typically, the ERP system from Oracle can take a long time to implement, however, the average time to implement Oracle is lower compared to other systems: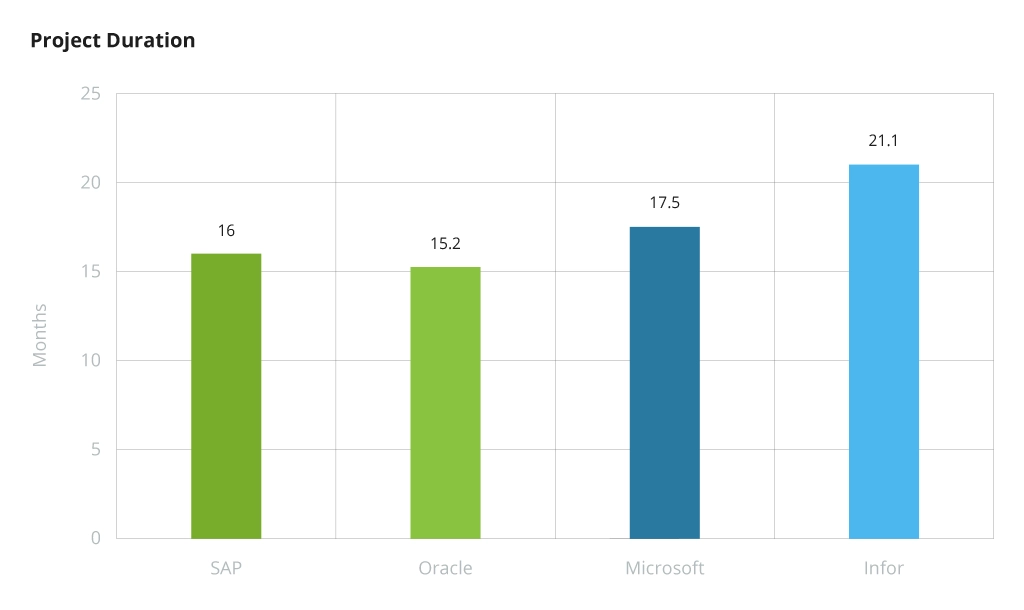 Sage
Sage ERP is a suite of business management software that helps you track and manage your business resources.
Decades after coming into the market, Sage continues to be a favorite choice for accountants and CPAs. It offers everything you need from ERP system software in one place. The user-friendly interface design allows even those who do not have much experience with ERP systems to easily use it. Sage is also mentioned in the 2023 Top ERP Systems Report for companies across industries looking to upgrade their corporate software.
Sage is an ideal choice for small businesses that are looking to upgrade their financial management processes as well as store sensitive client data on a long-term basis. The software can be customized to suit your business needs, with many options available for customization.
Functionality: Sage ERP solution covers all aspects of a company's operations. It can be used to manage the financials, sales, purchasing, and production processes in one single system.
Cost of ownership: Although Sage ERP has many benefits, it can be costly to implement and maintain. The cost of installing Sage depends on your hardware configuration. If you use Sage's recommended hardware configurations, the installation will only cost less per server. Additional costs may apply if you need additional hardware or have special requirements such as firewalls or load balancers in place already that must be integrated with Sage.
Ease of integration and implementation: Sage ERP is easy to integrate and implement. It is flexible, scalable, and can be configured to meet your specific needs. Also, Sage ERP has a large ecosystem of partners who can help you implement your ERP software efficiently.
Sage ERP has been implemented in thousands of businesses across all industries. You can find Sage ERP implementations in small companies with fewer than 50 employees as well as large corporations with thousands of employees.
Another important thing to note about Sage ERP is its ease of deployment. Sage ERP is available in a variety of different formats, including cloud-based options, which makes it easy to set up and run the software on any device you choose.
Overall, ERP adoption typically comes with challenges — a large percentage of ERP implementations end in failure; in fact, 38% of companies report having suffered a "serious failure" when attempting to adopt their ERP system. According to the statistics, the primary causes of ERP failure include:
ongoing integration challenges (27%)
lack of scalability and flexibility (25%)
poor fit for a retail brand (17%)
lack of professional installation consultants to help steer the process (15%).
Nevertheless, these barriers are easily surmounted with the assistance of a professional IT services provider.
Salesforce CRM
Contrary to popular belief, Salesforce is not an enterprise resource planning system. Salesforce does not offer an ERP package directly, but rather a number of business solutions that can be integrated with and bolster existing ERP systems. Salesforce's Customer 360 CRM is the company's backbone and one of the most popular CRM software in the world. Salesforce is a CRM industry giant, holding about 23% of the market. Any of the aforementioned ERPs in this article can be seamlessly connected with this product.
It is a true all-rounder when it comes to marketing software offering tools for social media management, email marketing, website creation and maintenance, analytics, etc.
Salesforce is used by some of the biggest brands in the world including Adobe, IBM, Microsoft, and Oracle. It is a popular choice for businesses of all sizes, but it is especially well-suited for small and medium-sized businesses.
Functionality: Salesforce comes with a wide range of functionalities that can be used for different business needs. It offers services like marketing automation, lead management, and analytics that can be used to improve productivity and customer experience.
Cost of ownership: Salesforce is subscription-based, so you only have to pay for what you use. There are no upfront costs or long-term contracts required. This makes Salesforce ERP an affordable option for small businesses and startups.
The cost of ownership of Salesforce ERP also depends on several factors, such as the type of subscription you choose (subscription or paid license), the number of users you have, etc.
Ease of integration and implementation: Salesforce ERP has a simple implementation process, which can be completed in less than a week. Salesforce ERP integration and implementation are simple as they come with preconfigured connectors that allow users to connect to other systems through APIs or web services. Salesforce ERP also offers pre-built applications, which can be customized as per the business requirements of your organization.
To sum up, it is just a matter of analyzing your business requirements to make the correct decision regarding which ERP system or CRM solution to use in your company. If you are planning on switching from one system to another though, it is recommended that you consult an expert first before making any decisions about any changes in the workflow of your company.
Final Thoughts
ERP selection is very similar to automobile selection. All consumers have different requirements and preferences. Some want all the available bells and whistles; at the other extreme are those who want just the basics; some need large vans or station wagons because of their family sizes. Still, others have no need for a car at all because they can use public transportation. Business needs vary just as much.
Here are a few questions to answer when choosing your solution:
What are the primary business benefits of an ERP system you look at and how will they impact your organization? Research, compare, and explore your options, whether on-premises or in the cloud.
Also, what does a company need to consider when deciding whether to install an ERP system or not? Here you are more likely to benefit from a service provider consultation that will guide you through potential challenges of an ERP implementation or migration.
Begin your journey by identifying exactly what you want your ERP software to do. Conduct some research, read the reviews, and have discussions with those who have made your shortlist. Like every other change in an organization, it must be carefully planned, and everyone needs to be prepared for the transition. It will take time, money, and patience, but in the end, you may have just the system that is going to save you money and time and allow your business to operate in an efficient and cost-effective manner.
Infopulse is a certified technology partner of such leading ERP solution providers as Microsoft, SAP, and Oracle.