Article
Addressing OTT Pitfalls: Key Strategies Telcos and MNOs Should Introduce
Originally published: August 06, 2019
Updated: December 29, 2022
11 min. read
Digital Transformation
While traditional
telecom service providers
are battling for churning customers, OTT services keep growing their customer bases and revenues steadily all around the globe. In fact, by 2022, as many as
55.1 million people
will have cut the cord and no longer watch Pay-TV.
OTT is here to stay, and incumbent service providers are now considering different approaches to maximize their revenue while gaining and retaining more customers.
What is Over-the-top (OTT) Model?
OTT (i.e. over-the-top) is the new term, used to describe the delivery of entertainment content via the Internet without requiring viewers to subscribe to a traditional cable or satellite pay-TV service.
Popular OTT streaming services like Amazon, Netflix, Hulu, YouTube and other platforms have been steadily taking over what used to be the traditional telecom value-added services domain – TV shows and movie streaming. So much so that in 2018, only 19% of consumers in the US state they are "in a committed partnership" with their cable/satellite service. What's even more staggering is that only 67% of survey participants still remain pay TV-subscribers, down from 73% in 2017.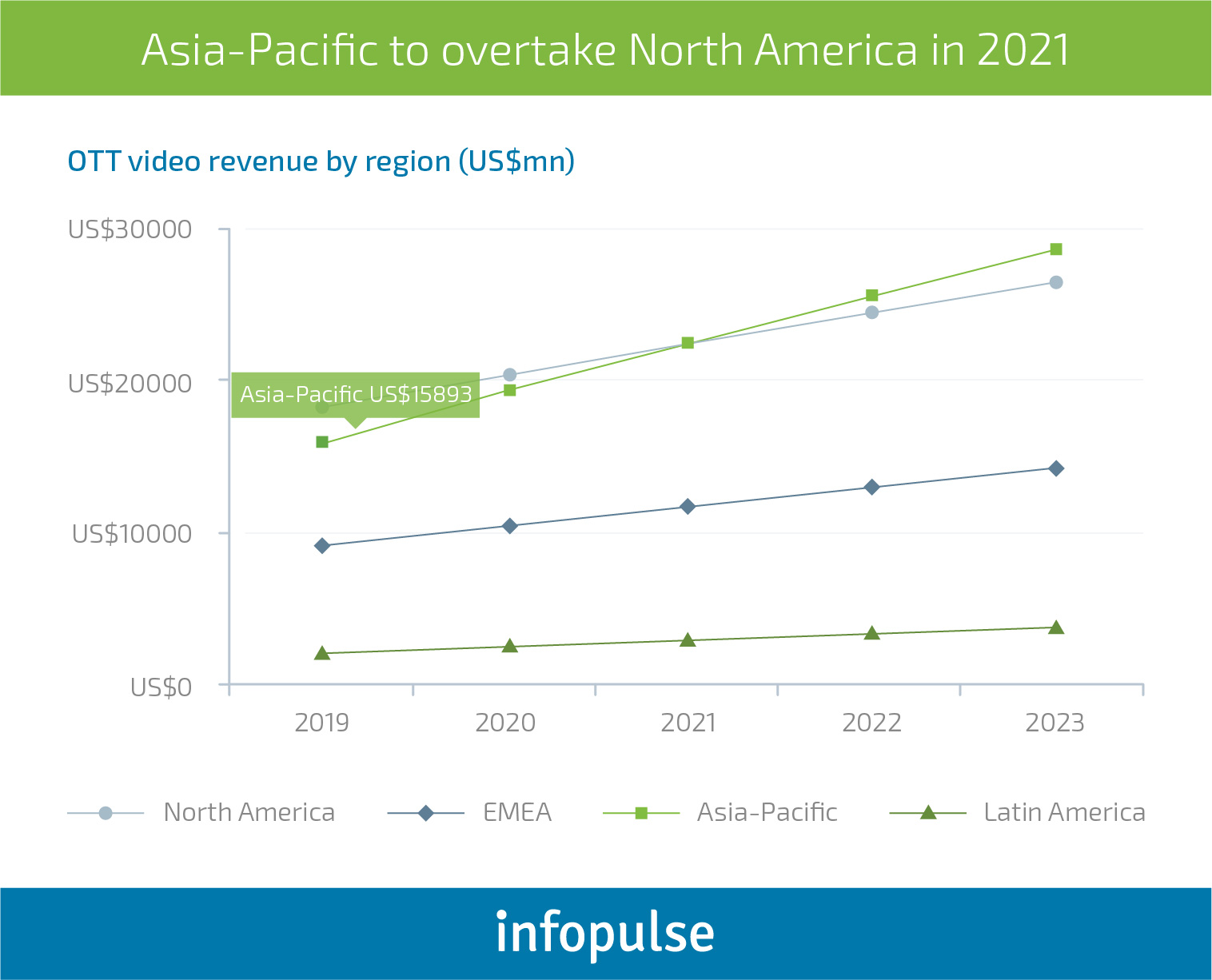 Furthermore, it's not just pay-TV services that are endangered. OTT platforms are cannibalizing text and VoIP as well, luring customers with free voice, video and messaging functionality. Beyond the "free" cost, such digital-savvy OTT companies are also offering way more innovative value-added services to complement their communication services. Such value-added approach definitely pays off. In 2011, messaging, fixed voice, and mobile voice services offered by OTT companies accounted for 9%, 11%, and 2% of revenue respectively, per McKinsey. In 2018, the numbers increased to approximately 60, 50, and 25 percent, respectively.
Some tech companies are pushing even further, pitching carrier-neutral connectivity deals such as e-SIMs to their users. Such options allow a user to effortlessly change between operators, taking some telecom providers out of the revenue equation.
Why are Over-the-Top Services Booming?
In 2018, OTT video revenues amounted to 18.6% of the global TV subscription revenue. By 2023, they can increase to 35.4%, surpassing $72 billion according to PwC 2019 Industry Outlook report. Such rapid overtake is taking place due to several combined factors.
For one, Millennials and Gen Z – the two digitally-driven power forces – came to the front as the largest consumer segment. Both of the demographics primarily opt for digital content. On average, Gen Zs spend 11.4 hours per day consuming digital content, while Millennials average at 10.8 hours per Adobe's Brand Content Survey. They also favor multi-platform experience with 25% of Millennials using three or more devices at once – a 130% increase year over year (YoY). OTT platforms organically integrate into these consumption patterns, making information readily and seamlessly available through various mediums.
Secondly, the price factor played a major role too. OTT providers pioneered with super affordable plans for accessing an unlimited amount of content (without the annoying ads). Streaming services like Netflix, Hulu, and HBO Live average at around $10-15 per month, while traditional pay-TV packages can come in the $50-100 range.
Thirdly, a lot of the leading OTT providers capitalized on their existing audiences to expand their ecosystem of value-added services. Apple had a hefty base of die-hard brand fans, ready to explore any new service heading their way. Amazon had an even bigger pool of clients who could be upsold with a streaming subscription. These giants managed to capitalize on their existing audiences and pitch the right new offer at the right time. That is exactly when live-streaming content was starting to get traction.
Finally, the rise of OTT was fueled by more large-scale changes, happening across industries. Cloud computing has paved a new way of delivering content and services over the Internet. Mobile and broadband plans have become faster and more affordable, allowing users to actually access and enjoy the content at the speed they like. The new fully digital business models have flourished, making consumers more comfortable and accustomed to spending their time (and money) online. The time consumers spend online while using communication and broadband services has been increasing at break-neck speed. To be precise, over the next decade, we'll be spending 63% more time online than we already do today.
Deloitte further explains how the value chains for telecom and media companies are changing is this short video overview:
5 Telecom Strategies to Reclaim the OTT Space
Is it too late for telecom and mobile network operators to reclaim lost grounds? Absolutely not. OTT broadcasting may have developed rapidly because they have solved the tech challenge of delivering programming over the web, but such players do not have the DNA to sell directly to the consumers. In this regard, telco and MNOs still hold a major competitive advantage.
Focusing on improved connectivity such as 5G and broadband access is one way for telcos to maintain a competitive edge and ensure growth opportunities in both B2B and B2C sectors. But a deeper level of change, especially when it comes to existing business models, is even more incremental to future success.
Below are several viable strategies illustrating how incumbent service providers can withstand, compete and even outpace the OTT vendors.
1. Place the Consumer at the Center of Your Operations
It's time to address the elephant in the room: customer experience in the telecom industry has been painfully lacking from the consumer perspective. From mediocre support to poor omnichannel experience – there are many areas where the bar could be set higher. Part of OTTs success was due to offering more streamlined and merely delightful onboarding and sign-up experiences. Now, it's time to start addressing these areas and invest more resources into building superior digital touchpoints with your customers: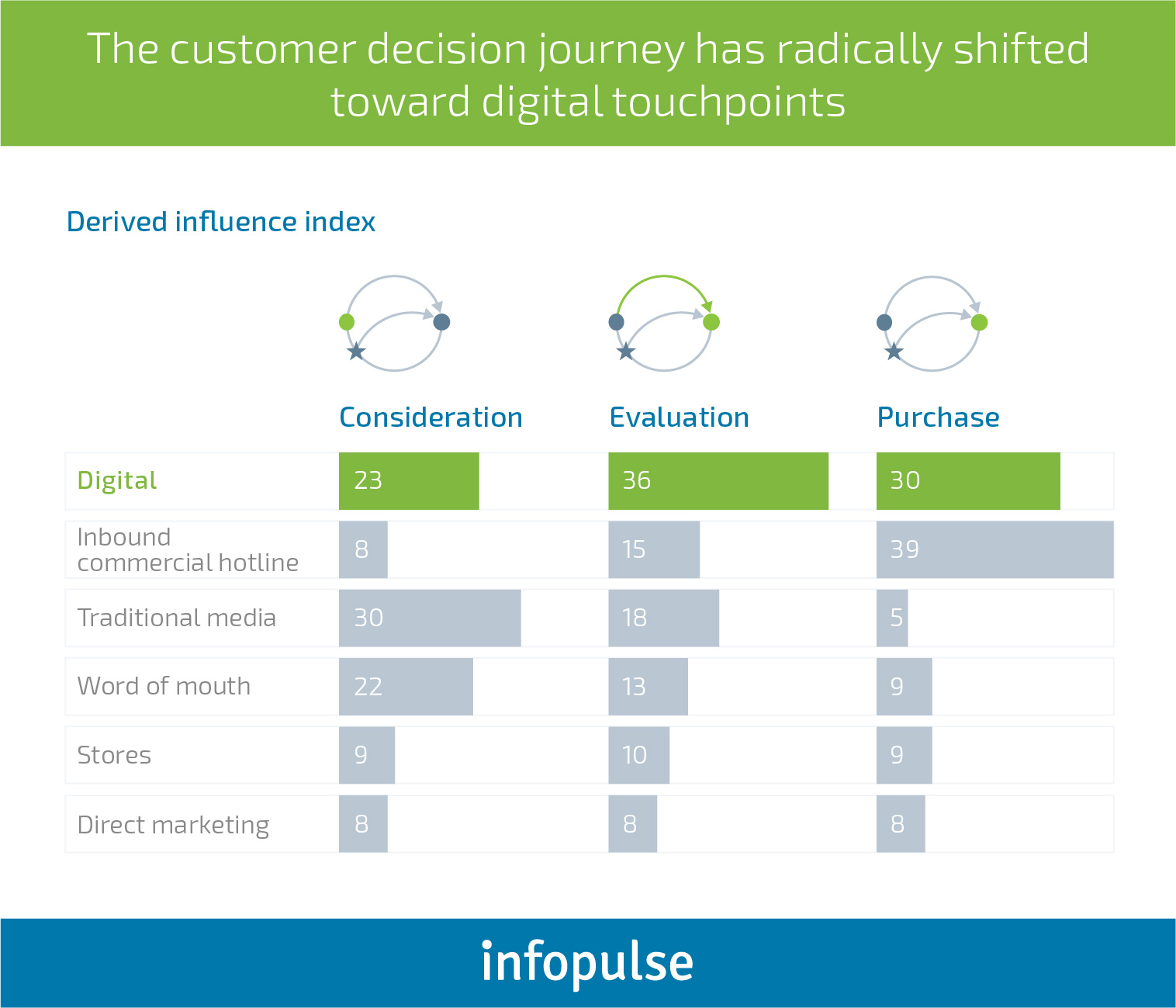 When it comes to services' delivery, especially programming, telecoms also have an advantage. A lot of consumers still opt for Pay-TV as a more convenient, user-friendly option. According to the PwC survey, 50% of OTT streaming services users say they would cancel their subscription if the service was overwhelming (offering too much content) or inconvenient (providing not enough ways to overcome poor discovery).
Working on more curated, personalized programming could help telecoms get ahead of the streaming services to some extent. Which brings us to the next point…
2. Consider Building Custom OTT Products
HBO Go is a prime example of how a traditional telecom provider can become a strong branded destination for content outside the traditional TV ecosystem. AT&T, owner of the HBO network, does not seem to stop just here. The company recently announced the launch of several other value-added products and services, including five new broadband-delivered OTT products. German Deutsche Telekom is also testing their smart speaker technology and plans to roll out an OTT TV service.
Pay-TV services, which do not have the capacity to switch to OTT delivery model yet, are testing another approach to mimic the "classic" OTTs. They are actively unbundling their subscription models to offer more flexible packages to their consumers:
British Sky recently introduced a contract-free bundle. Users can now choose different TV packages and combine them with broadband and phone data plan on a rolling basis.
Dutch Joyne pitches a low-cost mix of channels on a rolling monthly basis.
Mobile network operators are also exploring how they can hop on the OTT trend and create VAS services for younger consumers. For instance, T-Mobile US' Binge On launched the statewide trend of offering zero-rated video services delivered over cellular. This year, the UK's Three also launched a zero-rated content package, offering a mix of TV channels as well as OTT video and music subscription.
3. Partner, Not Compete with OTTs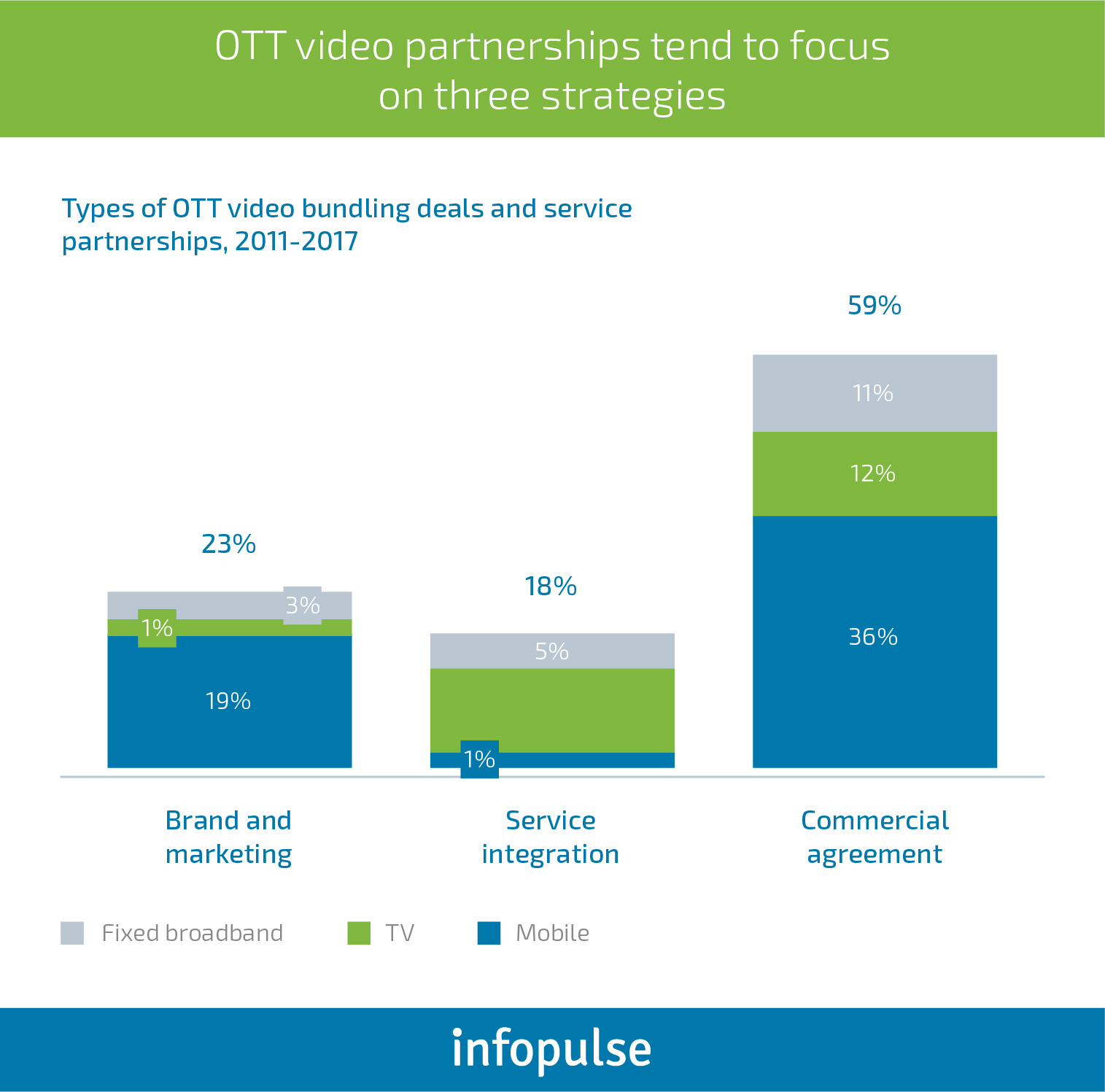 The OTT industry has enough space (and revenue) for both telecoms and the digital disruptors. Hence, some players are choosing the route of collaboration to expand their value chain instead of confrontation. Airtel has recently partnered with Amazon Prime, whereas Vodafone has signed on Netflix.
In fact, this route can be the most beneficial for all the parties involved as the consumers' say is clear on this: 51% wished they could pay one monthly fee and gain access to all the video content they watch, regardless of where it's published. Additionally, 50% hope that at some point all the programming they want will become available in one place.
4. Blockchain Can Have a Major Role in Consolidating Content from OTT Distributors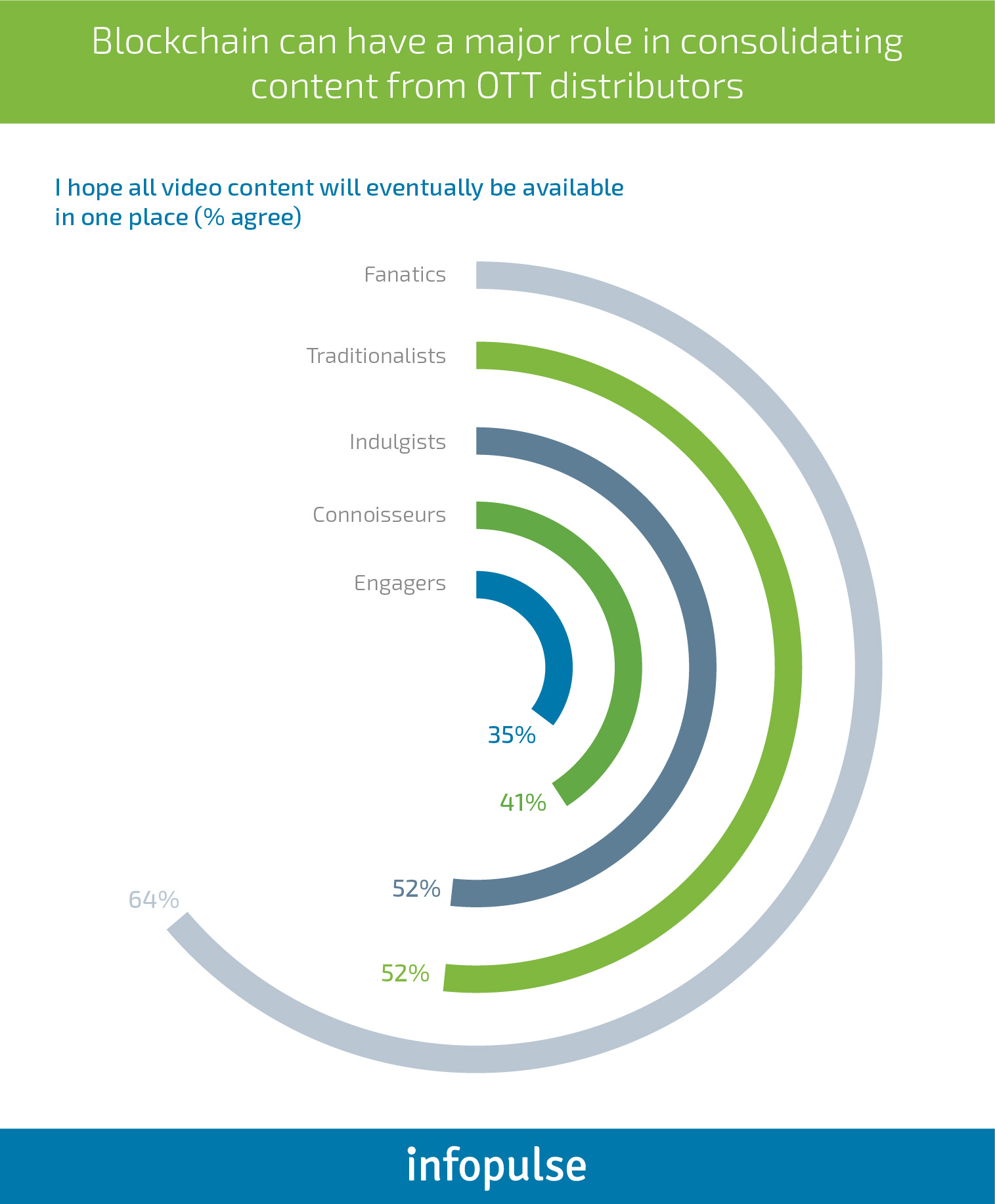 Different consumer segments have one universal demand – a universal viewing experience for all their favorite digital content. Blockchain is a strong technological contender to make that happen.
As a fully distributed, secure system, it could be used to simplify the management of payments, contractual terms and intellectual property rights that currently act as a major barrier for content consolidation. Settling payments via blockchain can also help telcos attract a more global crowd, including people who are underbanked/unbanked; or do not have access to any OTT application in their own country, and wish to watch international content. According to the PwC study , around 20% of US-based consumers are also interested in foreign TV shows and films. Blockchain can make the entire licensing and content delivery process much cheaper, more effective and inclusive.
Beyond that, there are several other promising use cases of blockchain that telecoms should consider.
5. Make 5G Your Competitive Advantage
The next-generation 5G communication standard is said to be the largest future growth driver for the network services providers. However, beyond capitalizing on the surge in connectivity demand, telecoms can also use 5G to devise new value-added services.
For instance, cloud gaming is becoming one of the new value-added services in telecom. It fact, it's predicted to make up for half of the 5G data traffic by 2022. Companies like Google, NVidia, Intel and Microsoft are now actively investing in this domain. Several savvy telcos have already joined forces with the tech giants in this regard. Verizon is said to be testing a Netflix-style cloud gaming service. Vodafone just unveiled its premium gaming platform earlier this month.
Conclusions
Over-the-Top video providers are already present in some 50 million households in the US alone. Nonetheless, they are not fully pushing away the traditional Pay-TV. Most often, the two options exist in a tight symbiosis, with consumers opting for both traditional services bundles, and OTT apps. Last year, at-home entertainment spending hit the record $23.3 billion.
So far, traditional telcos have been more reactive, rather than proactive with their response to OTT competition. Those who are taking a more proactive stance, are seeing a return on their investment. If you are yet to address the changing behaviors of your customers, now may be the right time to act.
Infopulse is a trusted software development partner to several major telecom players. Let's explore how we can help your company digitize your business model, reduce IT service delivery costs and adopt new technologies that will allow you to compete with digital-native OTT providers. Contact us today.