November 19, 2018 |
Telecom
|
Ganna Pyrogova
Reading time: 16 minutes
The battleground for customers has never been so competitive in the telecom industry. As voice and messaging businesses continue to diminish, and new over-the-top entrants such as Skype, Facebook and others cannibalize the staple offerings, telecom companies must take immediate action to remain competitive.
Customer experience is the top area where telcos can still differentiate themselves from the competitors. However, building a modern customer-centric experience is no simple task. It involves substantial operational, technological and HR changes.
This post shows how to improve customer experience in the telecom industry by investing in five technological areas, proven to improve customer engagement and satisfaction.
1. Upgrade Your Mobile Experience.
It's time to think about mobile apps beyond increased customer data services usage. Digital solutions have now become the prime customer gateway to obtaining services. In fact, the new generation of customers prefers digital-first experience rather than traditional offline one.
McKinsey has estimated that in Western Europe, &nbsp of service journeys in the telecom happened partially or entirely online.
New telecom market entrants are already fully digitized, offering novel telecom customer experience to match those shifting customer behaviors. Their investment in digital end-to-end operations pays off.
In January 2012, Free Mobile has disrupted the French telecom market with their web-first triple play commercial model. The company committed to 100% online sales since day one, offering highly competitive subscription deals – unlimited voice calls, texts, data and no roaming charges for €19.99 before tax.
In less than four years, Free Mobile amassed &nbsp and generated &nbsp for its parent company the Illiad. A digital-first marketing and distribution strategy has helped them to keep their operational costs low. Free Mobile also leveraged their sister company's Wi-Fi hotspot network that supported an EAP-SIM protocol. This has allowed them to reduce the costs of services delivery and its need for cellular capacity.
While your company may not be ready (yet) for a complete digital overhaul, you should at least consider introducing some telecommunication apps, tackling specific customer and business processes:
Telecom Customer Service App
Switching to e-care reduces the contact center operating expenses by 25-30% &nbsp. Online customer support can also lead to improved CX as 76% of telecom customers claim to be fully satisfied with their digital-only journeys versus a 57% satisfaction rate for traditional channels.
GiffGaff, a UK virtual network operator, has become the pioneer in e-care within the telecom industry. Their entire customer support staff rounds up to &nbsp, with 50% of customer queries being solved in less than 3 minutes. Their secret? An extensive self-help library and community, backed-up by a mobile app reward program for participation. GiffGaff rewards active community participants with special points that can be traded for airtime credit, cash or donated to a charity of their choice.
Sales Support App
This app can facilitate in-person sales processes by giving your teams instant access to the right tools and information. Such apps can combine two distinctive areas of functionality:
An internal dashboard that includes all the process information and sales procedures your sales team should follow when working with a prospect. It can also include sales forms that will allow your team to log data on the go and upload it to your central CRM. This way your agents won't waste time on double-handling the data.
A customer-facing area that gives a visual presentation of all your main offers; allows comparing your service plans, and guides the prospect further down the sales funnel.
KYC (Know-your-customer) Apps
Such apps can streamline the onboarding process for new customers, especially if your larger goal is to migrate towards a digital sales process. New customers can be directed to the app to choose their service plan, upload necessary ID documents for verification, add their payment details and track SIM card delivery. All the data will be automatically encrypted and securely transmitted to your central databases. Pairing a KYC app with a customer support app also reduces the hassle of verifying each prospect before offering them personalized support.
Disaster Management Apps
These applications can reduce the load on your contact centers at times of disruption. These can help you segment and prioritize different customer queries, and offer faster resolutions. Include a directory featuring relevant emergency contacts that could be dialed straight from the app. You can program dynamic contact information that will correspond to the users' location or the type of query.
Additionally, include a self-help section that will assist customers with less urgent issues such as:
Direct to the area with a stronger signal in remote locales.
Guide user towards the closest public network.
Test the current speed of the connection.
Select the best carrier and configuration for their specific location.
The best route to identify the key features for your mobile enterprise applications is to conduct a customer service gap analysis, using &nbsp (service quality gap model). The aim of this model is two-fold:
Identify current gaps between customer expectations and the actual services, offered at different stages of service delivery.
Close the gaps and improve overall customer service and experience.
This way you can launch a product that performs and delivers just the kind of service your customers expect to have.
2. Take Advantage of the Big Data and Predictive Analytics.
Telecom companies are in an interesting position. On one hand, they are already in possession of huge amounts of customer data, siloed in their systems. On the other hand, most players still struggle to operationalize and transform that data into meaningful insights.
Predictive analytics in telecom industry is yet to take off. But when it does, the payoffs can be massive, especially in terms of customer engagement and profitability. Consider just the following use cases:
Enhanced Customer Profiling
With the help of predictive analytics tools, telecommunication companies can transform the vast array of structured and unstructured data into 360 enriched customer profiles.
Think about the different data you can capture and attribute to individual users:
Customer Information Data

: customer ID, MSISDN, demographic, services used, spending pattern, usage plan, etc.

Usage Data

: CDR, VAS (value added services), average revenue, mobile Internet usage information.

Device Data

: brand, model, series, applications, technology used, device history.

Location Data

: current location, most visited location, roaming data, location services usage, etc.
By further applying customer segmentation analysis, customer value analysis and customer behavior analysis, your company can personalize your approach to every customer and determine the most valuable prospects on your list and highly-personalized offers to pitch to them.
Case in Point
SAS has &nbsp, Canada's modern mobile communications network, on a new predictive data analytics solution. The new algorithm estimates how likely certain customers will be to promote or detract the company's services to others. The new insights significantly improved Rogers' sales team performance.
Additionally, using the collected data, the company customized voice call scripts to suit customer's issues more precisely and personalized support on social media networks. As a result, Rogers lowered customer complaints by 53% in the last year alone.
Behavior-based Customer Insights
&nbsp CEOs name customer insights as their most critical investment area. Think about it: algorithms can be leveraged to forecast possible "churn" rates, identify at-risk prospects and send your team to take immediate action. For instance, one telecom company has leveraged an ML-model that paired sociodemographic data, information on customer touchpoints (e.g., customer service, social media) and data on network usage to identify churning and/or non-paying customers in real-time. By taking further proactive action, they have managed to reduce churn by three percentage points and to &nbsp.
Marketing Mix Modeling
With the right data and algorithms in place, your company can precisely estimate the ROI of various marketing activities and predict customer response to different types of advertising. Linear regression models can be used to analyze the impact of different marketing campaigns on sales numbers and simulate different what-if scenarios prior to execution. This way you can identify and prioritize marketing spending on channels that offer better ROI and reduce overall budget waste.
Customer Sentiment Analysis
Lack of customer care leads directly to churn and reduced profits. Telecom companies, unfortunately, do not ace in this case. If you want to strengthen your brand, you will need to create new mechanisms for engaging with customers online. Sentiment analysis allows you to automatically capture and segment all customer conversations happening on social media and uncover new levers that can have a significant impact on your business.
Crimson Hexagon has shared &nbsp on how AT&T has managed to give a fresh start to their conversation with consumers on Twitter. The company has switched gears and began offering more proactive support on social media and speaking directly to new customers – 60% of their messages kept the focus on that.
Consumers' interactions with the brand have also changed. Opinions posted online have become less polarized (45% decrease registered in negative conversation) and more general (42% increase in neutral conversation).
You can take even further control over the sentiment around your brand by utilizing customer impact analysis and assessment models. In this case, your team can forecast how a proposed change (say to a data plan) will alter consumer behaviors and their sentiment; what effect will it have on the revenue and how the overall customer experience will be altered.
Unlock New Monetization Opportunities
Big data as a Service is gaining rapid traction. Delight your customers with additional BI services built on top of your big data analytics powerhouse. One of our clients, BICS, realized that a system capable to analyze over 2 billion records can help more than one business to succeed. So they have launched a &nbsp that helps their clients receive a 360-view of their roaming traffic performance, gain more insights into usage, revenue and behavior patterns and improve their CX and service quality.
3. Invest in a Voice of Customer Program.
Telecom consumers are hard to impress over the long term. According to&nbsp, user satisfaction with a provided line of services decreases universally at one year mark and onward. The same thing occurs with a customer's likelihood to recommend their provider: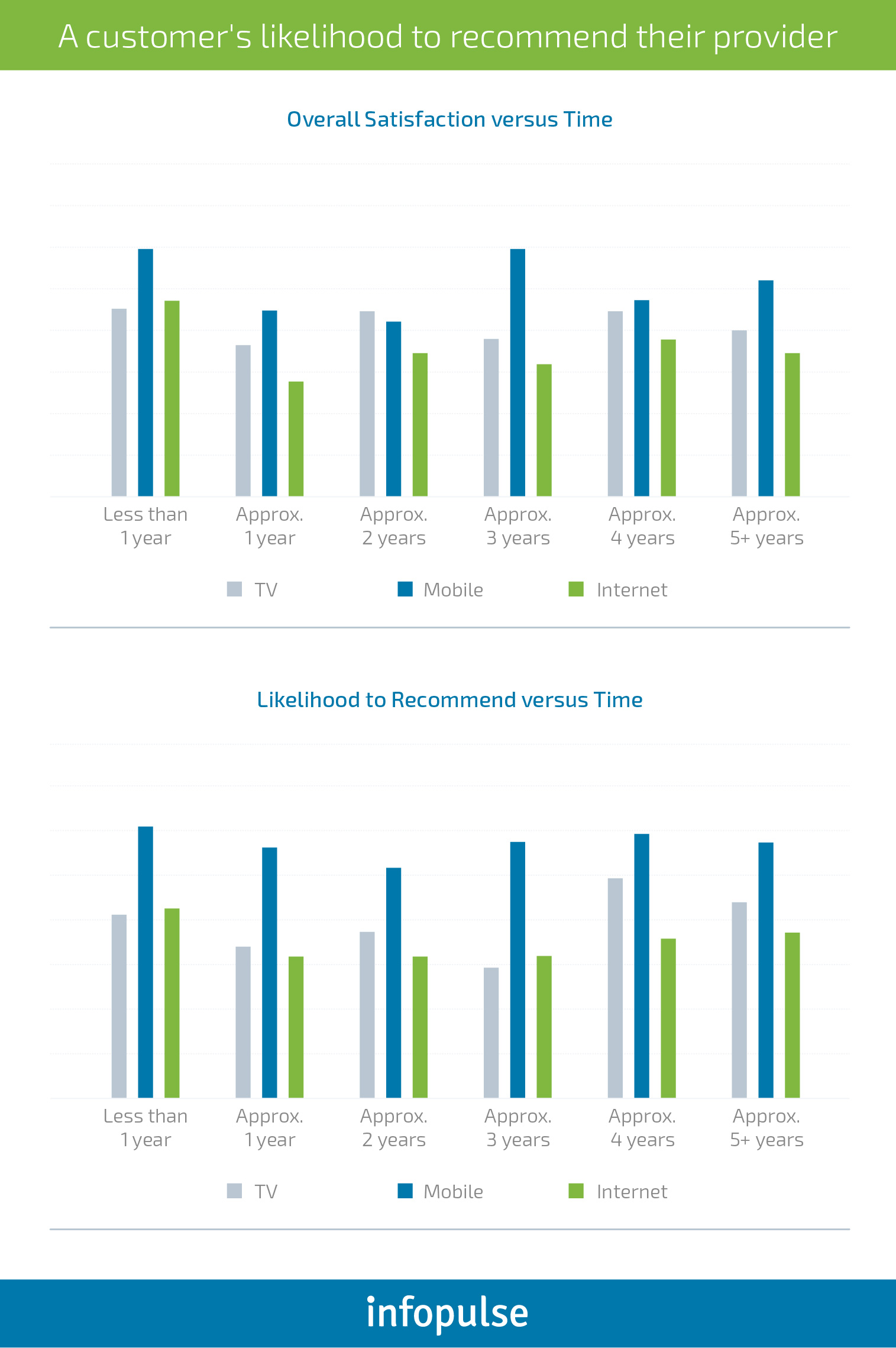 The current churn rates in the telecom industry are &nbsp:
Average churn rate is 1.9% across top four carriers in the US (AT&T, Verizon, T-Mobile, and Sprint).
Lost revenue from churned customer is $1,117 (33 months x $34).
Monthly loss from the churn, per carrier, is $65M.
Clearly, retaining customers over the first year of service is crucial. To succeed, you will need to become more proactive with customer outreach, invest in better customer analysis solutions and adopt a wide-scale VoC program.
The Voice of Customer stands for the process of capturing and analyzing all the information your customers are saying about your business and products and applying the new insights to improve the overall customer experience in the telecom industry.
Companies with established VoC initiatives achieve the &nbsp:
Experience 48.2% annual revenue growth.
Have a 55% higher client retention rate.
Decrease customer service costs by 23.6% year over year.
VoC analytics can complement your customer path analysis and help you gain more insights into the motivation and needs of individual customers and specific segments. This data can help you pinpoint the most crucial areas for service improvement such as:
Customer Experience
Assess customers' level of satisfaction at different touchpoints, their reasons for engaging with your website or customer support team and estimate their probability to churn.
Case in Point
A few years ago, Hong Kong engineers needed at least three hours to locate and fix a network fault. Such outage negatively impacted the satisfaction of large corporate customers, operating in the finance niche and resulted in numerous complaints and switching.
&nbsp provider has invested in a new monitoring solution that reduced the response time to just 30 minutes. Whenever the system predicted an unavoidable outage, that provider notified customers in advance about the possible downtime and kept them in the loop on the fixes. As a result, the company managed to reduce complaints from high-revenue customers by 47% for 3G networks and 34% for 4G. Their churn rate dropped from double digits to just 1.5%.
Market and Competitive Intelligence
Understand what impacts consumers' buying behavior at different stages of their journey; capture how social, political and environmental trends impact buying patterns; learn what customers say about your competitors.
Product/Service Management
Accumulate feedback on new services plans and special sales offers; gain more visibility into price sensitivity of different customer segments; identify the best performing promo offers and determine when to "retire" certain offers.
4. Focus on Delivering Better Omnichannel Experience.
The growth of digital services means that it's no longer enough to optimize contact points individually. You have to create a synergic environment for your online/offline operations that will deliver consistent brand experience across different touchpoints.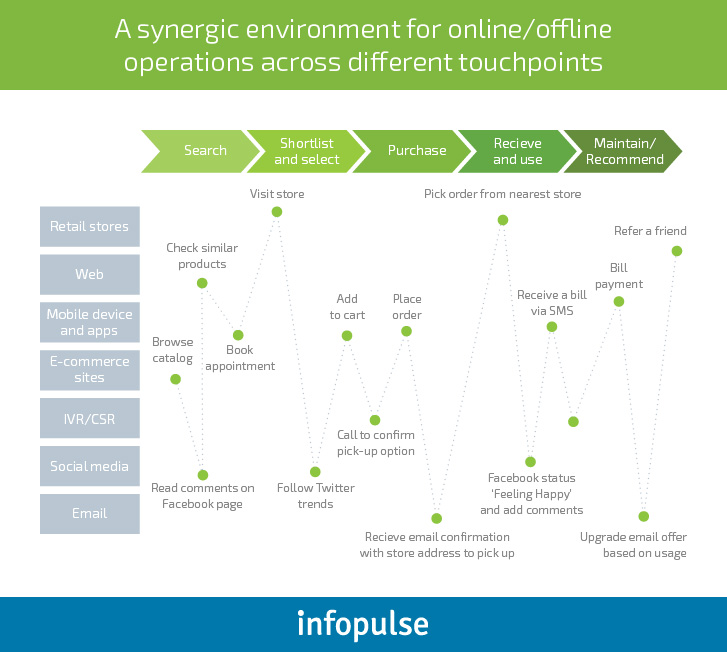 Image credit: &nbsp
A unified omnichannel experience requires careful orchestration. Start building your strategy using the next four technological pillars:
Unified Presentation Layer
Historically, most telecom applications were built with a siloed, monolith architecture. As a result, the look and "feel" of such applications is inconsistent, the navigation is confusing and the CX is inconsistent.
To address these issues, you can add a light unified UI presentation layer, developed with JQuery, Angular and Mustache and driven by a CMS (content management system). This way you can implement an on-brand strategy for all your applications and services. A unified UI will also add more clarity and reduce the number of support calls.
Unified Access to All Digital Services
Start transitioning towards a &nbsp that will allow you to improve and speed up the deployment of new digital services. E-commerce, self-help and other product components can be built as separate services, connected with one another using APIs. Additionally, you can leverage APIs from partner ecosystems to deliver location-based or preference-based offers for instance.
With the help of APIs, you can connect different assets (kiosks, smartphones, web, physical stores, tablets, IoT gadgets) into a unified ecosystem that serves as the backbone of your omnichannel strategy.
Unified Customer View
Having a single view of the customer is essential to reduce churn rates and consistently improve customer loyalty over time. You will need to assemble all the available data in unified customer profiles that could be leveraged by any team – support, sales, and marketing. There's a number of existing 360-degree view of the customer solutions on the market that could be integrated into your current setup. Or you can opt to develop such software from scratch to avoid vendor lock-in.
Big Data and Predictive Data Analytics
To enhance your omnichannel experience even further, you will need to collect and operationalize a huge amount of data coming from multiple sources. This way you can deploy further personalization at different touchpoints, identify common bottlenecks, capture and predict the outcomes of cross-channel marketing campaigns. You can also conduct customer profitability analysis for each of your channels to identify those with the highest ROI.
5. Improve Customer Service with AI-powered Chatbots.
Customer service chatbots offer a tantalizing opportunity for telcos: they can slash the contact center costs and improve CX at the same time. &nbsp, a conversational commerce platform that worked with Vodafone and T-mobile, estimated that chatbots can bring in 48% in cost savings for customer support.
In general, most customers already prefer to deal with support agents &nbsp: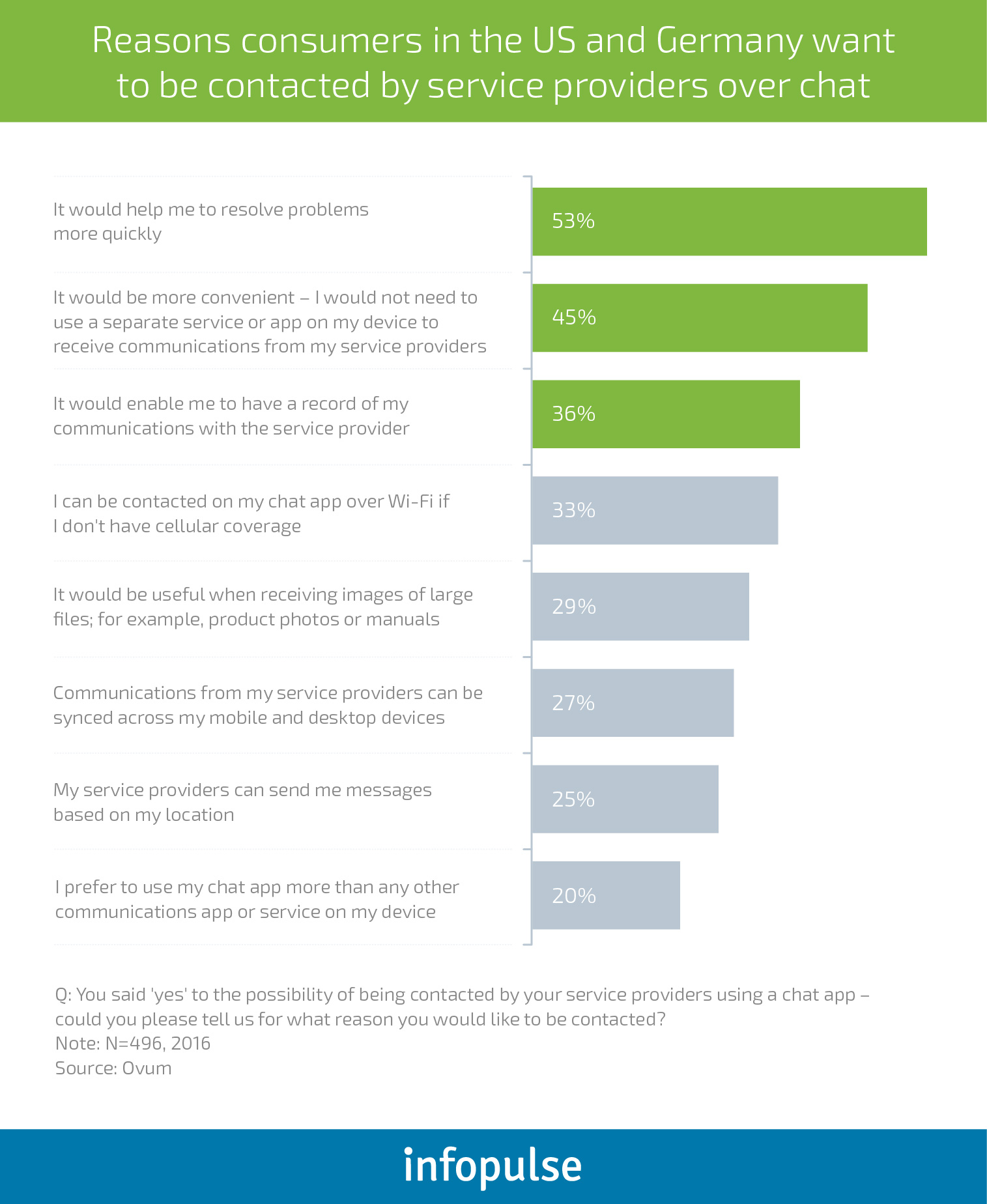 An "intelligent" customer support chatbot can take over your live chat support at least to some extent. In fact, some of the biggest US players are already sending "clever conversationalists" to interact with their customers.
AT&T uses AI to deal with all incoming online chat interactions. Charlie, the AI agent, can handle all sorts of questions related to wireless billing and payments, email setup and connectivity, DSL Internet and similar types of queries.
And here's another customer service chatbot example &nbsp. Their AI-powered assistant is trained to handle simple user queries related to troubleshooting, account information and general inquiries about the company's services. Users are first given some tips on how to interact with Ask Spectrum and referred straight to Live Chat representatives if the bot fails to answer a certain question.
Chatbots can be also successfully deployed to assist your sales teams. CenturyLink's chatbot called Angie is now in charge of the company's customer outreach. It sends around &nbsp, identifies the most promising leads and routes those to the right reps. So far, it has earned $20 in new contracts for every dollar it spent on the system.
There's no pedaling back – a customer experience reformation is already taking place. Consumers now demand consistent, effective and delightful digital experience. To meet this demand, telecom companies will need to undergo radical technical transformations and invest in new-gen solutions such as those covered in this post.
If you are ready to explore fresh opportunities, Infopulse team can become your trusted partner in building an innovative dialogue with your customers. We have extensive experience in the telecommunication industry and have been assisting BICS in their transformational journey since 2010.
More on this topic
---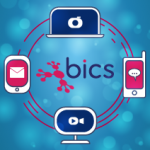 BICS Extends Partnership with Infopulse Until 2030
Read more