How to Bring Your Cloud Migration Strategy to Life Successfully
Originally published: December 22, 2017
Updated: May 10, 2023
10 min. read
Cloud & DevOps
Reduced cost of ownership, rapid expansion to new markets, up to 50% faster product deployments and accelerated innovation – the cloud is transforming business operations across multiple industries.
The question is – do you see the silver lining in the cloud?
You may have weighed on the pros, yet the entire process may still seem a bit too risky for your organization. After all, we already spoke about the common cloud migration challenges a lot of businesses face.
But failure will not be your case. In this post, we help you shape the initial framework for your cloud migration strategy using a simple 5-step approach.
Step 1: Identify Your Key Reasons for Cloud Migrations
A clear set of business objectives is the backbone of a successful cloud migration strategy.
The cloud computing benefits are plentiful. However, trying to excel in all areas at once rarely brings positive outcomes. Most enterprises choose to take two or three of specific benefits as their main goals.
Accelerate Application Delivery
Cloud computing drastically speeds up IT provisioning cycles, as there's no associated waiting time to access/allocate the infrastructure. Next, by embracing continuous delivery and cloud DevOps, your company can ultimately reach the next results:
Lower Total Cost of Ownership (TCO)
IaaS companies can offer competitive pricing as they are leveraging discounts from hardware vendors for bulk purchases; leverage open source technologies and carefully optimize data provisioning. That's why the initial cloud pricing may be much lower compared to what you are paying to maintain an internal data center.
Next, on-premises solutions can be inefficient if the data usage patterns are fluctuating. Fine-tuning them regularly is another line in the budget. A study by IDC has discovered that 76% of internal computing resources could have been wasted by the company if they haven't migrated to the cloud. The same study determined that TOC could be reduced by 72% with cloud migration.
The elasticity of the cloud enables you to pay as you go and up-scale/down-scale at any time, meaning you will never again pay for unused resources.
Market and Capabilities Expansion
Moving enterprise applications to the cloud gives you the ability to reach new geographies and new markets without investing heavily in IT infrastructure locally. Your legacy desktop products could be revamped as SaaS applications and delivered to users at any location.
Protect Critical Data
Public cloud security may have earned negative media coverage, but the truth is – cloud applications can boast the same or higher SLA levels when compared to traditional data centers. Specifically, think about the following benefits:
Public cloud delivers excesses to an unlimited pool of resources.
Critical data will remain accessible at all times and the downtime can be less than 9 hours of downtime per year. Considering that a day of downtime can cost a business between $50,000-$100,000 on average, that's a significant saving. Additionally, you can opt for a hybrid cloud architecture that will back up the public cloud by the private cloud at peak times.
Cloud disaster recovery scenarios have become a go-to option for a number of enterprises.
The cloud could be used as a DR location for both on-prem. and virtual applications. This is a cost-efficient option for warm DR scenarios as you will only pay for storage that is in use.
According to Zetta, 90% of IT users feel confident in the cloud-based DR solution, compared to 74% confidence in on-premises DR plan only. Additionally, 34% agree that a cloud DR is simpler to deploy.
Step 2: Choose the Optimal Cloud Environment
Public, private and hybrid cloud – what should it be?
The answer largely depends on your current business process and the goals you have set previously. According to RightScale 2019 State of the Cloud report, enterprises mostly choose the multi-cloud route: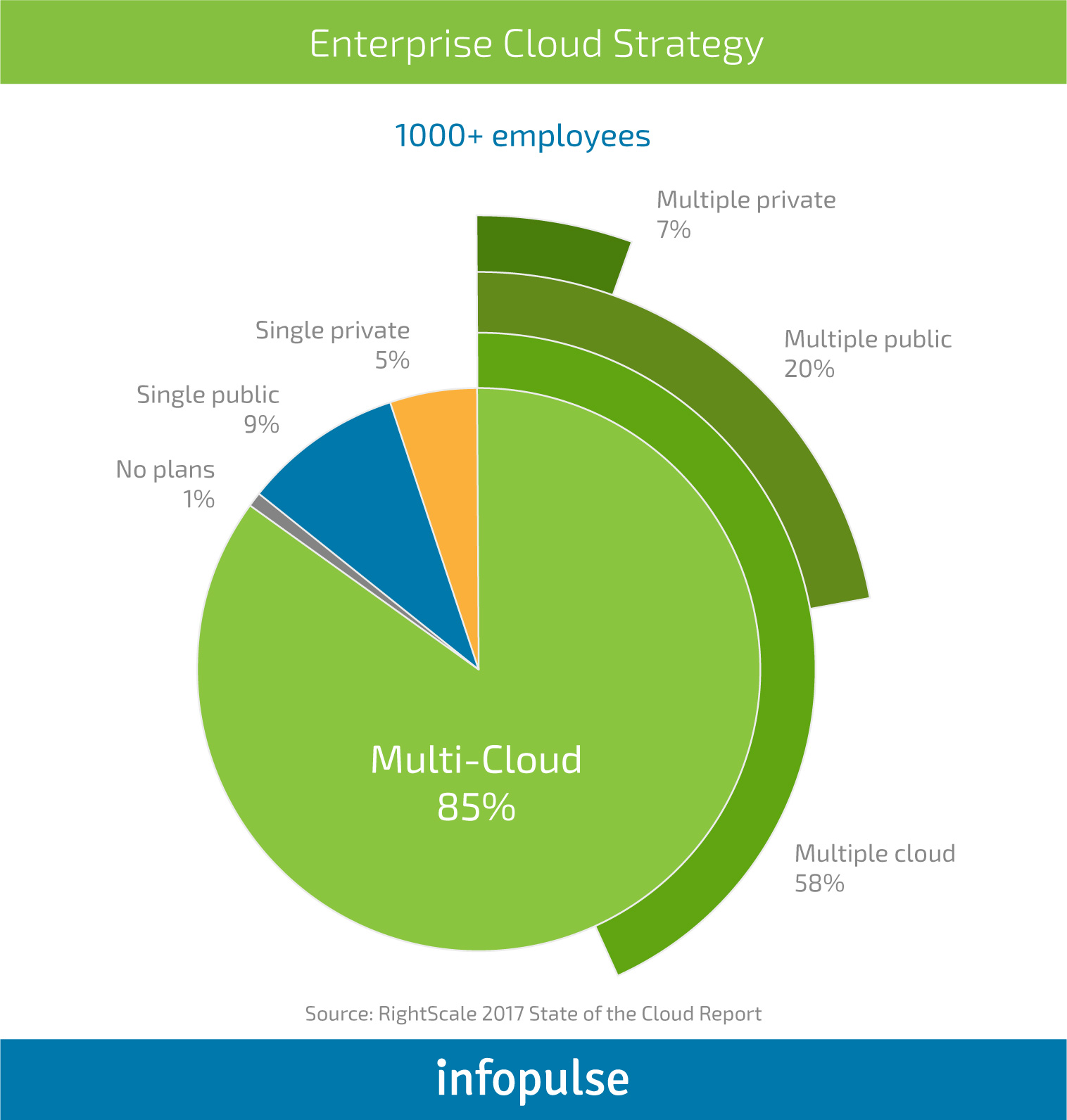 So should your enterprise cloud strategy follow this lead? The benefits certainly are attractive:
Avoid a Costly Vendor Lock-in
Considering that all your assets are distributed among different vendors, switching to another PaaS or IaaS provider will be simpler. You will also future-proof your business if one of the providers suddenly decided to go out of business.
Higher Resiliency
If you have already researched different cloud vendors, you know that each one has its strengths and draws. A multi-cloud strategy allows you to grab the best features from each vendor and align them with your business needs. Similarly, if you need to allocate additional resources for a certain process (e.g. automated testing for the new product features), you can add a supplementary cloud to ensure higher resiliency.
Better Security and Policy Compliance
You can store sensitive information in a distributed fashion to ensure you are meeting all the governmental compliances (e.g. related to storing private customer data); regulations of your company and those of a cloud provider itself.
Costs Optimization
Each vendor has different pricing models. By conducting a performance analysis of your current workloads (cloud and on-prem.), you can project the TCO and workload performance in each cloud and identify the most beneficial combinations in terms of cost/value. Don't forget that an existing data center can be turned into a private cloud too.
Develop robust cloud infrastructure
Choosing to use cloud vendors in different regions can help you ensure that your applications will always be up and running despite the local outages in a certain data center/cloud provider.
Step 3: Create the Initial Budget Estimates
To estimate accurate cloud migration costs, take the following factors into account:
Carefully audit your current IT infrastructure costs
These typically consist of direct costs – the number you are paying for on-prem. hardware and software right now – plus indirect costs, which include labor costs associated with maintaining the data center, internet connectivity costs, the cost to physically maintain your IT hardware (real estate, staffing etc.) and any other additional costs that can be specifically attributed to the care after your infrastructure.
Mind the indirect costs
Specifically, the loss of productivity of your teams and the customers when your infrastructure goes down. These may be a bit trickier to calculate, but the easiest way to do the math is:
Review the log files to check how often your servers go down and for how long. Multiply the number by an average hourly rate.
Next, you can estimate how much revenue is lost due to downtime per year.
Estimate the cloud infrastructure costs
The numbers certainly won't be final but should guide you towards an approximate number. Most vendors offer online calculators for that:
Estimate the execution costs
In this case, you will need to estimate the following costs associated with the shift to the cloud:
Moving all the data to the cloud. Most cloud vendors will charge a fee for transferring all the data to their system. Jot that down. Then, it's important to ensure proper data synchronization between the cloud and the legacy system. One of the common cloud migration problems is to ensure that the data stored in the data center remains up-to-date with the data in the cloud. Again, this will require time and money.
Testing and/or re-architecting. Some apps can be sent to the cloud using the lift and shift strategy – the virtual copy-paste, requiring no further optimization. Yet, some legacy apps such as a CRM system have features that largely depend on the on-premises servers. In this case, the application will need to be re-architectured – add cloud-native features to optimize its performance and scale it. Certainly, this will require larger investments. If you don't have the in-house expertise for the projects, estimate the costs of outsourcing this.
Consultancy fees. First-time experiments with the cloud can be costly if conducted by non-experts. To minimize the chances of migration failure, it's always worth getting a professional assistance. A professional team could help you develop the ultimate cloud architecture, map out the cloud transition strategy and conduct the execution itself.
Calculate the post-migration costs
Obviously, those would be the monthly payments for the infrastructure itself. Plus, the indirect costs such as staff training, security, testing, administration and so on. In the long run, however, you can optimize your cloud spending.
Step 4: Decide on the Cloud Adoption Pattern
You have your strong reasoning for cloud adoption, which justifies the estimated migration costs. And you have mapped out the initial cloud architecture. The next step is to create a path towards the cloud. The cloud transition and transformation typically follows one of the next three patterns:
Cloud-First Strategy
Your enterprise is en route to complete cloud adoption. You evaluate how each application can benefit from the cloud. New projects are designed with the cloud in mind too.
Example: You have video editing software that you want to start offering as a SaaS product. Ultimately, you want to benefit both from using the public cloud and creating a private cloud out of the on-prem. infrastructure.
In this case, your next steps should be as following:
Conduct a comprehensive product audit and evaluate which applications can be sent to the cloud and what ROI they will deliver.
Indicate how many applications in total you would want to send to the cloud and establish the timelines for the migration.
Choose a cloud provider (or a couple).
Consider how the existing data centers will be used – placed on temporary maintenance or used to build a private cloud.
Establish a cloud operating model that would outline the post-migration business process, security practices, infrastructure management and support.
Targeted Approach
Before going all-in you want to test a fraction of workloads in the cloud. The "well-suited" workloads for this include big data analytics, mobile, social and web-scale applications. Your goal is to get the initial expertise with the cloud operations.
Your next steps should be:
Analyze the initial application needs.
Pick the optimal cloud provider.
Identify one or two most well-suited applications that will allow you to test the cloud environment to its fullest and deliver tangible ROI.
Define your architecture.
Consider implementing a multi-cloud management layer (if needed).
Grassroots Approach
You want to improve the IT team productivity and start offering on-demand access to a range of cloud services. For instance, this could be creating a cloud catalog with standardized architectures and tech stacks; delivering tools for testing/development; transitioning towards DevOps processes; supporting documentation apps such as wikis and so on.
Your further roadmap will then look the following way:
Survey the teams to understand their needs.
Define the initial scope of cloud services to offer.
Specify SLAs for accessing the cloud.
Create the content/application stacks for the new cloud.
Build the cloud portal or connect it with an existing ITSM one.
Step 5: Go Through the Final Checklist
Before you sign off the strategy and start the execution stage, make sure you have the following aspects covered:
You have identified what applications to move first and indicated the respective timelines, ROI.
You have indicated the cases when the lift and shift cloud strategy will work; and when re-architecture/re-platforming is required. Respective executors are assigned.
You have analyzed how the migration will impact the application performance; took respective precautions and established a framework for keeping the cloud/on-prem. data synchronized.
Your staff knows the technology and processes. Or you have hired external expertise to execute the migration.
You have specific plans for updating the code, testing and troubleshooting problems and measuring performance.
You have a strategy in place to deal with the possible downtime during migration.
New security policies and procedures for the cloud have been developed.
You have assembled a toolkit for executing the migration.
Following these steps should help you develop a smooth and efficient cloud migration strategy and avoid common troubles.
What's next?
If you currently lack some skills and resources to undertake a cloud migration project, Infopulse certified cloud professionals would be delighted to assist you. We offer a full range of cloud consulting services, along with the actual migration execution for enterprise clients across different industries (IT, e-commerce, pharma, agriculture, public sector, manufacturing, and more).