How to Build a Balanced Talent Pool Leveraging SAP SuccessFactors
Originally published: October 06, 2022
Updated: February 15, 2023
10 min. read
Data & Analytics
Business Applications
Digital Experience
Taking a second step in helping our readers embrace SAP talent management, we discuss in this post how to build a balanced talent pool that can lay the foundation for your succession planning, automate many talent management processes, and enable continuous talent development.
The Role of a Talent Pool in a Complex Talent Management Process
Trying to nurture and keep high-potential and loyal talents in-house eventually makes many businesses beat the air. In most cases, this has nothing to do with their engagement or retention strategies. These days, businesses have to confront a range of adverse employment factors and the upheaval of technologies that require rare talents to grow from the ground up.
According to Gartner, expanding and diversifying talent pools can be the answer, together with the assessment of talent risks in relation to critical workflows, creating additional talent pools based on the potential of employees and prospects rather than their education, industry expertise, and other standard requirements.
So, what is a talent pool in the process of complex talent management? Any talent that can bring value to your company in the future should be added to a so-called "repository of talents" that gathers data about applicants, prospects, current, and even former employees who may fill a higher position after upskilling elsewhere. In the SAP Talent Management ecosystem, a talent pool is a key recruiting and HR tool for collecting data (including their skills, roles they can potentially fulfill, and their personal details) on internal, external, active, and passive candidates, grouped according to the specific criteria.
If compared with a talent pipeline, a talent pool is a broader term that unites all "crude" talents yet unqualified to enter the pipeline. Only after applicants are filtered and estimated as competent to take over a specific role, do they reach the talent pipeline and start their journey through a talent management program.
A modern talent pool helps close talent gaps while speeding up the entire recruiting and employment processes as you have a completely viable list of prospects to work with.
How SAP SuccessFactors Helps Build Talent Pools and Effective Talent Management
While spreadsheets may pass muster as simple talent pools for small businesses or startups, they would be ineffective for medium-sized companies or enterprises that should deal with the dynamic fluidity of talents. What HR and recruiting teams need these days is cloud-based talent management solutions like SAP Talent Management modules that automate essential processes of recruiting and onboarding, learning and development, performance management, compensation management, and succession planning. If you want to find out about other SAP SuccessFactors capabilities and see what features SAP Talent Management software has in stock, please check our previous blog post.
There are two possible options when building a talent pool based on SAP SuccessFactors – using a Recruiting module that allows grouping external or internal, passive or active candidates and tracking their statuses to facilitate talent sourcing and managing of candidate relationships. Or applying a Succession and Development module that focuses on building pools of successors for the identified key positions. SAP SuccessFactors Succession and Development system utilizes a comprehensive approach to cultivating talents. Not only the system helps create talent pools and populate them with high-potential talents, but also prompts succession planning, and provides current employees with smart development programs to nurture ready-now successors for the position.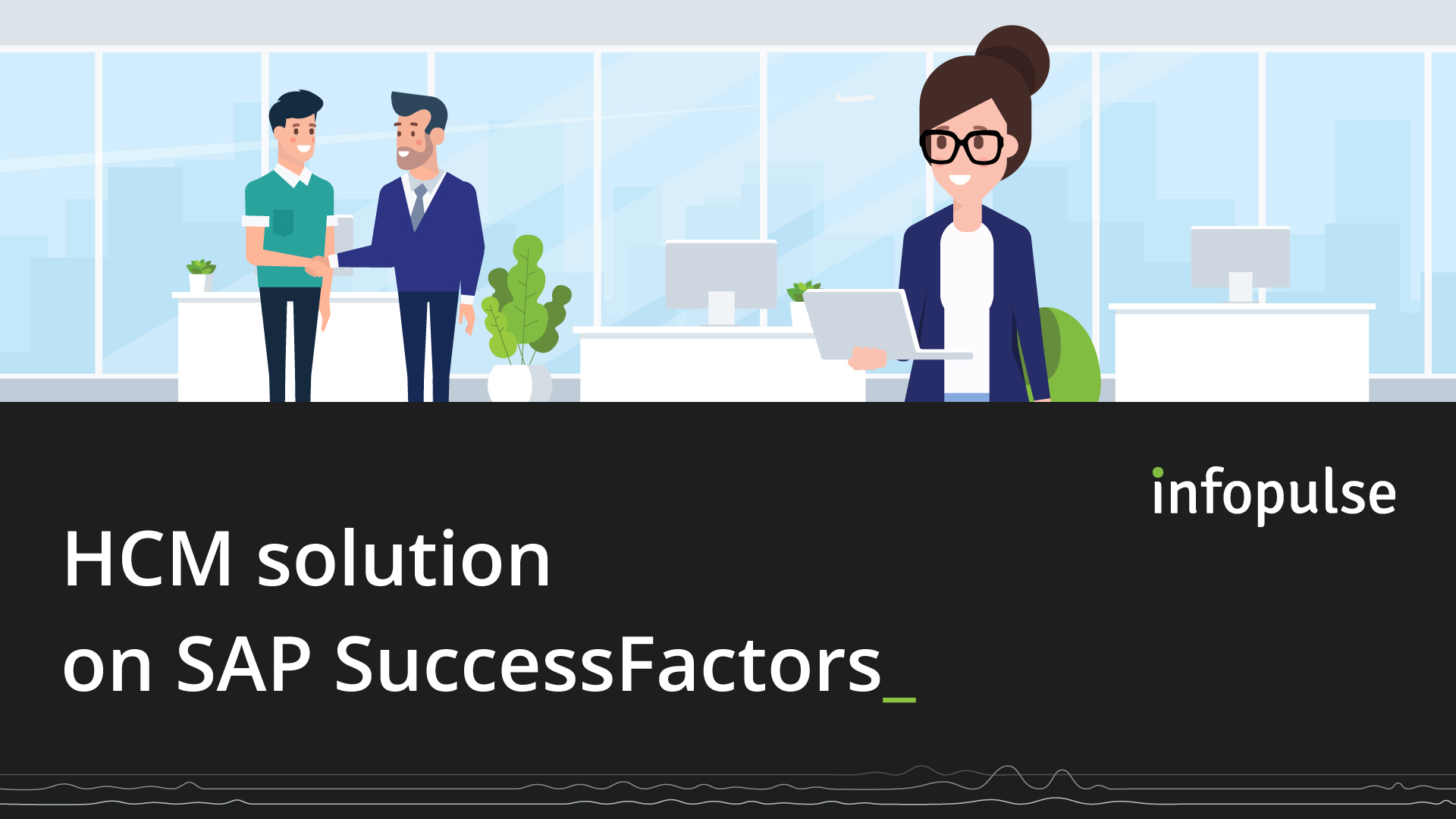 Most Common Approaches to Building Talent Pools
Before building a talent pool using the SAP Talent Management system, namely the Succession and Planning module, we recommend analyzing the company's needs in relation to your general human experience management and digital workplace strategies. Based on those, the following approaches to building the talent pool come into shape.
1. Prioritizing Self-Realization of Every Employee
You treat equally each employee as your valuable asset, recognizing their strengths and assessing their potential to define the possible range of your talent pool (criteria are formed based on the expected potential, knowledge, skills, competencies, qualifications, attributes and the level of performance needed to match the position). Although this approach may be suitable to improve the involvement of current employees, it would be definitely complicated for an HR manager/recruiter of a multinational enterprise. For example, it would be rather time-consuming to capture all possible details, create groups based on different levels of potential, and search for the right candidate from such a wide pool. Moreover, it would take time to provide each employee with a viable development program. In fact, not every employee is seeking to join such a program since only 35% of employees worldwide utilized learning programs to get new opportunities in their companies.
2. High-Potential Employee Development
This approach focuses on building a talent pool of high-potential employees without connection to specific positions. This would speed up the talent sourcing, while the ability to select prospects of all levels would greatly expand the pool. However, the downside of this approach is that it complicates further employee development due to a few factors:
With the focus on more universal qualities that could fit all the roles, even a high-potential employee in the future will most likely get in deep water with overwhelming position requirements
The manager may have a hard time understanding what development programs would fit better to such employees and how they would correlate with their current tasks
Prospects often fail to see in what areas they should develop
More training programs for up-/reskilling may create additional load for employees who spend half of their efforts not on the current tasks. An interesting fact is that most employees do not even consider professional development advantages critical (3.6 of 5 points) compared to other benefits they can get.
How Important Are Personal/Professional Development Benefits to You, Compared to Other Benefits?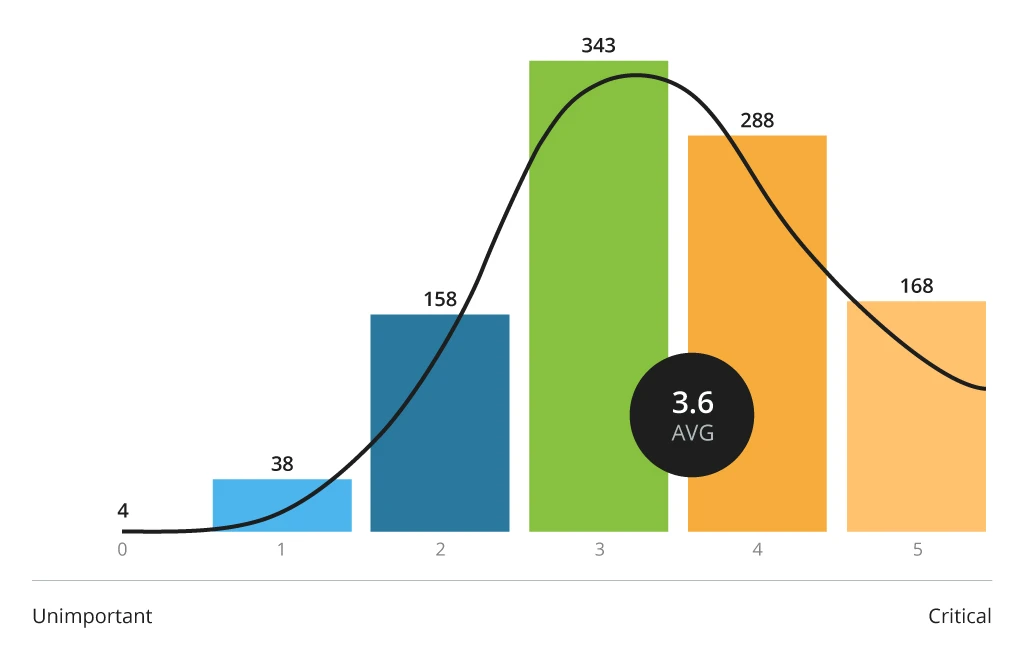 3. Building a Pool of Successors for Specific Positions/Roles
We regard this approach as the most balanced and effective, although it is safe to say that building such a talent pool may require additional time due to certain complexities. The process of finding a successor to the role is more predictable thanks to the already existing competition for the targeted positions, their predefined requirements, and criteria. With this, an employee development plan and career path already taken by a forerunner become clearer for both a successor and a manager. Having already pre-qualified successors eliminates the need to check the suitability of a prospect for the position. Thus, businesses can greatly reduce their recruitment time and costs, enable continuity of knowledge from one employee to another, and optimize their talent flow. This approach, like no other, would help recruiters to accomplish their top priorities:
Top Recruiting Priorities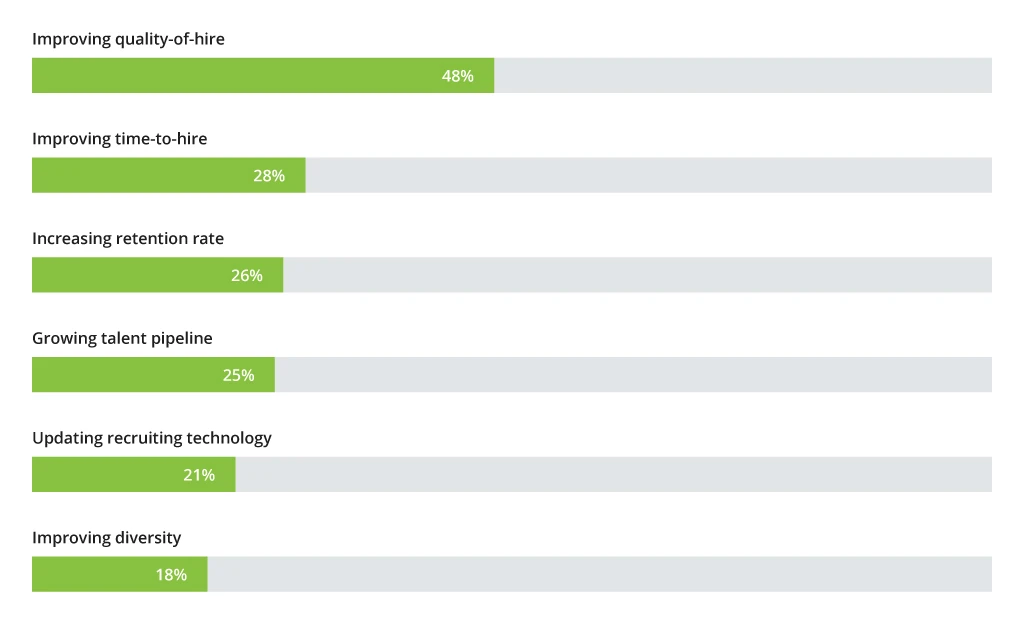 Among abovementioned complexities are:
Leaders/managers show some reluctance to prepare successors for their roles
High competition between successors, that may lead to retention risks and the loss of already trained talents
Talent pooling is more complex in this case as it is necessary to assess the requirements of the position, special criteria, an employee's potential and performance.
How to Build a Pool of Successors Using SAP SuccessFactors Succession & Development Module
Creating a pool of successors is a part of the succession planning process that suggests continuous talent growing for the key positions, management, and executive roles. In fact, only 21% of organizations admit having a formal succession plan, while 56% report having none in place. With succession management software like SAP SuccessFactors, the entire process of planning becomes less complicated and manual as the solution leverages essential methodology and best practices for creating talent pools. This is also one of the useful solutions to track talent flow due to the shift towards the digital workplace and collaboration.
A Sample of Talent Pools in Succession and Management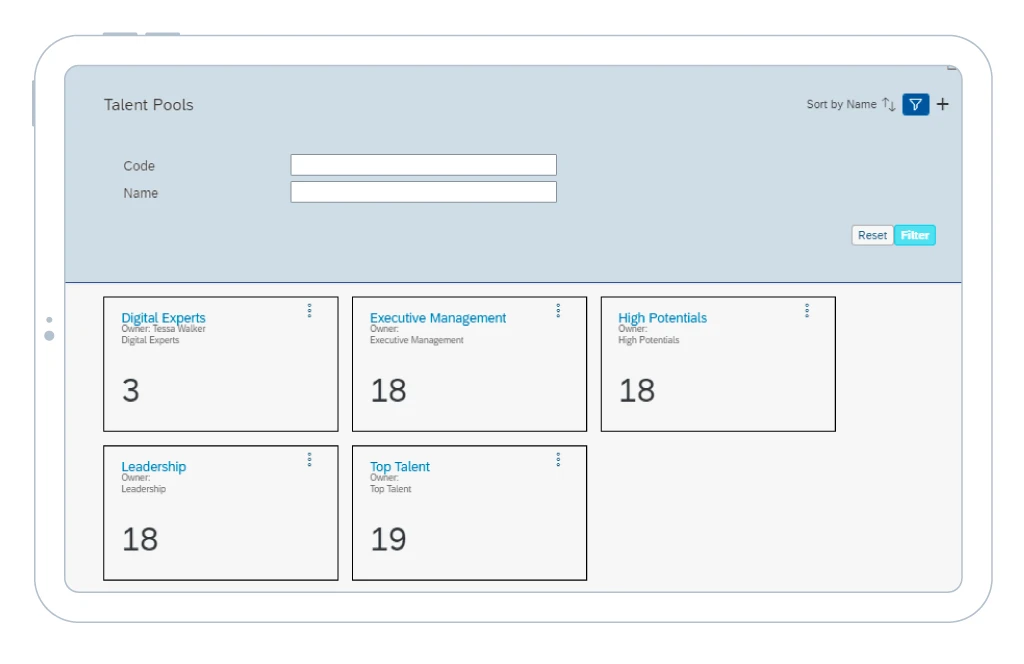 The succession talent pool should include more than one nominee that can be a current/former employee or a new lead. However, many HR practitioners aim at populating their pools from in-house employees ready to transition to a new position, which would greatly reduce recruiting costs and time and concurrently improve retention rates. It is also imperative to agree with an employee the nomination for the position in a chosen pool that would make them aspire for it, motivate them for further upskilling, and help them get ready to occupy the position when it is open.
Example of a Succession Talent Pool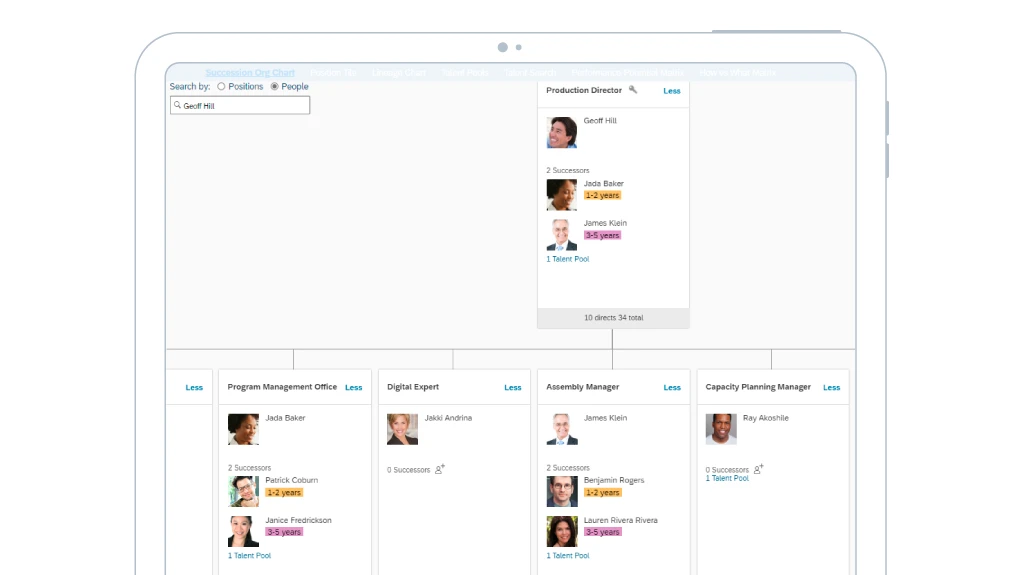 Every step in the succession planning is connected and you cannot begin building a pool of successors without making an analysis of top positions and high-potential employees, gathering criteria and requirements for the job roles from leaders, executive managers, HR managers, etc. Such steps are realized within the key features of SAP Succession and Development module.
Succession Management
Career planning and development
Calibration
Identification of key positions and high-potential employees
Creation of a development plan
A matrix for comparing the performance and potential of team members
Search for the company's internal talents according to specific criteria
Aligning a development plan with the available competencies of talents
Showing employees' ratings
Visualization of talent gaps in certain organizational structures or positions
Searching a career path based on the suggested job roles that match the competencies
Overview of employee performance trends in the long term
A talent pool creation based on the estimated business needs
Assessment of readiness for the chosen job role
Criteria and Methods for Identifying Talents
To determine what talents can best fit in your succession pool, you should set all possible criteria to define the employees' readiness for the new roles, as well as their needs in training and development. Leveraging SAP SuccessFactors Succession and Development features like Talent Pools, Talent Cards, and Talent Search allow setting those criteria.
The minimum criteria you can include in the Employee Profile information or Background Information Category should encompass the position level, performance level, competency level, and experience of current in-house employees. However, depending on your needs and expectations, you can include a lot more. See the table below: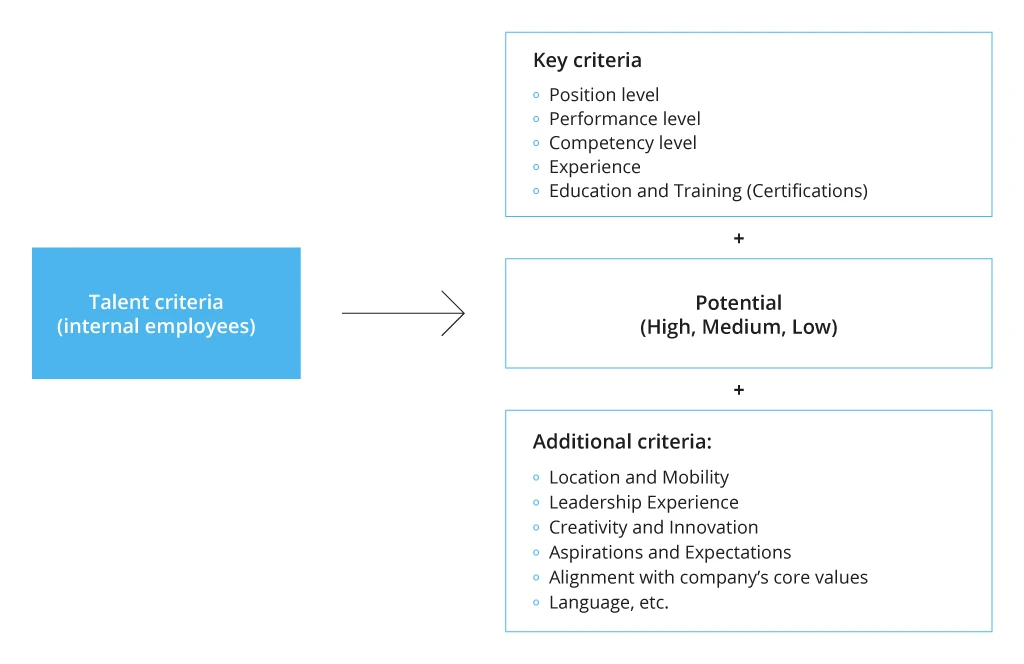 When you define the essential talent criteria and key positions, job roles, and requirements to them, you should tackle the hardest thing – obtain data for the pool by analyzing current employees' performance and their potential.
Essentially, to collect such tidbits of data effectively, you will need to apply the following potential assessment methods that are well-adopted in the SAP SuccessFactors solutions.
Annual Performance Appraisal
The performance assessment of the current employee can be greatly optimized with SAP SuccessFactors Successions and Development and Performance and Goals capabilities. Specifically, due to 360 Degree Reviews/Multirater Assessments and Performance-Potential Matrix, you can collect objective reviews and feedback on any employee's performance and potential. Within the solution, you can:
Set and cascade goals and KPIs (qualitative, quantitative, project, etc.)
Align employees' goals with company's objectives
Set multiple goals
Control goals fulfillment
Identify those employees that block achieving goals
Rapid request about the status of the goals fulfillment
Talent Committee and its Analogues
If you plan or already hold a dedicated talent committee that is responsible for compensation, bonuses, development, and training programs, then you can greatly benefit from the automation of the talent committee's functions with SAP SuccessFactors Talent Reviews and Performance vs. Potential Matrix. You can also set up Calibration for Performance functionality that allows calibrating and viewing ratings of employees based on such input data as Compensation, Performance, Succession, and Talent Profile.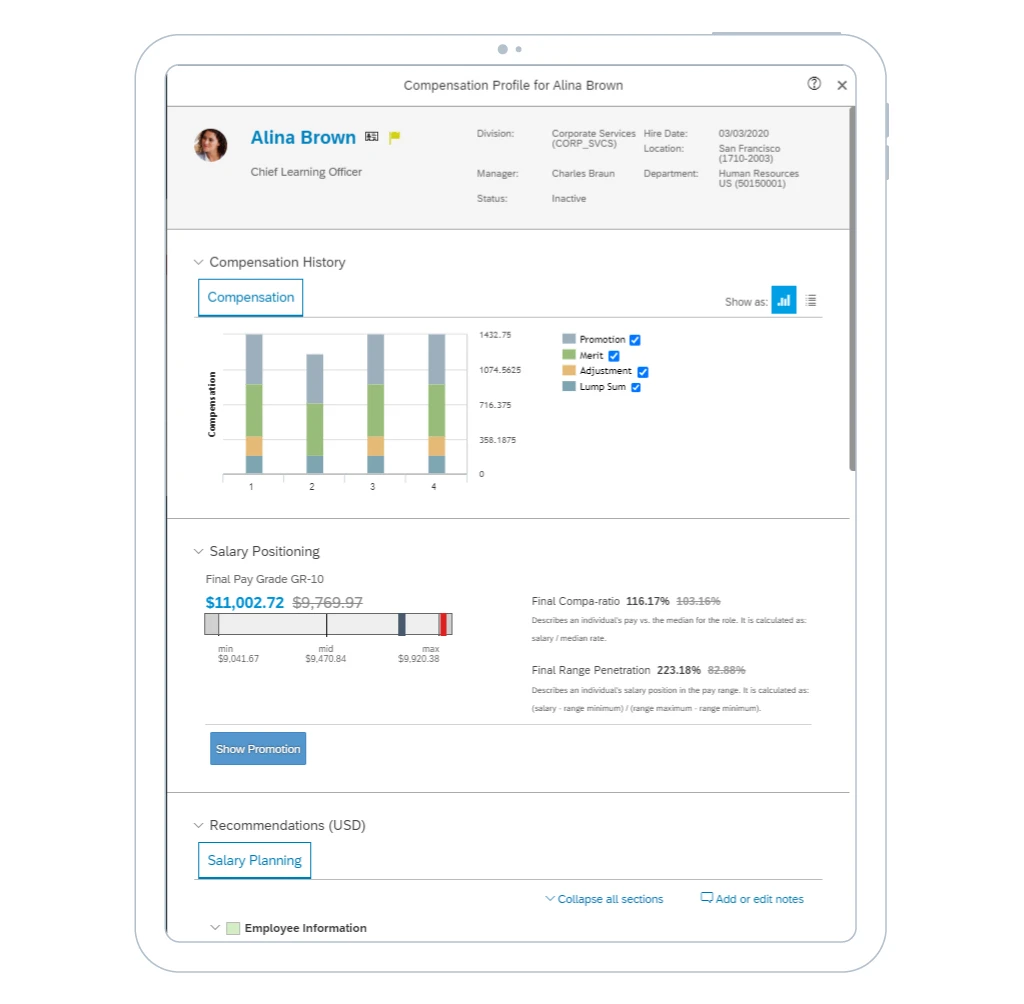 Manager's Evaluation and Competency Interview
By integrating the Continuous Performance Management solution, you can track continuous feedback on the employee's performance and competencies through regular conversations between an HR manager and employees.
Personality Questionnaires and Tests
You can also track the results of employee personality questionnaires and tests that can help you decide what candidate should be placed in your succession pool.
Assessment and Development Centers
Within the SAP Succession and Development module, you can also set up an Assessment and Development Center that would be fully involved in the continuous assessment of competencies of employees and help you identify the most appropriate successors for specific job roles and positions.
360-degree Assessment
This type of assessment suggests the ability to continuously assess an employee's performance, achievements, strengths and weaknesses, and behavior based on feedback from both internal and external evaluators. SAP SuccessFactors Talent Calibration functionality allows getting a comprehensive view of all such evaluations and ratings in the form of a Performance-Potential Matrix.
Building a Performance and Potential Matrix
This SAP Succession and Development feature is one of the most valued by HR practitioners, providing a quick, detailed, and visually rich overview of potential and performance of employees. Placed within the defined pools, these employees' ratings can be further reviewed to uncover high-potential ones.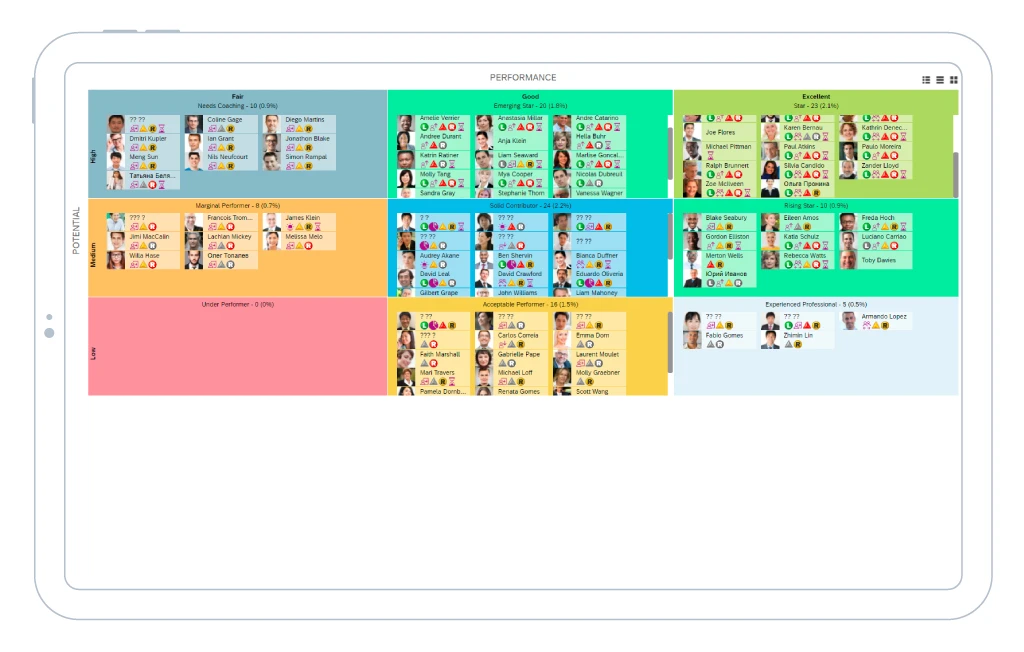 A nine-box Performance-Potential Matrix gathers past performance results and ratings added to the system by line managers. Within the matrix, you can compare employees and top performers to further suggest successors for a specific position. Evaluating the performance, HR managers take into account the current employee's knowledge, abilities, and technical skills. The potential is then measured based on the employee's capacity to develop and achieve leadership positions. All this data can be accessed through the talent card that displays not only the talent information and talent pool nominations, but also the results of the annual performance appraisal, specifically the Performance and Potential comparison rating and Competency and Objective rating that also allows making a quick check-up on successors for a chosen pool.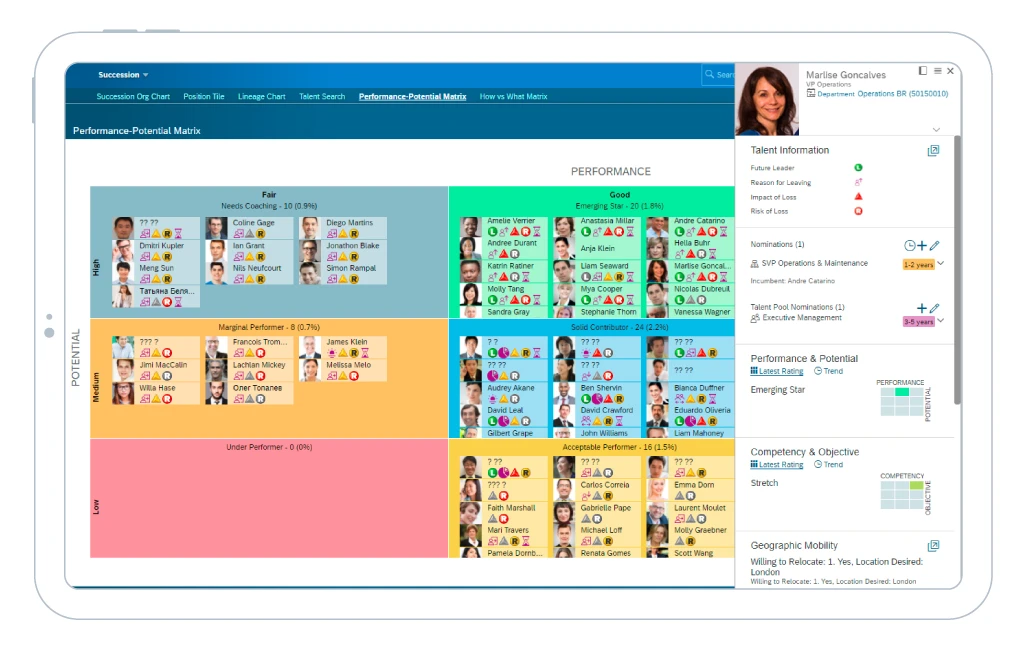 Final Thoughts
Building a talent pool with SAP Talent Management software like the Succession Management module turns into a less complex and manual process. You can benefit from cloud-based capabilities of the solution to build a succession pool, enable succession planning and continuous talent nurturing and development.